Sky Go is a great platform that you can find loads of content on, but unfortunately, you won't be able to enjoy any of it if you go abroad. There are geographical restrictions set on this streaming service, but those can be bypassed if you have the right VPN to help you out. This is actually the best answer to the question of how to watch Sky Go outside the UK.
A good VPN will help you bypass geographical blockades, all the while keeping you safe online, protecting your privacy. Access to Sky Go is tricky since this is a service that's provided by an ISP for its customers. This means that accessing the service, even with the help of a VPN is tricky. The bottom line is that Sky has a way to detect VPNs, so not all of them will work, and a generic UK-based IP will not get you what you want.
5 VPNs for Watching Sky Go Outside the UK!
So, if you're going to take Sky Go wherever you go, including outside the EU, you're going to need specific VPNs. Don't worry, we went ahead and checked with the VPN help desks and found out which of them work with this service. Let's see what your best options are.
1. ExpressVPN
At the top of our list, we have ExpressVPN, a pretty great tool that will help you overcome any hurdle while keeping you protected. On top of using military-grade encryption protocols to secure your data, the tool also brings some advanced features to the table like a kill switch to prevent your data from reaching back to the ISP decrypted if the selected server fails for any reason. Since ExpressVPN takes privacy seriously, they also keep no logs on their users and run zero-knowledge DNS on their servers, which means no third parties can interfere, and everything is encrypted.
ExpressVPN has servers that work undetected by Sky Go, but we won't reveal which ones those are because Sky is always looking to block them out. So, if you pick ExpressVPN, make sure to fire off a message to the help desk and ask which servers to use. You can read our ExpressVPN review to find out all the details about it.
2. PureVPN
Our next recommendation is PureVPN, a tool that uses 256-bit encryption protocols to secure data. It also comes with integrated antivirus software and provides public Wi-Fi security. Additionally, PureVPN allows split tunneling to direct only some of the traffic via the VPN servers, keeping the rest via your regular Internet pipes. In case the server you're connected to has a timeout, the kill switch will stop your ISP from finding out what you're doing online.
According to PureVPN, their VPN works with Sky Go, but you'll need to use the browser extension for that. The regular VPN app will work just fine with pretty much any other platform. Read our PureVPN review to find out everything there is to know about it.
3. SaferVPN
Next up, we have Safer VPN, a tool that abides by a zero log policy and promises to use military-grade encryption to secure all data going through its servers. Furthermore, SaferVPN has over 700 servers in some 36 countries, all of which provide fast Internet connections.
On one hand, SaferVPN doesn't support P2P, so torrenting is off the table for users. On the other hand, the company claims they have servers that support Sky Go, but you'd best check out with their customer support team to find out which ones. Check out TechNadu's Safer VPN review to find out what we thought about it.
4. Buffered VPN
The next VPN we recommend using is Buffered VPN, a tool that doesn't throttle your Internet speeds once your connection is routed through their servers. Not only that, but the VPN uses 256-bit encryption protocols to secure your data, which means your info is scrambled beyond recognition. Furthermore, if you plan on connecting to public WiFi hotspots, Buffered VPN has you covered.
According to the company, you shouldn't have any issues connecting to Sky Go via their servers, but you're going to have to contact them for specifics since they'd like to prevent Sky from blocking them off. You can read our Buffered VPN review to find out if this is the right tool for you.
5. StrongVPN
The last recommendation on our list is Strong VPN, a tool that will help you bypass restrictions, censorship, and anything else you may face online. They have over 650+ servers in over 20 countries, including servers that work with Sky Go. For the specifics, you'll have to ask them personally after you've made an account.
Strong VPN has a zero logging policy for connections and online activity and works on pretty much all platforms. Please read our Strong VPN review to figure out if this is the right tool for you.
FAQ
Knowing your options wins you half a battle. This is why we are going to answer some of the most commonly asked questions. Let's dive right in.
Is Sky Go Even Worth the Trouble?
Sky Go is an online television service from the British ISP Sky, which was launched back in 2006. The platform brings on live and on-demand video content like sports, movies, TV shows, and other TV programmes. The service is available for free for Sky customers, although you need to have at least the Sky Starter package.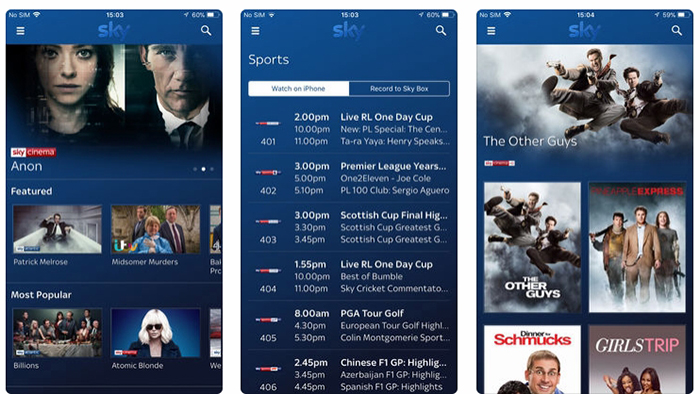 This service has loads of content you can watch, including movies and TV series we're sure you'd like to check out. For instance, you can watch Dunkirk as well as numerous other blockbusters, or enjoy shows like Deep State, or True Detective, or maybe House and Westworld. You can also watch sports, like soccer, golf or cricket.
Where is Sky Go Available?
Sky Go is a Sky service, which means that access to the account is restricted to the United Kingdom. If you have a Sky Go account, however, you can watch the content within the European Union, but you have to return after at least 37 days to reconfirm that you are still a UK resident.
On Which Devices You Can Watch Sky Go?
Sky Go is a video on demand platform that works on multiple devices. For instance, you can watch everything you want straight from your computer, whether running Windows, or Mac, but you can also download special apps for iOS, Android, or Fire OS.
How to Watch Sky Go with a VPN?
So, if you're a Sky customer that wants to enjoy this media service anywhere they go, including outside the European Union, you're going to need a good VPN to make things work. Now, VPNs aren't complicated tools, mostly thanks to the intuitive interfaces they come with. We're going to walk you through the entire process, nonetheless, so it's easier for first-time users.
The first step you need to take is to launch your selected VPN. We strongly recommend picking ExpressVPN, but the rest are great too.
Then, you're going to have to sign in to your VPN, pick the server they indicated work best with Sky Go, and tap 'Connect,' or however, they are labeled in your app.
After the connection is established, you can go ahead and launch the Sky Go app on your device.
Enjoy!
Is There a Free VPN for Watching Sky Go?
Since we're here, we're also going to mention the so-called 'free VPNs'. Frankly, we can never actually recommend this type of tools that are so often advertised online, because they're not really free.
What we mean is that they offer a free bandwidth for free and when that's consumed, they ask for payment. Then, they're quite easily detected by big streaming services, so Sky Go would spot them before the web page is even fully loaded. Lastly, they often keep traffic logs on users, which invalidates the privacy aspect associated with VPNs. To learn more, here's our article on the downsides of using free VPNs.
We know that taking Sky Go with you all over the world is not the easiest thing to do, but if you really love the content they offer, then we hope our guide helped you through it.
Please let us know what you think in the comments section below and share the article online so others can find it too. You can check us out on Facebook or Twitter.