Initially known as a sports-focused streaming service, fuboTV now brings a bit of everything for everyone. It has more than 1 million paying customers, who have access to more than 200 live TV channels based on where they live. That said, your location determines the list of available TV channels you get from fuboTV. In other words, you need a VPN to watch fubo TV if you're outside the US, as well as to get more TV channels if you're in the US.
A VPN works by letting you connect to servers found in many countries across the world. So, if you connect to a server in the US, you get an American IP address. That way, you'll trick fuboTV into thinking you're in the US, giving you full access to its live TV channels, on-demand content, and more. However, not every VPN will do the job.
Streaming TV channels live requires a relatively stable Web connection of 10 Mbps minimum if you wish to stream in HD. So, you need a fast-performing VPN with lots of servers in the US. It should also have a track record of working with fuboTV and similar digital platforms.
If you keep reading, you'll learn how to bypass fuboTV's geo-blocks using a VPN, which means we'll show you how to watch fuboTV online from anywhere - no matter where you currently reside.
Where Is fuboTV Available? 
FuboTV is available in three countries: the USA, Canada, and Spain. Those countries have access to their own version of the streaming service, meaning fuboTV has a different offer in each country.
If you're not in the US, Canada, or Spain and accessing fuboTV's site or app from the UK, Mexico, Brazil, Germany, France, Italy, Australia, or anywhere from the rest of the world, will get the following message: "We're sorry - fuboTV content is currently not available in your location."
Of course, that's not an issue as long as you use a capable VPN service. So, keep reading for our quick guide on how to trick fuboTV into thinking you're in the United States.
How to Watch fuboTV Outside US (QUICK GUIDE)
It takes only a minute to unblock fuboTV from outside the US - using a reliable VPN, of course. To make that happen, do the following:
Subscribe to a VPN that works with fuboTV. (our recommendation is ExpressVPN)
Download and install the VPN app on the device(s) you'll use to access fuboTV.
Open the VPN app and log in (you need to reach your VPN's home screen).
Connect to a VPN server located in the United States.
You can now access fuboTV via its website or app. Enjoy!
If you can't unblock fuboTV immediately, we recommend clearing its cache. Remove your Web browser's history and cookies, or re-install fuboTV's app if you're accessing the service that way (like on your phone, tablet, or media streaming device).
How to Watch fuboTV from Anywhere (IN-DEPTH GUIDE)
This segment is dedicated to existing fuboTV subscribers – who are currently traveling abroad. So, if you already have an active subscription, here's how to watch fuboTV with a VPN. 
1. You'll need a VPN for this purpose. Go ahead and subscribe to ExpressVPN.
2. Once you land on ExpressVPN's site, click "Start Your Trial Today."
3. Pick a subscription (if you want to save, pick a long-term plan).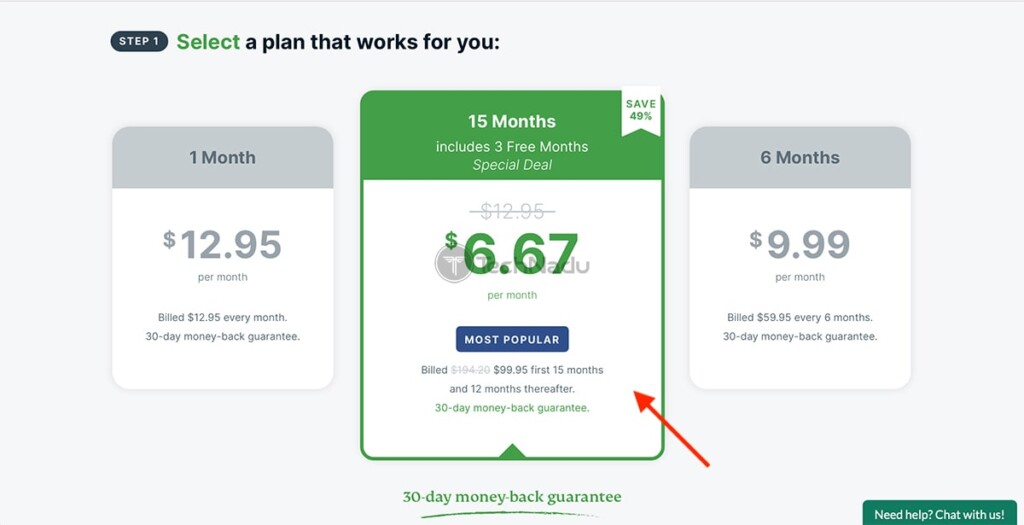 4. Provide your email, pay for the subscription, and finalize the procedure.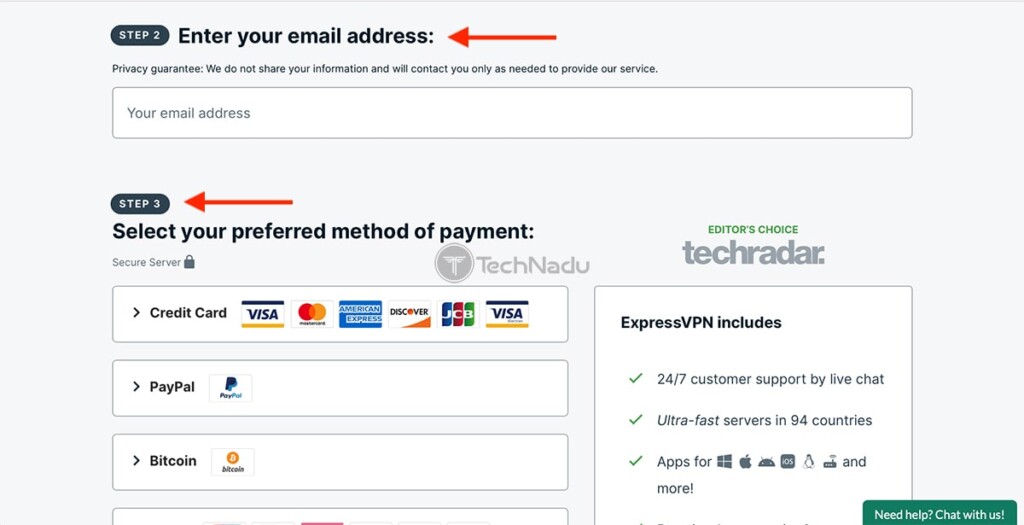 5. Once done, you'll get a confirmation email from ExpressVPN's team. 
6. Now, download and install ExpressVPN on your chosen device.
7. Once you set up the VPN, open it. 
8. Click on the button below the ON/OFF switch on ExpressVPN's home screen. 
9. Make sure to select "United States." Then, pick any location in the USA. 
10. Wait until ExpressVPN connects you. Its interface will turn green. 
11. Now, launch fuboTV on your device (via its app or website). That's it!
Remember that ExpressVPN has to be active in the background – for as long as you plan to stream fuboTV. Since this VPN comes with unlimited bandwidth, you can keep it active at all times, protecting your online privacy without a hitch.
Why Do You Need a VPN to Watch fuboTV?
You need a VPN to access and stream fubo TV, as VPNs are the only way to bypass the streaming service's geo-blocks. Trust us; there's no other method that will let you obtain a US IP address in a way that allows you to stream without buffering.
To trick fuboTV's location, VPNs do several things to your Web connection. First, they give you an American IP, changing your virtual location. Then, they encrypt your Web connection, making it impossible for anyone to see what you do online. They also prevent trackers, making it harder for websites like fuboTV to discover your actual location.
As you can see, plenty happens with your Web connection once you initialize a VPN session. So, most VPNs will slow you down a bit. Since you need a VPN for streaming, you must ensure you get one fast enough for 4K streaming. That's why ExpressVPN is our #1 choice, but you can find more options in our guide to the fastest VPN services.
What's the Best fuboTV VPN?
The best VPN for fuboTV is ExpressVPN. This one gives you thousands of servers across different regions in the USA and works without a hitch.
It works excellently with fuboTV, not only unblocking this service - but also providing reliable and stable performance as well. On top of that, you get top-of-the-line security and privacy features. That means ExpressVPN is an all-in-one VPN suitable for practically any use - and you can try ExpressVPN risk-free for 30 days!
3,000+ VPN servers in 160 VPN server locations in 94 countries, 5 Simultaneous connections, Fast and stable connection, No activity logs or connection logs, No bandwidth limits, Strong encryption, 24/7 live chat support, and 30-day money-back guarantee.
There's plenty more to know about this VPN, so go ahead and learn more about ExpressVPN.
If you need additional options, we recommend checking out NordVPN, suitable for those who'd like to combine privacy and security. Then another great option is CyberGhost VPN, which has servers optimized for fuboTV and similar streaming services.
To learn more, read our guide to the best VPN for live sports streaming.
FuboTV Not Working with VPN - How to Fix?
If your VPN isn't letting your access and watch fuboTV outside the US, there are several things to try. You can switch to another server or protocol, delete your cookies, and more. Here's what you can do:
Switch to Another US-Based Server: Your VPN probably offers a group of servers spread across the United States, and only some of those might work with fuboTV. So, try at least a couple of other US-based VPN servers.
Switch to a Streaming-Friendly Protocol: Different VPNs have different protocols set by default. We recommend checking if your VPN uses OpenVPN. Then, you can try WireGuard. Some VPNs have their own protocols, like ExpressVPN's Lightway.
Remove fuboTV's Cache & Cookies: If you tried accessing fuboTV previously, there's probably some cache and cookies stored on your device. You need to remove that data to force fuboTV to read your location. Here's how to clear cookies on most Web browsers.
Ask Your VPN for Help: If nothing else helps, turn to your VPN provider. Use its customer support to ask how to access fuboTV, including which server and protocol to use.
If you'd like to try more possible solutions, here's our guide that explains why your VPN isn't working - including a series of helpful and actionable tips.
How Much Does fuboTV Cost?
There are several subscription plans on fuboTV's offer, with the most affordable option being the 'Pro' plan, priced at $69.99/month. Find more info just below.
FuboTV - Subscription Plans
We offer several resources to help you learn about fuboTV's offers. That said, here's the full list of fuboTV channels. And then, here's our guide to fuboTV's packages and prices.
Final Thoughts
The easiest way to unblock fuboTV is to sign up for ExpressVPN. Once you set it up, it takes only a second to connect to a US-based server, which is when you can access fuboTV's website and start streaming.
Want more options to consider? If you do, our guide to the best VPN for streaming will help you find more fast-performing VPNs. All the options recommended there work with fuboTV, as well as with many other streaming platforms. And if you need a VPN for more than streaming, you should check our list of the best VPN services overall.
FAQ
Why Is fuboTV Available in Select Countries Only?
FuboTV is available in select countries due to broadcast licenses. Expanding the service would require a significant investment, and even then – fuboTV will be forced to offer country-based versions of its libraries. 
How Does fuboTV Determine My Location?
Based on its technical documentation, fuboTV uses different methods to pinpoint your location. Its mobile apps can use your GPS location or your IP address (which is the preferred method via Web browsers and connected devices). 
Does fuboTV Work With a VPN?
Yes, fuboTV works with a VPN - but make sure to use a streaming-friendly VPN if you want to stream without buffering.
Can I Watch fuboTV on Several Devices Simultaneously?
Yes, you can stream fuboTV from multiple devices simultaneously. Most of its plans allow you to stream from 10 devices while you're at home and 2 devices when on the go.
Can I Watch fuboTV While Traveling?
Yes, you can watch fuboTV while traveling anywhere in the world - but only if you already have a subscription. Still, remember that you also need a VPN (our #1 pick is ExpressVPN) as the ability to access fuboTV from abroad doesn't come built-in. A VPN will let you do just that.
Can I Subscribe to fuboTV From Outside the US?
No, there is currently no way to subscribe to fuboTV outside the US. While signing up, you will need a payment method associated with a US-based financial institution. Unless you have someone in the US to help pay, there's no way to become a subscriber. 
Does fuboTV work in Mexico?
No, fuboTV doesn't work in Mexico since they are geo-restricted. If you are traveling or on vacation then use a fuboTV VPN to unblock it. Try ExpressVPN.
Can fuboTV Block VPNs?
Yes, fuboTV can block VPN applications as it comes with anti-VPN mechanisms built in. That's why we recommend using a powerful and trustworthy VPN, such as ExpressVPN.
That would be all on how to access and watch fuboTV outside the US. Let us know if you have any questions or doubts. Lastly, thank you for reading!