You've been there before. You've waited for weeks to watch the latest match. Your two favorite teams are about to face-off in an intense battle. There's just one problem, though: you're outside the US, and your preferred live sports streaming service just won't work. So, what do you do? Don't fear. TechNadu's here to get you watching the latest sports matches and channels. We'll teach you how to watch FuboTV outside the US.
5 Best VPNs For Unblocking FuboTV From Anywhere!
Let's get started with our VPN recommendations. TechNadu has extensively tested dozens of highly popular VPN applications and the features they bring. So, we have shortlisted 5 of the best VPNs that can 100% unblock FuboTV from just about anywhere.
1. ExpressVPN
The most-used VPN application in the world, ExpressVPN boasts military-grade Internet encryption and professional built-in security features. This VPN application is also speedy; you'll easily stream all of your favorite sports channels in HD. Best of all, you can use ExpressVPN on multiple platforms and devices. In addition, this VPN comes with browser extensions for Chrome, Firefox, and Safari, so you can quickly watch FuboTV.
If ExpressVPN just doesn't cut it for you, though, the application comes with a 30-day money-back guarantee. For more information about this application, check out our full review of ExpressVPN.
2. NordVPN
Compared to other premium-priced VPN applications listed here, NordVPN has the most servers. It comes with over 5,100 global servers available to choose from, with hundreds of servers across most countries.
In addition, this VPN boasts lightning speeds, meaning that you'll stream your favorite FuboTV channels in high-quality HD with relative ease. On the downside, though, in some cases, customer support can take up to 48 hours. NordVPN also has a somewhat higher speed loss rate when compared to its competitors.
For more information on this application, including more pros and cons and performance-related information, read TechNadu's NordVPN review.
3. SaferVPN
SaferVPN wants to keep you safe while browsing online. With this application, you'll have access to an incredibly fast Internet connection and 256-bit bank-level encryption. In addition, this VPN will automatically protect you when on an insecure Wi-Fi connection.
SaferVPN also comes with live 24/7 chat support. In addition, to try out this application's 24-hour free trial period, you won't have to hand over any credit card details. Plus, after completing your purchase, if you're not satisfied with SaferVPN, there's a 30-day money-back guarantee.
Not everything's perfect here, though. If you're a BitTorrent user, don't expect great speeds nor any kind of support. Plus, SaferVPN doesn't come with a Linux-compatible app; you'll have to manually configure it in Ubuntu. Want to know more about this VPN? Read TechNadu's full SaferVPN review.
4. TorGuard
Providing support for multiple VPN routers, TorGuard is designed for BitTorrent power users. You'll find connections designed with downloads in mind along with AES256 encryption, a connection kill switch, and more.
Along with a 7-day money-back guarantee, TorGuard comes with a considerable number of servers around the world. Yet, this VPN isn't very welcoming to newcomers, who'd be better off sticking to other VPN applications on this list. Wondering if this VPN application is right for you? Check out our complete TorGuard review.
5. StrongVPN
Our final VPN solution, StrongVPN, offers military-grade security to keep you protected and anonymous while browsing online. This application also supports a wide variety of operating systems, including mobile.
Similar to ExpressVPN and NordVPN, you'll have to pay more just to get started. With only 20+ countries available, subscription prices start at $10 a month. You'll also have to bear with a somewhat slow and clunky UI, which often feels very strange to use.
However, because StrongVPN is a relatively low-key premium-priced VPN application, you'll likely enjoy FuboTV without worrying about being blocked. Would you like to know more about StrongVPN? TechNadu has an in-depth review of StrongVPN here.
FAQ About FuboTV
We want you to take full advantage of what FuboTV offers, and not just in the United States. So, let's take a closer look at this streaming service and how VPNs can be used.
Why is FuboTV Available Only in the USA?
FuboTV lets you watch over 75 live sports channels all in one service. Best of all, you don't need to pay for an expensive cable or satellite subscription to start watching.
According to the latest stats, FuboTV recently surpassed 100,000 subscriptions. Several months ago, the live sports streaming service recently added the NFL Network, Pac-12 Network, CBS, and CBS Sports Network to its premium line-up. In addition, FuboTV has raised $75 million since its inception. The over-the-top internet television service has received backing from 21 Century Fox, Sky, and Scripps Networks Interactive, among others.
The service has just one problem, though. Due to licensing issues abroad, you can't watch your favorite sports programs on FuboTV outside the US. This means that you'll lose the ability to watch live matches and sports show on-demand. So, what do you do? Well, you can make use of VPN applications.
What Kinds of Content You Can Watch on FuboTV?
Even though FuboTV started its life as a sports streaming service, it managed to expand over time. Today, you can count on this service to stream movies, TV shows, live games, and pretty much anything in between.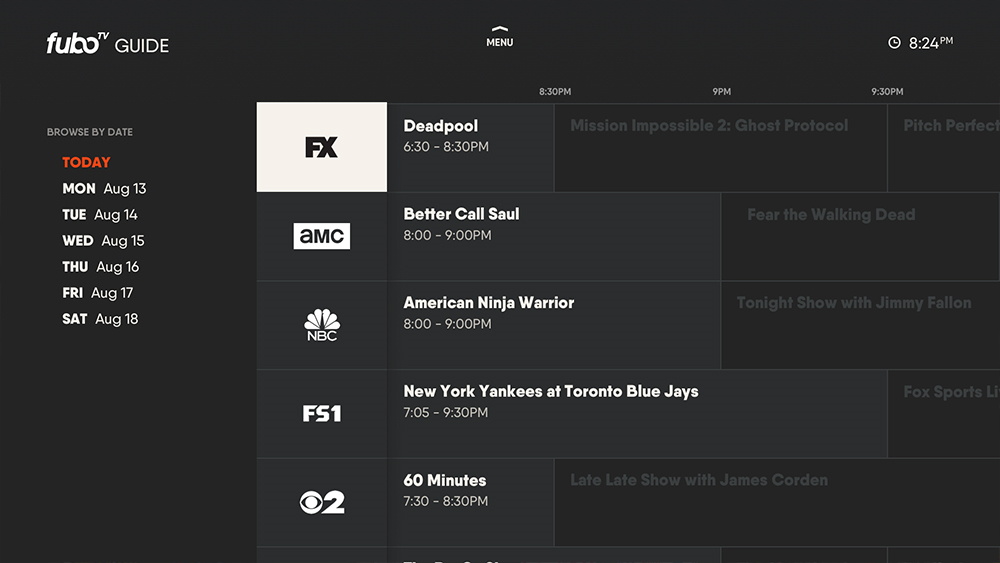 It's also worth knowing that there are several bundles to choose from, which means that you can fine-tune your experience. For in-depth information, you can turn to our review of FuboTV.
On What Devices You Can Watch FuboTV?
FuboTV is available on a wide array of devices and platforms – both mobile and desktop. You can use it on your iOS or Android device, as well as on numerous media streaming devices like Roku or Amazon Fire Stick. To learn what's on offer as well as how to find and install FuboTV's apps, here's the company's official support page.
What are VPN Applications?
VPNs, or Virtual Private Networks, will connect to you the Internet through a service run by the VPN provider. VPN applications allow you to get securely connected, share data remotely, and access blocked content. The best applications will also encrypt data from your computer, phone, or tablet.
Since we could spend a lot of time talking about VPN applications, we are going to show you an interesting article found on our website. Check out how VPN applications work to learn more about their benefits and why it has become imperative to use them.
Can FuboTV Block VPN Applications?
Yes, it can. While there are dozens of free VPNs available online, these won't work. You'll need TechNadu's help. We strongly recommend that you use a premium-priced VPN. Don't worry, though; most are incredibly affordable. The prices even come down substantially if you're willing to pay quarterly or annually.
FuboTV will block most VPNs but not all of them. Using our list, you'll find the best conveniently-priced premium VPN to get you watching FuboTV abroad.
How To Unblock FuboTV Abroad Using a VPN?
First, you'll need to pay for a subscription to FuboTV. Once you're ready to stream, simply select your premium-priced VPN from this list and take the following steps listed below.
Start your preferred VPN application. If you'd like our advice, we recommend you to stick to ExpressVPN.
Connect to a server in the United States. Wait several seconds for the VPN application to geo-spoof your physical location.
Once online, simply launch FuboTV. Start enjoying over 70+ sports channels live.
We hope that TechNadu's handy guide has helped you get started in choosing the right VPN to watch FuboTV outside the US. If you have any issues, please feel free to reach out. You can always count on us.
Feel free to post your comments below. And of course, if this article has helped you, please share it across your favorite social networks. Also, don't forget to follow us on Facebook and Twitter. Thanks!