Keeping up with what's happening back home can be essential for those who travel a lot, as a way to continue feeling connected. If NRK is the platform you want to continue enjoying no matter where you go, we have the solution for you – a VPN. Even though you'll find different options online, allow us to assure you that a VPN is the only reliable (and still working) way to watch NRK outside of Norway.
VPNs are important tools and it's even more important to make the right choice when it comes what name it's going to have. The perfect VPN allows you to hide your real location while going undetected by the site you're trying to visit, but it also protects your online privacy and identity.
Top 5 VPNs For Watching NRK Outside Norway
We put together a list of VPNs that we know will work with NRK anywhere you may go. Check out our list and make sure to read the reviews too.
1. ExpressVPN
At the top of our list, we have ExpressVPN, one of the best tools of this kind in the entire world. Not only does it connect to the selected servers in a few seconds, but it also allows you to enjoy the Internet speeds you've been accustomed to.
The VPN comes with some advanced features, including a kill switch, which means that if the server you've picked to connect to has a downtime for any reason, your data won't leak back to your ISP. Then, there's also the fact that they run zero-knowledge DNS on their servers, so no third parties are involved in the process, and everything is encrypted at every step. Read our ExpressVPN review to find out what makes this tool special.
2. VPNArea
Next up on our list of recommendations is VPNArea, a VPN that has over 500 servers in more than 70 countries. Not only that, but the VPN encrypts all data moving through its servers.
Not to be outdone, VPNArea brings some advanced features built-in, including a double VPN, which means that your data is encrypted twice and you're hidden behind multiple servers, making you close to impossible to track. There's also a zero-logging policy in place, so none of your data gets stored on their server. Furthermore, VPNArea supports P2P, which means that torrenting is possible too. Check out our VPNArea review for all the details.
3. PrivateVPN
Our next recommendation is PrivateVPN, a tool that takes security seriously, using 256-bit encryption protocols for all the data going through its servers. They also have a zero-log policy in place, so none of your data gets left behind on their servers.
PrivateVPN also provides some great protection for your device whenever you have to connect to a Public WiFi hotspot, cutting down the danger. There are over 80 servers to pick from, strewn over 56 countries. Read our PrivateVPN review to find out everything we know about this tool.
4. Strong VPN
Up next, we have StrongVPN, a tool that really provides strong protection to users. Not only that, but this is a tool that's particularly great at streaming video content, so if unlocking various video-on-demand platforms is your goal, this one will be great for you.
The company has a zero-logs policy in place, which is great because you won't have to worry about your privacy being invaded by any trackers. Furthermore, one great thing about this VPN is that they have an app for pretty much any OS and platform out there.
Check out our StrongVPN review to find out what we thought about this tool, what we liked and what we didn't.
5. NordVPN
The last name on our list is NordVPN, the tool with the most impressive server network we've seen thus far, with over 4,800 of them all over the world. Although, if we're being fair, the most impressive part is the fact that they are adding hundreds of servers every other week, or even more frequently than that.
NordVPN uses 256-bit encryption protocols to secure your data, and also provides some additional protections, like a double-VPN, or CyberSec, which is a tool that flags any dangerous websites you may want to visit. When it comes to the supported platforms, NordVPN covers the main ones – Windows, Mac, Linux, Android, iOS, but it also works on routers. Please read our NordVPN review to get the full picture of this software.
FAQ
Knowing your options is a good start. Next, we are going to take a closer look at what VPNs can do and what this means for those who wish to watch NRK from outside Norway. Take a look.
What Can VPNs Help You With?
Watching geographically blocked content wherever you may be is extremely easy if you have a VPN. VPN stands for Virtual Private Network and it's a tool that can make it look like you're in some country, while you're actually at home, chilling on your couch. VPNs are versatile tools that will give you complete Internet privacy, while also unblocking content from pretty much any geo-blocked service out there. To keep learning more, we have an informative article on how VPNs truly work.
Can You Rely on Free VPNs for Watching NRK Abroad?
One thing our list does not include is 'free VPNs.' These are tools that are intensely marketed online, but they're not really as free as they'd like you to believe, mostly because they offer only a limited bandwidth for free, and when that's consumed, they ask for payment.
They also quite often hold onto traffic logs, which affects the privacy feature associated with VPNs. Plus, these tools are easily tracked by streaming platforms, meaning they can be blocked. If you truly care about your privacy and don't want a single file to be collected about your browsing, take a look at the best no-logs VPN providers.
Why Go to All This Trouble for NRK?
NRK stands for Norsk Rikskringkasting AS and it's the Norwegian radio and television public broadcasting company, owned by the Norwegian government. There are three national TV channels, and three national radio channels covered by this brand.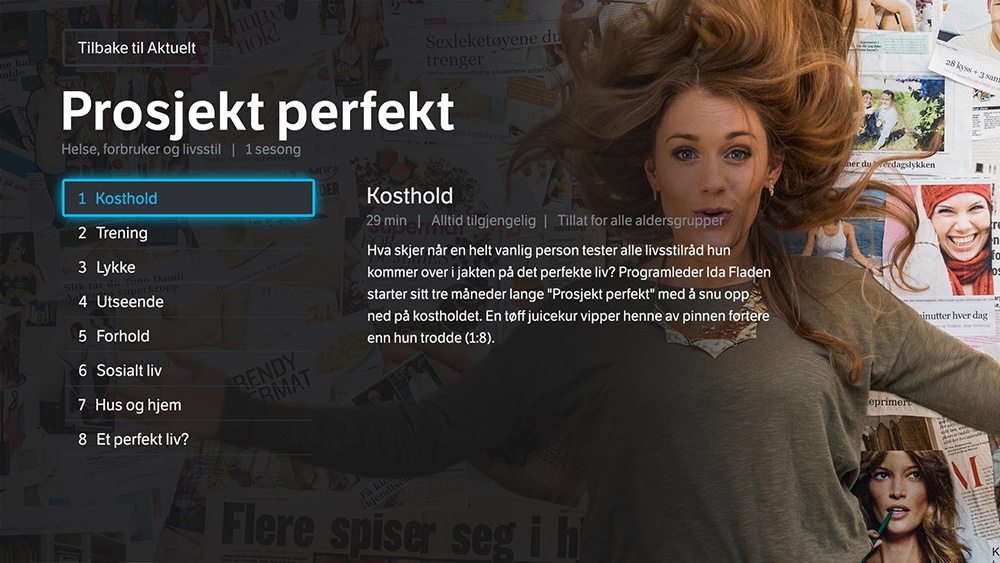 There are loads of things you can do on the NRK website, including reading up on the local and international news, watching live programming, or listening to the radio stations. You can also watch documentaries like The Fourth Estate, or series like Grey Zone, Paula, Mr. Robot, The Vikar, and so on. There are also loads of TV shows, sports, and comedy shows. In case you're a Norwegian citizen living abroad, we are sure you're going to enjoy watching NRK.
Where is NRK Available?
As you'd expect, the content is only available in Norway. There are some exceptions, of course, but those are few and far between. For full access, you'll need to be in Norway, or, at the very least, appear to be there. This is of course, easily obtainable with the help of a VPN.
How Can You Access and Watch NRK?
NRK content can be watched on a few platforms. This isn't Netflix, or Hulu, or some other massive video streaming platform, so there's little need for a wide range of devices. And yet, you can still enjoy the content on your computer via your web browser, or via your iOS and Android smartphones and tablets.
NRK is a great platform, and this guide has hopefully helped you get access to everything that's on it. We are sure you're going to be entertained for a very long time.
Please let us know your thoughts in the comments section below, and share the article online so others can find it too. You can check us out on Facebook or Twitter.