Watching Norwegian movies, TV shows, and live TV channels can be a difficult task if you're currently abroad. And even if you do find an OTT service that offers Norwegian channels, they're typically priced extra. So, we know what you're currently thinking: is there a way to watch NRK TV outside Norway? 
We're happy to report that – yes, you can access NRK TV from any country in the world. Still, to make that happen, you need to use a VPN service. With that said, here's everything that you'll want to know. 
Where Is NRK TV Available? 
As you can already guess, NRK TV is available in Norway only. Even though you can access its official website from anywhere, you won't be able to stream any content.
That's because NRK TV checks your IP address once you start streaming any video. If you don't have a Norwegian IP, the website will say "Ikke tilgjengelig utenfor Norge," which translates to "Not available outside Norway." However, that's not where you should stop. 
Using a VPN service that has Norwegian servers will do the trick. Still, you'll need one that provides a pleasurable streaming experience. So, let's jump to what you want to know.
How to Watch NRK TV Outside Norway? 
To access and watch NRK TV outside Norway in 2021, do the following: 
Step #1: Find the Best-Working VPN for Unblocking NRK TV
During our preparations for this article, we've spent quite some time testing various VPNs. So, we know which one to recommend, and that would be ExpressVPN. This is the only VPN that can unblock NRK TV outside Norway while also featuring fast speeds and an incredibly smooth streaming experience. 
3,000+ VPN servers in 160 VPN server locations in 94 countries, 5 Simultaneous connections, Fast and stable connection, No activity logs or connection logs, No bandwidth limits, Strong encryption, 24/7 live chat support, and 30-day money-back guarantee.
You should also know that ExpressVPN is one of the best VPN services. Therefore, you won't make a mistake if you pick that one. Still, if you need more options, we offer you our overview of the best VPNs for media streaming – so don't forget to take a look.
Step #2: Get Your VPN Subscription
Have you decided on which VPN you'll get? If still in doubt, go with ExpressVPN. We'll use it throughout this article to give you an example of how to watch NRK TV outside Norway. So, once you get to the VPN's website, click on 'Get ExpressVPN' to initialize the sign-up procedure.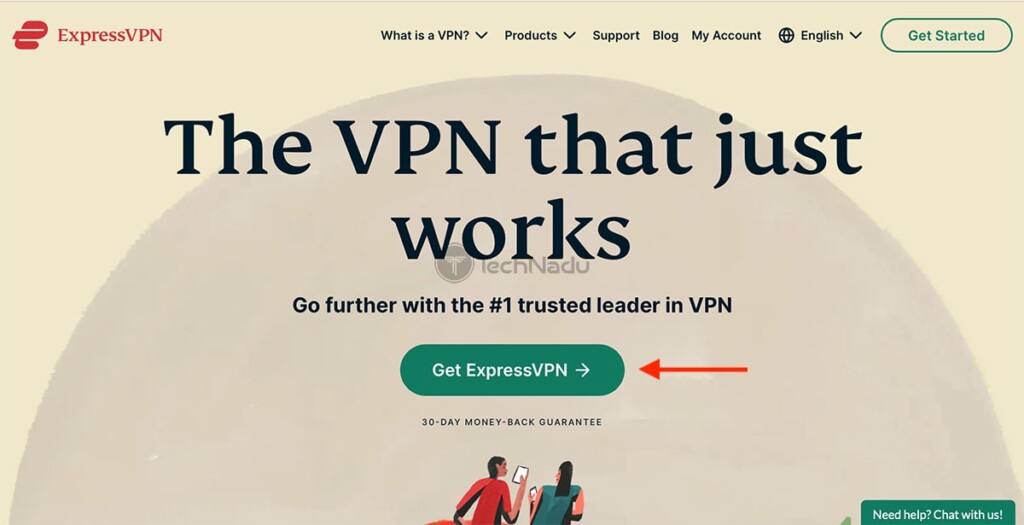 Then, pick a subscription plan and input your email address. Lastly, choose a payment method and provide the required information. Once done, ExpressVPN's team will send you a confirmation email, so don't forget to check your inbox.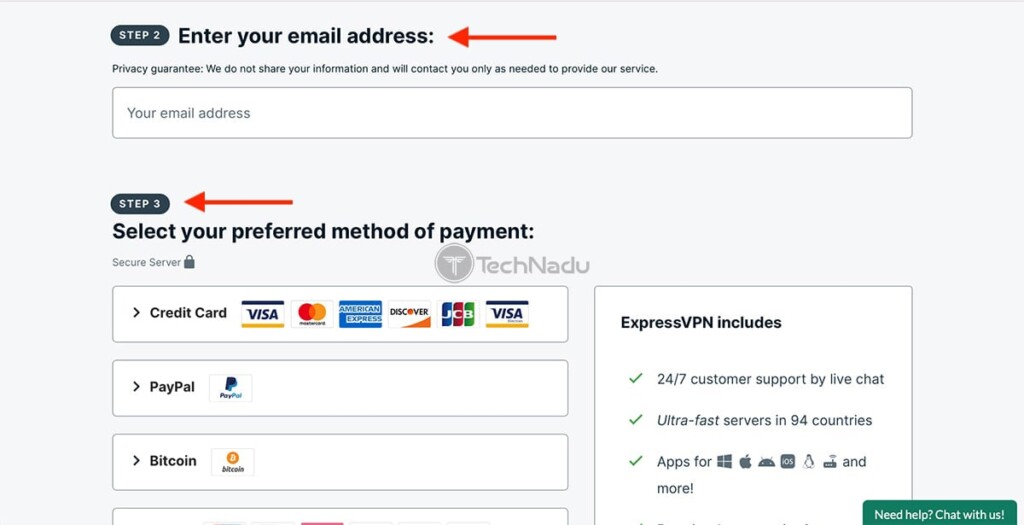 Step #3: Download & Install the VPN on Your Device(s)
We won't get into too many details here because we already have a guide on downloading, installing, and using ExpressVPN. Use the provided link to get to our central guide, covering more than 60 devices natively supported by ExpressVPN.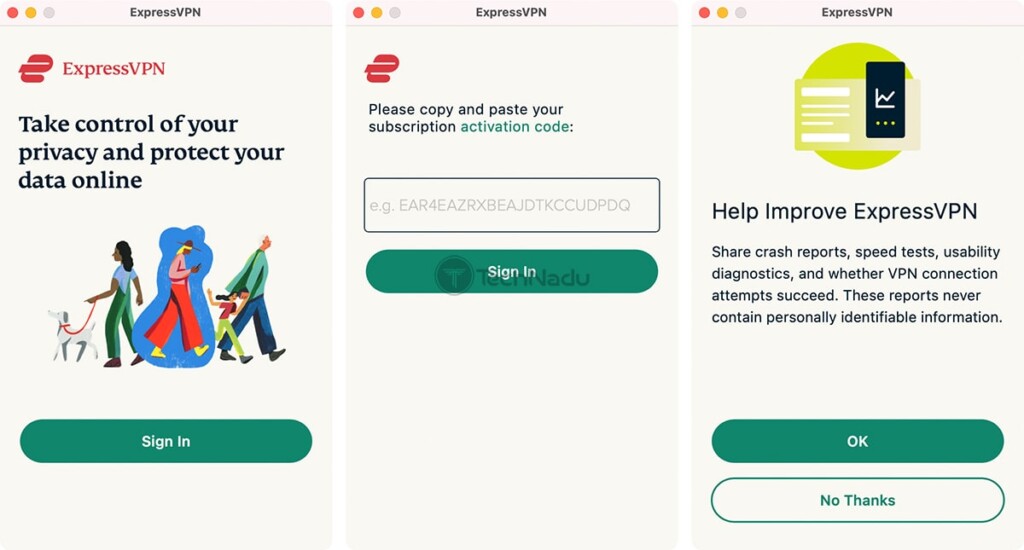 Once you install the VPN, you also need to make it ready for use. In other words, open the app and make sure to log in (here's how to find your ExpressVPN activation code). You can proceed to the next step on you get to ExpressVPN's home screen.
Step #4: Connect to a VPN Server in Norway
Using ExpressVPN to connect to any server is unbelievably easy. This process starts by clicking on the button just below the prominent ON/OFF switch on ExpressVPN's home screen. A new window will open, so type in 'Norway' in its search bar (at the top). And finally, double-click on the country's name to connect. 
ExpressVPN will now take a couple of seconds to connect you. Once that happens, the upper half of its interface will turn green – which means that you now have an active VPN session. Finally, let's show you how to unblock and watch NRK TV outside Norway. 
Step #5: Unblock & Access NRK TV from Anywhere
You can now feel free to use any Web browser to visit NRK TV's website. There's no need to register for an account, as NRK TV's content comes free of charge. So, go ahead and pick any type of content and then start playing it. 
Also, make sure to pay attention to the website's main menu. That's where you can search individual content categories, watch NRK live (including NRK 1, NRK 2, NRK 3, NRK Super, and NRK Tengspraak), and more. 
Step #6: Get NRK TV on Other Devices (Optional)
In case you'd like to watch NRK TV outside Norway on your mobile devices, you should download the NRK app for Android and iOS/iPadOS. Based on our testing, the application isn't only available on the Norwegian version of the iOS App Store – which means that anyone can download it.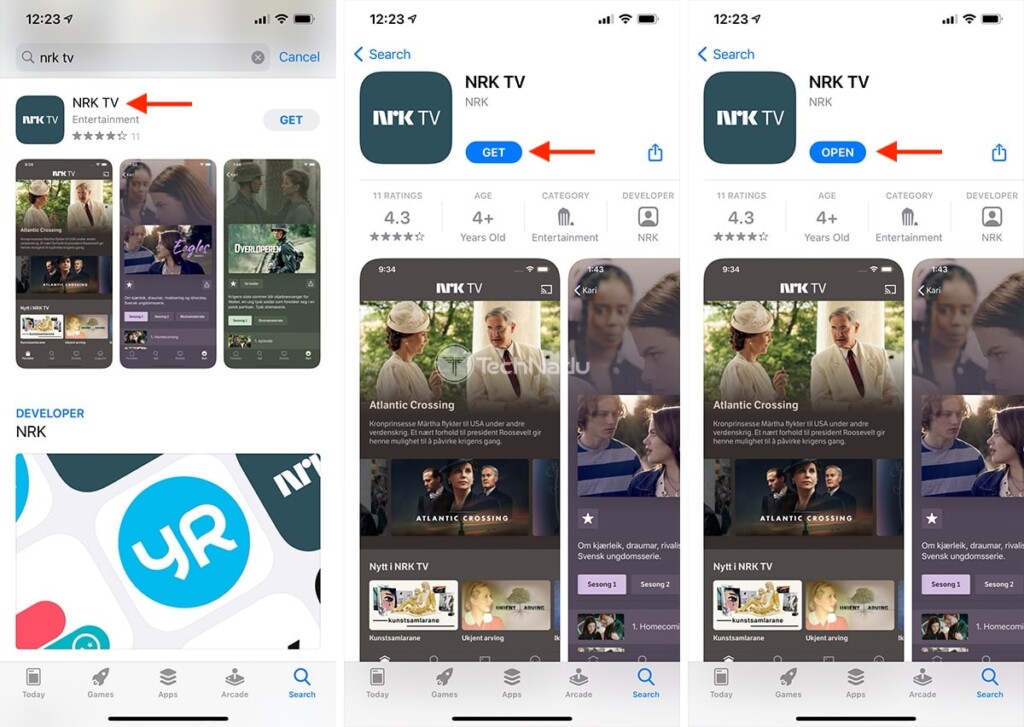 So, once you download NRK TV to your device, make sure to use ExpressVPN to connect to one of its Norwegian servers. Then, launch the app, and you'll have full access to its media streaming library. Make sure to keep your VPN session active as long as you plan to use NRK TV, and you'll get to access the streaming service without any issues.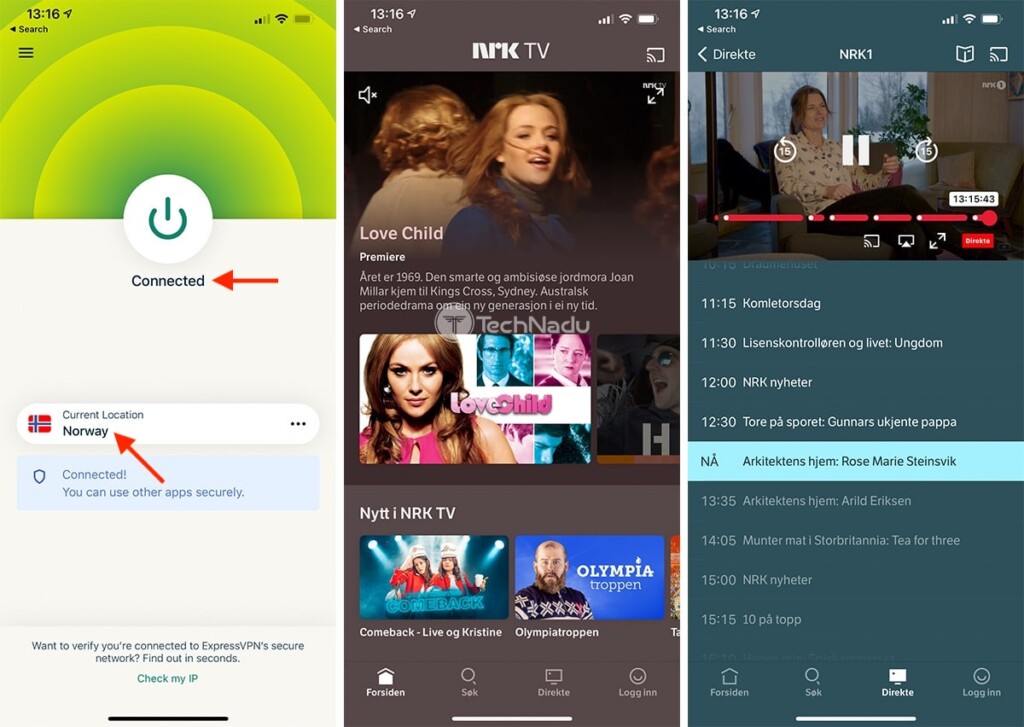 FAQ
What Is NRK TV?
NRK TV is a media streaming service offered by the Norwegian Broadcasting Corporation, serving movies, TV shows, and even a selection of live TV channels.
Does NRK TV Offer Live Norwegian TV?
Yes, NRK TV offers Norwegian TV channels live, free of charge. You can use it to live stream NRK 1, NRK 2, NRK 3, NRK Super, and NRK Tengspraak. 
What Devices Are Compatible With NRK TV?
How Much Does NRK TV Cost?
NRK TV comes free of charge. As long as you access the service using a Norwegian IP address, you'll get to watch all of its content without paying anything.
Can You Unblock NRK TV Using a Free VPN Service?
No, there's no free VPN that can unblock NRK TV outside Norway. Our recommendation is to use ExpressVPN for this purpose.
That would be all on how to watch NRK TV outside Norway. In case there are any questions or doubts, know that you can count on us. So, post your comment just below. Lastly, thanks for reading!