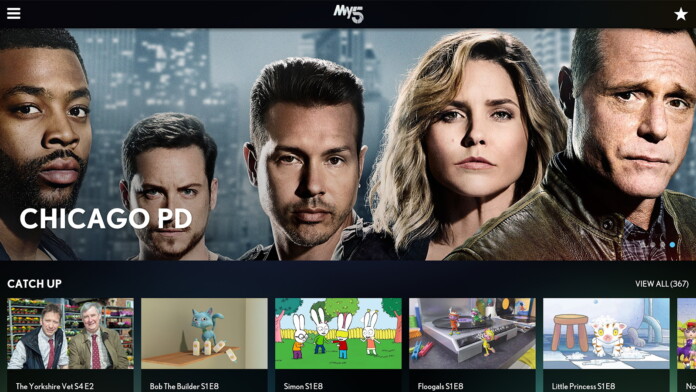 Channel 5 is a great place to check out a ton of shows that are all the hype right now, as well as some that have been on TV for many years. My5 is a video-on-demand platform associated with the British TV network, but it's not available to those living outside of the UK unless they have a VPN. So, let's find out how to watch My5 outside the UK.
5 Best VPNs That Unblock My5 Outside the UK
The following list has been created after closely inspecting dozens of VPNs. This is why you'll find detailed reviews of each of the following options. The only thing that's left is to present top 5 best VPNs for unblocking My5.
1. ExpressVPN
At the top of our list, we have ExpressVPN, one of the best tools of its kind, according to critics and users alike. Not only does this VPN provide thousands of servers to connect to, but it also assures you everything is safe. ExpressVPN uses tight security protocols to encrypt data, connects to selected servers extremely fast, and doesn't throttle Internet speeds.
There's also an extremely useful kill switch, which stops any of your data from reaching back to your ISP in case the server you're connected to has downtime for any reason. ExpressVPN works on numerous platforms, including Windows, Mac, iOS, and Android. And, we have a full review of ExpressVPN if you want to get all the details before making a decision.
2. TorGuard
Our next recommendation is TorGuard, a tool that's been around for quite a while, managing to uphold a good reputation. The VPN has over a network of over 3,000 servers in over 50 countries, which is great versatility.
When it comes to security, TorGuard takes things seriously, using military-grade encryption protocols to hide your steps. The fact that there's also a zero-log policy in place makes things even better.
TorGuard works on Windows, Mac, Android, iOS, and more. TechNadu has a full review of TorGuard, where you can find all the details you want.
3. Ivacy VPN
Next up on our list is Ivacy VPN, a tool that's extremely easy to use. Not only does it secure your connection with a slew of encryption protocols, but it also comes with a zero-logs policy, as well as a kill switch.
Ivacy VPN has over 450 servers to pick from, which may not seem like a lot when compared to other VPNs, but it's certainly enough to get you everywhere you need to go. The cool part about this VPN is that it also supports P2P, so if you're into BitTorrent, you're covered.
Ivacy VPN works on a multitude of platforms, including Windows, Mac, iOS, Android, Linux, smart TVs, and gaming consoles. We have a review of Ivacy VPN full of all the details you may want about it.
4. PureVPN
PureVPN is our next recommendation, a tool that takes your security quite seriously. On top of the 256-bit encryption protocols used to secure data, there's also an antivirus to keep away the bugs, and a way to secure public WiFi hotspots for those times when you just don't have another way.
PureVPN has over 2,000 servers in over 140 countries, and it comes with a split tunneling feature, which means that only the traffic you want will go through the VPN while the rest can go through your regular ISP.
The VPN works on Windows, Mac, Linux, Android, iOS, Smart TVs, and gaming consoles. Our PureVPN review will give you all the details we missed revealing.
5. NordVPN
The last recommendation of the day is NordVPN, which uses 256-bit encryption protocols to secure your data, the same as the NSA. There are, of course, many positive things about this VPN, including the double-VPN feature which hides you behind multiple servers at once, or the CyberSec feature that flags dangerous websites.
One of the most impressive things about NordVPN, however, is the ever-growing server network. With hundreds being added in the past few weeks alone, the VPN's server network counts over 5,100 units in 62 countries.
NordVPN works on Windows, Mac, Linux, Android, iOS, and more. Our NordVPN review has all the details you want.
FAQ
By now, you're aware of 5 VPNs that can get you a British IP address and unblock My5. However, we'd also like to provide additional details regarding this streaming service, so let's keep on going.
What is My5?
Launched back in 2008 as Five Download, and later Demand 5, My5 is the online platform associated with Channel 5. Not only can you find the Channel 5 programming here, but you can also check out plenty of additional content.
Where is My5 Available?
Much like many platforms that are associated with a TV network, this one is only available on UK territories. This means that if you're a British citizen planning on traveling for a bit, or actually live abroad, you're out of luck because you won't be able to view the content. Thankfully, however, there are plenty of VPNs to pick from.
On What Devices Can You Access My5?
My5 is keeping up with the times and has apps for several platforms, including iOS devices, Android, as well as Samsung smart TVs and Blu-ray players. You may also watch the content via PS3 and PS4, and Xbox One consoles. Of course, there's always the option of watching the content via a Web browser.
What Can You Watch on My5?
My5 is full of pretty great content, ranging from entertainment series like Baby Ballroom, dramas like NCIS, Empire, Law & Order, or Riverdale, or films like The Expendables or Dances with Wolves. There are also some sports clips to watch, as well as documentaries on various topics, from ancient mysteries to nature.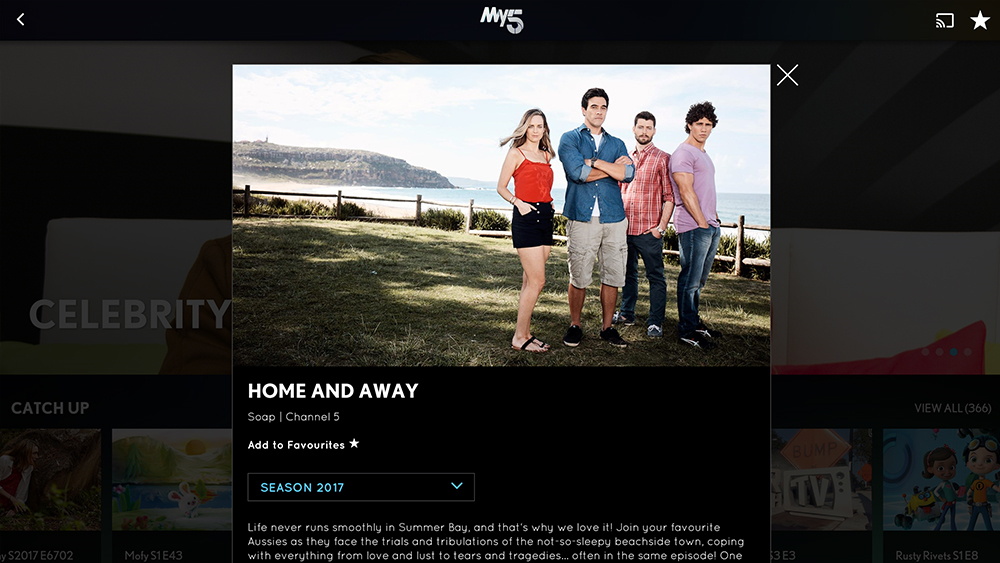 How to Watch My5 Outside the United Kingdom?
If you're planning on watching any of the My5 content from abroad, you're going to need a trusty VPN. But what are they?
Well, VPNs, or Virtual Private Networks, are tools that allow you to make it seem as if you're connecting to the Internet from a different location than you're actually in. For instance, while you may be relaxing on a Greek island, you could make it look as if you're in London. They're also really good at securing your data and hiding your online steps to the point of anonymity.
Despite being pretty complex tools, they're quite easy to figure out, mostly due to the simplified interface that doesn't allow you to make mistakes. However, we're going to walk you through each step, so there's no confusion about what you need to do.
So, the first thing you want to do is to launch your VPN. We strongly recommend ExpressVPN, but the rest are great too.
Then, you're going to want to pick a UK-based server and connect to it.
After a few seconds, the connection is established. The VPN will tell you when this happens.
You can now load the My5 website on your browser, or launch the app.
That's it! Enjoy watching My5!
Regardless of where you are in the world, a VPN will help you watch everything there is to watch on My5, including all those favorite shows of yours. With this said, we hope that know you know how to watch My5 outside the UK.
If you enjoyed our guide, share it online so others can find it as well. And do not forget to follow us on Facebook and Twitter. Thanks!