Interestingly enough, My5 is one of the UK's oldest online services of its kind, being available since 2008. Of course, it grew over the years and is now a fully-featured media streaming service that brings content from Channel 5 and related networks. However, one thing hasn't changed, and yes – we're talking about the service's geo-restrictions. So, is there a way to watch My5 outside the UK in 2021? 
The trick to unblocking My5 from anywhere in the world is to use a VPN. So, let's see which VPN does the job, how to use it, and more. 
Where Is My5 Available? 
My5 is available in the United Kingdom, the Channel Islands, and the Isle of Man. That has always been the case, with no plans for any changes in the future.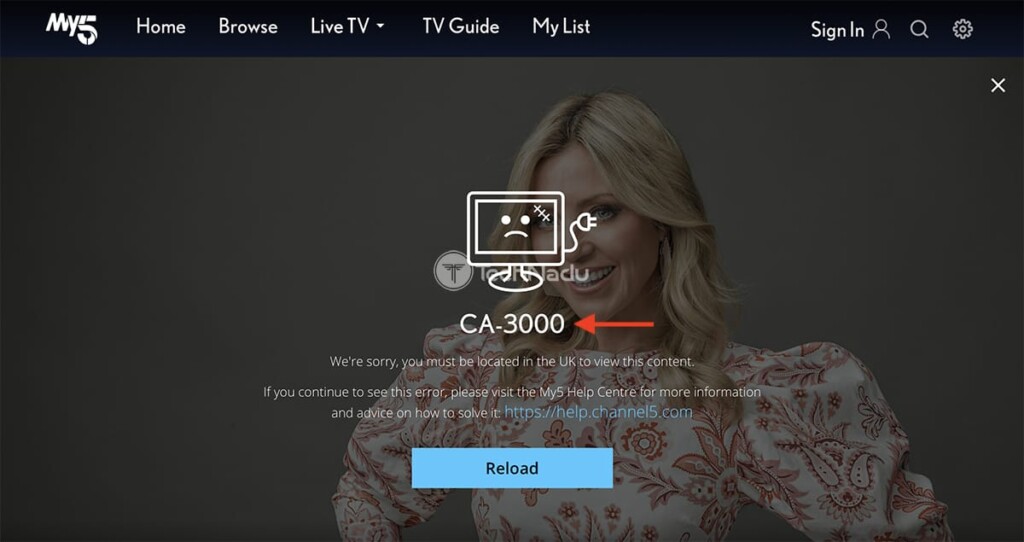 Keep in mind that My5's website is accessible from any country. However, as soon as you start streaming any video, you'll encounter the 'CA-3000' error message saying, "We're sorry, you must be located in the UK to view this content." 
How to Watch My5 Outside the UK? 
Finally, follow these 6 steps to watch My5 outside the UK in 2021: 
Step #1: Find the Best-Working VPN to Unblock My5
To unblock and watch My5 outside the UK, you need a VPN with plenty of servers in the United Kingdom. That VPN should be capable of bypassing My5's geo-blocking mechanisms as well. With that said, our strong recommendation would be ExpressVPN.
3,000+ VPN servers in 160 VPN server locations in 94 countries, 5 Simultaneous connections, Fast and stable connection, No activity logs or connection logs, No bandwidth limits, Strong encryption, 24/7 live chat support, and 30-day money-back guarantee.
After testing more than 60 VPN services, we believe that ExpressVPN is the best VPN you'll find today. It works with My5 and a massive number of other services. And on top of that, it's pretty easy to use. However, to explore other options, check the best VPNs for streaming. 
Step #2: Get Your VPN Subscription
Before we can proceed any further, you need an active VPN subscription. So, if you haven't done so already, subscribe to ExpressVPN. Once you find yourself on the VPN's website, select 'Get ExpressVPN' and then pick a subscription plan. Take a good look at the currently available plans and pay attention to long-term ones, as they come with steep discounts.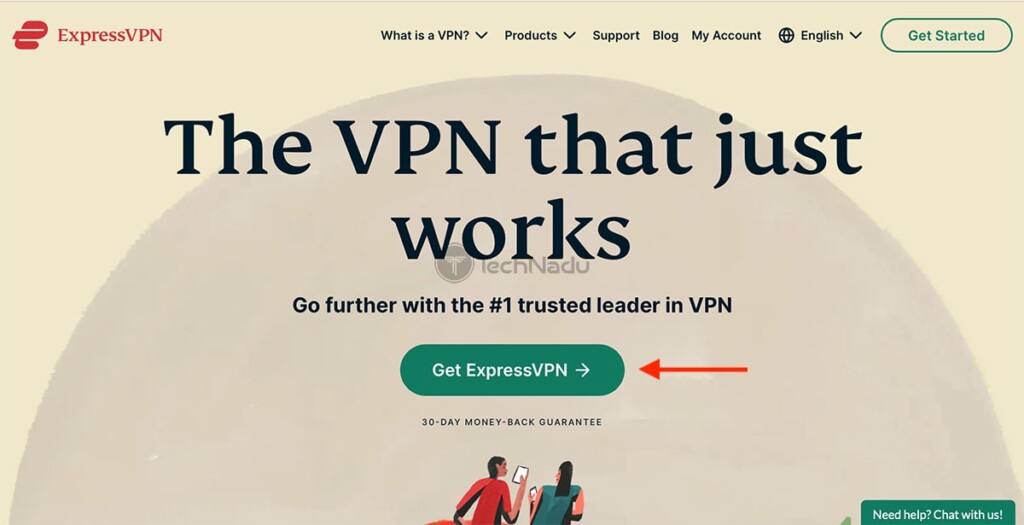 Then, provide your email address and pick a payment method. Once you provide the required info and pay for your subscription, expect to receive an email from ExpressVPN. When that happens, feel free to proceed to the next step.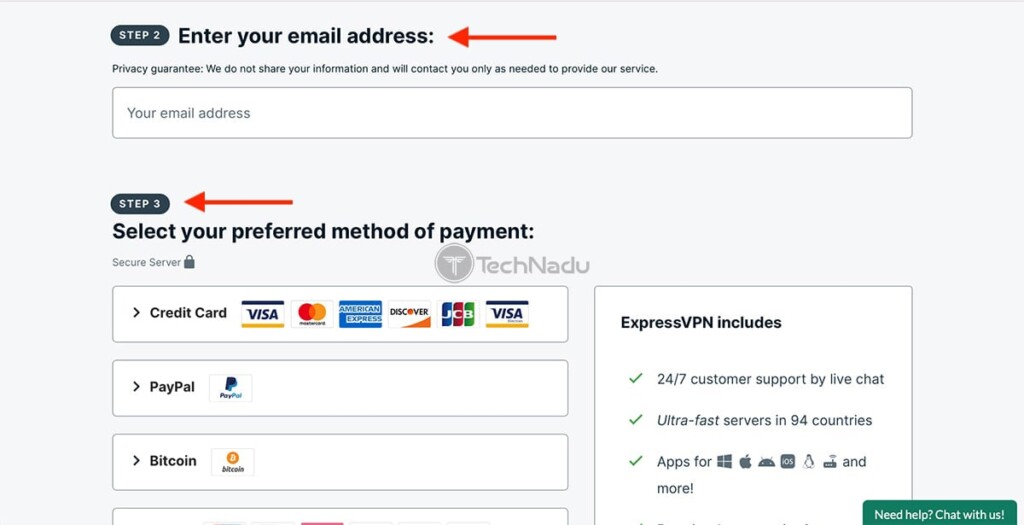 Step #3: Download & Install the VPN on Your Device(s)
To watch My5 outside the UK on your computer, you need to install ExpressVPN on that computer. The same applies to your smartphone, tablet, or any other device. With that said, we'll point you to our central guide on downloading and installing ExpressVPN, where you'll find instructions for more than 60 supported platforms and devices.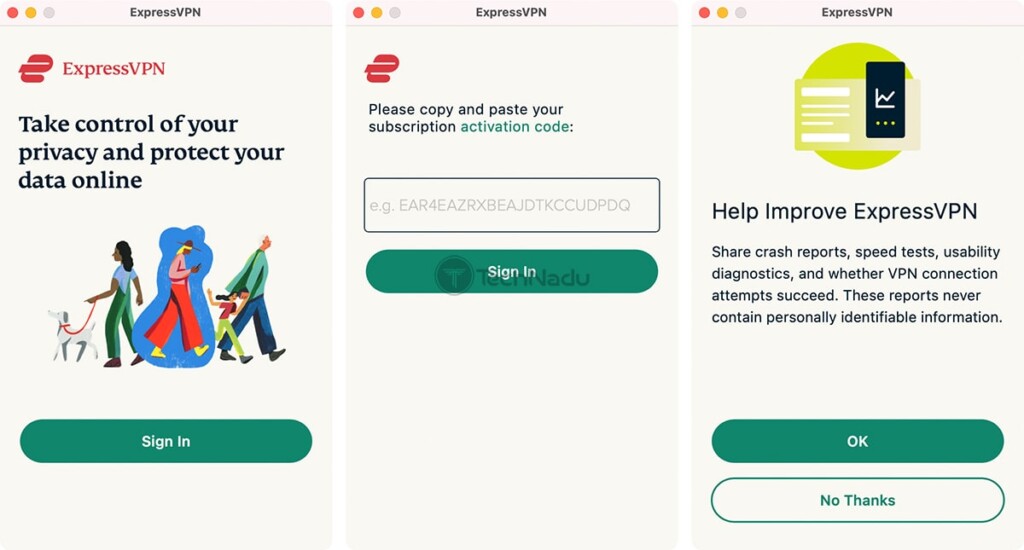 Once you install the software, it's important to run it for the first time (to prepare it for use, that is). So, open ExpressVPN and log in to your account (here's how to get your ExpressVPN activation code, by the way), and then complete the initial setup. You can jump to the next step once your reach ExpressVPN's home screen. 
Step #4: Connect to a VPN Server in the UK
Now, here's the step you'll need to do each time you wish to watch My5 outside the UK. Using ExpressVPN's home screen, select the button you'll see just below the ON/OFF switch. A new window will open, showing you a long list of ExpressVPN servers.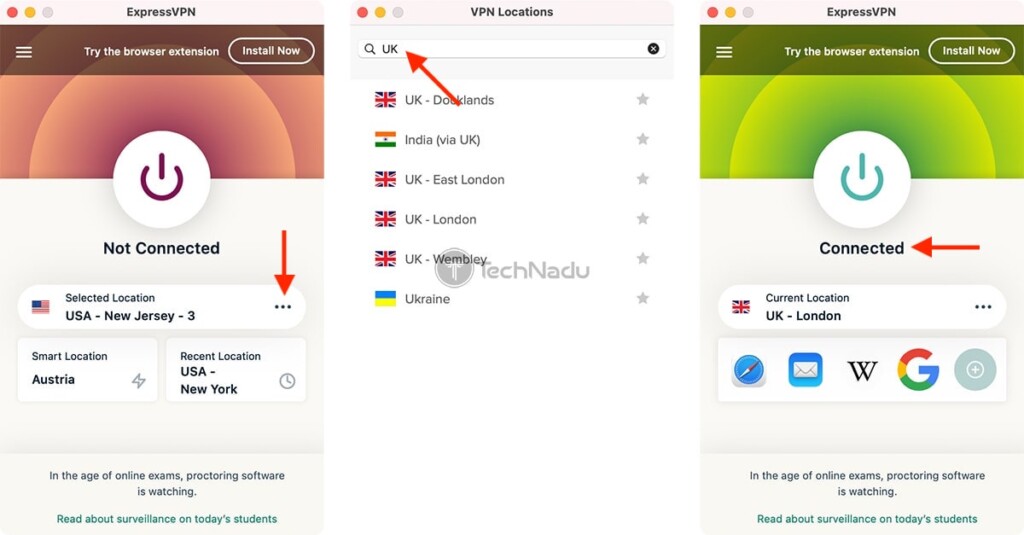 You can either find 'United Kingdom' manually or use the top-placed search bar. Then, double-click on the country's name or any individual server. Wait a few moments until ExpressVPN connects you. Once that happens, the VPN's home screen will turn green, and you can now proceed to unblock and access My5.
Step #5: Unblock & Access My5 from Anywhere
Now, feel free to access My5 using any Web browser. The website should open without any issues, giving you full access to its library. Feel free to pick any video, and My5 will check your IP address. Since you have a UK IP now, you should see a couple of ads, followed by the episode you've chosen to play. So, no restrictions whatsoever.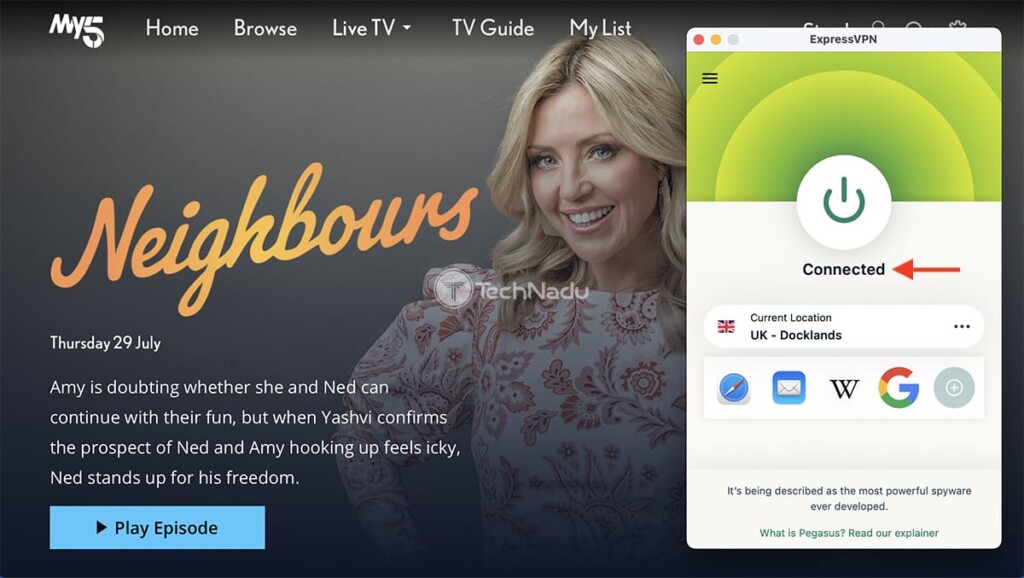 We'd also like to note that you can always create a My5 account, free of charge (by clicking on Sign In > Register). Doing so will unlock older My5 content in addition to My5 exclusive shows and content extras.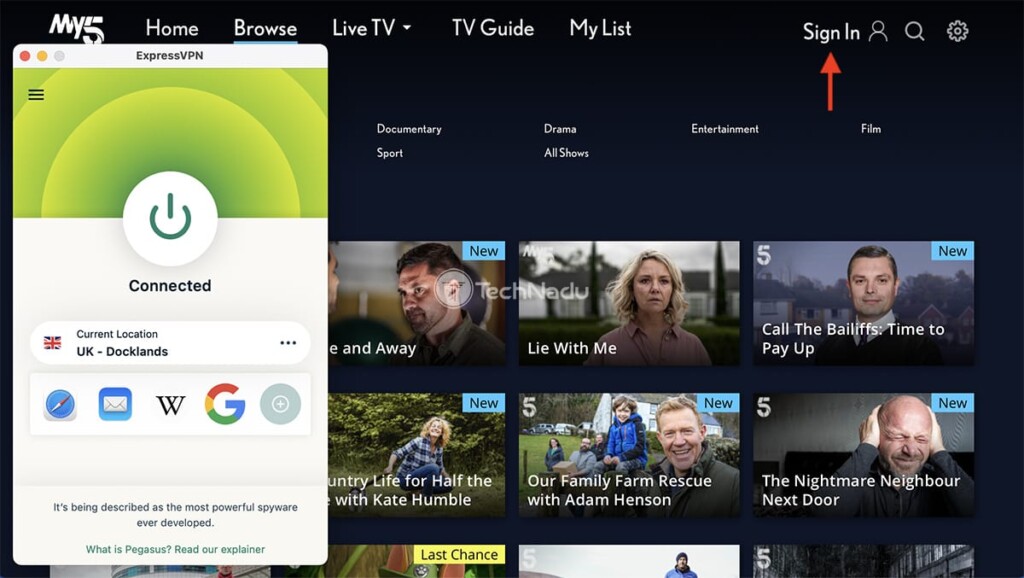 Step #6 (Optional): Get My5 on Other Devices
Keep in mind that My5 also offers apps for iOS/iPadOS and Android. However, those are only available on the UK version of Apple's App Store and Google's Play Store. If you have access to those, feel free to download My5 on your device. 
At any moment, you're also free to sign up for a new Google account or get a new Apple ID. Make sure to use a VPN while signing up, and pick 'United Kingdom' if asked about your country. Apple will also ask for an address, so feel free to use Google to find one. Then, make sure to log out of your old account and log in using your new account (on your smartphone or tablet).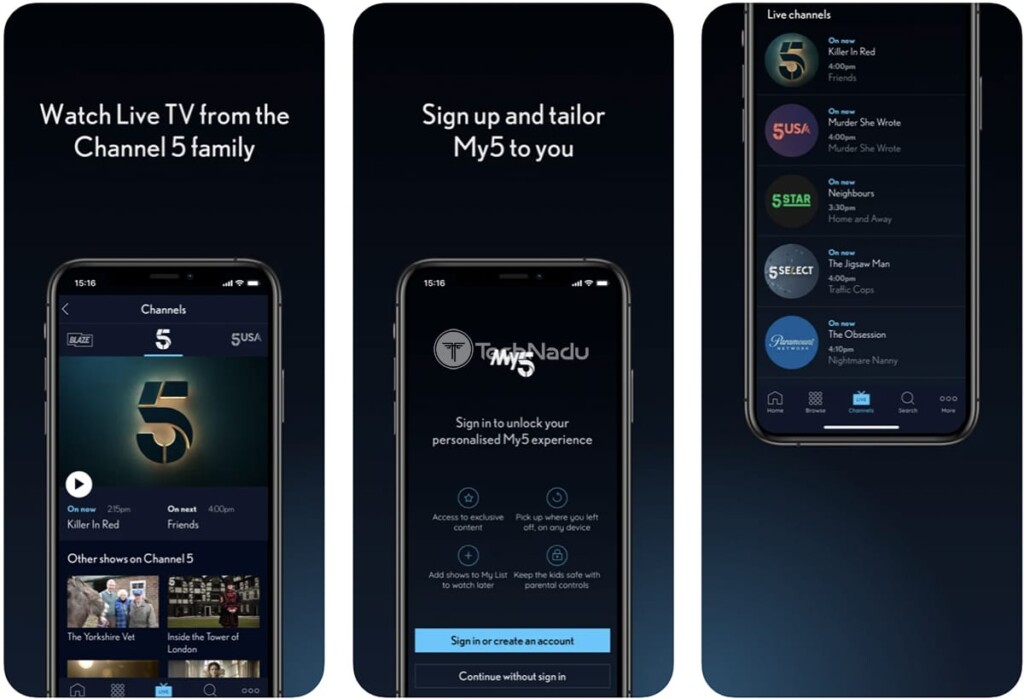 Once you download My5 on your device, make sure to use ExpressVPN to connect to a server in the UK. And then, you'll get to both unblock and watch My5 outside the UK, even on your smartphone or tablet.  
FAQ
What Is My5?
My5 is a video streaming service offered by Channel 5 in cooperation with networks such as BET, CBS Reality, 5Star, 5Spike, 5USA, Paramount Network, and more. 
What Can I Watch on My5?
On My5, you'll find TV shows, cartoons, reality TV, documentaries, live TV, and more. Also, My5 gives you access to WWE-produced shows in the UK. 
Some of the most popular titles right now are Neighbors, Lie With Me, Wentworth Prison, Ambulance: Code Red, The Hotel Inspector, NCIS, and plenty more. 
Can I Watch Channel 5 via My5?
Yes, you can watch Channel 5 via My5 in many different ways. This streaming service offers both on-demand shows from Channel 5, as well as its live stream. 
Do I Have to Pay to Watch My5?
No, you don't have to pay anything to watch My5. This is a free-of-charge media streaming service, which can even be used without registering an account. 
Do I Have to Register to Watch My5?
No, you don't have to register to access My5. However, if you want to access older TV shows and exclusive content, you'll need to register for a free-of-charge account. 
Can a Free VPN Unblock My5 Outside the UK?
No, we weren't able to find a free VPN that lets you access My5. Those VPNs typically come with bandwidth limitations, which makes them unsuitable for streaming. 
With that said, our strong recommendation is to pick a reliable and trustworthy paid VPN, such as ExpressVPN – which lets you watch My5 outside the UK with ease. 
That would be all on how to watch My5 outside the UK in 2021. In case you have any questions for us, don't hesitate to post your comment below. And lastly, thank you for reading!