When it comes to the best free-of-charge streaming sites, Pluto TV comes out on top. It offers a combination of live channels and on-demand content, which you can watch even without registering an account. However, the big question is - how to watch Pluto TV outside the US?
The answer is using a VPN! By relying on that type of software, you can go around geo-blocks imposed by Pluto TV and similar streaming services. We're going to show you how that's done, so let's jump right in!
Where Is Pluto TV Available?
Initially, Pluto TV was available in the United States only. However, that started to change in 2019, once ViacomCBS acquired this Los Angeles-based streaming service.
After its expansion to Canada, Pluto TV reached 17 countries across Latin America: Argentina, Bolivia, Chile, Colombia, Costa Rica, Dominican Republic, Ecuador, Guatemala, Honduras, Mexico, Nicaragua, Panama, Peru, Paraguay, El Salvador, Uruguay, and Venezuela. In late 2020, it expanded to Brazil as well.
Furthermore, Pluto TV is available across Europe. In February 2021, this streaming service reached France, after reaching the United Kingdom, Germany, and Spain. And when it comes to its future plans, we should see Pluto TV reach Italy in late 2021.
Even though Pluto TV is available across 20+ countries, know that its library of live and on-demand content isn't the same everywhere. In many countries, Pluto TV comes with a highly restricted library of content, which isn't the case in the US. With that said, we'll teach you how to access and watch the US version of this media streaming service.
How to Watch Pluto TV Outside the US
To access and watch Pluto TV from outside the US in 2022, go through these steps:
Step #1: Pick the Best VPN for Unblocking Pluto TV
To unblock and access Pluto TV from outside the US, you need a capable VPN service with a proven track record of working with this streaming service. You should never go for the first VPN you see since they all have different capabilities and feature sets.
After testing more than 60 VPN services, we've put together a handy list of the best VPNs for Pluto TV. As you're about to see, our top recommendation is ExpressVPN.
3,000+ VPN servers in 160 VPN server locations in 94 countries, 5 Simultaneous connections, Fast and stable connection, No activity logs or connection logs, No bandwidth limits, Strong encryption, 24/7 live chat support, and 30-day money-back guarantee.
Aside from being the best VPN right now, ExpressVPN is also the best possible choice for media streaming. It works with many different streaming services while also unblocking Pluto TV with ease. That's the reason why we'll use ExpressVPN throughout this article.
Step #2: Get Your VPN Subscription
Before you do anything else, you need to get your VPN subscription. In other words, proceed to sign up for ExpressVPN, which should take no more than a few minutes of your time.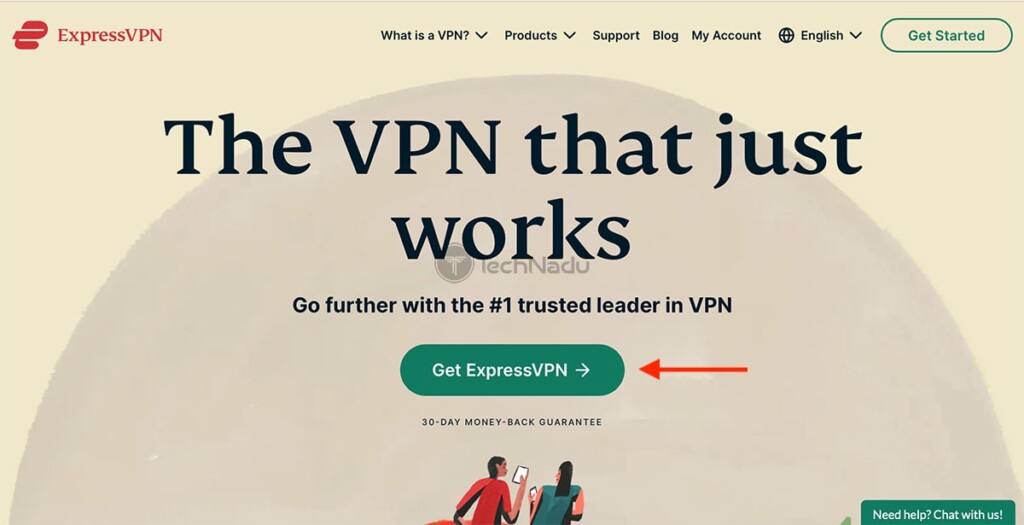 As soon as you land on ExpressVPN's website, select 'Get ExpressVPN' to launch its sign-up form. First, pick a subscription plan (feel free to pick a long-term one, especially if you want to save some money). Then, fill out the required information.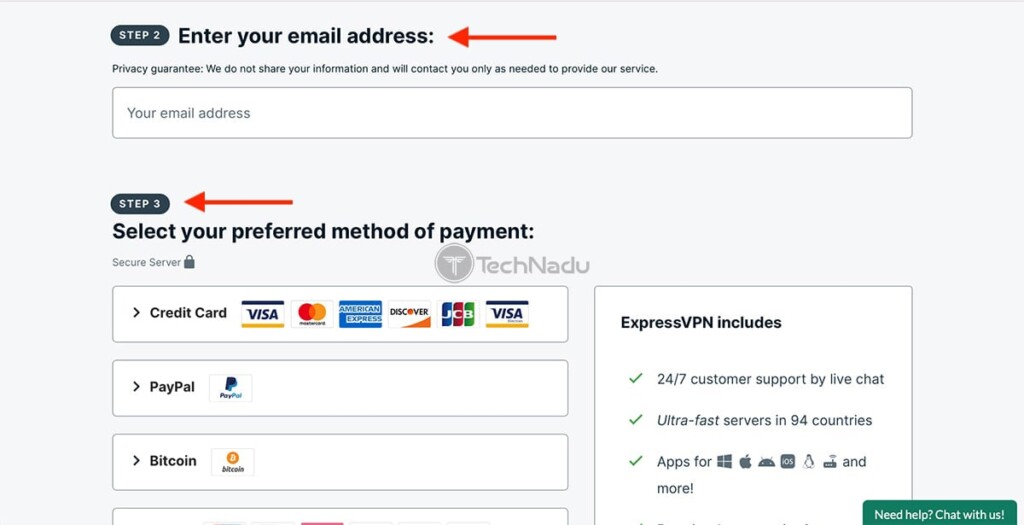 Once you input your email address and pay for the chosen subscription, ExpressVPN's team will send you a confirmation email informing you about your newly created account. Once you receive the email, feel free to proceed to set up the VPN, as explained just below.
Step #3: Download & Set Up the VPN on Your Device(s)
Remember that whenever you want to watch Pluto TV outside the US, you need to launch ExpressVPN and connect to a server in the US first. Therefore, feel free to set up ExpressVPN on any of the devices you'll use to access Pluto TV.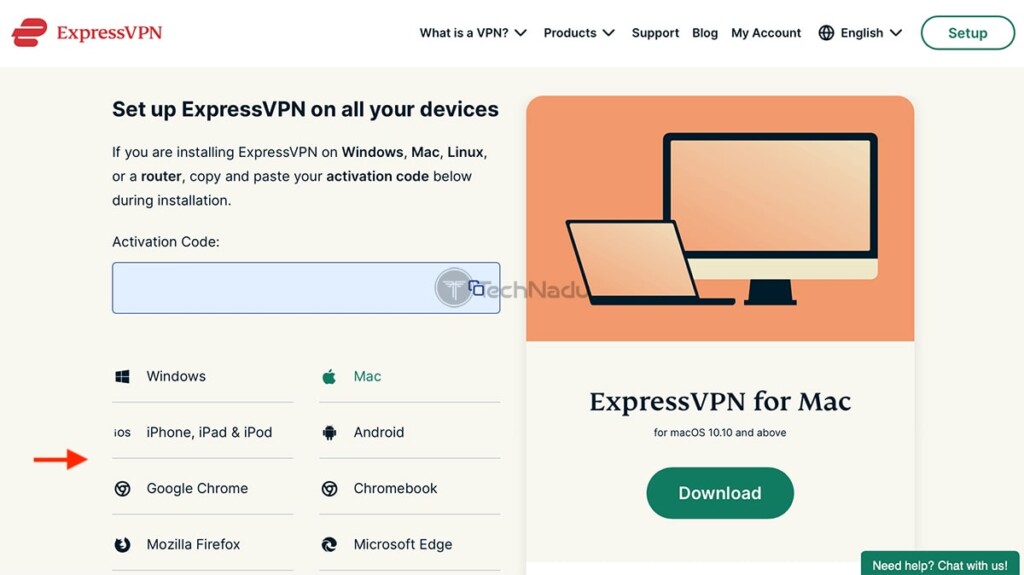 With that said, make sure to check our central guide on how to download, install, and use ExpressVPN - on all of its supported devices. In that article, you'll find guides for computers, smartphones, tablets, media streaming devices, routers, and more.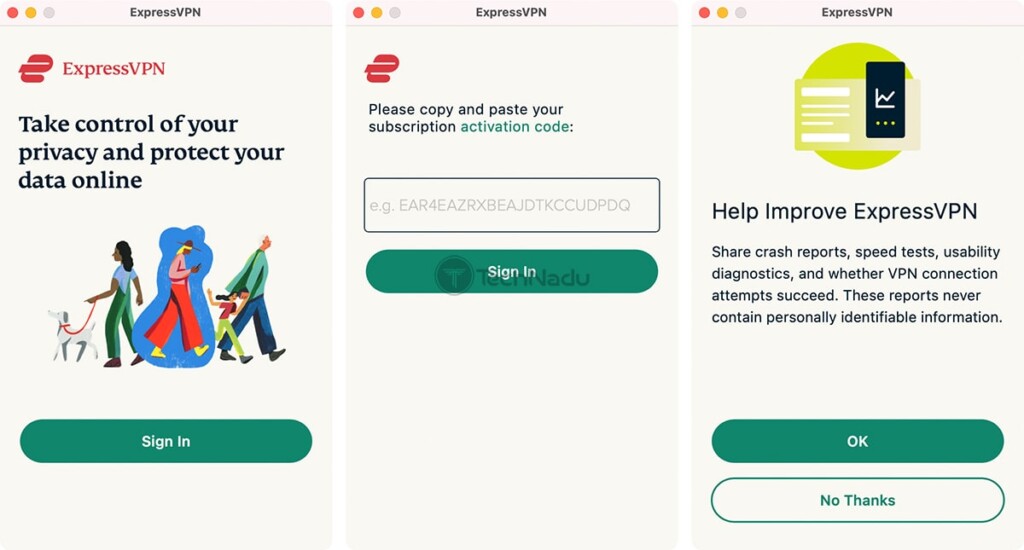 Once you download and install ExpressVPN, it's also crucial to make it ready for use. That means you should launch ExpressVPN, log in to your account, and go through its initial setup procedure. At this moment, you should be looking at the VPN's home screen.
Step #4: Connect to a VPN Server In the USA
Once you make ExpressVPN ready for use, it's time to connect to a server in the US (which will help you get a US IP address, so you can trick Pluto TV into thinking you're in that country).
When you launch ExpressVPN, its interface should be red - indicating that your VPN connection isn't active. Select the button just below the prominent ON/OFF switch on ExpressVPN's home screen, and a new window will appear.
Using the newly opened window, select "United States" to reveal more servers. And then, select (or double-click) any server in that country. After a few brief moments, ExpressVPN will connect you, and its interface should turn green. Once that happens, proceed to the next step.
Step #5: Sign Up for Pluto TV (Optional)
It's true that you can access Pluto TV even without registering an account, which makes this step optional. However, if you decide to get an account (completely free of charge), you'll also get added benefits like creating a list of favorite channels and keeping track of what you watch.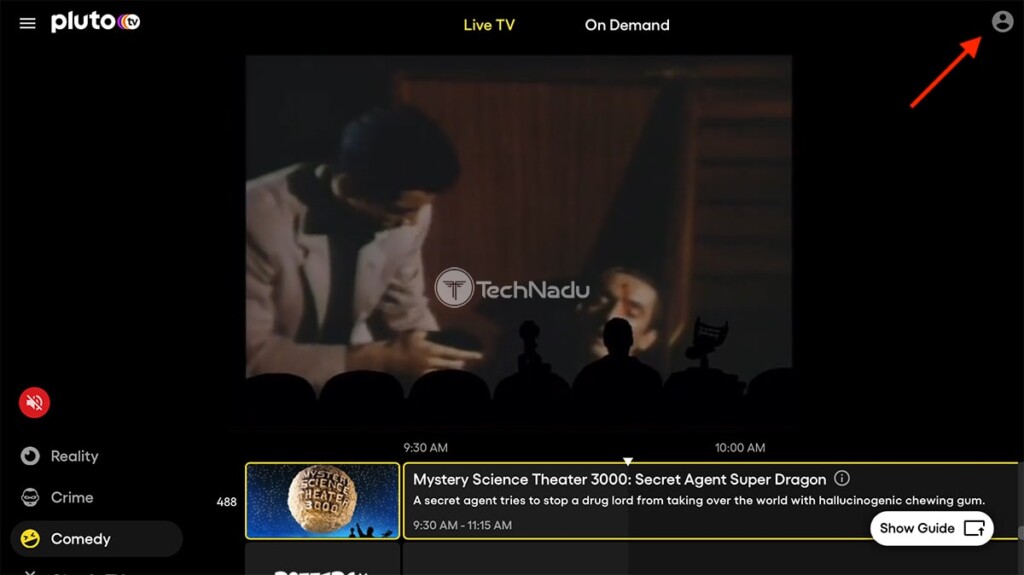 To register for an account, head over to Pluto TV's website. Then, select 'Watch Free Now,' and a new page will open - giving you full access to Pluto TV. Click on the 'Profile' icon in the top-right corner and select 'Sign Up for Free.'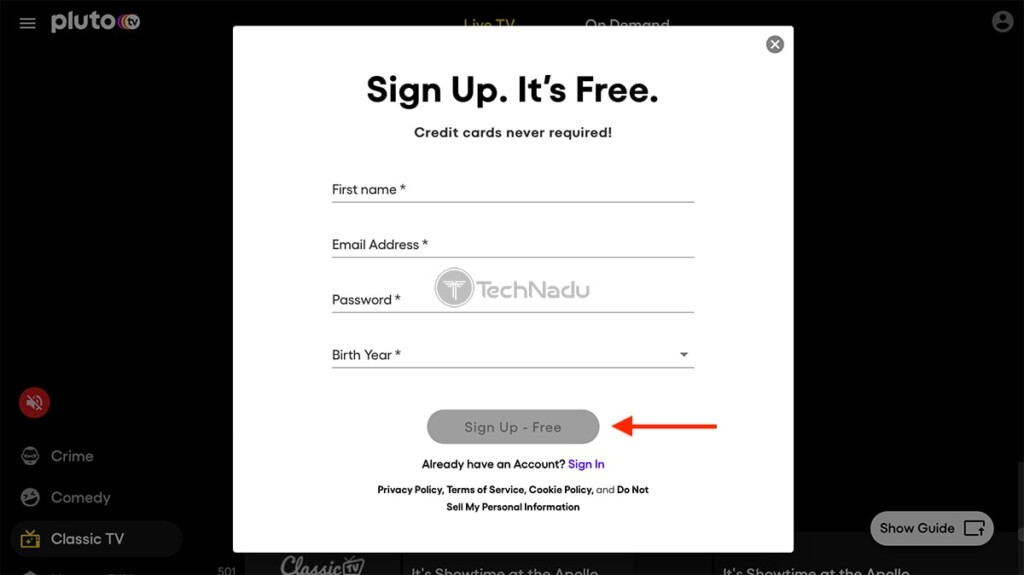 Fill out the required information and sign up for Pluto TV. As soon as you do that, the website will log you in automatically. That's it!
Step #6: Download & Install Pluto TV on Your Device(s)
To watch Pluto TV on your computer, you can always use its website (in addition to using Pluto TV's native apps for macOS and Windows). However, you can also download Pluto TV on your Android device and your iPhone/iPad. To check which other devices are on offer, head over to the official list of supported devices.
When it comes to Android and iOS/iPadOS, keep in mind that you need access to the US version of the Play Store and iOS App Store. Unless your account is already set to 'United States,' you can always create a new Google account or a new Apple ID.
Before you set out to create a new account, make sure that ExpressVPN runs in the background. When signing up for an Apple ID, feel free to use any US address (here's a helpful US address generator). And when signing up for a Google account, you don't have to enter a US address, but you must be connected to a server in the US - using a US IP address).
Step #7: Launch Pluto TV & Access Its Streaming Library
Finally, it's time to combine the power of ExpressVPN with Pluto TV. Before accessing this media streaming service, make sure that you're connected to a server in the USA. Then, keep ExpressVPN running in the background - and feel free to launch Pluto TV.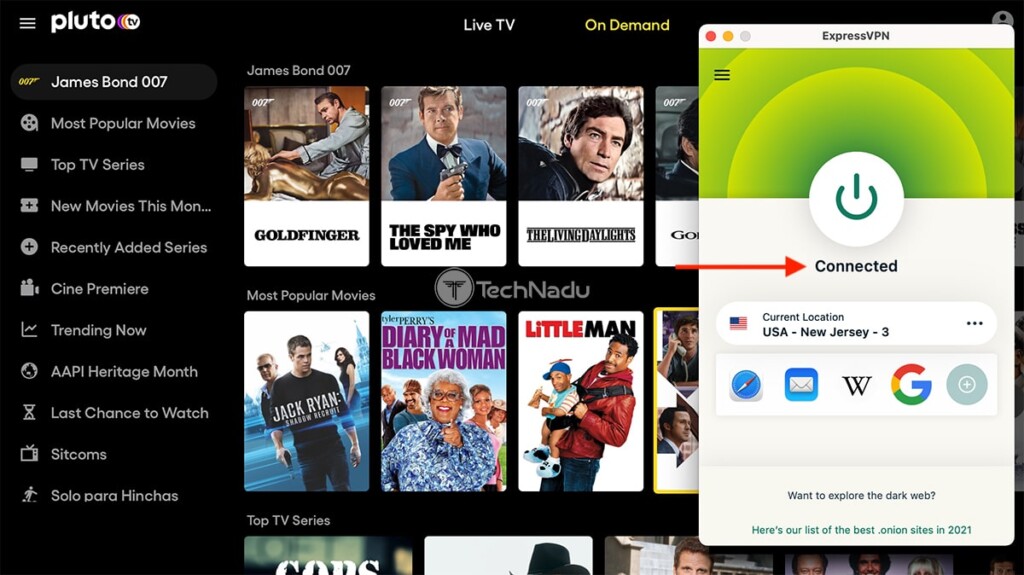 That's it! You can now log in to your account (if you've decided to sign up for Pluto TV, as advised above). Or, you can watch Pluto TV outside the US - even without registering.
What's the Best VPN for Pluto TV?
To find the best four VPNs for Pluto TV, we rigorously tested over 60 providers. According to our tests, these VPNs are 100% able to unblock the site and offer enjoyable streaming.
1. ExpressVPN - Best Pluto TV Unblocker on the Market
ExpressVPN is by far the best VPN for Pluto TV. With this provider, you get lighting-fast speeds, unlimited bandwidth, user-friendly apps for most platforms, and tons of servers to choose from.
What's more, ExpressVPN also supports up to five parallel connections. That means you can binge Pluto TV on multiple devices at the same time in your home. So no need to log out of the app on your PC before heading to bed to watch Pluto TV on your tablet.
Also, ExpressVPN lets you use split tunneling - a cool feature that forces the VPN app to only route traffic from Pluto TV (the app or the browser you're using to watch it). That's a very handy way to optimize your VPN speeds when binging your favorite movies and TV series.
Finally, the provider offers 24/7 support through live chat and a no-questions-asked 30-day refund policy.
If you'd like to see how well this VPN performs in general, check out our ExpressVPN review.
2. NordVPN - Best for High-End Privacy
NordVPN is an excellent mix of smooth unblocking and streaming, and high-end security.
For one, you get very fast servers, unmetered data, up to six parallel connections, and very intuitive apps that work on the most popular devices. Their support reps are also available 24/7 through live chat, so you can always reach them if you encounter any issues.
But if you're looking to keep important data safe too, you can't go wrong with NordVPN. On top of powerful encryption, the provider also offers traffic obfuscation, support for Tor over VPN connections, and access to a colocated network (meaning some servers are only owned and operated by them).
And that's not all! When you sign up for NordVPN, you get the chance to pair up your subscription with two more of their services: NordLocker (secure file encryption) and NordPass (top-notch password manager).
And the cherry on top - all your payments are protected by their 30-day money-back guarantee.
To learn more about NordVPN, follow this link to read our review.
3. CyberGhost VPN - Best for Dedicated Streaming
If server count is important to you, you can't go wrong with CyberGhost VPN. They have a very large network, and many of their servers are in the US. So you'll have no problem finding one that's not overcrowded and close to your geo-location (for optimal VPN speeds) when watching Pluto TV.
Besides that, CyberGhost VPN supports up to seven simultaneous connections, unlimited data, smooth speeds, and cross-platform compatible apps with a welcoming design (perfect for newbies).
The provider also has what they call "truly private dedicated IPs," which is a nice way to enjoy additional privacy. You'll also have an easier time unblocking other streaming sites that aggressively block VPNs (like Netflix and Sling TV).
And like all providers on this list, you get professional but friendly 24/7 live chat support. But CyberGhost VPN goes the extra mile and offers a free one-day trial and a 45-day money-back guarantee if you pick their long-term plans (otherwise, it's a 14-day refund period).
If you'd like to take an in-depth look at how CyberGhost VPN works, read our review.
4. Surfshark - Best Budget-Friendly Pluto TV VPN
If you're looking to save money on a VPN, Surfshark is the right choice. Not only do they have small prices for their long-term plans, but you can also share the subscription costs with as many people as you want! That's right - Surfshark supports unlimited parallel connections.
Besides that, this VPN gives you access to speedy servers, unlimited bandwidth, secure encryption, and very user-friendly apps that are available on most operating systems.
Oh, and their support reps work round-the-clock (24/7) and are available through live chat. If you ever have any questions or experience any problems, they'll always be ready to help you out. And on top of that, Surfshark offers a generous no-questions-asked 30-day money-back guarantee.
Want to read more about Surfshark? Check out our review then.
How Do VPNs Help You Watch Pluto TV Outside the US?
What do they do to "trick" Pluto TV into thinking you're from the US, exactly?
To keep it simple, they route your connection requests through a VPN server that sits between your device and the site. Basically, Pluto TV will think your requests are coming from the VPN, not you.
Since connection requests contain IP addresses (among other metadata), the website will believe your traffic originates from the VPN server's IP address. As long as the server has a US IP, Pluto TV will let you watch any content you want.
Can Pluto TV Detect VPNs?
We don't think so. At least, we haven't found any mention of VPN users experiencing proxy error messages or getting geo-restriction errors while using VPNs.
The only way Pluto TV wouldn't work when you use a VPN is if your service experiences leaks. That way, the site still sees your IP address (and your geo-location).
FAQ
What Is Pluto TV?
Pluto TV is an online service that offers on-demand content and live TV programming. The main idea is to offer a traditional TV viewing experience (but online, so it's more convenient).
As of now, Pluto TV has hundreds of channels and thousands of movies on its platform.
What Can You Watch on Pluto TV?
A lot of content. You get tons of live TV channels where you can watch shows and movies like Nacho Libre, 21 Jump Street, Big Fish, The Walking Dead, and more.
Besides that, you also have access to on-demand movies and TV series like The Nanny, Walker, Texas Ranger, Three's Company, MacGyver, and Hells' Kitchen.
Overall, you can take your pick from dozens of genres - sitcoms, TV dramas, action, sports, comedy, music, classic TV, reality, and much more.
Is Pluto TV Really Free?
Yes, you can watch Pluto TV without paying anything. The service generates revenue from ads, so it's legit.
Do Free VPNs Work With Pluto TV?
Maybe - it's hard to say. Pluto TV doesn't bother blocking VPNs, so they should be able to unblock the site without constantly refreshing their IPs.
However, free VPNs can experience leaks, which means Pluto TV will see your geo-location and deliver the geo-blocking message. Also, free VPNs are often slow, have capped bandwidths, and don't offer great support.
If you really want to watch Pluto TV outside the US with a free VPN, use our guide to find a reliable service.
That would be all on how to watch Pluto TV outside the US. If you have any questions or doubts, don't hesitate to post your comment below. And lastly, thank you for reading!