For those of us who prefer to watch content online rather than via cable TV, Pluto TV is the solution. Not only does it offer a wide range of stations to watch, but it's also completely free. Unfortunately, most content is blocked to people outside the United States. Still, this doesn't mean that there you must give up on this service. Let's take a look at how to watch Pluto TV outside the USA.
5 Best VPN For Unblocking Pluto TV Completely!
We do a lot of VPN reviews here at TechNadu, so we like to believe we know a thing or two about this type of tools and which ones are the best. So, after testing several dozen VPN providers, we will show you 5 best VPNs for unblocking Pluto TV abroad. Keep on reading.
1. ExpressVPN
ExpressVPN is one of the VPNs we always recommend, simply because it's just that good. It has an extremely easy-to-use interface, which makes it perfect for beginners. More advanced users will be slightly disappointed to find that there aren't that many options to fiddle with. Hopefully, however, the protections it offers users will override any complaints.
That's because ExpressVPN provides military-grade encryption, which means that all your data will be safe from any prying eyes, just like any steps you take online. The tool also makes sure that your Internet speeds aren't throttled, which is something that often happens with VPNs.
ExpressVPN works on multiple platforms, including Windows, Mac, and Linux, iOS, Android, and even Blackberry. You can check out TechNadu's in-depth ExpressVPN review for more information.
2. IPVanish
IPVanish is the next VPN on our list, and it's one that completely anonymizes your connection. It's one of the pricier options on our list, but it's still not the most expensive, so that should count for something.
Users are complaining about some server time-outs, as well as fluctuating Internet speeds, so you might want to take this into consideration as well. We have an in-depth review for IPVanish if you want to check it out and get all the details.
3. NordVPN
NordVPN is the third option on our list. This one has an impressive list of servers, namely some 5,100 of them. They're also from all over the world, so you won't need to worry it won't include the country you need to move to virtually in order to watch Pluto TV's full content.
Internet speeds seem to remain steady even after the connection is routed through one of NordVPN's many servers.
The downside of this tool, however, seems to be the customer support part. Many users have complained that it takes too long to get a response from the NordVPN team when they have a request of some sort, and it sometimes takes too long to fix issues they encounter. TechNadu has a full review of NordVPN.
4. CyberGhost VPN
Up next we have CyberGhost VPN, a really good tool. It may not have the most intuitive interface, but once you have it figured out, you should be all set.
CyberGhost VPN has servers in some 60 countries, which may be fewer than what other tools offer, but certainly enough to get you through connecting to Pluto TV. The app also comes with an anti-malware tool and an ad-blocker. TechNady has a full review for CyberGhost VPN if you want to read all the details.
5. VyprVPN
Last on our list is VyprVPN, a tool that will do pretty much everything in its power to protect your Internet connection. First things first – VyprVPN offers some 700 servers from 64 countries to choose from. There are plenty of servers on US soil, so your viewing desires for Pluto TV are covered.
Unlike other similar tools, there are monthly or trimestrial plans to pay off your subscription, but you can pay once for the entire year. Thankfully, at $60, the price isn't too steep. We have a review for VyprVPN if you want to get all the details.
What Else to Know About Streaming Pluto TV via VPNs?
Next, we will take a closer look at Pluto TV, what it offers, and how do VPNs fit into this whole picture. Let's keep on going.
What is Pluto TV?
Pluto TV's history started in 2013, as an Internet-based TV platform. The next year, they had managed to raise funding, and they signed with Hulu for rights to distribute the free content. Nowadays, it has dozens of partners who provide free content.
The secret of Pluto TV and the thing it helped it survive all these years compared to other over-the-top TV services is that they the content they feature is licensed directly from the content providers. You won't find the content you find on regular cable TV, but rather any free content it can find online, mainly curated from what you can already find online. For instance, you can check out cat videos 24/7, or maybe you're more into gorillas.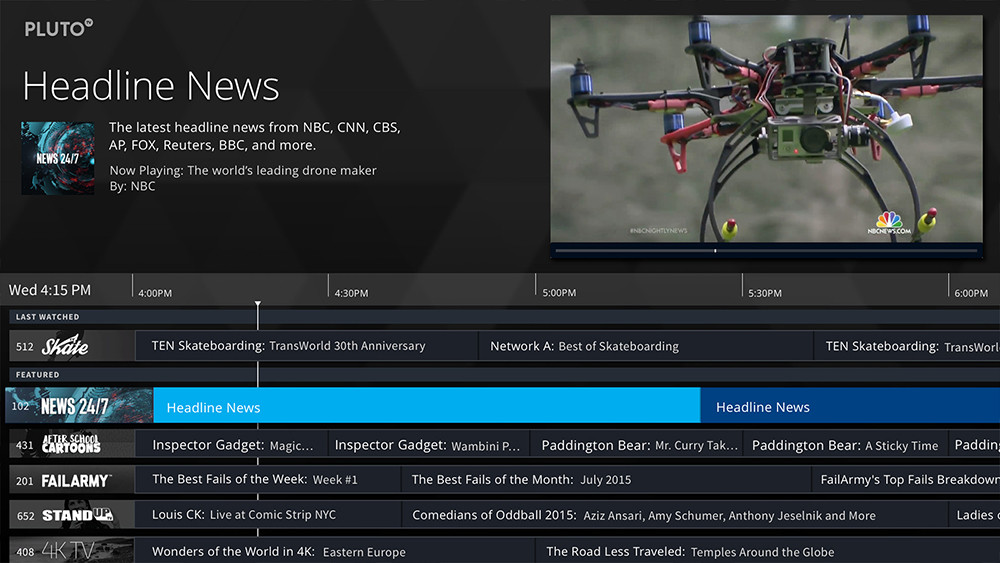 You'll find numerous categories, like News, Movies, Sports, or Entertainment. You'll even find stand up comics, or gaming stuff. There is some content that you could find on standard TV channels, but it's mostly what they post for free online. This applies, in particular, to news stations like CNBC, Bloomberg, or The Weather Network.
Where is Pluto TV available?
Technically, Pluto TV works everywhere. In truth, there are two versions of the platform – one that works in the United States, and one that works for the rest of the world. As you'd expect, a lot of content that you'll find in the US version isn't available internationally due to licensing issues. This makes the international version less appealing. The problem, however, is easy to fix with a VPN.
On What Devices Can You Access Pluto TV?
It's actually pretty hard not to have one of the devices that supports Pluto TV. Starting off, it works on Roku TV, Apple TV, Amazon Fire TV, and Android TV, as well as Chromecast. It also works on various smart TV models from Vizio, Samsung, and Sony. Then, there are the Windows and Mac desktop apps, as well as Android and iOS mobile apps.
The desktop and mobile apps come in two versions – US and International, each featuring separate content. It's also possible to stream it directly in your browser.
What Can You Watch on Pluto TV?
There are a lot of stations available on Pluto TV. You can watch shows you'd see on TV, like the World Poker Tour, as well as news coverage from a series of networks, but only content that you'd normally already find online – they just cut out the searching part.
You can also watch documentaries, reality shows, older movies, game shows, and various stations dedicated to specific stuff – like cat videos. you can also view gaming videos, as well as other content created for the Internet, beauty videos, and so on. If it's on the Internet, you're likely going to see it on Pluto TV. There are even some Internet radio stations available if you're just looking for background noise.
How to Fully & Completely Unblock Pluto TV via VPNs?
As we mentioned above, Pluto TV technically has two versions – one that works in the United States, and one that works abroad. The US, as usual, gets the crème de la crème, so you might get a bit annoyed by that. Fear not, we have some VPNs for you to get over this blockade and use the US-dedicated apps whenever you want. The one which stands in the top is ExpressVPN. Connect to them now and bypass all the blocked streaming content in a sec.
VPN stands for Virtual Private Network. VPNs allow users to connect to the Internet, and make it seem as if the user is actually in another location than they actually are. They also make sure to encrypt all data, so the entire thing is anonymized. This means that no one can track you online while you browse the Web.
Now that we've reached the end of the article, we hope that our guide has helped you quite a bit, especially in picking the right VPN for you, not just for Pluto TV, but for other platforms as well.
Feel free to let us know what you think in the comments section below. If you found the article useful, please share with friends and family. And don't forget to follow us on Facebook and Twitter. Thanks!