As you've probably heard by now, Kodi 18.7 "Leia" has just been released - and we're sure that many of you have plenty of questions. What's new in Kodi 18 Leia, and what's changed? How to safely update your Kodi, and what to do if a problem arises? And finally, which addons and skins should you install for your brand-new Kodi?
Well, you'll find all your answers here. We've been following the development of Kodi 18 for quite some time now, and we're prepared to share our knowledge. So, let's take an in-depth look at Kodi 18 Leia, all of its new features, ways to install/update, and plenty more.
Why Did It Take So Long for Kodi v18 to be Released?
One of the first articles on TechNadu about Kodi 18 Leia was published more than two years ago (December 2017), titled 'Kodi 2018 Predictions.' As you can see, we've predicted that Kodi 18 would come out in the first half of 2018, after taking a look at the release dates of previous major versions. As it turned out, Kodi's developers took their time to perfect the application, which is why we had to wait for so long.
We've started to see the first Kodi 18 Alpha version back in March of 2018, while the first Kodi 18 Beta appeared in August of that year. Soon after, Kodi 18 received its first Release Candidate (RC). As you can see, we're talking about many months of hard work, as illustrated in the table found below.
| | |
| --- | --- |
| Kodi 18 Version | Date of Release |
| Alpha 1 | March 5, 2018. |
| Alpha 2 | June 10, 2018. |
| Alpha 3 | August 1, 2018. |
| Beta 1 | August 27, 2018. |
| Beta 2 | September 11, 2018. |
| Beta 3 | October 3, 2018. |
| Beta 4 | October 23, 2018. |
| Beta 5 | November 4, 2018. |
| Release Candidate 1 | November 23, 2018. |
| Release Candidate 2 | December 4, 2018. |
| Release Candidate 3 | December 17, 2018. |
| Release Candidate 4 | December 31, 2018. |
| Release Candidate 5 | January 14, 2019. |
| Final Public Release - 18.0 | January 30, 2019. |
| Incremental Update - 18.1 | February 19, 2019. |
| Incremental Update - 18.2 | April 23, 2019. |
| Incremental Update - 18.3 | June 29, 2019. |
| Incremental Update - 18.4 | September 2, 2019. |
| Incremental Update - 18.5 | November 18, 2019. |
| Incremental Update - 18.6 | March 3, 2020. |
| Incremental Update - 18.7 | May 21, 2020. |
Right now, the latest stable version of this application is "18.7." As noted in our article on the release of Kodi "Leia" 18.7, no new features are to be found this time around. However, there are plenty of bug fixes and performance improvements. In other words, Kodi 18 Leia is now more stable and streamlined than ever before - so we strongly recommend you update your Kodi to the latest available version.
As said by Kodi's development team, Kodi 18 Leia has been under development for close to two years. This might come as a surprise, given that Kodi typically releases a major new version every year. It means that the work on Kodi 18 began before Kodi 17 was even released. And to illustrate the complexity of the latest Kodi version, let's take a look at the release dates of previous major Kodi versions.
| | |
| --- | --- |
| Kodi Version | Date of Release |
| Kodi 18.0 Leia | January 30, 2019. |
| Kodi 17.0 Krypton | February 5, 2017. |
| Kodi 16.0 Jarvis | February 20, 2016. |
| Kodi 15.0 Isengard | July 21, 2015. |
| Kodi 14.0 Helix | December 23, 2014. |
It's evident that Kodi 18 Leia is one of the most comprehensive releases - at least judging by the time it took to develop and publish the final product. Now, let's take a closer look at Kodi 18 Leia and see what features it brings.
10 Features & Improvements of Kodi 18 That You'll Want to Try Straight Away!
With over 500,000 new lines of code (and 500,000 lines removed), you can tell that Kodi 18 went through numerous changes. However, these are mostly under-the-hood changes that make the latest Kodi version more stable than before. So, let's take a look at what's new.
1. Retroplayer Gaming & New Input Support
As reported by our team a while back, Kodi v18 now supports gaming. More precisely, it makes use of numerous emulators that can run retro games. And to make this whole experience even more enjoyable, Kodi 18 supports new types of input, including gamepads, joysticks, and more.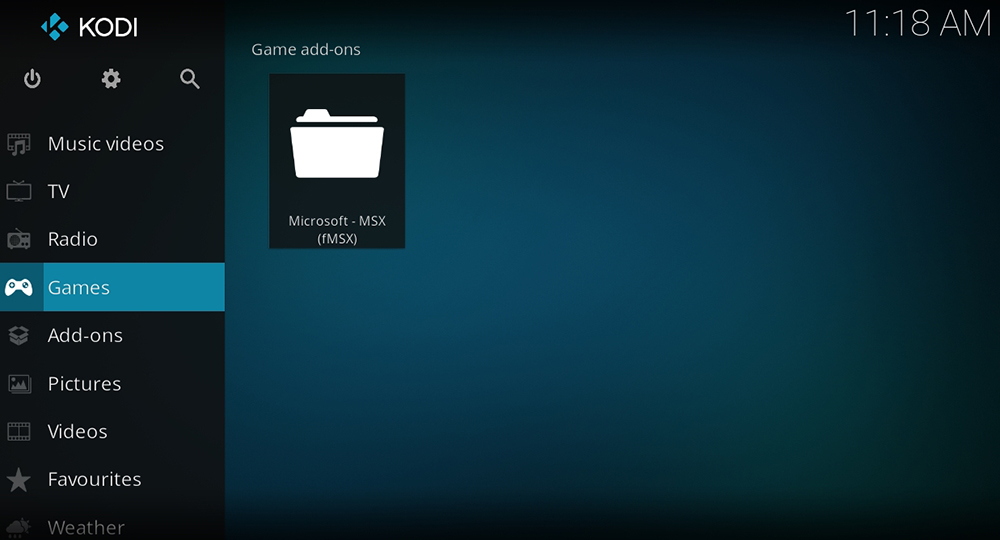 To get started with gaming and emulators on Kodi 18 "Leia," you need to open the new 'Games' category found on the main menu. Then, you'll be asked to install one of the supported emulators. There aren't too many options right now, but just enough to get you started. Kodi's developers have announced that they'll be working hard on this feature, so make sure to check for gaming-related information in the future.
To learn more about this feature and to see how to improve your gaming experience on Kodi, we've prepared a dedicated article. So, go ahead and check out the best gaming Kodi addons.
2. Improvements to Kodi's UI & UX
When you launch Kodi 18 Leia for the first time, you'll see a very familiar interface. Aside from a few subtle changes, almost everything looks close to identical to the previous major Kodi release. However, there are plenty of refinements throughout.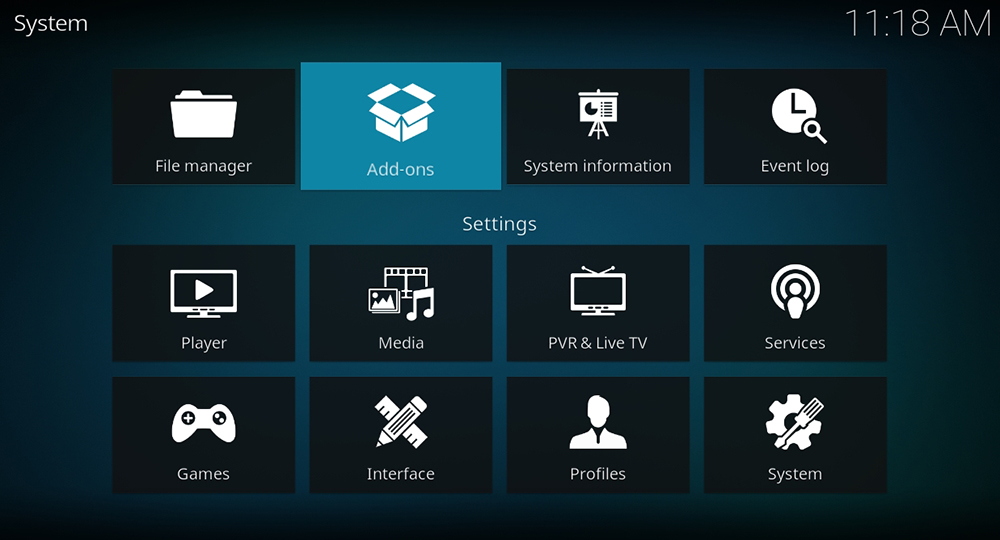 You will see a major change when you enter the application's Settings menu. There's still a grid of different groups of settings that have been reorganized. At the top, you'll find the most frequently used options that take you to Kodi's File Manager, Add-ons, System Information, and Event Log. All the options that you already know are still there - they've just been moved around a bit.
3. Improved Support for Audio & Video Playback
Generally, Kodi's team has focused on improving the playback of 4K and 8K videos, supporting technologies like HDR, and more. And there's even broader support for various video codecs now. To make sure all of these features run without performance bottlenecks, Kodi has been optimized to take full advantage of your CPU/GPU, which should bring improvements across different platforms and devices.
In terms of Blu-Ray support, you should see improvements related to disc detection and metadata. Kodi is also an incredibly capable 3D video playback platform by working with more codecs supporting this format. And when it comes to audio, Kodi 18 fully supports audio file types such as ALSA, OSS, PulseAudio, Pi Audio, DirectSound, WASAPI, Darwin, and SndlO.
4. New Ways to Control & Use Your Music Library
You already know that you can import music to Kodi. Once you do that, you'll see a completely different side of Kodi, with prominent album artwork and playlist options. However, the problem was that Kodi's music library was somewhat confusing and much less polished than its video library, which is something that's changed in the latest revision.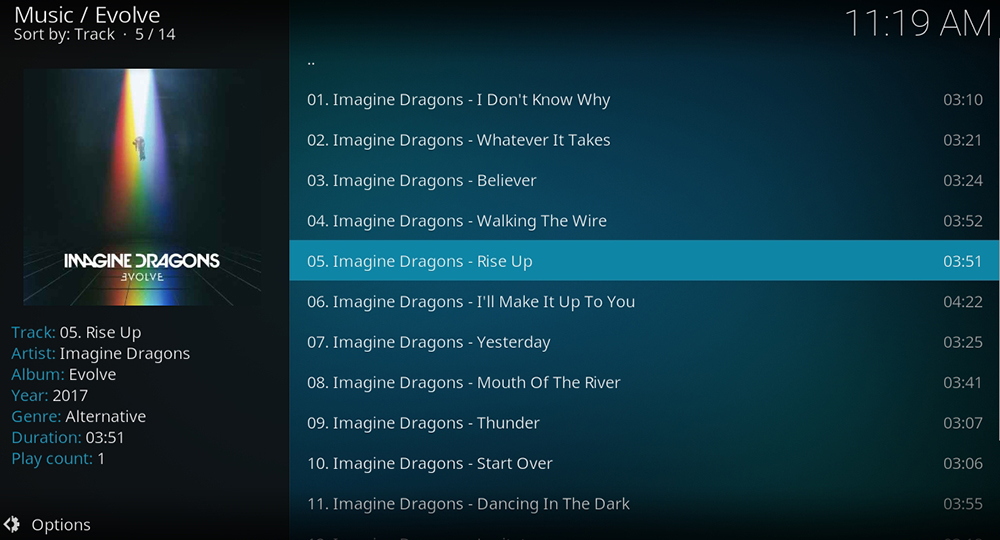 Kodi 18 comes with a much cleaner music library that's also easier to use. No matter what kind of device you use Kodi on, new controls are adapted to different types of inputs, meaning that moving through your music library can now be (effortlessly) done via keyboards, mice, or remotes. Of course, you can also use third-party music addons if you want to stream music instead of storing it locally.
5. Live TV Now Comes as a Separate (Binary) Addon
For a while now, Kodi has been offering a way to watch live TV (and we're not talking about streaming live TV over the Web). By using a USB tuner, you could use Kodi to see local and cable TV stations and, therefore, keep Kodi as the main piece of your home entertainment. However, this isn't hugely popular, and Kodi's developers have decided to cut back.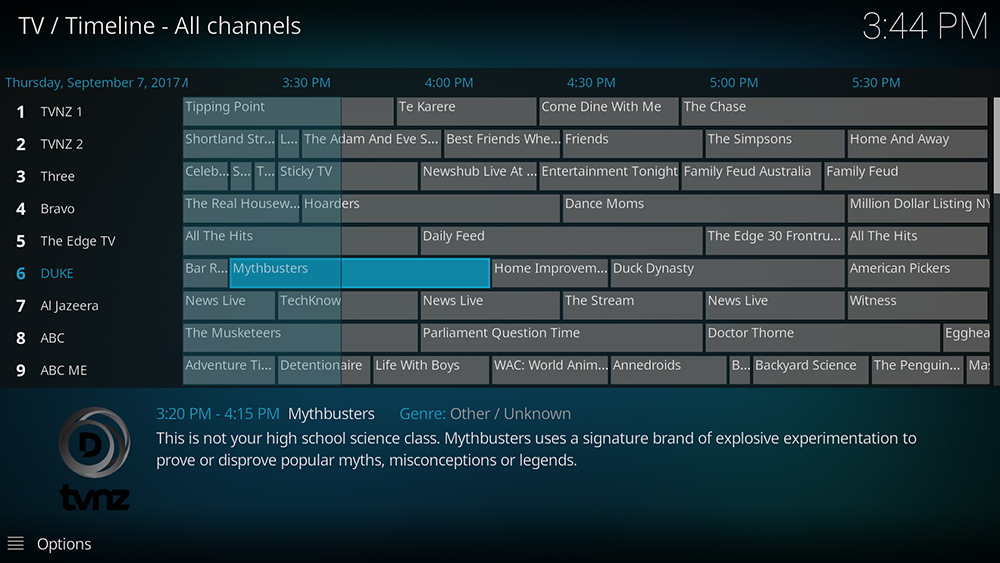 Kodi 18 Leia provides a way to watch live TV, but this isn't a built-in feature anymore - PVR doesn't come built into Kodi now, but is currently a separate add-on that you can install from Kodi's official library. In turn, this has significantly reduced the size of Kodi's installation file. And finally, you should know that this affects Kodi for Windows, macOS, and Android.
6. All-New Support for DRM Files Within Kodi
Ever since it allowed third-party addons, Kodi has been associated with piracy and copyright infringement. The application's open-source nature certainly has its good sides, but it doesn't come without serious legal issues such as piracy. That's one of the reasons why Kodi 18 Leia was made to play nice with DRM-protected content.
To invite legal content onto this platform, Kodi 18 can now play DRM-protected files. Now, it's up to media streaming companies to take advantage of this offer. We're sure that some smaller companies are going to develop for Kodi since it's such a widely-accepted platform. Theoretically, well-known services such as Netflix can also take advantage of this, even though there isn't any official news about it.
7. Windows-Specific Changes (Including Xbox One S/X)
Every Kodi version further evolves this application in one way or another. However, Leia also returns Kodi to its roots. In case you didn't know, this application started its life as a home theater solution for Xbox. However, things have changed, and both Xbox and Kodi are now entirely different beasts. That's why you'll be happy to know that Kodi 18 Leia is available for Xbox One. For this to happen, Kodi had to be transformed into a 64-bit application.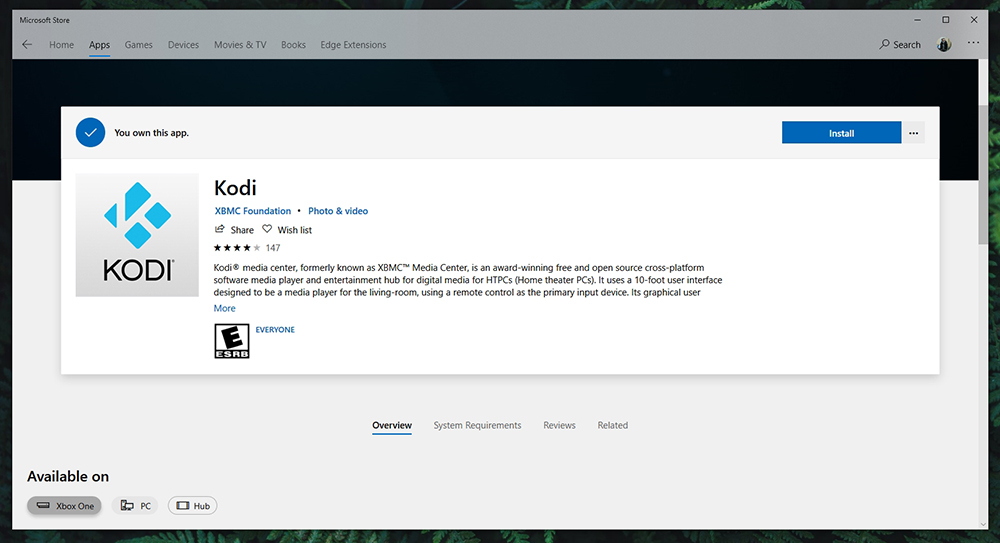 If you're a Windows 10 user, you've noticed Microsoft's efforts to produce a unified App Store for different devices. Well, Kodi isn't just available on the Xbox App Store – you can also find it on the Windows 10 App Store. So, you now have two ways to install Kodi on Windows. And finally, it should be noted that Kodi 18 Leia doesn't support Windows Vista and older Windows versions.
8. Android-Specific Changes (Including Android TV)
You've probably noticed that Android (as well as Android TV) has become incredibly polished during the last few years. For Kodi, this means following new development standards and taking advantage of new options found in this operating system.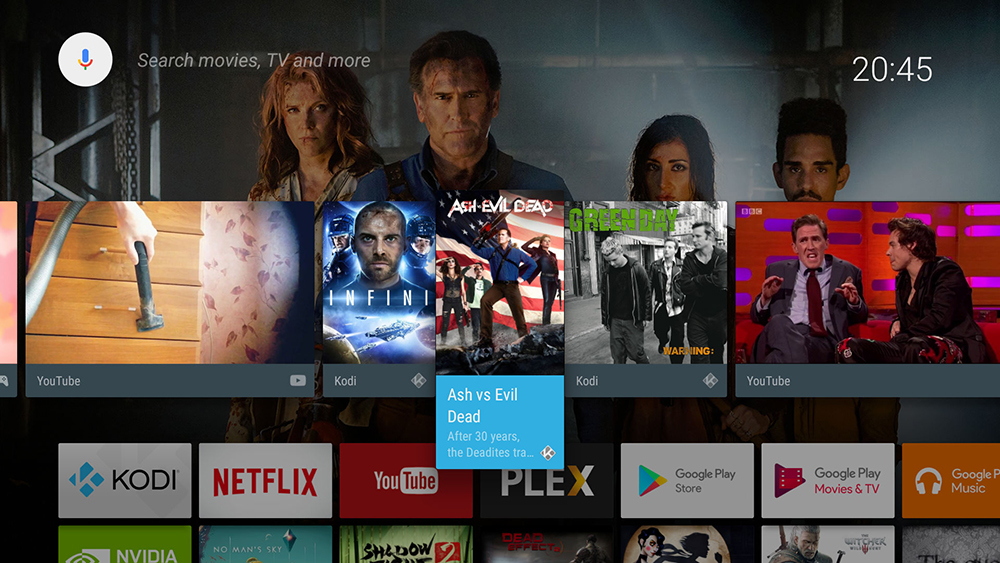 When it comes to Android TV, Kodi now supports the 'Leanback search integration,' so Kodi can now proactively show you movies and TV shows on your Android TV's home screen. And if you search for something specific, Android will now include your content found within Kodi.
Let's also not forget to say that Kodi now supports Google Assistant. You can issue voice commands related to Kodi, which should help you navigate the application much easier than before.
9. Linux-Specific Changes
When it comes to Linux, Kodi's developers have said that plenty of under-the-hood changes were made. Most prominently, Kodi 18 Leia now features a new display server protocol. The main goal of this change was to make Kodi compatible with a wide range of display drivers, meaning that compatibility issues are now minimized, and you can run Kodi without any problems fresh out of the box.
10. Other Under-The-Hood Improvements
Lastly, Kodi's developers have made it much easier to keep track of changes in new builds. This helps both third-party developers and regular users, who can now rely on Kodi's Wiki pages for additional information. And developers can take a look at Kodi's new GitHub page, where they'll find all the information they need about making contributions.
In case you'd really like to dive into all the new changes and improvements, you can take a look at the full changelog of Kodi 18.
Want to Try the All-New Kodi? Here's How to Install Kodi 18 Leia on Various Platforms!
We're sure that you can't wait to download and install the all-new Kodi 18 on your device - and we are here to help. We're going to list our dedicated articles for specific platforms, allowing you to easily install Kodi in a matter of minutes. So, here they are.
Some of you might have Kodi already installed and wish to upgrade. The good news is that you can simply overwrite the existing installation. For more information, here's how to update Kodi on various platforms.
And let's not forget to mention that using a VPN with Kodi is mandatory. This kind of software will unblock pretty much any streaming source within Kodi, keep you safe online, and even hide your activity. Learn more about what VPNs are and then read our article on how to install a VPN on Kodi. If you need some trustworthy suggestions, here are the best VPNs for Kodi right now.
Next, Learn How to Take Full Advantage of Kodi 18 via Our Step-By-Step Guides!
When you install Kodi 18 Leia, you'll want to populate it with your content. It would also be interesting to take a look back at Kodi and learn about it from the ground up - especially if you're new to this application.
Guides on Importing Content (Kodi 18 Leia)
First, here are TechNadu's step-by-step guides on populating your library with your own content (music, videos, photos, and more).
Basic Kodi 18 Leia Guides
We also have must-read articles if you're a new Kodi user. To fully understand this application and to dive into helpful tips and tricks, check out the following articles.
What Are The Best Addons, Repositories & Skins for Kodi 18 Leia?
To help you find the best Kodi addons, skins, and repositories, we'll give you some recommendations. So, here's everything you need to know about enriching your Kodi 18 Leia with third-party content.
Best Kodi 18 Leia Addons
Addons allow you to add new content sources, essentially turning your Kodi into a fully-featured streaming machine. However, the problem is that there are thousands of those, many of which don't work as advertised. So, install only the proven Kodi addons.
Here are some of the best Kodi 18 addons that you can download and use right now:
XUMO.TV
Pluto.TV
Free Live TV
Spotify
Indigo
ROM Collection Browser
To learn how to install all of those, and to take a look at additional options for movies, TV shows, sports, and more, here's our article on the best Kodi addons in 2020.
Best Kodi 18 Leia Skins
Kodi 18 Leia comes with the same UI that's present in its previous version as well. If you're not fond of it or simply want to try out a new look, you can install a custom skin. Many of those are quite exceptional, completely changing the way Kodi works. So, here are the best Kodi skins, containing our list of 15 hand-picked options.
And if you wonder how to change your Kodi's looks, you should know that this process is quite simple. Here's how to change skins on Kodi.
Best Kodi 18 Leia Repositories
To dive into the world of Kodi addons, you have to rely on repositories. However, staying on top of those can be tricky as many of them stop working without warning. We have the most up to date list for you, so check out the best Kodi repositories.
Here's How to Easily Resolve Technical Problems With Kodi 18 Leia!
Kodi 18 has been in the works for a long time now, and it's incredibly stable. However, just like with any software, problems might happen when upgrading. So, we're here to offer a solution.
Here are the best Kodi troubleshooting guides you'll find on the Internet, capable of resolving pretty much any technical problem.
Dear Kodi users, we've reached the end of our guide to the latest version of Kodi. If you have any questions, make sure to post a comment below. And of course, enjoy using Kodi!