Kodi 18.5 Leia is finally available for download from its official website – for all of its supported platforms and devices.
There are no new features found in this incremental update, as it's focused only on resolving various types of bugs and issues.
Alongside Kodi 18.5, a new Kodi 19 nightly build has been released – fully incorporating the Python 3 interpreter, which is a major step forward for Kodi.
A bit over two months after the previous update, Kodi 18.5 Leia is now available for download on its official website. Considering that this is an incremental update, it follows the same philosophy as similar updates that were published once Kodi 18.0 Leia was released (close to a year ago). This means that Kodi 18.5 brings a group of bug fixes, improving this application's stability and performance. In other words, there are no new features this time around.
Interestingly enough, Kodi's development team still hasn't published a detailed list of bug fixes. However, since Kodi is open source and relies on GitHub heavily, we can follow its GitHub page to see its development progress. When it comes to Kodi 18.5 Leia, we can see more than 40 issues that have been resolved since the previous update was published. These bug fixes are related to interface glitches, various problems related to Kodi's PVR functionality, joystick controls, problems with logging, and more. And also, all of these bug fixes bring improvements for various versions of Kodi – for Windows, macOS, iOS, Android, and pretty much every other officially supported platform.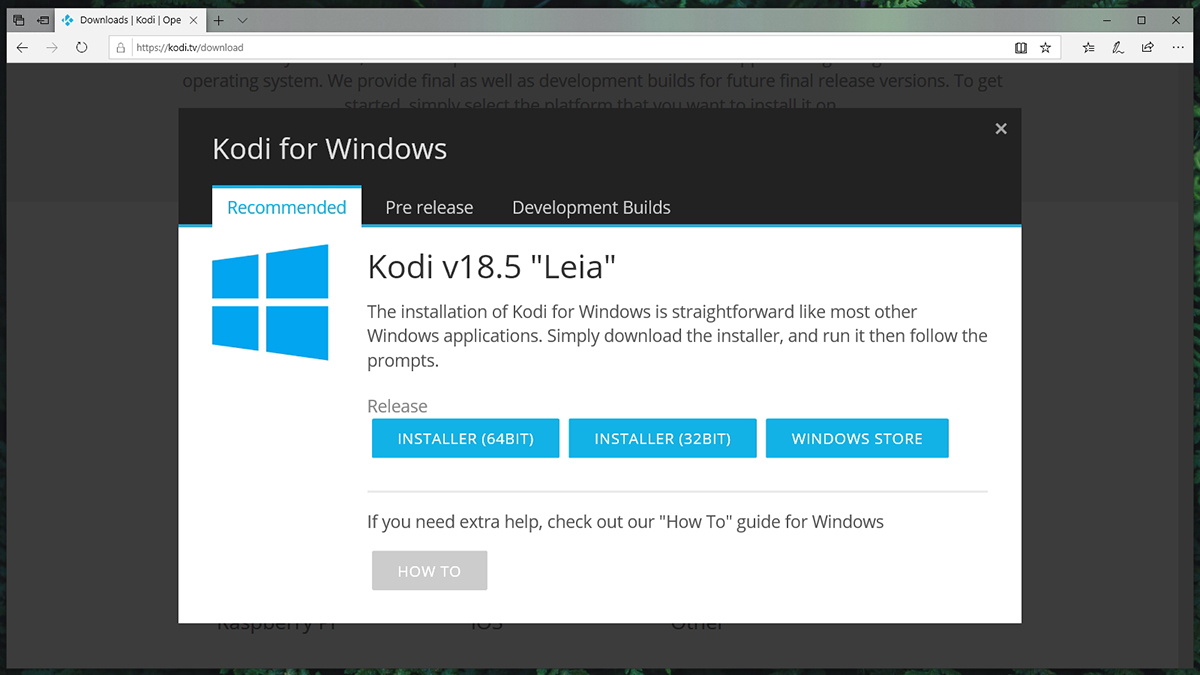 Even though Kodi 18.5 Leia doesn't have new features, we strongly recommend you download it and update your Kodi, no matter if you're currently experiencing any bugs or not. Needless to say, Kodi 18 Leia has now become much more stable and better optimized for various devices, platforms, and screen sizes. So, you can download Kodi 18.5 Leia from its official website (the installation file comes in at around 60MB). Using the provided link will take you to its download page, where you first need to select your platform. A new pop-up will appear, and you'll get to download the latest version of Kodi by using the 'Recommended' tab.
Just in time for the release of Kodi 18.5 Leia, another nightly built of Kodi 19 Matrix has been published – with a major change. As announced close to two years ago, Kodi 19 will come with the Python 3 interpreter which fundamentally changes the way Kodi add-ons work.
The fact is that Python 2 is reaching its end of life (January 1, 2020), which is why Kodi's developers are now rushing to adapt to this change. By implementing the Phyton 3 interpreter with Kodi 19, this provides plenty of time for add-on developers to update their software creations. It's crucial for this process to be done on time – because failing to do so will result in a broken add-on. With this said, Kodi 19 Matrix is still a work in progress and a heavily unstable application. So, we recommend downloading it only if you're a developer willing to contribute to building the next major version of Kodi, which should be released sometime next year.
So, do you plan on updating to Kodi 18.5 Leia? Let us know your thoughts in the comments section below. And to stay on top of the latest Kodi-related news, don't forget to follow us on Facebook and Twitter. Thanks!