For many of you, we're sure that Bitdefender needs no introduction. This is one of the world's best-known cyber-security companies, offering an array of free and premium products. Unsurprisingly, Bitdefender also offers a VPN service, designed to protect your online identity. However, just because this VPN comes from a well-known company doesn't automatically mean that it's good. We're sure you're already aware of that, which is why you're reading this article. So, welcome to our hands-on Bitdefender Premium VPN review!
So, first things first. We will introduce you to this VPN option by listing some of its most prominent features. With this said, take a quick look at the following table.
Quick Facts
| | |
| --- | --- |
| Jurisdiction | Romania (The European Union). |
| Logs | Doesn't log personally identifiable information. |
| Number of Servers | An unknown number of servers; 27 countries. |
| Parallel Connections | 1-10. |
| Encryption Standards | AES-256; OpenVPN, HydraVPN. |
| Speed Reduction | 8% on average. |
| P2P Support | YES |
| Live Chat Support | YES |
| Supported Platforms | Windows, macOS, Android, and iOS. |
| Price | Starts at $6.99/month. |
Next, we know that many of you are fans of media streaming. Don't worry, we've tested whether Bitdefender Premium VPN can unblock websites such as Netflix, Hulu, and others.
Media Streaming Support
| | |
| --- | --- |
| American Netflix | NO |
| Hulu | NO |
| BBC iPlayer | NO |
| Amazon Prime Video | NO |
| Kodi | NO |
Before we start explaining various aspects of this VPN, we have one more table for you. This one is for those who are in a rush, as we'll present our post-review findings. Here are the biggest downsides and benefits to using Bitdefender Premium VPN.
The Bottom Line
| | |
| --- | --- |
| Pros | Simplistic UI; Easy installation; Fast and reliable performance. |
| Cons | Data leaks detected; Restricted server network; Problematic background; Can't unblock media streaming websites; Not worth the price. |
| The Final Verdict | We recommend you avoid this VPN service. It should be easy to find a much more capable and reliable alternative. |
| Our Score | 4.7/10 |
That would be it for our introductory segment. If you stick with us until the end of this review, we promise that you'll learn all there's to know about Bitdefender Premium VPN. So, make sure to join us.
Bitdefender Premium VPN – TechNadu's Hands-On Review
If you continue reading, you'll find a series of separately rated aspects of this VPN. To learn more about this process, here's our article on how we review VPN services. Make sure to give it a quick read.
Background, Jurisdiction & Reputation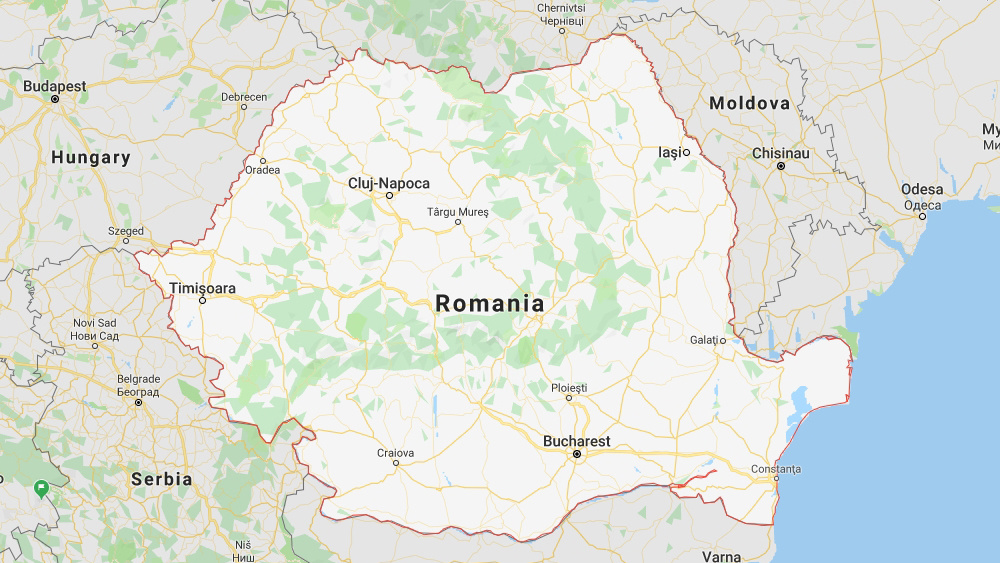 Bitdefender is a reputable cybersecurity company. However, what could be seen as potentially problematic is its connection with Hotspot Shield. Our Score: 6/10.
First, we will report our findings on this VPN's background. You'll get to learn where it comes from, as well as what that means for you if you decide to subscribe.
Jurisdiction & Applicable Laws
Bitdefender is a company based in Romania, founded in 2001. It specializes in selling anti-virus software, Internet security solutions, and various other types of cyber-security products. According to a Statista report, it has about 500 million users worldwide.
In general, it could be said that Romania is very friendly toward VPN-related businesses, despite being in the European Union. It's not part of the 14 Eyes Alliance, and it has refused to implement the EU's Data Retention Directive. This is why it's not surprising to know that many popular VPNs have chosen this country to base their operations. We're talking about CyberGhost VPN, ibVPN, and VPN.AC.
Now, here comes another important information. Bitdefender Premium VPN doesn't actually own its servers. Instead, it relies on the infrastructure offered by Hotspot Shield. This is a US-based VPN provider that's quite popular around the world. However, this VPN has been often accused of serving malware, selling private information of its users, and plenty more. All of this has resulted in formal complaints being filed by the CDT a while back. As you can see, the connection with Hotspot Shield can be seen as a major obstacle to using this VPN.
Previous Data Leaks
We are happy to say that Bitdefender Premium VPN comes without any serious accusations from the past. In other words, this VPN has never been connected to any data leaks. Also, there are no reports of this VPN collecting private information of its users. Therefore, it does seem like a trustworthy option – at least for now.
Supported Platforms & Devices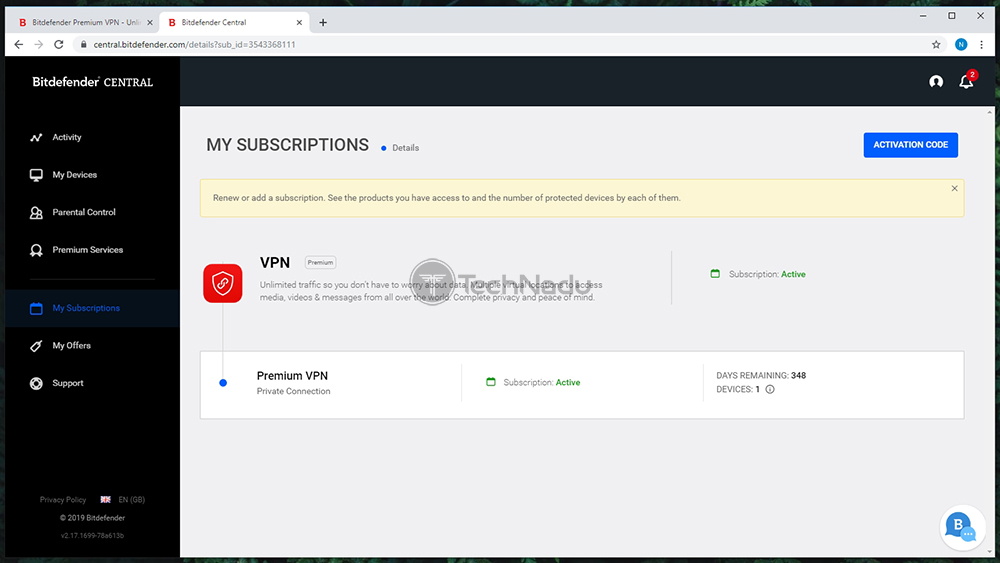 Bitdefender Premium VPN is compatible only with the most popular platforms. However, it doesn't come as a standalone application. Our Score: 4/10.
We'll now check which platforms are compatible with this VPN. More precisely, we will talk about native applications offered by Bitdefender.
Platform Compatibility
| | |
| --- | --- |
| Desktop Platforms | Windows, macOS. |
| Mobile Platforms | Android, iOS. |
| Web Browsers | N/A |
| Routers | N/A. |
| Other Devices | N/A. |
We can see that Bitdefender Premium VPN covers the most popular platforms only. We're talking about Windows, macOS, Android, and iOS – which means that there are four native applications on offer. Sadly, Linux users are left out. The same applies to users of Android TV, FireOS, and similar.
What's surprising is that you can't install this VPN on a router. Despite relying on the OpenVPN protocol (which can be installed and used on a wide range of routers), this VPN has decided to rely on native applications only.
It should be also noted that this isn't a standalone product. Instead, it comes as an add-on used with other solutions offered by Bitdefender: Total Security, Internet Security, and Antivirus Plus. All of these are premium priced options that you can use on multiple devices. In fact, you can choose how many devices you want to use them on. Based on this choice, you can use the VPN on the same number of devices (from 1 up to 10).
Installation & Initial Configuration
Bitdefender Premium VPN isn't a standalone application, which can be confusing at first. However, the process of installation is fairly simple and user-friendly. Our Score: 8/10.
The first step is to sign up for a Bitdefender product. As noted earlier, you can choose from a range of products such as Total Security, Internet Security, and Antivirus Plus. Once you register for an account and pay for the subscription, you can proceed to log-in to your user account on this VPN's website. Then, download the installation file to your computer.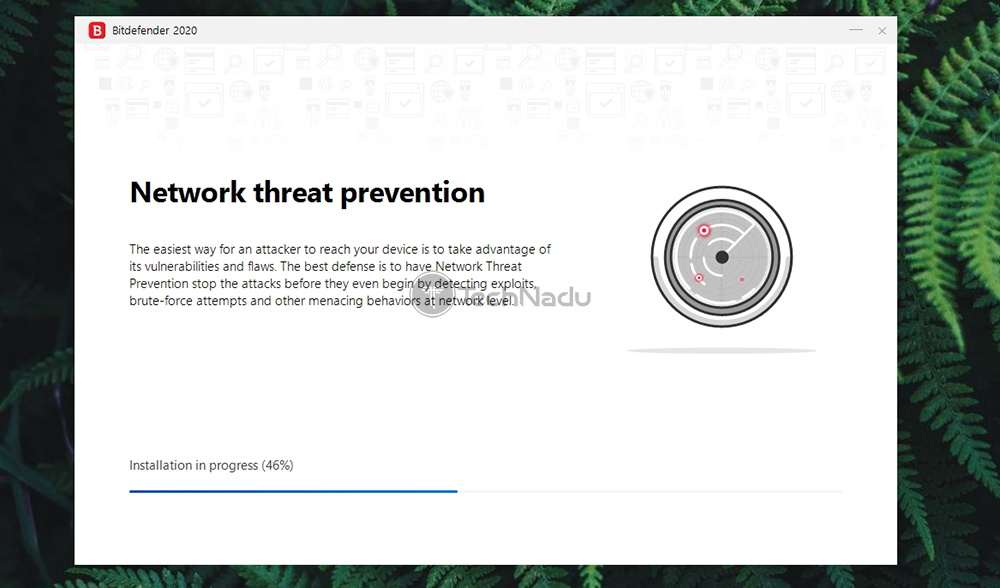 We went with this company's Total Security and ended up with a large-sized application (486MB, only for the installation file). Once installed, Bitdefender will ask for your activation code. Then, initialize the application you've installed, and you'll see Bitdefender Premium VPN within that application. To simplify this process, you'll also end up with a shortcut to this VPN (placed on your desktop). This means that you don't have to run the entire Bitdefender suite each time you want to use the VPN. Instead, you can only run the VPN portion of it.
Prominent Features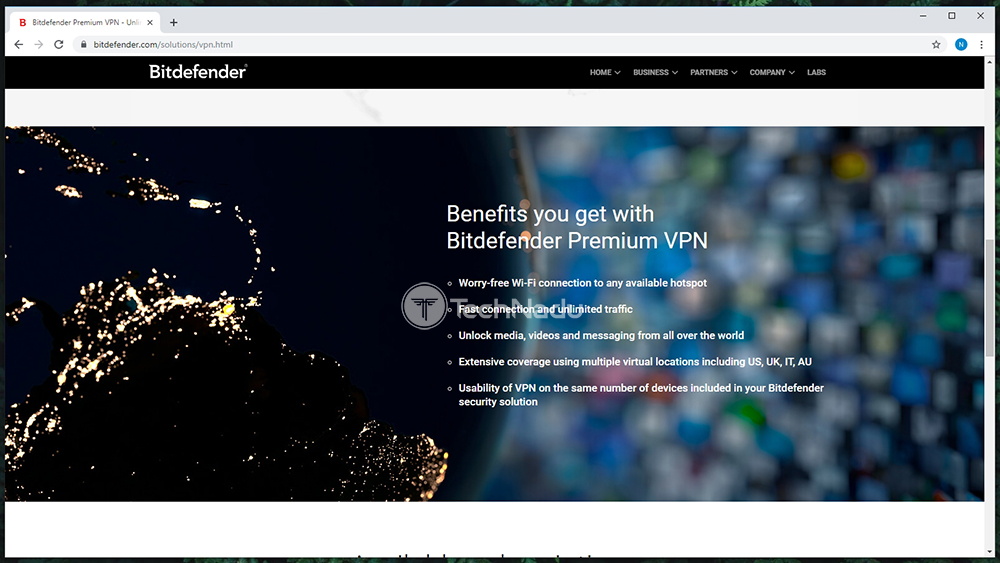 Bitdefender Premium VPN is a rather basic VPN. It does have some more advanced features as well, but these are not found in the 'VPN aspect' of this product (they come from the primary Bitdefender product you're using). Our Score: 5/10.
You must be wondering what kinds of features you'll get with this VPN? Well, we've made a list of both standard and advanced features, so let's see how Bitdefender Premium VPN ranks in this aspect.
VPN Features Checklist
| | |
| --- | --- |
| DNS Leak Protection | YES |
| IPv6 Leak Protection | NO |
| Kill-Switch | NO |
| Ad-Blocker, Anti-Malware | YES/NO |
| Unlimited Server Switches | YES |
| Unlimited Bandwidth | YES |
| Unlimited Data | YES |
A basic set of features is there, including DNS leak protection. Your IPv4 traffic is also protected by this VPN's tunnel. However, to protect your IPv6 traffic, you'll need to disable it on your device (so that it downgrades to IPv4). In terms of more advanced options, there's no kill-switch included, which can be seen as a highly problematic aspect.
Next, it should be noted that you'll end up with a Web browser extension as well. This will help you fight against trackers, phishing attacks, and other online dangers. And finally, you'll get unlimited server switches, bandwidth, and data.
Server Count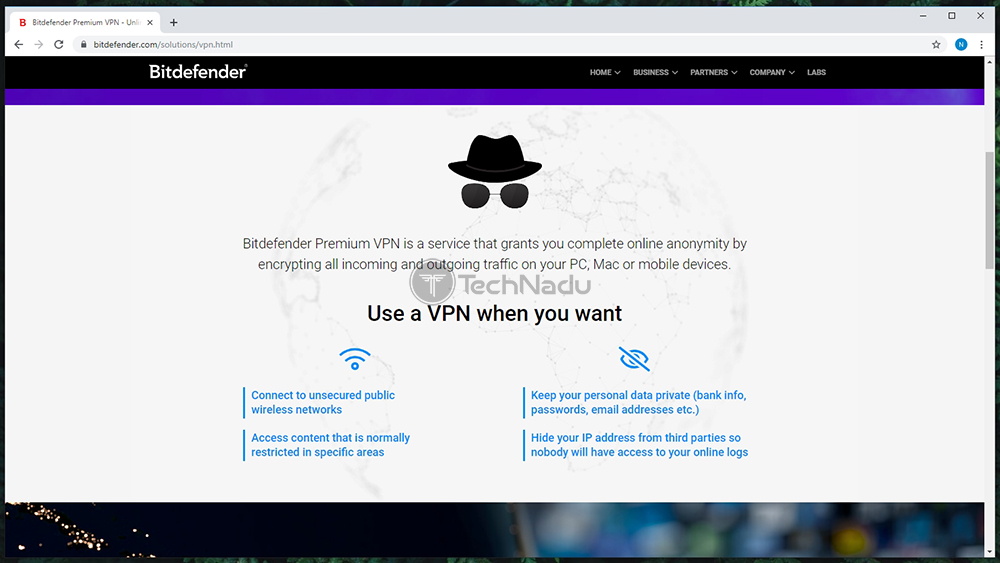 Bitdefender Premium VPN comes with an unknown number of servers, available in 27 countries. This is quite disappointing, and we've expected more from such a large-scale company. Our Score: 3/10.
In this segment, we will talk about the size of this VPN's server network. As you're about to see, Bitdefender isn't quite the most transparent VPN out there.
Server Count Info
| | |
| --- | --- |
| Number of Servers | N/A |
| Number of Locations | N/A |
| Number of Countries | 27 |
| Specific Cities Selection | NO |
| Unlimited Switching | YES |
Bitdefender isn't willing to talk about how many servers its VPN offers. As its customer support says, this isn't discussed due to security-related reasons, and we can understand that. However, 90% of today's VPNs use this information as a selling point for their services – as it allows for easy comparison between different VPN providers.
What we know is that Bitdefender Premium VPN has servers in 27 countries – which is disappointing. To put things into perspective, let's see how many countries are covered by the top-rated VPNs. ExpressVPN spans across 94 countries, CyberGhost VPN has servers in 90 counties, while NordVPN has more than 5,700 servers in 60 countries. Even Hotspot Shield offers servers in 70+ countries, so you can see that there's plenty of room for Bitdefender to grow. In addition, you can't connect to individual cities or regions, even though you get unlimited server switches.
Ease of Use
It's clear that this VPN is made for average home users – who want everything to be fully automated. There isn't anything to play around with, so advanced users are going to be disappointed. Our Score: 6/10.
Many VPNs have adapted to a mobile-friendly UI even on computers – and Bitdefender isn't an exception. Once you open it, you'll see a vertical-oriented UI, ready to be used at once. You can click on the prominent 'Connect' button and this VPN will automatically connect you to the closest server available. Of course, you can also choose a server manually by clicking on 'Automatic'. This brings up a list of 27 countries – and you can connect by simply selecting any of these countries.
Once you connect to a secure server, Bitdefender Premium VPN will show you a notification. Also, you will get to see how much data you've downloaded and uploaded during each session, which can be a useful bit of information.
To dive a bit deeper, click on the hamburger button in the top-left corner. This will open a new menu with few options, allowing you to check the details of your subscription, go to Bitdefender's customer support page, and check the information about the currently installed version of Bitdefender Premium VPN. And also, this is where you can tweak some options, by clicking on 'Settings'. Sadly, only three options are present here, so there isn't plenty of customization. You can enable/disable notifications and startup launch, and you can choose to automatically secure unsecured Wi-Fi networks.
Media Streaming & Torrenting Support
Bitdefender Premium VPN is not a good option when it comes to media streaming. However, it doesn't block P2P traffic. Our Score: 2/10.
We'll now see which media streaming platforms can be unblocked via Bitdefender Premium VPN. Check out the following table to see the results of our tests.
Media Streaming & Torrenting Support
| | |
| --- | --- |
| Netflix US | NO |
| Hulu | NO |
| BBC iPlayer | NO |
| Amazon Prime Video | NO |
| Torrenting (P2P) | YES |
As you can see, this shouldn't be your VPN of choice if you're into media streaming. However, it's worth noting that you won't get access to the US version of Netflix. However, other regional versions (like the one in Germany and Romania) should still be available. When it comes to other media streaming platforms, we weren't able to unblock any.
Then, we also have torrenting. Even though you won't find any specific statements whether Bitdefender Premium VPN allows torrenting, we can tell that there are no limitations. In this case, we would strongly recommend you avoid copyright infringement and stick to legal torrents only.
Security & Privacy
As per our DNS leak tests, we've detected an alarming data leak. This beats the purpose of using this VPN, in the first place. Our Score: 1/10.
We'll use this segment to check the privacy-related features of this VPN. More specifically, we'll talk about its encryption standards, VPN protocols, logging policy, and more.
Supported Encryption Protocols
In terms of encryption, you'll get the best one that's commercially available. We're talking about AES-256, which is considered to be uncrackable. Then, you should also know that Bitdefender's VPN is powered by the OpenVPN protocol, which is also considered to be incredibly secure. And even though there's no information about which protocols iOS and Android apps are using, we suspect that might be HydraVPN, powered by Hotspot Shield. Once again, a very strong option.
Logging Policy
As could be expected for such a large-scale company, Bitdefender offers a very detailed privacy policy. Also, our experience tells us that major cyber-security companies collect plenty of data, with the purpose of providing their services and enhancing their offer.
As its privacy policy states, Bitdefender collects 'randomly generated or hashed user and device IDs, IP address, and randomly generated tokens to establish VPN connection'. Therefore, some data logging does happen in the background when you use this VPN. If there's a justifiable cause, Bitdefender reserves the right to track your online activities and report those to third parties. Therefore, this isn't a solution to be 100% anonymous online.
DNS Leak Test
As the screenshot above shows, a DNS data leak has been detected. This is most definitely a major issue – and it beats the purpose of using this VPN, in the first place. This means that third parties will be able to read your 'true' information, instead of only being able to see your 'virtual' information.
Speed & Performance
This truly is a speedy VPN service, bringing close to minimal throttling. We were surprised by the performance of both nearby and remote servers. Our Score: 9/10.
Any VPN's performance depends on a wide range of variables. However, we've done a round of speed tests, which should give you an idea of what kind of performance you can expect. So, let's review the results of those tests.
First, we've done a speed test of our bare Web connection – without having this VPN running in the background. During this round, we managed to get 147.29 Mbps for downloads and 9.79 Mbps for uploads.
Then, we connected to a nearby server – by allowing Bitdefender Premium VPN to select the most suitable one. We're located in Europe and we managed to find a server in one of our neighboring countries. As you can see from the screenshot above, we got 140.40 Mbps for downloads and 9.45 Mbps for uploads.
And finally, we also tested the speed of a remote server, located in the USA. During this final round of speed tests, we managed to get 131.41 Mbps for downloads and 9.42 Mbps for uploads. To make sense of this data, we've put it into a table below.
| | | | |
| --- | --- | --- | --- |
| | Download Speed | Upload Speed | Speed Reduction |
| Baseline Data | 147.29 Mbps | 9.79 Mbps | 0% |
| Nearby Server | 140.40 Mbps | 9.45 Mbps | 5% |
| Remote Server | 131.41 Mbps | 9.42 Mbps | 11% |
We conclude that Bitdefender Premium VPN slowed us down by 8%, on average. We need to say that this is one of the best results we've gotten out of any VPN yet. However, there's not much worth to this considering numerous other problems we've faced while using this VPN.
Customer Support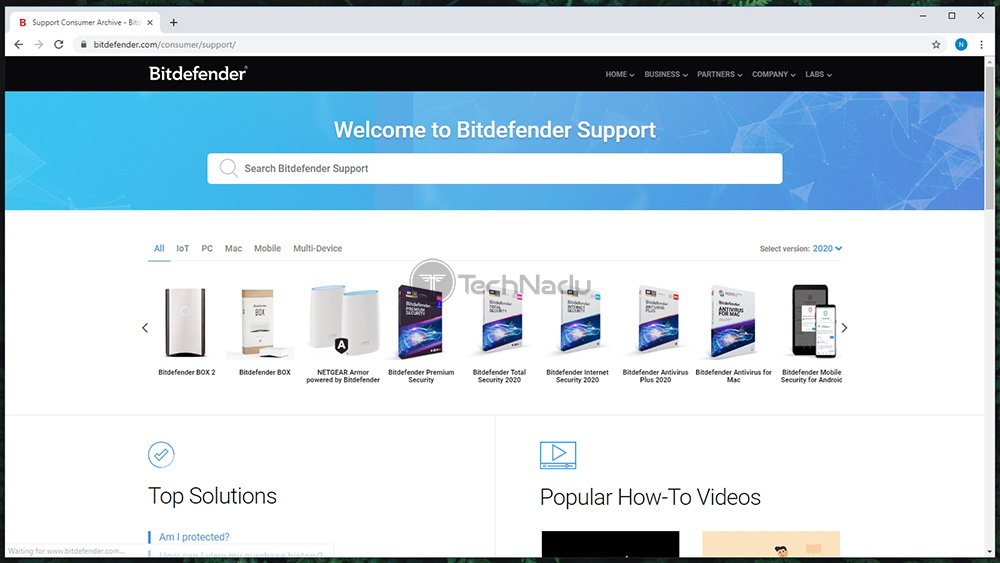 There are different ways to get help – however, this entire system seems to be overly complicated. Still, a bit of effort on your part will go a long way. Our Score: 7/10.
Bitdefender has been around for quite some time – so it knows how to offer customer support. It comes with a unified customer support portal for all of its products, including the VPN service. You can check frequently asked questions, knowledgebase, and you can also search for help on the official community forum. In case you need to talk to someone from this company, you can send an email, call them, or chat with an agent live.
As you can see, there are many different ways to get help. However, this entire system can be somewhat complicated and hard to navigate. Also, Bitdefender's agents don't seem overly knowledgeable if you ask something more complicated, as you'll be often redirected to a different department.
Pricing
To use this VPN, you need to buy one of the 'primary' Bitdefender products, which complicates the situation. In the end, considering that we've found alarming leaks, it's just not worth the price. Our Score: 1/10.
The most important piece of information here is that Bitdefender Premium VPN isn't a standalone product. Instead, it comes as an add-on for other Bitdefender products. You'll get to choose from the following options: Total Security, Internet Security, and Antivirus Plus. Once you sign-up for any of these, you can add the VPN option via the following prices.
| | | | |
| --- | --- | --- | --- |
| | Total Price | Per Month | Savings |
| 1 Month | $6.99 | $6.99 | 0% |
| 12 Months | $39.99 | $3.33 | 52% |
So, if you decide to subscribe to Bitdefender Premium VPN, the lowest price you can pay is $3.33 per month. This means that you'll be charged $39.99 per year. Also, don't forget to add the cost of buying a primary Bitdefender product, since this isn't a standalone application.
Among other information, you can pay via credit cards, PayPal, and wire transfer. There's a 30-day money-back guarantee that you can activate by using the company's customer support system.
Differentiating Free Vs. Paid
Let's not forget that Bitdefender offers its VPN free-of-charge for the customers of Total Security. However, this free VPN comes heavily limited, so here are the differences between this and the premium VPN option.
| | | |
| --- | --- | --- |
| | Basic (Free) VPN | Premium VPN |
| Browse Anonymously | YES | YES |
| Unlimited Traffic | 200MB/day. | YES |
| Extensive Coverage | NO | YES |
| Number of Countries | 1 | 27 (ALL) |
It's clear that Bitdefender's free VPN serves as a trial version – trying to persuade you into buying the premium VPN plan.
Do We Recommend Bitdefender Premium VPN?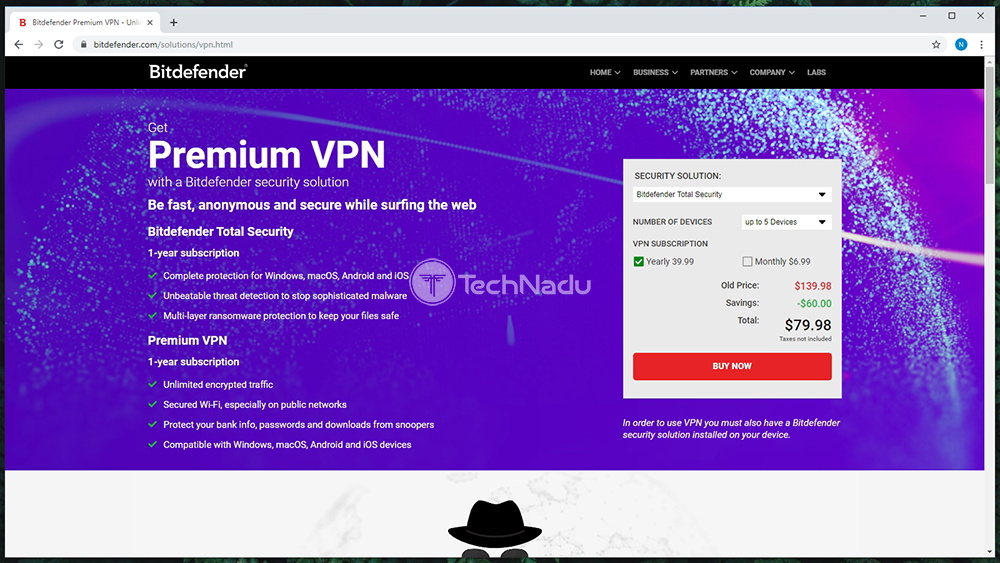 The answer should be clear by now – we do not recommend this VPN service! There are numerous problems surrounding this VPN and most importantly, we've detected data leaks. This beats the purpose of using Bitdefender Premium VPN, in the first place.
PROS: Easy installation; Easy to use; Fast performance.
CONS: Relies on Hotspot Shield VPN; Small server network; Not a standalone product; Can't unblock media streaming websites; Data leaks have been detected.
OUR SCORE: 4.7 out of 10!
If you need more information about Bitdefender's VPN, click on the provided link. And if you're willing to continue your search, we present our central article on the best VPNs right now. Make sure to take a look, as we're 100% sure you'll manage to find an amazing VPN that suits all your needs.
In case you liked this review, we'd like to ask you to share it on the Web. And to stay on top of the latest VPN-related coverage, don't forget to follow us on Facebook and Twitter.