Bitdefender Premium VPN is a service operated by Bitdefender, a cybersecurity company known for its expertise in digital protection. The company's great reputation makes it an enticing choice. Unfortunately, Bitdefender VPN can't quite compete with the providers on our list of the best VPN services.
But with its headquarters in Romania, Bitdefender VPN stands strong in safeguarding your data. It's not aligned with international data-sharing alliances, affirming a commitment to user privacy and data security.
When it comes to user logs, Bitdefender's privacy policy is focused on minimal data collection, reflecting a no-logs approach. However, the fact that it experienced a data leak in the past (although resolved) might give you pause for thought.
On the security front, Bitdefender VPN ensures a safe online experience with robust AES 256-bit encryption and reliable security protocols other than Hydra. It's also an excellent choice for unblocking streaming sites and safe P2P file sharing. For gamers, it offers a feasible option, especially when connecting to nearby servers.
But before we dig deeper into our Bitdefender Premium VPN review, check out this spec sheet of its most important features: 
Premium VPN
Free VPN (included by default in Bitdefender products)
Jurisdiction
Romania.
Logs
Stores personally identifiable logs.
Servers
4,000+ in 53 countries.
1 (closest location).
Simultaneous Connections
10.
Matches your package's device limit (10 or 15).
Supported Devices
Windows, macOS, Android, iOS.
Features
Kill switch, split tunneling, AES 256-bit encryption, and more.
Protocols
Hydra, OpenVPN (UDP, TCP), WireGuard, IPSec.
Supports
Netflix, BBC iPlayer, torrenting, gaming, and more.
N/A.
Customer Support
Live chat, email, phone, knowledge base, and Bitdefender Expert Community.
Price
From $2.50/month.
N/A.
Live Deal
64% OFF (1-year plan)
Our Score
6.6 out of 10.
In this comprehensive review, we've got you covered with all the key information about Bitdefender VPN – where it's located, its security and privacy features, setup, performance, pricing, and more. If you're interested in our VPN testing approach, check out how we review VPNs.
Background, Jurisdiction & Reputation
Bitdefender VPN operates from a privacy-friendly jurisdiction, yet its logging policies may raise concerns for discerning VPN enthusiasts. Our Score: 5/10
Before you choose a VPN, you want to be sure you can trust it with your data. Several factors play into this, including where it's based, its policies, and its history. Let's take a look at how Bitdefender VPN does in this area.
Where Is Bitdefender VPN Based?
Bitdefender VPN is based in Romania, an Eastern European country. The company also has offices in the United States, Europe, the Middle East, and Australia. That said, having its main headquarters in Romania is great in terms of jurisdiction since it's not a member of the 5/9/14 Eyes Alliance. This is a group of countries that monitor and share intelligence from their citizens.
Furthermore, Romania has privacy-friendly laws that protect its citizens' online data. It also falls under the GDPR as an EU member country, which is an EU data protection and privacy regulation. 
However, Bitdefender actually uses another VPN's technology. It's a white-label VPN, which means it's an app built around another provider's infrastructure. In this case, it works with Aura, the company behind the free VPN service Hotspot Shield.
That may seem concerning since Hotspot Shield is headquartered in the United States (14 Eyes Alliance country). That said, Bitdefender VPN customers still fall within its Romanian jurisdiction. So, Hotspot Shield's location isn't a privacy issue.
Did Bitdefender VPN Leak Personal Data in the Past?
Yes, Bitdefender experienced a relatively minor data breach in 2015 that exposed usernames and passwords. Fortunately, the breach didn't compromise Bitdefender's systems. They swiftly resolved the issue and reinforced security measures.
To regain user trust, Bitdefender has since implemented robust security measures, including improved firewalls and encryption technology. Their minimal data logging policy also prioritizes user privacy. These steps are designed to protect user data from unauthorized access and prevent any future breaches.
Is Bitdefender VPN Safe?
Yes, Bitdefender VPN is safe because it uses AES-256-bit encryption, which is the same level the US government and global security experts rely on to protect classified data. 
In addition, its "Perfect Forward Secrecy" system generates new encryption keys for every VPN session. Afterward, the key is erased, so your data stays protected even if old keys become compromised. As for tunneling protocols, Bitdefender VPN uses Catapult Hydra for secure client-server connections.
The only security concerns come from its logging policy, as the VPN collects more personal data than we're comfortable with. More on that later.
On the bright side, it's reassuring to know that in 2022, Pango, Bitdefender's VPN technology partner, underwent a third-party security audit. The results were outstanding, underscoring their commitment to privacy and security.
Supported Platforms & Devices
Bitdefender VPN offers native apps for the 4 most popular desktop and mobile operating systems but stops there. Our Score: 4/10
If you have several Internet-enabled gadgets, it's nice that your VPN provider can protect them all. The most capable VPNs offer wide compatibility across many platforms and devices. What about Bitdefender VPN?
| | |
| --- | --- |
| Desktop Platforms | Windows, macOS. |
| Mobile Platforms | Android, iOS. |
| Web Browsers | N/A. |
| Routers | N/A. |
| Other Devices | N/A. |
It's obvious that Bitdefender VPN is only concerned with the major platforms. This VPN is available for Windows, macOS, Android, and iOS devices. 
That's too bad because many of its competitors offer native apps for Linux. They also let you manually install their VPNs on less common devices. Some even offer browser extensions. On top of that, many are compatible with routers and make it easy to connect to game consoles or streaming devices (Roku devices and Fire TV Sticks, for example). 
If you only need protection for basic Internet use, this may be fine. However, it poses a problem if you own a lot of tech and need a VPN for things like console gaming or streaming on your smart TV.
Additionally, your Premium VPN subscription covers up to 10 devices simultaneously, regardless of the subscription type. If it's included in your Bitdefender security solution (e.g., Bitdefender Premium Security), it aligns with your package's device limit (e.g., 10 or 15). However, without a bundled Premium VPN, a separate subscription covers 10 devices, not 15.
Installation & Initial Configuration
Getting Bitdefender VPN on your desktop, Android, or iPhone is a straightforward process - it's super easy to download and install. The steps are simple, and you can complete them in minutes. Our Score: 7/10
In this section of our Bitdefender Premium VPN review, we'll guide you through downloading, installing, and setting up the VPN. The good news is that the process is user-friendly, making it easy for everyone, even those without technical know-how.
How to Download and Use Bitdefender VPN?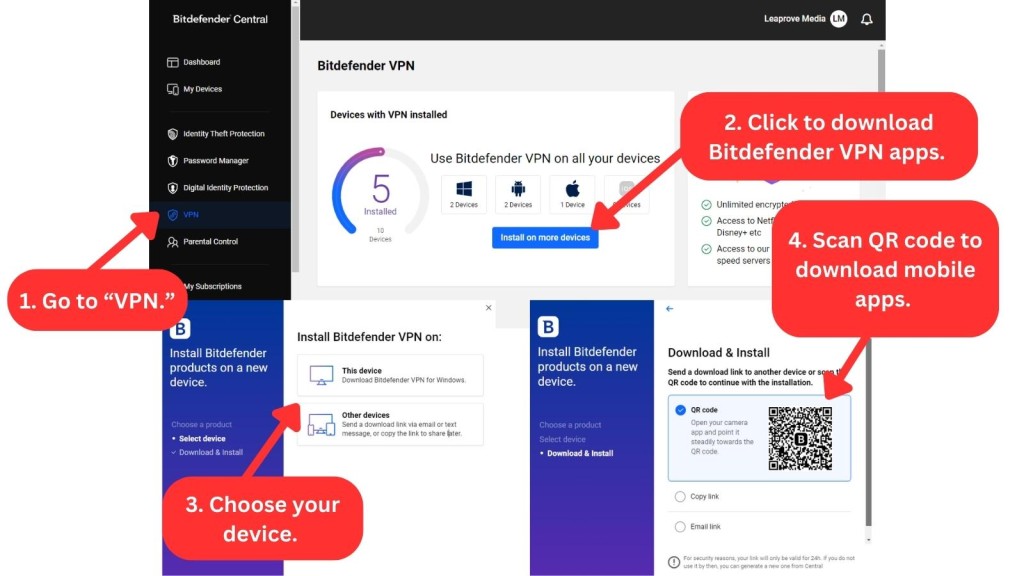 To get Bitdefender VPN up and running, you need to subscribe to the service, download the installation file, and simply install the app on your device. The best part? It's a quick process, taking only a few minutes for Windows PC and Mac. Here are the steps you need to follow:
Subscribe to Bitdefender VPN using any Web browser.
Sign in to Bitdefender Central with your login details.
Go to the "VPN" sidebar and select your device.
Download the installation file.
Install the file by following the screen prompts.
Launch the app and log in with your credentials.
Connect to a server. That's it!
For mobile devices, choose from three options: send the link to another device, scan the QR code, or email the link. You can also download Bitdefender VPN directly from Android or iOS app stores with no additional setup needed.
Prominent Features
Bitdefender VPN won't satisfy more advanced users. However, it has the necessary features you need to stay safe online. Our Score: 7.5/10
If you are used to VPNs with an array of basic, advanced, and original features, Bitdefender Premium VPN may not appeal to you. Instead, the provider opts for a no-frills approach. 
Kill Switch: If a VPN connection ever drops, the kill switch blocks your network. This way, you stay protected at all times. It's a necessary security feature, so it's great that it's available for all compatible devices. Unfortunately, it's disabled by default, so don't forget to turn it on.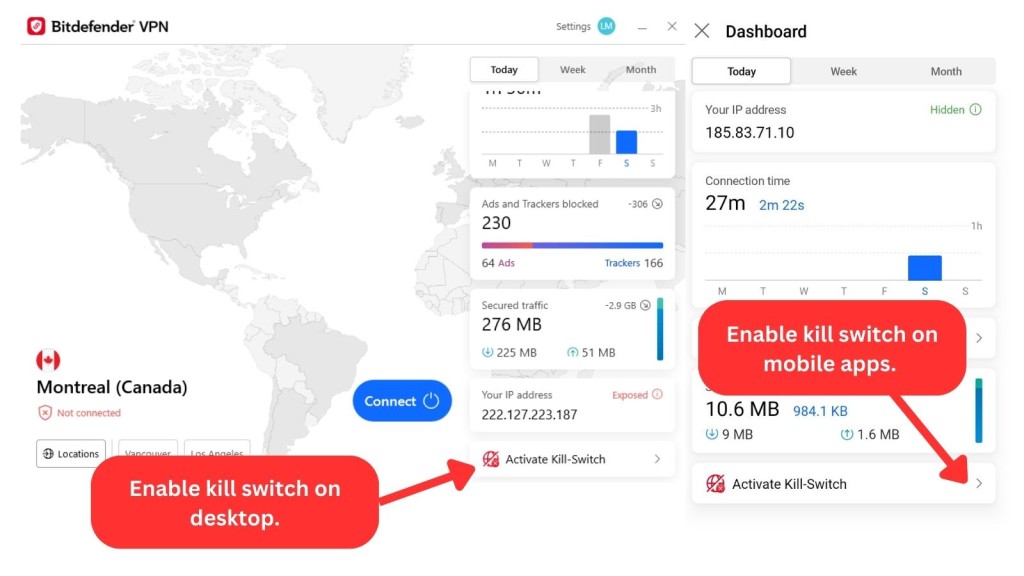 Auto-Connect: Bitdefender Premium's Auto-connect options go beyond typical VPN apps. You can set it to connect not only on startup or when connecting to Wi-Fi but also when using specific apps, visiting certain URLs, accessing particular content, or using P2P file-sharing. This flexibility lets you use the VPN as needed rather than running constantly.
Split Tunneling: This feature allows you to control which traffic uses Bitdefender's tunnel and which uses your regular connection. It's useful for accessing local content while streaming from abroad or connecting to LAN resources, such as a printer. Simply enable split tunneling in Bitdefender VPN settings and add the websites you want to bypass the VPN.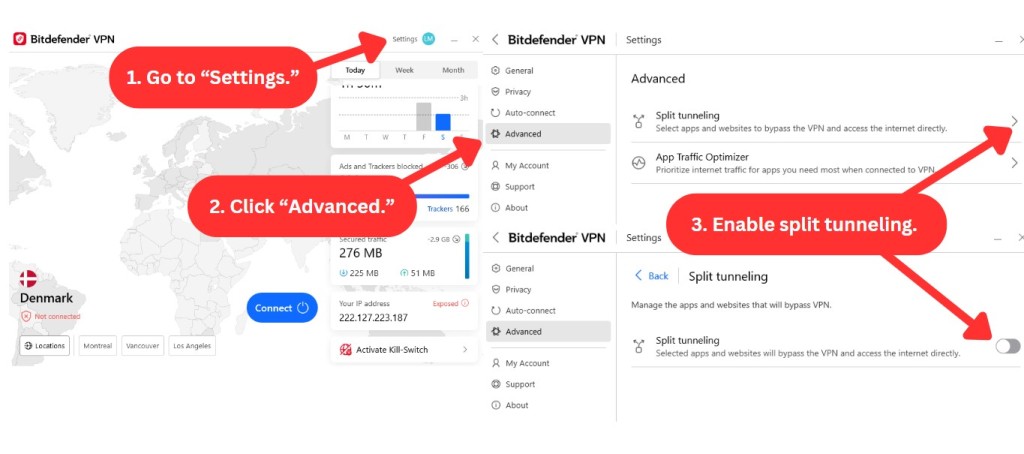 Ad Blocker and Anti-Tracker: Bitdefender VPN offers two complementary features. The first is an ad blocker for a clean, ad-free browsing experience. It blocks various types of ads, including pop-ups and video ads. This complements its anti-tracking feature, safeguarding your private data, online habits, and location from web trackers.
Whitelist: Bitdefender VPN's anti-tracker is indiscriminate, automatically blocking every Web tracker it detects while you're browsing. This can be an issue because some sites rely on trackers to function correctly. The Whitelist feature solves this problem, allowing you to exclude trusted websites from ad blocking and anti-tracking.
App Traffic Optimizer: With this feature, you can prioritize your Web traffic for specific apps. You can select up to 3 apps that will receive a speed boost when connected to the VPN, ensuring they run smoothly. At the moment, this feature is exclusively available on Windows devices.
Server Count & Infrastructure
Bitdefender VPN's server network has grown exponentially over the last few years. It now has a network large enough to rival the top providers. Our Score: 8/10
The biggest VPN providers have thousands of servers, and Bitdefender VPN stands shoulder-to-shoulder with them in this regard. However, while Bitdefender's server network is large, the spread isn't that impressive.
| | |
| --- | --- |
| Number of Servers | 4,000+ |
| Number of Locations  | 70+ |
| Number of Countries | 53 |
| Specific Cities Selection | YES (limited) |
| Unlimited Switching  | YES |
There are locations in only 53 countries. In contrast, VPNs with the most servers nearly double that amount. On top of that, there are very few city-level servers. You can only choose cities in 3 countries (US, UK, and Canada).
The rest will select random server locations when you choose a country to connect to, which isn't ideal. Depending on the country's size, this could seriously slow down your connection.
On its website, Bitdefender VPN implies that it has virtual servers but doesn't say how many or point them out. There's nothing necessarily wrong with virtual locations, but we would've preferred if the provider labeled them.
UI/UX Design & Ease of Use
Since our last review, Bitdefender Premium VPN has received a comprehensive overhaul, bringing thoughtful new features to both the desktop and mobile apps. Our Score: 8/10
In this segment of our Bitdefender VPN review, we'll explore its desktop and mobile apps. The apps all follow a similar visual theme with a modern and intuitive UI, allowing anyone to easily find their way around.
How Well Does Bitdefender VPN Work on Desktop Platforms?
Bitdefender Premium VPN has undergone significant changes to its desktop apps. It used to be a small, unexciting window, but now it's a full-size app with a map in the middle, recent locations at the bottom, and stats on the right side.
The app takes a unique approach by highlighting statistics. On the upper right side of the app, you'll see your connection time, so you'll know how long your VPN connection has been active. It also shows a secured traffic meter, showing the amount of Web traffic protected by the VPN. While these statistics can be handy, they may not be considered absolutely necessary.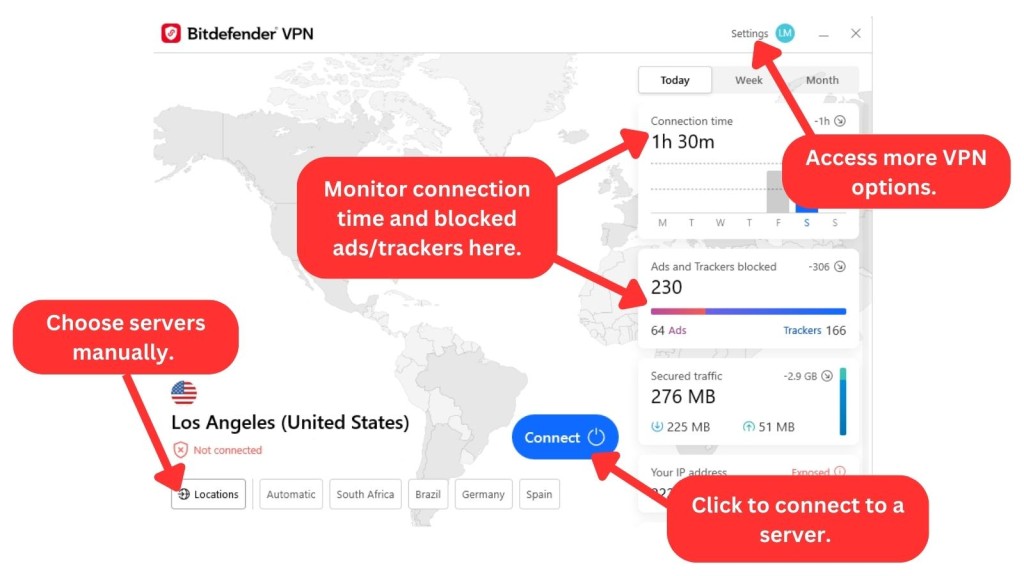 The revamped design is visually appealing, presenting information in a clear and straightforward format, which enhances the overall user experience. However, the background map is non-interactive, limiting its functionality.
The "Connect" button stands out at the bottom, making it easy to start the VPN. On the left side is the "Locations" menu, allowing country and, in some cases, city selection in certain countries like Canada, US, and UK.
General: This setting allows you to customize the appearance and functionality of the Bitdefender VPN app. Here, you can change the language, take control of notifications, and easily reset VPN settings to your preference.
Privacy: Within this tab, you have the choice to enable or disable only two options: the Internet kill switch and the ad-blocker with an anti-tracker.
Auto-Connect: You can control various connection settings here. Bitdefender VPN's auto-connect feature helps keep your device safe, especially when you use public Wi-Fi or share files with others using P2P.
Advanced: In this tab, you'll find just two settings to adjust: Split Tunneling and App Traffic Organizer. Unlike other VPNs with a wider array of advanced options, Bitdefender's choices are more limited.
My Account: This will show your subscription details, like when it will expire. You can also go to the website from here to edit your profile or manage your subscription.
Support: You'll find two customer service options in this tab. One takes you to the website's customer support, while the other connects you with the Bitdefender community for assistance.
About: Navigate to this section to find your VPN version and view a visual list of compatible devices. Clicking on other options also grants access to Bitdefender VPN's subscription agreement, privacy policy, and third-party license terms.
How Well Does Bitdefender VPN Work on Mobile Platforms?
The Android and iOS apps share a consistent visual design. Their home screens feature a static map background with a blue power button on the right side, changing to a muted green when connected. On the left, you'll find the "Locations" menu offering country and limited city selections in Canada, the UK, and the US, including double-hop servers.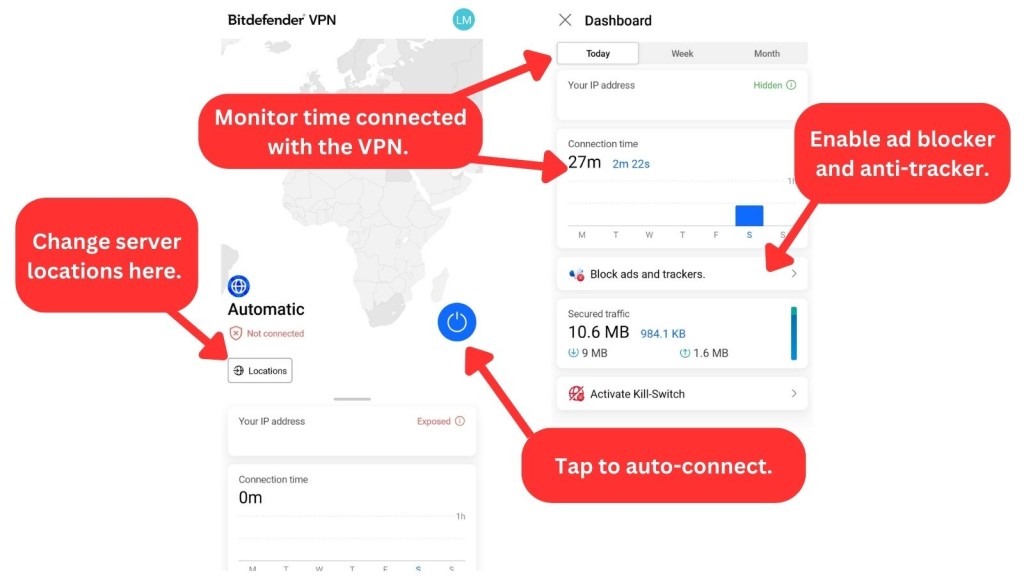 Swiping up reveals the dashboard, displaying your IP address, connection time, secured traffic, and options for enabling the kill switch, ad blocker, and anti-tracker.
Interestingly, there's no distinct settings icon in the mobile apps. Instead, you'll access settings by clicking on your account initials in the upper right corner. These settings match those in the desktop apps, except for the mobile versions uniquely having the "Double-hop" feature in the "Advanced" tab.
Overall, every Bitdefender VPN app is still super easy to use. Their simple design makes navigation a breeze. Unfortunately, there are no browser extensions or apps for less commonly used gadgets.
So, each app it offers is nearly identical, meaning there's no learning curve when you set up a new device. Some competitors offer more visually appealing apps, but these also get the job done. 
Media Streaming, Torrenting, and Gaming Support
Bitdefender VPN unblocked every streaming platform we tested. It also features unofficial support for torrenting and online gaming. Our Score: 7/10 
For many people, streaming, torrenting, and online gaming represent significant reasons for subscribing to a VPN. We tested to see if Bitdefender VPN can unblock the major streaming platforms, how it handles torrents, and if it's suitable for gaming. Here are the results.
Is Bitdefender VPN Good for Streaming?
Yes, Bitdefender VPN is good for streaming. It's actually an excellent choice for streaming, making it a strong contender among the best VPNs for streaming TV.
We were impressed to find that Bitdefender Premium VPN unblocks several Netflix libraries. We could easily stream exclusive content on Netflix US, UK, France, and Canada. What's more, it provided a smooth streaming experience with little to no buffering, even when we streamed in HD.
Here are some well-known US-based streaming platforms that Bitdefender VPN can unblock.
| | | |
| --- | --- | --- |
| Netflix | Disney+ | Max |
| Hulu | Prime Video | Paramount+ |
| Apple TV+ | ESPN+ | Peacock |
| Sling TV | Fubo TV | DirectTV Stream |
Bitdefender VPN also opens the door to worldwide streaming platforms, not just the US. Here's a glimpse of what you can expect.
| | | |
| --- | --- | --- |
| BBC iPlayer (UK) | ITVX (UK) | StackTV (Canada) |
| RaiPlay (Italy) | 9NOW Live (Australia) | Movistar Plus+ (Spain) |
| Zattoo (Germany) | GloboPlay (Brazil) | DSTV (S. Africa) |
But remember, the standard version (included by default in Bitdefender products on various platforms) only offers 200 MB of daily traffic per device, which may impact the VPN's streaming performance. Additionally, it automatically connects to the best server without granting you the choice of selecting one.
For unlimited traffic and server choice, consider upgrading to the Premium VPN subscription to access its benefits instantly.
Is Bitdefender VPN Good for Torrenting?
Yes, Bitdefender VPN is good enough for torrenting. But we have to say that even though you can torrent safely with Bitdefender, it's not super fast. 
There's also no mention of torrenting on Bitdefender VPN's website. A support agent said it allows torrenting but warned that download speeds are slow. The VPN also lacks port forwarding, a performance-boosting feature that is handy for torrenting.
Plus, we don't know for sure whether torrenting works on all Bitdefender VPN servers. When contacted, customer support was unable to confirm. That said, there are better options out there. If you're on the hunt for the best torrent VPN, our dedicated article is a must-explore resource.
Is Bitdefender VPN Good for Gaming?
Yes, Bitdefender VPN is good enough for gaming. However, due to high ping, expect some lag when connected to distant servers. Differently said, you can use Bitdefender VPN for gaming - but only if you stick to nearby servers.
For online gaming, we suggest enabling the VPN to automatically choose the server. This usually results in selecting the server nearest to you with the lowest ping, optimizing your gaming experience.
If you're looking for the best gaming VPN, be sure to check out our detailed article on the subject. It will guide you to the top choices for seamless online gaming.
Security & Privacy
Bitdefender VPN uses industry-standard encryption and doesn't leak data. However, we're worried that it stores too many logs. We also found the protocol options limiting. Our Score: 4/10
If you're looking for a VPN, it's almost certain you want to increase your security and privacy. With that in mind, let's look at 3 aspects that will let you know if you can trust Bitdefender VPN to keep your private information safe.
Bitdefender VPN Protocols
Bitdefender VPN has evolved beyond its exclusive use of the Catapult Hydra protocol. Recent updates now introduce other VPN protocols, each catering to specific needs and preferences.
By default, Bitdefender VPN selects the optimal protocol for your device and network. In the past, it only used the Hydra protocol. However, we've recently discovered other protocols in the mobile apps, including OpenVPN (UDP, TCP), IPSec, and WireGuard.
| | | | | | |
| --- | --- | --- | --- | --- | --- |
| | Hydra | WireGuard | OpenVPN UDP | OpenVPN TCP | IPSec |
| Windows | YES | Not Specified | Not Specified | Not Specified | N/A |
| macOS | YES | Not Specified | Not Specified | Not Specified | N/A |
| Linux | N/A | N/A | N/A | N/A | N/A |
| Android | YES | YES | YES | YES | NO |
| iOS | YES | YES | NO | NO | YES |
Catapult Hydra: Developed by the company behind Hotspot Shield, this protocol is based on OpenVPN but offers faster speeds. That seems to have worked quite well, as the protocol has won awards for its performance. This protocol is available on all supported platforms and devices.
WireGuard (Android & iOS): A newcomer on the VPN scene, WireGuard, has rapidly gained popularity. Bitdefender has adopted it for its iOS and Android VPN apps, reflecting a commitment to staying at the forefront of cutting-edge technology.
IPSec (iOS): If you have an iOS device, you can take advantage of this protocol, providing additional options for secure connections.
OpenVPN UDP (Android): While optimized for speed, it's important to note that this protocol may not offer the same reliability as OpenVPN TCP and could result in data loss.
OpenVPN TCP (Android): Designed with a focus on reliability, OpenVPN TCP ensures the complete delivery of your data. Although not as speedy as its UDP counterpart, it prioritizes data integrity.
It's great to see that Bitdefender VPN has kept up with the times by providing fallback options for all its apps in case the Hydra protocol encounters problems. However, it would've been better if there were an easy way to switch protocols in the desktop apps, as we currently don't find a clear method for doing so.
Does Bitdefender VPN Keep Logs?
Yes, Bitdefender VPN keeps logs. Like most of its rivals, Bitdefender VPN markets itself as a no-logs VPN. As is often the case, the devil is in the details. So, we dug through Bitdefender's frankly confusing privacy policy.
In the document that covers all its home solutions, Bitdefender says it may reveal personal information to "competent authorities, upon their legal request." While this excerpt doesn't specifically address the VPN, it was enough to give us pause.
Next, we narrowed in on the VPN section. Here, it lets you know what data it collects: "We collect for this service only randomly generated or hashed user and device IDs, IP addresses, and randomly generated tokens to establish VPN connection for the sole purpose of providing the VPN service."
While Bitdefender VPN clarifies on its FAQs page that it doesn't hand over IPs and private data to third parties, we're not impressed that it stores so much sensitive information in the first place. To be clear, most providers log some data. However, the most trustworthy VPNs only collect anonymized data. This means they don't store information that can be used to identify you, like IP addresses. 
Does Bitdefender VPN Leak/Expose Your Personal Data?
No, BitdefenderVPN doesn't leak your personal data. During several tests, we used advanced tools to see if Bitdefender leaks any of your information. 
As you can see from the test result, Bitdefender VPN managed to keep our actual IP address hidden. It was replaced by the virtual IP address assigned to the VPN server. We can infer from this result that Bitdefender VPN won't expose your personal information to hidden onlookers.
Speed & Performance
It's not the fastest VPN provider, but Bitdefender is impressive, especially on nearby servers. Our Score: 7/10
Let's assess how well Bitdefender VPN performs. We'll start by measuring our "bare" connection without an active VPN session. Afterward, we'll compare this with the VPN running in the background.
In our initial speed test, we clocked in at 255.29 Mbps for downloads and 282.69 Mbps for uploads. It's common for VPNs to introduce a modest decrease in Internet speed as they route connections through longer paths. Now, let's explore how Bitdefender VPN performs in preserving our Web connection's speed.
USA Server (Atlanta): A Bitdefender VPN server in the US provided us with speeds of 176.49 Mbps for downloads and 19.96 Mbps for uploads. This resulted in a 31% speed reduction. While some VPNs offer faster speeds over a similar distance, it's worth noting that many others have performed worse.
UK Server (Manchester): Next, we connected to a UK-based server and conducted the test again. This time, the speed had a more pronounced reduction, dropping by 55%. The results showed 116.13 Mbps for downloads and 10.21 Mbps for uploads.
Canada Server (Vancouver): Among all the servers we tested, the Canadian server showed the lowest speed reduction, with a 26% decrease. It achieved 188.70 Mbps for downloads and had an upload speed of 22.95 Mbps.
Singapore Server: The speed test results from this server were similar to Canada's server, with download speeds at 186.59 Mbps. This represents a 27% speed reduction. However, Singapore's upload speed stood out, providing a significantly better result at 73.18 Mbps compared to Canada's 22.95 Mbps.
Australia Server (Sydney): Since the Australian server was relatively close to our location, we had optimistic expectations for its performance - and it didn't disappoint. Our download speed reached 182.55 Mbps, with uploads at 17.85 Mbps. This resulted in a 29% loss in speed, which we consider acceptable.
Italy (Milan): Lastly, we connected to a Bitdefender VPN server in Italy. This connection returned the lowest download result we recorded during the test at 28.56 Mbps, with upload speeds at 13.53 Mbps. This represented an 89% reduction in speed.
| | | | |
| --- | --- | --- | --- |
| | Download Speed | Upload Speed | Speed Reduction |
| Baseline Data | 255.29 Mbps | 282.69 Mbps | 0% |
| USA | 176.49 Mbps | 19.96 Mbps | 31% |
| UK | 116.13 Mbps | 10.21 Mbps | 55% |
| Canada | 188.7 Mbps | 22.95 Mbps | 26% |
| Singapore | 186.59 Mbps | 73.18 Mbps | 27% |
| Australia | 182.55 Mbps | 17.85 Mbps | 29% |
| Italy | 28.56 Mbps | 13.53 Mbps | 89% |
On average, Bitdefender VPN slowed down our Internet connection by 43%. It will win no awards for lightning-fast speed, but that will do. You can expect much better performance when connected to closer servers. 
If you value dependable and high-speed Web connections, we recommend considering top-tier VPN solutions such as ExpressVPN to better cater to your needs.
Customer Support
Bitdefender VPN offers several channels for customers to contact support and get answers to their inquiries. Our Score: 7.5/10
Since it's part of a global company with plenty of customers, there are several ways to contact Bitdefender VPN's customer support. Here are the available options if you need help or answers.
Live Chat Support: This lets you chat directly with a representative. Bitdefender VPN clearly sees this as a last resort and makes live chat considerably difficult to reach. We had to pass through several pages before accessing the chatbox. On the plus side, once we got in touch with an agent, we found them polite, knowledgeable, and helpful.
Phone: If you prefer speaking, phone lines are available 24/7 for people in the US, the UK, Canada, Australia, New Zealand, and Belgium. Unfortunately, there are no phone lines for the rest of the world.
Email: Alternatively, you can email the company from its contact page. Unfortunately, it took several days for us to receive a response with this method.
Bitdefender Expert Community: This is a user-oriented platform where you can post questions and seek answers related to Bitdefender products. It serves as a valuable resource for users to interact, share knowledge, and receive assistance.
FAQs and User Guides: Lastly, Bitdefender VPN offers a robust collection of guides and FAQs with potential solutions to any issues, installation tutorials, and answers to common questions.
Pricing
Bitdefender VPN is one of the most affordable VPN providers in the market. It also has a solid money-back guarantee. Our Score: 7.5/10
Bitdefender Premium VPN doesn't overcharge you for what you get. It also makes it easy to choose a subscription plan since there are only 2 tiers. Besides the plan duration, there's nothing to separate them - you get the same features and functionality on each tier. 
If you get the annual plan, you'll save up to 64%. While you can get more with other top services, most of them have a significantly higher price. For instance, there are many VPNs that double the cost of Bitdefender VPN.
This provider also offers a free trial for 7 days, so you can test its premium features for free. In addition, it provides a 30-day money-back guarantee after your first purchase. That way, you have ample time to make up your mind on whether to commit.
Final Thoughts - Is Bitdefender VPN Good?
Yes, Bitdefender is a good and decent VPN provider. While it's not recommended for advanced users, you might find it sufficient for everyday browsing. It offers bank-level encryption and essential features like a kill switch.
It does a good job of unblocking streaming services like Netflix, Hulu, and Prime Video as well. Also, Bitdefender VPN has expanded its range of protocols beyond just Hydra, which is a noteworthy development.
That said, it falls short in a few key areas. We really wish the provider stored less personal data on its servers, whether or not it plans to hand it over to third parties. Furthermore, while Bitdefender VPN recently added an ad blocker and anti-tracker, it still lacks several features available in the top services. 
In the end, know that this VPN has a 7-day trial, as well as 30-day money-back guarantees. So, there are practically no risks if you decide to try out Bitdefender VPN.
PROS
Privacy-friendly jurisdiction.
Military-level encryption.
Unblocks many streaming services.
Kill switch and split tunneling.
Affordable pricing.
Large server network.
CONS
Stores too many logs.
Confusing privacy policy.
Lacks advanced features.
Limited platform and device compatibility.
FAQ
What Is Bitdefender VPN?
Bitdefender VPN is a commercial virtual private network (VPN) vendor. It provides privacy, security, and other services, allowing you to access the Internet without risking your private information.
Where Is Bitdefender VPN Based?
Bitdefender VPN is headquartered in Romania, outside the influence of the 5/9/14 Eyes Alliance. Romania has favorable data-protection legislation, making it an excellent base for a VPN.
Does Bitdefender VPN Have a Free Trial?
Yes, Bitdefender VPN comes with a 7-day free trial. 
Is Bitdefender VPN Free?
Bitdefender VPN offers a limited free version as part of its security suite packages. The free version has a daily cap of 200 MB, making it largely unsuitable for regular use. Upgrading to the standalone premium service removes this limitation.
What Does Bitdefender VPN Do?
Bitdefender VPN ensures you remain secure and private online. For work, it shields your data when connecting to public Wi-Fi and keeps sensitive information private.
For leisure, it lets you access geo-restricted content and ensures anonymity, all while safeguarding your personal data.
How Does Bitdefender VPN Work?
Bitdefender VPN works by encrypting your Internet connection, making it private and secure. It shields your data from potential eavesdroppers, ensuring your online activities are always confidential and protected.
What Is Bitdefender VPN Premium?
Bitdefender Premium VPN is a separate product with advantages over the bundled standard version. It offers unlimited traffic and the freedom to choose your server, providing more flexibility and options for secure online browsing.
Is Bitdefender VPN Worth It?
Yes, Bitdefender VPN is worth it. With features like data encryption and anonymity, it offers peace of mind in an increasingly connected world. It's best for individuals using public Wi-Fi, accessing geo-restricted content, or valuing their digital privacy. 
Does Bitdefender Total Security Include VPN?
Yes, Bitdefender Total Security does include a basic Bitdefender VPN at no cost, offering 200 MB per day (6GB per month). However, for unlimited traffic and server choice, consider the advantages of upgrading to a Premium VPN subscription.
Does Bitdefender VPN Slow Down Internet?
Yes, Bitdefender, like all other VPNs, can slow down Internet speeds due to encryption. To speed it up, try the following tips:
Check your Internet speed.
Use Bitdefender's auto-server connection.
Select a faster VPN protocol.
Close unused background applications.
Leverage App Traffic Optimizer.
Activate split tunneling.
Restart your router.
Does Bitdefender VPN Work with Netflix?
Yes, Bitdefender VPN works with Netflix. The Premium VPN version offers the added benefit of selecting servers in different locations, expanding your options to access Netflix content from various regions.