VPN Unlimited, a New York-based VPN service owned by KeepSolid Inc., falls under the jurisdiction of the 5-Eyes Alliance. As a result, VPN Unlimited could potentially be required to surrender your information to government officials.
Coupled with an inefficient no-logs policy and a lack of advanced privacy-related features, this raises concerns about its capabilities. Though it employs industry-standard security measures and hasn't had past data breaches, we can't be certain VPN Unlimited is completely safe.
The VPN service does excel at unblocking content for streaming, but its speed is only suitable for casual gaming and torrenting. Although VPN Unlimited boasts 24/7 email support, the lack of live chat support feels outdated and may not be suitable for users who prefer real-time assistance.
Before we get into the nitty-gritty details of our KeepSolid VPN review, let's check the provider's main features, as shown in the table below.
| | |
| --- | --- |
| Jurisdiction | United States (5-Eyes Alliance). |
| Logs | Collects anonymized data. |
| Servers | 3,000+ in 50+ countries. |
| Simultaneous Connections | 5 (additional paid device slots available). |
| Supported Devices | Windows, macOS, Linux, Android, iOS, browsers, routers, and streaming devices. |
| Features | Kill switch, Personal VPN Server, DNS Firewall, Smart DNS, password manager, SOCKS5 proxy, port forwarding, and more. |
| Protocols | IKEv2, OpenVPN, KeepSolid Wise TCP/UDP, WireGuard, L2TP/IPSec, and TLS. |
| Supports | Torrenting, gaming, Netflix US, Hulu, BBC iPlayer, and more. |
| Customer Support | Email support and knowledge base. |
| Price | From $4/month. |
| Live Deal | 50% OFF (1-year plan) |
| Our Score | 7 out of 10. |
In this KeepSolid VPN Unlimited review, we'll put the provider through various tests and assess its position on our list of the best VPN services based on factors such as reputation, speed, security, privacy, pricing, and customer support. 
We take an objective approach to ensure our reviews are fair, accurate, and unbiased. To learn more about our process, please read our guide on how we review VPNs. We also consistently monitor our reviews to make sure their information is always up-to-date, so you can check back at any time for the most current stats on VPN Unlimited.
If you're seeking an alternative to VPN Unlimited, we highly recommend NordVPN. Take a look at our comprehensive review, and it'll give you all the info you need to make the right call.
Background, Jurisdiction & Reputation
VPN Unlimited is based in the United States, which is certainly problematic. There are no previous data leaks, but some vulnerabilities were detected earlier. Our Score: 7/10
When choosing a VPN, it's easy to get focused on all the features you'll be getting. However, don't forget that knowing where the chosen VPN comes from is a piece of highly important information. While some countries allow VPNs to operate independently and avoid logging data, other countries are more restrictive.
Where Is VPN Unlimited Based?
VPN Unlimited is based in New York, USA, and is a part of the 5 Eyes Alliance, which is a well-known intelligence-sharing group of countries. As part of the alliance, it's interesting that the US doesn't have mandatory data retention laws, even though many believe otherwise.
The SCA (Stored Communications Act) is a few decades old but can still be used to easily force data processors to collect data indefinitely. It's worth noting that the 5-Eyes Alliance hasn't been known to actively spy on its citizens, and VPN Unlimited's secure features, such as military-grade encryption, provide decent protection for its users' online activities.
Additionally, we have to mention that VPN Unlimited is part of MonoDefense, a bundle of security apps from KeepSolid. This integrated approach ensures comprehensive protection for your digital presence.
We also need to say that there are many VPNs that come from the United States—and many of them are fighting for your privacy in the best way possible. However, there are also plenty of US-based VPNs that openly collect personal data, which actually defeats their primary purpose.
As you'll see later on in this article, VPN Unlimited doesn't hide the fact that it collects personal information and connection logs, so make sure to keep this in mind.
Did VPN Unlimited Leak Personal Data in the Past?
No, VPN Unlimited hasn't experienced any significant data breaches or leaks of user information during its years of operation. However, VPN Unlimited's reputation isn't entirely spotless.
While the service hasn't experienced any major security snafus, it also hasn't undergone any independent third-party audits to verify the claims made on its website. As a result, you have no choice but to take the company at their word.
However, your online activities (whether it's your IP address, email, account, or device) remain completely off the record, thanks to VPN Unlimited's strict no-logs policy.
Is KeepSolid VPN Unlimited Safe?
We can't say with certainty that VPN Unlimited is safe enough to protect you while you conduct all your online activities. There are serious concerns about their logging policies that we've already discussed, plus VPN Unlimited still hasn't undergone a third-party audit. That said, their security features are decent, and the service utilizes strong encryption methods to protect user data. 
One thing we do appreciate about VPN Unlimited is that they use military-grade AES-256 encryption. Apart from that, they offer a variety of protocols to choose from, such as OpenVPN and IKEv2, as well as a kill switch to keep you protected if your VPN connection drops suddenly. If you're willing to pay a little extra, you can also enjoy the added benefit of a DNS firewall. 
Despite its encryption and other security features, the fact that VPN Unlimited admits to collecting anonymized user data may be enough to disqualify it as a safe option for many users.
Supported Platforms & Devices
VPN Unlimited is available for all major desktop, mobile, browser, and streaming platforms. Our Score: 10/10
A VPN service that fails to offer good device support limits its users and thus puts their privacy at risk. Fortunately, VPN Unlimited's platform compatibility is impressive. So, let's see which kinds of devices and applications you can use it with.
| | |
| --- | --- |
| Desktop Platforms | Windows, macOS, Linux. |
| Mobile Platforms | Android, iOS, and Windows Phone. |
| Web Browsers | Chrome, Firefox, Edge, and Opera. |
| Routers | DD-WRT, Tomato, OpenWRT. |
| Other Devices | Apple TV, Android TV, Roku, Google Chromecast, Kodi, NAS. |
VPN Unlimited is a real champ when it comes to platform support. Whether you're on a PC, mobile device, or even a router, this provider has got you covered. They even have a VPN Unlimited extension available for Edge, Chrome, Firefox, and Opera.
Moreover, they've got native clients for Windows, Mac, and Linux. If you're more of a mobile user, you can enjoy the service on both iOS and Android devices, too. The design of the KeepSolid VPN extension, from its Chrome extension to other popular browser extensions, also remains consistent.
VPN Unlimited can even be installed on certain routers. This feature is only available if you purchase their annual plan, but it's still a nice option to have.
Media streaming devices like Apple TV, Android TV, Amazon Fire, Roku, Chromecast, and Kodi are also in luck—you can configure VPN Unlimited on most devices using KeepSolid SmartDNS. The set-up manuals for all supported devices are readily available on the site.
If you're in need of multiple simultaneous connections, VPN Unlimited's monthly plan may not be the best option, as it only supports up to 5 devices, which could be insufficient for some households.
While they claim to provide a solution for those who have run out of free device slots, users are required to pay extra to extend their VPN coverage to more devices. This is a significant drawback, especially when most providers offer more simultaneous connections as part of their base plans.
KeepSolid VPN Unlimited offers various add-on plans for additional devices, ranging from one to ten slots, each with different pricing models. It's important to note that an active VPN subscription is required to use the additional slots.
Installation & Initial Configuration
You can install and begin using VPN Unlimited within a few minutes. The process of installation is very simple and highly streamlined. Our Score: 7/10
Even though you don't need an active subscription to download VPN Unlimited, you need one to use this application. So, your first step is to subscribe to VPN Unlimited. Then, proceed to download KeepSolid VPN's installation file from the official website, depending on your platform of choice.
We've tested this VPN on a Windows 11 PC, where the installation file comes in at around 74 MB. If you've installed any application on your Windows PC before, you'll know what to expect from this VPN installation process.
Choose where to install the required files, decide whether to place a shortcut on your desktop, and that's pretty much it. Within a few seconds, the application will be installed and ready to use. Open it for the first time, and you'll see its log-in screen. Enter your credentials, and you're ready to use VPN Unlimited.
Installing this VPN on any platform shouldn't be a problem. Perhaps the most complicated method of installation applies to routers, but you'll find helpful installation guides online. Therefore, we're happy to say that VPN Unlimited has a very simple installation method with no distractions, software bundles, or anything similar.
Prominent Features
VPN Unlimited covers the basic features well, but it falls short in the realm of advanced privacy-related features. Our Score: 8/10
VPN Unlimited offers all the basic features that a reliable VPN should have. For example, it provides high-level encryption to secure your data, a kill switch to maintain your connection's privacy, and split tunneling for versatile Internet usage.
Here's a rundown of the features to expect from VPN Unlimited:
DNS and IPv6 Leak Protection – VPN Unlimited uses advanced technology to prevent DNS and IPv6 leaks, which could reveal your true IP address and compromise your online privacy. However, some users have reported issues with IPv6 leaks on macOS, so you should exercise caution if your ISP uses IPv6.
AES-256 Encryption – VPN Unlimited employs military-grade AES-256 encryption, which is widely considered to be unbreakable by brute force attacks. This ensures that your data is protected from eavesdropping, hacking, and other cyber threats, no matter where you are or what you're doing online.
Kill Switch – VPN Unlimited's kill switch helps to maintain your online privacy in the event your VPN connection drops unexpectedly. It immediately blocks your Internet traffic if the connection to the VPN server is lost, so your real IP address and location remain hidden from prying eyes.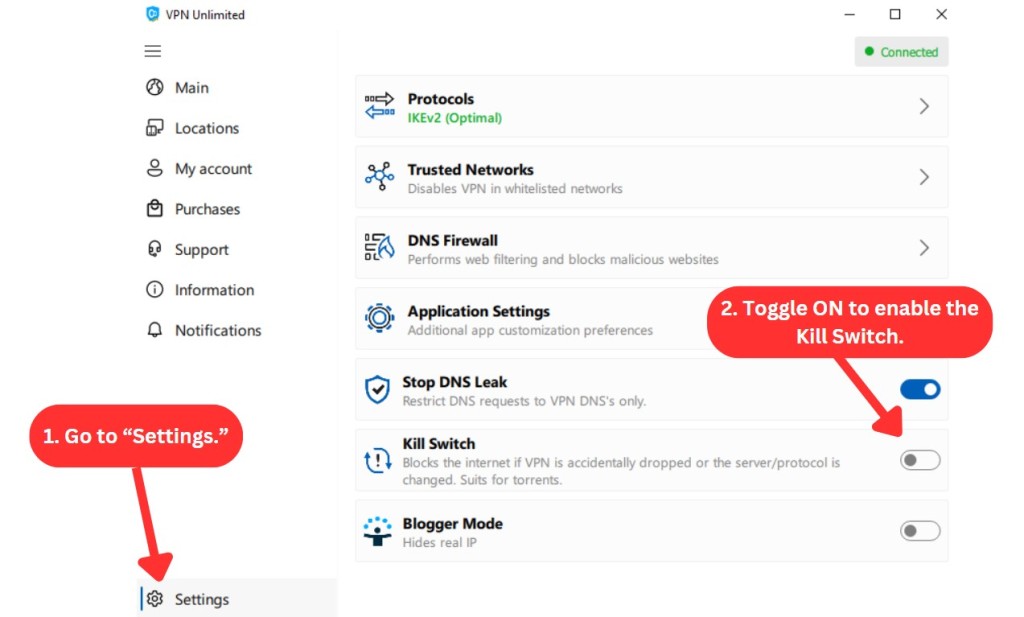 SOCKS5 Proxy – Unlocking geo-restricted content and maintaining online anonymity is a breeze with VPN Unlimited's free SOCKS5 proxy. It's a popular choice for concealing your online location effectively.
Split Tunneling – This feature is only available for Android devices. VPN Unlimited's split tunneling serves two key purposes. It conserves your Internet speed by reducing VPN data, ensuring fast connections. It also lets you access both private and open networks, allowing seamless streaming and local browsing, all while maintaining online privacy.
Port Forwarding – Having this feature is a game-changer, especially for multiplayer gaming. Fortunately, VPN Unlimited offers it. With port forwarding, you'll enjoy lightning-fast connections, no more throttling, and easy access to those region-locked games.
Static IP – This is an optional feature that offers a dedicated address that's exclusively yours, acting like your own personal VPN server. It ensures additional protection and helps you bypass Internet censorship effectively.
Personal Server – This powerful yet optional addition includes all the benefits of a personal IP address and more. It's your key to strong protection for gaming and streaming, along with peak performance. When you purchase any personal server, you'll get a clean, dedicated IP, router compatibility, priority support, and a bonus free VPN subscription.
DNS Firewall – VPN Unlimited's DNS firewall is an optional feature that protects you from online threats such as phishing attacks, malware, and botnets. It works by blocking access to malicious websites and filtering out suspicious traffic before it can reach your device. However, this feature is only available as part of the MonoDefense add-on package, which comes at an additional cost.
Overall, VPN Unlimited has a solid foundation of standard features, but it doesn't offer anything advanced or unique that could distinguish it from other providers.
Server Count & Infrastructure
With 3,000+ servers, VPN Unlimited comes pretty close to the server counts of top-rated VPNs. However, you only get access to 50+ countries. Our Score: 7.5/10
When it comes to VPN servers, you'll want to have plenty of options. This allows you to easily get a new IP associated with a different country and unblock websites available to that region alone.
| | |
| --- | --- |
| Number of Servers | 3,000+ |
| Number of Locations  | 80+ |
| Number of Countries  | 50+ |
| Specific Cities Selection  | YES |
| Unlimited Switching | YES |
The good news is that the service has a decent server list, with servers present in 50+ countries. You can browse the available VPN Unlimited servers manually or connect to specialized ones for streaming and torrenting. This means you'll have access to the VPN Unlimited server list with over 3,000+ servers, giving you plenty to choose from.
VPNs with the most servers may offer more servers at a more affordable price than VPN Unlimited, which doesn't make it the best deal. That said, you can still connect to specific cities or regions and unblock their geo-restricted content. You can also easily switch between servers on the KeepSolid VPN server list as often as you need to.
UI/UX Design & Ease of Use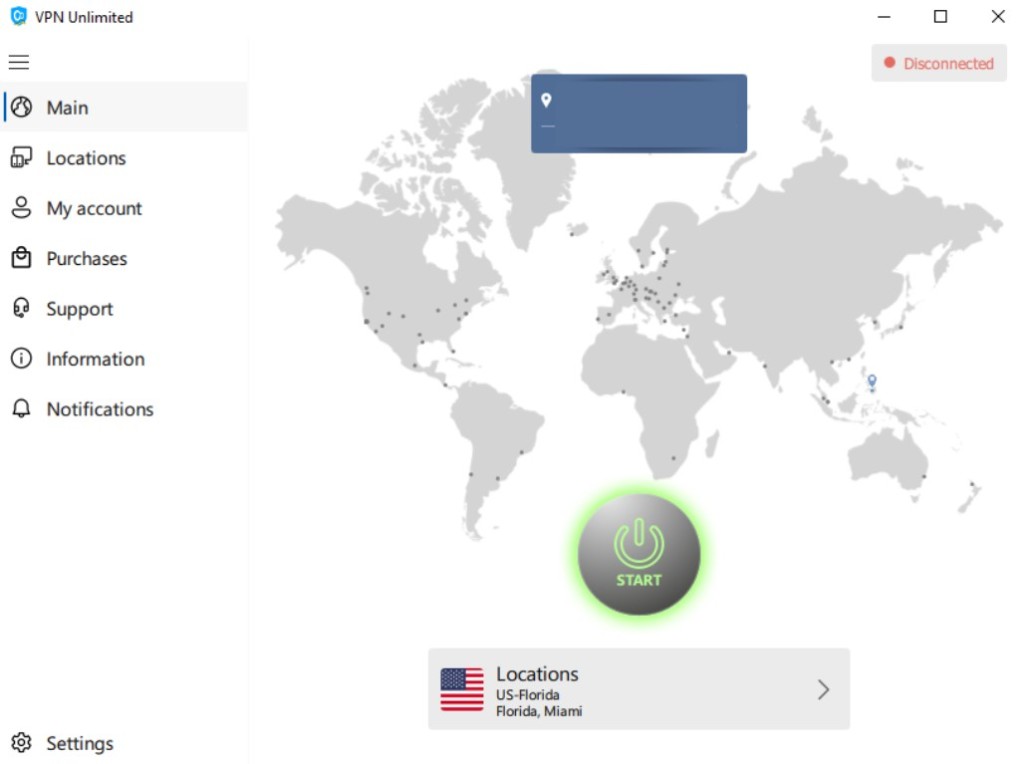 VPN Unlimited's UI has been updated with modern design elements, making it more visually appealing compared to its older versions. It still has an average appearance, but it does seem to function correctly and is relatively straightforward to navigate. Our Score: 7/10
In this part of our KeepSolid VPN review, we'll explore the VPN's desktop and mobile apps. Additionally, we'll look into what the VPN offers in terms of Web browser extensions.
How Well Does VPN Unlimited Work on Desktop Platforms?
We didn't come across any glaring UI issues during our VPN Unlimited review. The provider may not be the best choice for users seeking the most aesthetically pleasing interface, but its app gets the job done.
Let's go over everything that can be found from the main interface:
Locations – On the left side of your screen, you'll find a "Locations" sidebar. It leads you to the server selection menu, which includes sections for favorites, recommended servers, and streaming-optimized servers. If you scroll down to the server list, you'll also see specialized servers for torrenting.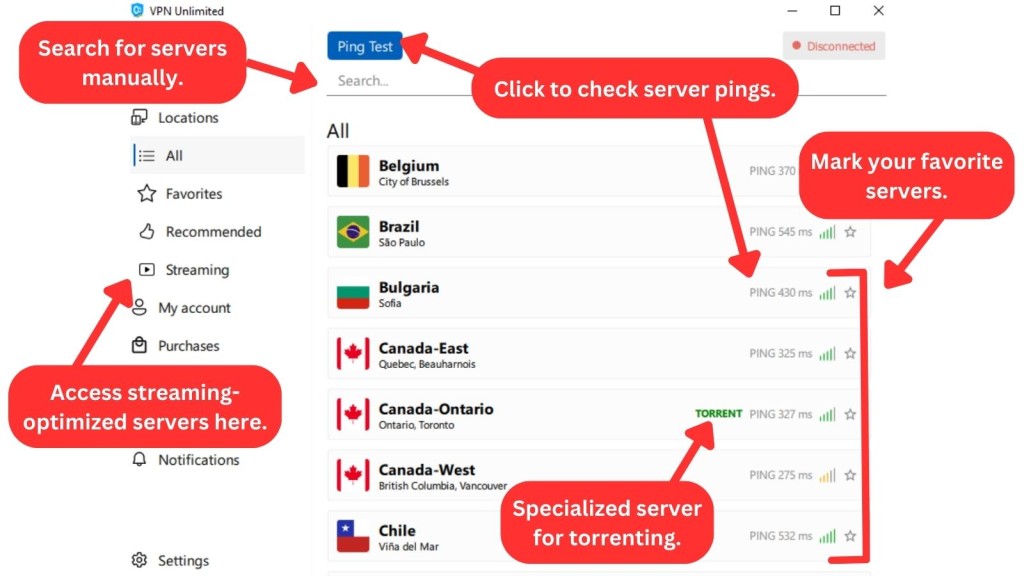 My Account – This tab takes you to your online dashboard, where you can get an overview of your account. Additionally, you can purchase and explore other products from KeepSolid from here.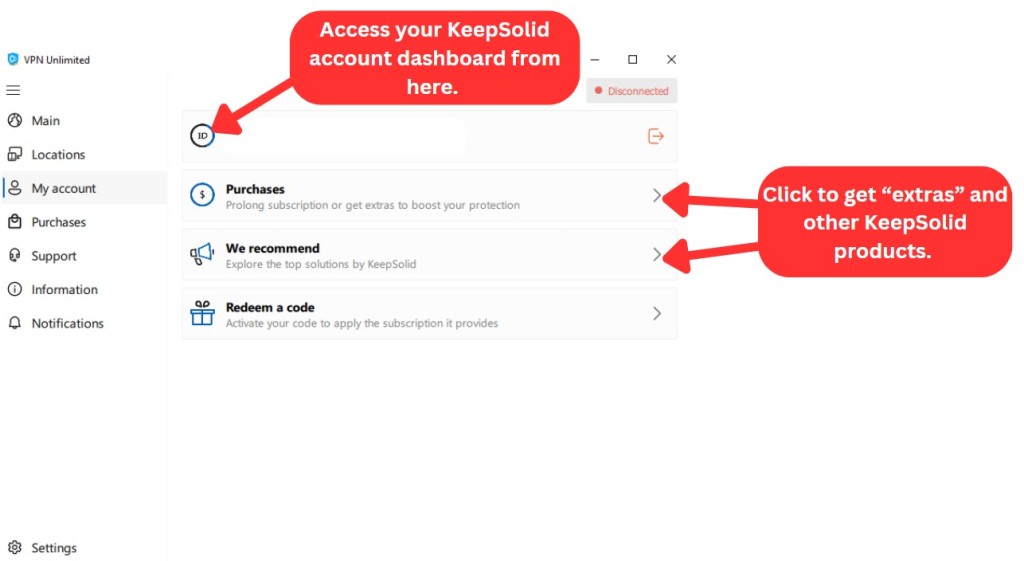 Purchases – Here, you can purchase extras like a personal VPN server, a personal static IP, and additional slots to protect all your devices.
Support – In the support tab, you'll be redirected to the website's knowledge base (where you can access FAQs and other information), contact customer support, enable connection feedback, and provide general feedback.
Information – If you're looking to update VPN Unlimited, you can do so through this section of the app. You can also access the VPN's Privacy Policy and End User Agreement here.
Notifications – It's interesting to note that this tab doesn't allow you to set VPN notifications. Instead, it serves as an advertising section promoting other KeepSolid products. This section highlights the DNS Firewall for VPN Unlimited and the MonoDefense Security Bundle.
Settings – VPN Unlimited comes with a simple settings panel. You can choose from different VPN protocols (or let the application choose one for you), enable or disable DNS leak protection, turn the kill switch on and off, make a list of trusted Wi-Fi networks, and more. This is also where you can enable "Blogger Mode," which helps prevent the accidental exposure of your real IP.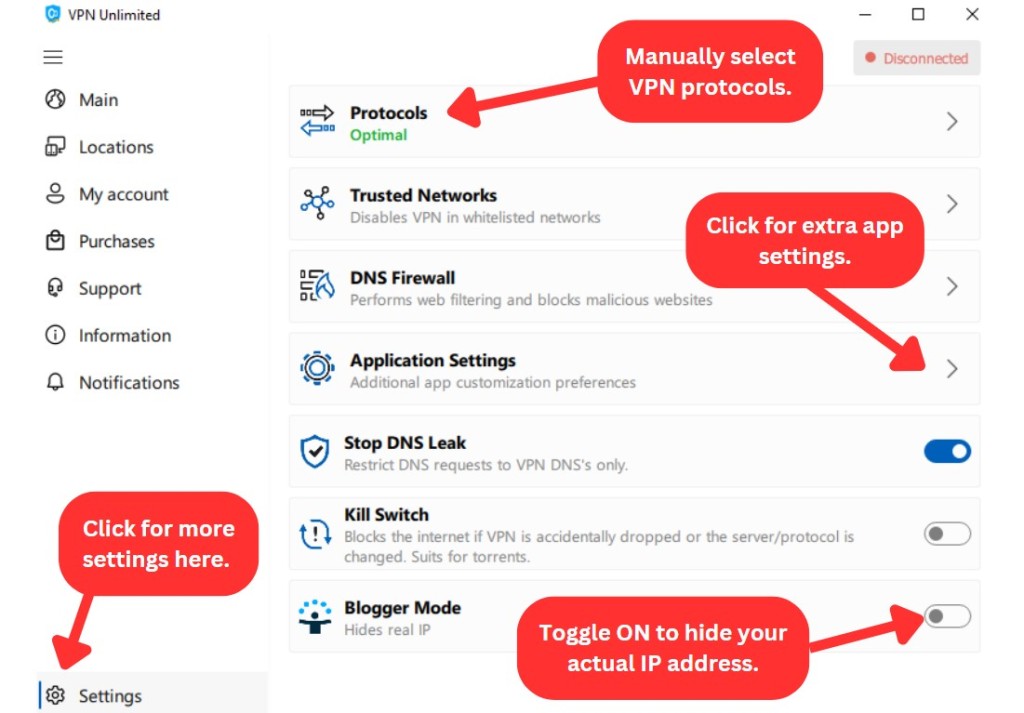 VPN Unlimited's user interface is functional and easy to operate, making it simple for even those unfamiliar with VPNs. Subscription holders will also appreciate the streamlined experience, free from any push notifications.
How Well Does VPN Unlimited Work on Mobile Platforms?
Both VPN Unlimited's Android and iOS apps offer a similar appearance and consistent login process. On their home screens, a prominent ON/OFF button awaits, ready to connect you to a server, and just as easily, disconnect when needed.
VPN Unlimited mobile apps, much like their desktop counterpart, launch with an interactive world map showcasing multiple locations. However, on Windows, this feature isn't enabled by default. To activate it, go to Settings > Application Settings > Map Animations (toggle ON to enable).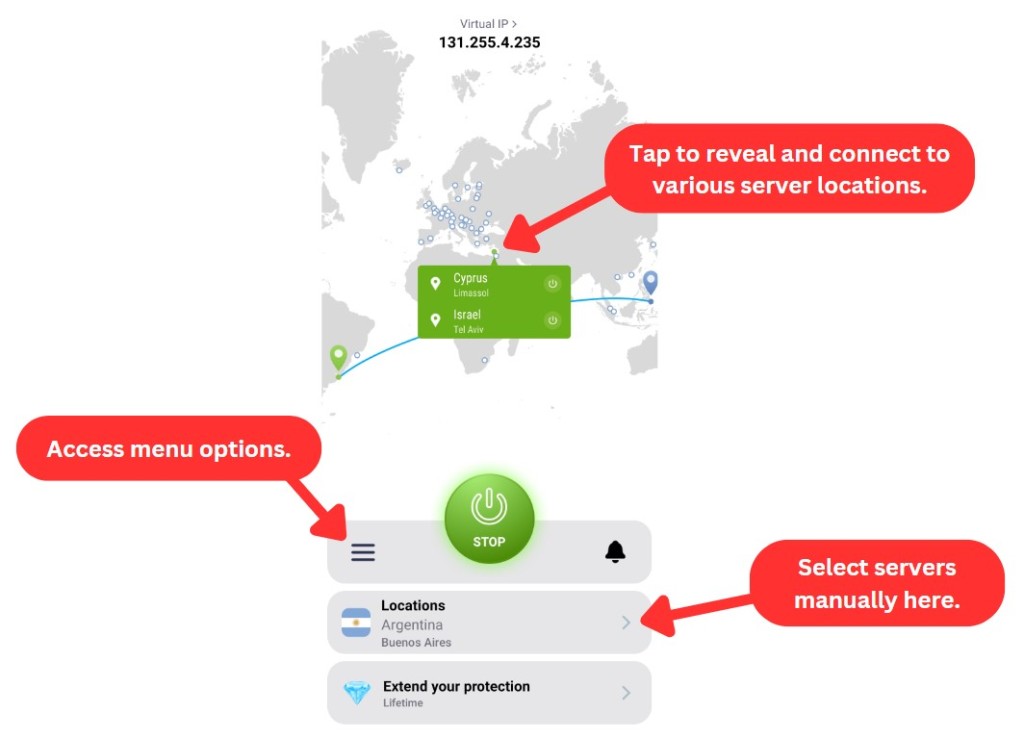 You can effortlessly zoom in and out and pan across the map with a simple drag. Tapping on location markers also reveals their names. A simple tap once more, and you're connected, with a route displayed from your current location to the selected one.
VPN Unlimited's settings on Android and iOS closely resemble those on desktop, with a few notable differences. In the Android app, you'll notice four tabs at the bottom: My Account, Settings, Support, and Information, rather than a sidebar.
Additionally, you can change your account password on mobile apps. There's also an exclusive feature called "App Exceptions," which is the VPN's version of the split tunneling feature. Unfortunately, this is only available on Android devices.
How Well Do VPN Unlimited's Web Browser Extensions Work?
VPN Unlimited's Web browser extensions worked well during our test. Although they have limited features, the extensions have two useful settings:
WebRTC Leak Prevent – WebRTC can potentially expose your IP address and sensitive data even when a VPN is active. The VPN Unlimited browser extension ensures your IP is hidden and provides a simple way to disable WebRTC, enhancing your online anonymity and privacy.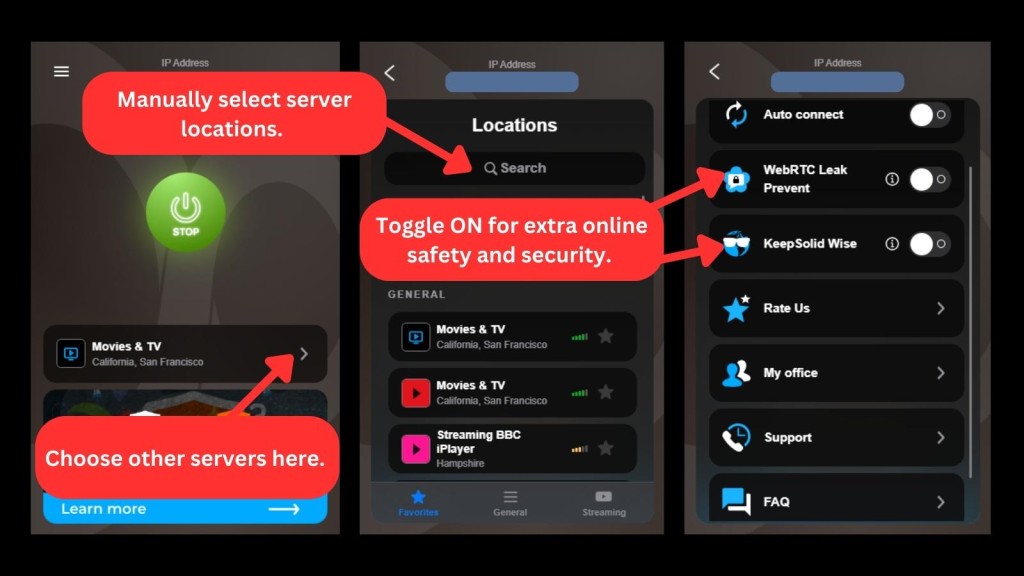 KeepSolid Wise – This feature enhances online freedom by bypassing governments, ISPs, and corporate restrictions. It uses TCP port 443 and OpenVPN to make VPN traffic appear as standard HTTPS, remaining hidden from Deep Packet Inspection (DPI) firewalls. Available at no extra cost, it's compatible with iOS 10+, Android, Windows, macOS, and Linux.
When selecting its servers, you can manually search for your preferred location. But you can also filter it according to your favorites, general, and streaming specialized servers for easier navigation.
All in all, the looks of VPN Unlimited may not be super impressive, but the overall experience is satisfactory.
Media Streaming, Torrenting, and Gaming Support 
VPN Unlimited's ability to unblock popular media streaming platforms, as well as its performance in torrenting and gaming, left us impressed. Our Score: 8/10
When it comes to VPNs, there's a world of advantages to explore, from unblocking content and secure gaming to hassle-free torrenting. But finding a VPN that truly excels in all these aspects can be a bit of a task. Let's dive in and see what VPN Unlimited has to offer.
Is VPN Unlimited Good for Streaming?
Yes, VPN Unlimited is a good choice for streaming. Our tests demonstrated that VPN Unlimited can easily unblock Netflix, Hulu, BBC iPlayer, ESPN+, Max, and Disney+. It wasn't successful in unblocking Prime Video, though. Despite not being the best VPN service for streaming, VPN Unlimited is certainly worth considering.
The application offers a nice range of servers optimized for streaming, and there's also a "generic" streaming server. For content unblocking, we recommend you set your VPN Unlimited client to use the KeepSolid Wise TCP/UDP protocol. 
Here's an overview of some US-based streaming platforms that this VPN unblocks:
| | | |
| --- | --- | --- |
| Netflix | Disney+ | Max |
| Hulu | Discovery+ | Paramount+ |
| Apple TV+ | ESPN+ | Crackle |
| Sling TV | Fubo TV | DirectTV Stream |
For streaming services beyond the US borders, VPN Unlimited works with the following:
| | | |
| --- | --- | --- |
| BBC iPlayer (UK) | Channel 4 (UK) | StackTV (Canada) |
| iQIYI (Hong Kong) | RaiPlay (Italy) | GloboPlay (Brazil) |
| DSTV (S. Africa) | Movistar Plus+ (Spain) | Zattoo (Germany) |
Also, if you're having trouble with any of these platforms, make sure to clear your browser cache, restart your computer and your router, use the latest version of VPN Unlimited, and verify which protocol the app is using.
Is VPN Unlimited Good for Torrenting?
Yes, VPN Unlimited can be good for torrenting if you're near its P2P-friendly servers. If not, you'll most probably encounter slow performance.
VPN Unlimited offers three optimized torrent servers. These servers are in Canada-Ontario (Ontario, Toronto), France (Paris), and Romania (Bucharest). On macOS and iOS, the server lists are pretty much the same, but the distinguishing feature is that these servers aren't specifically labeled for torrenting.
VPN Unlimited also has key features for torrents. It offers port forwarding that optimizes download speeds, SOCKS5 servers for fast connections while hiding your IP, and a kill switch to protect you against IP leaks during torrenting.
If you're looking for more options, be sure to explore our article on the best VPN for torrents.
Is VPN Unlimited Good for Gaming?
Yes, VPN Unlimited is a good VPN for online gaming and is capable of granting access to restricted games. The service adds an extra layer of security to gaming sessions by encrypting Internet connections and protecting against DDoS attacks and cyber threats.
For an optimal gaming experience, you can select a VPN server that's geographically close to you or use the in-app Ping test to get the best ping times. Alternatively, choose the "Optimal" server, and the system will pick the most suitable option for you.
Moreover, keep an eye on server workload – a lower workload usually means faster VPN speeds. You might also want to consider getting a Personal VPN Server that's exclusively yours to ensure the best gaming performance. It offers top-tier performance tailored to your needs.
Security & Privacy
Even though VPN Unlimited comes with strong encryption and protocols, we can't ignore the fact that it collects plenty of your personal data. Our Score: 5/10
Now, our KeepSolid VPN review will take a look at how well this provider can protect your private data. We'll assess the VPN protocols it supports, its data logging policy, and whether it's susceptible to DNS/IP leaks.
VPN Unlimited Protocols
VPN Unlimited has an extensive selection of VPN protocols, although it's important to note that some of these are only available on certain devices. Let's take a look at what you can expect in terms of VPN protocols when using this service.
| | | | | | | |
| --- | --- | --- | --- | --- | --- | --- |
| | OpenVPN | WireGuard | IKEv2 | KeepSolid Wise TCP/UDP | KeepSolid Wise TLS | L2TP/IPSec |
| Windows | YES | YES | YES | YES | YES | NO |
| macOS | YES | YES | YES | YES | YES | YES |
| Linux | YES | NO | YES | YES | YES | NO |
| iOS | YES | YES | YES | YES | YES | YES |
| Android | YES | YES | YES | YES | YES | NO |
OpenVPN – This is one of the most widely used protocols for VPNs, and VPN Unlimited offers it as a standard option. It provides excellent security and is compatible with most operating systems, including Windows, macOS, iOS, and Android.
WireGuard – As a newer protocol, WireGuard has gained popularity due to its speed and security. VPN Unlimited offers it as an option for users who want the latest and greatest VPN technology. It's available on select servers and is compatible with most major operating systems.
IKEv2 – This protocol provides fast and stable connections and is ideal for mobile devices. It's available on most platforms and is used by VPN Unlimited for its excellent mobile performance.
KeepSolid Wise TCP/UDP – VPN Unlimited's parent company, KeepSolid, developed this proprietary VPN protocol. It's based on OpenVPN, but it scrambles and obfuscates the connection, making it harder to detect and block. This is especially useful for users in countries where VPNs are restricted, as it can help them bypass censorship and surveillance.
KeepSolid Wise TLS – This protocol is a secure layer built upon TCP. It provides robust end-to-end encryption, authentication, and data integrity. TLS also excels at delivering top-tier security and speed and is a superior choice for overcoming VPN blocks. However, if you encounter VPN blocks even with TLS, switching to UDP or TCP might resolve the issue.
L2TP/IPSec – A widely used protocol for VPNs, IPsec provides strong encryption and is commonly used in combination with other protocols like L2TP for added security. VPN Unlimited offers IPsec as a standard option on macOS and iOS.
Overall, VPN Unlimited's range of protocols provides you with excellent choices for security and privacy. OpenVPN and IKEv2 are reliable and widely used protocols, while WireGuard offers a faster and more modern option.
KeepSolid's Wise technology is also a unique addition that adds an extra layer of security, which can be helpful when trying to bypass censorship.
Does VPN Unlimited Keep Logs?
VPN Unlimited claims to only collect anonymized data. According to their website, they don't log any browsing history, connection times, metadata, downloads, server usage, data content, or IP addresses (except for the server IP address used to communicate with you, which is deleted when the session ends).

The provider also logs your device names to enforce its device limits, but this information is not linked to any Internet activity. VPN Unlimited claims to delete all other information, such as your geographic location, OS version, language, and connection type when you close the VPN connection. 
However, it's important to note that VPN Unlimited hasn't undergone any third-party audits to verify its claims. 
Does VPN Unlimited Leak/Expose Your Private Data? 
No, VPN Unlimited doesn't leak or expose your private data. We ran it through several leak tests, including IPLeak and DNS Leak Test, and it passed them all. DNS leaks can reveal your identity and real physical location, as well as disclose your online activities to your ISP.
The Windows and Mac apps have a built-in kill switch to block Internet access if the VPN connection drops. Furthermore, the Windows client has a "Stop DNS Leak" setting that does its job well, preventing DNS, WebRTC, or other data leaks.
Speed & Performance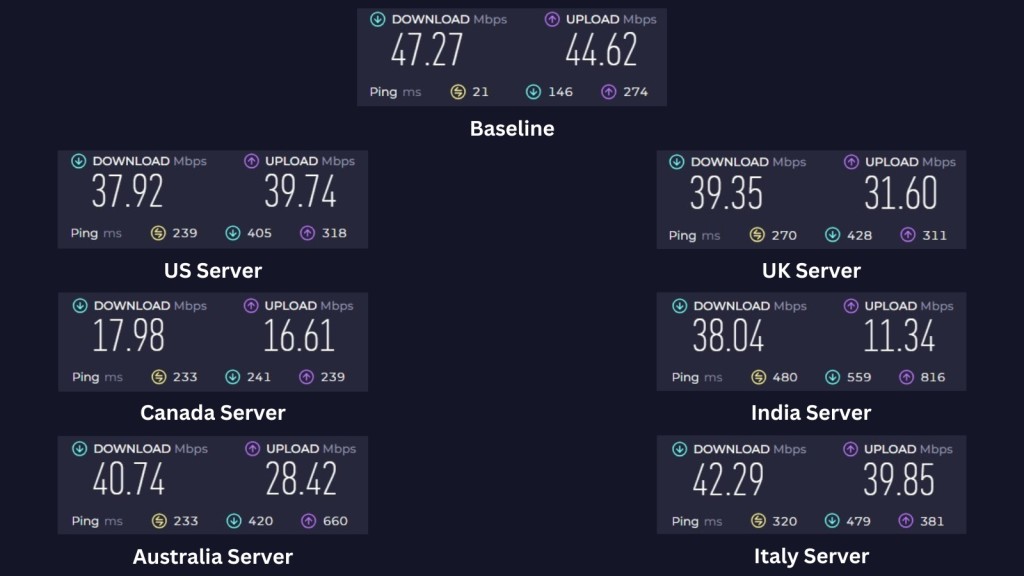 VPN Unlimited only showed a 24% decrease in our Web connection speed during testing. This makes it a reliable choice for maintaining a smooth online experience without major speed sacrifices. Our Score: 9/10
To assess the performance of VPN Unlimited, we conducted speed tests on its servers in different locations. We began by establishing a baseline for comparison by measuring the speed of our Internet connection without using the VPN.

Our baseline test showed download speeds of 47.27 Mbps and upload speeds of 44.62 Mbps. As VPNs use encryption and security protocols, we expected a decrease in both download and upload speeds once we activated the service.
Here are the results of the rest of our server tests:
US Server (Miami) – The major server in the US also performed well during testing, achieving above-average speeds of 37.92 Mbps for downloads and 39.74 Mbps for uploads. The drop in speed was around 20%, which is reasonable for an average VPN service.
UK Server (London) – The performance of VPN Unlimited's UK server was also above average during testing, with a download speed of 39.35 Mbps and an upload speed of 31.6 Mbps. This resulted in an acceptable drop in speed of around 17% on average.
Canada Server (Toronto) – The performance of VPN Unlimited's Canadian server was notably slower during testing, with a speed drop of 62% compared to the baseline speed. We got a download speed of 17.98 Mbps and an upload speed of 16.61 Mbps. This makes it the slowest server among the tested locations.
India Server (Bangalore) – During testing, this server showed a 20% decrease in speed, mirroring the results of the US server. Our download speed clocked in at 38.04 Mbps, while the upload speed was surprisingly slow at 11.34 Mbps.
Australia Server (Sydney) – The Australian server stood out with its above-average speeds, with a download speed of 40.74 Mbps and an upload speed of 28.42 Mbps. Notably, the speed decrease was only 14%, which is quite commendable.
Italy Server (Ponte San Pietro) – Connecting to this Italian server yielded the fastest results, with download speeds of 42.29 Mbps and upload speeds of 39.85 Mbps. Impressively, we only experienced an 11% speed drop from the baseline.

| | | | |
| --- | --- | --- | --- |
| | Download Speed | Upload Speed | Speed Reduction |
| Baseline Data | 47.27 Mbps | 44.62 Mbps | 0% |
| USA | 37.92 Mbps | 39.74 Mbps | 20% |
| UK | 39.35 Mbps | 31.6 Mbps | 17% |
| Canada | 17.98 Mbps | 16.61 Mbps | 62% |
| India | 38.04 Mbps | 11.34 Mbps | 20% |
| Australia | 40.74 Mbps | 28.42 Mbps | 14% |
| Italy | 42.29 Mbps | 39.85 Mbps | 11% |
VPN Unlimited's speed performance surprisingly exceeds our expectations. Throughout our testing, we observed a reduction in Internet speed of nearly 24% on average.
We must admit, these results are impressive, placing its speed in competition with some of the fastest VPNs available today.
Customer Support
The lack of a live chat option is a major drawback to VPN Unlimited's customer support. However, the average email response time of approximately 1 hour is commendable. Our Score: 5/10
VPN Unlimited doesn't offer live chat support, which is a major drawback in comparison to other top VPN providers. However, to give them credit, their email support team provided quick and efficient responses. 
The provider offers its customers a few different support options:
Email Support – We found VPN Unlimited's email support to be quite responsive. We received a prompt response to our question in just two hours. Still, we hope to see live chat support as an option in the future. For now, the email support option is reliable and can help users resolve issues effectively.
Knowledge Base – VPN Unlimited has an extensive knowledge base that covers installation guides and some FAQ pages. The articles provided are usually helpful, but the information could be better organized to improve users' experience and make it easier to find specific details.
FAQ Pages – VPN Unlimited's FAQs are a useful resource for users looking to solve simple problems or clarify basic concepts. The section provides clear and concise answers to common questions, but it may not be sufficient for more complex issues, so users may need to contact support for additional assistance.
Overall, we found that VPN Unlimited's support isn't as advanced as that of some other providers, but it's still functional.
Pricing
VPN Unlimited seems expensive, especially considering all its drawbacks. However, you'll have the biggest savings if you get the VPN Unlimited lifetime plan. Our Score: 5/10
VPN Unlimited presents three subscription plans to its users: monthly, annual, and lifetime. The service fails to offer any significant differences between the plans aside from price and duration. Thus, potential subscribers may feel underwhelmed by the available options.
How Much Is VPN Unlimited?
VPN Unlimited offers multiple subscription plans. Let's go through each one and their costs to determine which term is right for you.
1-Month Plan – VPN Unlimited's monthly subscription will normally cost you $9.99 per month for as long as your account is active. However, our link will get you a special discounted price of $7.99 per month. 
1-Year Plan – The yearly subscription to VPN Unlimited regularly costs $59.99, but our discounted link will drop the price to $47.99 per year (equivalent to $4/month). This plan offers the same features as the monthly plan at a lower price. The 30-day money-back guarantee offered by VPN Unlimited provides a safety net for users, allowing them to use the service as a free trial.
Lifetime Plan – Unlimited VPN offers a lifetime VPN plan for a one-time fee of $199.99, but when you use our special link, you can access a discounted price of $159.99. We don't think the lifetime plan is a good idea for most users, as it would take at least two years of using the service before it starts saving you money, and there's no guarantee that the company will be the best service for you or even exist in the future. 
VPN Unlimited also offers add-ons to its base plans, including Personal Server, Personal Static IP, and VPN for Teams. These will help elevate your online experience as well as increase the number of devices you can connect to simultaneously.
MonoDefense – The MonoDefense package is an additional subscription that includes extra features such as DNS Firewall and Passwarden for a fee ranging from $0.80 to $80, depending on the length of your plan. 
Extra Device Slots – You can purchase 1, 5, or 10 additional device slots if the included 5 simultaneous connections won't be enough for you. The cost ranges anywhere from $0.99 to $99.99, depending on the number of devices added and the length of the plan.
It's unfortunate that these features cost extra when many competitors include them in their regular plans.
Is VPN Unlimited Free?
No, VPN Unlimited isn't free. However, it does offer a 7-day free trial that allows you to test the service before committing to a paid plan. After the free trial, you'll need to subscribe to one of their pricing plans to continue using the VPN.
Additionally, VPN Unlimited has a 30-day money-back guarantee for all its subscription plans, so you can test out the service for longer than a week and get your money back if it's not a good fit. 
Final Thoughts - Is KeepSolid VPN Unlimited Good?
No, KeepSolid VPN Unlimited may not be a good choice for everyone. VPN Unlimited only provides average performance despite its premium price. That said, the service does offer impressive device compatibility and server availability.
Unfortunately, this doesn't balance out the VPN's questionable jurisdiction and performance limitations, which may discourage some privacy-conscious users from considering it as an option. In this context, it's hard for us to recommend VPN Unlimited.
Although VPN Unlimited offers some additional features for an extra fee, considering alternative services might be a smarter choice if you value privacy and security. In that regard, we strongly recommend NordVPN for a more robust and secure VPN experience.
PROS
Supports all major devices/platforms
3,000+ servers.
Good streaming performance.
Unblocks geo-restricted content.
Fast email support.
30-day money-back guarantee.
CONS
5-Eyes Alliance jurisdiction.
Collects anonymized user data.
Kill switch issues on Windows.
7-day trial period only.
High price for basic features.
No live chat support.
FAQ
How Does VPN Unlimited Work?
VPN Unlimited creates a new network interface, much like a direct Web connection, but with a different IP and robust encryption. This lets your computer seamlessly navigate public networks while enjoying the security and management of a private network.
Does VPN Unlimited Have a Lifetime Subscription?
Yes, VPN Unlimited does offer a lifetime subscription option for a one-time payment of $159.99 (regularly $199.99). With the lifetime subscription, users get access to all of VPN Unlimited's current features as well as any future updates that may become available.
Does VPN Unlimited Work with Kodi?
Yes, VPN Unlimited does work with Kodi. It can be easily configured on devices running Kodi, such as Amazon Fire TV Stick, Android TV, and other media centers. The setup manuals are available on its website.
Can I Use VPN Unlimited in China?
Yes, you can use VPN Unlimited in China. However, due to the country's restrictions on VPN use, we recommend installing the VPN before traveling to China to ensure uninterrupted access to the service.
Is VPN Unlimited Slow?
No, VPN Unlimited isn't consistently slow in our speed tests. However, it may exhibit slower speeds on servers that are geographically distant. To optimize your experience, select servers closer to your location.
Can You Trust VPN Unlimited?
VPN Unlimited's trustworthiness is uncertain, given its jurisdiction under the 5-Eyes Alliance, a lackluster privacy policy, and the absence of third-party audits. While it maintains standard security practices and has no reported data leaks, complete confidence in its safety isn't guaranteed.