This VPN service is offered by Avira, a well-known German cyber-sec company. That said, one of the concerns regarding Avira Phantom VPN is that it's based in Germany, which is part of the 14 Eyes Alliance. However, its robust encryption and no-logs policy should reassure users that their data is secure. 
Another concern about the service is that it has servers in only 33 countries, which may not be ideal for some users. However, in our tests, we found that the connection speeds were decent, and we were able to stream and torrent if we kept our patience. Unfortunately, the VPN doesn't support DNS settings for routers or consoles, which could limit gaming options.
Overall, we found that Avira VPN offers all the basic privacy and security features, although it does lack some of the advanced features that other VPNs may offer in the same price range. 
We intend to help you decide if Avira Phantom VPN is the right pick. To do that, we'll examine its performance and features. Let's start with the table below that shows all its main features.
Paid
Free
Jurisdiction
Germany & USA (14-Eyes Alliance).
Logs
Anonymized data only.
Servers
1,400 servers in 33 countries. 
Only the nearest locations.
Simultaneous Connections
Unlimited.
Supported Devices
Windows, macOS, Android, iOS, and Web browsers.
Features
Advanced encryption, kill switch, malicious site blocking, and more.
Protocols
OpenVPN (SSL/TSL), IPSec.
Supports
Torrenting and streaming Netflix, Hulu, Amazon Prime Video, BBC iPlayer.
N/A.
Customer Support
Live chat, phone, email, and knowledge base.
Price
From $5.99 per month
Free
Live Deal
55% OFF (annual plan)
Our Score
6.7
In this review, we'll evaluate Avira Phantom VPN against the best VPN services using various tests and criteria. We'll assess its reputation, speed, security, privacy, pricing, and customer support.
We have an unbiased approach to our reviews to ensure fairness and accuracy. If you're interested in understanding how we conduct our reviews, we have an article that explains how we review VPNs.
Background, Jurisdiction & Reputation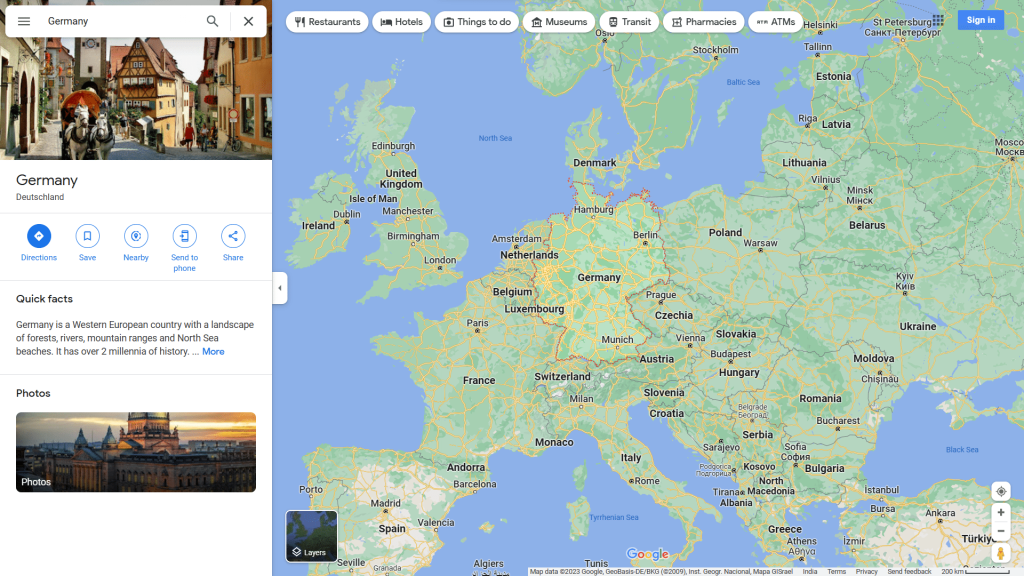 Avira is based in Germany, with a headquarters in the USA. Its jurisdiction may be a concern for some, but there have been no reported data leaks so far. Our Score: 5/10
It's important to know where your chosen VPN comes from, as these online services (just like any other type of business organization) must respect the laws of their home country. So, let's see where Avira comes from and what that means for its users.
Where Is Avira Phantom VPN Based?
Avira VPN is based in Germany. It was previously known as H+BEDV Datentechnik GmbH, established in 1986. With over 100 million users worldwide, Avira offers products that combat malware and various digital threats. 
The company has offices in Romania, the Netherlands, China, and the United States. That said, the Avira headquarters nearest to your location will determine the laws that govern your software use. Unless you're in North America, purchasing a VPN from Avira will fall under the jurisdiction of Germany, which is one of the leading members of the European Union. 
On the one hand, Germany has strict and rigorous laws regarding data protection and the way companies log your personal information. As an example of this, the EU fined Google for GDPR privacy violations not too long ago, and the same thing happened in France as well. 
On the other hand, Germany is a member of the 14 Eyes Alliance, founded by the USA, Canada, Australia, New Zealand, and the UK. This means that 14 countries can easily access your personal data if there's a justifiable reason to believe that you're breaking any laws.
When it comes to using Avira Phantom VPN Pro in North America - here's the deal - the laws of the United States apply to you. That said, the country is all about data logging and mass surveillance, which is why the best VPNs are based in countries like Panama, Dominica, Seychelles, and the British Virgin Islands. These places are well out of reach for the 14-Eyes Alliance.
Now, here's something interesting. In December 2020, Norton LifeLock acquired Avira. This might have some folks worried about changes to the VPN's policies and services. But as far as we can tell, Avira is still sticking to its core values and providing reliable VPN services to its users.
Did Avira Phantom VPN Leak Personal Data in the Past?
No, Avira Phantom VPN has had no leaks of personal data in the past. There have been no reports of data breaches or Avira sharing personal data with third parties. This shows their dedication to their privacy policy.
However, it's worth noting that if a government requests data, Avira can only report what it has on record. Since the VPN doesn't collect user data, Avira will have nothing to disclose. 
While this may be reassuring, it's important to keep in mind that there's always a risk of government intervention, especially if you're in a country with strict data retention laws. 
Is Avira Phantom Pro VPN Safe?
Yes, Phantom Pro VPN is pretty safe. More precisely, this service is known for its robust security features that ensure users' online privacy and data protection. 
Its strong encryption and protocols provide reliable protection against online threats. Moreover, the service implements a strict no-logs policy and a kill switch feature to prevent any leaks, ensuring that users' data remains secure and private.
That said, the company makes it clear that it will comply with data requests from public authorities. However, as the service doesn't store any identifiable information, it can't hand over any such data.
While Avira VPN is a safe and trustworthy option, it may not be the best choice for users who require higher speeds, greater flexibility, and advanced functionality.
Supported Platforms & Devices
Avira Phantom VPN meets the needs of non-demanding home users. Sadly, you can't install it on routers or media streaming devices. Our Score: 6/10
A single VPN subscription usually lets you protect several devices simultaneously. And when it comes to Avira Phantom VPN Pro, you get unlimited, simultaneous connections. So, let's see below which devices are supported by this VPN.
| | |
| --- | --- |
| Desktop Platforms | Windows, macOS. |
| Mobile Platforms | Android, iOS. |
| Web Browsers | Google Chrome. |
| Routers | N/A. |
| Other Devices | N/A. |
Avira Phantom VPN provides coverage for some of the most popular platforms, like Windows, macOS, Android, and iOS, and even offers a Chrome extension. Unfortunately, there is no support for Linux devices, media streamers, and routers. 
Although a single subscription supports an unlimited number of devices, the absence of router support and a Smart DNS solution makes it challenging to use Avira VPN on devices that don't natively support VPN apps.
It's also important to note that while the VPN Chrome extension is an excellent way to mask your IP address, even on Linux devices, it only secures the browser traffic and isn't a complete substitute for the desktop VPN app.
Overall, Avira Phantom VPN is a decent choice for non-demanding home users looking to secure their computers, smartphones, and tablets, but it may not be suitable for those who require more extensive device coverage.
Installation & Initial Configuration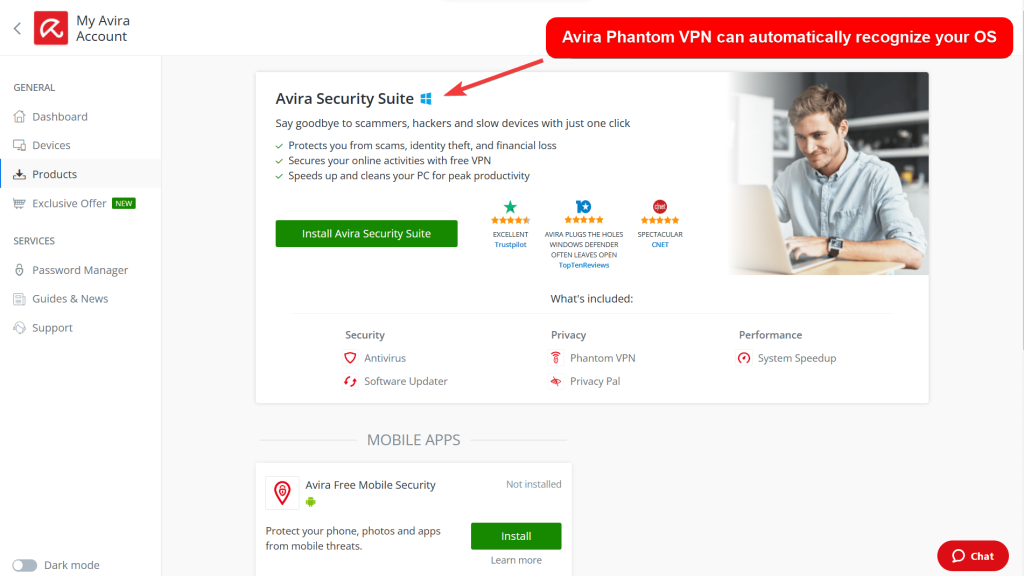 The process of installing Avira Phantom is simple. However, you'll also end up with software that acts as a marketing channel for the company. Our Score: 7/10
To use this service, you must become a subscriber to Avira Phantom VPN Pro by creating a user account and going through the payment process. After subscribing, you can log in to your account on the official Avira site, which provides a well-designed control panel that displays all the information about its free and paid services. Through the control panel, Avira promotes its free tools such as antivirus, password manager, system speedup tools, and more.
The installation process is straightforward. You can download the installer for your device, double-click on the installation file, and go through the general steps. Luckily, Avira VPN doesn't bundle other software made by the company during installation.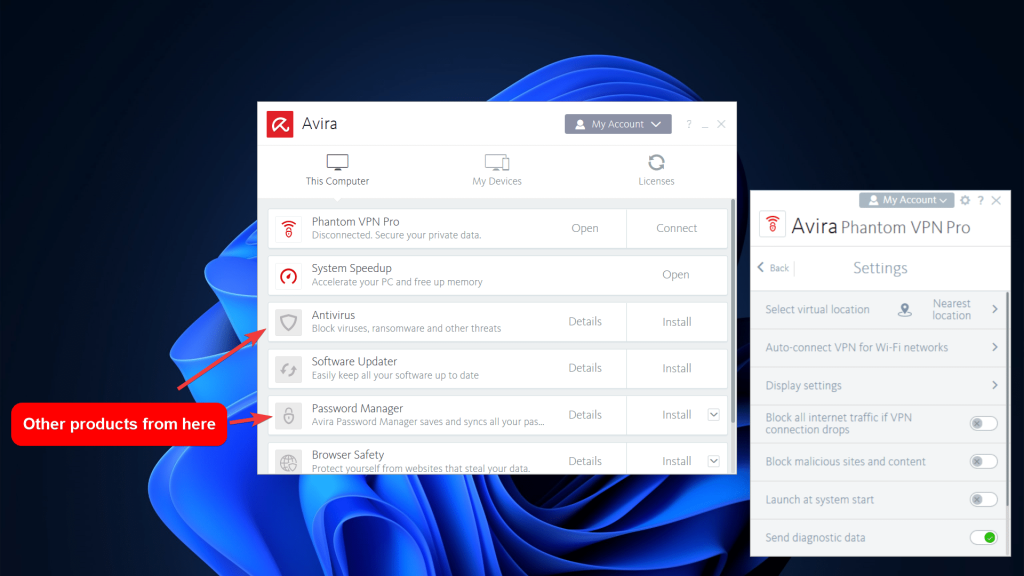 However, to promote its products, Avira installs an additional app that lists some of its products, including the Phantom VPN. This can be a bit bothersome, and it's typical of companies that produce antivirus software. While this marketing push is acceptable for VPN's free tier, it's not appropriate for the Pro version that you pay for.
It's worth noting that Avira Phantom isn't available in Cuba, Iran, North Korea, Sudan, Syria, Russia, Belarus, or the Crimea region of Ukraine. Additionally, Avira's VPN service isn't available in India due to a new mandate requiring data logging.
Prominent Features
Aside from the standard set of features, Avira Phantom VPN Pro comes with a kill switch. However, anti-malware, split-tunneling, and other high-end features are missing. Our Score: 7/10
You must be wondering what kinds of features this VPN provides. Well, let's take a close look at the basic and more advanced features Avira Phantom VPN offers. 
| | |
| --- | --- |
| DNS Leak Protection | YES |
| IPv6 Leak Protection  | YES |
| Kill Switch  | YES |
| Ad-Blocker, Anti-Malware  | NO |
| Malicious Site, and Content blocking | YES |
| Unlimited Server Switches  | YES |
| Unlimited Bandwidth  | YES |
| Unlimited Data  | YES |
Now that we have an overview of the service's features, let's take a closer look at each one:
DNS and IPv6 Leak Protection: Avira provides protection against DNS leaks by using its own DNS servers. It also has built-in IPv6 leak protection. However, unlike some top providers, it does not offer protection against WebRTC leaks.
AES-256 Encryption: AES-256 is military-grade encryption, widely considered to be unbreakable and highly secure. This level of encryption ensures your data is protected from hacking and other cyber threats, no matter what you're doing online.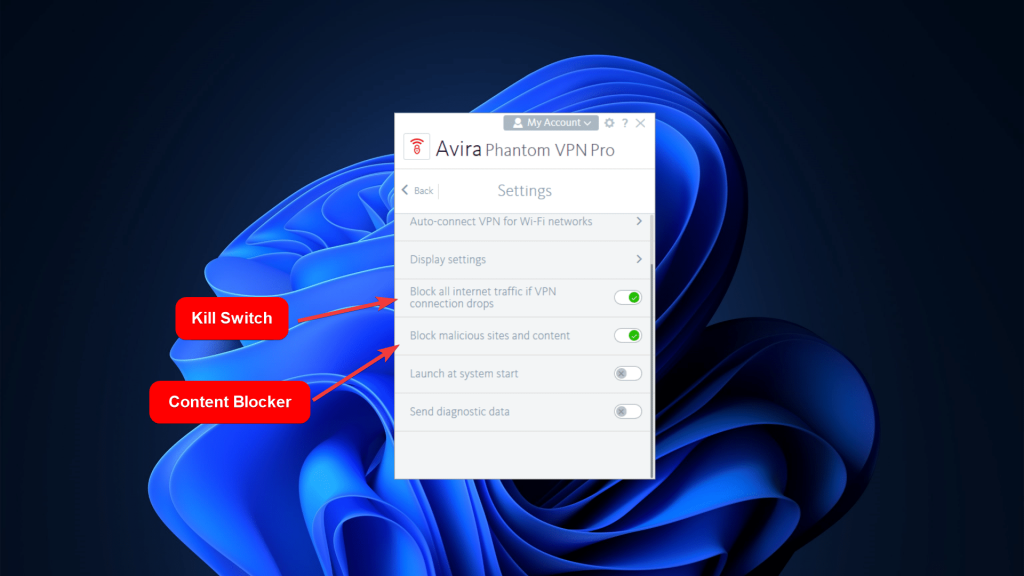 Kill Switch: Avira VPN's kill switch is a crucial feature that helps to maintain your online privacy, even if your VPN connection drops unexpectedly. It works by immediately blocking your Internet traffic if the VPN connection is lost, so your real IP address and location remain hidden from prying eyes.
Malicious Site and Content Blocking: This feature scans URLs against a database of known harmful sites. If a match is found, access to the site is blocked and a warning message is displayed. 
VPN Protocols: Phantom VPN uses OpenVPN as its default protocol for all its native VPN software, except for the iOS app, which uses IKEv2. Both OpenVPN and IKEv2 are popular and widely used VPN protocols that offer high security and performance.
Unlimited Server Switches and Bandwidth: With this service, users can access any server they want, without paying extra or facing restrictions. Avira Phantom VPN also offers unlimited data usage, so users can enjoy the VPN service for as long as they need.
Although the Avira Phantom VPN has a decent set of features, it falls short in terms of advanced privacy settings, like a split-tunneling feature, compared to other top-tier players. On top of that, its settings panel offers basic options with limited fine-tuning. Users seeking more advanced privacy options may need to look elsewhere.
Server Count & Infrastructure
Avira Phantom VPN has a limited server network, as it's available in 33 countries only. When compared to the highest-rated VPNs, Avira falls way behind in terms of server coverage. Our Score: 6/10
You need to know how many servers you'll get and whether there are nearby servers that could bring throttle-free speeds. Here's the server count info for Avira Phantom VPN Pro.
| | |
| --- | --- |
| Number of Servers | 1,400 |
| Number of Locations  | 40 |
| Number of Countries  | 33  |
| Specific Cities Selection  | YES |
| Unlimited Switching | YES |
Avira Phantom VPN Pro doesn't make it easy to find out how many servers it has. This is usually a sign that they don't have many servers to boast about. According to their product website, Avira VPN has 1,400 servers in 37 countries. However, we were only able to find 33 countries through the app.
When we asked their support team, they informed us that the number of servers available depends on the location you're accessing them from. Despite our efforts, we were unable to determine exactly how many servers and IP addresses Avira maintains. When asked the company for more information, they refused to disclose any specific details. 
This suggests that the overall number of servers and IP addresses is relatively small, which could lead to slower speeds during peak hours. It's important to note that Avira VPN doesn't have any physical servers, as all their servers are virtual.
Avira VPN's server coverage is strongest in Europe, with more than 20 server locations. In Asia, there are only 4 server locations, and only 2 in South America, Chile, and Brazil. There are no servers in Africa. 
Out of all of those, only 3 countries offer city-level selection: Australia (Melbourne and Sydney), the United Kingdom (London and Manchester), and the US, under which you can choose 6 different cities, as well as an optimized server for streaming.
UI/UX Design & Ease of Use
Avira Phantom comes with a simple UI, suitable for average home users. More advanced users will be left wanting additional options and in-depth tweaking. Our Score: 7/10
During our testing, we didn't encounter any major problems with Avira Phantom VPN's UI design. However, users looking for a modern and visually appealing interface may want to consider other options, as this one could surely use some upgrades. That said, let's take a closer look at what this VPN service has to offer.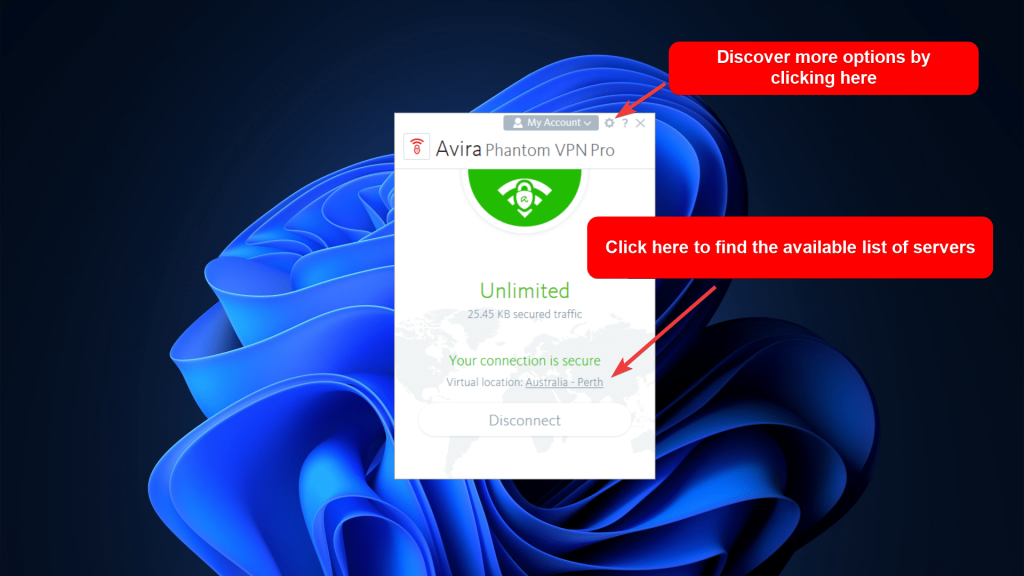 Home Screen: Avira Phantom Pro has a simple home screen with a large green 'Secure My Connection' button. Clicking it connects you to the closest server. You can also manually choose a server by clicking a link above the button.
Servers: You can choose a server by clicking on any of the countries listed in the available server's list, search for a server manually, or go for the nearest location. Additionally, you'll see the ping values for all servers, which indicates the distance between you and the servers that Avira offers. Once you've made your pick, click on the country, and the VPN will automatically connect you.
Settings Menu: At the top of the UI, you'll find a settings button that will take you to the application's settings panel. Here, you'll find several options, such as the server list, the option to enable Avira Phantom on specific Wi-Fi networks, and the option to open the application on start-up. You can also enable/disable the application's kill switch and content block tool. Additionally, you can choose the app's theme. That's pretty much all there is to it.
To complement the features discussed earlier, Avira Phantom VPN offers a Web-based control panel that you can access through the 'My Account' button located at the top right of the UI. There's also a question mark button that takes you to the support page on Avira's website.
It's worth noting that this VPN is tailored for average home users, as there aren't many customization options available. Overall, while Avira Phantom VPN offers some basic features and functionality, it may not satisfy the needs of more advanced users seeking a more customizable solution.
Media Streaming, Torrenting, and Gaming Support 
For media streaming purposes, this VPN appears to be a viable option. It has the ability to unblock the majority of well-known streaming sites, as well as support for P2P. However, it doesn't provide support for gaming. Our Score: 7/10
Now, let's see which streaming platforms can be used via this VPN. We've tested Avira's VPN with some of the most popular streaming sites, and here are the results.
| | |
| --- | --- |
| Netflix US  | YES |
| Hulu  | YES |
| BBC iPlayer  | YES |
| Amazon Prime Video  | YES |
| Disney Plus | YES |
| HBO Max | YES |
| ESPN+ | YES |
| Torrenting (P2P)  | YES |
| Gaming  | NO |
In terms of media streaming, Avira Phantom VPN Pro appears to be a capable tool. It was able to successfully unblock Netflix, Hulu, Amazon Prime Video, and BBC iPlayer, which we achieved by connecting to a US-based server optimized for streaming and a UK-based server for BBC iPlayer. 
However, its small network of servers in only 33 countries often resulted in slow connections and high latency. This made it challenging to unblock restricted content in places where it lacks a server.
It is worth noting that Avira Phantom Pro supports P2P sharing, but we advise against downloading illegal files, as both the USA and Germany have strict copyright protection laws. Nonetheless, Avira's minimal logging policy, decent local speeds, and its kill switch are all excellent features for anonymous P2P activity. 
On the downside, Avira Phantom lacks a smart DNS solution and doesn't support routers. As a result, it's not easy to use Avira VPN on devices that don't have native VPN apps, such as gaming consoles. Even for gaming PCs, the performance was below average. If you want a VPN for playing games, there are far better choices.
Security & Privacy
We're happy to say that Avira Phantom VPN takes good care of your privacy via strong encryption, capable protocols, and a user-friendly privacy policy. Our Score: 7/10
Let's not forget that the primary role of any VPN is to protect your personal data. This is why we'll inspect what kinds of encryption and protocols this VPN offers, and we'll tell you about the most important highlights of its privacy policy.
Avira Phantom VPN Protocols
In terms of encryption, Avira VPN uses AES-256, the strongest commercially available encryption. Even if someone gains access to your encrypted data, it would take many years for them to actually 'read' it.
Avira Phantom offers two VPN tunneling protocols - OpenVPN and IPSec. However, the availability of these protocols varies based on the platform you're using. Refer to the table below for a summary of which protocols are available on which platforms.
| | | |
| --- | --- | --- |
| | OpenVPN (SSL/TSL) | IPSec |
| Windows | YES | YES (if installed from Microsoft Store) |
| macOS | YES | NO |
| iOS | NO | YES |
| Android | YES | YES (if installed from Play Store) |
OpenVPN: OpenVPN is the default protocol used by Avira Phantom VPN, except on iOS. You can connect to Avira Phantom VPN servers from any device that supports OpenVPN, including Windows, macOS, and Android. It encrypts your data, protects your IP address, and ensures anonymous browsing.
IPSec: Avira Phantom VPN uses the IPSec protocol for iOS devices and applications from the AppStore and Microsoft Store. IPSec creates a secure tunnel between your device and a VPN server, encrypting your data with a key that only you and the server can access. It also verifies the identity of both parties, preventing tampering or replay attacks.
Although the protocol selection of Avira Phantom VPN may not be extensive, it still provides sufficient security and privacy options for its users. It's important to mention that having fewer protocol options can be a drawback if you encounter a slow server.
Does Avira Phantom VPN Keep Logs?
No, Avira Phantom VPN doesn't keep logs of any trackable data. The privacy policy of this VPN is easy to understand and clearly explains the types of data collected. The collected diagnostic data, which helps Avira resolve performance issues and bugs, can be disabled within the application. 
Avira only collects the total amount of bandwidth consumed, the amount of time a user is online, and whether the account is free or premium. Avira doesn't log or monitor your browsing activity, IP address, or the VPN server you connect to. This means it can't track your online activity back to you. Avira also keeps track of your membership to calculate the costs. 
It's worth mentioning that this VPN doesn't collect your browsing history, IP address, or any other action that could link you to downloading a certain file or visiting a particular website. 
With all this information, it seems Avira Phantom VPN does have a strict no-logs policy. However, it hasn't been independently audited. It would be great to see an audited policy in the future.
Does Avira Phantom VPN Leak/Expose Your Private Data?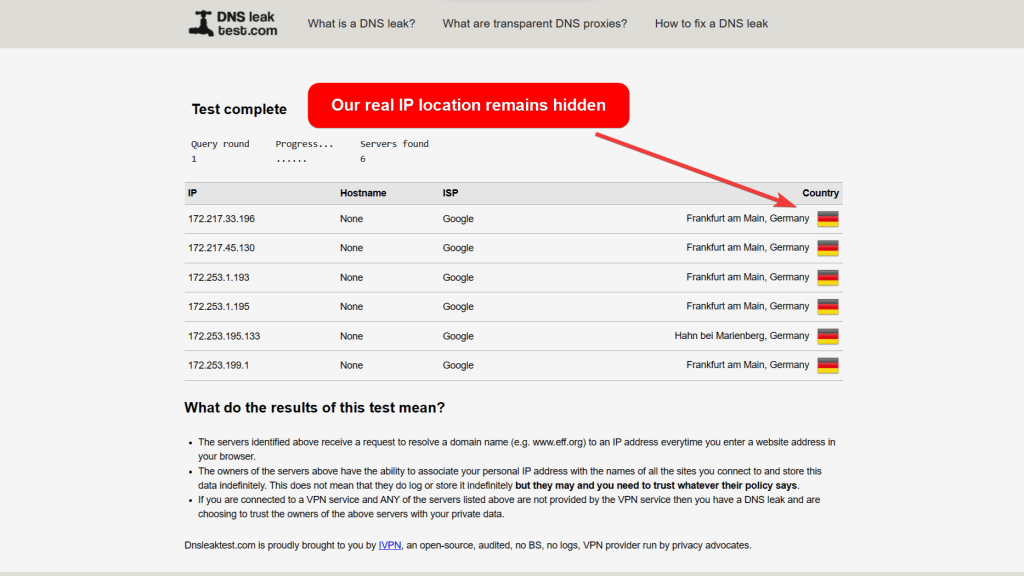 No, Avira Phantom VPN doesn't leak your private data. Upon conducting a DNS leak test while using Avira Phantom VPN, it was clear that no leaks were detected. This is a positive sign that once the VPN is activated and connected to a server, all user data becomes encrypted and secure.
As a result, third parties will only have access to virtual information, such as a virtual IP address, hostname, ISP, and country of origin, while original user data remains protected. 
Speed & Performance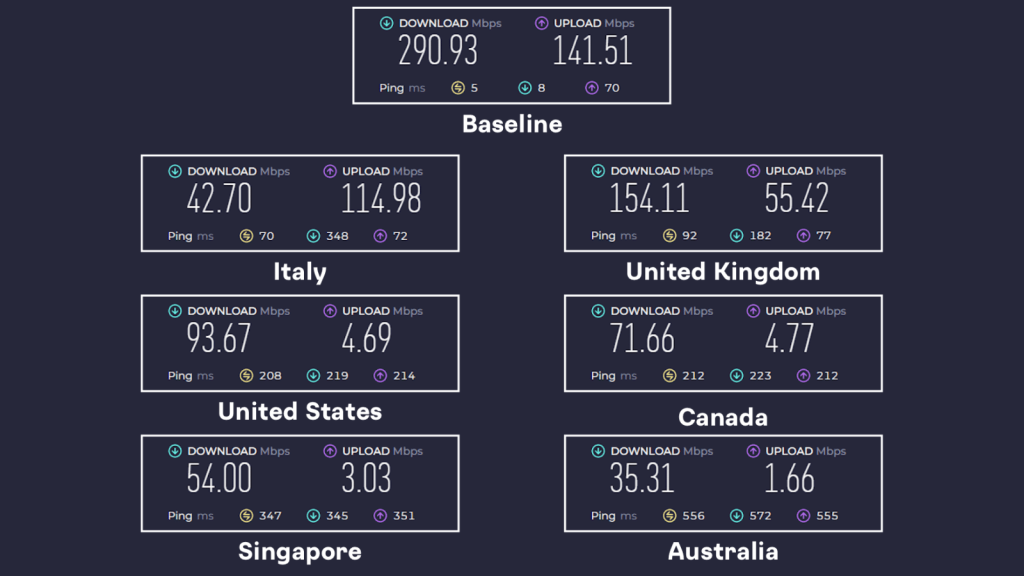 Avira Phantom is miles behind its competitors in terms of speed and performance. We tested nearby and remote servers, and all of them delivered slower-than-expected performance. Our Score: 4/10
We've assessed Avira Phantom VPN's performance by connecting to nearby and remote servers using its default protocol. In this segment of the review, we'll reveal the results of those tests, giving you a clear indication of what to expect in terms of Avira Phantom's performance. 
Before we connected to Avira Phantom's servers, we tested our baseline speed. As you can see above, we're on a 300 Mbps connection. More precisely, our baseline speed tests showed 290.93 Mbps for downloads and 141.51 Mbps for uploads. Now, let's check Avira Phantom's performance: 
Italy Server: Relative to our location, a server in Italy presents a nearby connection. We expected to see minimal throttling, but that didn't happen. Our speed tests showed that we ended up with 42.70 Mbps for downloads and 114.98 Mbps for uploads. That's a very noticeable slowdown.
UK Server: Avira's UK server performed better than the previously tested one (Italy). We got 154.11 Mbps for downloads and 55.42 Mbps for uploads. Our download speed was cut by around 50% percent. However, our upload speed deteriorated even further. 
US Server: Once we entered the territory of remote servers, Avira Phantom VPN started to show its weaknesses more prominently. Its US-based server gave us 93.67 Mbps for downloads and only 4.69 Mbps for uploads. 
Canada Server: Avira's Canadian server performed similarly to the one in the United States. We ended up with 71.66 Mbps for downloads and 4.77 Mbps for uploads. In comparison to the US server, our download speed decreased slightly, while our upload speed remained the same.
Singapore Server: We usually test Indian servers in this round, but Avira Phantom VPN no longer offers that option. So, we picked a server in Singapore, which gave us 54.00 Mbps for downloads and 3.03 Mbps for uploads. 
Australia Server: Finally, Avira Phantom's Australian server is practically on the other side of the world relative to our location. So, we expected to see the lowest numbers yet - and that's exactly what happened. We got 35.31 Mbps for downloads and 1.66 Mbps for uploads.
| | | | |
| --- | --- | --- | --- |
| | Download Speed | Upload Speed | Speed Reduction |
| Baseline Data | 290.93 Mbps | 141.51 Mbps | N/A |
| Italy | 42.70 Mbps | 114.98 Mbps | 85% |
| UK | 154.11 Mbps | 55.42 Mbps | 47% |
| US | 93.67 Mbps | 4.69 Mbps | 68% |
| Canada | 71.66 Mbps | 4.77 Mbps | 75% |
| Singapore | 54.00 Mbps | 3.03 Mbps | 81% |
| Australia | 35.31 Mbps | 1.66 Mbps | 88% |

We conclude that Avira Phantom VPN made our connection slower by 74% on average. As you can imagine, that's a pretty disappointing result overall. On top of that, this VPN doesn't allow you to fine-tune the parameters of your VPN tunnel or connection, which means there's little you can do to improve its performance.
Customer Support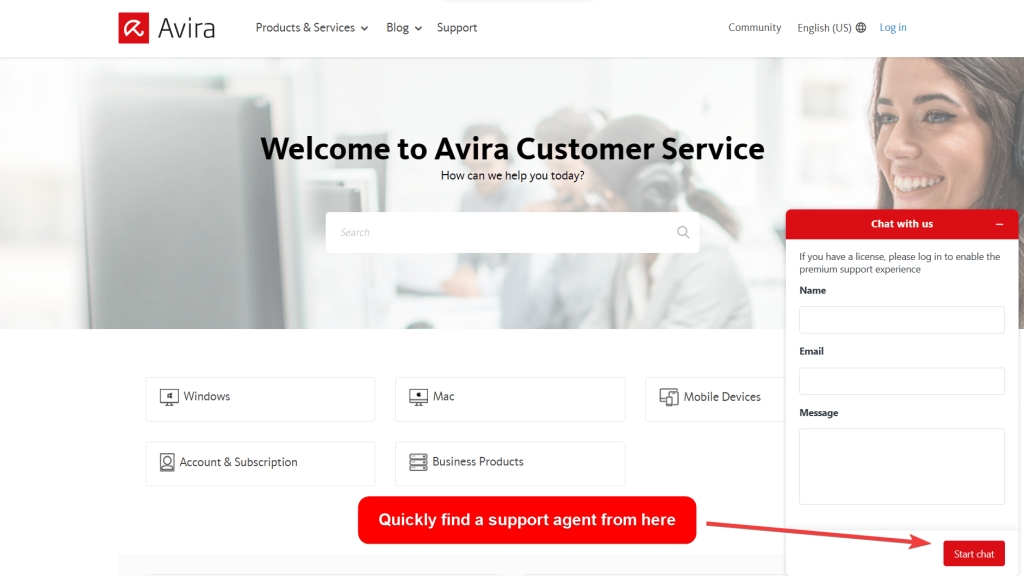 Avira has quick and professional live chat, email, and phone support. It also offers online FAQs for customers, but its chatbot isn't very helpful. Our Score: 10/10
Since VPNs are premium-priced solutions, it's important to know what kind of support you'll be getting for your money. That said, here is what you could expect from Avira's online support resources:
Live Chat: Avira offers a convenient Live Chat feature that lets you connect directly with their customer support team. You can access this feature by clicking on the chat box icon located at the bottom right corner of the website. The Live Chat feature is available 24/7 and supports multiple languages, making it easy for users to get their queries resolved quickly and efficiently. 
Frequently Asked Questions: Avira has an extensive list of FAQs that covers a range of topics related to their VPN. This section includes answers to questions related to downloading and installing the software, activating your license, troubleshooting, and more. Through them, users can easily find the answers they're looking for without having to contact customer support.
Videos & Tutorials: Avira's YouTube channel features educational videos, but their focus is mainly on malware and how to use Avira's antivirus software. To find videos and tutorials specifically related to Avira Phantom VPN, users can visit the "Support" tab on the website. Here, they will find a section called "Videos & Tutorials," where they can watch short clips that explain how to use Avira Phantom VPN on different devices and platforms.
Email & Telephone Support: Avira Phantom VPN offers this support to both free and paid users. This feature allows users to contact the customer service team via email or phone during business hours. It's a useful resource for users who may have specific questions or technical issues that aren't covered in the FAQ section.
Unfortunately, Avira Phantom VPN only provides personalized customer support for its paying users. This implies that those who aren't paying, including potential customers, are unable to take advantage of it. In general, we anticipated more inclusive customer support from Avira. 
Pricing
Avira Phantom VPN provides a cost-effective pricing plan with its annual subscription, enabling you to save up to 35%. This brings the monthly price down to $6.50. Our Score: 8/10
Since Avira has two headquarters (in the USA and Germany), you'll see two pricing plans, depending on where you come from. Here, we'll focus on the pricing plans applicable to North America. 
How Much Is Avira Phantom VPN Pro?
The lowest you can pay for Avira Phantom VPN Pro is $6.50 per month, which is the price of its annual plan. Here are more details: 
1 Month Plan: Avira Phantom VPN Pro's monthly subscription costs $10. If you are only looking for a short-term VPN solution, this may not be the most cost-effective option for you.
12 Months: Avira Phantom VPN Pro offers a 35% discount on the 12-month plan, reducing the cost to $6.50 per month. While this plan requires an upfront payment of $78.00, it's still reasonably priced compared to the industry average. 
Mobile – Monthly Plan: If you only need a VPN for your mobile devices, you can opt for the mobile-only plan at a cost of $5.99 per month. Although this plan is affordable, it limits your VPN access to only your smartphone. 
| | | | |
| --- | --- | --- | --- |
| | Total Price | Per Month | Savings |
| 1 Month | $10.00 (€ 7.95) | $10.00 | 0% |
| 12 Months | $78.00 (€ 59.95) | $6.50 (€4.99) | 35% (38%) |
| Mobile – Monthly | $5.99 (€ 4.95 ) | $5.99  (€ 4.95 ) | 0%  |
In case you're located in Europe, you'll be charged in Euros for Avira's pricing plans. To provide a clear overview, we've broken down the pricing plans for you. Despite the location, the pricing plan remains similar. 
You can subscribe to Avira Phantom VPN Pro for €7.95 per month and use it on any number of devices, including computers, smartphones, and tablets. The annual plan, priced at €4.99 per month, allows you to save 38% on the subscription. However, the mobile-only plan for Android and iOS devices costs €4.95 per month and doesn't offer an annual counterpart.
Avira accepts credit cards and PayPal as payment methods, but anonymous payment options aren't available. There's also a 60-day money-back guarantee, allowing you to change your mind and get your money back within two months.
Is Avira Phantom VPN Free?
Yes, Avira Phantom also provides a free version of its VPN service. While it's a reliable option and comes with a strong privacy policy similar to the paid version, there are some drawbacks to keep in mind. 
For instance, it's unusable for streaming or torrenting as it comes with a 1 GB monthly data limit. Also, it only allows one server but permits P2P traffic. 
With all the limitations, it's still a decent option for users who prioritize privacy and don't consume too much data.
Final Thoughts
We can't wholeheartedly recommend Avira VPN because there are many superior alternatives on the market. While it's better than most "antivirus VPNs," it falls short in terms of speed and is not a suitable option for users located in high-censorship nations such as China, for example. 
However, we found Avira Phantom VPN to be quite useful and user-friendly. Although its server network isn't the largest, it can unblock most media streaming platforms and is also a viable choice for torrenting.
In summary, Avira VPN is a decent option for VPN beginners who want to protect their online privacy and secure their data on the Web. If you want to learn more about Avira Phantom VPN, you can visit their official website and subscribe.
PROS
Protects your privacy.
Easy to use.
Unblocks media streaming platforms.
User-friendly privacy policy.
Protection against DNS leaks.
Doesn't collect activity logs.
Decent feature set.
CONS
Apps lack advanced settings.
Missing router support.
Average performance.
Small server network.
No anonymous payment.
FAQ
What Is Avira Phantom VPN?
Avira Phantom VPN is a German-based VPN service provided by Avira, a cybersecurity company. The service has servers in 30+ countries and is compatible with Windows, Mac, Android, and iOS.
Is Avira a Good VPN?
Yes, Avira Phantom VPN is a reasonably good service. It offers a decent set of features and basic VPN functionalities. However, its speed is average, and the monthly subscription cost is high.