Windscribe is a VPN brand that often appears on the lists of the best free VPN services. As you probably know, free VPNs are quite tricky, as they often collect your personal data and even sell it to advertisers. However, Windscribe VPN stands apart from those services and it managed to build a solid reputation. And due to this, many of its users are more than willing to switch to premium-priced plans. However, how good is this VPN really? Is it capable of protecting your personal data? Can Windscribe unblock Netflix? Well, we're going to answer all those questions, and then some more. Welcome to our hands-on review of Windscribe VPN!
To start things slowly, we'll introduce you to this VPN first. We've prepared a table containing the most essential information, giving you a glimpse of what to expect. As such, we believe that the following table comes in handy if you're comparing this VPN to its competitors.
Our readers often ask about using VPNs for media streaming unblocking. That's why we have a dedicated segment about this in our every VPN review. So, without any exceptions, here's a brief overview of what to expect from Windscribe.
And we have one final table. We understand that you might be in a rush – and you might want to learn just the highlights about Windscribe. For this purpose, we've created one more table. This one contains our opinion on this VPN after having done the review.
With the basics out of our way, we can jump to what you truly want to know. Keep on reading, as our full review of Windscribe follows.
Windscribe VPN – TechNadu's Hands-On Review
Before we get started with our review, we need to mention that we'll be reviewing the premium-priced version of Windscribe. And if you'd like to know more about how we review VPNs, please use the provided link.
Background, Jurisdiction & Reputation
Windscribe comes from Canada, which could be a reason for concern. You can only hope that this VPN will resist any kind of negative influence in the future. Our Score: 7/10.
We'll start with the basics. Knowing where your chosen VPN comes from is more important than you might think. This has further implications, as explained below.
Jurisdiction & Applicable Laws
Windscribe doesn't hide the fact that it comes from Ontario, Canada. First of all, you should know that this country is a member of the 14-Eyes Alliance. This means Canada has been providing and exchanging intelligence data with other highly developed countries for a while now. Even though we don't know if this country's mass-surveillance is as rigorous as in some other countries, this is definitely a concern.
You should be also aware that Canada has a firm stance against piracy and copyright infringement. A few months ago, it was revealed that Canadian ISPs can sell information related to pirates. There's also an ongoing lawsuit initiated by Bell Canada against TVAddons, one of the most popular repositories of Kodi addons. And even more worryingly, Bell has already requested from the Canadian government to ban 'copyright infringing' VPNs. With all of this said, it's clear that operating a VPN business from Canada comes with many obstacles and troublesome elements.
Of course, this doesn't necessarily mean that Windscribe is against its own users. Thanks to a combination of strong encryption and capable VPN protocols, this VPN might be able to avoid collecting any data. Still, there's the question of how things will develop in the future.
Previous Data Leaks
Back in April 2018, it was discovered the Windscribe might be leaking IP addresses. This was a conclusion of an independent team of researches who found a vulnerability in this VPN's Chrome extension. It didn't take long for Windscribe to issue an update and resolve this problem.
What's important to be said is that Windscribe never leaked any IPs. The situation above is about a potential leak that can be caused by a targeted vulnerability. Other than that, this VPN doesn't have any other problematic situations from the past.
Supported Platforms & Devices
Windscribe is compatible with pretty much every popular platform. Even platforms like Android TV, Fire OS, and Kodi are on the list. Our Score: 10/10.
The only way to secure your private data is by installing a VPN on every Web-connected device. This means that you need a service that offers native apps across the board. Here's what Windscribe offers.
Well, after taking a look at the table found above, one thing is sure. Windscribe has done an amazing job of supporting a wide range of devices. You can use it on your computer, as well as on the go – no matter which platforms you normally use. And to get its ad-blocking features, you can install Windscribe on your Web browser, as an extension. All popular Web browsers are supported, except for Apple's Safari. Next, we even have Android TVs which include Amazon Fire OS and Nvidia Shield. And what's surprising is that Windscribe integrates with Kodi, which is a rare thing to find.
If you'd like to protect your entire household at once, you can just install this VPN on a router. You can do it yourself, or you can simplify the procedure by getting a pre-flashed router.
Update (October 2019): Windscribe is now offering a range of updated Web browser extensions. Unlike before, you can now use these to get to some pretty advanced features. For example, you can connect to individual cities, implement different kinds of blocking mechanisms, and prevent websites from sending you notifications. Make sure to click on the provided link in this paragraph to learn more about these.
Installation & Initial Configuration
Aside from an occasional joke, Windscribe doesn't bring any surprises to its installation methods. All in all, the process is very simple and straightforward. Our Score: 10/10.
The first step toward using this VPN is subscribing to Windscribe. Once you select a subscription plan, fill out your details, and finish with the payment, you'll have your brand-new username and password. This is when you can download one of Windscribe's applications, from its official website.
The installation process depends on the selected platform. We've tried this application on a Windows 10 machine, where we went through the usual installation process. Double-click on the installation file to get started, and then choose whether you'd like to an 'Express' or 'Custom' installation. Either way, you won't encounter anything strange.
What you'll notice is this company's sense of humor, which appears on its website and throughout their applications. For example, you'll be asked whether you'd like to have your Web connection throttled with a note that the button in question doesn't do anything really (it's just a joke). Some are going to love this, while others will find it strange. Either way, it doesn't hurt.
Once installed, Windscribe will be launched. To enter your username and password, click on the hamburger button in the top-left corner, and then select 'My Account'. Enter your details, and that's pretty much it.
Prominent Features
Windscribe comes with a powerful set of features that should meet the needs of average home users. Even some more advanced VPN users are going to love what this VPN offers (especially its unique features, like 'R.O.B.E.R.T'). Our Score: 9/10.
We believe that every reliable VPN should cover the basic features in the best way possible. And to provide more value to their users, they should also enter the category of more advanced features. So, let's see what to know about Windscribe.
Okay, let's start with the basics. To keep you secure online, top-rated VPNs employ both DNS and IPv6 data leak protection. Windscribe covers that only halfway. Like many VPNs, it doesn't fully support IPv6 yet, and it asks you to disable this protocol instead. However, this means that your IPv6 data will still be protected.
In terms of more advanced features, Windscribe doesn't come with a 'traditional' kill-switch functionality. However, it comes with a firewall functionality built-in, which can be highly effective in protecting your data. In fact, the company says that this solution is better than using kill-switch and it guarantees that all non-VPN traffic will be blocked. However, it's important to mention that iOS devices don't support this functionality, and it's not available on some routers as well. So, we take these claims with a grain of salt.
When it comes to blocking ads and fighting malware, Windscribe has a feature named R.O.B.E.R.T. We wrote about it back in March 2019, when the first version of this software was published. It didn't take long for Windscribe to come up with the second major version, which now allows you to enable/disable blocklists, set custom access rules, as well as fine-tune options related to malware, ads, trackers, social media, porn websites, and even gambling websites. You can now choose to block such websites, giving you instant control of your Web experience. This is definitely one of the standouts of Windscribe and something we don't often see in other VPNs.
Among other interesting features, Windscribe offers static IP addresses (priced extra). And there's also a team-friendly option called 'ScribeForce'. However, we did not test those two features, so we recommend you do your research before using those.
Finally, you should know that Windscribe Pro doesn't impose any limitations (unlike its free version). You get unlimited server switches, bandwidth, and unlimited data - just like you would expect from a premium-priced VPN.
Server Count
Unfortunately, Windscribe is one of those rare VPNs that hide how many servers they offer. However, by having servers in 110+ locations, average home users should have their needs met (even though you can easily find better alternatives). Our Score: 5/10. 
Now, let's check how many servers this VPN brings. We'll take a look at the total number of servers, number of locations, and more. Here's what you need to know.
In many cases, VPNs proudly state how many servers they offer. However, finding that information in the case of Windscribe is somewhat complicated. When you ask their support agents about the exact number of servers, they'll tell you that you can count on 110+ locations. When pressed harder, they'll say how many data centers they have, instead of providing on-point information.
However, after doing our research online, we found information (from highly reputable sources) that Windscribe has somewhere between 400 and 550 servers. In comparison, top-rated VPNs offer from 3,000 to 5,000+ servers. So, even though we can't verify how many servers this VPN offers, we suspect that number to be relatively low.
You get to connect to any server you want, which also includes specific cities and regions. Once again, you'll see this company's sense of humor as you browse the list of available servers. And finally, you get to jump between different servers as many times as you'd like – no limitations imposed, whatsoever.
Ease of Use
In general, Windscribe comes with a simple UI that's suitable for both first-timers and more advanced users. Our Score: 10/10.
As you can see from the screenshots, Windscribe comes with a simple and intuitively designed interface. The home screen allows you to control all of the important aspects, like selecting a server, making a secure connection, and checking information like your real/virtual IP, and more.
When selecting a server, a drop-down list will appear with the names of different countries. On the left side of this list, you'll see what kind of performance to expect. On the right, you can expand the list even further to connect to individual servers. There's also an option to make certain servers your favorites, making it easier to connect to those in the future. To connect, simply click on the chosen server. It will take a few seconds until the connection is made active.
To dive deeper into setting up Windscribe, you'll find a 'hamburger-style' button in the top left corner. This is where you can check your account, sign in/out, quit the application, open the official website if you need help, and this is where you'll find the application's settings window. Here's what kind of fine-tuning you can do:
General: This is where you can launch the application on system startup, and even automatically connect to the most recent location. Then, you can choose to display notifications, activate LAN traffic when the firewall is on, and change different aspects of the application's behavior.
Connection: If you want to fine-tune how Windscribe's firewall is working, and to select between different VPN protocols, this is where you'll find those options. The application can help you pick the best protocol by offering help, where you'll be redirected to the official website.
Proxy: In case you need to configure a LAN proxy, this is where you can do that. Windscribe allows you to set up a SOCKS5 proxy, useful for torrenting. You can also choose from additional options like Automatic and HTTP.
Share: In case you'd like to share your secure connection with other devices, you can choose to create a hotspot. This is a very interesting feature, not often found among today's VPNs.
Debug: Lastly, this is where you can check out logs, review TAP driver information and more. Don't forget that you can disable IPv6, which is done from this part of the application.
All in all, we can say that Windscribe is suitable for both first-timers and advanced users. It presents a straightforward UI that's easy to understand and use. And if you need more control over different aspects of this VPN, you will see that Windscribe answers your needs.
Media Streaming & Torrenting Support
Windscribe works with Netflix and Hulu. You can also unblock iPlayer and Amazon Prime Video - but only via static IP addresses. Our Score: 5/10.
We're now going to inspect if Windscribe is a good media streaming solution. We've tested this VPN with several hugely popular video streaming websites, so here are the results.
Windscribe offers a server location called 'Windflix', using which you can unblock Netflix and Hulu. However, the same can't be said for iPlayer and Amazon Prime Video. As this VPN reports, those two services require a static IP address (priced extra). However, you should know that many top-rated (streaming) VPNs out there can easily unblock all of the previously mentioned streaming platforms. Therefore, Windscribe only goes halfway unless you're willing to pay extra for a static IP.
In terms of torrenting, Windscribe imposes no limitations. There are a few servers that don't support P2P traffic, as clearly indicated within the application's UI. Still, you should manage to find a nearby server that will bring the speeds that you expect.
Security & Privacy
We're sure that Windscribe has the means to protect you online, without collecting any questionable data. However, let's not forget its country of origin. Our Score: 8/10.
Understanding different features and reading the fine print can prove to be more challenging than expected. So, we did this job for you. Here's in what ways this VPN can protect your data.
Supported Encryption Protocols
Windscribe uses two types of encryption, depending on if you use its desktop applications or Web browser extensions. When it comes to desktop software, you can count on AES-256 with SHA512 authorization and a 4,096-bit RSA key. In simple terms, this is the strongest type of commercial encryption. We're positive that your data will be fully encrypted and inaccessible to third-parties. And when it comes to Web browser extensions, Winscribe is using AES-128-GCM. Once again, you're covered well.
Depending on your needs, you can also count on a wide range of powerful protocols. Some of the best ones available via this application are OpenVPN (UDP and TCP), IKEv2, and StealthVPN.
Logging Policy
What's important to highlight is the fact that Windscribe doesn't store any personally-identifiable logs (there's no record of your VPN sessions, source IPs, or websites you visited). However, it does still collect some data.
Among the collected types of data, there's your personal info. When you sign-up for the service, your transaction ID is stored for 30 days. Of course, you can also pay with Bitcoin to avoid any logging. And when you start using the application, the company will store data related to the chosen server, OpenVPN/IKEv2 username, amount of data transferred, and time of connection. All of these types of data are (reportedly) used to help Windscribe offer its service to its users - and this data can't be used to identify what you're doing online.
DNS Leak Test
As you can see from the image above, Windscribe doesn't leak your personal information. It passed our DNS leak test with flying colors. Once connected to a secure server, third-parties on the Web will only see your virtual IP address, as well as a virtual ISP connected to a country where the chosen server originates from.
Speed & Performance
Windscribe isn't the fastest VPN around. However, it's among those with throttle your Web connection without having to affect your Web browsing habits. Our Score: 7/10.
You are probably wondering what kind of performance to expect from Windscribe? To give an answer to that question, we'll test the speed of various servers on offer. So, let's start with setting some baseline stats.
First, we need to check the speed of our Web connection, without involving Windscribe. After doing a speed test, we got 147.09 Mbps for downloads and 8.72 Mbps for uploads. We'll use those numbers to calculate by what degree this VPN throttles our speed.

Windscribe detects your location and offers the closest server, which in turn should provide reliable performance. We're located in Europe, and we found a server in one of our neighboring countries. Once connected, we run a speed test. We got 93.70 Mbps for downloads and 7.65 Mbps for uploads.

Finally, we've also checked the speed of a remote server. Just like in our every review, we connect to a server in the USA, as this country is a popular destination for VPN users. As you can see from the screenshot, we got 88.70 Mbps for downloads and 4.91 Mbps for uploads.
We can conclude that Windscribe made our Web connection slowed by 38%, on average. This is among better results we've seen so far, even though there's a number of VPNs bringing faster performance.
Customer Support
Even though there are several support channels, they are somewhat ineffective. Windscribe could seriously benefit from improving their customer support. Our Score: 6/10.
We can hope that Windscribe won't give you any problems. However, if something unexpected happens, you'll want supportive agents to help you. So, let's take a look at all the ways that Windscribe offers assistance to its customers.
Live-Chat (Bot): Wherever you go on Windscribe's website, you will be followed by a friendly bot named Garry. If you have any questions, you can directly talk to Garry and hope he'll understand your question. In our case, this type of help wasn't all that useful. The bot understands questions, but it can't provide the same level of help as a real person would.
Self-Help Material: If you're willing to dive into finding an answer yourself, you can take a look at a comprehensive knowledge base. There's also a handy FAQ section. And let's not forget that you'll find a series of setup guides
Subreddit: This is the first VPN we've encountered that uses Reddit for customer support purposes. This is an active community and it looks like there's a number of Windscribe moderators answering questions from time to time.
Support Tickets: Finally, you can always submit an official support ticket. If you go for this method, expect to take up to 24 hours to receive a response.
Pricing
Windscribe is more affordable than its competitors. There's also an option to build a highly affordable customized plan. Our Score: 10/10.
At the moment, Windscribe offers two subscription plans. They come with the same feature set, and their only difference is in their duration. Take a look at the table below for more information.
Priced at $9.00 per month, Windscribe is among more affordable VPNs. For example, top-rated options right now are priced between $10.00 and $15.00. Therefore, it's not dramatically more affordable but it comes with a competitive pricing scheme, nonetheless.
For the biggest savings, we recommend signing up for Windscribe via its 12-month plan. That's how you can save up to 55% and pay only $4.08 per month. This plan fully unlocks the VPN, all of its servers, and it doesn't impose any limitations whatsoever.
Lastly, let's not forget that there's a 'Build-a-Plan'. If you only want a single server location (if you only want to unblock Netflix and Hulu, for example), and if you want unlimited data, this will cost you only $2 per month. This makes Windscribe one of the most affordable VPNs of its kind.
It's also worth noting that there's a 3-day money-back period included. However, make sure not to use more than 10GB of bandwidth, as this will make you ineligible for the refund. And finally, you can pay for this VPN by using credit cards, PayPal, and Bitcoin.
Do We Recommend Windscribe VPN?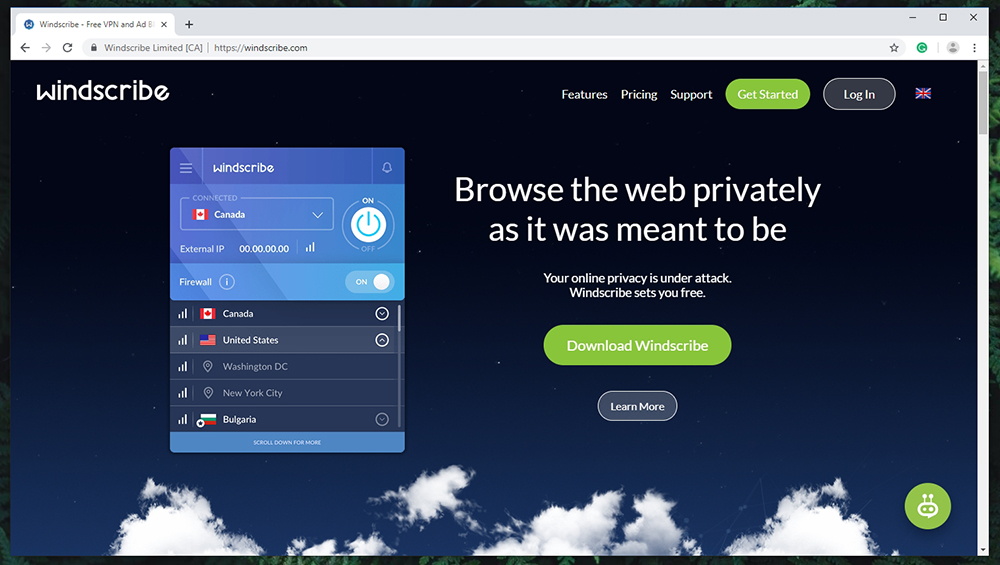 In case you're an average Internet user, we think that Windscribe will meet your needs. It can keep you safe online, comes with advanced security features, and even unblocks Netflix and Hulu. However, privacy-conscious users will mind the fact that it comes from Canada, which might be a problem in the long term.
PROS: Nicely designed UI; Covers numerous platforms; Unblocks Netflix and Hulu; Capable feature-set.
CONS: Based in Canada; Not as helpful customer support; Small server network.
OUR SCORE: 7.9 out of 10!
We're sure that many of you could be perfectly happy with this VPN and its capable privacy-oriented features. If you're intrigued by this VPN and want to learn more, go ahead and check out Windscribe VPN on your own.
Lastly, we'd like to ask you to share this article online. And to stay on top of the latest VPN-related news, you can follow us on Facebook and Twitter. Thanks!