Hide.Me is a highly-ranked VPN provider. It stands out among the best VPN services, and its paid plans are feature-rich and affordable. However, Hide.Me VPN also offers one of the best free tiers around. While it's no replacement for the paid version, it provides a terrific way to test it out (especially since it doesn't have ads). 
This VPN also excels at keeping your data and online activities safe from surveillance, ISP monitoring, and malicious actors. We tested all Hide.Me protocols and found that the provider offers a good selection for optimizing speed and security. There is also a broad server network available, and it maintains relatively good speeds on nearby and faraway servers. 
However, there are a ton of great VPNs available on the global market, so who will this provider work best for? This Hide.Me VPN review will dive deep to answer that question. 
First, let's take a quick look at Hide.Me's key features with this summary table.
Ready to learn key details about Hide.me? This review will explore all aspects of this VPN, including its privacy policy, country of origin, device compatibility, server network, security features, and more. 
To learn more about our testing process, check this guide on how we review VPN services.
Now, let's begin.
Background, Jurisdiction & Reputation
Coming from Malaysia, hide.me claims not to collect your personal data. Due to the absence of any leaks or breaches from the past, we trust those claims. Our Score: 9/10
If you take a closer look at the official website of Hide.Me, you'll see that this company is based in Malaysia. Let's see what this information means for any individuals deciding to use this VPN service.
Where Is Hide.Me VPN Based?
Hide.Me is based in Malaysia, known for its authoritarian regime. This is one of the countries with the strictest laws, in general, with heavy fines for various offenses. On the one hand, this is helping the country to fight crime and keep different types of illegal activities to their bare minimum. On the other hand, this is enabling the government of Malaysia to impose censorship-oriented measures and fight against their opposition online.
And just recently, Malaysian authorities have begun their fight against online piracy. This is one of the reasons why VPNs are so popular in this country, and this is why we have a dedicated article on the best VPN for Malaysia.
So, is it safe to trust Hide.me to be your VPN provider? Well, even though it comes with strict laws, VPNs are legal in this country. In addition, there are no reports of data centers being raided or VPNs being asked to hand over personal data. And there's one more reassuring fact: this country has not been associated with the 5-Eyes Alliance.
Let's also not forget the fact that Hide.Me claims to keep no records of its users' online activities. The bottom line is this – even though Malaysia perhaps isn't the most suitable country for a VPN business, it isn't the worst either. The situation seems to be under control for now, and we can only hope that VPNs from this country won't be under attack in the future.
Did Hide.Me Leak Personal Data in the Past?
We're pleased to report that Hide.Me has never been associated with any data breach or leak. This can mean one of the following two things. Either they have high-end security that completely and fully blocks any unauthorized access, or they truly don't keep any data about their users. We like to think it's the latter.
All in all, we can say that Hide.Me is a trustworthy VPN. There's no reason not to believe their claims that your personal data is never collected. They've been on the market since 2012, which is plenty of time for any online service to show its weaknesses. Since this didn't happen, Hide.Me is easy to recommend – at least from this aspect.
Is Hide.me Safe?
Yes, Hide.me is a safe VPN provider as the VPN uses industry-standard AES 256-bit encryption. Its powerful encryption protects you from governments, ISPs, and malicious actors looking to spy on your data. Plus, it doesn't store any logs of your online activities or your personal information.
It also offers a wide range of connection protocols, such as OpenVPN (UDP/TCP), WireGuard, and more. Each one comes with a different mix of security, speed, and compatibility.
Additionally, hide.me has several more security features, including built-in leak protection, custom DNS functionality, IPv6 support, Stealth Guard, and a kill switch to protect your IP address in case of an unexpected connection drop.
Supported Platforms & Devices
Hide.me supports a wide range of platforms and devices. You can also install it on a router to protect your entire household at once. Our Score: 10/10
When picking a VPN, make sure that you can use it on all your Web-connected devices. Here are all the platforms covered by Hide.Me, both natively and via manual configuration.
The platforms mentioned in the table above represent native apps offered by Hide.Me VPN. This means that in terms of desktop platforms, there are apps for Windows and macOS. You can also use this VPN on Linux, but you'll have to configure it manually.
When it comes to mobile devices, both Android and iOS are on the list. And in terms of Web browsers, you will find extensions for Chrome and Firefox.
In terms of other devices, there's a native app for Fire OS, which will make you happy if you have one of Amazon's media streaming devices in your home. And to protect any other device, you can install Hide.Me on a compatible router.
Lastly, Hide.Me now supports 10 simultaneous connections, which seems generous enough.
Installation & Initial Configuration
There are no unneeded offers of any distractions here. You can install Hide.Me and begin using this VPN in under one minute. It's as simple as that. Our Score: 10/10
Getting started with Hide.Me is easy. First, you need to sign up for this VPN by choosing one of its subscription plans. You'll receive your username and password when you fill out your details and pay for the subscription. Interestingly enough, you don't need these to download one of Hide.Me's native apps, which are freely available on its official site. But of course, you'll need your credentials to log in and start using the application.
So, download the app on your device and then double-click on the downloaded file to activate the installer. The application is very lightweight, and it'll take a few seconds until it's fully downloaded. The Installation Wizard comes with no distractions. You can choose where to install the application, and the rest will be done automatically. You should be ready to use Hide.Me within a few seconds. Log in using your credentials, and this is where the real fun can begin.
If you want to install this VPN on a router, you'll find nicely written guides for different routers. It's important to say that even first-timers will easily find their way around this procedure.
Prominent Features
Even though some features are missing, Hide.Me brings a compelling set of features. Even split tunneling and a built-in firewall are on offer. Our Score: 9/10
What's interesting about this VPN is that it's constantly upgrading its feature set. Let's take a closer look.
First, let's talk about basic features. To safeguard your identity, you can count on your DNS, IPv4, and even IPv6 being protected. We have to note that Hide.Me VPN is among the few VPN services with native IPv6 filtering.
To hide your data at all times, even if your secure connection becomes unstable, there's a built-in kill switch. You can use it globally or whitelist certain networks. To protect your data even further, there's a built-in firewall that can run even when Hide.Me isn't running.
Speaking of advanced features, this VPN allows you to split-tunnel your traffic. This means that you can decide which apps use a secure connection and which don't.
It's clear that hide.me brings a compelling set of features. When it comes to features that are missing, we could say that an ad-blocker isn't included (which could be used to stop trackers and malicious scripts). On the other hand, you'll get to use Hide.Me without any limitation and this applies to server switching, bandwidth, and data.
Server Count
Hide.me VPN now comes with around 2,100 servers - which makes this VPN a much more attractive alternative to top-rated VPNs. Our Score: 6/10
Let's check what kind of server network to expect. We'll take a look at how many servers this VPN offers, whether you can select specific locations, and more.
During the previous months, Hide.Me VPN has been rapidly expanding its server network. For a long time, this VPN used to come with 160+ servers, but that is no longer the case. According to its official documentation, it now has 2,100 servers spread across nearly 50 countries.
This definitely makes hide.me VPN a much better option right now. Still, it's also worth noting that you can easily find VPNs with a greater number of servers. VPNs such as ExpressVPN, NordVPN, Private Internet Access (and plenty more) have between 3,000 and 6,000 servers, which puts some things in perspective.
Ease of Use
No matter if you're a first-time or perhaps a highly experienced user, we're sure that Hide.Me will meet all your needs. Our Score: 9.5/10
The home screen of this VPN comes with a simple display of the most critical information. You will see a prominent button in the central portion, allowing you to easily secure your Web connection. At the bottom, you'll see two buttons. On the left-hand side, you can check your details. On the right-hand side, you can take a look at available servers.
When it comes to choosing a server, you can do this in several different ways. By default, you'll see a list of locations in alphabetical order. However, you can also check out this same list by ping values. Lastly, you can select which servers are your favorites.
To set up Hide.Me as per your needs, make sure to visit this application's settings. To access this panel, click on the cogwheel button in the upper-right corner of the home screen. Now, let's go over everything that can be found here:
Information: The first tab lets you see the information about your account. You can see which plan you're using, when it should expire, the version of the application, and more.
Settings: When it comes to settings, you'll find three tabs. First, under the 'Application' tab, you can enable the application to show on system startup, auto-connect, start the application minimized, and more. Under the 'Network' tab, you can enter a custom DNS server. And under 'Protocols', you can choose how the supported protocols behave.
Split Tunnel: This feature allows you to pick applications covered by the VPN. For example, you can choose to hide your P2P traffic by including your torrent client. You can either pick applications that only use the VPN (and not your regular Web connection) or pick applications that must be excluded from the VPN connection.
Firewall & Kill Switch: Hide.Me allows you to utilize its built-in firewall to safeguard your system. For example, you can set the firewall to prevent applications from connecting to the Web unless there's a secure VPN connection active. When it comes to the kill switch, you can select applications that will be blocked if a secure connection is dropped.
Protocol: To select a VPN protocol that works best for your needs, this is what you need to check out. Simply select one of the protocols on offer and Hide.Me will switch seamlessly.
Log: In case of technical issues, a customer support agent might ask for your log file. Well, this is where you can find it.
Support: You can use this tab to open an official customer support ticket. As such, it provides a convenient way to contact the company.
Browsers: Finally, as Hide.Me notes - you can install a Web browser extension to enable WebRTC data protection, and you can enable the VPN's SOCKS5 proxy.
All in all, hide.me comes with a nicely designed UI. It's simple enough for first-timers to use with no major issues. However, advanced users can also take advantage of it – as it allows plenty of fine-tuning. So, highly recommended!
Media Streaming, Torrenting, and Gaming Support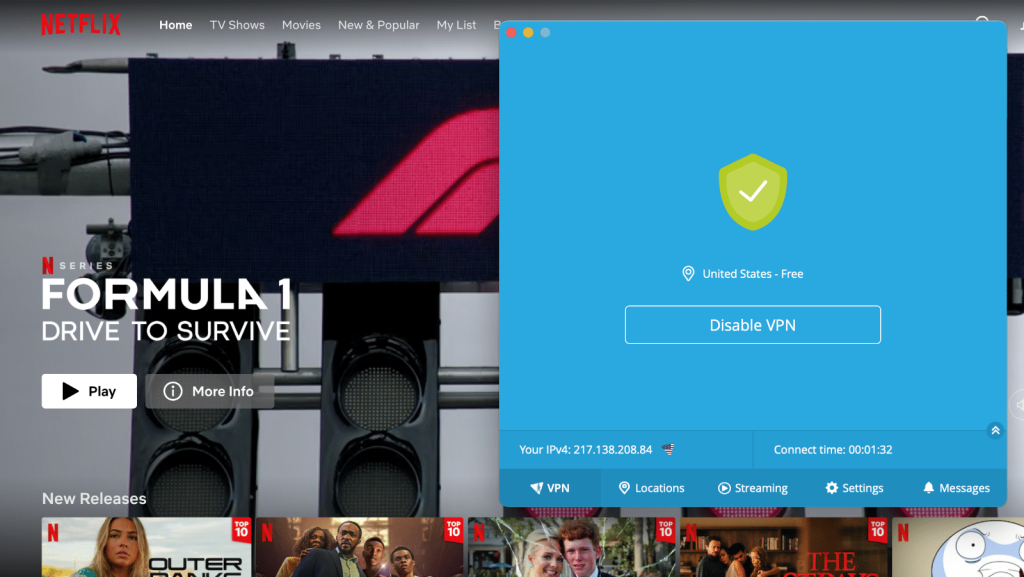 We were able to unblock Netflix US using Hide.Me VPN - but it seems that no other streaming services work. You can download torrents, though. Our Score: 3.5/10
We've done a round of tests regarding Hide.Me's features focused on streaming, gaming, and torrents. So, here's what you can expect.
We have to say that Hide.Me is one of the least capable VPNs in terms of media streaming. Even though it works with Netflix US just fine, this is where its streaming capabilities end. We weren't able to unblock Hulu, BBC iPlayer, and Amazon Prime Video.
When it comes to torrenting, the situation is better. Even though not every server is optimized for P2P traffic, many of them are. Once you install the application, you will clearly see which ones don't have P2P-related capabilities, so you can avoid those. However, since Hide.Me comes with somewhat limited performance, its P2P capabilities are questionable.
Lastly, we don't recommend this VPN for gaming, either. It appears to be a good option if you use nearby servers only. Once you start using remote servers, your ping will go up.
Security & Privacy
Thanks to a combination of robust encryption and incredibly capable VPN protocols, Hide.Me VPN can protect your data in the best way possible. Our Score: 10/10
To assess the security-related features of Hide.Me VPN, we will take a look at its encryption and available VPN protocols, and we'll run a DNS leak test. So, let's begin.
Hide.Me VPN Protocols
As you already know, Hide.Me comes with a wide range of native applications. Depending on your primary platform, you can expect AES-128 or AES-256 encryption. This is the strongest encryption protocol right now, making your data unreadable to third parties.
In terms of VPN protocols, you can count on OpenVPN, SoftEther, IKEv2, SSTP, PPTP, and L2TP/IPSec. Of course, not all of those are available across all of the supported platforms. However, you will always get to count on OpenVPN, considered to be highly secure as it doesn't have any known weaknesses.
Does Hide.Me VPN Keep Logs?
Ever since it was established, this company took pride in its 'no-logs' policy. They promise not to collect your personal data, which means you can be completely anonymous on the Web. Let's not forget to mention that Hide.Me has been checked and certified by an independent security analyst (Leon Juranic, Defensecode).
As per the company's claims, they have an advantage over other VPNs as they're located in Malaysia. This means that according to local laws, they are not bound to store logs. Finally, let's not forget that any data that might be collected is anonymized and cannot be traced back to your online activity.
DNS Leak Test
We have more good news. After doing an in-depth DNS leak test, we conclude that Hide.Me doesn't actively leak any data. This means that third parties online will see your virtual information and not your actual information. This includes your virtual IP, hostname, ISP, and country of origin.
Speed & Performance
Hide.Me won't impress you with its performance. It's far from being the slowest around, but we did expect much better results. Our Score: 6/10
Just like we do in our every VPN review, we'll check Hide.Me for its performance. For this purpose, we connected to both nearby and remote servers, testing the speed of our Web connection along the way. So, here are the results.
To establish some baseline data, we check the speed of our Web connection (without Hide.Me running in the background). As you can see from the screenshot, we got 141.62 Mbps for downloads and 8.85 Mbps for uploads.
Now, we are going to connect to a nearby server. For this purpose, we've allowed Hide.Me to find the best server based on our location. As it turned out, we connected to a server in the Netherlands. Our speed tests gave us 91.43 Mbps for downloads and 7.45 Mbps for uploads.
And finally, we also want to check the speed of a remote server located in the USA. After having connected to a New York-based server, we got 64.25 Mbps for downloads and 4.17 Mbps for uploads.
After taking a look at the table above, we conclude that Hide.Me slowed us down by 45%. This kind of result is often seen in mediocre VPNs, especially in freshly released VPNs that need time to optimize their servers. This means that Hide.Me is somewhat disappointing, as we expected a much better result.
Customer Support
Thanks to many support channels available, we're sure that Hide.Me can provide a timely response. Live chat is included as well. Our Score: 10/10
VPNs can be tricky to use, especially for first-timers. That's why the most reputable VPN services have multiple ways to get help. Let's see in which ways can Hide.Me help.
Live Chat: On the official site of this VPN, you'll see a live chat icon in the bottom-right corner. At any moment, you can click on it to start chatting with the company's agents. These are real people, not bots, and they'll be able to assist you in the best way possible.
Installation Guides: Installing Hide.Me on platforms like Windows, macOS, Android, and iOS should not give you any problems. However, you'll need help if you want to install it on a router. Well, this is where a series of installation guides come into play.
Knowledge Base: If you're willing to dive into fixing your problem yourself, you can check out the knowledge base. This is a series of articles and frequently asked questions, which can be helpful in the majority of cases.
Community: Interestingly enough, Hide.He offers a dedicated forum. You can check out its English and German versions, with the latter one being more active.
Support Tickets: Finally, you can submit a support ticket at any moment. As noted earlier, this can also be done from the application itself.
Pricing

Hide.me VPN comes with a range of subscription plans. Overall, we recommend this VPN if you're willing to go for a long-term plan. Our Score: 7/10
This VPN can be used free of charge (in a very limited capacity) and offers several subscription plans. So, let's see how much you need to pay for this VPN.
If you wish to pay monthly, Hide.Me VPN will cost you $9.95, which means it's most affordable than its direct competitor. However, the situation changes if you go for one of its long-term plans. If you decide to subscribe to Hide.Me VPN, you can save 33% by getting its 1-year plan. Or you can save 61% if you buy its 26-month plan.
Among other important information, Hide.Me comes with a 30-day money-back guarantee. And also, you can pay via credit cards (Visa, American Express, and Mastercard), PayPal, and even via cryptocurrencies.
Is Hide.me VPN Free?
Yes, Hide.me VPN has a free tier with limited features. That said, you can only access all its features and servers with one of its paid plans. 
Nonetheless, the hide.me free version has a lot to offer, including:
Zero activity logs
No ads
No credit card required
24/7 customer support
9 locations
1 device connection 
10GB per month
Furthermore, signing up for Hide.Me's free plan is quick and easy. All you have to do is provide your email address. Once you verify your email address, your free app is ready to use! 
Free plans expire but don't worry, Hide.Me has you covered! Click on the "Extend free plan" button, and a pop-up will appear. It's just a friendly reminder to wait until your existing plan expires before you can extend it. It's that simple!
Final Thoughts - Is Hide.Me VPN Worth It?
Hide.me VPN is a solid choice since it's a reliable and secure VPN service. It has a strict no-logs policy, industry-standard encryption, and a range of security features. So, Hide.me is an excellent option for anyone looking to protect their online privacy.
The VPN provider has a decent free version and affordable paid plans. The free version is ideal for individuals who have light VPN needs or want to try it out before committing to a paid subscription. If you are an occasional VPN user, budget-conscious, or a frequent traveler, use the free version of Hide.me VPN. It has no ads, zero activity logs, 10GB of data per month, and 9 available locations.
However, consider subscribing to the paid version if you need more features, such as unlimited data transfer, 10 simultaneous connections, and full access to its server network. Hide.me's paid plans are a good choice if you're looking to access geo-blocked content and protect all your devices.
That's all for our Hide.Me VPN review. If you have any questions, let us know via the comments section below. And lastly, thank you for reading!