Hotspot Shield is a US-based VPN service known for its reliable speeds, particularly with its own Hydra protocol. The service boasts a network of over 3,000 servers in 80+ countries and allows P2P traffic on all servers. It can also bypass geo-restrictions on many popular streaming platforms. 
But is it a good choice? To find out, we'll test and compare it with the other best VPN services on the market in this hands-on Hotspot Shield VPN review. Let's start with its features.  
While Hotspot Shield meets most essentials, such as AES-256 encryption, a kill switch, and protection from malicious and phishing sites, it lacks some of the advanced features that other VPNs offer at the same price range. Additionally, the service hasn't undergone an independent audit.
Also, remember that the US belongs to the Five Eyes Alliance and has strict surveillance laws. Hotspot Shield also keeps users' data logs. But it says these logs are anonymous and not shared or sold to anyone. Fortunately, the service hasn't had a major data breach before.
For casual users who want a quick and easy VPN for streaming, torrenting, and gaming, Hotspot Shield could be a good option. However, privacy-conscious users who desire more control and transparency over their VPN may want to consider other alternatives.
In this review, we'll take a closer look at both the premium and free versions of Hotspot Shield. To start, let's review some basic information about the service. The following table provides an overview of its key features and capabilities.
Paid
Free
Jurisdiction
Germany & the USA (14-Eyes Alliance).
Logs
No logs.
Logs private data.
Servers
3,000+ in 80+ countries.
4
Simultaneous Connections
10
1
Supported Devices
Windows, macOS, iOS, Android, Linux, Android TVs, and routers.
Windows, macOS, iOS, and Android.
Features
Advanced encryption, DNS leak protection, kill switch, split tunneling, Tor over VPN, anti-phishing protection, and more.
Advanced encryption, DNS leak protection, kill switch, split tunneling, Tor over VPN, and more.
Protocols
Hydra, IPSec, WireGuard (Android and Mac), and OpenVPN.
Supports
Optimized for torrenting, gaming, and streaming (Hulu, YouTube, Disney+, and more). 
N/A.
Customer Support
24/7 live chat, phone, email, and knowledge base.
Price
From $2.99/month. 
Free. 
Live Deal
77% OFF (3-year plan).
Our Score
7.8 out of 10.
We'll evaluate Hotspot Shield VPN based on various criteria such as its country of origin, supported platforms, UI design, features, server network, performance, and more. If you're interested in learning more about our methodology, you can read our guide on how we review VPNs.
That said, let's begin by taking a closer look at the background information on Hotspot Shield.
Background, Jurisdiction & Reputation
Hotspot Shield's situation is highly problematic. The service is based in the US and has been accused of collecting data and having connections with US authorities. Hotspot Shield, however, denies any wrongdoing. Our Score: 6/10
It's important to know where your chosen VPN comes from, as these online services abide by the laws of their home country. So, let's see where Hotspot Shield comes from and what that means for its users.
Where Is Hotspot Shield Based?
Hotspot Shield is a US-based security company. In July 2020, Aura, the parent company of Pango, acquired Hotspot Shield. This acquisition isn't ideal as the US has intrusive privacy laws and is a member of the 5 Eyes Alliance, known for sharing mass surveillance data. 
Companies operating in such invasive jurisdictions may be compelled to retain and share users' information. Aside from Hotspot Shield, Pango and Aura also own a range of other VPNs, such as Betternet, VPN360, and UltraVPN - none of which are known as high-end no-logs VPNs. 
Did Hotspot Shield Leak Personal Data in the Past?
No, Hotspot Shield VPN hasn't had any data leaks in the past. Despite its controversial past, the service has not leaked any personal data. A 2016 report exposed some of its questionable practices, such as injecting JavaScript codes for advertising and tracking in its free Android app. This allowed the company to collect user information and redirect traffic through affiliate networks for profit.
Also, we can't help but mention how the service has been associated with morally ambiguous actions. Let's list two of those incidents. First, in 2017, a report revealed problematic connections between their managers and US authorities. Following that, in 2018, a bug was discovered in Hotspot Shield that was ignored for two straight months, potentially compromising the security of hundreds of millions of users.
Hotspot Shield has since revamped its website materials and privacy policy to clearly explain what the VPN does and doesn't collect. It clearly mentions that the free app is used in conjunction with advertising. There has been a change in leadership as well since the last controversial episode.
While Hotspot Shield has a controversial history, it has taken steps to address its past practices. However, it's important to note that this VPN may not provide a high level of privacy, even under the latest management and an updated logging policy.
Is Hotspot Shield Safe?
Yes, Hotspot Shield is safe to use as long as you're aware of its limitations and policies. We can't deny the service is well-equipped with strong encryption and proprietary protocols to secure your traffic. However, Hotspot Shield isn't perfect, and there are some drawbacks that you should consider before using it.
First and foremost, the service is based in the US, which is a member of the Five Eyes Alliance and has a history of data requests from the government. This means that Hotspot Shield could be compelled to hand over your data if it receives a valid legal order.
Another issue is that Hotspot Shield has a questionable privacy policy allowing it to collect anonymized data about your device, location, bandwidth usage, and network information. This data is used for diagnostic and analytical purposes and for providing targeted ads and offers. While this data doesn't identify you personally, it could still pose some privacy risks if it falls into the wrong hands.
Supported Platforms & Devices
Hotspot Shield Premium allows you to install the app on up to 10 devices, while the free version is limited to 1. It's compatible with a variety of platforms. Our Score: 10/10
When choosing a VPN, you want to make sure that you can use it on all your devices. So, let's check out this aspect of Hotspot Shield VPN.
| | |
| --- | --- |
| Desktop Platforms | Windows, macOS, Linux. |
| Mobile Platforms | Android, iOS. |
| Web Browsers | Chrome and Firefox. |
| Routers | FreshTomato, GL.iNet, AsusWRT, DD-WRT. |
| Other Devices | Android TV, Fire TV. |
Hotspot Shield is one of the oldest VPNs on the market, and it's not a surprise that it supports a wide range of devices. You can use it on Windows and macOS computers, Android and iOS mobile devices, Linux systems, and even routers that can be flashed with FreshTomato, GL.iNet, AsusWRT, or DD-WRT.
The VPN service provides pretty good installation guides for various routers on its website. This means you can also connect devices like Apple TV, Roku, and game consoles using a single subscription.
If you're a premium subscriber, you can also enjoy Hotspot Shield's VPN apps for Amazon Fire TV Stick and Android TV. These apps let you stream content from around the world at blazing-fast speeds.
Lastly, Hotspot Shield also offers proxy extensions for Chrome and Firefox. These extensions are quite useful, considering they can spoof your location, block ads, cookies, and trackers, as well as protect you from malware.
Installation & Initial Configuration
Hotspot Shield has a quick and distraction-free installation process, with simple and intuitive apps that are easy to use. Our Score: 10/10
Setting up and using Hotspot Shield is a straightforward process. To get started, you first need to sign up for an account. While you can test-drive the VPN for up to 7 days, only a premium subscription will unlock all of its features.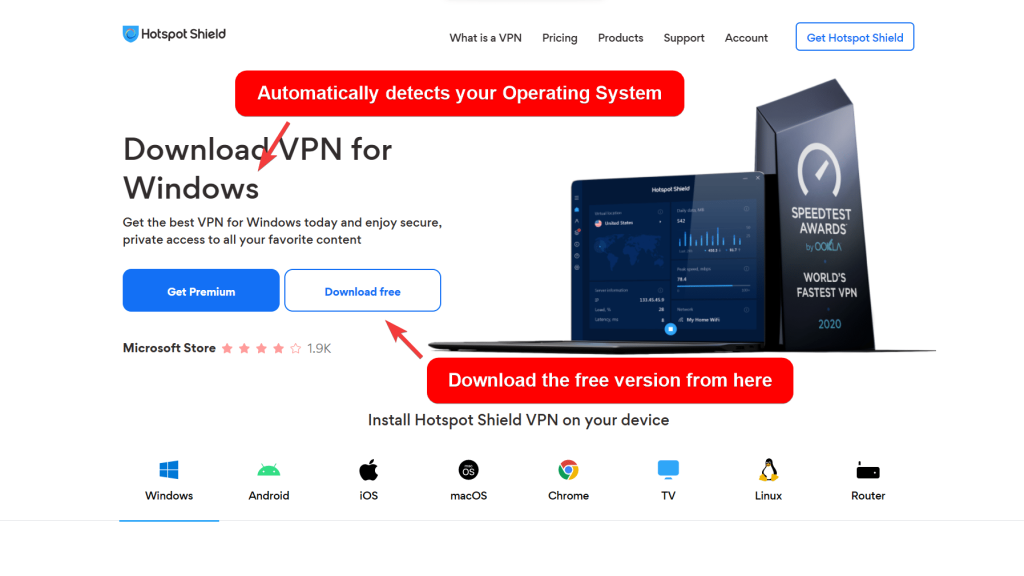 Once you have signed up, you can download the relevant VPN software either directly from the website or through an official app store. Follow the installation prompts, and log into the app with your email and account password. It's that simple.
The installation process is quick and easy. For example, on a Windows machine, double-click to open the Installation Wizard. Follow a few simple steps, and the application will be ready for use. After that, you can sign in using your credentials on the VPN's welcome screen and then test-drive the app.
In summary, setting up and using Hotspot Shield is an easy and hassle-free process that shouldn't take more than a minute of your time. There's no adware or any other kind of usual annoyances.
Prominent Features
Hotspot Shield comes with a fairly standard set of features. However, it lacks some more advanced options, such as IPv6 leak protection, for example. Our Score: 8.5/10
Considering that Hotspot Shield has been on the market for a while now, we expect to see a full feature set. However, that's not the case. Here's what you can expect from this VPN.
DNS and IPv6 Leak Protection: Hotspot Shield protects your online privacy by hiding your DNS requests. But this feature is only available on desktop and mobile apps. If you use the browser extensions, your DNS and WebRTC data might still be exposed. Another issue is that Hotspot Shield doesn't handle IPv6 traffic. This means your ISP could see your personal information if you have an IPv6 address. To avoid this, you can disable IPv6 on your device. 
AES-256 Encryption: This VPN secures your traffic with AES-256 encryption, a military-grade cipher that's virtually impossible to crack. This encryption scrambles your data into a coded format that can only be decrypted with a matching key. This way, your data is safe from all sorts of cyber threats, no matter what you do online.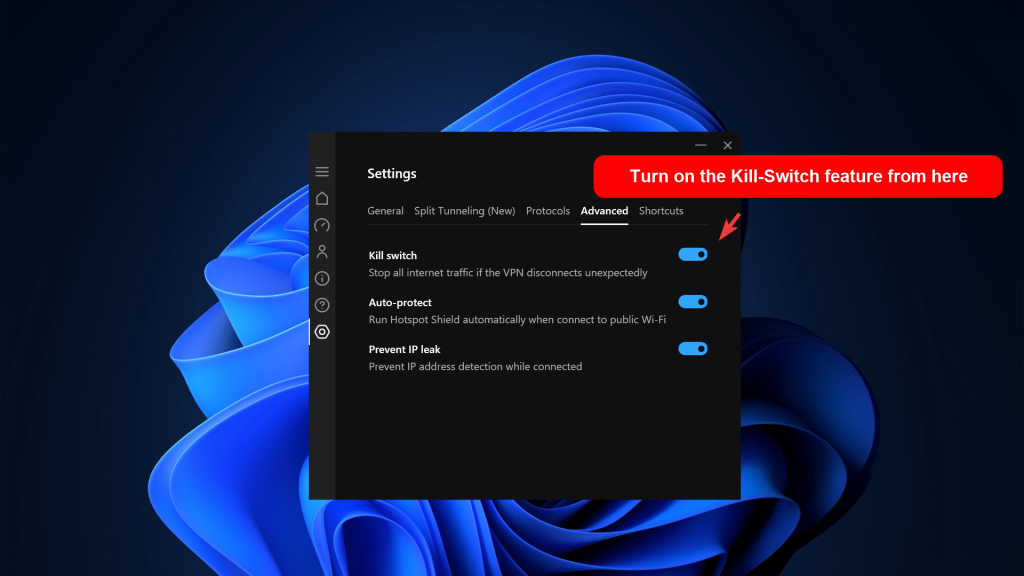 Kill Switch: Hotspot Shield VPN has a kill switch that blocks your Web access if your connection drops unexpectedly. This prevents your IP address and other sensitive information from being exposed. You also need to enable this feature manually from the settings, as it's turned off by default. Another drawback is that the kill switch doesn't activate when you switch servers, which can briefly reveal your true IP address. This feature is available on Windows, Android, and iOS devices but not on macOS devices.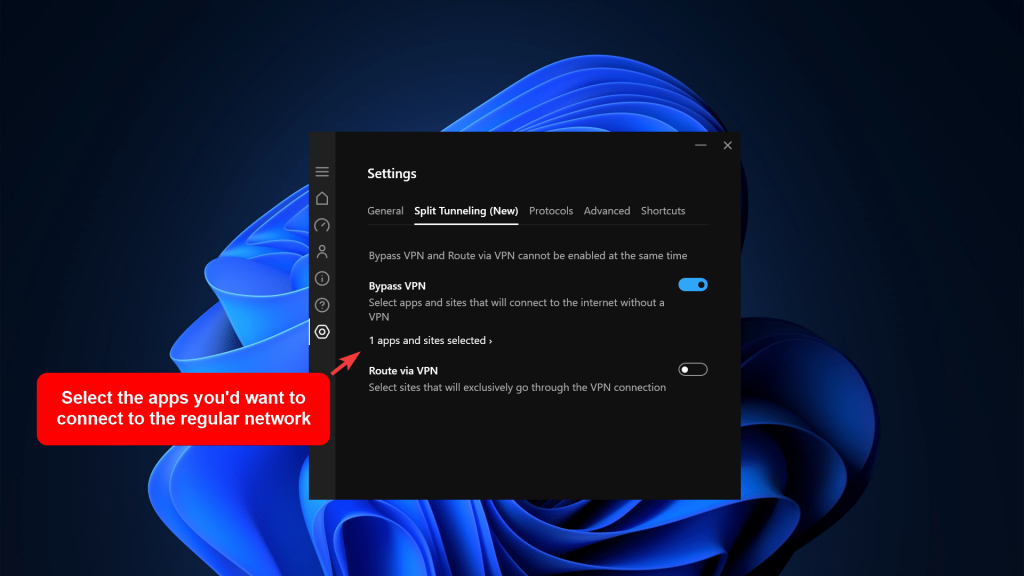 Split Tunneling: Hotspot Shield has recently introduced split tunneling on some of its platforms, allowing users to access their regular network while still being connected to the VPN. This feature is also available on macOS, Windows, and mobile apps. On its Windows app, this feature is called Bypass VPN and enables users to select different apps and sites that can use the encrypted tunnel.
Tor over VPN: Hotspot Shield VPN offers Tor over VPN as an additional layer of security. The Tor network is a decentralized system of servers that routes your traffic through multiple hops to hide your location. By using Tor over VPN, you can enjoy the benefits of both services without compromising your privacy or speed.
Ad and Malware blocker: When it comes to ad-blocking and protecting users against malware, Hotspot Shield can provide some protection. The VPN service relies on a database of potentially malicious websites and warns you if you try to access any of them. This means that Hotspot Shield doesn't actively block ads or malware but can still warn you before getting into dodgy situations.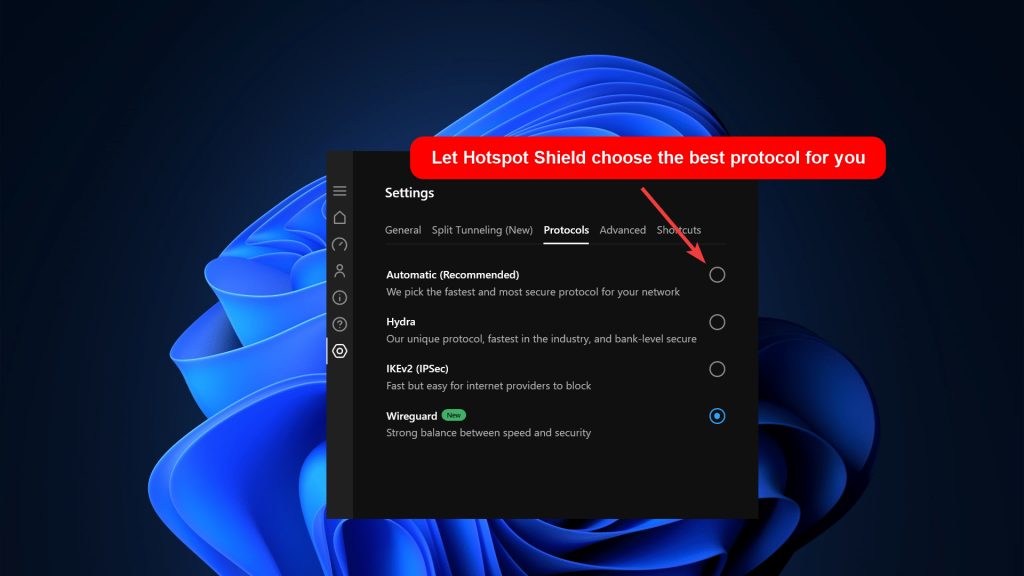 VPN Protocols: Hotspot Shield encrypts your Internet traffic using four VPN protocols: OpenVPN, IPsec, WireGuard, and Hydra. Each protocol has its own advantages and disadvantages and is available on different devices. The introduction of the WireGuard protocol was quite recent and has since helped Hotspot Shield regain its edge over other VPNs.
Unlimited Server Switches and Bandwidth: With Hotspot Shield VPN, you can browse, stream, and download without any limits. You can enjoy unlimited access to any server you want, and in any location you choose. You don't have to worry about paying extra fees or facing limitations on your server switches. Also, you can use as much data as you want without any throttling.
In conclusion, Hotspot Shield VPN offers a range of features designed to protect your privacy and keep your online activity secure. While it may not have many advanced features, it does tick all the essential boxes for basic security and privacy.
Server Count & Infrastructure
While Hotspot Shield has a network of 3,000+ servers spread across 80 countries, it's not the largest selection of VPN locations available. Our Score: 9/10
Ideally, a VPN service should provide access to a large number of servers, especially if you have specific requirements such as torrenting or media streaming. The best scenario is having a nearby server that delivers optimal performance and remote servers for website unblocking.
| | |
| --- | --- |
| Number of Servers | 3,000+ |
| Number of Locations  | 115 |
| Number of Countries  | 80 |
| Specific Cities Selection  | YES |
| Unlimited Switching | YES |
Hotspot Shield is a VPN service that offers fast and secure access to websites and apps around the world. It has over 3,000 servers in 80+ countries and 35+ cities, including popular locations like the US, UK, Canada, and Australia.
You can choose from 28 different US servers and several other city-level options in Australia, Canada, and Italy. Hotspot Shield doesn't disclose which servers are physical or virtual for security reasons, but it assigns shared and dynamic IP addresses to users for improved privacy.
Hotspot Shield also offers a free version that allows users to connect to 4 server locations: the US, UK, Singapore, and Auto (a random US location). However, the app doesn't clearly indicate which servers are free or premium. As a result, users may only discover that they need to upgrade their plan to access more locations when they attempt to connect to certain servers. 
UI/UX Design & Ease of Use
While Hotspot Shield doesn't offer much in terms of advanced settings or customization, its apps are simple, intuitive, and easy to use. Our Score: 8/10
Since the service has a uniform design across devices, its apps look pretty much the same on all platforms. However, for this review, we have focused on the Windows app. 
When you launch Hotspot Shield, it automatically connects you to the nearest server. This is usually the closest server to your location. Once you connect to the server, you can see the VPN's home screen, which lets you access different features and settings.
The app has six tabs, including the home screen, which you can access through the hamburger icon on the top left-hand side. Here's a breakdown of each tab and what you can do with them:
Home Screen: Hotspot Shield VPN has a simple and user-friendly home screen. You can see a 'connect' icon in the center and the server list in the bottom-left corner. Apart from that, you can monitor how much data you're using through another button on the bottom right. When you connect to a server, it shows the new IP address and how busy the server is. Here, you can either connect to a server automatically with one click or pick a location manually from the list.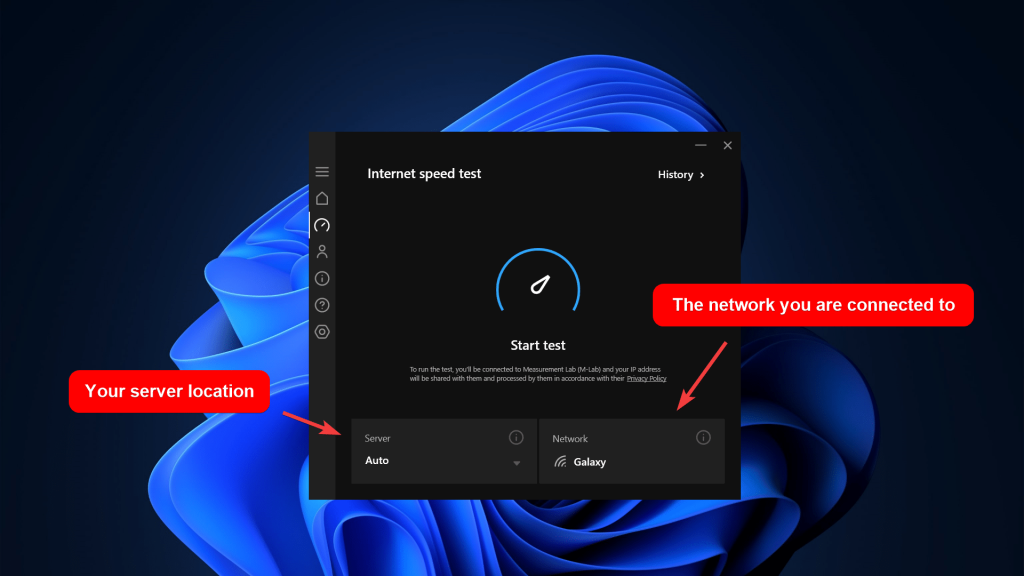 Internet Speed Test: As the name suggests, here you can test the Internet speed of your network when the VPN is turned on. It also shows you the server and network you're connected to and displays some useful information, such as its ping value and download speed. The app also saves your speed test results for future reference.
Account: This tab has all your subscription information, including the expiration date and the number of linked devices to your account. You'll also find a direct link to your online dashboard here, which you can use to manage your subscription.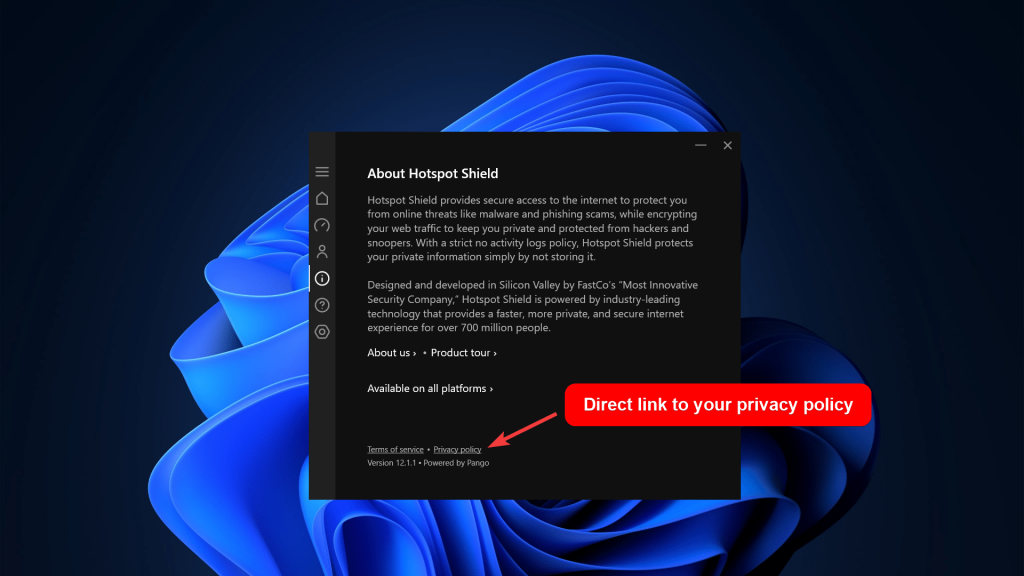 About Us: This tab features a brief introduction to Hotspot Shield and quick links to their Terms of Service, Privacy Policy, and About Us pages. There's also a product tour option to explore the service's features.
Support: This tab offers direct links to three options: FAQ, Live Chat (for premium users only), and Send Message. The FAQ section has questions related to setup and other common issues. Live Chat redirects you to their support page, while Send Message takes you to their website to raise a request for help.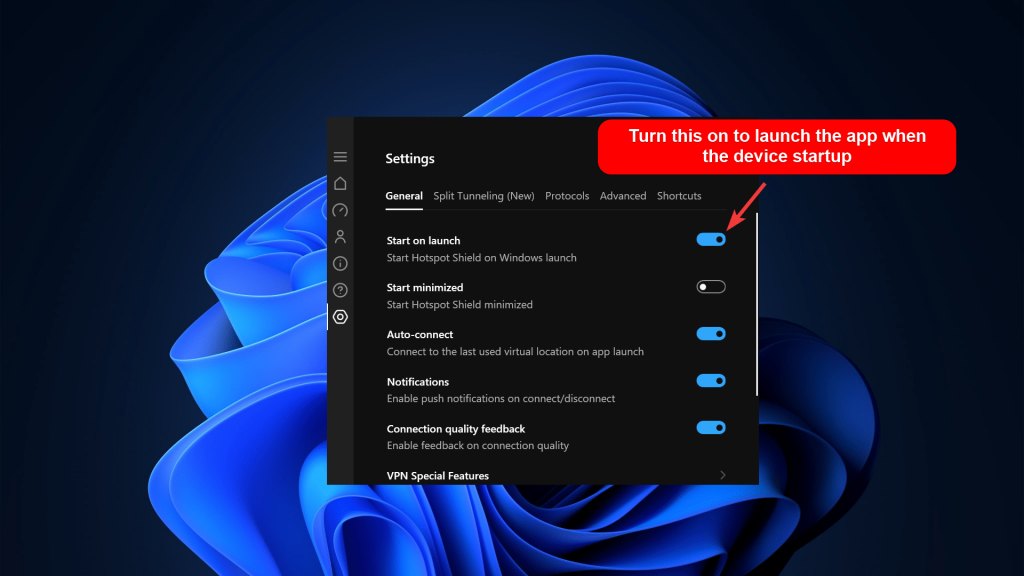 Settings: This tab allows you to configure settings such as starting the VPN on launch, auto-connect, preventing IP leaks, and enabling the VPN's kill switch functionality. Here, you can also use the split tunneling feature to select which apps and sites you want to run on the VPN network. If you want to manually select protocols, you can do that from this tab as well.
The native apps of Hotspot Shield provide an excellent user experience, but there's a lack of advanced settings, especially in non-Windows versions of the app. For example, macOS users only have two options; first, to turn on push notifications, and second, to enable the automatic connection.
In our opinion, Hotspot Shield has a well-designed app that caters to casual users who prefer a simplified experience. The app's streamlined approach may not appeal to tech enthusiasts who seek more extensive customization options.
Media Streaming, Torrenting, and Gaming Support
Hotspot Shield isn't a good choice for streaming, torrenting, or gaming. It doesn't have dedicated streaming servers and often fails to access US Netflix. It also has slow download speeds and high latency for P2P and gaming. Our Score: 5/10
Do you want to watch American Netflix even if you're outside the USA? Well, a VPN is perhaps the best way to achieve that. However, not every VPN will answer this need. Here's how Hotspot Shield ranks.
| | |
| --- | --- |
| Netflix US  | NO |
| Hulu  | YES |
| BBC iPlayer  | YES |
| Prime Video  | YES |
| Disney+ | YES |
| HBO Max | YES |
| ESPN+ | YES |
| Torrenting (P2P) Support  | NO |
| Gaming  | YES |
If you ask us, Hotspot Shield wouldn't be our first choice for streaming, torrenting, or even gaming. For starters, it can't unblock US Netflix, which is one of its major drawbacks. It used to work before, but not anymore. Its free version is also useless when it comes to bypassing Netflix US restrictions. However, it does just fine with the other streaming services. You can count on it to access Disney+, Amazon Prime Video, Hulu, ESPN+, and HBO Max without any problem.
Torrenting is a disappointment with Hotspot Shield. On its website, it claims to support P2P, but our tests showed an entirely different picture with slow speeds and bandwidth limits. Moreover, it has a shady logging policy that may expose your personal data to third parties. 
When it comes to gaming, though, the service has some features to bypass firewalls and access geo-blocked games. But at the same time, it also has high ping times that can ruin your gameplay. On top of that, it doesn't come with any gaming-specific options that could somehow tackle those drawbacks.
So, if you want a VPN that can unblock Netflix or torrent safely and fast, you should look elsewhere. The same thing goes for gamers, too.
Security & Privacy
Hotspot Shield uses AES-256 encryption, a secure proprietary protocol, and a reliable kill switch to protect your data. It also prevents IP and DNS leaks. However, its privacy policy isn't reassuring. Our Score: 6/10
Your online safety is the most important factor when choosing a VPN. That's why we're going to examine Hotspot Shield's encryption, logging, and DNS leaks to see how well it protects you.
Hotspot Shield Protocols
Hotspot Shield uses 4 encryption protocols to secure your Internet traffic: OpenVPN, IPsec, WireGuard, and Hydra. Here's a brief overview of each protocol:
| | | | | |
| --- | --- | --- | --- | --- |
| | OpenVPN (SSL/TSL) | IPSec | Hydra | WireGuard |
| Windows | YES | YES  | YES | YES |
| macOS | NO | YES | YES | YES |
| iOS | NO | YES | YES | YES |
| Android | YES | YES | YES | YES |
OpenVPN: This is an open-source protocol that uses SSL/TLS encryption to create a secure tunnel between your device and the VPN server. It works on various platforms, such as Windows, Mac, Linux, Android, and routers. While this protocol is reliable, it may be slower than other protocols and requires manual setup on some devices.
IPSec: This protocol encrypts data using the Internet Protocol Security (IPSec) framework, hence the name. It's available on several platforms, including Windows, Linux, Android, macOS, and iOS. IPSec is faster than OpenVPN and can easily bypass firewalls. However, it's less secure than OpenVPN and vulnerable to some attacks.
Hydra: This is a proprietary protocol developed by Hotspot Shield. It claims to be the fastest and most secure protocol in the world, using a combination of encryption techniques to enhance speed and security. Hydra works on Windows, Mac, Android, iOS, and Chrome.
WireGuard: This is a new protocol that offers fast and secure connections. It uses state-of-the-art cryptography and a simple design to protect your online privacy. Hotspot Shield has recently added WireGuard to its list of encryption protocols. Before this, it relied on its own protocol Hydra, which wasn't very consistent with its performance. You can use WireGuard on all major platforms, including Windows, Mac, iOS, and Android.
Does Hotspot Shield VPN Keep Logs?
No, Hotspot Shield VPN doesn't keep logs of any trackable data. The only data they collect is your IP address, which is encrypted and deleted after each session. However, some independent organizations have accused Hotspot Shield of storing and sharing user data with authorities.
Moreover, there are suspicious clauses buried deep in Hotspot Shield's policies related to advertisers. According to the clause, advertisers may be able to collect certain information independently, including your device's advertising ID, IMEI, MAC address, and wireless carrier.
Even though Hotspot Shield claims not to collect user data, the numerous loopholes and problematic reports from the past make it difficult to recommend the service for users seeking high-level anonymity online.
Does Hotspot Shield VPN Leak/Expose Your Private Data? 
No, Hotspot Shield VPN doesn't leak your private data. For this section, we conducted a few tests for data leaks, and we're happy to inform you that we found no IP, DNS, or WebRTC leaks on its premium and free desktop and mobile applications. As a result, our real IP address and location remained hidden.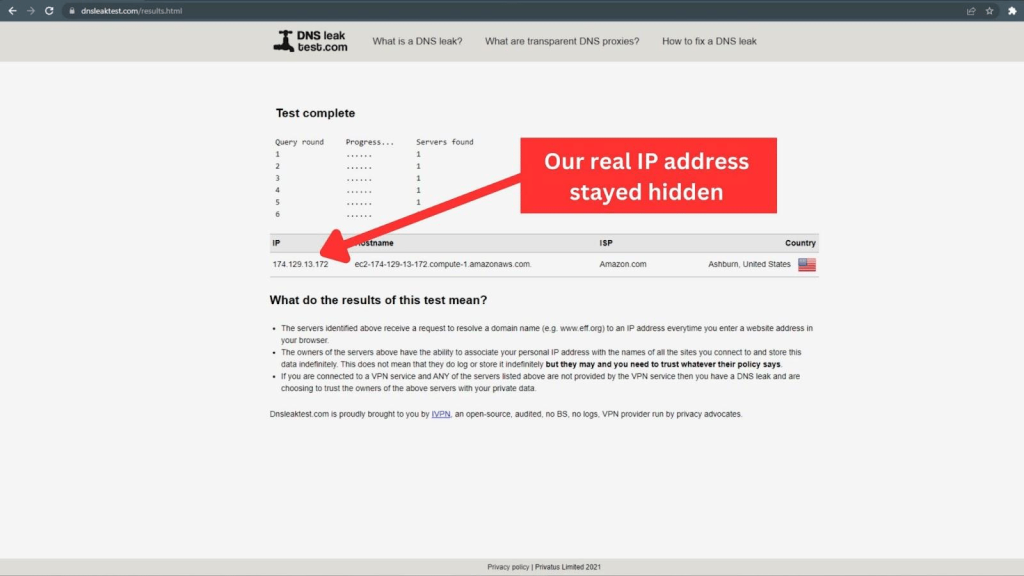 It's important to note that this VPN doesn't support IPv6 traffic. Therefore, if your ISP supplies you with an IPv6 address, your personal data may leak. However, disabling IPv6 on the device you're using can prevent this from happening.
Although there were no leaks found in the desktop and mobile apps, both the Chrome extension and Firefox add-on were a different story. The Chrome extension leaked DNS requests, while the Firefox add-on leaked WebRTC requests - even with the leak-blocking feature enabled.
Speed & Performance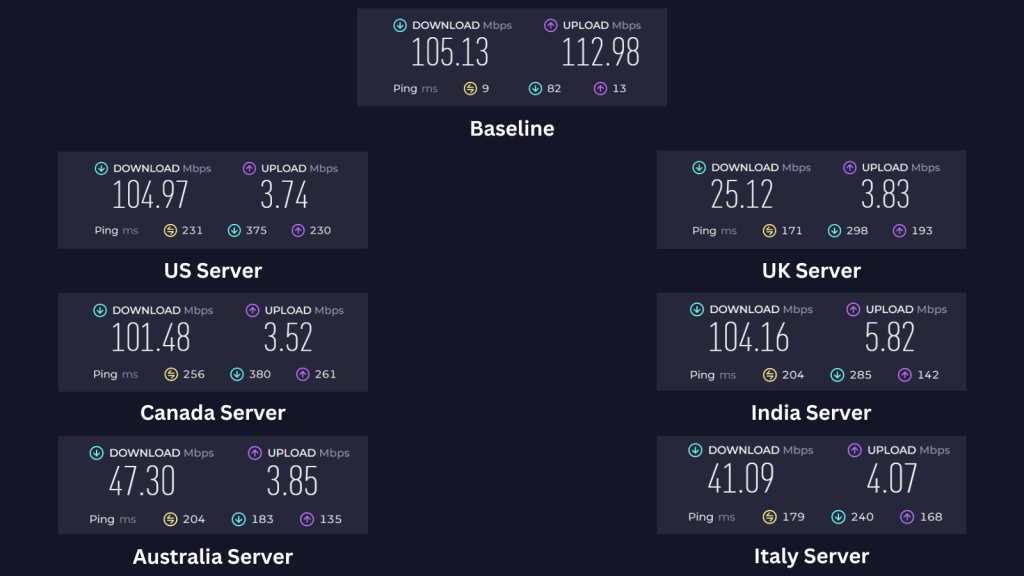 Hotspot Shield offers fast and reliable speeds on most of its servers, ensuring a seamless browsing experience. During our tests, it only reduced our speed by an average of 33%. Our Score: 8/10
A good VPN shouldn't slow down your connection too much, and we're happy that Hotspot Shield meets this expectation.
First, we need to measure our Internet speed without the service being turned on. We did that and got 105.13 Mbps for downloads and 112.98 Mbps for uploads. One drawback of using a VPN is that it can reduce your Internet speed due to encryption. Let's see how much Hotspot Shield affects this aspect.
Italy Server: With a 61% speed reduction, this was one of the slowest-performing servers. Our download speed dropped to 41.09 Mbps, while our upload speed plummeted to 4.07 Mbps. This wasn't what we expected from a European server, and we don't recommend using it for any bandwidth-extensive activity.
UK Server: The worst performer of all was the server in the UK, with a 76% speed reduction. We only got 25.12 Mbps for downloads and 3.83 Mbps for uploads, which are unacceptable for any online activity. This is one of the worst speeds we've seen from a VPN server, and we advise you to avoid this server as much as possible.
US Server: This was the best-performing server, with almost no speed reduction. We got 104.97 Mbps for downloads and 3.74 Mbps for uploads, which is only 0.15% slower than our baseline. It's perfect for any online activity, especially streaming.
Canada Server: With only a 3% speed reduction, the Canadian server was also very fast and reliable. We got 101.48 Mbps for downloads and 3.52 Mbps for uploads, which are pretty impressive. It's also suitable for any online activity.
India Server: The performance of the Indian server was also close to our baseline speed, with only a 0.9% speed reduction. We got 104.16 Mbps for downloads and 5.82 Mbps for uploads, which are great considering the distance. 
Australia Server: This one was a little disappointing, with a 55% speed reduction. We got 47.30 Mbps for downloads and 3.85 Mbps for uploads, which aren't very good for streaming. This server might cause some buffering or lagging issues and is only good for casual browsing.
| | | | |
| --- | --- | --- | --- |
| | Download Speed | Upload Speed | Speed Reduction |
| Baseline Data | 105.13 Mbps | 112.98 Mbps | 0% |
| Italy | 41.09 Mbps | 4.07 Mbps | 61% |
| UK | 25.12 Mbps | 3.83 Mbps | 76% |
| US | 104.97 Mbps | 3.74 Mbps | 0.15% |
| Canada | 101.48 Mbps | 3.52 Mbps | 3% |
| India | 104.16 Mbps | 5.82 Mbps | 0.9% |
| Australia | 47.30 Mbps | 3.85 Mbps | 55% |
Hotspot Shield has an average speed loss of 33%, which is a bit higher compared to other top-rated VPNs. While this speed loss may not be ideal for users who prioritize fast Internet speeds, it could be acceptable for those who value other features.
Customer Support
Hotspot Shield provides round-the-clock live chat support for its paying customers. However, free users will have to rely on online tutorials and FAQs for assistance. Our Score: 7/10
Hotspot Shield offers various ways to get help when facing technical difficulties. Here's an overview of what you can expect:
Live Chat: If you need quick answers, Hotspot Shield has live chat support on its website 24/7. But you can't use this feature unless you sign up for an account. This makes it hard to ask simple questions before buying a subscription.
Frequently Asked Questions: You can find answers to basic questions in Hotspot Shield's FAQ section, which in our experience, is pretty easy to navigate. This section covers various categories, including general support, payments, and subscriptions. And yes, you can access the FAQ section in the app, but it will redirect you to the website to navigate through it.
Email Support: If you need help, you're also allowed to submit an official support ticket. The VPN team typically responds within 48 hours. This option may not be as quick as the live chat feature, but it's still useful to resolve a technical issue. 
It's disappointing to note that Hotspot Shield's customer support services aren't inclusive enough, and we expect better from this service. Most components provided by this VPN are limited to paying users. This means that non-paying customers and potential buyers aren't able to benefit from it.
Pricing
Considering everything said so far, Hotspot Shield could benefit from further lowering its prices. This could make it more appealing to potential users. Our Score: 8.5/10
Hotspot Shield VPN offers three different pricing plans to suit your needs and budget: Premium Monthly, Premium Yearly, and Family Premium. No matter which of those you pick, you'll get the same feature set with a slight difference in the number of simultaneous connections.
Let's take a closer look at the different subscription plans to help you decide which one is best for you.
1-Month Plan: For $12.99 per month, you'll gain access to over 3,000+ servers in 80+ countries, with unlimited data and bandwidth. You can connect up to 10 devices simultaneously and have an ad-free experience. This plan also includes a 45-day money-back guarantee and 24/7 live chat support. The Premium Monthly plan is a great choice for frequent travelers or those who want to try the service before fully committing to it.
1-Year Plan: For $95.88 per year (equivalent to $7.99 per month), the yearly plan gives you the same benefits as the monthly plan but at a lower price. By paying for a year in advance, you can save 38% compared to the monthly plan. The Premium Yearly plan is perfect for users who want to commit to a long-term subscription and save money.
3-Year Plan: If you want to protect multiple devices, Hotspot Shield VPN offers the Family Premium plan for $107.64 every three years (equivalent to $2.99 per month). This plan gives you the same benefits as the Premium Yearly plan but allows you to connect up to 25 devices simultaneously, with each device having its own login credentials. The Family Premium plan also includes a password manager and an identity theft protection service.
Hotspot Shield's longer plans offer better value for money. The VPN has a risk-free 45-day guarantee and a seven-day free trial. However, there are limited payment options. The free trial is a good alternative to the free VPN service but requires payment details and must be canceled before the seven days are up.
Is Hotspot Shield Free?
Yes, Hotspot Shield Basic is free, but it has some drawbacks compared to its paid plan. You can only use 750 MB of data per day and access a few US servers. You'll also see ads and can't use it on more than one device at a time.
The free version is suitable for occasional use or if you want to test out the service before committing to a paid plan. If you need more features and want to use the VPN on multiple devices with faster speeds, you should consider upgrading to the premium VPN plan.
Final Thoughts - Is Hotspot Shield a Good VPN?
Yes, Hotspot Shield is a good VPN that has both positive and negative aspects to consider. On one hand, it boasts impressive speeds, an extensive server network, and an easy-to-use interface. However, upon closer examination, there are some concerns surrounding the company's background and logging policy, which may be problematic for individuals who are focused on privacy.
As a result, if privacy is a top priority, there are likely better VPN options available. Nevertheless, if you prioritize speed and the ability to unblock specific local websites, Hotspot Shield may still be a suitable option. While it may not be the absolute best VPN choice, it's still worth considering.
If you're curious about Hotspot Shield, go ahead and check it out for yourself.
PROS
User-friendly installation.
Well-designed and intuitive user interface.
Large network of VPN servers.
Impressive speeds over short distances.
No leaks.
User-friendly app for various devices.
CONS
Based in the USA.
P2P traffic is throttled.
No kill switch on macOS.
Previously had privacy-related accusations.
Limited unblocking of streaming websites.
Free version shares user data.
FAQ
What Is Hotspot Shield?
Hotspot Shield is a virtual private network service that allows users to access blocked websites, protect their online privacy and encrypt their Internet traffic. This VPN service offers both free and paid plans and is available on all major platforms.
Does Hotspot Shield Work on Mobile?
Yes, Hotspot Shield VPN works on mobile. It works on both Android and iOS devices, and you can download it from the Google Play Store or the Apple App Store. 
Is Hotspot Shield Extension Safe?
No, the Hotspot Shield extension isn't safe. It's a free VPN proxy extension that provides a fast connection and access to restricted websites. However, in our tests, the extensions seem to be suffering from heavy DNS data leaks.
What Is Hotspot Shield Data Limit Reached?
"Hotspot Shield data limit reached" means that the user has used more than 750MB of data in one day and has to wait until the next day to use the free version again. When you reach the limit, you will be redirected to a webpage that says: "Your Bandwidth limit has been reached. All access to subsequent web pages will be blocked until you either upgrade to an Elite subscription or wait for the block to be reset."
Does Hotspot Shield Work on Mac?
Yes, Hotspot Shield does work on Mac. To use Hotspot Shield VPN on your Mac, first, download the VPN. Then, select the server that you'd like to connect to and click the "Connect" button from the home screen. This will connect you to the VPN server. Now you can access your favorite content with peace of mind.
Does Hotspot Shield Work on Android?
Yes, Hotspot Shield works on Android. To use Hotspot Shield VPN on Android, download the app from the Google Play Store, sign in, and tap "Connect." Now you can enjoy access to your favorite content with enhanced privacy and security.
Is Hotspot Shield Good for Torrenting?
No, Hotspot Shield isn't a good VPN for torrenting. Despite claiming P2P support on its website, our tests revealed slow speeds, bandwidth limits, and a questionable logging policy that could compromise your privacy.