Those of you searching for a VPN have probably encountered a group of providers offering their services free of charge. Among those, Hotspot Shield VPN is perhaps the most notable brand that offers both paid and free services. However, how good is Hotspot Shield really? Is it worth investing in this VPN, in the long term? Can Hotspot Shield unblock popular media streaming websites such as Netflix? Well, let's find out.
As you can guess, we'll be talking about the premium version of Hotspot Shield in this review (and by the way, you should know that the free version is severely limited). And just like we usually do in our every review, we'll begin with a series of basic information, allowing you to get to know this service. Take a look at the following table to learn more.
If you want to use Hotspot Shield to unblock media streaming services, you want to know which services this VPN supports. This is where our following table comes into play, so take a look.
And lastly, we want to share with you our findings. If you don't have the time to read this entire article, we're sure that you'll find the following information helpful. Therefore, we have one more table for you before presenting our full review of Hotspot Shield VPN.
With the introduction behind us, let's continue by taking a deep look at everything that Hotspot Shield offers. Keep on reading to learn everything you need to know about this VPN.
Hotspot Shield VPN – TechNadu's Hands-On Review
Having reviewed dozens of VPNs so far, we've developed a systematic approach to how we test VPNs. For more information, click on the provided link. With this said, we'll begin by checking the background information on Hotspot Shield.
Background, Jurisdiction & Reputation
The situation surrounding Hotspot Shield is a highly problematic one. Based in the US, this company was often accused of collecting data and having connections to the US authorities. However, Hotspot Shield refuses such accusations. Our Score: 2/10.
We've found information regarding the jurisdiction of Hotspot Shield, and we've also done a background check of this VPN service. What follows are our findings.
Jurisdiction & Applicable Laws
Finding background information on Hotspot Shield has been tougher than we thought. In many cases, VPNs proudly state their country of origin and what that information means for their users. When it comes to this VPN, the situation was somewhat complicated.
Hotspot Shield is owned by a company named AchorFree, based in Redwood City, California. It has been founded in 2005 by David Gorodyansky and Eugene Malobrodsky. As per the company's statements, this VPN has been downloaded more than 650 million times, and it was often featured as one of the top-grossing apps on Apple's and Google's app stores. And let's also not forget to say that AnchorFree is one of the most active companies in terms of fund-raising, having raised $358 million so far. All of these are astonishing numbers, but let's not forget the fact that Hotspot Shield still comes from the United States.
The USA is a member of the 5 Eyes Alliance, created to gather intelligence data and share it between a group of highly developed countries. This means that Hotspot Shield might be in a problematic position right from the start. However, this doesn't necessarily mean that it collects data. In fact, this VPN states that it doesn't collect any personal data, which we'll talk about in the next segment of this review.
Previous Data Leaks
So far, we've seen that Hotspot Shield comes from the USA. This isn't ideal, but it's far from being overly problematic. What's problematic is that the parent company of this VPN has been often associated with 'morally ambiguous' actions.
Some time ago, a press release issued by the CDT (Center for Democracy & Technology) revealed formal complaints against Hotspot Shield. In 2017, a report surfaced pointing problematic connections of Hotspot Shield's managers to US authorities. And in 2018, it was discovered that Hotspot Shield had a bug that was ignored for two whole months, putting hundreds of millions of its users at risk.
As you can expect, everything said above has been addressed by Hotspot Shield's CEO who said that all those claims were unfounded. The company also issued their Transparency Report, saying that they've had numerous requests for user data over the years – but they never had a single file that could be handed over because they 'don't collect information that allows them to trace Internet usage'.
Update (May 2, 2019): We must also mention that AnchorFree, the company behind Hotspot Shield, was recently named the most innovative company by FastCompany. This annually published article ranks the world's fifty most innovative companies, and AnchorFree was named #1 in the security domain for 'helping users dodge online censorship and surveillance'.
Supported Platforms & Devices
This VPN brings limited support. What's surprising is that you can't install it on routers, which has become one of the standard features of today's VPNs. Our Score: 4/10.
When choosing a VPN, you want to make sure that you can use it on all your devices. So, let's check out this aspect of Hotspot Shield VPN.
Despite being one of the oldest VPNs on the market, Hotspot Shield supports a handful of platforms. When it comes to computers, you can use this VPN on Windows and MacOS. Mobile users can rely on native Android and iOS apps. And also, there's a Chrome extension that you can install. And this is where the list of supported devices ends.
Due to the fact that it's powered by its proprietary VPN protocol, Hotspot Shield isn't available on other devices. This includes Amazon FireOS media streamers, Linux, routers, Windows Phone, or any other platform. This also means that you can't even manually install or configure Hotspot Shield on those devices.
We have to say that after having reviewed dozens of VPN services, we believe that Hotspot Shield brings the most limited platform support yet – despite the fact that you can use it on 5 devices at the same time.
Installation & Initial Configuration
Luckily, Hotspot Shield provides a straightforward way to install the application. The entire procedure is quick and without any distractions. Our Score: 10/10.
To use Hotspot Shield, you first need to sign up for an account. Even though you can test-drive it for up to 7 days, having a premium subscription is the only way to unlock all of its features. Then, download the application from its official website.
The installation process is quite simple. On a Windows machine, double-click to open the Installation Wizard. You'll need to go through a few steps before the application is ready for use. However, it should not take more than one minute until this process is fully done. After that, you'll be greeted by the VPN's Welcome Screen allowing you to test-drive the app or sign-in using your new credentials.
All in all, the entire procedure is quite simple and should not take more than a minute of your time. There's no adware here or any other kind of usual annoyances.
Prominent Features
Hotspot Shield comes with the standard set of features. However, it also lacks some more advanced options like IPv6 leak protection and split tunneling. Our Score: 6/10.
Considering that Hotspot Shield has been on the market for a while now, we expect to see a full feature set. So, here's what to expect from this VPN.
As you can see from the table above, Hotspot Shield offers DNS leak protection. However, it doesn't fully support IPv6 yet. Instead, it disables this protocol once you make a secure connection. It's also worth noting that there's a kill-switch included as well, which prevents data leaks at times when a secure connection becomes unstable.
When it comes to ad-blocking and protecting you against malware, this VPN can offer some protection. It relies on a database of potentially malicious websites and warns you in case you try to access any of those. This means that it doesn't actively block ads or malware, but it can still help you in certain situations.
Lastly, let's not forget that Hotspot Shield doesn't offer some advanced features, like split tunneling for example. This is something that we often see these days, so it's surprising that this VPN is still behind some of its competitors.
Server Count
Even though this VPN offers thousands of servers, you can't connect to specific locations, cities, or individual servers (outside of the USA). Our Score: 7/10.
Ideally, you want a VPN service that gets you access to plenty of servers, especially if you have specific needs like torrenting and media streaming. In the best case, you want a nearby server that gives the best possible performance, and you also need remote servers for website unblocking.
According to the official website of Hotspot Shield, this VPN has more than 2,500 servers. We have to say that we're impressed by that number, even though some top-rated alternatives offer from 3,000 up to 5,000+ servers. In addition, Hotspot Shield's server network stretches across 73 countries, with popular regions included.
What's problematic here is that we can't verify if this VPN truly has as many servers as it claims. In addition, you're not able to connect to specific regions, cities, or individual servers (you can connect to individual cities in the USA alone, though). Instead, you can only select a country and Hotspot Shield will decide to which server you can connect. In other words, transparency isn't something that this VPN offers.
Ease of Use
Hotspot Shield is oriented towards average users who want everything to be automated. You can't really dive into different options and fine-tune this VPN. Our Score: 7/10.
After installing and launching Hotspot Shield, you'll be immediately connected to an 'optimal' server, which is the server that's closest to your physical location. Once you're connected, you'll get to see this VPN's home screen from where you can navigate to different options and use them.
As you can see from the screenshots, the UI is very simple. The Home Screen shows information related to the session in progress, giving you a glimpse into the duration of your connection and how much data you've transferred. You can also check out your virtual IP address, and there's a map which lets you connect to different countries.
As noted earlier, you can't connect to specific servers. Instead, you can only select a country. To do this, click on the map on the right side of the Home Screen and pick a country from the list. Hotspot Shield will take a few seconds to connect you, and you're ready to go.
To dive deeper into what this VPN service offers, you can use the hamburger icon in the top-left corner (three horizontal lines). Let's see what each of these options can do:
Account: This tab lets you check the information related to your subscription. You can see what kind of subscription you're using, and when it's due to expire. There's an option that lets you sign out as well.
Settings: Surprisingly, not many options are found here. You can decide whether you want Hotspot Shield to lunch on startup, prevent IP leaks, and you can enable/disable the VPN's kill-switch functionality. Lastly, you can decide to automatically use this VPN on safe and unsafe Wi-Fi connections.
Facebook: In case you become obsessed with Hotspot Shield, you can share your love via Facebook. In our opinion, this is something that a premium-priced tool shouldn't offer so aggressively.
Help: This tab is Web-based, which means that you'll often see trending troubleshooting points. You can check information regarding payments, website unblocking, installing the VPN on different devices, and similar.
Quit: The name says it all. This is where you can quit the application when you no longer need the protection that it offers.
All in all, we think that Hotspot Shield brings a nicely designed UI. It's clear that it's oriented toward casual users who don't want to dive deep into different options. Instead, everything is pretty much automated, which is great for average users. Tech enthusiasts looking for plenty of options need to look elsewhere.
Media Streaming & Torrenting Support
Sadly, Hotspot Shield should not be your pick as it can't unblock any of the world's most popular streaming devices. Also, it seems to throttle P2P traffic. Our Score: 1/10.
Do you want to watch American Netflix even if you're outside the USA? Well, a VPN is perhaps the best way to achieve that. However, not every VPN will answer this need. Here's how Hotspot Shield ranks.
We've tried this VPN with the world's most popular media streaming services. However, Hotspot Shield wasn't able to unblock any of them. There are reports that Netflix and Hulu were once supported, but this is no longer the case.
When it comes to torrenting, the situation is somewhat better. This VPN fully supports P2P file transfer, and their sale representatives will tell you that they impose no limitations on torrenting. We're tried downloading torrenting using this VPN, and we have to say that we were throttled. We're not sure if Hotspot Shield throttled our Web connection on purpose, or if we just had bad luck when connecting to an apparently slow server. Either way, we can't recommend it even for torrenting.
Security & Privacy
Hotspot Shield does a good job of preventing any active leaks. However, this VPN's privacy policy leaves much to be desired. Our Score: 4/10.
Even the most attractive features don't mean much if your chosen VPN can't keep you safe online. With this said, we're going to inspect Hotspot Shield by checking its encryption, logging, and DNS leaks.
Supported Encryption Protocols
When it comes to encryption, this VPN is offering AES-256 which is considered to be the industry standard. However, this level of encryption isn't accompanied by 'traditional' protocols such as OpenVPN, L2TP, IPSec, and others. Instead, Hotspot Shield uses a protocol called Catapult Hydra.
According to the official website of this VPN, Catapult Hydra has numerous advantages over OpenVPN and other VPN protocols. It maximizes performance while making sure that your private data never leaves the secured tunnel. Of course, we're going to test how fast is this VPN, so keep on reading to learn more.
Logging Policy
What's important to be said is that Hotspot Shield claims not to collect any of your data. Their privacy policy says that they only collect data related to your IP address, which is collected as soon as you launch the application. However, that data is encrypted while the session is active and deleted immediately afterward. As you can see, this sounds very reassuring.
However, let's not forget numerous accusations from the past. Reputable independent organizations were accusing Hotspot Shield of storing your data and exchanging with authorities. There's also a problematic buried deep into Hotspot Shield's documents related to advertisers. It's said that 'advertisers may be able to collect certain information independently from you, including your device's advertising ID, IMEI, MAC address, and wireless carrier'.
With all of this said, we can't say that this VPN is the right choice if you 100% care about online anonymity. Even though it says that it doesn't collect data, there are numerous loopholes and problematic reports from the past that make us question this VPN's intentions.
DNS Leak Test
Lastly, we'll do a DNS leak test to see if Hotspot Shield can successfully protect your identity online. This test will show us what third-parties can see as you browse the Web hiding behind this VPN.
You can check the results from the screenshot above. As you can see, our true information remains hidden. This means that third-parties see only way Hotspot Shield allows them to see – and that is our virtual IP address. In other words, there aren't any active leaks.
Speed & Performance
Hotspot Shield leaves much to be desired in terms of performance. This VPN slowed us down by around 44% on average. Our Score: 5/10.
You don't want a VPN that throttles your Web connection. Instead, you need a solution that lets you use the Web like you normally would, without affecting your Web browsing, media streaming, or P2P file downloads. Let's see how well this VPN performs.
First, we need some baseline data. This is why we've done a speed test of your Web connection, without Hotspot Shield involved. We got 149.14 Mbps for downloads and 9.74 Mbps for uploads. Now, we're going to launch this VPN and see by how much it throttles the speed of our Web connection.
We've allowed this VPN to select an 'optimal' server, which is located in one of our neighboring countries. In turn, this should provide speedy performance. However, once the speed test was done, we were quite surprised by the results. We got only 35.30 Mbps for downloads and 8.19 Mbps for uploads.
Finally, we've also checked the performance of a remote server – located in the USA. This time, the results were much better. We got 132.41 Mbps for downloads and 5.32 Mbps for uploads. To put everything into perspective, let's put all these numbers into a table.
We can say that this VPN slowed us by around 44% on average, which is quite disappointing. This isn't completely terrible, but it's far from what top-rated VPNs are offering.
Customer Support
Hotspot Shield offers different ways to get help but none of its support channels truly excel. Even its live-chat can be vague and less than helpful. Our Score: 4/10.
To help you with technical difficulties, this VPN is offering several ways to get help. So, here's a quick overview of what to expect.
Live-Chat Support: Luckily, Hotspot Shield offers live-chat on its website. We've talked to the company's representatives a few times and we always managed to find a support agent quickly. This should be helpful if you're experiencing simple technical problems. However, this kind of help isn't always useful. When we asked about certain features of this VPN, we received very vague responses to hide the fact that Hotspot Shield doesn't offer the features in question (router support and IPv6 leak protection).
Frequently Asked Questions: There's a series of FAQs that might be of help if you're facing a common issue. Several categories are found here, including general support, payments and subscriptions, and more.
Support Tickets: Lastly, you can also open an official support ticket. You can expect from this VPN's team to reply within 48 hours.
Pricing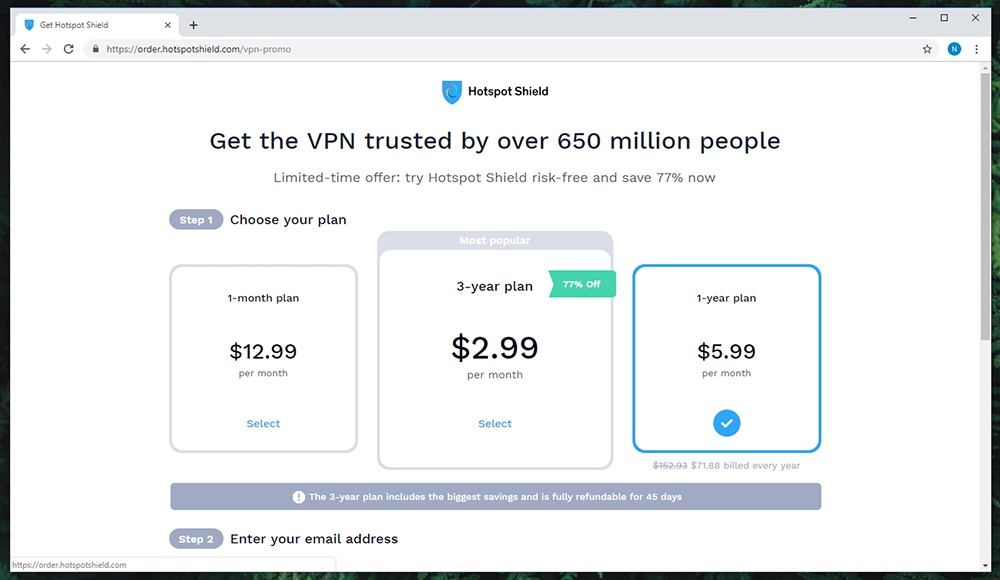 Considering everything said so far, Hotspot Shield could benefit from having its prices lowered, which would make it more appealing to potential users. Our Score: 6/10.
This VPN offers several different pricing plans, where the only difference is in their price and their duration. Differently said, no matter which of those you pick, you'll always get the same feature set. Here's how much you need to pay to become a subscriber.
It's clear that the monthly plan is the most expensive option here. However, the situation changes from there. For example, buying a 12-month subscription lowers the price to $5.99 per month – which is on par with top-rated VPNs. Of course, you can also get a 3-year subscription for only $2.99 per month, making this VPN one of the most affordable options right now. You can pay via either your credit card or PayPal account. Sadly, there are no anonymous payment options here.
One last thing, Hotspot Shield offers a 45-day money-back guarantee. That's plenty of time to test-drive this VPN and see if you'd like to remain a subscriber – and we have to say that this aspect of the VPN sounds more than generous.
Do We Recommend Hotspot Shield VPN?
In the beginning, Hotspot Shield showed a lot of promise. However, we as dove deeper into its features, we discovered a series of drawbacks. Most importantly, there's the question of your privacy and if Hotspot Shield can preserve it, in the first place. Therefore, we can't recommend it those who want to be 100% safe and protected online.
PROS: Easy installation; Nicely designed UI; Plenty of servers.
CONS: Based in the USA; Privacy-related accusations from the past; Can't unblock media streaming websites; Throttles P2P traffic; Mediocre performance.
OUR SCORE: 5.1 out of 10!
Even though this VPN isn't on par with top-rated alternatives, it can be useful if you want to unblock certain local websites. If you're not overly paranoid about data collection and mass surveillance, this might be an interesting option. To learn more, you can check out Hotspot Shield for yourself.
In the end, we'd like to ask you to share this article online (if you found it to be helpful, of course). And don't forget that you can follow us on Facebook and Twitter. Thanks!