VPNs have come a long way during the last couple of years. This type of software was once reserved for tech enthusiasts and IT experts. However, VPNs have become optimized for an average computer user, which means that everyone can use it these days. In fact, VPNs have become a necessity due to numerous online privacy concerns. So, let's take a look at who uses VPNs and if you should integrate this technology into your daily workflow.
We'll start this article by explaining a bit about VPNs, to give you a chance to learn the basics. Then, we'll go over the most common types of VPN users. So, let's dive right in.
First Things First – What Are VPNs?
In simple terms, VPNs protect your privacy while browsing the Web. Even though they bring a very simple interface, they are backed by serious technology. Here's an overview of how these applications work:
VPNs are powered by a network of servers. These networks can range from 30+ up to 4,000+ servers spread across the entire world. Therefore, VPNs serve as a gateway to those servers. When you connect to one, all your Web traffic flows through that secure server, adding a protective layer.
VPNs also encrypt your connection. There are different types of VPN protocols and encryption protocols in place but their primary role is the same – by encrypting your data, VPNs hide your data. This means that your ISP (Internet Service Provider) can't see what you're doing online.
And finally, there are added benefits as well. Since you get a new IP address, you can unblock previously blocked websites and Web services. For example, you can stream videos from services not available in your country.
A lot more could be said about VPNs. So, we recommend you to read our article on how VPNs work to learn all you need to know.
Who Uses VPNs - Should You Subscribe to a VPN?
As said earlier, VPNs are no longer designed only for IT experts. As you are about to see, there's a wide range of possible VPN users. So, keep on reading to learn who uses VPNs.
1. Students & Remote Workers
Every time you connect to an open Wi-Fi network, you open your device to a whole series of dangers. Since they are open (they don't require a password), these networks usually host plenty of different users and log their data. Hackers can easily join those networks as well, extract all that data, and access locally connected networks. This is why you need to use open Wi-Fi networks with caution.
Any Wi-Fi connection that is open to a large group of users is prone to malware and other online dangers. Therefore, it's highly recommended that you protect yourself using a VPN when accessing the Web from any public place.
2. Fans of Torrents (And Downloaders)
Needless to say, many ISPs actively block their users from downloading torrents. Even though torrenting is completely legal (unless you download copyrighted material), it is still on the list of forbidden online activities worldwide.
The good news is that VPNs are incredibly helpful when it comes to P2P traffic. First of all, they change your IP address so that it appears as if you're in a different physical location. Then, they stop all data leaks so that third-parties can't see what you do or download online. Some VPNs are even capable of battling ISP throttling, possibly improving your download speeds.
You also need to know that not every VPN brings support for torrenting. Since some VPNs block this kind of activity, you need to take a close look at your options. Therefore, we recommend our overview of the best VPNs for torrenting. Also, make sure to read our article on how to download torrents safely.
3. Security Enthusiasts
As a computer user, you have probably searched for an antivirus before. That's because you want to protect your computer from getting infected by malware. However, what about your personal data? What about data leaks that happen every time you connect to the Web?
Using a VPN has most definitely become a necessity. No matter how skilled you are or how careful you are, this is what a reliable VPN can help you with:
Search the Web anonymously. Still, make sure that you're not using your Google account when searching the Web since your data will be collected that way. Instead, you can pair your VPN with one of the numerous proven anonymous Web browsers.
Protect your Web connection from unauthorized access. By coming up with a strong password and encrypting your Web connection at its source, you can make sure no one else is using your Web connection. As you probably know, this can be a big problem in apartment buildings where every open Wi-Fi is going to be used by plenty of individuals.
Encrypt all your incoming and outgoing Web traffic. To make sure all your messaging, calls and other types of data transmission is secure, you need to employ a capable VPN that can encapsulate everything you do online.
Shield your personal finance. Even though your bank already uses encrypted connections, other websites don't. This means that third-party websites can exploit your financial information if you're not careful enough.
4. World Travelers
Those of you who like to travel already know about the numerous hurdles of connecting to the Web. How many times you've connected from a public place, just to check your email? Or, have you used a hotel Wi-Fi connection that's pretty limited? The chances are that you did. Once you launch a VPN on your computer, you can connect to just about any Wi-Fi network without being afraid that someone might take advantage of you. That's why it's no wonder why world travelers are an important part of our question of who uses VPNs.
There's also another important aspect of using a VPN and that is website unblocking. As you travel to a different country, you might find that your favorite websites don't work anymore. That's because certain websites and Web services extend to a certain number of countries. If you're not in a support located, you'll see an error message in your browser. Connecting to a VPN and picking a server located in your home country will do the trick. This will change your IP address, which means that websites won't see your current location. Therefore, you'll get to use the Web just like you do at your home.
5. Business Organizations
Finally, among those using VPNs are both small and large businesses. As you already know by now, a VPN is the best way to secure your data. Therefore, you can understand how important that is when it comes to businesses, especially large organizations. Communication between remote offices needs to be done in a secure way, without anyone tracking down that data. VPNs also allows businesses to set up custom rules and limit the use of the Web to a certain number of websites or Web-connected applications.
It should be also noted that small businesses owners can also benefit from using a VPN. Aside from securing their data, small businesses use VPNs to reach international customers, test their own location services, and cut Web-related costs. To learn more, here are all the reasons why a small business VPN is an amazing idea.
Who Uses VPNs – Additional Considerations
So far, we gave you an idea about who uses VPNs. As you can see, all of us could benefit from implementing this technology in our everyday lives. However, we're sure you have more questions, and we are going to answer all of them. So, keep on reading.
What Are the Main Reasons for Using a VPN?
It might be interesting to take a look at the most recent statistics to see why people use VPNs, in the first place. To learn this, we'll turn to Statista, the most popular statistics website that gives insight into numerous interesting things. Here's the main reason why people opted for a VPN in 2017.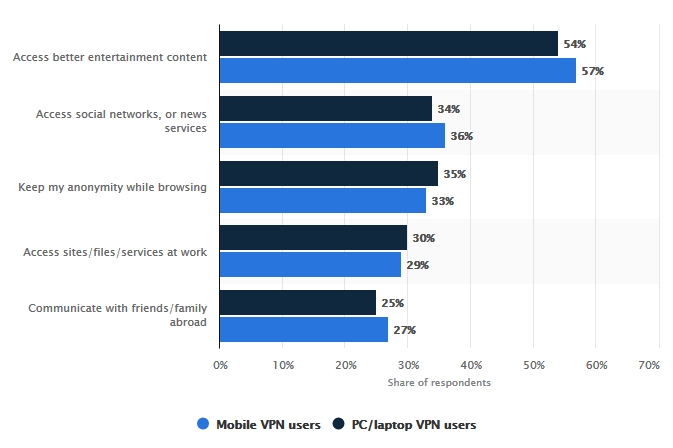 As you can see, the primary reason is website unlocking. Therefore, we'd like to highlight the fact that VPNs can easily unblock streaming services not usually available in your country. For example, you can watch Hulu outside the US, or ITV outside of the UK, MyCanal outside France, and more. We also recommend you to take a look at our overview of the best VPNs for media streaming.
Why Using a VPN is So Important?
Once again, we are going to use Statista to show you why using a VPN has become a necessity these days. Take a look at the following chart showing the number of data breaches and the number of records exposed in 2017, in the United States alone.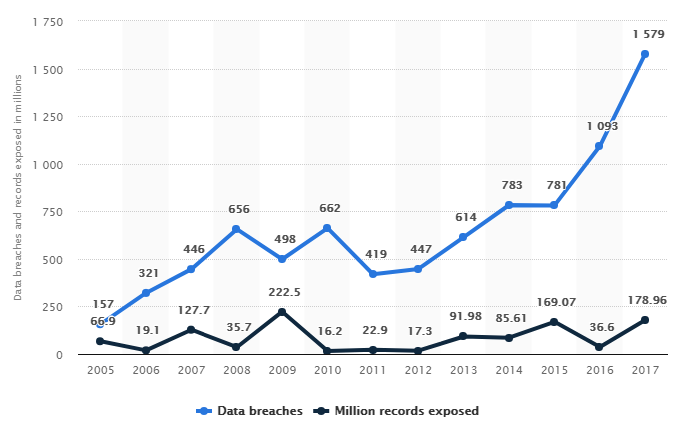 In 2017, there were more than 1.5 billion data breaches in the US alone, with close to 179 million records exposed. It's also interesting to note that these numbers are on the rise. You don't want someone else collecting your personal information and selling those files on the Dark Web, right? This is just some far-fetched theory; This is happening every single day. What's even more alarming is that we have a solution to stop it but we're not using it as much as we should – and that solution is VPN software.
Are There Any Downsides to Using a VPN?
We won't sugarcoat things and tell you that VPNs don't have any downsides. Those of you willing to use VPNs should know that a few downsides are lurking around the corner.
The most common drawback to using VPNs is throttling. Since your Web traffic will need to go through a remote server, this means that it needs to travel more. As a consequence, some throttling can happen which means you'll lose some of your Web connection speed. However, plenty can be done to battle this. You can improve the speed of your VPN by selecting the right server and optimizing your VPN.
To eliminate this drawback, take a look at our article on the fastest VPNs. Make sure to do your research and pick a VPN that promises not to throttle your Web connection.
Are VPNs Legal & Safe to Use?
Since VPNs can unlock websites and even fight against ISP throttling, you might be asking if they are legal to use? You should know that VPNs are perfectly legal. In fact, it is your right to choose how to protect your personal and private information. Still, it should be mentioned that some countries are trying to regulate the way you use VPNs. In general, these countries are known for aggressive data collection and they don't want anyone to resist that. This leads us to our next question.
Can You Use VPNs in the Entire World?
In general, you can use a VPN almost in every country in the world. However, a few countries have made VPNs illegal, preventing their citizens from going over digital borders. These countries are Turkey, Iraq, Russia, North Korea, Iran, Oman, and a few others. Here's our full list of the countries where VPNs are illegal.
One thing is clear – all of these countries are known for their aggressive propaganda and censorship. Therefore, our advice is to be careful if you live in this country or planning to travel.
Which VPNs to Pick?
Hundreds, if not thousands of VPNs are offering their services on the Web. However, only a handful is capable enough to earn your trust. We recommend you to read our VPN Buyer's Guide to get started. Then, take a look at our overview of the best VPNs out there.
Which VPNs to Avoid?
Our strong advice for you is to avoid free VPN providers. These offer their services free of charge but you still need to pay in some way. Therefore, these VPNs collect your private information and sell them to advertisers. There are also cases where free VPN serve ads as a way to generate revenue. To learn more, here's our article on why using a VPN is a bad idea.
Final Thoughts
Dear readers, this is where we conclude our article on who uses VPNs. If you have any questions, make sure to write us a comment down below. We'll make sure to respond as fast as possible.
In case you made it this far, why not share this article online? So, make sure to follow us on Facebook and Twitter. Thanks!