VPNs are excellent tools to secure any network data passing through your device or bypass geo-restrictions on Netflix and other platforms. However, that often comes at the cost of speed. Want to download a game on Steam, make a video call, or perform some other network-intensive activities? Then expect some slowdowns. Fortunately, there are a couple of ways to use a VPN with a specific browser only and exclude other apps from the VPN tunnel.
Scroll on for the details.
How to Use a VPN With a Specific Browser
There are two ways you can use a VPN with a Specific browser, either with a built-in split-tunneling feature or a browser-specific extension. Below you can find more detailed steps on how to do it.
#1 Use a VPN With Split-tunneling
Split-tunneling is a feature that lets you select which of your network-capable apps use the VPN tunnel. In this case, you can choose your default browser(s) within the app and let your ISP's servers deal with the rest of your network activity.
It's highly useful when you want to, say, stream geo-blocked content in one browser player while you're downloading a large game on Steam or work files in another browser. All you need to do is enable the feature within your VPN app of choice (if your provider supports it, that is.) Not sure where to look? Then check out our list of the best VPNs with split tunneling.
Here's a quick guide on enabling split-tunneling in ExpressVPN. The process should be fairly similar for other providers. Make sure you disconnect from the VPN before starting.
Step 1: Click or tap on the Menu button in the top left corner.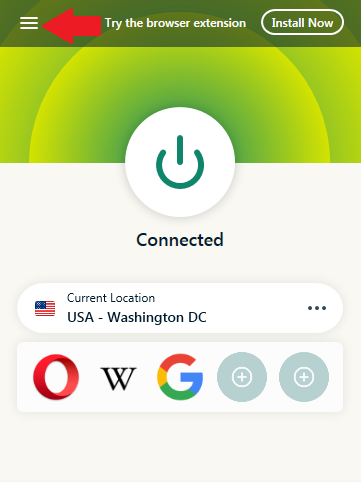 Step 2: On desktop versions of the app, tick the checkbox that says "Manage connection on a per-app basis" - then click Settings.
For mobile users - simply choose Settings > Split-tunneling. Then proceed to the next step.
Step 3: Select "Only allow selected apps to use the VPN," then choose the browser(s) you want. This applies to both desktop and mobile users.
Step 4: Click OK, then connect to a VPN server. Your browser should now be the only app that uses the VPN tunnel.
#2 Try a VPN Browser Extension
Another way you can use a VPN in a single browser is by installing a browser-specific VPN extension. Naturally, these will be less powerful than their standalone app counterparts, but they should do the job just fine.
Learn how to add a VPN extension in Chrome. Alternatively, here's a guide for Firefox and one for Microsoft Edge. They all use ExpressVPN as a base, but the process is fairly similar for other providers with dedicated browser add-ons.
And because there aren't that many VPNs who offer such an option, here are some of our top picks for the most popular browsers:
Best VPNs for Chrome (Microsoft Edge now uses Chromium, so you can use the same ones if you follow the guide above)
TIP
Remember: using a VPN extension will only secure the data you transmit and receive in that specific browser. We recommend going for a complete VPN solution and using the split-tunneling feature instead.