It is said that VPNs (Virtual Private Networks) are the most effective way to encrypt your data. However, what about going one step further and utilizing a so-called double VPN? Is it even possible to chain VPN servers and have your data running through two servers at once? Don't worry, all your answers are going to be answered in this article.
To begin with, we'll start by saying that chaining VPN servers is quite easy to do. You can either use a specialized double VPN service, or you can create a custom scheme using a virtual machine. We are going to explain everything in a simple manner so that even inexperienced VPN users can make sense of this setup.
The Basics of Double VPNs – Terms, Schemes, & More
First and foremost, let's introduce you to double VPN setups. We'll talk about what these are, why you should and shouldn't use them, and more. Take a look.
What is Double VPN & How Does it Work?
To explain what is double VPN, we first need to take one step back and return to the basics. By explaining how 'regular' VPNs work, you can easily understand more complicated mechanisms. So, here's what you need to know.
When it comes to 'regular VPNs, it all starts with your computer. As you know, your Web traffic is being sent and received as you browse the Web. If we add a VPN to this equation, we essentially add one server as a gateway to your traffic. This means that all your incoming and outgoing traffic is being routed through that secure server. Of course, the abilities of this server have further consequences. It can encrypt your data as it sends it towards the Web, and it can give you a new IP address. In essence, here's how your traffic flows by using a single server:
Your Computer > VPN Secure Server > Internet
Next, let's add double VPN to this equation. What we're doing here is simply adding another secure server. This means that instead of having a single server filtering your data, you now have two. As you can see, this adds a whole new layer of protection – which leads to being even 'more' anonymous on the Web, so to say. Here's how your traffic flows through double VPN setup.
Your Computer > VPN Server 1 > VPN Server 2 > Internet
In case you'd like to learn more about this topic, we have a few interesting articles ready. Here's our basic guide to VPNs, and here's our article on how VPNs work.
What Are the Benefits of Using Double VPN?
As said earlier, 'regular' VPN applications are more than capable when it comes to encryption and online privacy protection. The majority of those use 256-bit encryption, which is the toughest there is – and practically uncrackable. On top of that, today's VPN protocols are also quite capable and they no longer sacrifice the speed of your Web connection. However, if you decide to go with double VPN, here's what you can expect:
Your Web traffic will be encrypted twice. As we said earlier, even regular VPNs bring unbreakable encryption. By having your data encrypted twice, it's practically impossible for anyone to make sense of your data.
You will be fully anonymous online. When you use a single VPN server, you get a new IP and your real IP gets hidden in the process. With double VPNs, the second server is not aware of your real IP and instead, it alters your fake IP one more time.
Your ISP won't be able to track you. Having two servers routing your data, there is absolutely no way for your ISP to know your online whereabouts. However, it will know that you're using a VPN.
You'll have the ability to mix VPN protocols. By doing so, your Web traffic goes through another set of routing, which enhances your protection.
What Are the Disadvantages of Using Double VPN?
It's easy to see that by adding more servers to the flow of your Web traffic, we are creating a lengthier path. In fact, throttling is one of the biggest problems of using VPNs, with many popular options minimizing this issue.
If we add two servers to the flow of your Web traffic, it means that it'll be throttled two times. That's why to pick the very best VPN out there. You can't go around this problem but you can keep it barely noticeable.
How to Chain VPN Servers & Use Double VPN?
Finally, it's time to talk about using and setting up your own double VPN. So, here are two possible ways that you can do this:
You can use an existing double VPN. This means finding a provider that can route your traffic through two secure servers. You can either pick the 'end' server based on the IP you want, or you can manually pick both of these servers for complete protection.
You can use a Virtual Machine to create a double VPN. This means running another operating system within your own OS and forcing your Web traffic to go through two secure servers. This also requires you to use a VPN. However, this means that you can use any 'standard' VPN – it doesn't have to be a double VPN.
What Are the Best Double VPN Providers?
First, we'll take a look at the easier option of the two – using a VPN that chains secure servers by default. All of the following providers work as 'standard' providers, allowing you to connect to one server. However, they also bring the ability to chain two or more secure servers, which is the reason we're featuring them in our article. Take a look at the table found below
| VPN Provider | Chain Servers | Encryption | Usage Logs |
| --- | --- | --- | --- |
| NordVPN | Up to 2 servers | Up to 256-bit AES | No usage logs |
| VPN.AC | Up to 2 servers | Up to 256-bit AES | Keeps some logs |
| ibVPN | Up to 2 servers | Up to 256-bit AES | No usage logs |
| Perfect Privacy | 2+ servers | Up to 256-bit AES | No usage logs |
| IVPN | 2+ servers | 256-bit AES-GCM/CBC | Keeps usage logs |
How to Create Your Own Double VPN – DIY?
Next, let's show you to how to create your own double VPN. For the sake of this example, we are going to use ExpressVPN – the VPN of choice of TechNadu's editorial team. Let's jump right it.
Step #1: Install a Virtual Machine on Your Computer
This method requires you to have a virtual machine on your computer. This means using one of the currently available virtualization tools and installing the second operating system. You host OS and your virtual OS can be different or they can be the same.
In our case, our primary (host) operating system is Windows 10. We have used VMWare to install MacOS Mojave. If you want to know how this can be done, here's a helpful guide. Please note that you can also use a free-of-charge virtualization solution, such as Oracle's Virtual Box.
Step #2: Make Sure to Install the VPN on Both Ends
Before we can proceed, you need to install your VPN. This means having the VPN running on both your primary (host) OS and your virtual OS. Please note that installing a VPN this way might count as two devices in your account, so make sure you stay within the limits of supported devices.
Step #3: Create Your Own Double VPN
Finally, let's create our very own VPN. We are going to take a close look at this process and explain what happens along the way.
First, we will check our IP address to see if websites see our real IP. We can use ExpressVPN's IP checker, which is a handy and quite capable tool. As you can see in the image below, our real IP is exposed and fully visible. That's become we're not using a VPN just yet.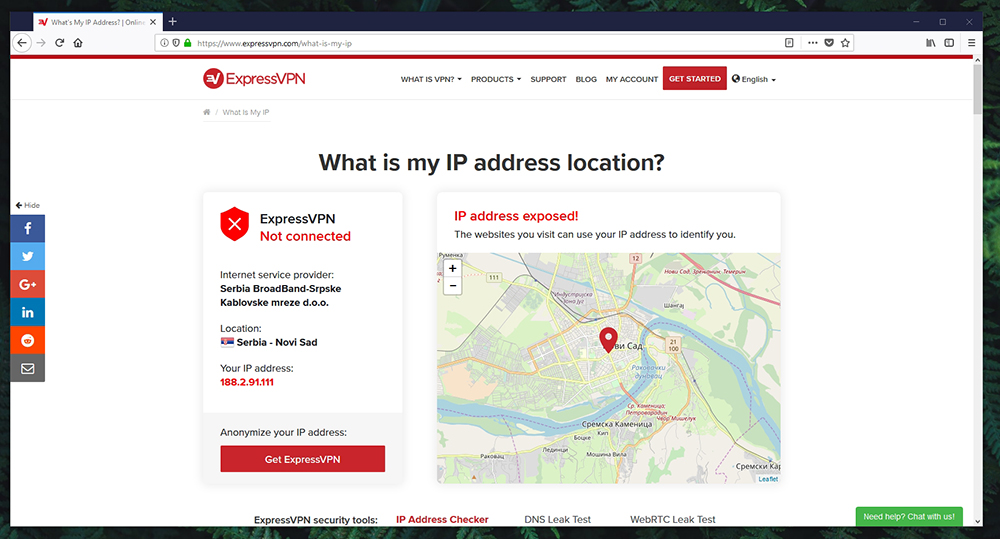 Next, we'll launch ExpressVPN and connect to a server located in Germany. Once we test if our real IP is visible, we can see that we have a new IP (associated with Germany). This means that all of our Web traffic is going through one secure server.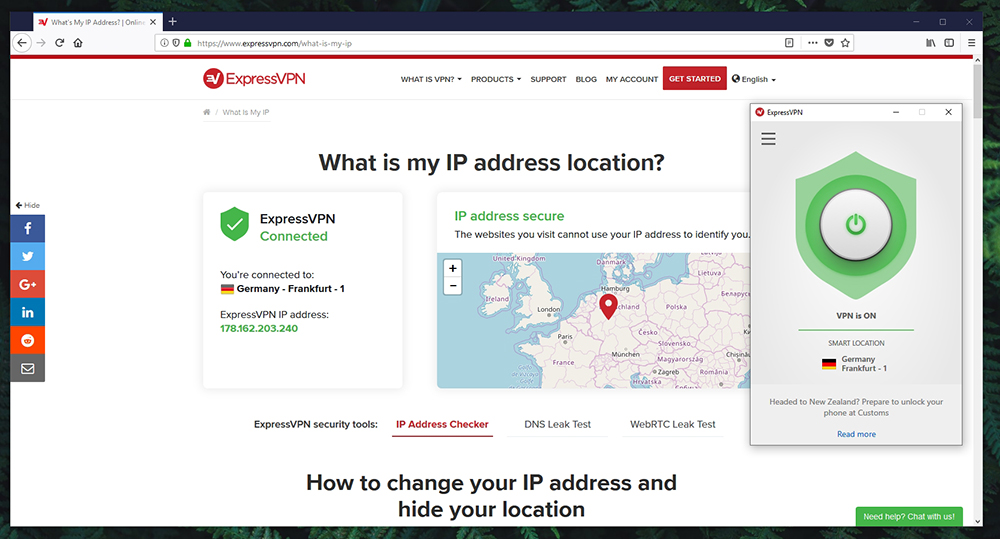 Now, we will power on our virtual machine and we'll check our IP. So, we power on our virtual MacOS Mojave and then we use Safari to check our IP address. As you can see, it's still pointing to Germany. All good so far.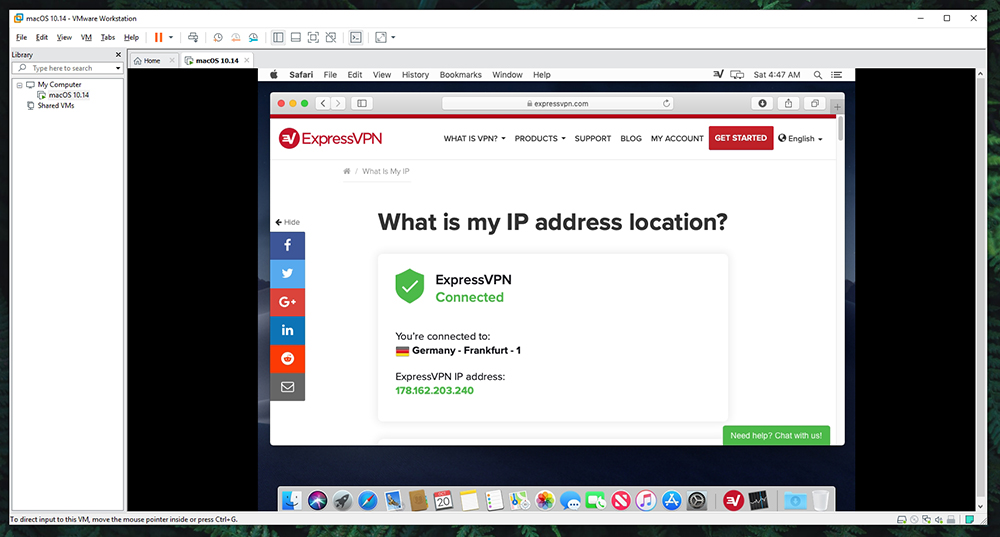 Finally, we launch ExpressVPN for Mac. Please note that ExpressVPN is still running on our Windows PC (our host OS). So, we use our virtual OS to launch ExpressVPN on Mac, and then we connect to a server in Sweden.
As you can see in the image above, our virtual OS now shows that we're located in Sweden. This means that we're using a double VPN right now.
As a final piece of advice, we recommend you to use two different VPN providers to ensure maximum security. However, we're aware that this might be an expensive solution, so we leave it to you to consider this option.
Final Thoughts
Dear readers, this is where we end our article on double VPN providers and chain VPN servers. If there's anything you'd like to add, feel free to post a comment below. We'll do our best to provide a timely response.
Finally, we'd like to ask you to share this article online. And also, don't forget to follow us on Facebook and Twitter. Thanks!