As you surely know, there are countries that have banned the use of VPN services. Even though China is one of those countries, things aren't that simple. While some people say that VPNs are illegal in this country, others claim that you can use VPNs without any limitations. As always, the correct answer is somewhere in the middle. So, let's talk about how to use VPNs in China without breaking the law.
In case you've been following the situation surrounding VPNs in China, you have heard about China's authorities blocking VPNs. This has created quite a commotion online, especially when it came to large corporations. Even the USA has warned against this action as a way to protect companies that originate from this country but operate in China. And as a response, some VPN-related laws were relaxed in the meantime. However, and as you can easily see, this only led to even greater confusion.
To give you the answer on the safety of using VPNs in China, we'll take a look at the newest developments. More precisely, we're going to answer a series of commonly asked questions. So, let's jump right in.
TL;DR - Should You Use a VPN in China (& Which One)? - A VPN can help you unblock the Web in China, letting you access any type of information online. Going over the Great Firewall of China isn't dangerous if you only need to unblock digital services not working in this country.
However, make sure that you're using a VPN capable of protecting your privacy in a thorough and comprehensive way. Based on our readers' feedback, subscribing to ExpressVPN is the best way to go.
How to Use a VPN in China
Throughout this article, we'll answer a number of pressing questions on how to use a VPN in China without breaking the law. However, before going deeper, we'd like to share with you our guide on how to set-up a VPN for use in China, which you'll find just below.
As you can see, we've decided to recommend ExpressVPN in this article. This VPN is your best bet, known for its ability to bypass the Great Firewall of China.
How to Set Up & Use ExpressVPN in China
With that said, here's a step-by-step guide on setting up ExpressVPN in China.
First, make sure to have a valid and active subscription. So, you can go ahead and subscribe via ExpressVPN's website. If you're already in China, there's a chance that ExpressVPN's website isn't accessible. In that case, use the following mirror URL: https://www.puoodzz.com/order.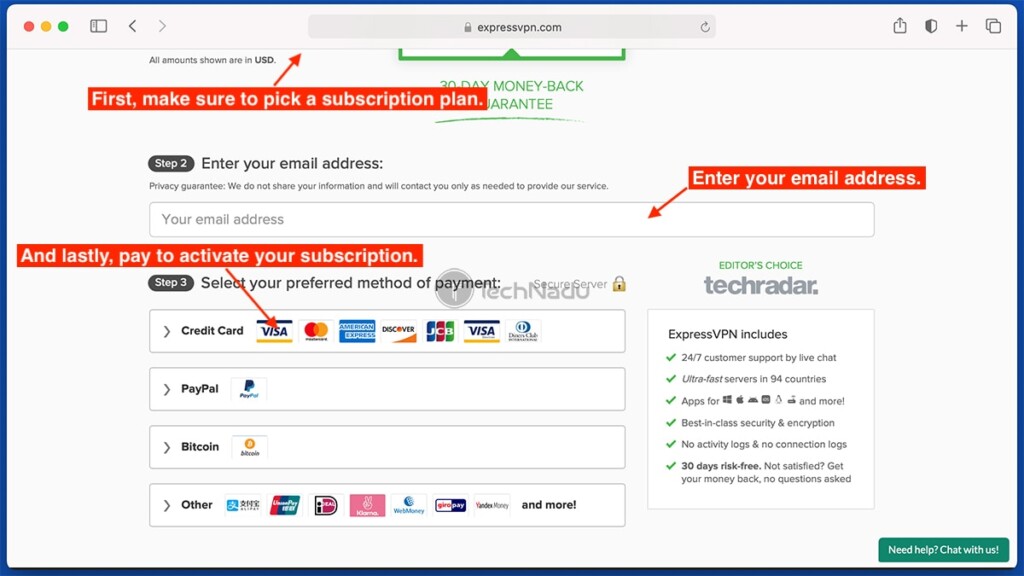 Once you complete the sign-up procedure, ExpressVPN's team will send you an email. This will confirm the creation of your user account, so you can return to ExpressVPN's website. 
Now, click on 'My Account' on the VPN's website and log-in using your credentials. Again, if you can't access the website, use this URL: https://www.puoodzz.com/login.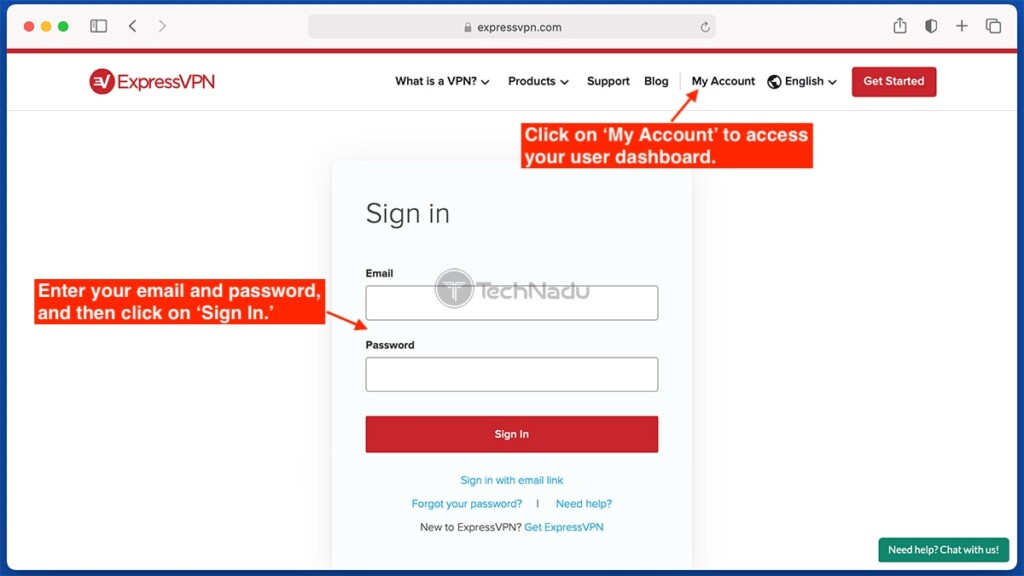 Your operating system should be recognized automatically. So, feel free to proceed and download ExpressVPN on your computer. You can also download other applications (for other platforms) by using the 'Set Up All Your Devices' card. 
Once you download ExpressVPN, install it like you usually would. Then, launch the application, and use your activation code to log-in. At this moment, you should see ExpressVPN's home screen. You can now connect to any server. That's it!
Lastly, keep in mind that there's a group of servers that's often recommended for users in China. So, to get the best possible performance, ExpressVPN recommends connecting to any of the following servers:
Hong Kong - 4;
Japan - Yokohama;
USA - Los Angeles - 5;
Singapore - Marina Bay;
UK - Wembley;
USA - Santa Monica.
There are plenty of reasons why we've decided to recommend ExpressVPN in this article. This VPN isn't only capable of unblocking websites in China but also has a whole host of advanced options. To learn more, here's our full guide on how and why you should use ExpressVPN in China.
How to Optimize ExpressVPN for Use in China
By default, ExpressVPN should work in China without issues. Still, a bit of tinkering goes a long way. So, here's how to optimize ExpressVPN if you plan on using it in China.
Make Sure to Use the Latest Version of ExpressVPN: This VPN is known for evolving its services at a rapid pace, and this includes publishing new software updates often. We highly recommend you to always use the latest available version of ExpressVPN for your device's operating system. You can check the latest version by logging into your account on ExpressVPN's website.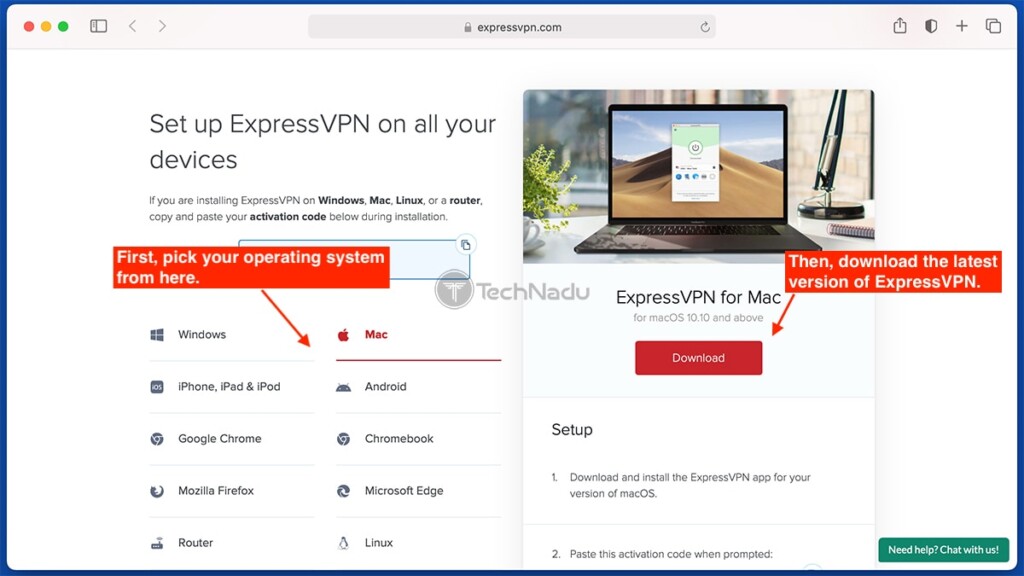 Set ExpressVPN's Default Protocol to 'Automatic:' It's recommended to set ExpressVPN to determine which VPN protocol is best, based on its algorithms. Make sure to visit ExpressVPN's settings on your device (by clicking on the hamburger button in the top-left corner), then select 'Protocol' and set it to 'Automatic.'
Enable ExpressVPN's Kill Switch: This technology is used to prevent data leaks in cases when your VPN connection might become unstable (which is highly important for Internet users in China). So, make sure to enable the VPN's kill switch by visiting its settings (use the top-left hamburger button on ExpressVPN's home page), clicking on the 'General' tab, and ticking the box next to 'Stop all Internet traffic is the VPN disconnects unexpectedly.'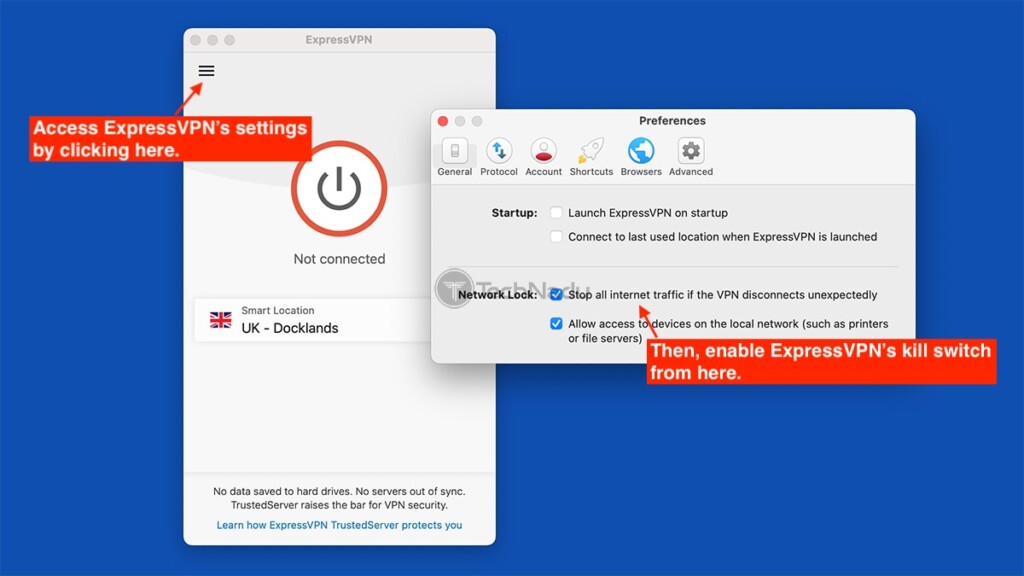 Set ExpressVPN to Launch on System Start-Up: And lastly, those looking to use ExpressVPN in China should make sure to always route their Web traffic through ExpressVPN's servers. This is done by going to the VPN's settings (via the top-left hamburger button) and selecting the 'General' tab. Feel free to enable all of the options you see in the 'Startup' group of settings.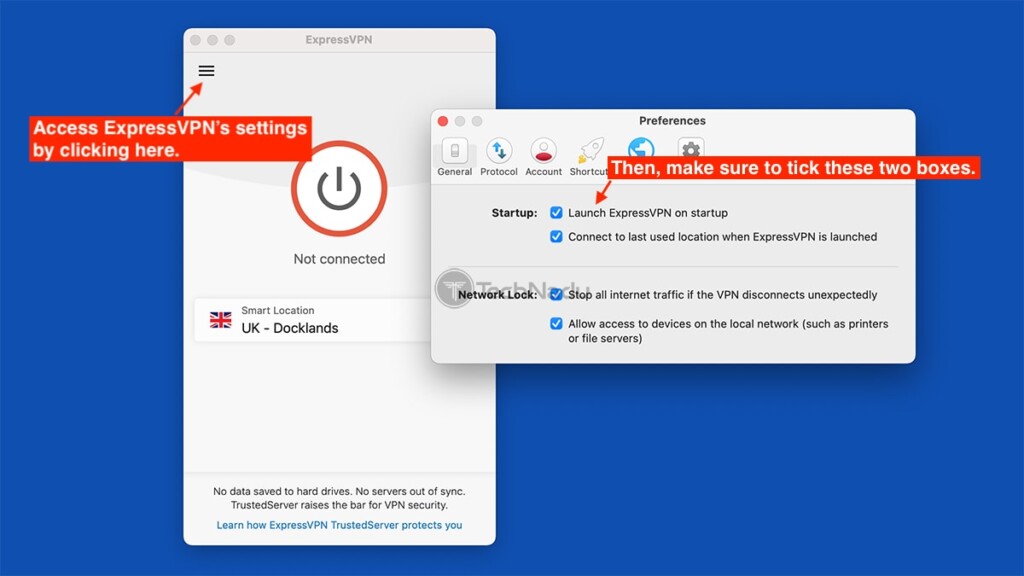 If you're already in China, it will be useful to know that ExpressVPN offers a dedicated email address for technical support. In case of any problems with your VPN connection, make sure to explain your problem in detail and send an email to support@expressvpn.com.
What Other VPNs Still Work in China? What Are Your Best Options Right Now?
Without any doubt, ExpressVPN is your best shot right now. However, if you'd like to explore more options, we're here to present the best ones. With that said, the following are the best VPNs that can unblock the Web in China.
1. Surfshark VPN - Recommended for First-Time VPN Users
Surfshark has developed an incredibly strong solution for those looking to use a VPN in China. That's because aside from using its apps, you have a backup option as well. This VPN lets you set-up 'Shadowsocks' connections, which is how you can configure Surfshark manually, without having to use any of its apps.
Overall, Surfshark should work well in China, no matter which setup method you pick. It allows you to unblock websites, stream media, and secure your Web connection. To learn more, make sure to turn to our Surfshark review.
2. NordVPN - Recommended for Experienced VPN Users
NordVPN is one of the most technologically advanced VPNs available today. Therefore, it's no wonder that NordVPN's creators have managed to offer a solution for Internet users in China. And speaking of those solutions, this VPN's NordLynx protocol is what will help you unblock the Web in restricted countries.
NordVPN also brings highly polished applications, as well as the ability to really fine-tune your VPN connection. To see all of that in action, head over to our NordVPN review.
3. Ivacy VPN - Recommended for VPN Users on a Budget
If you're looking for a budget-friendly option, you'll find Ivacy's offer to be quite compelling. This VPN is powered by 256-bit encryption, has thousands of servers, and even offers servers in China. On top of that, it provides you access to a range of VPN protocols, giving you several options for accessing restricted websites in China.
As you can see in our Ivacy VPN review, this is a relatively easy-to-use VPN service that seems suitable for both beginners and advanced users.
Before deciding on which VPN to use in China, make sure to do your research. And also, rely on up-to-date content. With that said, you'll want to check our overview of the best-working VPNs in China - so, click on the provided link.
What Else Do You Need to Know on Using VPNs in China Without Breaking the Law?
And now, let's dive into various details and frequently asked questions about using VPNs in China. Make sure to read the following segments very carefully.
First of All - What Is a VPN, Really?
A VPN is an application for your computer, smartphone, or tablet. Using a VPN, you connect to a secure server, which then routes your Web traffic through that server. However, the trick is that you get a new IP address and your Web traffic becomes encrypted (invisible to anyone else on the Web).
That's why VPNs are the best tools available today for preserving your privacy online. However, they can also unblock Web content that's not available in your country. As you can see, VPNs come as the most reliable solution to unblocking the Web in highly restricted countries, such as China, for example.
Why Is China Trying to Block VPN Services?
You need to understand that its government tightly controls China – and this applies to the flow of information as well. That is why the Great Firewall of China was created. Thanks to this 'invention,' the officials are able to filter outgoing and incoming Internet data.
It all started as a way to control political groups that were deemed dangerous by the Chinese officials. Here, we're talking mostly about Taiwanese and Tibetan separatist groups. As a way to control their reach, websites and forums started to get blocked a while ago.
However, these groups have started using other means to spread information, mostly over social media. Therefore, services and websites like Facebook and Google were forced to back out of this country or remove certain features.
Still, China understands that it's impossible to ban VPNs altogether – and this especially applies to business organizations. After all, VPNs come with numerous legitimate uses, and we're sure that the Chinese government is using this technology to encrypt its own data. So, instead of banning this technology, this country has decided to regulate VPN services and create a list of licensing options.
Is It Illegal to Use a VPN in China?
The first thing we have to get out of the way is the fact that VPNs have not received a blanket ban in China. Plenty of media outlets have essentially said as much, but this is false information.
VPN technology itself is not illegal within China. It's just that the Chinese government has now explicitly described who may use VPNs, as well as which are the allowed purposes for these digital tools.
So, what's being banned are foreign VPN services and other VPN implementations that don't comply with government policies and regulations. To this end, several things have already happened.
Apple has pulled some VPN apps from the Chinese app store. After all, they can't afford to be kicked out of China. And also, Google has removed VPN-related ads from appearing in this country. Finally, Chinese telecoms have had been told to block all VPN traffic in March 2018 (even though this never really went into action, as many VPN apps keep on offering their services even today).
The new law didn't make VPNs illegal in this country, as you might have read online. Instead, the Chinese government has decided to ban VPNs that operate without a "license." It means that you still have a whole range of Virtual Private Network apps at your disposal, and you can still use them to go beyond the Great Firewall of China.
However, it doesn't mean that there's no reason for concern. We don't know the exact relationship between licensed VPNs and the Chinese government. Do those VPNs keep logs, and have they developed backdoor access? Only time will tell.
Can I Still Use a VPN in China?
Using a VPN in China is indeed a grey-area thing. This country blocks numerous websites, and there's no way of accessing them via regular Internet connections.
However, it's not true that the Chinese government is tracking down every VPN user. As long as you use it for personal purposes and avoiding any risky situations, you are good to go.
In case you download a huge amount of data on a daily basis, or if you get in contact with people who might be suspected, this is when the authorities might be interested in your online whereabouts. What's interesting to note is that this situation doesn't only apply to China, but plenty of other countries as well.
Keep in mind that China has solid anti-pornography and anti-prostitution laws, which need to be taken seriously. Just because you're using a VPN doesn't mean that you should go against this country's laws.
Can Foreigners Use VPNs in China?
Let's say that you plan on traveling to China and that you want to use your own VPN. In theory, any VPN should work since the Great Firewall of China isn't that difficult to go through after all. So, what would happen if you're caught using a foreign VPN?
To give you an answer, we'll take a look at what happened to Josh Summers, who spent plenty of time living in China. 
Back in 2015, his smartphone stopped working while he was in Xinjiang. He wasn't able to make phone calls or send messages, and his Web connection dropped as well. Josh pointed out that his cell service provider told him to go to the police.
There, his phone was taken away from him, and all but 'legal' apps were deleted, including Skype and his VPN application. Then, he received his phone back – and that's about it. It means that he wasn't forced to pay a fine, nor did he go to jail.
The truth is that Josh's story happened in 2015, and China has decided to become more aggressive since then. So, our advice would be not to try your luck with just about any VPN - and it's always best to use a VPN with a proven track record of working in China.
Can You Use Corporate VPNs in China?
It is a common practice for large business organizations to use VPNs to secure their communication. A country that completely blocks this practice doesn't exist. That is because China is interested in foreign investments, and it doesn't want to impede them - even though numerous strict laws do exist in practice.
Generally, corporate VPNs use the public Internet to create secure communication channels. Even though there were reports saying that China is disrupting corporate VPNs, this isn't something to be overly concerned about. It is believed that companies are free to use their custom VPNs - but they need to know their limitations.
The biggest limitation of using a corporate VPN is that all data generated in China needs to remain within the country's borders. We are talking about personal data like ID cards, passport information, and bank accounts - and this is China's effort to protect its citizens.
What's the Punishment for Using VPN in China?
Many experts agree that the Great Firewall of China is built to discourage regular Web users from accessing censored websites. After all, bypassing the firewall is relatively easy and all you need is a reliable VPN. Therefore, the main goal of this action isn't to catch those using a VPN.
Using VPNs within legal limits (avoiding the 'dark Web' or any kind of criminal activity) will not get you in trouble. However, selling VPNs is a tricky business. There were reports of a man sentenced to nine months in jail for selling VPNs. Yet, we haven't seen any other news of the authorities punishing individuals for using VPNs.
That would be all on how to use VPNs in China without breaking the law. We hope that you've managed to find answers to all of your questions. If not, please don't hesitate to post a comment below.