Since you're reading this article, you probably know all about the ways that Google tracks you. The same applies to Gmail, the world's most popular email messaging provider. If you don't want Google to continue reading your emails and logging your private data, you should know that there are numerous capable Gmail alternatives out there. And one of those is ProtonMail, a service that has managed to surprise many crypto-security experts with its capabilities. So, how good is this email service? Can ProtonMail secure your communication and hide your emails from everyone else? Let's find out; Welcome to our review of ProtonMail.
We will be taking a very close look at ProtonMail in this article, and we'll give our best to fully explain what to expect from this service. To kicks things off, we've prepared two helpful tables for you, with first listing some of the basic information. So, let's get started.
Overview
| | |
| --- | --- |
| Product Name | ProtonMail (Professional Plan) |
| Supported Platforms | Web, Android, iOS. |
| Unique Features | End-to-end encryption; No data logging; Open source cryptography; Hardware-level security; No tracking. |
| Price | Free; Premium starts at $8.00 per month. |
| Visit | ProtonMail |
In case you don't have the time to read this entire review, we've prepared another table – just for you. Check out the most prominent pros and cons to using ProtonMail, found in the table below.
The Bottom Line
| | |
| --- | --- |
| Pros | User-friendly email service; Tough encryption; Supports third-party clients; Easy to set up; Advanced email sending features; Provides anonymity. |
| Cons | Somewhat problematic past; Missing official desktop clients; Not the most affordable price. |
| The Final Verdict | ProtonMail seems like a reliable way to encrypt your email messages - if you're a home or business user. |
| Our Score | 8.5/10 |
We're now ready to dive deep into our full and hands-on review of ProtonMail. Make sure to stick with us until the end of this article before making the final call about using this service.
ProtonMail – TechNadu's Hands-On Review
Before getting started, we have an important piece of information. Please note that we've tested the 'Professional' version of ProtonMail, which brings the most comprehensive set of features offered by this service (eclipsed by the 'Visionary' plan only). We'll tell you all you need to know about this version, as well as what more affordable versions bring.
Background, Jurisdiction & Reputation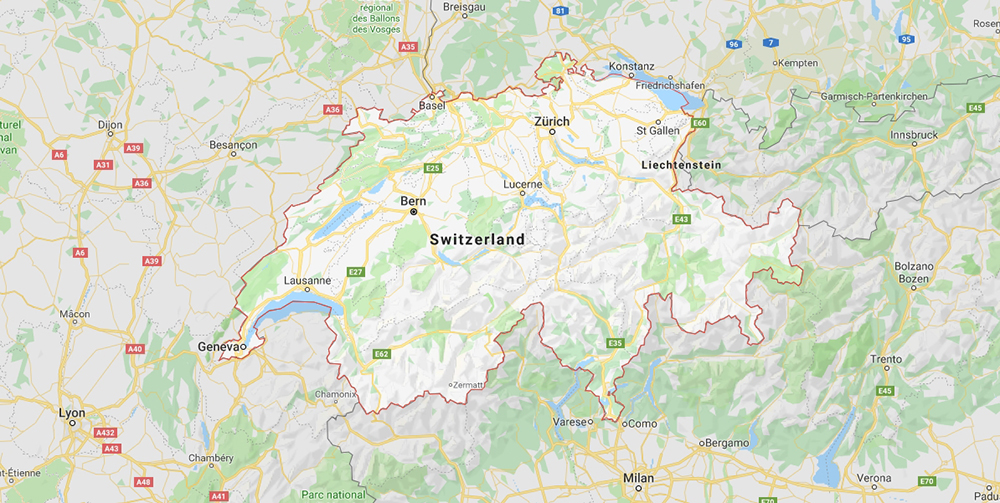 Deciding whether to trust ProtonMail is a very complicated decision. It comes from a well-known company - with problematic accusations from the past. Our Score: 6/10.
ProtonMail is designed to be a secure email service. As such, it's shaping its service around highly secure technologies but also needs to respect the laws of its home country. So, let's start from the basics and inspect where ProtonMail comes from, and what that means for its users.
Jurisdiction & Applicable Laws
When you visit the official website of ProtonMail, you'll see numerous messages about all the ways it keeps your private data away from prying eyes. And you'll also see that it comes from Switzerland, which sounds reassuring since this country is known for its neutral diplomatic stance. It's not a member of the European Union and there's a general idea that even the USA doesn't have a strong influence of this highly developed country. However, the situation isn't that simple.
Back in 2016, Swiss voters decided to support a set of laws related to surveillance powers of this country's intelligence services. As a result of frequent terror attacks across Europe and the entire world, this country introduced more aggressive means of data logging. Then, in 2018, the Federal Law of the Supervision of Postal and Telecommunications Traffic (BÜPF) introduced mandatory data retention (in German). During this time, ProtonMail fought for the privacy of its users and Swiss citizens via proactive measures. All of these developments have helped ProtonMail build a reputation of a caring email provider.
Not too long ago (in May 2019), a Swiss layer named Martin Stiegel published a comprehensive report claiming that ProtonMail is cooperating with Swiss authorities by voluntarily offering assistance for real-time tracking. The report also explains that ProtonMail falsely promotes its data protection systems and explains that many of its marketing claims are false. According to Stiegel, ProtonMail isn't forced to spy on its users and collect data – but it's doing this voluntarily. As you can image, this service has refuted those claims and highlighted that it doesn't work with the authorities.
It's also important to note that ProtonMail comes from the same company that's behind ProtonVPN, a highly reputable VPN solution designed to protect the privacy of its users on the Web. This is a hugely popular VPN provider that comes with a reputation of being one of the most secure options out there. Therefore, this company must be doing something right when it comes to the privacy of its users.
Previous Data Leaks
Being an email service that hides and encrypts your data, ProtonMail is often targeted by individuals and governments alike. Recently, ProtonMail was blocked in Russia (which happened to a number of VPNs as well). There were also reports of phishing attacks being targeted at ProtonMail. In November 2018, reports about hackers compromising ProtonMail appeared on the Web – which ProtonMail called 'hoaxes' and 'extortion attempts'.
We need to highlight that this service never actually suffered a data breach. In addition, it was never proven that ProtonMail was collecting data or maliciously using your sensitive information. However, there is plenty of discussion on the Web, along with plenty of speculation whether you should trust this email provider or not.
Supported Platforms & Devices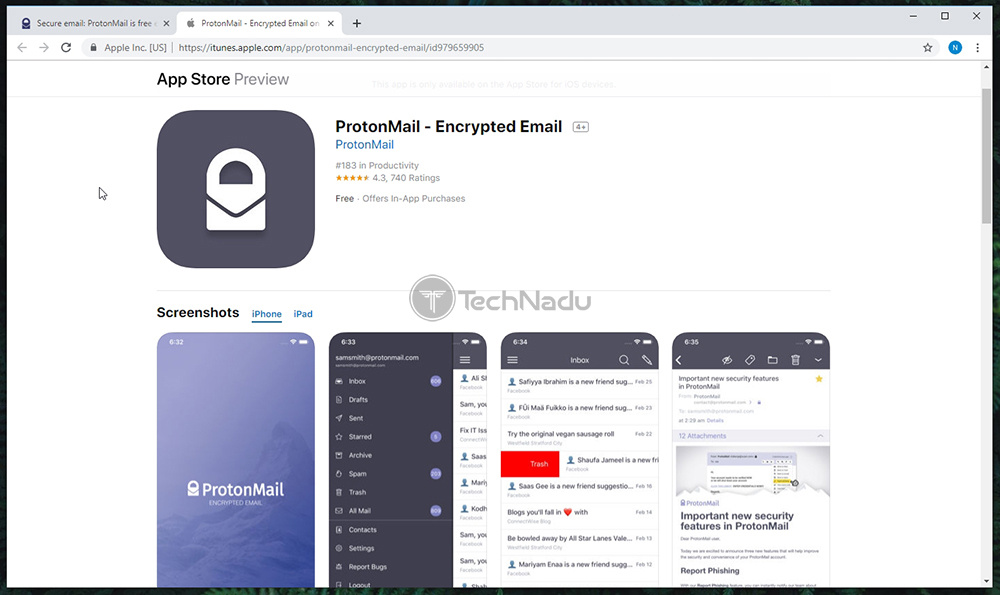 ProtonMail doesn't offer native applications for desktop platforms. However, you can use its Web interface and native apps for Android and iOS. Our Score: 8/10.
Just like with any email service, you'll want easy access to ProtonMail. So, here are all the platforms that this service currently supports.
Platform Compatibility
| | |
| --- | --- |
| Desktop Platforms | Windows, MacOS, Linux – not natively. |
| Mobile Platforms | Android, iOS. |
| Web | YES |
ProtonMail started its life through a Web interface – which is still its primary gateway. In other words, you log-in to your account online, and you'll get to see ProtonMail's UI with all of its features. With this said, there's no native application for desktop platforms. Alternatively, you can install the ProtonMail IMAP/SMTP Bridge application, which will allow you to use your encrypted email account with any email clients you might have installed on your computer. The Bridge application is available for Windows and MacOS. There's also a Linux version but it's currently in beta. There are also unofficial ProtonMail desktop clients (such as ElectronMail, for example).
The good news is that you can use ProtonMail on-the-go, on Android and iOS. There are official apps for these two operating systems, and you can download these apps from the respective App Stores.
Installation & Initial Configuration
Getting started with ProtonMail is easy – even if you've never used an encrypted email service before. Our Score: 10/10.
To get started with this encrypted email service, you need to sign-up for ProtonMail first. This includes creating your ProtonMail address and choosing a subscription plan (more about the pricing later in the article). Depending on the plan you pick, you'll be able to use custom domains as well. Different plans also come with different storage size limitations as well as restrictions regarding the number of addresses, messages per day, and more.
With your new ProtonMail address, you can log-in to this service. To best way to experience ProtonMail is definitely via its Web UI. However, there's no need to change your habits – as you can continue using your favorite desktop email client as well. What you need to do is to install ProtonMail Bridge, which allows full integration with the majority of clients that support IMAP and SMTP protocols. This means that you can have all your email addresses in a single place, as well as the full-text search of your ProtonMail emails.
We believe that ProtonMail has done a good job of making this transition as simple as possible. You'll find helpful guides and tooltips as you use its Web UI, and there's comprehensive customer support documentation as well. And when it comes to Android and iOS, all you have to do is to download one of ProtonMail's apps, log-in, and that's pretty much it.
Prominent Features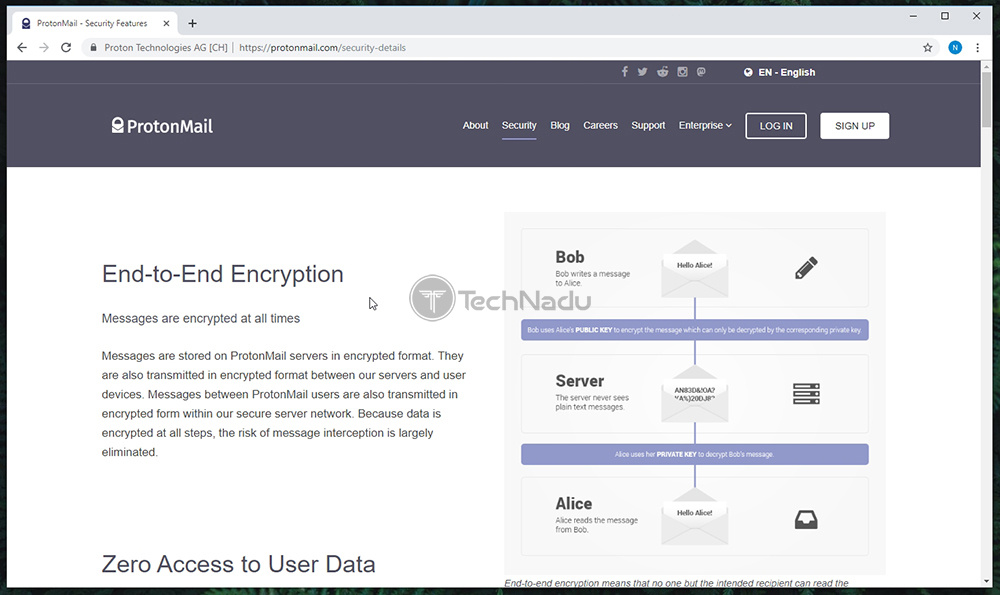 ProtonMail comes with a set of incredibly strong privacy-related features. It's based on proven technologies, secure encryption, and strong security measures. Our Score: 10/10.
Now, let's take a look at what sets ProtonMail apart from the usual email services, such as Gmail. Here's an overview of its most prominent features.
End-to-End Encryption: This type of encryption has become popular quite recently, especially in IM (instant messaging) apps. However, the same can't be said for email services, as we only have a handful of those offering end-to-end encryption. In simple terms, this feature makes sure that your emails are not readable by anyone but yourself and the recipient of your message.
Total Online Privacy: ProtonMail claims that they don't have access to your messages. Since they don't log anything, they're not able to hand over any data to third parties. Interestingly enough, ProtonMail can't recover your data if you lose your password, which is another proof that they really don't collect anything.
Open Source Cryptography: This email client uses time-tested encryption algorithms, including AES, RSA, and OpenPGT. All of its cryptographic libraries are open source, ensuring that they don't have any backdoors.
SSL Secured Connections: In addition to encrypting your email message, ProtonMail relies on SSL for the communication between its servers and your computers. This is another security layer whose mission is to prevent hacking attempts such as a MITM (man-in-the-middle) attack.
Advanced Email Options: Emails exchanged between ProtonMail addresses are automatically and fully encrypted. However, you can also send secure emails to addresses outside the ProtonMail realm. When sending emails to Gmail, Yahoo, or Outlook addresses (and pretty much any other type of address out there), you can decide whether to encrypt your email or not. You can even create self-destructing messages that are deleted from the recipient's inbox once they have expired.
As noted earlier, this review is focused on ProtonMail Professional – as we've tested this particular version of this secure email service. With this said, we'd like to tell you what to expect from the Professional plan, and how it's different from other premium-priced ProtonMail plans.
| | | | |
| --- | --- | --- | --- |
| | Plus | Professional | Visionary |
| Users | 1 | 1 to 5,000 | 6 |
| Storage | 5GB | 5GB per user | 20 GB |
| Addresses | 1,000 | Unlimited | Unlimited |
| Messages per Day | 1,000 | Unlimited | Unlimited |
| Folders/Labels | 200 | Unlimited | Unlimited |
| Support | Normal | Priority | Priority |
| Custom Domains | 1 | 2 | 10 |
| Email Filters | YES | YES | YES |
| Autoresponder | YES | YES | YES |
| Multi-User Support | NO | YES | YES |
| ProtonVPN | Extra | Extra | Included |
As you can see, the Professional plan is designed to be an enterprise solution. You can create private mailboxes for up to 5,000 users (each user is priced extra), and each of them gets 5GB of storage (you can fine-tune this parameter, though). Also, if you decide to use ProtonVPN as your business VPN solution, this plan allows you to set the number of VPN connections per each user. And of course, you get the full set of features offered by this email service.
Ease of Use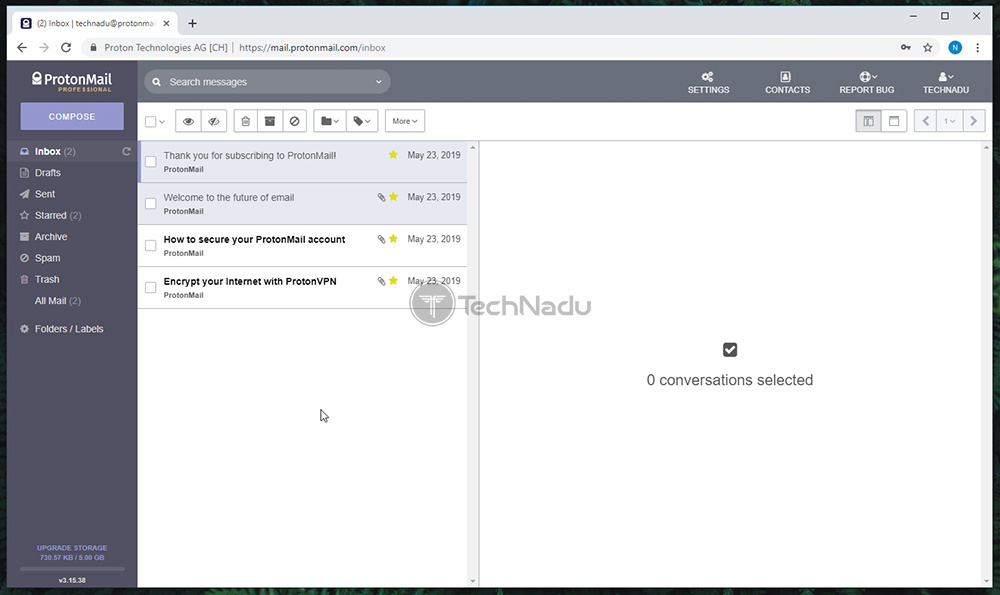 ProtonMail might not have the most polished UI out there. However, this email client is very easy to use and comes with plenty of customization options. Our Score: 9.5/10.
Once you log-in to your ProtonMail account (on the official website), you'll see a very familiar interface. We're sure you've used Gmail on the Web before, or pretty much any other email client. Well, ProtonMail isn't trying to reinvent the wheel, and it's sticking to a proven concept.
On the left side, you'll see different folders of your email account, including your inbox, drafts, sent emails, starred, archive, span, and trash. ProtonMail also allows you to create additional folders and labels, so there are plenty of ways to filter your email messages. The rest of the window is reserved for handling your email messages in the folder you've previously selected. What's nice to know is that ProtonMail comes with two different layouts, which means that there's some fine-tuning available.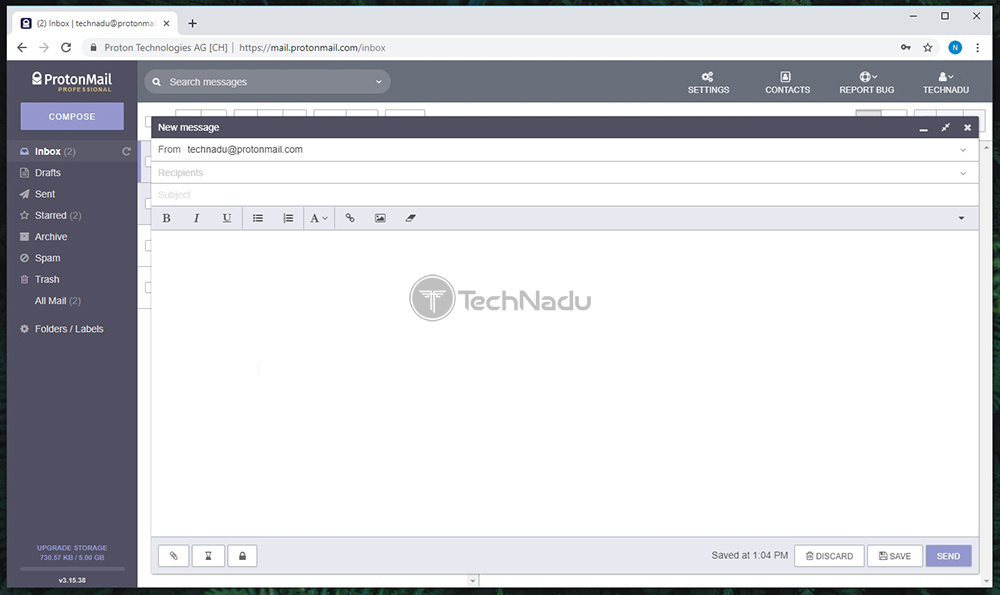 At the top of the window, you'll see a prominent search field. And on the right, you'll find four buttons called Settings, Contacts, Report Bug, and your account name. All of these are pretty self-explanatory, but we'd like to highlight the settings panel. So, here's everything that you can fine-tune here.
Dashboard & Account: These two tabs allow you to take a glance at your ProtonMail account. You can see how much storage you have left, upgrade to a more comprehensive plan, change your password, create a signature, and more.
Folders, Labels, Filters: ProtonMail comes with advanced filtering options. You can easily create specific filters, lists of spam addresses (where you can whitelist and blacklist email addresses), and plenty more.
Security: For increased security, you can enable two-factor authentication. This is also where you can review authentication logs and review your sessions.
Appearance: There are several options to choose from here, related to ProtonMail's appearance (which applies to its Web UI, of course). You can even create a custom theme by pasting a CSS code.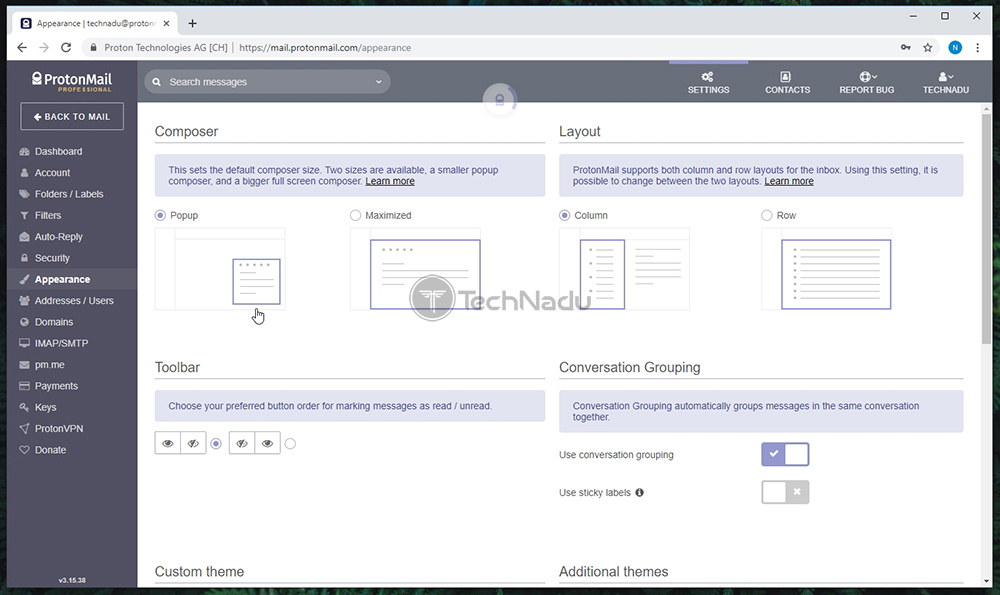 Addresses, Users, Domains: Depending on which plan you use, ProtonMail allows you to add additional users, email addresses, and additional domains as well.
IMAP, SMTP, PM.ME: These tabs let you download and manage the Bridge application, needed for connecting your ProtonMail address to any third-party email client. In addition, you are also free to use '@pm.me' email addresses, which is reserved for paying customers.
Keys: In case you need additional encryption keys, or you want to import your own keys, this is where you can do that. It's nice to see how ProtonMail has simplified this otherwise complicated process.
ProtonVPN: Finally, there's a dedicated tab from where you can download a ProtonVPN client, review your account information, and more. Please note that ProtonVPN is included with the 'Visionary' plan only, but this is also a premium-priced addon as well.
Finally, writing and sending emails is (as you can expect) a piece of cake. Click on the 'Compose' button, and you'll see a familiar UI in the bottom-right corner. Fill out the required information – and also don't forget to check the 'Expiration Time' and 'Encryption' buttons in the bottom-left corner. These allow you to set an expiration time, and you can also encrypt your email message (if you're sending it to someone who's using a non-encrypted service). This way, the recipient will need to click on the provided link, enter the password, and only then they'll be able to read your message.
Customer Support
ProtonMail comes with plenty of useful resources, and you can also ask for assistance via email. The only thing that's missing is live-chat support. Our Score: 8/10.
We understand that ProtonMail might be confusing at times. And since you're paying for it, you'll want to have someone to answer all your questions and doubts. So, here are all the ways that ProtonMail can assist its users.
Troubleshooting Guide: There's a very helpful troubleshooting guide that lets you select the type of problem you're having, and then lists all the possible solutions. You can find this guide on this service's official website, under the 'Support' menu item. Alternatively, there's a search field you can use to find something specific.
Knowledge Base: Next, there's also another highly helpful resource. Called 'Knowledge Base', this resource lets you learn everything about this application, how to use it, what kinds of features to expect, and plenty more. So, we definitely recommend you try it out.
Email Contact: Finally, you can also contact ProtonMail's support team. In general, you can expect to hear back within 24 hours.
Pricing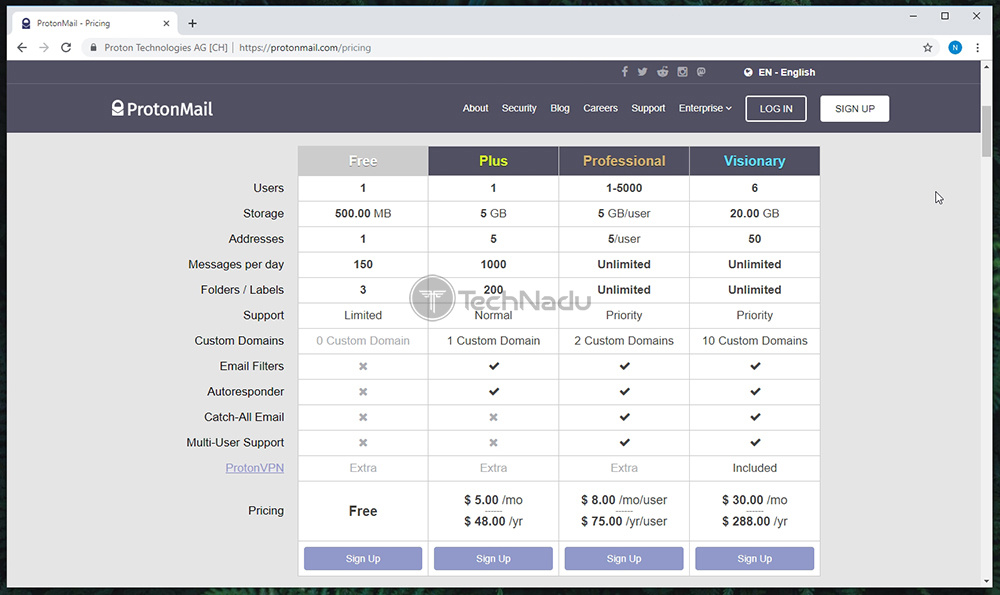 ProtonMail offers a heavily limited free plan, as well as an array of (somewhat high priced) premium plans that unlock its features fully. Our Score: 8/10.
You must be wondering how much this intriguing service costs? Well, you should know that you can get started for free (via its limited free plan). So, let's first take a look at premium-priced plans that bring 'unlocked' features of ProtonMail.
| | | |
| --- | --- | --- |
| Subscription Plan | Price per Month | Price per Year |
| Plus | $5.00 | $48.00 |
| Professional | $8.00 (per user) | $75.00 (per user) |
| Visionary | $30.00 | $288.00 |
As noted earlier, we've reviewed the Professional plan of ProtonMail. To learn more about the differences between this and two other plans, please return to our 'Prominent Features' segment. That's where you'll find a table of comparative points, for your reference.
No matter which subscription plan you decide to pick, we recommend you to go for its annual plan. That's because all three ProtonMail annual plans come with big savings (around 20%). So, make sure to choose wisely when subscribing to ProtonMail.
We also need to add that you can buy additional addons for your ProtonMail account. You can buy additional storage ($1.00 per month for 1GB), extra domains ($2.00 per month for 1 domain), and extra email addresses ($1.00 per month for 5 addresses). All of these addons come with yearly pricing as well, letting you save in the long run.
In terms of payment methods, ProtonMail currently supports Visa, MasterCard, and American Express. You can also pay via PayPal. Sadly, cryptocurrencies are not on offer.
Differentiating Free Vs. Paid
One of the biggest selling points of ProtonMail is its free plan. However, you can think of this plan as a trial version of ProtonMail, which comes heavily limited. So, here's what you'll be getting with the free plan.
| | | |
| --- | --- | --- |
| | Free Plan | Professional Plan |
| Users | 1 | 1 to 5,000 |
| Storage | 500MB | 5GB per user |
| Addresses | 1 | 5 per user |
| Messages per Day | 150 | Unlimited |
| Folders/Labels | 3 | Unlimited |
| Support | Limited | Priority |
| Custom Domains | 0 | 2 |
| Email Filters | NO | YES |
| Autoresponder | NO | YES |
| Catch-All Email | NO | YES |
| Multi-User Support | NO | YES |
As you can see, you can use ProtonMail for free – but be prepared for some heavy compromises. Still, this account could be a good way to test-drive this email service, and then perhaps upgrade to a paid ProtonMail account.
Do We Recommend ProtonMail?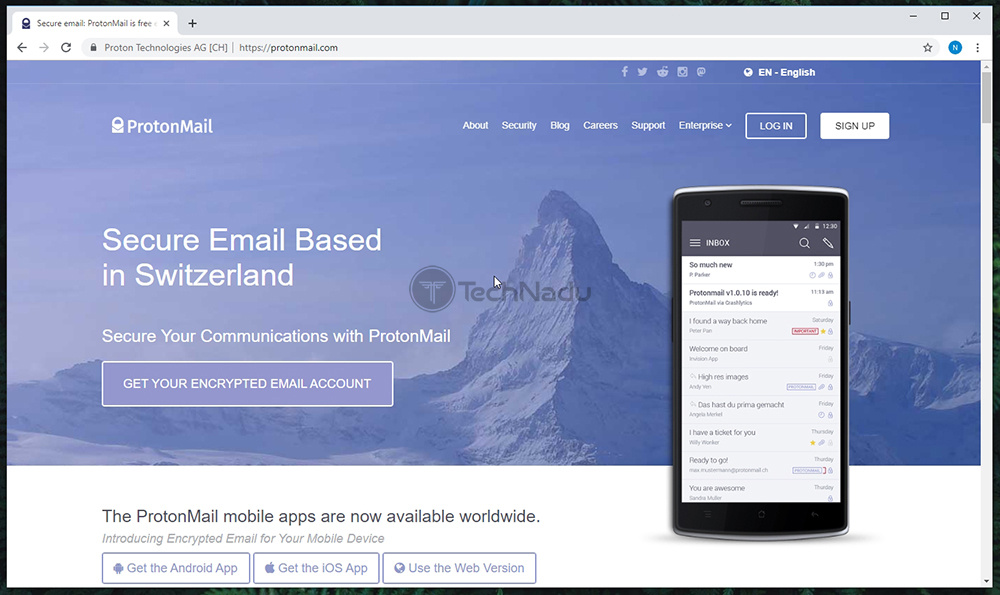 The truth is that ProtonMail is one of the most secure email services. We live in an era of mass data logging and digital tracking – and ProtonMail can be an important tool for preserving your privacy. Still, it comes with certain downsides and perhaps it's not the best option if you need total anonymity. For this purpose, there are communication tools made for journalists and whistleblowers that take care of your privacy in a better way. However, those tools are on overkill for average home users.
PROS: Easy to use; Present on Android and iOS; Web UI available for any device; High-end security features; Works with any email address; Plenty of customization.
CONS: Somewhat problematic past; No official desktop clients; Missing live chat; High priced.
OUR SCORE: 8.5 out of 10!
In case you'd like to switch to a secure way of email communication, we do recommend subscribing to ProtonMail. Click on the provided link and you'll be taken to this service's official website, where you'll get additional information – helping you reach the final decision.
Dear readers, this is where we end our review of ProtonMail. Make sure to express your thoughts in the comments section below. And also, don't forget to follow us on Facebook and Twitter!