Imagine a scenario where you can't remember your Windows password, preventing you from logging into your account. Even though Microsoft has different ways to retrieve your password if you have saved it online (via your Microsoft account), this isn't always possible. This is especially true for locally stored passwords. Without knowing the current one, there's no way to get to your files. We are sure this sounds like a nightmare – but there is a solution. In this article, we'll be talking about a small but highly helpful application called PCUnlocker.
Before we get to our full review, let's take a moment to present you a list of the basic set of information. So, take a look at the table found below.
Overview
| | |
| --- | --- |
| Product Name | PCUnlocker |
| Supported Platforms | Windows 10/8/7/Vista/XP and Windows Server (2003 and up) |
| Unique Features | Removes and resets Windows local password; Huge platform compatibility; Easy to use. |
| Price | Starts $19.95. |
| Visit | PCUnlocker |
We understand that some of you perhaps don't want to read this entire article, so here's what you need to know. In the table found below, we'll list the biggest pros and cons as well as our final verdict.
Final Verdict
| | |
| --- | --- |
| Pros | Highly effective; Broad platform support; Helpful support documentation; Video tutorials included. |
| Cons | Not the easiest to use. |
| Final Verdict | Even though it might look intimidating, the fact is that PCUnlock is the most reliable way to restore a forgotten Windows password. |
| Our Score | 9.7/10 |
Now that we have the basics out of the way, let's dive deep into this software. Continue reading our full PCUnlocker review where we'll dive deep into different aspects of this software solution to restoring your Windows password.
PCUnlocker Review – TechNadu's Detailed Analysis
What you need to know is that we've tested the most capable version of PCUnlocker on Windows 10. We won't delve into the specifications of our system since that's not important. The application should run just fine even on the oldest of Windows PCs. So, let's start this review from the very beginning by telling you about platform compatibility.
Platform Compatibility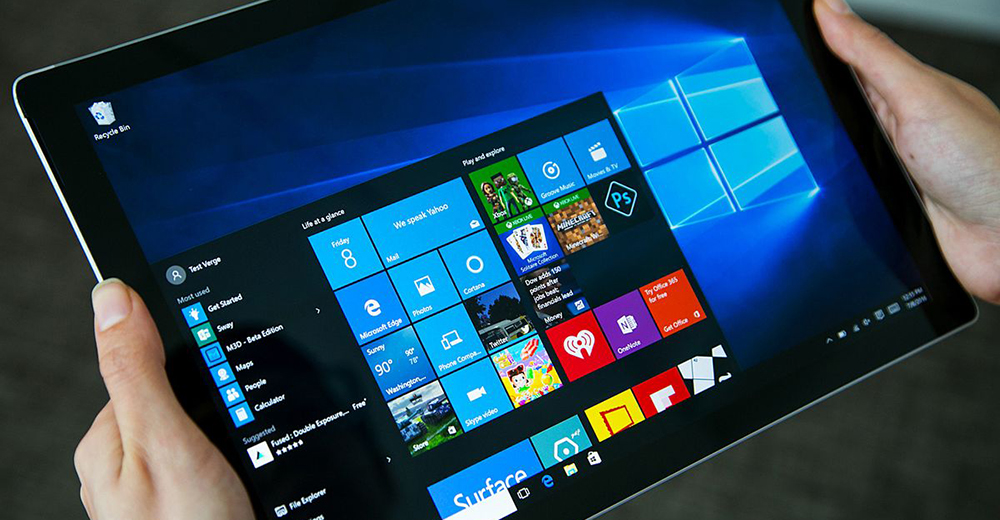 This tool is only available for Windows users – and even some ancient versions of Windows are covered. Our Score: 10/10.
PCUnlocker works on Windows 10 and all then all the way to Windows NT. That's because its method of retrieving a lost user password applies to all those versions, which is an amazing thing. Also, you need to know that you'll need a USB drive to run this tool, and the same could be done via CD drive. We believe that even if you use a very old Windows version, you should run PCUnlocker just fine.
Unfortunately, this tool doesn't work on other platforms, which isn't surprising. After all, different operating systems have quite different structures who you won't find a universal tool that covers all of them.
User Interface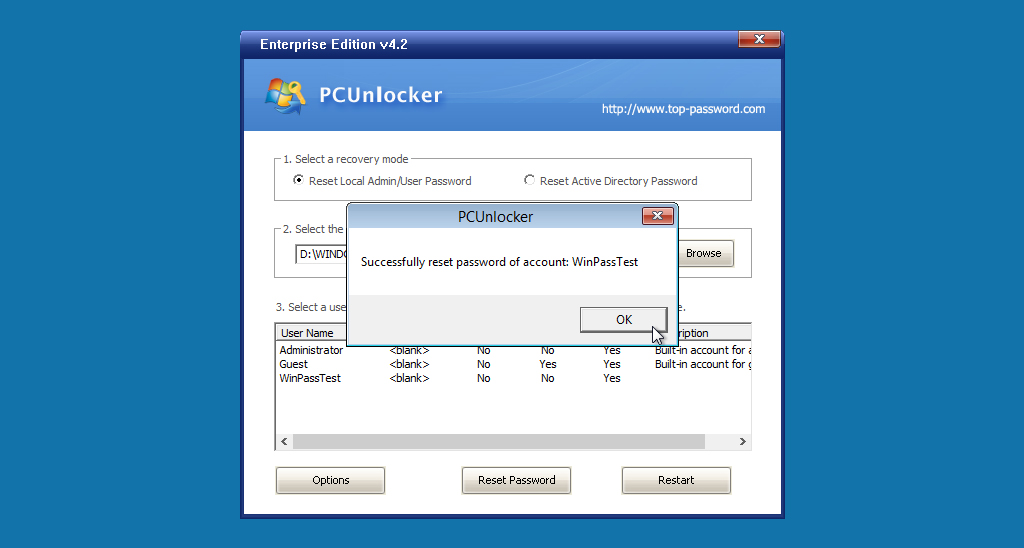 Being a utility tool, this application doesn't need to have a highly polished interface. Instead, it should be functional enough to get the job done – and that's exactly the case here. Our Score: 10/10.
Getting started with PCUnlocker might feel a bit intimidating to some as you'll get a bunch of files where the most important one is an ISO file. This means that you'll need to unpack it and send it over to a bootable drive like your USB drive or just about any CD. After booting from this drive, you'll be greeted by a well through-out interface (shown on the screenshot above and below) and making a mistake isn't possible. You will see a list of users along with other important information. Resetting a password shouldn't take more than a few seconds. Click on 'Restart' and the job is done.
Features & Capabilities
There's only one reason to use PCUnlocker – and that would be to reset your Windows password. This tool uses a proven method that 100% works. Our Score: 10/10.
The best way to show you how this tool works is to guide you through the process of restoring a Windows password. Even though the process might look a bit complicated to users who don't like to tinker with Windows, trust us that this is the simplest way to get this job done. So, let's take a look.
First and foremost, you will need to have access to another computer to get started. That's because creating a bootable drive isn't possible if you're not logged in.
Once you download PCUnlocker, you'll get a ZIP file. Extract the file and you'll end up with a single ISO file and a text file.
Even though you can use a CD, it's recommended to use a USB drive. So, insert your USB drive and then open My Computer to check its drive letter.
Now, to transfer your ISO file to your USB drive, you can use the company's own ISO Burner Utility. Download the application, extract the files from the ZIP file you've downloaded and then install the application on your Windows PC. Finally, launch ISO2Disc on your computer.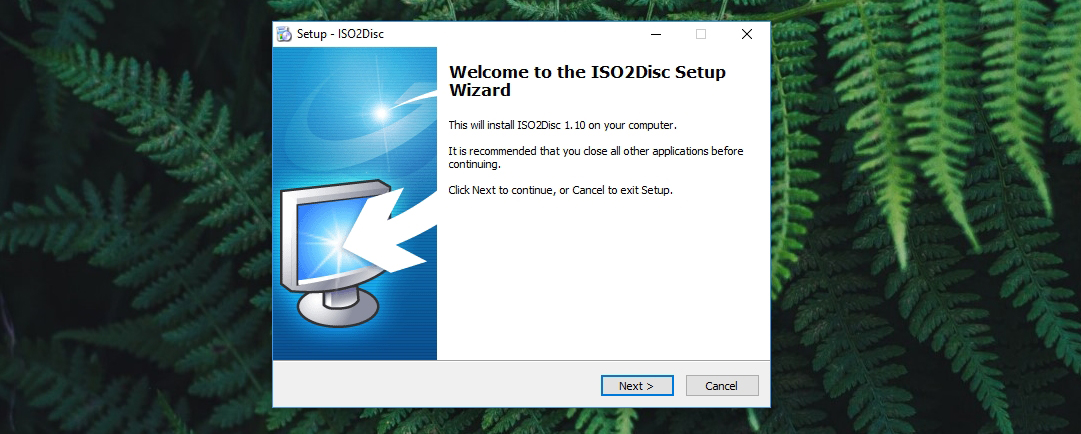 Click on 'Browse' to add the ISO file. Check the 'Burn to USB Flash Drive' option and make sure you've selected your USB by using the previously checked drive letter. Finally, click on 'Start Burn'.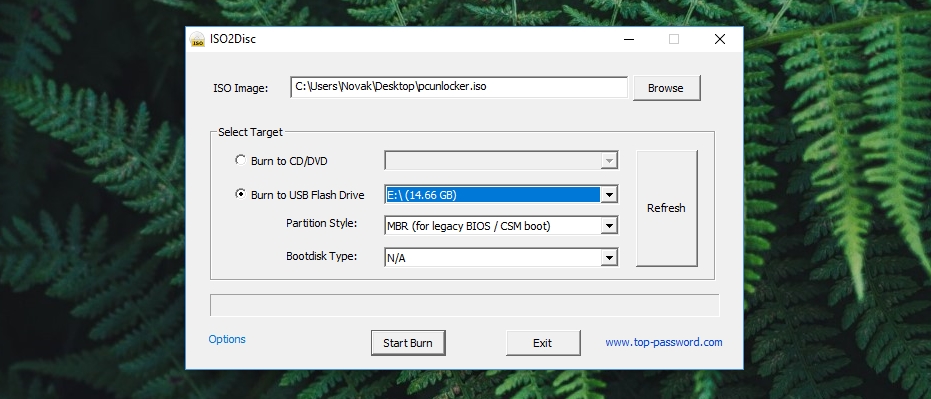 The ISO file will now be transferred to your USB drive. The process shouldn't take more than a few minutes of your time. Once done, take out the USB drive and plug it into the computer with the locked account.
Now, here comes the most complicated part. You need to instruct your computer not to boot from your hard drive but from the USB with PCUnlocker installed. This is done by entering BIOS while your computer is powering on. Depending on the manufacturer of your PC's motherboard, this is done by pressing the F12 or DEL key. Our best advice is to check the manufacturer or model of your PC and then search 'How to Enter BIOS' using Google and the exact model or manufactures or your PC.
Once inside BIOS, make sure to find different Boot options and then make sure to select your USB drive. Save the new settings and exit your BIOS.
Your computer will not boot using the newly created USB drive and you'll be greeted by PCUnlocker. Select the user and then click on 'Reset Password'. Enter a new password or leave it blank if you simply don't want to have a password.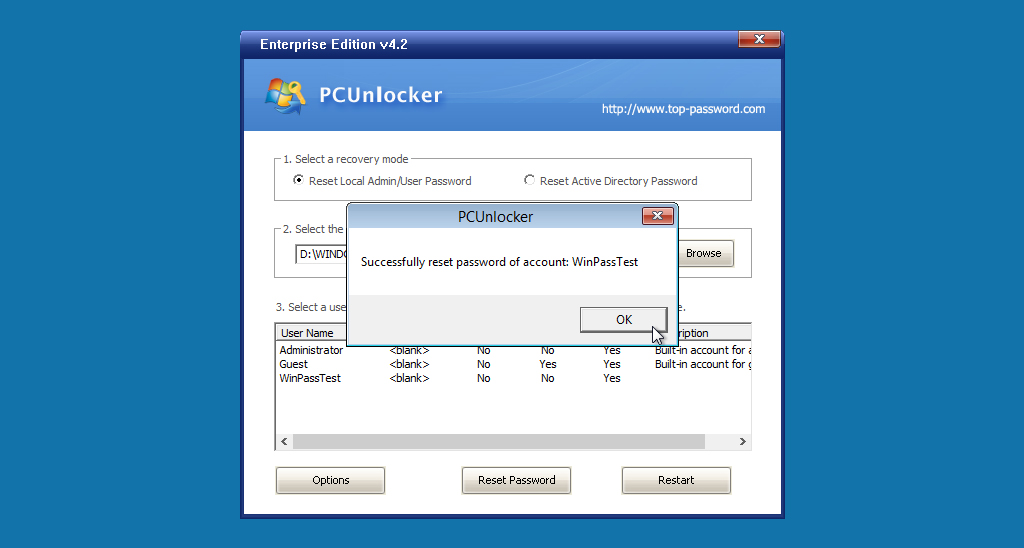 Restart your computer and you'll be greeted by your Windows – unlocked!
Customer Support

The company's website offers plenty of help – but you'll need to spend some time to find what you're looking for. Our Score: 9/10.
PCUnlocker isn't quite the easiest application out there. However, its developers don't have a lot of freedom – they need to use Windows' way of resting a password. On one hand, this is a fully working solution. On the other hand, it might be intimidating to those who aren't tech savvy. And this is precisely why the company needs to offer stellar support.
The best place to start is PCUnlocker's web page. At the bottom, you'll find a user guide that's actually really nicely explained. Then, you'll find a series of Windows version-specific guides on the right side of the page. However, the central location to get help is the company's Support page. This is where you'll find frequently asked questions, tutorials, and knowledge base. And finally, you can get support by emailing the company or calling it from the USA or other countries.
Pricing
You can get started using PCUnlocker for $19.95 for the Standard version. Considering the value this tool brings, this looks like a good deal. Our Score: 9.5/10.
You can choose from three different versions of PCUnlocker. Even though all of them will let you retrieve lost passwords, more advanced versions bring more advanced ways of handling this job. The best way to fully compare these is by visiting PCUnlocker's website.
The Standard version is priced at $19.95 and doesn't support creating a USB flash drive, which is its biggest limitation.
The Professional version is priced at $29.95 and it doesn't support booting UEFI-based computers from USB or CDs. This applies to some modern computers that don't use BIOS.
The Enterprise version is priced at $49.95 and it comes fully unlocked. As such, this is a complete solution for restoring Windows password on just about any PC model.
The Final Verdict
The bottom line is that PCUnlocker does its job with a 100% success rate. It's not the easiest to handle but this is the most reliable way to retrieve a lost password.
PROS: Very effective; Helpful support documentation; Covers old Windows version.
CONS: Not the simplest to use.
OUR SCORE: 9.7/10
Final Thoughts
Dear TechNadu readers, thanks to sticking with us to the end of this article. We sincerely hope that you found our PCUnlocker review to be helpful. If that's so, why not share it online?
Also, make sure to follow TechNadu on Facebook and Twitter to stay up to date on the latest tech-related news. Thanks!