In the world of cloud storage, Microsoft is hardly a new player. They've been trying their hand at an online file storage solution for many years now, and the result has been a service that started with Microsoft SkyDrive, then became Windows Live SkyDrive, then Windows Live Folders and finally, Microsoft OneDrive. With such evolution, you expect the service to have picked up a few tricks along the way, and luckily, OneDrive doesn't disappoint. What started as an experiment is now a mature service that brings the best-in-class experience especially for Windows and Microsoft Office users. Welcome to TechNadu's OneDrive review.
Before we get to our detailed review, let's glance at what the product has to offer. This will also set the baseline for what you can expect from this review.
Overview
| | |
| --- | --- |
| Supported Platforms | Web, Windows, Mac, Android, iOS, Windows Phone, Xbox One. |
| Notable Features | Deep Windows integration; Solid mobile apps; Great value-for-money; Brings Office 365; |
| Unique Features | Pre-installed on Windows 10; Windows Phone support; Xbox One support. |
| Price | Free version offers 5GB storage; Paid plans start at $2/month for 50GB. |
| Official Website | https://onedrive.live.com |
Now, let's also look at a quick rundown of the pros and cons, as well as our final verdict.
Verdict
| | |
| --- | --- |
| Pros | Rich ecosystem of apps; Broad platform support; Very capable mobile apps; Several unique features. |
| Cons | Mac version is a bit behind; Limited customer support. |
| Final Verdict | If you're looking for a cloud storage solution that offers great storage AND Office 365 subscription without breaking the bank, OneDrive is unbeatable. |
| Rating | 9.3/10 |
Are you still reading? Good – let's now dive into the detailed OneDrive review.
OneDrive Review
Thanks to the years of evolution that OneDrive has gone through, Microsoft has managed to get out several quirks with the service, making it one of the most reliable cloud storage solutions out there today. While it boasts a decent platform compatibility, it truly shines if you're a Windows 10 and/or Microsoft Office user.  Not that it's not a solid option otherwise, but this is the area where OneDrive truly excels.
From great storage plans to reliable service, file sharing and syncing, excellent mobile apps to obscure platform support, Microsoft OneDrive has it all. Let's look at the specifics.
Platform Compatibility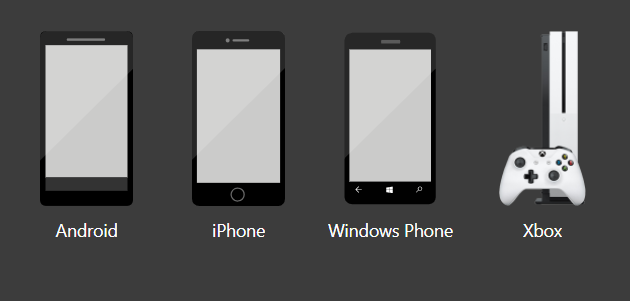 OneDrive client apps exist on every major platform except Linux but make up for the exception by adding Windows Phone and Xbox One. Rating: 9/10
OneDrive is one of those cloud storage services that offer a wide — albeit not the widest — platform support. Naturally, there's OneDrive for Web, with client apps existing for Windows, Mac, iPhone/iPad and Android. Linux is missing, but OneDrive compensates by adding support for Xbox One and Windows Phone. While the latter is something that even Microsoft has now discontinued, if you're one of those who still loves their Nokia Lumia phones, you can have the full OneDrive experience on your mobile device.
On Windows, while OneDrive exists as a native Desktop app, Microsoft also released an app through the Windows Store. It is that app which was ported over to Xbox One, allowing you to browse the contents of your OneDrive storage on the console and even play photos, videos, and slideshows on your connected TV.
Installation Process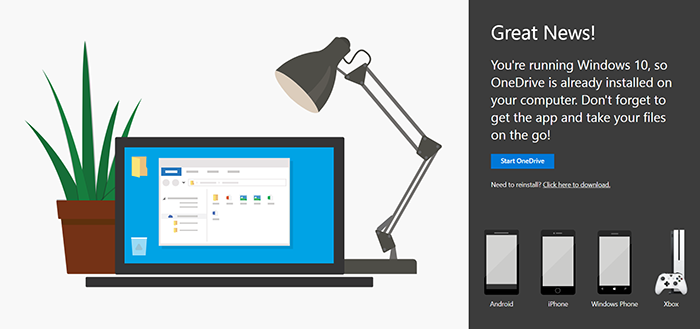 No need to install OneDrive if you're using Windows 10 — it comes preinstalled. Otherwise, installation is smooth and easy. Rating: 10/10
We've said over and over that OneDrive is the best service if you're a Windows 10 user, and part of the reason is that the service is a built-in functionality in this operating system. Not only does the desktop client come pre-installed — even in Home versions of Windows 10 — but it's super smooth to get connected and set up since OneDrive connects automatically as soon as your link your Microsoft account to your Windows installation.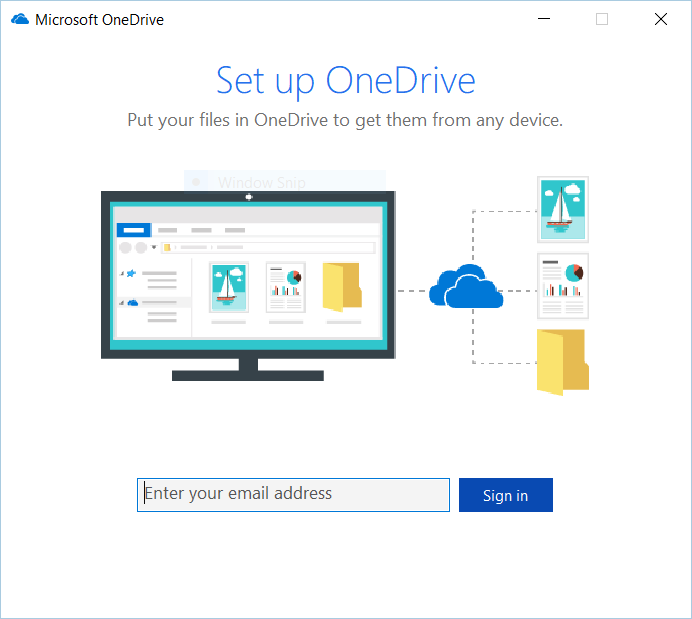 On older versions of Windows and Mac OS, installation is still pretty hassle-free and without complicated options. All you need to do is download the client and follow the prompts. Be warned that OneDrive may attempt to change your default search engine to Bing (depending on operating system and version), so if you want to stick with Google, be sure to uncheck that option.
On Windows 8.1, you may opt for the Windows Store app instead of the desktop client, although that's not recommended since it won't create a local folder on your drive for easy syncing.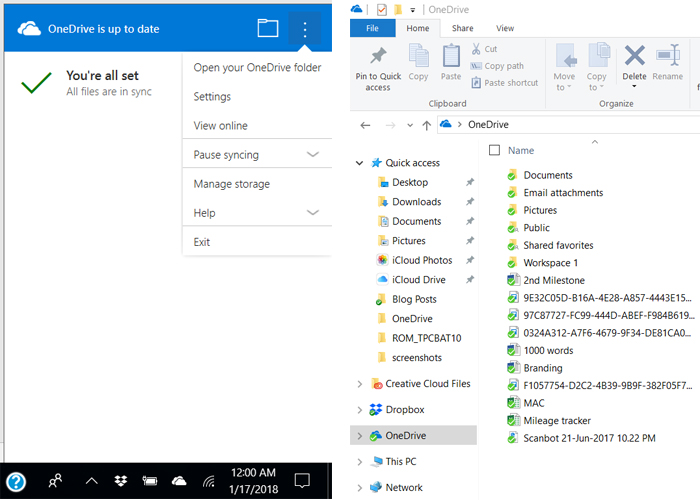 Whether OneDrive is preinstalled or you do it yourself, you'll end up with a system tray icon that offers a context menu as well as a local folder that reflects your drive's contents (more on that next).
Ease of Use
Using OneDrive is easy – as easy as dragging & dropping files that you want to be synced across your devices. Rating: 10/10
Similar to Dropbox, OneDrive creates a local folder on both Windows and Mac that mimics whatever is stored in the cloud. There's an option to select which folders to sync, so if you have a large volume of data stored online, you don't end up eating local storage because of that. Again, like Dropbox, the service works non-intrusively in the background without needing user input except the initial setup.
Speaking of initial set-up, the desktop client's settings are accessed through the tray icon context menu. The Settings dialog box is a little unpleasing aesthetically, but that's purely subjective. Options include linking/unlinking your account with specific PCs where you have the client installed, setting up the remote access feature for non-OneDrive files (more on that later), notification control, MS Office linking, version control, bandwidth management and more. The tray icon also lets you open the web or local OneDrive folders, and manage storage if that's becoming a concern.
Pretty much all OneDrive settings are those that you'll set up just once and let them be, making it an extremely user-friendly option.
File Syncing & Sharing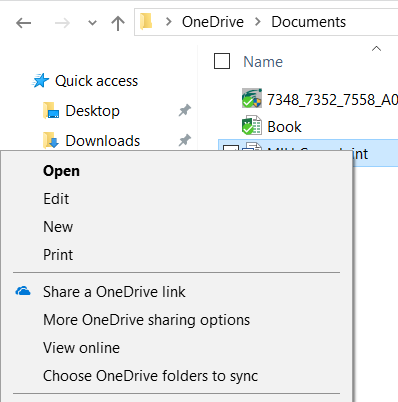 OneDrive has all the regular file syncing & sharing options, and then some more. Rating: 9/10
The primary purpose of pretty much any cloud storage service is making your data available anywhere and being able to share it with others, and OneDrive doesn't disappoint. Anything that you put in your OneDrive folder syncs with the cloud version, and consequently becomes available on all connected devices, including mobile apps. Sync is two-way, naturally, and OneDrive retains the last modified copy if accessed from multiple devices. Files have version control, enabling you to remove unwanted changes, and you may even prioritize a specific device to have overwriting capability for synced files.
On Android and iOS, OneDrive mobile apps allow you to capture and upload photos taken with the smartphone — something that's becoming a hallmark of pretty much all cloud storage services these days. It also offers the same for screenshots taken on your desktop, although a camera import feature (like Dropbox) is missing.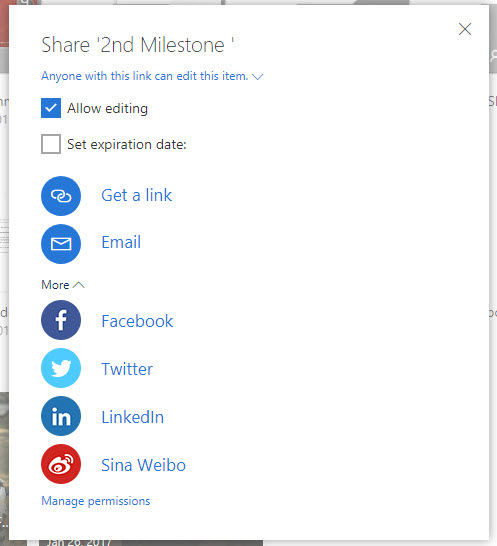 Sharing files and folders is also pretty straightforward and comes with decent options. Items can be shared either directly through the desktop folder (without advanced options), or through the web interface, where you can enable editing and set expiration for links (only in days, and only in premium plans). Permissions can be set for each individual or globally, and OneDrive lists popular social media platforms are sharing options as well.
While OneDrive offers excellent syncing of files and folders across devices and decent sharing options, it falls short of the competition like Dropbox or Jumpshare. However, OneDrive has one more trick up its sleeve.
Remote PCs/File Fetch
In the web version of OneDrive, you'll notice a sidebar option simply saying "PCs." This unique feature — set up through the desktop client on Windows 10 PCs only — allows you to access all your files and folders on the computers where you have OneDrive installed — even those files that are not in the OneDrive folder. This makes OneDrive infinitely more useful without eating up precious storage quota, especially if you're on a free or smaller paid plan.
While there are certain caveats, like having the target desktop powered on (since files are accessed via internet in real-time) and running Windows 10 (sorry, Windows 8.1; you're out of luck), File Fetch is an option that no other cloud storage service provides, and that scores a very high mark for OneDrive.
Speed & Performance
You may choose how much bandwidth OneDrive should use, or let the service decide itself. Rating: 10/10
One concern with cloud storage services is their bandwidth usage and whether they impact regular internet speeds during their background activity, and OneDrive puts the control in the user's hands. Through the settings panel, you may opt for unlimited upload or download speeds where your internet connection speed will remain the only bottleneck, or set up specific limits for both as you see fit. For uploads, you may let the service Adjust automatically where the idle connection will allocate more bandwidth to OneDrive while throttling it when the internet is being used.
Microsoft recently introduced a new feature where large files (over 1 gigabyte) always employ automatic adjustment as an exception to the global setting that you may have configured.
Security & Privacy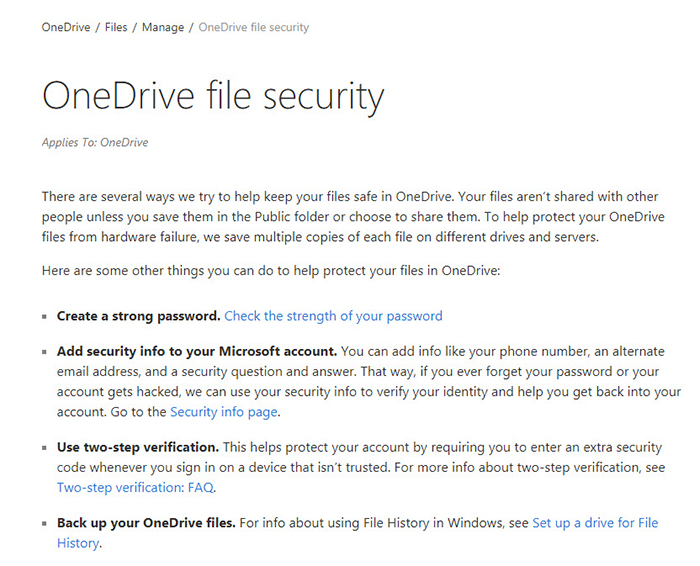 OneDrive maintains the security of your data and has one of the easiest-to-read privacy policies. Rating: 10/10
The security and privacy of your data when entrusting it to a cloud storage service is a genuine and paramount concern, and OneDrive takes are all the necessary steps to safeguard both. On the security front, you get the standard two-factor authentication, made even easier via the Microsoft Authenticator app. Recovery options are plentiful, and version history ensures your data will remain safe from accidents as well.
What we really liked about OneDrive — and Microsoft in general — was how easy to read the privacy policy was. Unlike other services which offer texts upon texts in smallish fonts, Microsoft's privacy statement, which applies equally to OneDrive, clearly outlines what data is collected, how it's used, why it's shared and more. Furthermore, Microsoft has very helpful knowledge base articles that guide you step-by-step on how to maintain your privacy and data security.
Office Online/365
The mighty MS Office in your browser is an incredible advantage. Rating: 9/10
MS Office has always been the go-to choice for all enterprise office needs, and for good reason. With OneDrive, you get that power via Office Online — a stripped-down, web-based version of MS Word, Excel and PowerPoint. The biggest advantage it affords is being able to collaborate on and edit documents on-the-go, even if you don't have the full version of MS Office installed. The online editors offer a decent feature-set, though they pale in comparison to Google Docs. On the upside, the Word, Excel and PowerPoint mobile apps are not only feature-rich but also free on both iOS and Android. They also integrate excellently with the OneDrive mobile app should you have all of them installed.
A notable addition to OneDrive's list of tricks is the storage plans that include Office 365 subscription. These plans come with a desktop (Windows or Mac) and smartphone and tablet installation of the latest versions of MS Office Personal (Word, PowerPoint, Excel, Outlook and OneNote). Not only that, you get 1TB of storage, making said plans excellent bang for your buck.
Customer Support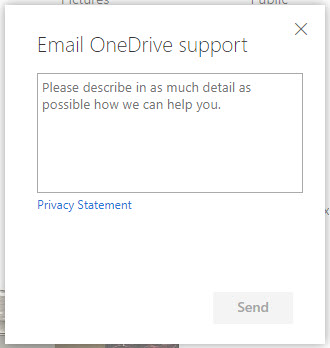 Microsoft should really consider adding social channels to its support arsenal. Rating: 7/10
Support is one area where OneDrive could use some major improvement. The only option you have for contacting support is via email — no Twitter, Facebook, or even a phone! The only plus side we see in this is emailing support is fairly easy, with just a dialog box to fill in and you'll be contacted by a representative.
For unofficial support, users may also leverage the Microsoft community where queries can be posted and answered by other users or MS experts. This, however, isn't a OneDrive specific channel and applies to all Microsoft services and products.
Pricing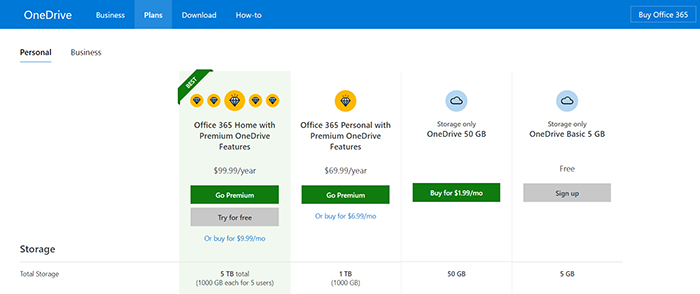 OneDrive has one of the best value-for-money plans, period. Rating: 10/10
Microsoft offers two kinds of personal plans for OneDrive: Storage only or Office 365 bundles. In storage only, you can either get a free plan that offers 5GB cloud storage with limited features, or a paid one at $1.99 per month for 50GB. In Office 365 bundles, the lower tier offers 1TB storage space with Office 365 personal subscription billed annually at $69 (or $6.99/month). The higher tier, coming in at $99 per year or $9.99/month, offers 5TB storage that can be shared across 5 users, and Office 365 Home subscription, allowing you to increase the number of Office Desktop installations to 5 computers.
Office 365 bundles also unlock additional features like OCR, multi-page scanning and expiring links. You may compare all the plans here.
The Verdict
That concludes our in-depth look at Microsoft OneDrive. The years that Microsoft has put into making OneDrive a reliable cloud storage service truly show, all the way from features to the polished mobile apps. It truly is a no-brainer choice if you're a Windows 10 or MS Office user, and the affordable pricing makes it a viable candidate in pretty much all situations.
Pros: Tight integration with Windows & MS Office; Great mobile apps; Excellent value-for-money in Office 365 paid plans; Has truly unique features like File Fetch
Cons: Integration below Windows 10 is lackluster; Mac version could use improvement; Office Online isn't as easy to use as Google Docs; Limited customer support options
Final Score: 9.3 out of 10.
Additional Resources
One Drive isn't the only service out there, and we'd like to help you make the best decision.
Final Thoughts
We hope you found this OneDrive review to be helpful and got the information that you're looking for. If you have additional questions or want to point something out to us, leave us a comment. Also, feel free to share this article across your social circle. Thanks!