Project Fi subscribers are getting an 'Enhanced Network' feature that encrypts all their Web traffic data.
Google's VPN solution promises not to keep any personal data and it comes free of charge.
The new feature will start rolling out next week for those using Android Pie on their smartphones.
It is not a secret that Internet service providers and mobile carriers know a lot about you. By collecting and analyzing your Web traffic data, they can see what you do online, what kinds of files you download, how you use Web-connected apps and more. This is the reason why Google's Project Fi is now taking steps to secure its subscribers. In the near future, you will get to use Google's own VPN solution to encrypt your traffic and prevent companies such as Sprint and T-Mobile from snooping on you.
In today's digital age, there's no way of knowing how our private data is handled by third-parties. However, what we already know is quite alarming. Applications and Web services can easily pick up our contacts, messages, emails, and pretty much anything in between - leading to a massive privacy invasion. And of course, mobile carriers are at the top of this chain, having complete control over our data. This is why it's interesting to know that Google is trying to make you a bit more secure on the Web.
Among 'Fi Network Tools' on your smartphone, you should soon be able to see an option called 'Enhance Network' – which is a toggle that lets you enable Google's VPN solution. Once you do that, all your incoming and outgoing traffic will be rerouted to Google's servers. The end goal of this setup is to make your Web traffic data encrypted and hidden from your primary carrier such as T-Mobile or Sprint.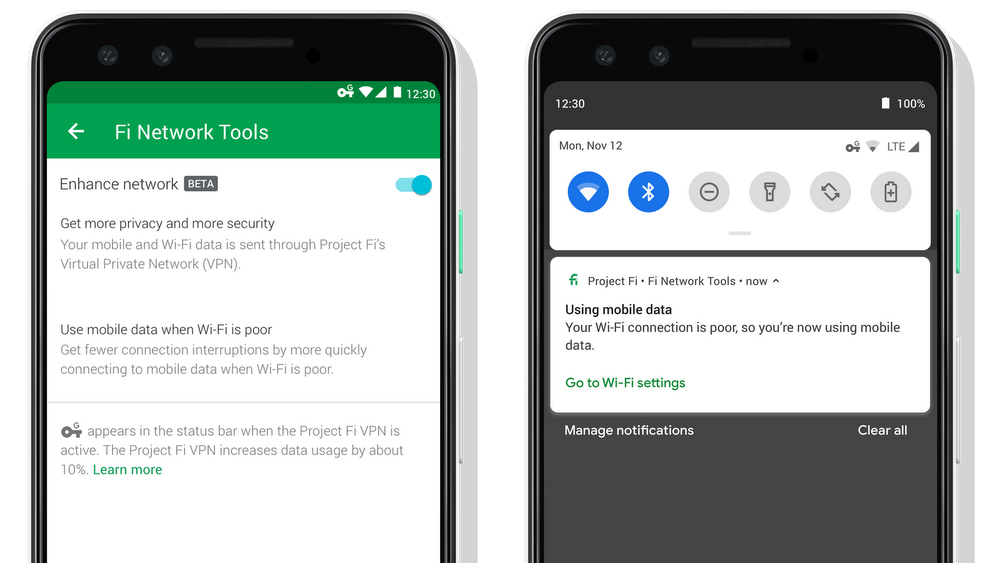 In a recently published blog post, Google is saying that your data will stay truly yours. After all, it's understandable to be concerned about what kinds of data can Google see – which defeats the purpose of using this VPN, in the first place. Well, your data won't be tied to your Google account or phone number, which is nice to hear. In addition, the tech giant won't tie your data to any other user identifiers either. However, the company can still collect some data used for analytic purposes – with the aim of improving the VPN service and other Project Fi network services.
It is also worth noting that using this new Project Fi option will lead to an increase in mobile data usage. More precisely, you'll use around 10% more data than usual. Even though this might sound like a problem, this is something that all VPNs share. Since they encrypt your data and since it has travel further to reach its destinations, VPNs use more data than normal. With this said, you can expect some throttling, which might be the biggest hurdle for this service. On the other hand, Project Fi VPN will come at no additional monthly cost.
The final question is – why should you trust Google's VPN service? We all know that this company collects plenty of data and we can only imagine the volume of personal data that has been collected so far. Here at TechNadu, we deal with a lot of VPNs on a daily basis. And this is why we strongly recommend you to check the best VPNs for Android. These will keep you safe using the highest level of encryption – and they won't collect your personal data.
Are you a Project Fi subscriber, and do you plan on using the new VPN? Let us know in the comments section below. Also, make sure to follow us on Facebook and Twitter to stay on top of the latest information. Thanks!