RiaPlay is an indispensable source of Italian cinematography. And aside from movies, this streaming service also offers sports, TV shows, music events, documentaries, and plenty more. So, if you've been wondering if it's possible to watch RaiPlay outside Italy – we are here to provide a definite answer.
Yes, it's possible to watch RaiPlay from any country in the world, as long as you use a capable VPN service. Let's help you pick one, and then show you how to use it. So, here's everything that you need to know.
Where Is RaiPlay Available?
It doesn't come as a surprise that RaiPlay is available only in Italy. This applies to RaiPlay's website and apps, which check whether you have an Italian IP once you access them. Unless you don't have one, you'll encounter a message, just like this one: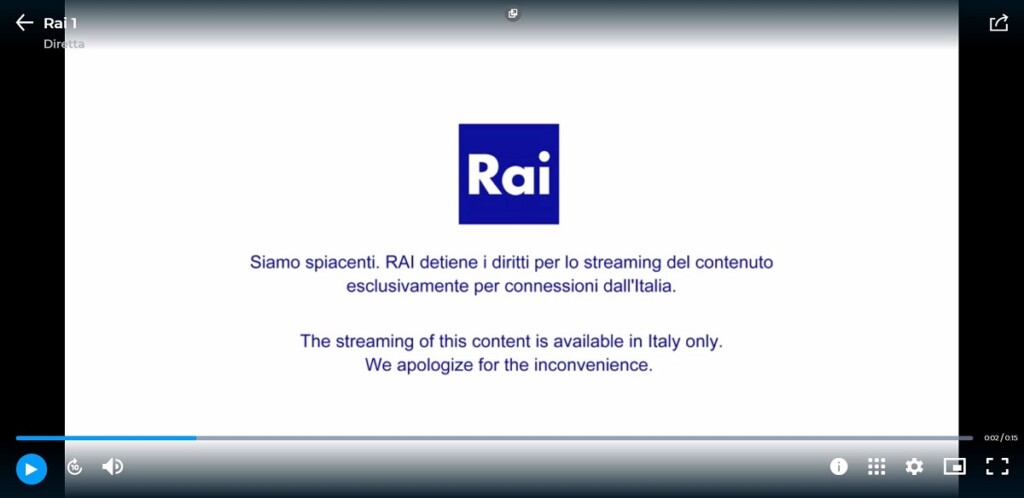 It's interesting to note that RaiPlay is accessible from any country in the world. Its apps are also listed on Google's Play Store and Apple's App Store without geo-restrictions. However, as soon as you pick a title to stream – you will see the error message. In some cases, RaiPlay's titles will be greyed out, saying "Not Available."
How to Watch RaiPlay Outside Italy?
So, to watch RaiPlay outside Italy in 2021, you need to do the following:
Step #1: Find the Best-Working VPN to Unblock RaiPlay
This might come as a surprise, but RaiPlay isn't that easy to unblock outside Italy. This media streaming service has rigorous location-checking mechanisms, so you need to be picky about which VPN you'll choose.
With that said, we have a concrete recommendation. After testing more than 60 VPN services, we recommend going for ExpressVPN. This is the only VPN that not only unblocks RaiPlay but also provides the best possible streaming experience overall.
3,000+ VPN servers in 160 VPN server locations in 94 countries, 5 Simultaneous connections, Fast and stable connection, No activity logs or connection logs, No bandwidth limits, Strong encryption, 24/7 live chat support, and 30-day money-back guarantee.
If you're willing to try your luck with other VPNs, we do have several recommendations that won't let you down. To learn more, jump to the segment explaining the best VPNs for RaiPlay, where we've prepared four recommendations in total for you.
Step #2: Get Your VPN Subscription
We hope you've reviewed your options by now – as now's the time to decide and get your VPN subscription. Once again, we strongly recommend ExpressVPN, which we'll use throughout this guide to show you how to watch RaiPlay outside Italy.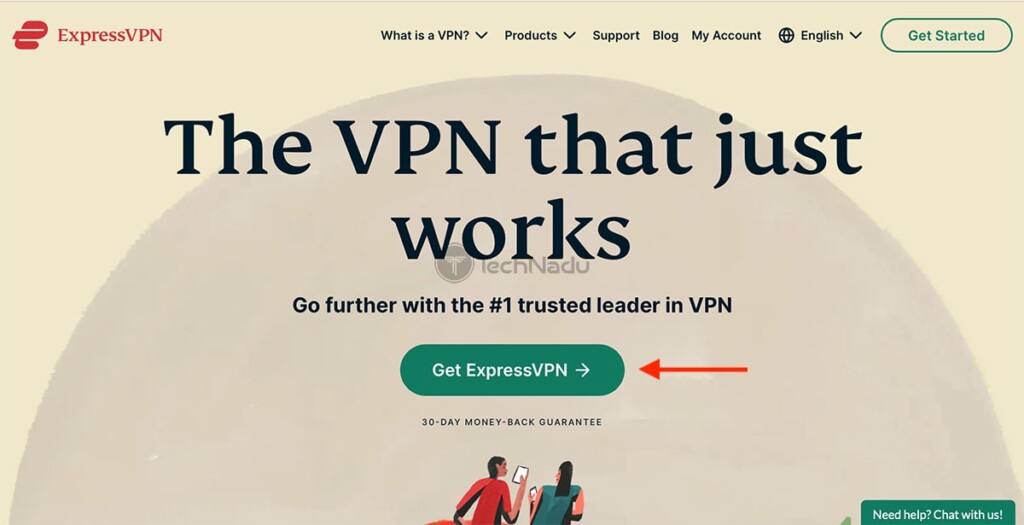 Once you find yourself on ExpressVPN's site, proceed to click on 'Get ExpressVPN.' A sign-up form will appear, asking you first to pick a subscription plan. Go for any plan – but keep in mind that long-term plans come with steep discounts.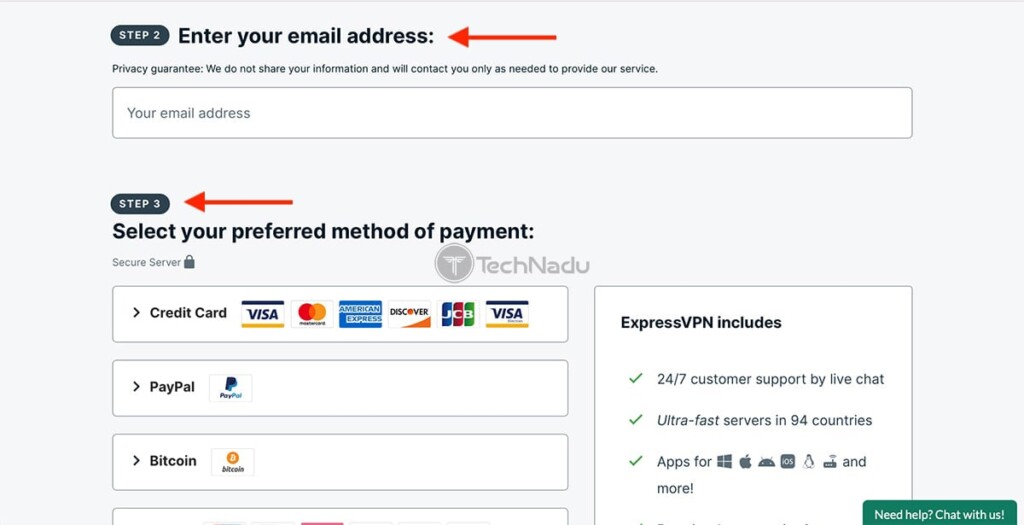 Provide your email address as well, and then fill out your payment information. Once you're done signing up, ExpressVPN's team will send you a confirmation email. So, check your inbox, and then proceed to the next step – instructing you to download the VPN.
Step #3: Download & Install the VPN on Your Device(s)
No matter if you've never used a VPN before, getting started with ExpressVPN is incredibly easy. However, there's one thing to keep in mind. You need to install ExpressVPN on any device(s) you'll use to stream RaiPlay. That's because you can watch RaiPlay outside Italy only while ExpressVPN is active in the background.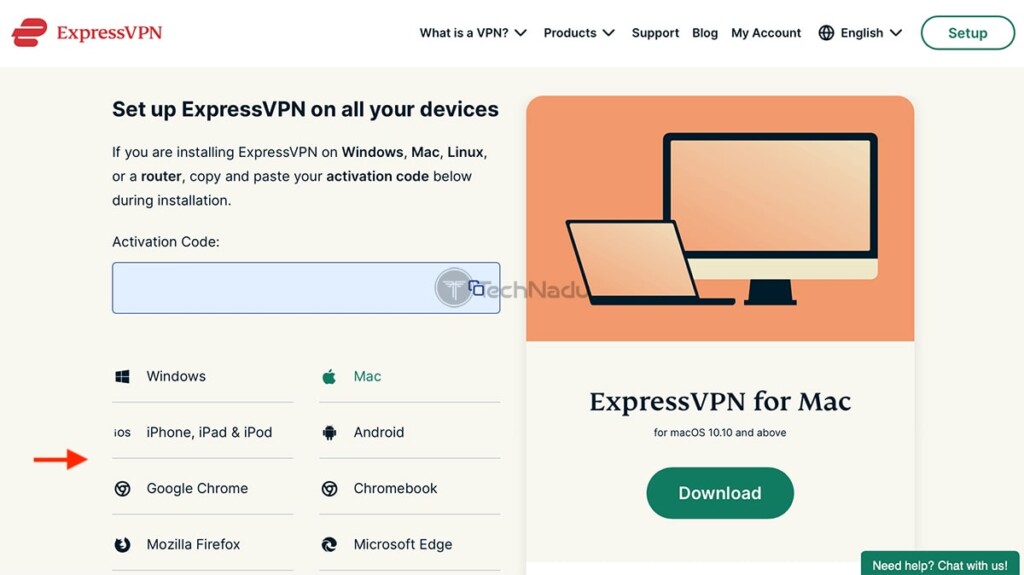 To help you get started, make sure to check our guide on how to download, install, and use ExpressVPN – covering an extensive range of devices (computers, smartphones, tablets, media streaming devices, routers, and more).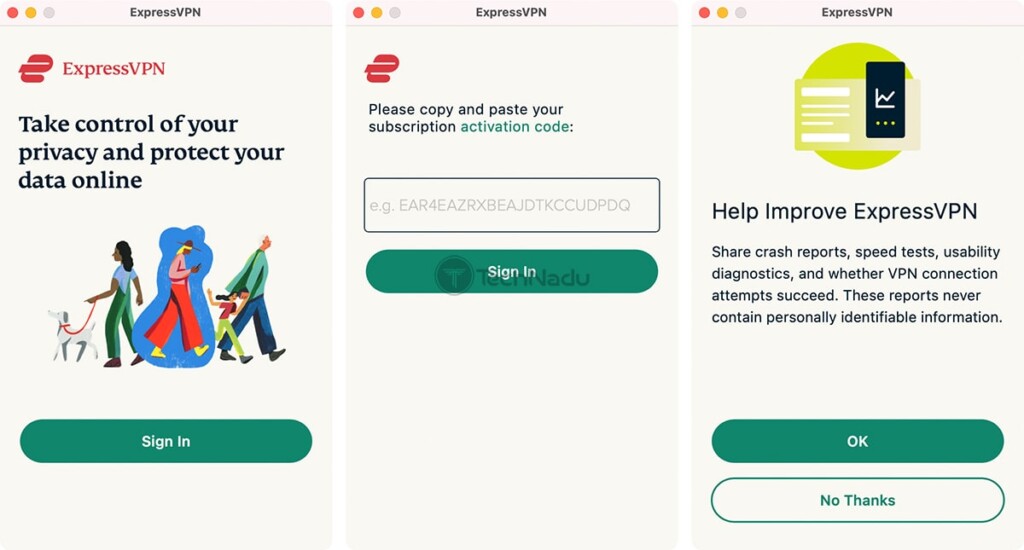 Then, once you install the VPN, make sure it's ready for use. In other words, launch it for the very first time and go through its initial setup. You will be asked to log in to your account and fine-tune the VPN as per your preferences. At this moment, you should be looking at its home screen, so let's keep on going.
Step #4: Connect to a VPN Server in Italy
Now, here comes the crucial piece of this puzzle – connecting to a VPN server in Italy (which will get you an Italian IP address, in return). This is a simple process that takes only a moment of your time, so here's how it's done.
Via ExpressVPN's home screen, click on the button below the prominent ON/OFF switch. A new window will pop up, showing you a list of all ExpressVPN servers. Feel free to use the search box you'll see at the top to search for 'Italy.' As you type the country's name in the search box, the corresponding server(s) will appear just below.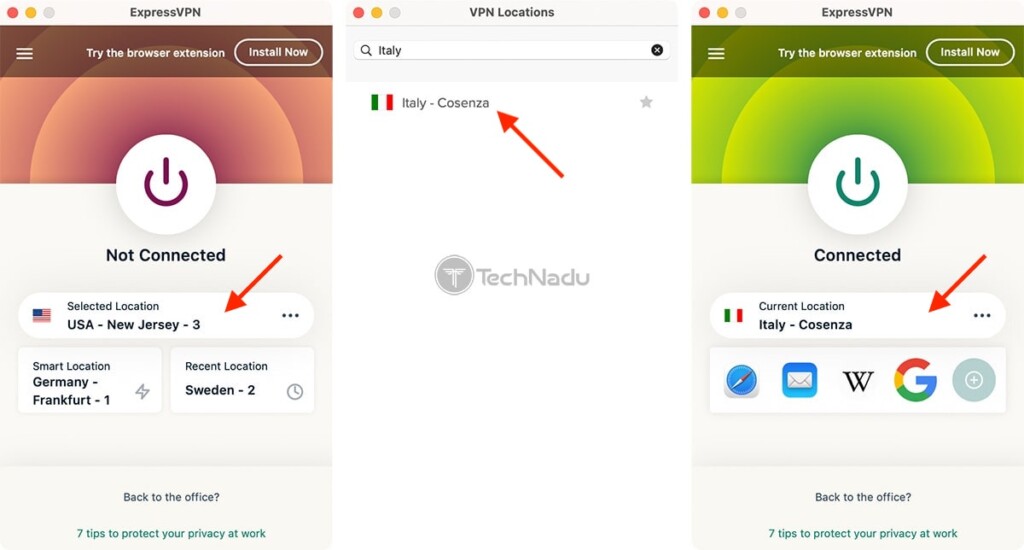 Then, double-click on the name of ExpressVPN's Italy-based server. The application will take a couple of moments to connect you. Once that happens, the upper half of its home screen will turn green – which is when you can proceed to the next step.
Step #5: Unblock RaiPlay & Access Its Library
Now, it's time to unblock RaiPlay, which is done by visiting RaiPlay's website (via any Web browser). Before you get to stream anything, you'll need to create an account. So, select 'Accedi' in the top-right corner. Then, pick 'Registrati' and select the option you'd like to use to register.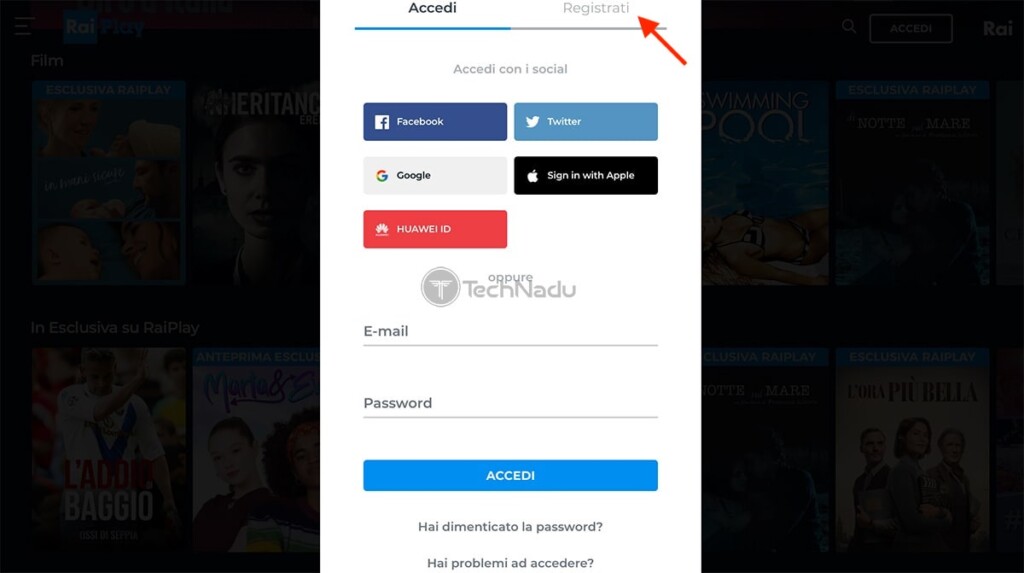 If you don't wish to use your Facebook, Twitter, Google, Apple, or Huawei credentials, you can also create an account from scratch. Select 'Crea un Account Rai' and fill out the required information (your first name, last name, email, password, date of birth, and gender).
Once you're done registering, it's time to start streaming RaiPlay – without any limitations. Feel free to take a good look at its website, and we're sure you'll find plenty of interesting stuff to watch.
Step #6: Get RaidPlay on Other Devices (Optional)
Of course, RaiPlay isn't only available via its website. So, in case you want to access it on your Android device or your iPhone and iPad – you can do so using the official RaiPlay apps. These are available across the world, so you should be able to access them via the Play Store and iOS App Store without any problems.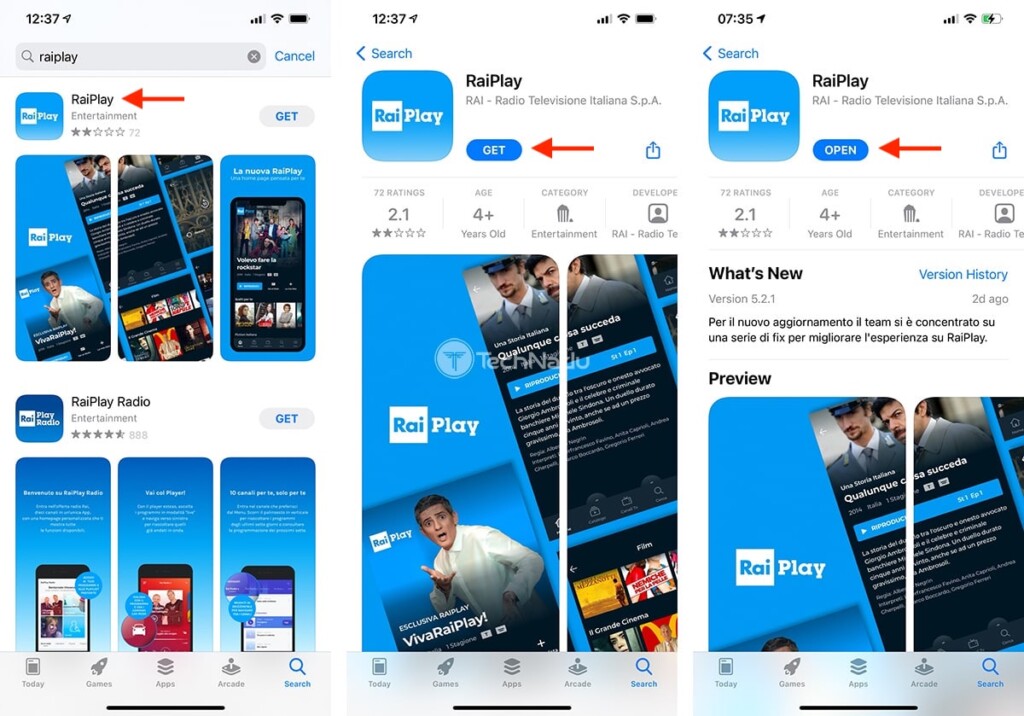 Once again, we'd like to remind you that you must have ExpressVPN enabled in the background on your Android or iOS/iPadOS device (as long as you want to watch RaiPlay outside Italy). So, if you haven't done that already, here's how to set up ExpressVPN on Android and iOS/iPadOS.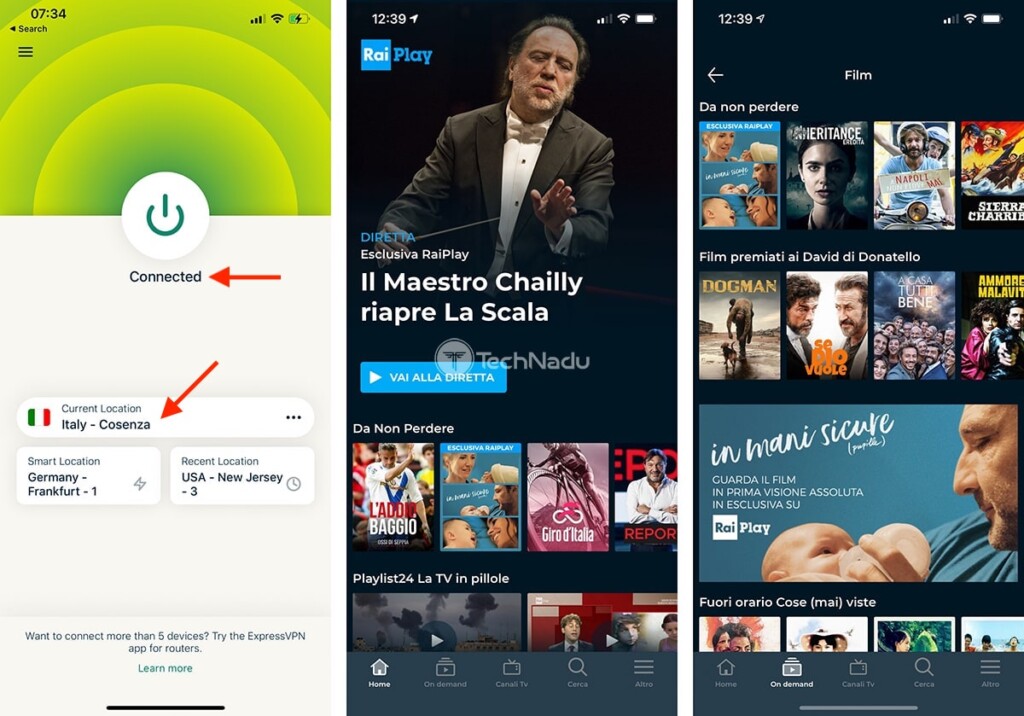 Once you open the RaiPlay app, don't forget to log in first. So, click on 'Altro' and then select 'Accedi.' Provide your email address and password, and that's it!
What's the Best VPN for Unblocking RaiPlay Outside of Italy in 2021?
Not sure which VPN to use? No problem! We ran multiple tests and found the best 4 VPNs that actually unblock RaiPlay outside Italy. Here's a quick look at each provider:
1. ExpressVPN – Best RaiPlay VPN
ExpressVPN has apps for pretty much all platforms: Windows, macOS, Linux, iOS, Android. They also support up to five simultaneous connections, so you'll be able to watch RaiPlay outside Italy on multiple devices at the same time! Best of all – ExpressVPN's apps are very intuitive, meaning you'll get used to them in no time.
What's more, with this provider, you also get fast speeds (even when using OpenVPN, a notoriously slow protocol), unmetered data, and access to a pretty big server network. Other highlights include high-end security, split tunneling, and 24/7 live chat support.
Last but not least, ExpressVPN offers a very generous 30-day money-back guarantee. If you're not fully satisfied with the service for any reason, you can ask for your money back within that time frame.
To learn more about this provider, please read our full review.
2. CyberGhost VPN – Best for Optimized Streaming
What sets CyberGhost VPN apart from the rest of the VPN providers on this list is that they have a dedicated streaming server for RaiPlay. That mostly means that a specific server refreshes its IP address more often to improve its odds of unblocking the site.
This VPN also supports up to seven parallel connections, which comes in handy if other people in your house want to use the service. Other cool perks include unlimited data, fast speeds, 24/7 live chat support, an impressive server count, and cross-platform compatible apps that are easy to use.
If you want to be the only one using the VPN IP address you're assigned for some reason, you can do that by getting a private dedicated IP.
To top it all off, CyberGhost VPN offers a 45-day money-back guarantee. You just need to get a long-term plan to qualify for it. Otherwise, your purchases are only covered by a 14-day refund period.
Want to find out more about CyberGhost VPN? Go ahead and check out our review then.
3. Surfshark – Best for Shared VPN Subscriptions
Maybe you own an absurd amount of devices you want to watch RaiPlay on – whether it's at home, at work, on vacation, or when you're visiting the in-laws. Or maybe you want to save some money by sharing the VPN subscription with more people.
In either case, Surfshark is the perfect solution. This provider allows unlimited simultaneous connections, so you can set up the service on as many devices as you want, no questions asked!
Surfshark also has a decent number of servers, very fast and stable speeds, and unlimited bandwidth. Oh, and you also get split tunneling with Surfshark, making it easy to optimize your VPN speeds when you watch RaiPlay outside Italy.
And if you experience any issues, Surfshark's support reps are just a live chat message away. And yes, they're available round-the-clock. Also, when you buy a subscription, you're covered by their no-questions-asked 30-day money-back guarantee.
In case you'd like to take a closer look at Surfshark, just follow this link to read our hands-on review.
4. NordVPN – Best for Streaming + High-End Security
Like most providers, NordVPN offers powerful encryption and doesn't keep any logs. But the good news doesn't stop there with this provider.
To make sure you can relax and not worry about your data, NordVPN also offers other features like traffic obfuscation, Tor over VPN support, and CyberSec (a nice feature that protects you from ads and malicious domains).
You also have the option to pair up your account with two more of their services: NordPass (a password manager) and NordLocker (a file encryption platform). Furthermore, NordVPN has recently started investing in a colocated network (which only they own and operate), which is definitely a step in the right direction.
Besides that, NordVPN has everything you need to get smooth streaming on RaiPlay: high-speed servers, easy-to-use apps for most platforms, unlimited data, 24/7 support (live chat is available), and support for up to six parallel connections. Oh, and they also have a 30-day refund policy to boot.
If you'd like to see this VPN in action, please read our NordVPN review.
How Are VPNs Able to Unblock RaiPlay?
They can do that because they hide your IP address. Not in some box or chest, mind you. Instead, they "hide" it by stopping RaiPlay from seeing your "true" IP.
Basically, the VPN will route your traffic to RaiPlay through one of its servers. That tricks the site into thinking the traffic is coming from the VPN server, not your device. So RaiPlay only sees the VPN's IP address when it checks the source of your connection request.
If that IP address is Italian, RaiPlay will let you watch movies and shows on its platform. It's programmed to do that when it detects Italian IPs, after all.
VPN Not Working With RaiPlay? Here's What to Do!
Sometimes, you might see RaiPlay's geo-blocking error even if you're using an Italian VPN server. Now, that didn't happen when we tested the site with the VPNs listed in this article. But if you do experience this issue, here's what you can do to bypass it:
Sign out of your RaiPlay account, and log back in.
Use a Web browser to watch RaiPlay outside Italy instead of the app.
Use a different Italian VPN server.
Clear your browser's cookies and cache.
Use your browser or a different browser's incognito/private mode.
FAQ
What Is RaiPlay?
RaiPlay is an online video-on-demand platform owned and operated by Rai (Italy's national public broadcasting company). Most of its content is in Italian.
You can use RaiPlay for free, but you'll need to create an account to watch videos.
What Can You Watch on RaiPlay?
RaiPlay has a large selection of content – movies, kids' shows, fiction, and teen films and TV series. Its content library includes popular titles like Ghost Academy, Dragon, Il Collegio, L'uomo Sul Treno, Red Lights, and Mare fuori.
You can also watch live channels like Rai Sport, Rai News, Rai 1, Rai 2, and Rai Scuola.
What Devices Can You Watch RaiPlay On?
RaiPlay works on desktop systems through web browsers. The media streaming service also has apps for:
Android
iOS
Apple TV
Amazon Fire Stick TV
Roku
Chromecast
Other smart TVs
How Can You Improve Your VPN Speeds When Watching RaiPlay?
You shouldn't get big slowdowns when using a VPN with RaiPlay – even if you're using OpenVPN and you're far from the server with speeds hovering around 20-30 Mbps. RaiPlay doesn't say what speeds you need, but the highest video quality setting is 720p HD, which requires at least 2.5 Mbps speeds.
If you are somehow experiencing annoying slowdowns, please follow our tips to fine-tune your VPN speeds.
Does RaiPlay Have English Subtitles?
Unfortunately, no. On the plus side, some of the movies on RaiPlay have English audio – like Tomasso. Still, most shows and movies are dubbed in Italian.
However, you can slow down the audio. So if you want to practice your listening skills, RaiPlay can be a good place to do it.
Do Free VPNs Work With RaiPlay?
They might, at least in theory. However, using a free VPN to unblock RaiPlay will always lead to a less than desirable streaming experience.
Here are some drawbacks to consider:
The speeds are usually slow because servers get overcrowded fast.
Free VPNs often use bandwidth caps.
The apps are sometimes buggy.
You might not get any support.
Free VPNs aren't really safe to use.
If you still want to try using a free VPN, make sure you use our guide to find a good one.
Which VPN do you use to watch RaiPlay outside Italy, and how well does it work? Please tell us about your experience in the comments below. And lastly, thank you for reading!