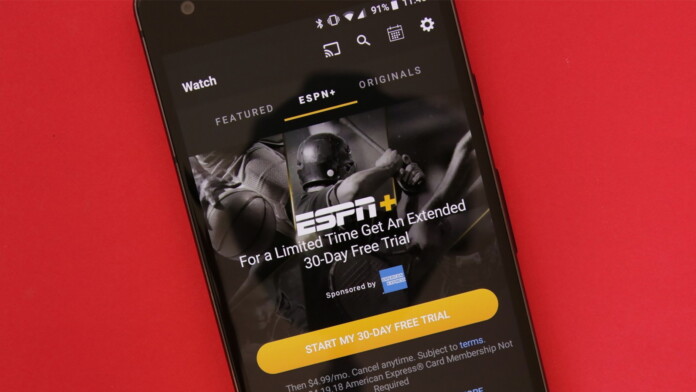 Even though it's one of the youngest sports streaming services, ESPN+ has already reached massive popularity. However, the problem is that it's available in the US only – which means that it blocks access from other countries. Don't worry, we can help you resolve this issue. After testing pretty much every popular VPN application, we are going to give our recommendations and teach you how to watch ESPN+ outside the US.
Top 5 Best VPNs That Unblock ESPN+ From Abroad
We go through a lot of VPNs here at TechNadu, testing them out, trying to see what works and what doesn't. To be more precise, we've gone through several VPNs and you can find their full review on this website. So, let's take a look at 5 VPNs that can unblock ESPN+ from pretty much anywhere.
1. ExpressVPN
Our first option is ExpressVPN, one of the best tools of this kind on the market. This particular VPN is widely acclaimed, so there's really no going wrong when picking it.
ExpressVPN offers thousands of servers to pick from, including plenty from the United States. It also connects to the chosen servers extremely fast, and the Internet speeds remain unchanged. One of the best features ExpressVPN comes with, however, is the kill switch, which is a feature that immediately stops any of your data from trickling back to your ISP in case the server has a timeout for any reason.
ExpressVPN works on Windows, Mac, Linux, iOS, Android, Blackberry, as well as various routers. As a cool addition, there are also several browser extensions to play with. We have a lengthy review of ExpressVPN if you want to get all the details.
2. NordVPN
Next up we have NordVPN, a really great choice for anyone looking for an easy-to-use VPN. The tool protects your data using 256-bit encryption protocols, which is what the NSA uses to secure data. There are also several additional features, such as a double-VPN, and CyberSec, which is a tool that will flag dangerous websites.
NordVPN offers one of the fastest growing server networks we've seen among VPNs – 5,000+ servers in 60+ countries, 600 of which were added in the past couple of months alone. The VPN comes with multiple platform support which includes Windows, Mac, Linux, Android, iOS, as well as multiple routers. We have a detailed review of NordVPN if you want to make an informed decision.
3. PrivateVPN
Our next recommendation is PrivateVPN, a tool that comes with everything you may need. On top of encrypting your data with military-grade protocols, the company promises to keep no traffic logs, so you're completely safe. Furthermore, PrivateVPN also offers protection when you're trying to connect to public WiFi hotspots.
On the other hand, PrivateVPN doesn't provide many customization options, and it only has about 80 servers in 56 countries, which is a pretty narrow network. PrivateVPN works on Windows, Mac, iOS, and Android. We have an in-depth review of PrivateVPN if you're looking for one.
4. VyprVPN
VyprVPN is next on our list today, a versatile tool. Not only does VyprVPN offer tough encryption protocols to protect your data, but it also makes use of chameleon technology to hide your traces.
This VPN has over 700 servers in 64 countries that you can connect to. While this network isn't the widest we've seen thus far, it's pretty impressive nonetheless. VyprVPN works on Windows, Mac, Linux, Android, iOS, Blackphone, SmartTVs, and routers. We have a lengthy review of VyprVPN ready for your reading pleasure.
5. TorGuard
Our next and last recommendation is TorGuard, a tool that works on multiple platforms, including Windows, Mac, Linux, Android, iOS, and more. Initially designed as a secure and anonymous solution to downloading torrents, this is has become of the most capable VPNs right now. Needless to say, it allows you to watch ESPN+ from anywhere.
TorGuard protects your data with strong encryption protocols and has a zero-log policy in place. It also offers users the chance to connect to over 3,000 servers in over 50 countries. On the other hand, this one may be tougher to get used to compared to other VPNs due to the complicated UI. We have a detailed review of TorGuard if you want to take a look.
What Else to Know About Unblocking ESPN+ Outside US via VPNs?
Knowing the best options for unblocking ESPN+ outside the US is a good start. However, let's take a closer look at this service. Here are some commonly asked questions and answers.
What is ESPN+?
The brand new service costs $5 per month to use but promises to feature over 10,000 live events every year, including soccer and baseball games, as well as college sports, tennis events like the Wimbledon, US Open, and Australian Open, lacrosse, softball, and so on. Boxing fans are also going to have plenty to see, gold enthusiasts as well. In short, ESPN+ will cater to all sports fans.

There will also be plenty of exclusive ESPN content, including documentaries like 30 for 30, Kobe: Detail, In the Crease, and so on. Those who want to give this a go should know that there's a 30 day free trial period during which you won't get charged.
Where is ESPN+ Available?
Much like many US-based services, ESPN+ is only available to viewers within the United States. Therefore, if you are planning on traveling abroad while your much-awaited game is on, you're fresh out of luck. Same goes for anyone living abroad who may want a sustainable source for watching live games on their PCs rather than their TV, which they may or may not have access to.
There's also a pretty cool part about ESPN+ – the fact that you don't need to have a valid TV network subscription to create an account. Most often than not, with this type of services, you need to provide credentials from the TV network provider, but not here. In fact, you can simply create an account with your email address, or just use Facebook login.
On What Devices Can You Access ESPN+?
The folks at Walt Disney went all out for ESPN+ right from the beginning, launching apps for most devices out there. More specifically, they have apps ready for iPhone and iPad, Android devices, Amazon Fire TV and tablets, as well as Chromecast. There's still room for some gaming consoles to be added.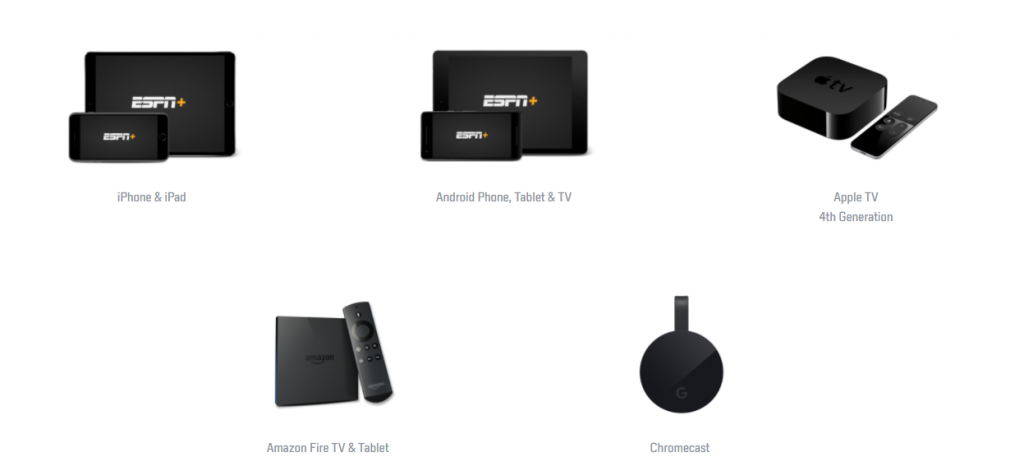 What Can You Watch on ESPN+?
Well, first things first – you can watch various live competitions, depending on the sports you're interested in. Then, you can get the latest news about the teams you're interested in, or general sports-wide information, as well as scores and other pertinent data. You can customize your account to reflect your interests straight from the main page. There's plenty to do and you can definitely fill your time even when there aren't any games on.
How Can VPNs Unblock ESPN+?
If you're planning on traveling or if you live abroad and still want to pay $5 per month for ESPN+, then you're going to need a VPN, or the platform will display a message telling you there's nothing for you there since you're not in the US.
VPNs, or Virtual Private Networks, are tools that help you connect to the Internet anonymously. Your connection is routed through a server of your choice and your computer gets a new IP address, while all your data becomes encrypted and, therefore, unreadable by even your ISP. This means that if you connect to a server in the USA, you will get an IP associated with this country – and therefore unblock services like ESPN+.
To learn more about this type of software, we have a guide to VPN applications. This is where you can learn how they work, what they can and can't do, and plenty more.
We hope you'll enjoy the new ESPN+ platform as much as we do, no matter what corner of the world you live in. And we also hope that you managed to learn how to watch ESPN+ outside the USA. If you have any additional questions, don't hesitate to post a comment below.
If you enjoyed the article, please share with friends and family online so they can find their way around the geographical blockade too. And also, don't forget to follow us on Facebook and Twitter. Thanks!