You can do a lot to browse the Web anonymously and to make sure your Web browsing data is hidden. However, there's a series of numbers that are always following you on the Web - revealing your (real or fake) location. That is your IP address. Learning a few things like how to trace an IP address can help you become more aware of your online presence. So, we're going to take a dive into this topic.
First, we'll take a look at what it an IP address. Then, we'll talk about how to find someone's IP and how to trace an IP address. And finally, we'll give you a few pieces of advice on how to be more secure on the Web. Let's get started.
What Is An IP Address: The Basics
Every time you go online, you receive a series of numbers that act as a digital identifier for your device. This series of numbers is your IP address (Internet Protocol Address). In simple terms, every Web-connected device must have a public IP in order to communicate with other devices on the Web. In other words, there is no way not to have an IP and still be able to use the Web.
What you also need to know is that there are two types of IPs that correspond to two types of networks - closed and open networks. A closed network is a network in your home - usually consisted of your routers and devices connected to it. In this scenario, each of these devices has their own private IP address. This is how you can, for example, stream YouTube video from your Android smartphone to your console or even TVs. An important requirement is that all these devices are connected to your router and thus form a closed network.
Then, we have open networks - which is the World Wide Web. As you connect to the Web from your computer, you are assigned a public IP address. This means that anyone can track it on the Web, which is what makes your vulnerable. Still, lots can be done to be safe on the Web.
In case you're like to learn more about how your IP address affects your Web browsing, here's our helpful guide to IP addresses.
How To Find Someone's IP Address
Before you can trace someone's IP, you first need to know what it is! There are different types of communications that all come with their own tricks to finding the IP address of the person or service on the other side of the line.
Option #1: Find a Website's IP Address
If you want to know where the server for a particular site is, you can use a handy tool already present on your Windows PC. It's called Command Prompt and you can find it in the following way:
If you're using Windows 10, open the Start menu. Then, simply type in 'Command Prompt' and hit Enter;
In case you're using an older Windows version, use the Windows + R shortcut to open the Run prompt. Then, type in CMD and hit Enter.
Let's say that we would like to discover the IP address of Facebook - at least where some of its servers are located. So, we need to type in 'ping facebook.com' in the Command Prompt and hit Enter. After a few seconds, we'll get the needed result.
As you can see the IP address of the site is 31.13.84.36. With this information, we can now proceed to trace that IP address. However, let's take a look at an alternative way of finding out someone IP's before we proceed to trace it.
Option #2: Find an Individual's IP Address
If you are interacting with someone on the Internet and you want to find out where they are, there's no easier way to do it than by using an IP-logging service. One we like is called IP Logger, which provides a number of really neat ways you can trick someone into surrendering their IP address.
You can take a genuine URL, such as a funny video on YouTube, and turn it into an IP tracker. Basically, you put it into the IP Logger URL shortener and then run it through a benign-looking shortener such as goo.gl. If the person clicks on the link they are taken straight to the site you said they would. But their IP address gets logged.
There's also a rather cool method of including an invisible image on a web page or even in an email that you send to someone. They don't have to click on the image for the IP to be logged. Opening the message is enough.
How to Trace an IP Address
There are numerous ways to find out the exact physical location of an IP address. We are going to show you two interesting options. The first one is a tool called IP Tracker Online that comes with a handy satellite map. Then, there's a hugely popular service called Wolfram Alpha - which can be used for other purposes as well.
Option #1: Trace an IP Using IP Location
Once you have the IP address in hand, it's time to use it to find the person behind it. To do this we need an IP lookup service. Here, you are absolutely spoiled for choice. IP Location will actually show you the nearest estimate of location on a satellite map, although it's probably not all that accurate.
Without the cooperation of authorities, you are unlikely to get the exact address associated with an IP. If the person in question is using a dynamic IP, then you'll also need to know the time of day and date the IP was logged. This final bit of identification isn't very easy. Still, in the hands of authorities, it quickly turns into a name and a real, physical address.
Option #2: Trace an IP Using Wolfram Alpha
Wolfram Alpha is something like Google - but for getting 100% true and reliable facts. You can use this computational intelligence service to get information on pretty much anything you want to know. This includes math, history, medicine, engineering, art, food, and pretty much anything else. Among those things, Wolfram Alpha can trace an IP address as well.
Open Wolfram Alpha in just about any browser. Mobile devices will do the job as well;
In the search field, enter the IP you want to trace;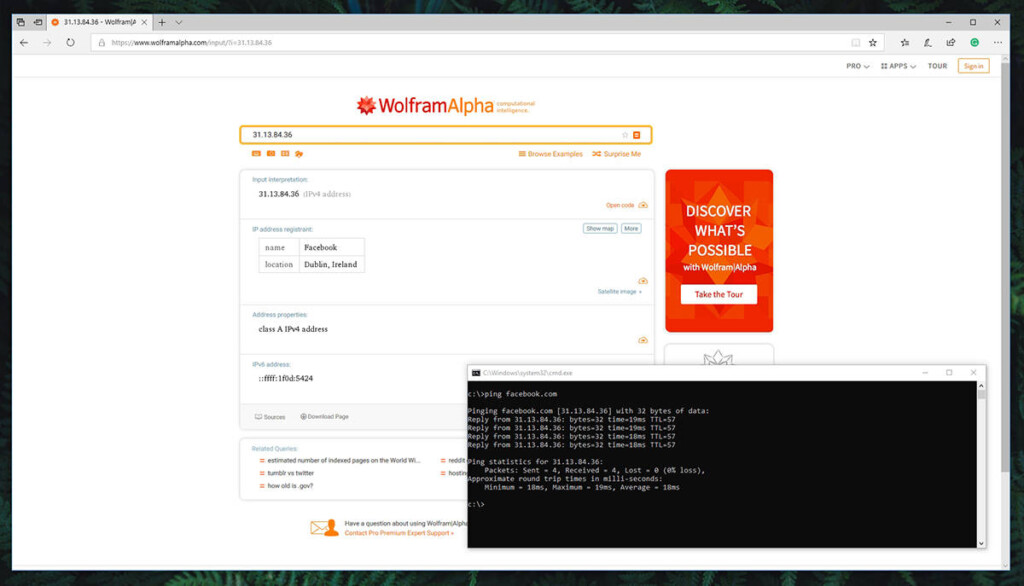 Wait for a few seconds until the service gets the job done;
You will get to see the location of the IP, which kind of address this is, and plenty more.
How to Stop Your IP Adress From Being Traced?
If you can trace someone's IP this easily, what's to stop them from doing it to you? There are two answers to this question. The first is the use of a proxy server. The second is the use of a VPN to achieve the same goal.
If you have no idea what the difference is between these two technologies, then you're in luck. We've already provided an entire article dedicated to explaining the difference between a VPN and proxy. Between the two technologies, we definitely recommend a VPN instead of a proxy. A VPN will also hide the content of your data, not just the origin. ExpressVPN is the current king of VPNs in our opinion and it suitable for almost everyone on any device.
We've also written a guide on how to effectively hide your IP, so you have no excuse for getting caught on the Web.
Final Thoughts
Dear readers, that would be all on how to trace an IP address. If there is something else you'd like to know, don't hesitate to post a comment below. We'll do our best to provide a timely response.
Also, don't forget to share this article online. You can also follow us on Facebook and Twitter to stay on top of the latest information. Thanks!