Using a VPN to access the Internet safely is common these days. Yet, many of us still experience difficulties accessing geo-restricted content and gaming due to blacklisting and rotating, dynamic server IPs. Users also need to conduct business securely and remotely access networks. Moreover, CAPTCHAs are constant while using a VPN.
Then, you have the issue of accessing online banking or financial services—with a VPN, your activity may be flagged as suspicious. Using the best VPN with a dedicated IP yields the simplest solution to these issues by giving you a private, static IP that doesn't change. This will avoid all the problems associated with the shared IPs normally assigned by VPNs. 
This guide will share the 5 best VPN with static IP providers and tell you how to get a dedicated or static IP address with one. We'll also explain the distinction between a dedicated and a static IP, as well as why you might need one. Finally, we'll help you navigate the process of selecting a VPN.
Best VPNs with Dedicated IP or Static IP - Our Shortlist
How to Get a Dedicated IP or a Static IP with a VPN
To get a dedicated IP or static IP address with a VPN, the first step involves finding a provider that offers this feature and subscribing. Then, you will need to pay extra to add it to your account. Here's how to get static IP support with a VPN:
Sign up for a VPN that provides dedicated IP addresses (we recommend NordVPN).
Download and install the VPN provider's app on your device(s).
Open the VPN app and log in to activate your account.
Navigate to the settings and find the dedicated IP section.
Request the extra static IP feature if necessary, and complete your purchase.
Connect to a VPN server located wherever you want to unblock content.
Now, you can surf the Web with your private IP address.
The steps may vary slightly depending on your chosen VPN service, so follow their unique instructions for complete guidance. Understanding how to get dedicated IP address support can help you secure your browsing experience and boost your online security while avoiding any complications that come with using your VPN's randomly assigned dynamic IPs.
The Best VPNs with Dedicated IP or Static IP in 2023
When searching for the best VPN with a static IP, it's crucial to consider certain factors. First, look for providers that support dedicated IPs and have a wide, globally spread network with many servers that can enhance performance regardless of your location. Next, look for a no-logs policy and obfuscated servers to ensure your privacy. 
For maximum security, choose a VPN that utilizes WireGuard, IKEv2, or OpenVPN protocols combined with AES-256 encryption for data protection. Also, ensure it includes a kill switch feature and prioritizes high-speed and stable connections for a well-rounded VPN experience. 
You should also make sure your chosen VPN allows numerous concurrent connections and provides support for devices such as smartphones, computers, and tablets. Finally, a good VPN should offer money-back guarantees and responsive customer support for prompt assistance with any issues. 
Given the defined criteria, these are the top 5 VPNs with static IP address availability:
NordVPN is the best VPN for dedicated IP addresses, offering dedicated IPs for users on Windows, macOS, Android, iOS, and Linux. You can connect to a static IP in the US, the UK, the Netherlands, Canada, France, Germany, Japan, Italy, Sweden, Australia, Switzerland, Hong Kong, Spain, Belgium, and Denmark. Your private IP can be used on 2 devices at once.
With a network of over 5,700 servers in more than 60 countries, NordVPN impresses with its superior speed and performance. It provides a fast, stable connection and a seamless online experience, making it the best VPN for static IP usage for users seeking speed and reliability. 
NordVPN also prioritizes privacy and security, firmly adhering to a no-logs policy. It uses AES 256-bit encryption and supports protocols like NordLynx, IKEv2/IPsec, and OpenVPN to provide a bulletproof shield of protection around your digital persona. Moreover, it offers obfuscated servers for hidden VPN usage and a kill switch to prevent data leaks.
You can use NordVPN on up to 6 devices simultaneously, including your smartphone, laptop, desktop, tablet, smart TV, router, and more. This grants users flexibility, regardless of device preference or location. This provider also has 24/7 live chat support and a 30-day refund policy, so you can try out their services risk-free.
PROS
Widest selection of dedicated IPs
Extensive network for fast connections
Unlocks most streaming services
Audited no-logs policy
30-day-money-back guarantee
CONS
Slower on more remote servers
CyberGhost is the next best VPN with static IP support because it offers dedicated IPs for users on platforms including Windows, macOS, iOS, Android, and Linux. You can choose from locations in the US, Canada, Australia, Singapore, the Netherlands, the UK, and Germany. Its overall network is made up of over 9,100 servers across 90+ countries. 
Although CyberGhost does not provide obfuscation, it enhances privacy with its NoSpy servers. It adheres to a strict no-logs policy and utilizes robust 256-bit AES encryptions to secure your data. The different VPN protocols offered (OpenVPN, IKEv2, L2TP, and WireGuard), along with a built-in kill switch, collectively heighten its capability to preserve user security.
When it comes to performance and speed, this VPN with fixed IP support consistently delivers high-speed connections with minimal speed loss. Plus, its optimized servers for streaming, gaming, and torrenting ensure smooth, buffer-free experiences.
CyberGhost supports 7 simultaneous connections across many different devices like smartphones, computers, tablets, smart TVs, routers, and more. Its 24/7 customer support is reliable and responsive to customer issues. Lastly, there is a 45-day money-back guarantee, giving users a generous risk-free period to test the services.
PROS
Extensive 9,100-server network
Dedicated IPs in 7 locations
Excellent 24/7 customer support
Streaming- and gaming-optimized servers
45-day money-back guarantee
Private Internet Access (PIA) is a reliable VPN for static IP utilization with dedicated IPs available on macOS, Windows, Linux, iOS, and Android. It boasts the largest network on the market with thousands of servers dispersed across 84 countries, including dedicated IP addresses in the US, Canada, Australia, Germany, and the UK.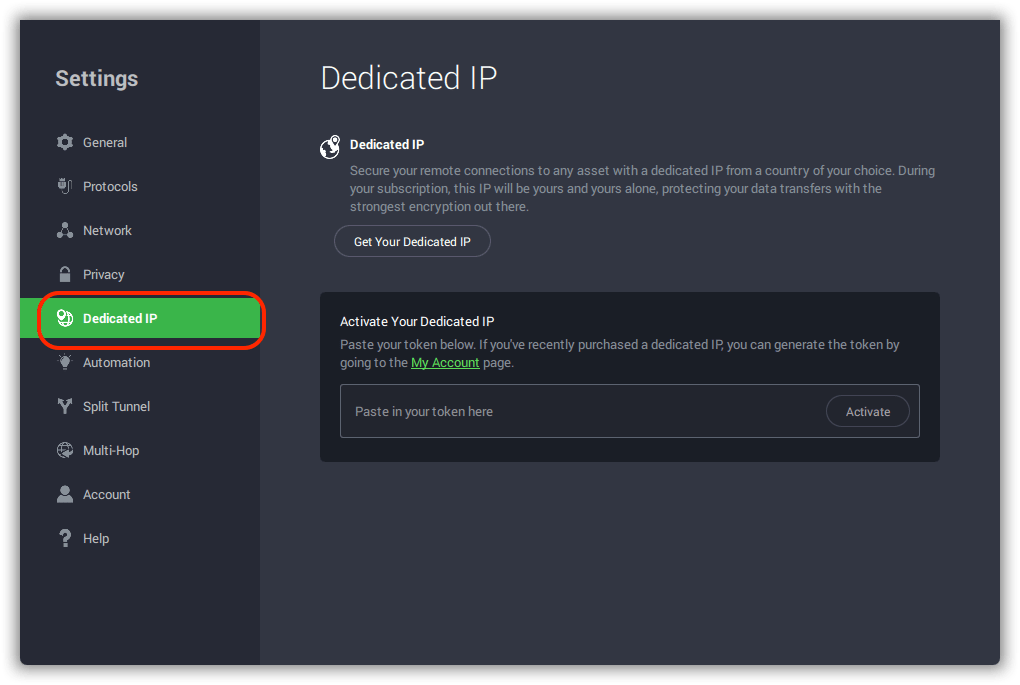 PIA operates on a strict no-logs policy, employs 128- and 256-bit encryption, and supports OpenVPN, WireGuard, L2TP/IPsec, and IKEv2 protocols to ensure your data remains confidential. For enhanced privacy, it offers obfuscation to mask VPN usage, adding an extra encryption layer via proxy server rerouting.
There is also an advanced kill switch to disconnect your Internet if the VPN connection drops unexpectedly. That said, you don't have to worry about your connection because PIA delivers impressive speed and performs reliability, making it ideal for streaming, gaming, and other bandwidth-intensive tasks.
PIA provides unlimited simultaneous connections perfect for securing multiple devices such as computers, smartphones, routers, and gaming consoles. Its compatibility with Android TV and Fire OS also enhances its usability. You'll get 24/7 customer support through live chat and email. Lastly, their 30-day refund policy underscores their faith in their service.
PROS
Largest server network available
5 dedicated IP address locations
Unlimited simultaneous connections allowed
24/7 customer service
30-day refund period
Surfshark is a versatile provider that offers dedicated IPs for users on Android, Windows, macOS, and iOS. It boasts a vast network of over 3200 servers across 100 countries, including static IP locations in the US, the UK, the Netherlands, and Germany.
This static IP VPN, with its no-logs policy, emphasizes user privacy by preventing data storage and tracking. Surfshark uses AES-256 encryption and WireGuard, OpenVPN, L2TP/IPsec, and IKEv2 protocols to create a secure barrier around your online identity. Its Camouflage Mode obfuscation further amplifies your privacy by effectively concealing your VPN usage.
Moreover, protection against unwanted data leaks is enhanced with Surfshark's kill switch. The high-speed VPN service with static IP offerings is recognized for its outstanding speed and performance across its international servers. This makes it perfect for speed-intensive activities like torrenting and streaming, ensuring seamless experiences irrespective of location. 
Surfshark stands out with its unlimited simultaneous connections, allowing flexibility for users across numerous devices, including computers, smartphones, tablets, routers, and gaming consoles. It fosters user confidence with a 30-day refund policy and ensures round-the-clock assistance through a 24/7 live chat customer support system.
PROS
Offers static IPs
Affordable monthly and yearly plans
Unlimited simultaneous connections
Independently audited no-logs policy
30-day money-back policy
Ivacy is a powerful VPN that offers dedicated IPs on Windows-based devices only. It boasts an extensive network of over 5,700 servers in more than 100 locations worldwide. Its dedicated IP addresses are available in Australia, Canada, Hong Kong, Germany, the UK, the US, and Singapore. Unfortunately, it only allows one static IP connection at a time.
This provider is committed to maintaining user privacy with its strict no-log policy. Ivacy employs AES-256-bit encryption and VPN protocols like OpenVPN, IKEv2, and L2TP to ensure your data is secure. It offers obfuscated servers to conceal VPN usage and an efficient kill switch to avert data leaks during unexpected situations.
Regarding performance and speed, Ivacy VPN is noted for its reliable speed and stable connections. Thus, it excels in gaming and torrenting, making it an ideal choice for bandwidth-intensive tasks. 
Ivacy backs its service with a 30-day money-back guarantee, ensuring customer satisfaction. It also provides 24/7 customer support through live chat and email, offering assistance whenever required. 
PROS
Static IPs in 7 locations
No-logs policy implemented
Allows 10 simultaneous connections
Numerous streaming-optimized servers
30-day refund policy
CONS
Dedicated IPs on Windows only
What is a Dedicated IP Address?
A dedicated IP address is a specific Internet address assigned solely to one user or entity. This IP isn't shared with other users, giving users greater control over online interactions. It's akin to having your own unique digital fingerprint allowing you to surf the Web more securely. 
Additionally, this type of IP offers other significant benefits. These include reduced risk of IP blacklisting, safer and faster file transfers, and improved performance stability. 
Moreover, dedicated IPs allow for high-level security, customization, and increased scalability. This makes them crucial resources for businesses, particularly those dealing with sensitive data or operating in regulated industries. Although there might be an additional cost, their numerous advantages make them worthy investments for many.
What is a Static IP Address?
Compared to a dedicated IP address, a static IP address is not exclusively allocated to one person or entity. A static IP simply remains the same regardless of the network it is connected to. 
Static IP addresses can be dedicated or shared, whereas dedicated IPs are almost always static. A static IP can facilitate direct DNS device connections, reliable web server hosting, remote computer access, improved VoIP communication, and precise geolocation—all through IP allowlisting. 
These types of IPs are generally implemented where constant connectivity is critical, such as servers or businesses that need to maintain a consistent presence online. That said, keep in mind that static IPs are easier to track because they don't change.
Why Do You Need a VPN with a Dedicated or Static IP?
You need a VPN with a dedicated or static IP to ensure a secure and stable browsing experience while maintaining your online privacy. The benefits of a static IP address are numerous, including easy remote access and smooth game server hosting. Other benefits of a dedicated IP include:
Increased Security – A VPN with dedicated IP address integration will reduce the risk of cyber-attacks. Plus, your IP won't be shared, so there's no chance of being associated with the activities of others using it.
Remote Accessibility – Dedicated or static IPs enable safe access to sensitive business data while offering mobility for employees outside the workplace. They allow secure connections to distant computers, ideal for businesses with remote workers.
Online Banking – Banks often flag or block transactions from users with frequently changing IPs. Thus, downloading a VPN with static IP address support can prevent such issues.
Stable and Reliable Connectivity – A dedicated IP address VPN ensures an uninterrupted Internet connection, crucial for activities like VoIP calls. It's more reliable because your IP address doesn't frequently change, so connection failures are minimized.
Better Gaming Experience – VPN server IPs often get blacklisted by games due to other users' poor behavior. Avoiding shared dynamic IPs will bypass this issue. Plus, since dedicated IPs are more stable and reliable with less traffic, they can reduce ping and correct latency.
Uninterrupted Streaming – Popular streaming services consistently block IP addresses known to be associated with VPNs. Using a dedicated IP will help you avoid blacklisting, as well as improve your streaming speeds.
Avoid Frequent CAPTCHAs – If your IP address changes often due to VPN usage, you'll constantly have to complete security verification on websites you frequently visit. A dedicated IP will reduce this occurrence.
More Precise Geolocation – Static IPs offer more accurate geolocation, improving the functionality of certain online services that use the technology.
How to Choose the Best VPN with a Dedicated or Static IP
To choose the best VPN with dedicated or static IP options, look for a provider with crucial features like support for dedicated IPs and strong security features. Some other important factors to consider include:
Dedicated or Static IP Support – A VPN with dedicated IP support offers a consistent and reliable online presence. This is especially helpful for smooth browsing, bypassing geo-restrictions, and circumventing IP bans.
Server Availability – A large selection of servers (and, therefore, IP address locations) spread across many countries ensures you can maintain stable connectivity from various regions. The more servers, the more geo-restricted content you can access.
Security Measures – Robust VPN protocols such as OpenVPN and WireGuard are a must. Obfuscation is also essential for accessing blocked websites and services while hiding your VPN usage. You'll also need strong encryption to facilitate secure data transmission. 
Privacy Features – Measures like no-log policies will protect your online activities from being tracked and ensure your identity remains private, even if authorities attempt to compel the VPN to release data.
Performance and Speed – A quality VPN with static IP integration should deliver a swift and steady connection that doesn't lag or buffer, regardless of whether the server is nearby or remote. 
Money-Back Guarantee – A money-back guarantee allows even the best VPN with static IP add-ons to be tested without committing to a long-term subscription right away.
Customer Support – Reliable customer support, like 24/7 live chat availability, is crucial for troubleshooting issues and answering any queries. Look for other support channels as well, such as email support, FAQs, and a comprehensive knowledge base.
Can You Use a Free VPN with a Static IP or Dedicated IP?
Yes, technically, you can use a free VPN with a static IP or dedicated IP, but it's not advisable. Free VPNs have limited features, and they rarely offer static or dedicated IPs. Furthermore, they usually have slow speeds and limited bandwidth, making it challenging to maintain a reliable and consistent connection.
Free VPNs also lack robust privacy and security measures, leaving your data vulnerable to breaches. Some free providers even collect and sell user data, negating the privacy advantage of using a VPN in the first place. Additionally, the limited server network might not bypass online restrictions effectively, and there's also a risk of encountering malware.
For better privacy, security, and connectivity, we recommend investing in a premium VPN service. Visit our in-depth guide on the best VPN providers for more reliable options.
Final Thoughts
In today's hyper-connected world, privacy, censorship, and geo-restricted content pose significant challenges—even while using a VPN. Shared IP addresses assigned by VPNs are often blacklisted by numerous sites and services. That's why you need the best VPN with a static IP to bypass dynamic IP limitations and enhance your online security and freedom.
We recommend NordVPN as the best VPN with dedicated IP offerings. This provider has dedicated IPs to choose from in locations all over the world. It can ensure stable connectivity and bypass geo-restrictions, making it ideal for combating dynamic IP challenges. With NordVPN, the possibilities are endless.
That's all for our guide on the best VPN with dedicated IP support. If you have any questions, please leave a comment below. Thank you for reading!