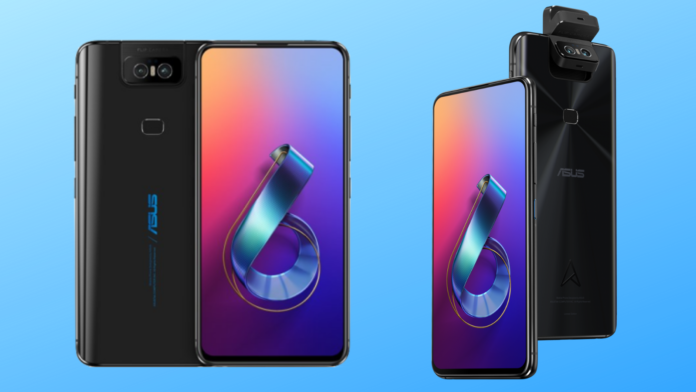 Last year, Asus announced its arrival on the highly competitive smartphone landscape with a slew of offerings led by the ZenFone 5Z. The ZenFone 5Z offered an excellent feature set and was easily one of the best flagship-killers of the time alongside the OnePlus 6 and the Xiaomi Poco F1. Now, we have the successor called the ZenFone 6 (or the 6z in India) that aims to carry forward some of the features the 5Z was well-regarded for and bring in some new innovations at the same time.
The ZenFone 6 offers the latest Qualcomm Snapdragon 855 flagship SoC, a vibrant FHD+ HDR fullscreen IPS panel, a unique flip camera that offers the same capabilities for both selfies and regular photos, and a large battery. In this review, let's take a look at how the Asus ZenFone 6 performs in real life and whether should this phone top your purchase list this year.
Before we delve into the performance details, here are some of the important specifications of the phone.
Asus ZenFone 6 ZS630KL
SoC: Qualcomm Snapdragon 855 with Adreno 640 GPU
Display: 6.4-inch FHD+ 19.5:9 IPS HDR full-screen display
RAM / Storage: 6 GB LPDDR4x / 128 GB UFS 2.1 expandable up to 2 TB via microSD
Networking: FDD-LTE (Bands 1, 2, 3, 7, 8, 20, 28); TD-LTE (Bands 1, 2, 5, 8); GSM (Bands 850, 900, 1800, 1900 MHz); Wi-Fi 802.11ac; Bluetooth 5; FM Radio GPS; GLONASS; BeiDou; Galileo
Camera: Flip camera with 48 MP Sony IMX586 primary sensor and 13 MP ultra-wide secondary lens
Battery: 5,000 mAh Lithium-Ion with fast charging
OS: Android 9 Pie with Zen UI 6
Dimensions (W x H x D): 6.26 x 0.36 x 2.97 in
Weight: 190 g
Box Contents: Asus ZenFone 6; 18 W USB Type-C charger; Hi-Res earphones; TPU case; Warranty card; User manual; SIM eject tool
The ZenFone 6 is available in several RAM and storage variants, the availability of which differs from one region to the other.
Design
The ZenFone 6 is designed to be in tune with contemporary flagships. The phone has considerable weight to it and the glass build feels slippery. Luckily, you can use the bundled TPU case for extra grip.
The display offers a fullscreen experience devoid of any notch or punch-holes. The display looks great and the transition from the frame to glass is very smooth. Bezels are very minimal save for the bottom chin, which is slightly prominent.
Toward the left, we have a SIM tray that can take two nano SIMs and a microSD card at once.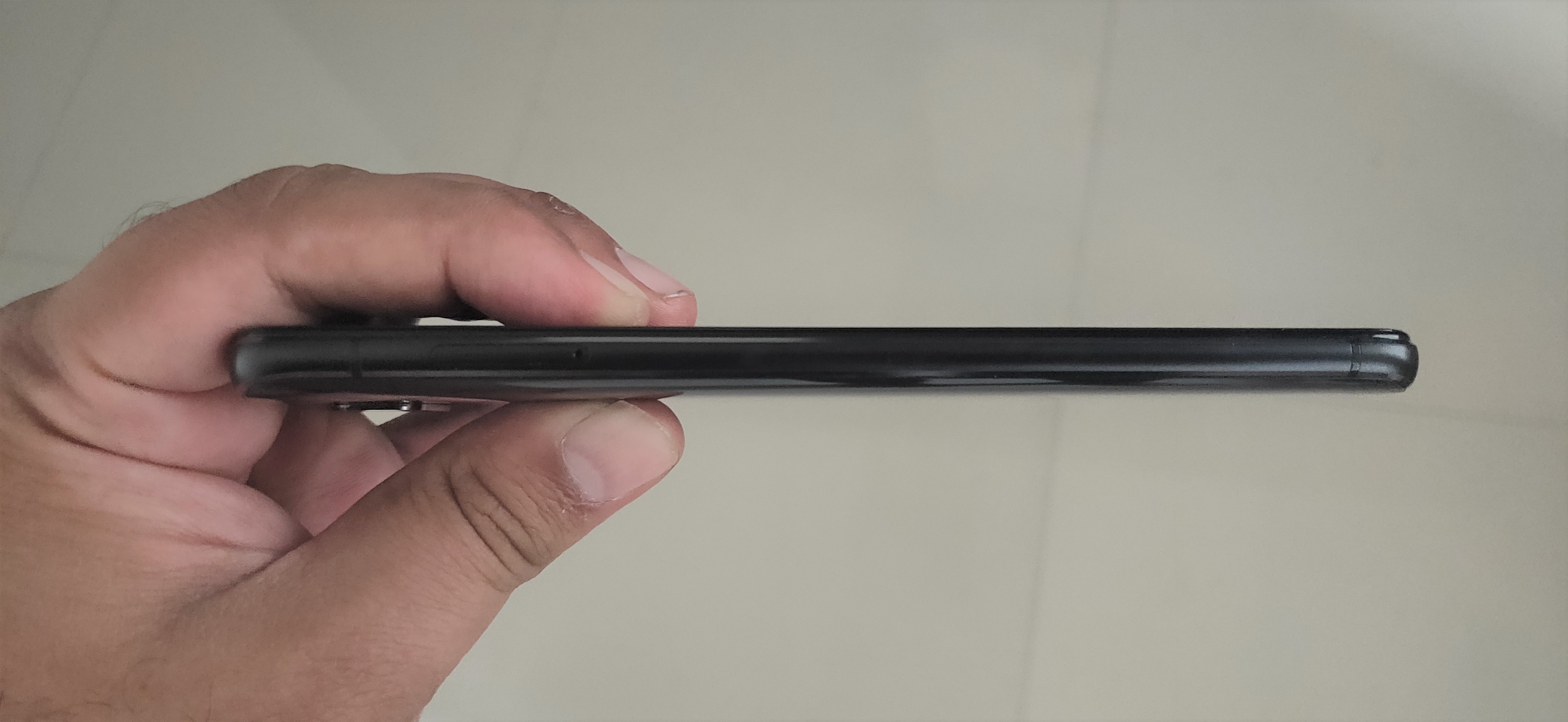 At the right, we have the standard power button and volume rocker along with a dedicated Smart Key. The Smart Key opens the Google Assistant by default but can also be assigned other functions such as a camera shutter button, for example.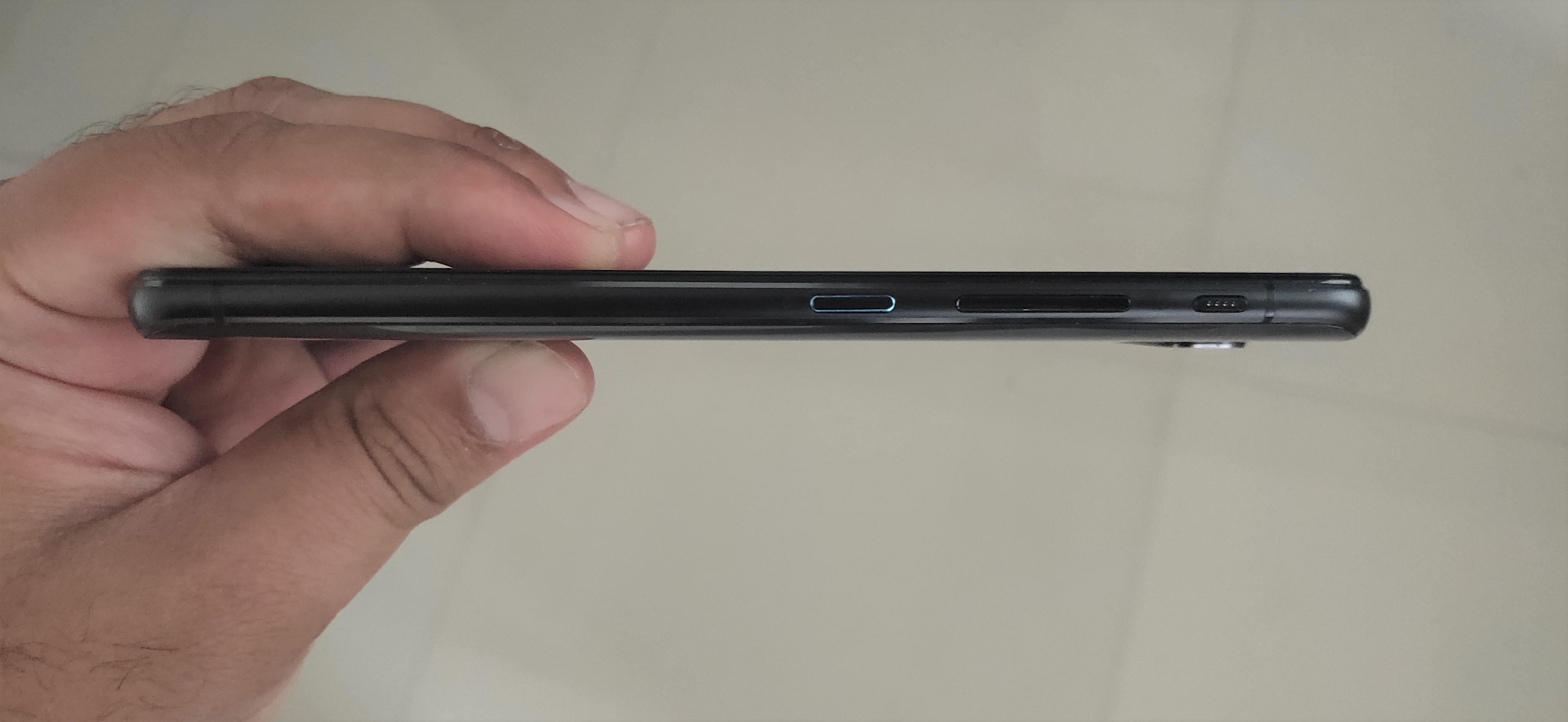 The top is fairly clean apart from the groove for the flip camera, a noise-canceling microphone and antenna lines.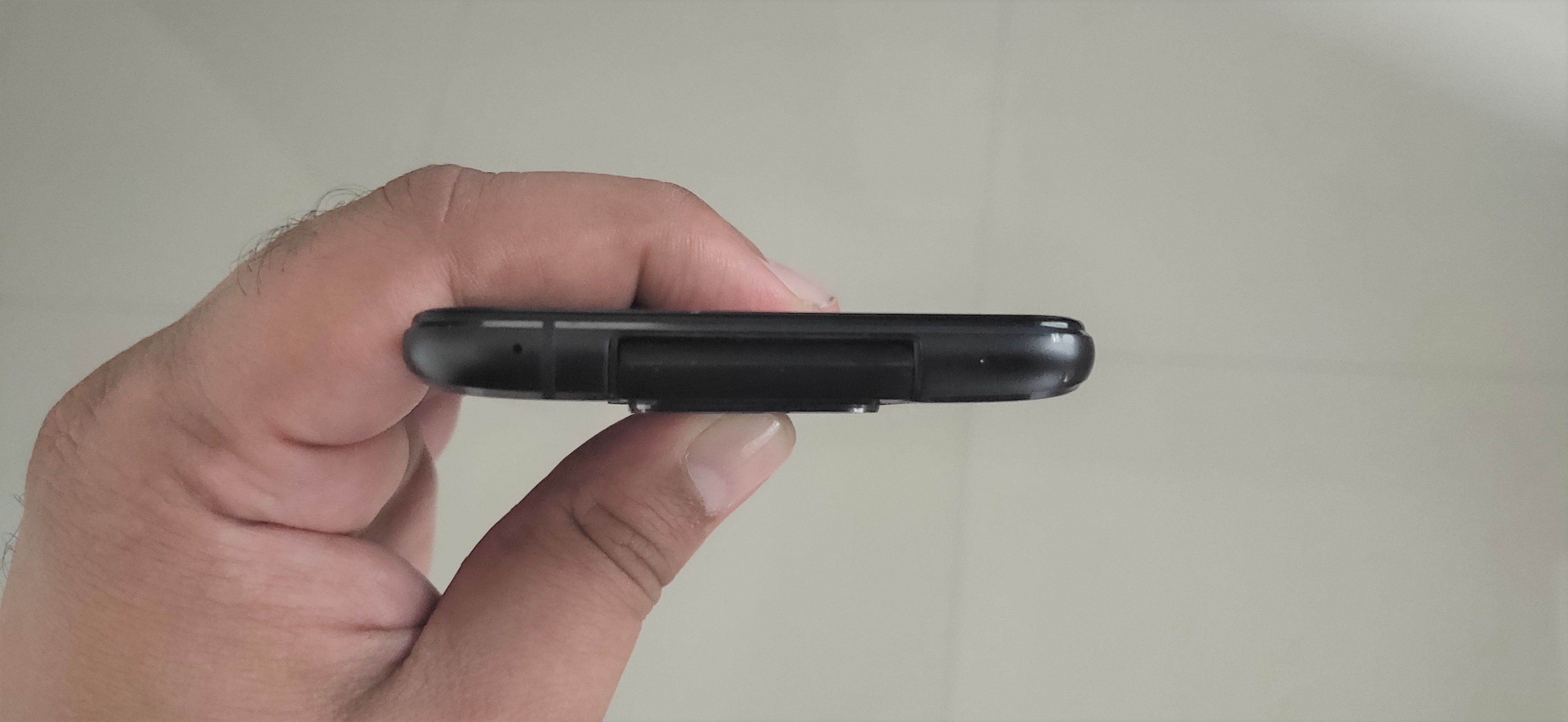 Towards the bottom, we find a headphone jack, a USB Type-C port, speaker grill, and the microphone.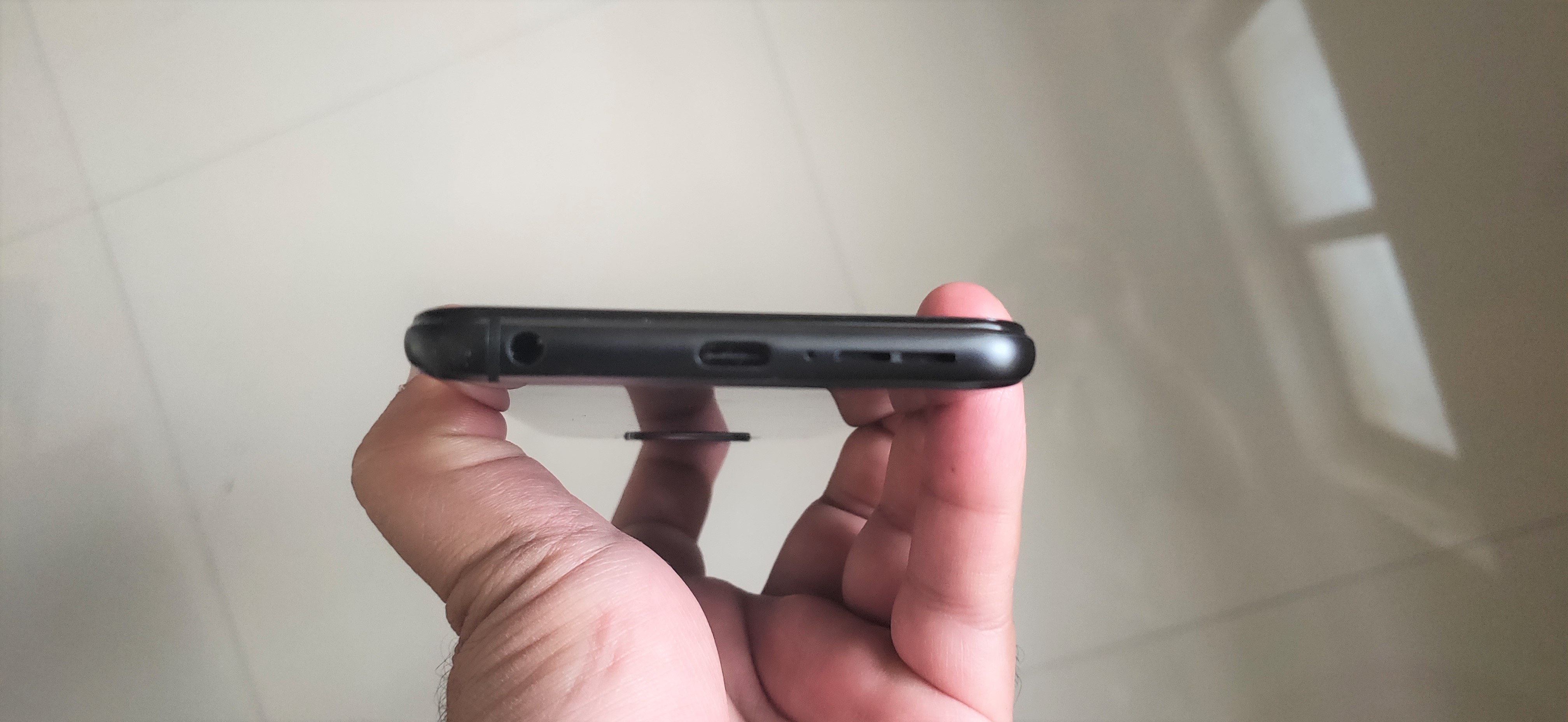 Finally, at the back, we have a small fingerprint reader and the flip camera, which we will talk about soon.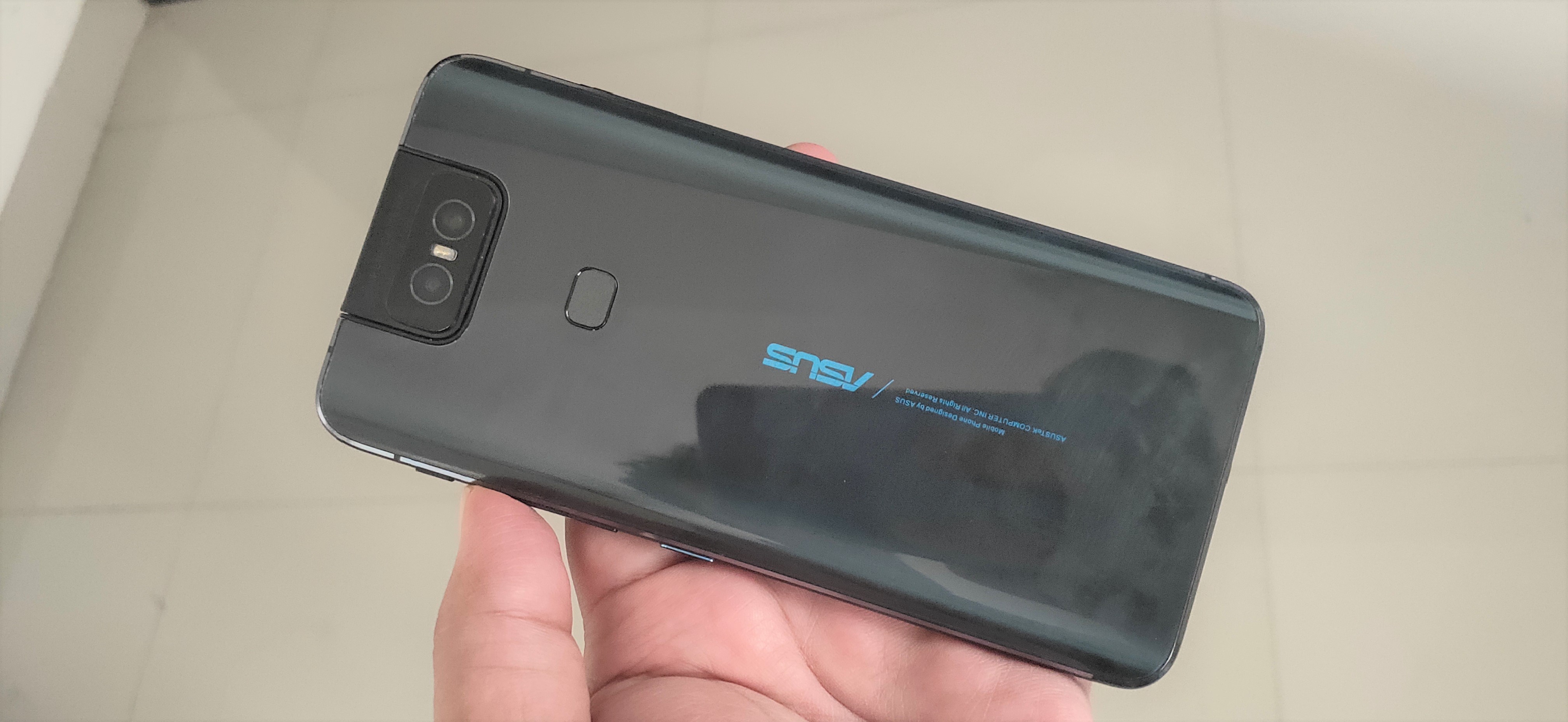 Overall, the build quality of the Asus ZenFone 6 is impressive and although the phone isn't rated for dust and water protection, it can withstand daily usage without issues.
UI Experience
The Asus ZenFone 6 runs on Zen UI 6 layered on top of Android 9 Pie. Unlike the previous iteration, Zen UI 6 has been given the look and feel of stock Android and users of stock Android will feel right at home. There are several welcome features such as a universal dark mode, ability to run multiple instances of supported messaging apps, app locker, gesture-based navigation, screen recording, call recording, and a lot more.
Bloatware is kept to a minimum and the only third-party apps that you get by default include Facebook, Messenger, and Instagram. Asus implements an OptiFlex feature that keeps apps in RAM for fast launches. There's also a Game Genie feature that pops-up whenever games are launched. With Game Genie, you can stream your gameplay to YouTube or Twitch and also optimize system performance and prevent notifications and calls from disturbing you during the game.
While listing out each and every feature of Zen UI 6 will require a dedicated article, it suffices to say that this ROM brings the best of customizations found in more feature-rich Chinese ROMs and the simplicity of stock Android into one responsive UI.
Display
The ZenFone 6 features a large 6.4-inch FHD+ display with a 19.5:9 aspect ratio. That means the screen is somewhat longer and apps that do not support proper scaling will have to be either manually scaled or will display black bars. Luckily, most commonly used apps do not have this problem. There is no notch or punch-hole, which means that you get a true fullscreen viewing experience. As such, movies and games look great on this display. The display is also HDR capable. Asus could have used an OLED panel like the OnePlus 7 but frankly, we did not find any issues with the display.
The default brightness seems a tad bit low for our taste but can be easily adjusted from the notification shade. The phone also uses AI to learn your preferred brightness levels in different ambient lighting conditions and adjusts accordingly over time. A welcome addition is that the screen can passively display information when not turned on. However, this is not enabled by default and you'll have to hunt the option in the Settings. The presence of a multi-color notification LED is very useful and it is tucked away discretely in the gap between the frame and the display glass. Depending on the options offered by the app, you can customize the color of the notification light so that you can instantly recognize that say, you have missed some notifications from WhatsApp, for example.
Outdoor legibility is good although, we would have liked the display to be a bit brighter. Colors do not get washed out and you should not have any issues in using the display under direct sunlight. Those who consume a lot of media will be happy to know that the Asus ZenFone 6 supports the Widevine CDM L1 security level. This means you can easily stream Netflix and Amazon Prime in resolutions above 720p.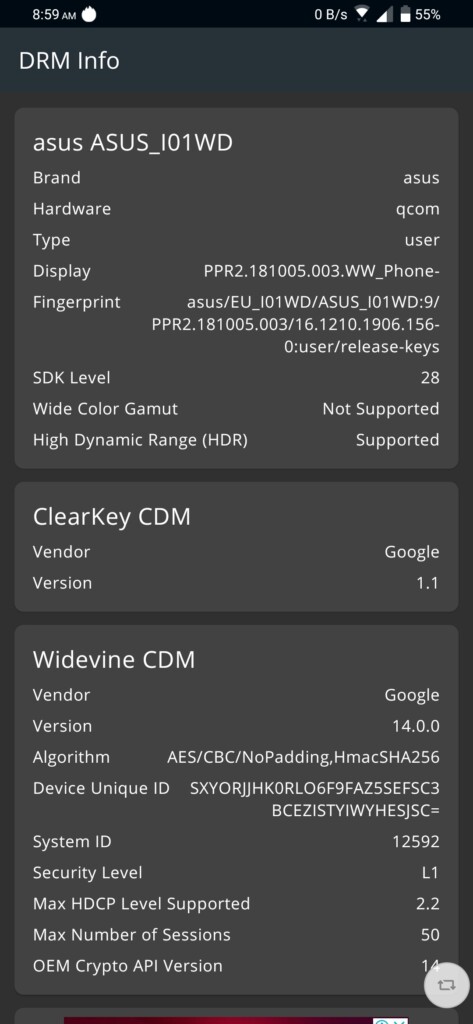 Overall, the ZenFone 6's display is easily one of the best IPS panels in the market and makes for an immersive viewing experience.
Communications
The ZenFone 6 works great with respect to all essential communications. Call quality is excellent and the phone does its best even in areas with poor cellular signal reception. The caller on the other side did not report any breaks or misses in the call. Call quality on the speakerphone is good as well without any significant distortions.
The phone supports dual-band wireless AC. Speeds are good overall but there's definitely scope for better Wi-Fi performance. The phone often did not reach the 100 Mbps limit of the connection but had a good range.
The GPS is quite accurate for regular use. It could not find a strong signal indoors but managed an accuracy of about 4m outdoors, which is decent. Battery drain is quite noticeable during continuous GPS use and the phone also tends to get a bit warm as well.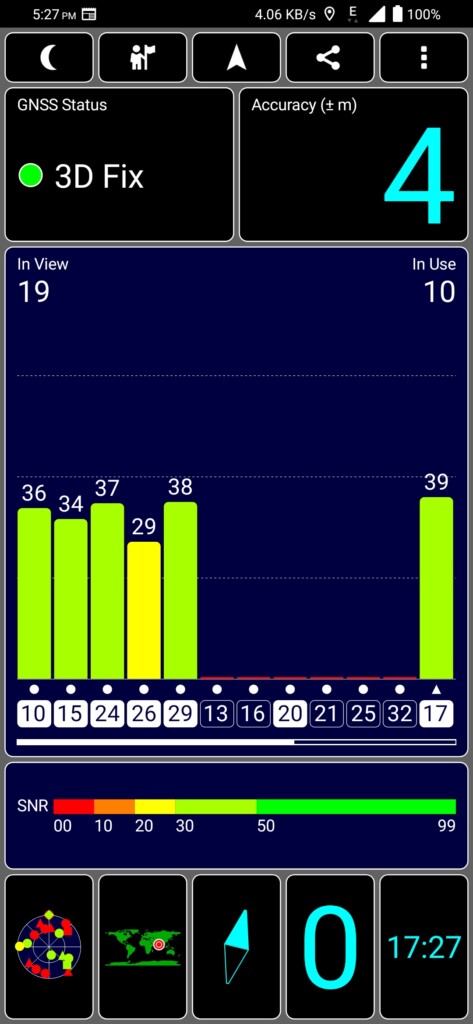 Performance
The Asus ZenFone 6 sports the latest Snapdragon 855 SoC so one can definitely expect class-leading performance. We nevertheless decided to see some of the performance metrics when it comes to CPU, GPU, storage, and gaming.
CPU Performance
The Snapdragon 855 performs more or less unhindered in our CPU tests. The phone recorded a very good score of 3520 and 11187 in Geekbench single and multi-core tests respectively. Compute performance was also great with a score of 7446. The Snapdragon 855 ripped through the popular AnTuTu benchmark with a high score of 334260, which ranks among the best performers among flagships. While running the tests, the AI Boost feature was turned off. AI Boost helps in preferential allocation of CPU and GPU resources to intensive tasks such as benchmarks and games. Since this can potentially skew the results, we chose to run the phone in normal mode to mimic how a general user would be using the device. That being said, we did not find many differences in scores with AI Boost on either.
The ZenFone 6 also posted good numbers in PCMark for Android Work 2.0 test. The phone scored a total of 9902 points, which puts it among the top performers.
GPU Performance
The Adreno 640 GPU in the Snapdragon 855 is one of the most powerful GPUs available for smartphones and it reflects in our GPU and gaming tests.
We ran 3DMark's Sling Shot Extreme to test OpenGL and Vulkan graphics performance and we found the scores to be class-leading. The phone scored 5733 points in the Sling Shot Extreme OpenGL 3.1 test, 6040 in the Sling Shot Extreme Unlimited OpenGL 3.1 test, and 4891 points in the Sling Shot Extreme Vulkan test. These are very impressive scores and they highlight the improved graphics capabilities of the new SoC.
Another benchmark that stresses the GPU is GFXBench. Many mid-range GPUs struggle to achieve even double digits in this test. The Adreno 640, however, offers excellent results. In the GFXBench Car Chase on-screen test, we got a very good score of 34 fps and about 42 fps in the same offscreen test. For some reason, we had issues in recording the Manhattan offscreen scores but the onscreen test scored an impressive 60 fps.
There aren't too many apps and games at the moment that can fully leverage the Adreno 640's power. Thus, most GPU-intensive tasks can be handled easily by this processor without breaking a sweat.
Gaming Performance
A powerful GPU means that you can play the most popular titles at their highest visual settings and get a smooth 60 fps frame rate. We find that gaming performance on the ZenFone 6 is excellent.
Asus offers a dedicated Game Genie app that offers several gamer-focused functions. For one, you can block calls and other notifications from disturbing you while you are engrossed in gaming. You can also speed up the phone by freeing some RAM and allocating more CPU and GPU resources to the game instead of background tasks. You can also record and live stream your gameplay to services such as YouTube or Twitch and show off your achievements to the world.
We tested popular games such as Asphalt 9: Legends, PUBG: Mobile, and Shadow Fight 3. These are pretty GPU-intensive titles and help us understand if the GPU is struggling to keep up with many objects drawn on the screen. We found that games could hit their maximum frame rates supported at the highest quality settings without any perceivable hiccups.
Asphalt 9: Legends is capped at 30 fps currently but we could achieve that target at the highest settings.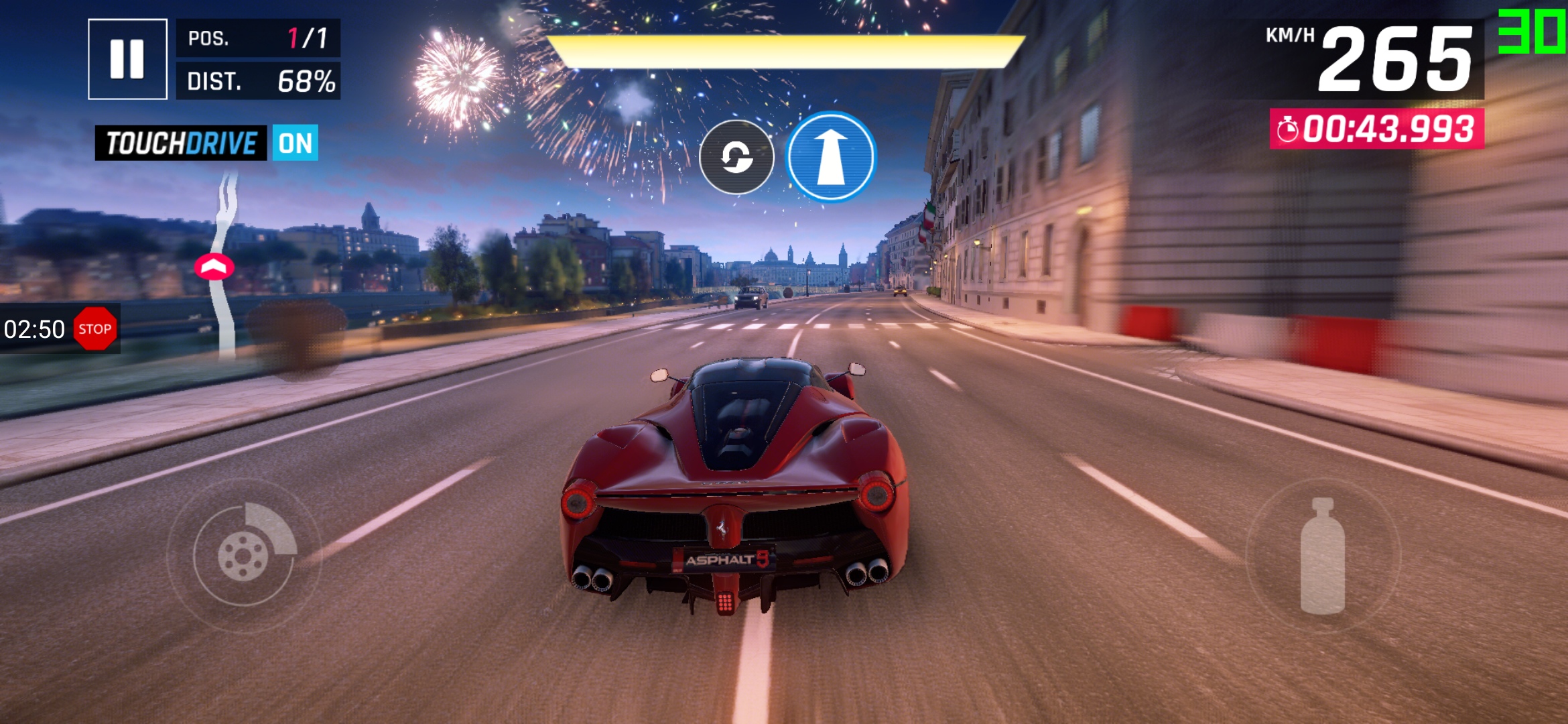 PUBG: Mobile was a delight to play at 60 fps at the maximum settings with no FPS drops.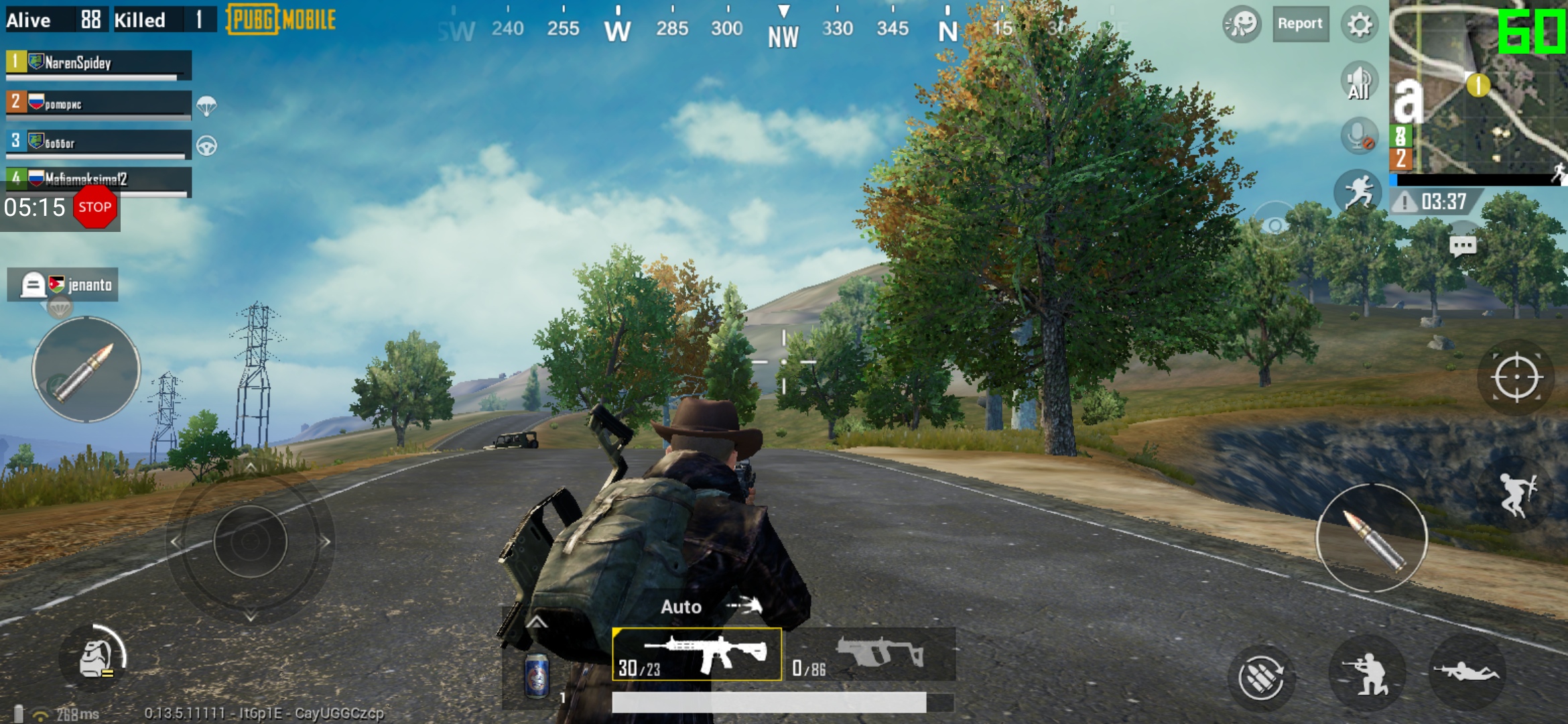 Shadow Fight 3 was also able to hit 60 fps at the highest settings.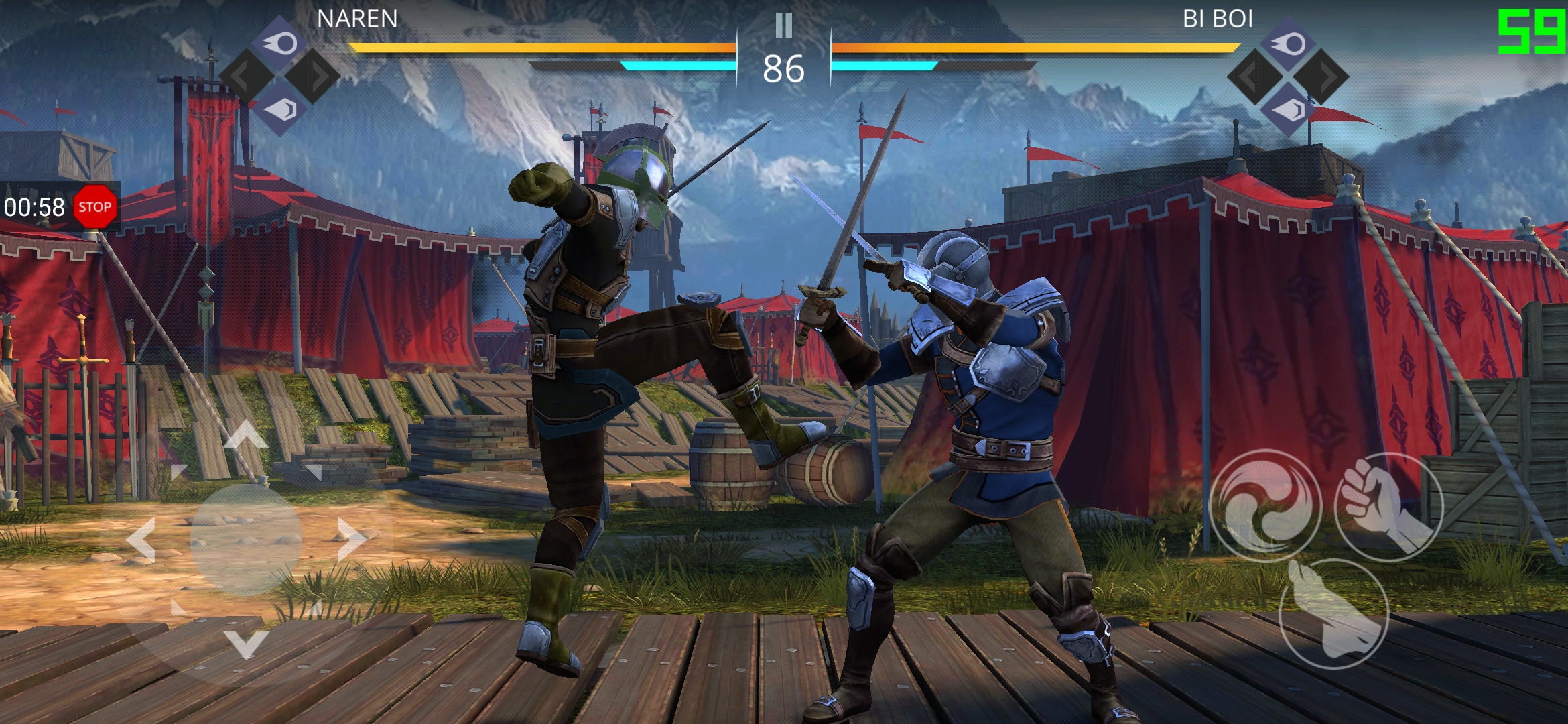 In all the games, we noticed excellent touch response and no missed inputs.
Storage Performance
The ZenFone 6 features 128 GB of UFS 2.1 flash storage, which enables it to offer excellent performance for heavy read and write operations compared to regular eMMC memory that is found in most mid-range phones. In the AndroBench storage benchmark, the ZenFone 6 offered 877.46 MB/s and 179.17 MB/s speeds in sequential read and write tests. Random Read and Write was also good at 152.59 MB/s and 146.37 MB/s respectively. Therefore, you will not have any speed issues with respect to reading and writing to internal storage. The storage can further be expanded via a microSD card up to 2 TB. Depending on the region, buyers of the ZenFone 6 also stand to get 100 GB of space on Google Drive for free for a year.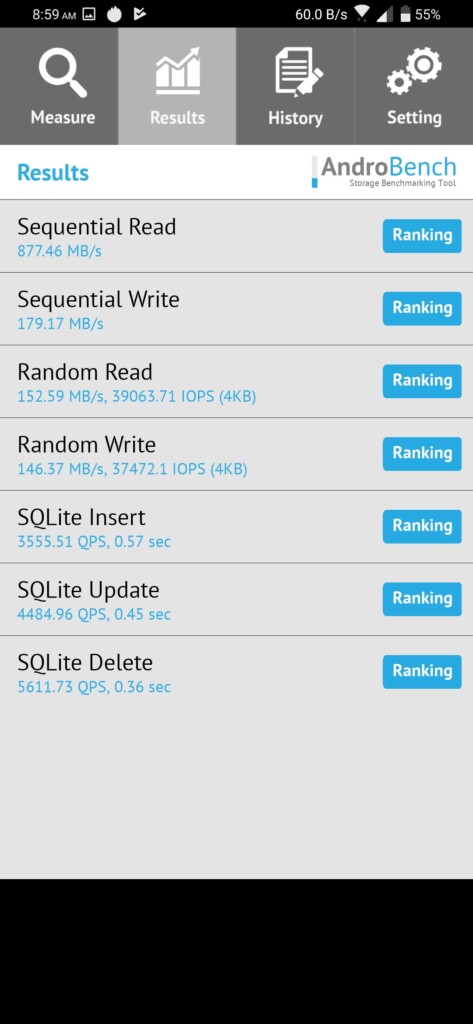 Camera
The camera is probably the most talked-about feature of the phone. Asus has implemented a unique rotating camera system that is comprised of a 48 MP primary sensor and a 13 MP ultra-wide secondary lens. There is no separate selfie camera here — the same camera module rotates whenever you want to take selfies. The rotating camera module offers some interesting possibilities. For example, the module can rotate on its own when taking panoramic shots saving you the trouble of holding the camera steady while you move along with it. Slow motions videos can also be captured nicely with the rotating camera. While the camera rotation is motorized, you can also move it manually if needed. Asus says that the camera motor has been designed to work glitch-free for hundreds of thousands of rotations, which is pretty reassuring.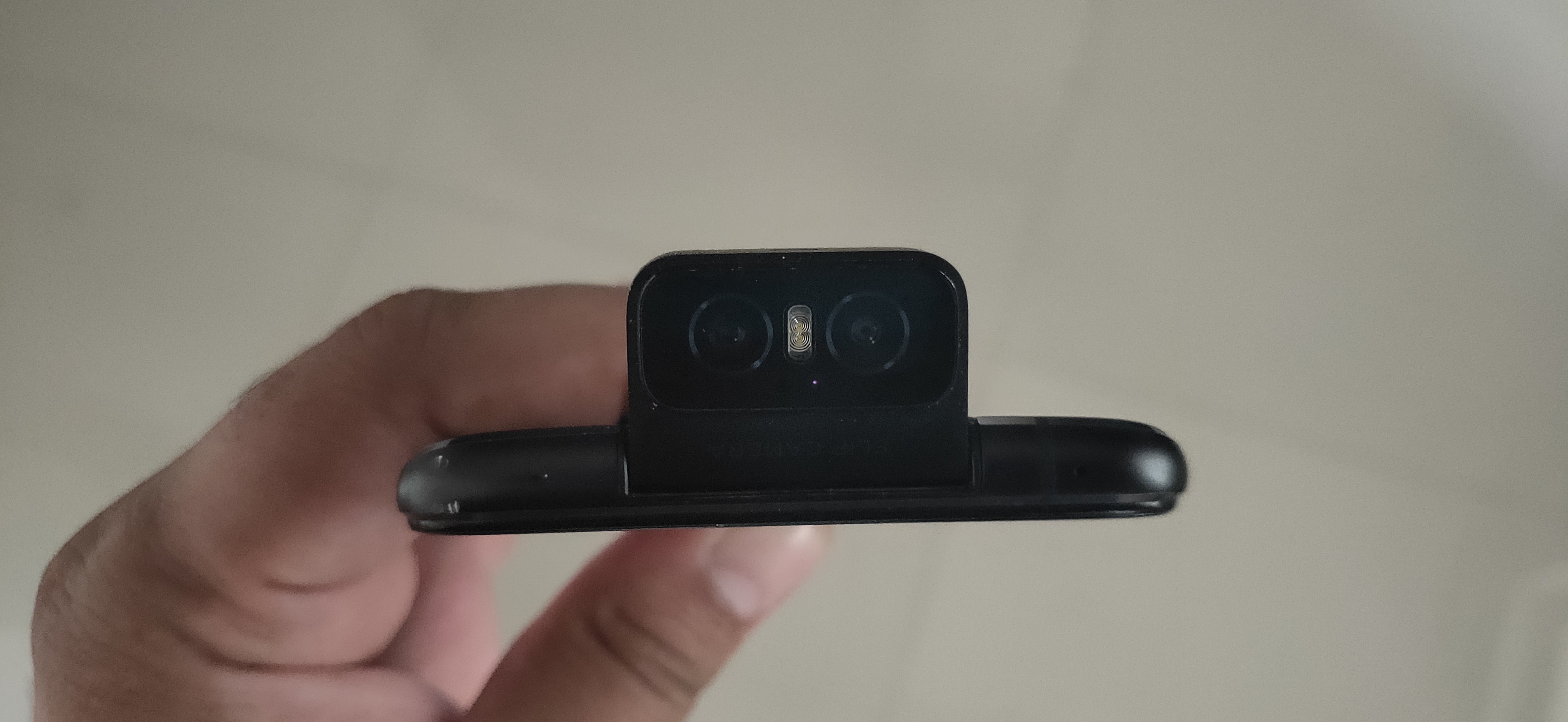 The camera app has an easy to use layout with all important functions within reach. In the camera mode, you can use the volume controls to control the camera module rotation, which we think is a cool feature. You get options to change the various photo and video settings along with applying live effects to photos.
Photos in daylight are, needless to say, excellent at the full 48 MP resolution. You can also crop and zoom in a bit due to the extra image resolution. Edges of objects are sharp and colors are detailed for the most part. The phone automatically turns on HDR mode depending on the scene and auto-selects the right camera settings using AI. Portrait photography lovers will appreciate the extensive bokeh effects possible. There is a good separation of the background from the subject without loss of detail. The wide-angle camera works great in daylight as well. Images are sharp with good reproduction of details.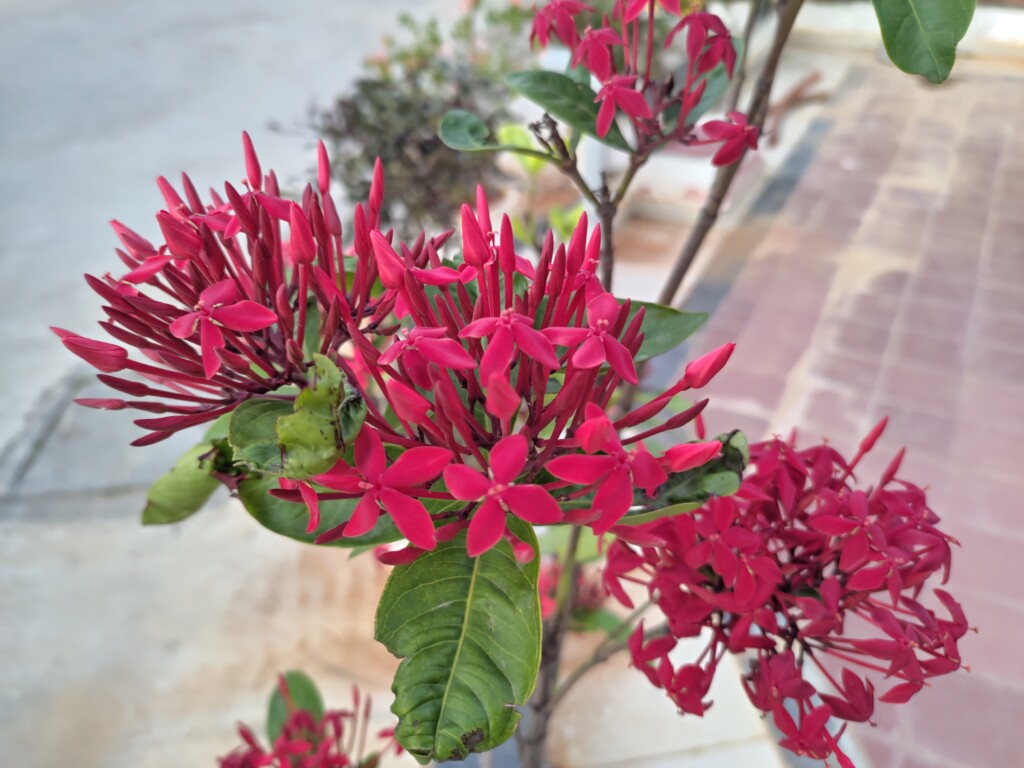 Low light and indoor light photography are very good thanks to the large aperture size but there's still some scope for improvement. There is some grain that is observed in dark areas but this seems to be more of a post-processing artifact than the actual sensor capture. Some color depth is lacking as well. That being said, these issues can be easily remedied via software updates as the sensor itself performs very well. We hope Asus rectifies this in upcoming updates.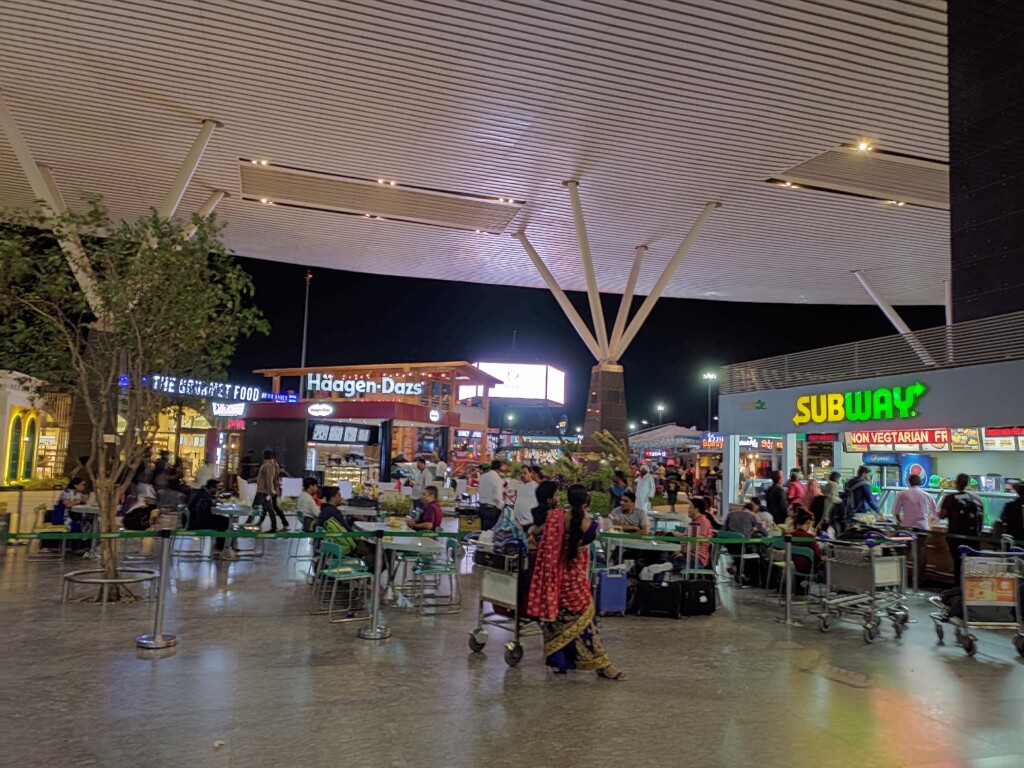 Temperatures
The ZenFone 6 is a cool performer for the most part. Under normal operation, we found the CPU temperatures to hover around the 37 deg C mark as measured by AnTuTu. Under stress, the temperature went up to a maximum of 47 deg C. We found no instances of throttling and the performance was more or less consistent throughout use. The phone does get hot to touch when running GPU-intensive games so this is something you should keep in mind if you plan to game for long hours.
Speakers
Like its predecessor, the ZenFone 5Z, the ZenFone 6 also offers a stereo speaker setup with the earpiece acting as a secondary speaker. However, the volume of the earpiece is not exactly loud enough for a proper stereo experience. Asus has ensured that the ZenFone 6 has a headphone jack. This is a relief for those who have good headphones. You can also use USB Type-C DACs or headphones if you wish. Asus includes several enhancements such a built-in equalizer and offers Hi-Res audio playback via headphones thanks to DTS Headphone:X support. We are glad that Asus chose to bundle High-Res in-ear headphones within the package.
Audio quality in the bundled earphones was good with no perceivable distortion even at high volumes. We noticed good mids and highs and average bass reproduction. The built-in speakerphone is loud enough for normal use. It obviously lacks in bass but the sound does not really distort unless the volume pushed to the max.
Overall, Asus seems to have done a fine job with respect to the sound. You can definitely extract even performance if you pair the ZenFone 6 with high-quality earbuds or Bluetooth speakers.
Battery Life
Asus has equipped the ZenFone 6 with a massive 5,000 mAh battery. The company claims up to two days of battery life under normal use, which we must say is a bit far-fetched at this point. In our day-to-day use, we found that the phone can easily last a full working day. Beyond that, you would have to do some tweaking such as disabling unwanted startup programs or running the built-in battery optimization feature for it to last through bedtime. However, this varies depends on the apps being used. Local video playback, for example, can last easily up to 15 hours whereas streaming video at 1080p over Wi-Fi offers lower numbers.
The phone supports Qualcomm Quick Charge 4.0 so you can top up the battery fast using the bundled 18W charger. We found that it can top up the battery from zero to 90% in about an hour and 45 minutes.
Verdict
We had a great time in using the Asus ZenFone 6 and we are sure you will also be more than pleased with this device. With the ZenFone 6, Asus has chosen to offer a flagship experience at an accessible price without cutting too many corners.
For the price, you get top-class SoC performance, enough amounts of RAM and internal storage, a vivid fullscreen HDR display, an innovative but extremely capable flip camera, and great audio. The design does not raise any eyebrows at first glance but when you flip over the camera and it is sure to be a crowd puller.
That being said, there are some inevitable compromises Asus had to make in order to keep the costs down. For one, there is no OLED display. Yes, the IPS panel is one of the best out there but OLEDs help save battery especially when displaying blacks. Also, there is no IP rating as you would in more expensive flagships such as the Samsung Galaxy S10. Thus, you should be careful not to expose the phone to a lot of dust and water. It should be able to take the accidental splash or two but nothing more.
Users will also find that there's no in-display fingerprint sensor but we honestly feel the regular capacitive sensor does a great job. In-display fingerprint sensors are still not fully mature to be as responsive as capacitive ones and they require an OLED panel, which the ZenFone 6 lacks. However, the provided capacitive sensor could be slightly larger. Face recognition works well but it does take close to a second before the camera can swing up and recognize your face.
Overall, if you are looking for a capable flagship-grade performer that costs less than what you would pay for the Samsung or OnePlus phones, the Asus ZenFone 6 is what you should be considering.
Pros: Excellent performance; Vivid display; Good networking abilities; Flip camera; Better than average battery life; Headphone jack; Great for gaming; Almost stock-like Android experience.
Cons: Slightly heavy; No IP rating; No OLED panel; Low-light photos need further optimizations; Camera flip speed can be improved; Wi-Fi speeds are lower than normal.
Final Score: 9/10
That was our review of the new Asus ZenFone 6. We hope that this gave you an idea about the performance of the phone. If you have any questions, feel free to let us know in the comments below.
We'd like to ask you to share this article online. Also, don't forget to follow TechNadu on Facebook and Twitter. Thanks!