Indigo isn't just one of the best Kodi addons right now – it's one of the essential ones, and we strongly believe that every Kodi user should try it out. That's because Indigo is a maintenance Kodi addon, designed to resolve a number of technical problems and improve your user experience. Trust us; you'll be more than happy to have tried it. So, how to install the Indigo Kodi addon? Where to find the latest available version? That's precisely what we'll talk about in this article!
Before we get to our Indigo installation guide, a few crucial bits of information. To make the most of this addon, we recommend updating your Kodi to the latest available version. This means that you should be running Kodi 18 Leia. You can use the provided links to learn more about that process, so make sure to meet this important requirement. By having the latest version, you can be sure that Indigo will run without any problems, allowing you to use all of its features.
In this article, we are talking about Kodi and this application's official and unofficial addons – all of which are based on open-source code. Addons for Kodi can come from the official source (you can install them via Kodi itself), or they can be hosted by third-party sources (such as GitHub, for example). In addition, Kodi and its addons are publicly available and free of charge.

TechNadu doesn't claim any responsibility for how our readers decide to utilize the following software. Please note that we don't condone sharing pirated content and copyright infringement. TechNadu is not affiliated with the software mentioned in this article in no way.

Make sure to carefully read everything said in this disclaimer and ensure the proper use of the software.
Disclaimer
Read This Before Installing Kodi Addons on Your Device!
Do you think it's legal and safe to install third-party Kodi addons on your device? ABSOLUTELY NOT – and here's why!
Third-party Kodi addons are often referred to as 'unofficial' or 'illegal Kodi addons.' That's because they let you stream copyrighted content from illegal sources like torrent (P2P) repositories and other websites, which aren't generally safe, to be honest.
So, what will happen if you don't act cautiously? Well, you'll expose yourself to criminal prosecution, often leading to huge fines – once your ISP collects enough data about your online activities. We've seen that happen many times before.
That's the reason why we don't recommend installing third-party Kodi addons.
No matter if you use official or unofficial Kodi addons, keep in mind that Kodi can be safely accessed using a VPN. Connect to a VPN, and you'll be safe online, no matter what. Simple as that.
A VPN can help you do the following five things:
Hide your IP address, while keeping you anonymous while streaming via Kodi.
Keep you safe from legal troubles.
Fight against ISP-imposed throttling.
Unblock all kinds of geo-restricted Kodi addons in your country.
Bypass sports-related blackouts.
For more details, please read this guide.
After testing over sixty VPNs hands-on, we conclude that ExpressVPN is the #1-rated VPN for Kodi. If you are interested, please read our ExpressVPN review. Also, if you decide to subscribe, grab this limited time deal – save 49% + get 3 extra months FREE.
5 Simple Steps to Install Indigo on Kodi in 2020
Before you start with this procedure, know that Indigo is a third-party addon. This means that you'll need to enable the application's support for unknown sources. Make sure to use the provided link to learn how this is done.
Finally, here's how to install Indigo on your Kodi – and get access to the latest available version of this addon. Keep on reading.
Launch Kodi and click on the cogwheel icon (top-left corner of the screen). Then, select 'File Manager' and then double click on 'Add Source'.
A new pop-up should appear on your screen right now. Click on '<None>' and input the following Web address: http://fusion.tvaddons.co. Also, make sure to enter a name for this source (Fusion) and click 'OK' to dismiss the pop-up.
Return to Kodi's home screen and select 'Add-ons' using the main menu. Then, find and click on the 'Open Box' icon (top-left corner). Select 'Install from ZIP File'.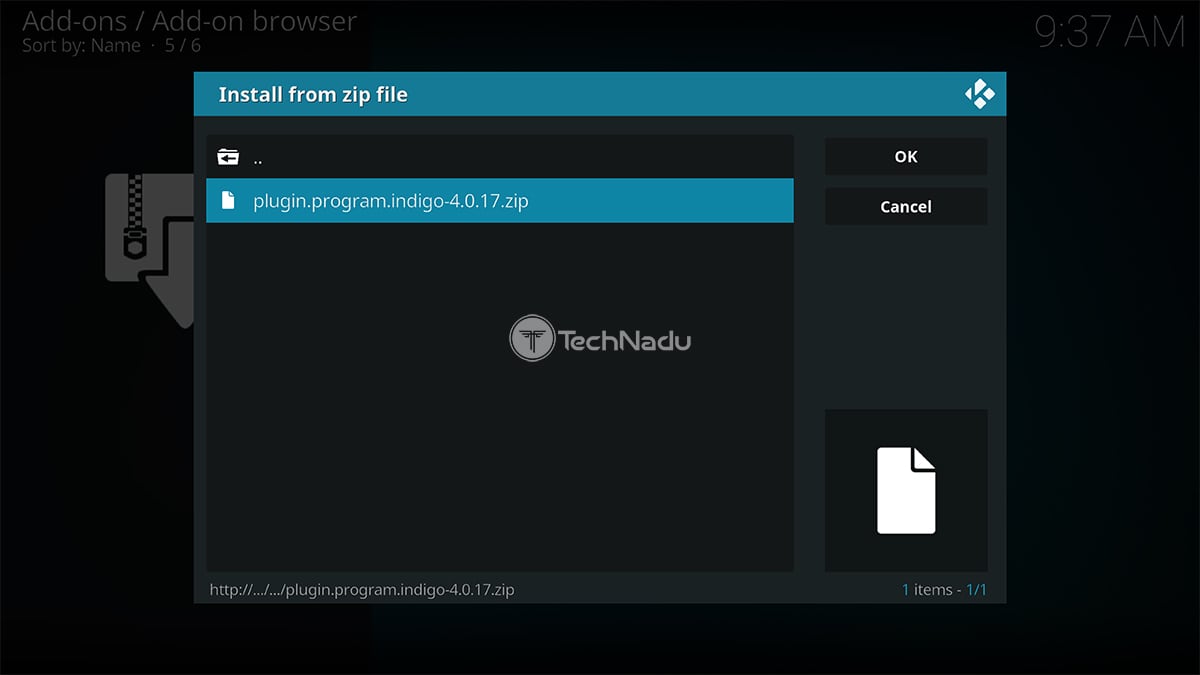 Using the newly opened pop-up, navigate to Fusion > Begin Here. In this directory, you will see a single ZIP file, named 'plugin.program.indigo-x.x.x.zip'. Click on the ZIP file to install the addon.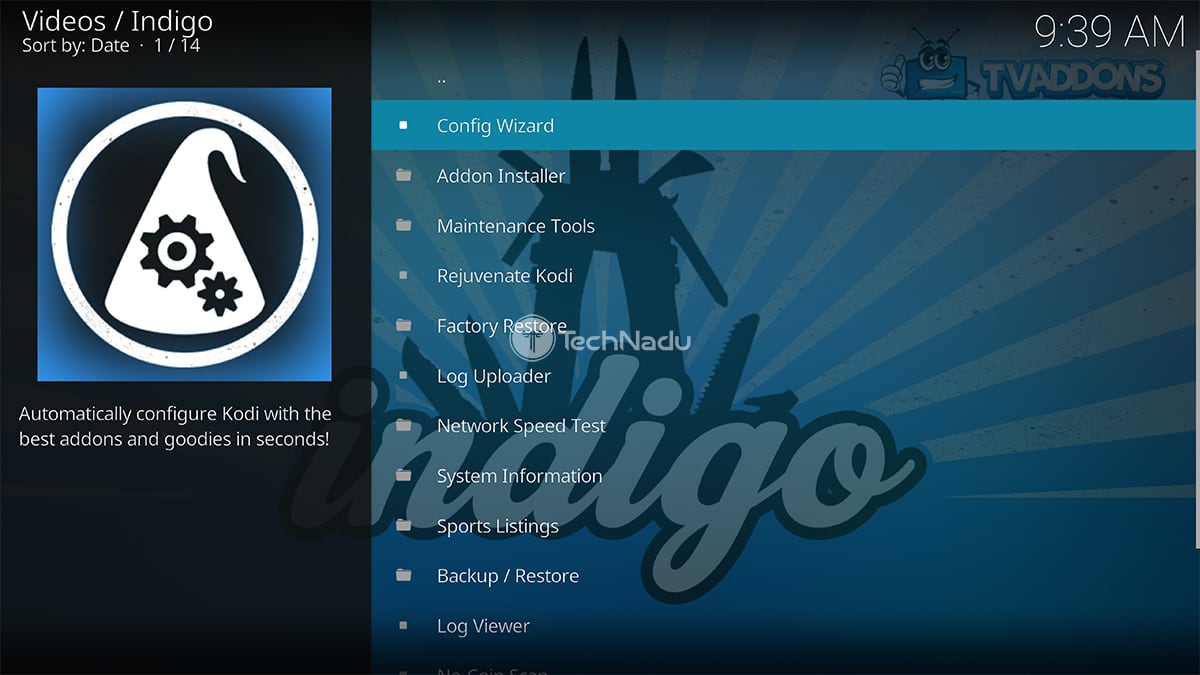 After a few moments, you should see a notification in the top-right corner of your screen – saying that Indigo has been installed. To launch the addon, return all the way to Kodi's home screen and go to Add-ons > Program Add-ons. Click on the addon's name to launch and use it.
The first time you open Indigo, it will take a few moments for the addon to populate its main menu. Don't worry, you'll see a 'progress bar' on your screen, so you just need to sit back and relax. Once this process is done, feel free to explore everything that this highly useful add-on offers.
Indigo Kodi Addon: How to Use & What to Expect?
You must be wondering what this addon is all about? After all, it's one of the most widely used Kodi addons, so you'll want to know everything about it. With this said, we'd like to give you a quick tour of Indigo's features and capabilities.
Config Wizard: This option will instruct Indigo to automatically download and install a large group of Kodi addons. As far as we can tell, these are fully legal addons – many of which can be found in Kodi's official repository. However, we do recommend exercising caution and using only verified addons that come from Kodi's own repository.
Addon Installer: This is where you can download and install TVAddons' Git Browser – used to download and install Kodi addons from GitHub.
Maintenance Tools: In case of any technical issues with your Kodi, we recommend checking various maintenance tools found here. You'll get to clear Kodi's cache, delete textures (if Kodi fails to properly load image thumbnails), delete crash logs (to save some space), and plenty more.
Rejuvenate Kodi & Factory Restore: If you're experiencing persistent technical issues, you can allow the Indigo Kodi addon to factory-restore the application. Depending on which option you pick, you'll end up with a clean slate (with all of your existing content deleted, that is).
Log Uploader: Problems with Kodi addons can often occur. So, if you're a user of any online forum, you'll be asked to upload your log file – and this is precisely what Indigo offers.
Network Speed Test: The name says it all – this is where you can check the speed of your Web connection, making sure that you can stream video files without any issues.
System Information: Not sure about which version of Kodi you're using? Or maybe you'd like to see your device's specifications? Well, this tool lists all of the important information, which is especially handy of media streaming devices.
Sports Listings: We do have to admit that we're surprised to find this option here. However, as you can see, Indigo helps you keep track of sports events. Know that you won't get to stream any of these via Indigo – you can simply keep track of upcoming and past events.
Backup/Restore: Without any doubt, this is perhaps the most important tool that Indigo offers. To save the current state of your Kodi, you can back-up its files. Then, in case of any problems or if you update Kodi, you can restore all those files (and this includes entire addons as well).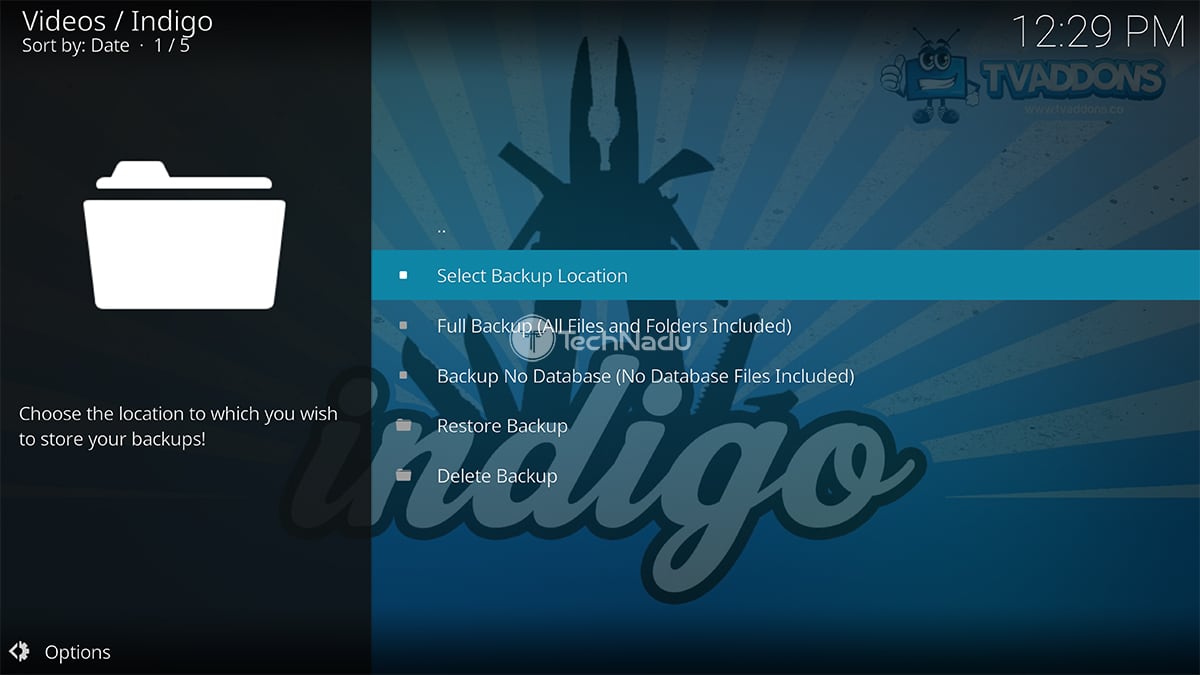 Log Viewer: As you use Kodi, the application generates a log file – which might point to certain problematic aspects of your Kodi installation. To dive into this file and read this information, you can use Indigo's Log Viewer.
No-Coin Scam: Did you know that crypto-mining malware was found on Kodi in the past? This type of malware eats up your system resources, which makes Kodi run poorly. So, make sure to run Indigo's scan from time to time, especially if you like to try different addons on occasion.
Notifications & Show Notification: The final option here allows you to check TVAddon's notification that appears upon each launch of Kodi. This how you can stay on top of the latest news regarding this repository.
So, dear Kodi users, that would be all on how to install and use Indigo on Kodi in 2020. We hope that you've managed to go through his process without any problems. And of course, enjoy using your new addon!