Disney Plus has been around for just a little over a year now, and we're diving back into the platform to see how it is now that some time has passed and the service has matured some. Like pretty much anything Disney does, Disney Plus is an over-the-top service, trying to offer everything all at once, at a price that deserves our attention.
In just a year, the platform has expanded to over forty countries and amassed over 73.7 million subscribers, as per the most recent numbers the company has revealed. Predictions indicate the number will likely double in the next three years, too, which makes it one of the fastest-growing services in the world.
However, we can't help but feel that we have too much fragmentation, and you now have to subscribe to quite a few platforms if you want to watch all your favorite content - something that can be rather exhausting and financially taxing. Keeping track of what content is where and trying to remember which service to turn to in order to continue binging can be annoying.
Now, before we go any further, let's go over some of Disney Plus basics. Take a look at our tables below to help you get more information on what the platform has to offer.
Quick Facts
| | |
| --- | --- |
| Availability | 46+ countries |
| Supported Platforms | Web, Android, iOS, Apple Tv, Android TV, Fire TV, Chromecast, Chromebook, Samsung smart TVs, LG smart TVs, Roku, Sky Q, Now TV, PS4, PS5, Xbox One, Xbox Series X/S, Windows 10 |
| Simultaneous Streams | Up to 4 |
| Video Quality | Up to 4K (Ultra HD) |
| Ad-Supported | No ads. |
| Offline Downloads | Yes, on iOS, Android smartphones and tablets, as well as Amazon Fire tablet. |
| Price | $6.99 per month, $69.99 per year |
We tend to dive into every aspect of a platform when we review it, so buckle up because we have a lengthy review in front of us. If you're in a rush, you can check the following table. We do advise you to read the whole thing, however, to learn more about the service.
The Bottom Line
| | |
| --- | --- |
| Pros | Great interface, plenty of content |
| Cons | The service is not yet available worldwide |
| The Final Verdict | Disney Plus is rapidly growing in popularity and expanding world wide, offering an impressive catalogue of shows and movies. |
| Our Score | 9.4/10 |
That's about it with the intro, and we can now move on to the actual review so you can learn more details about what Disney Plus has to offer. By the time you're done, you'll know whether Disney Plus is worth your money or not.
Disney Plus (2020) TechNadu's Hands-on Review
We're going to dive into different aspects of Disney Plus, ranging from the list of supported devices, how the service works, how much it costs, and so on. Let's help you decide whether to take on Disney Plus or not.
Supported Devices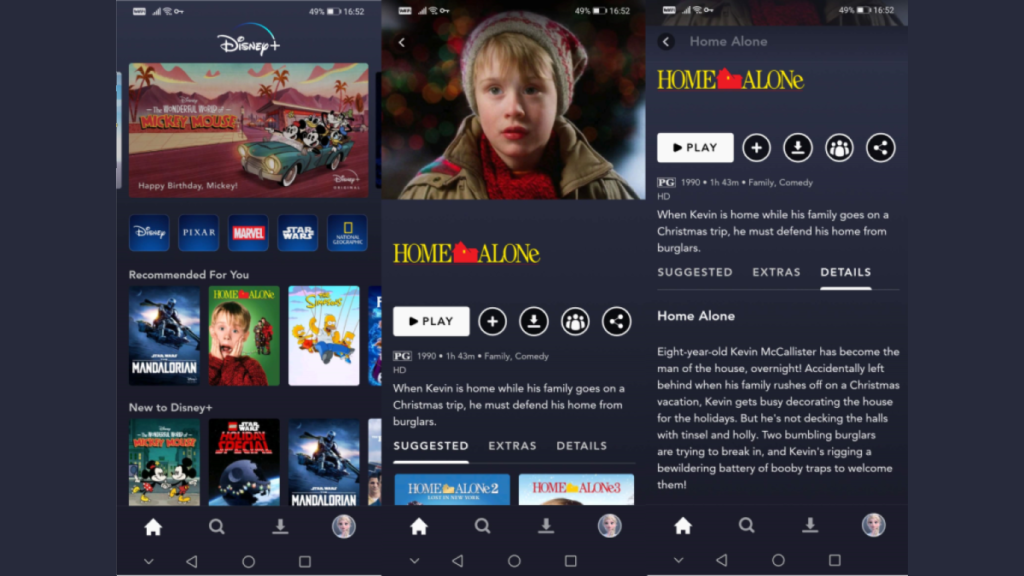 Disney Plus is available on a wide range of devices so your entire family can enjoy the content. Our Score: 10/10
Disney Plus is growing rapidly and will continue to expand in the next few years. Until then, however, they've made sure to cover all bases and make the service available on pretty much all platforms out there.
Platform & Device Compatibility
| | |
| --- | --- |
| Desktop Platforms | Windows, macOS, Chrome OS via Chrome, Edge, Firefox, Internet Explorer, Safari |
| Mobile Platforms | Android 5.0 and up, iOS 11 and up, Amazon Fire OS 5 and up |
| Media Streamers | Android TV, Apple TV, Chromecast, Fire TV, Roku |
| Smart TVs | LG WebOS Smart TVs, Samsung Tizen Smart TVs, Vizio SmartCast TV, Android TV Devices using Android OS 5 and up. |
| Game Consoles | PlayStation (4/4 Pro/4 Slim/5), Xbox (One/One S/One X/Series X/Series S) |
As you can see above, Disney Plus is available on a long list of devices, so it's pretty hard not to have at least one of these in your home. You'll have no problem jumping from one device to another.
Profiles & Simultaneous Streams
Disney Plus allows seven different profiles on the service and four simultaneous streams. Our Score: 10/10
Disney Plus allows users to create up to seven profiles on the platform. These cover both regular profiles and those designed for kids. You can choose a new profile icon for each individual, and you can also make some personal adjustments.
First of all, you can give a name to your profile. Then, you can choose whether the Autoplay feature is on or off. This will enable you to play the next video in a series automatically. Basically, if you're binging on a show, you want this one to be "on."
Then, you can also decide whether you want Background Video to be enabled. This allows for videos to play in the background of landing pages throughout the app. It's also possible to choose a different language for the app, as well as whether you want to enable GroupWatch, which allows you to stream the same content with family and friends in different places.
However, when it comes to the simultaneous streams allowed on an account, that number goes up to four. This means that up to four people can use various devices to stream Disney Plus at the same time. You should also keep in mind that you can connect up to ten different devices to the account. If you want to add any new ones, you'll have to log out of your account on one of the devices you use less of.
Global Reach and Geo-Restrictions
Disney Plus is slowly expanding to more and more countries. They already reach close to 50 countries, with others to be added in the next few years. Our Score: 8/10
Disney Plus started on November 12th, 2019, in the United States, Canada, and the Netherlands. It later expanded to a bunch of new countries.
Now, the service is also available in Australia, New Zealand, Puerto Rico, Austria, Germany, Ireland, Italy, Spain, Switzerland, United Kingdom, Channel Islands, Isle of Man, India, France, Monaco, Wallis and Futuna, New Caledonia, French West Indies, French Guiana, Japan, Indonesia, Belgium, Denmark, Finland, Greenland, Iceland, Luxembourg, Norway, Portugal, Sweden Reunion, Mayotte, Mauritius, Argentina, Brazil, Chile, Colombia, Peru, Mexico, Costa Rica, Ecuador, Panama, Uruguay, and the Caribbean.
More countries will be added in the next few years, with Eastern Europe also originally included in the 2020 plans.
The libraries for each of these countries is geo-blocked. However, most content should be available worldwide, with few exceptions. The titles that are not yet included are still under licensing deal with different streaming services in the area.
Interface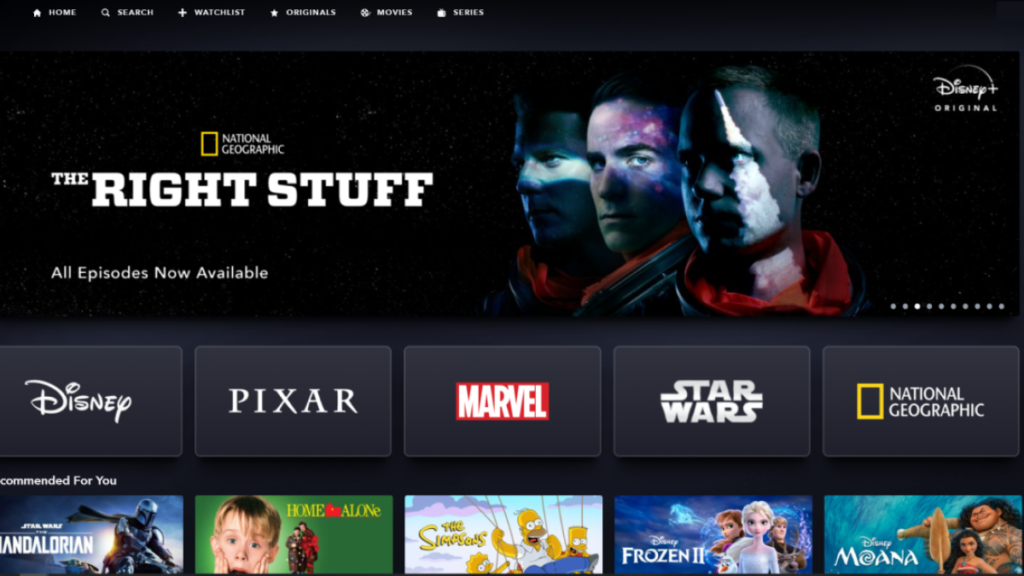 Disney Plus is easy to use, and it's pretty clear where to go to find various series, content from National Geographic, and so on. Our Score: 10/10
The Disney Plus interface is pretty clean and easy to navigate. There's a top ribbon that takes you to the Home page, to the search interface, to your watchlist, to Disney Plus originals, movies, and series.
A rollercoaster of banners of various Disney Plus content follows. Then, you find buttons that can lead you to content that falls into several categories - Disney, Pixar, Marvel, Star Wars, and National Geographic.
Then, in horizontal lines, you'll find other titles gathered by specific criteria. For instance, you'll find Holiday Movies and Specials, Hit Movies, Originals, Comedies, Throwbacks, Disney Channel Favorites, Disney Junior Series, and so on.
The interface is highly responsive, even when using a smartphone or a tablet. When you open a movie or series, you'll see a brief description of the content, the age rating, how long the film lasts, and the category the content falls into (Family and Comedy, for instance). You can also play a trailer for some of these titles, add it to your watchlist, or add it to GroupWatch (when available). There are also several other buttons.
Under "Suggested," you'll find titles that are similar to what you're trying to watch.
Under "Details," you can find out more about the film or series (like the list of cast members).
Finally, the "Extras" tab gives you access to more videos from the film.
Once you play the content, you'll notice the interface is pretty clean. The play/pause button is in the middle, and you'll find rewind and fast-forward buttons on each side of it, allowing you to "skip" by ten seconds. You also have a "mute" button and a way to make the content full screen (on a smart device, the content will automatically go to landscape).
On the top right corner, you'll find another button that gives you access to the Audio and Subtitles menu. From there, you can choose what language to watch the content in and what subtitles to display.
On mobile, the main menu is easy to reach as it's in the screen's lower area. You can go to the Home page, access the search button, the downloads folder, and the profile area.
Content Library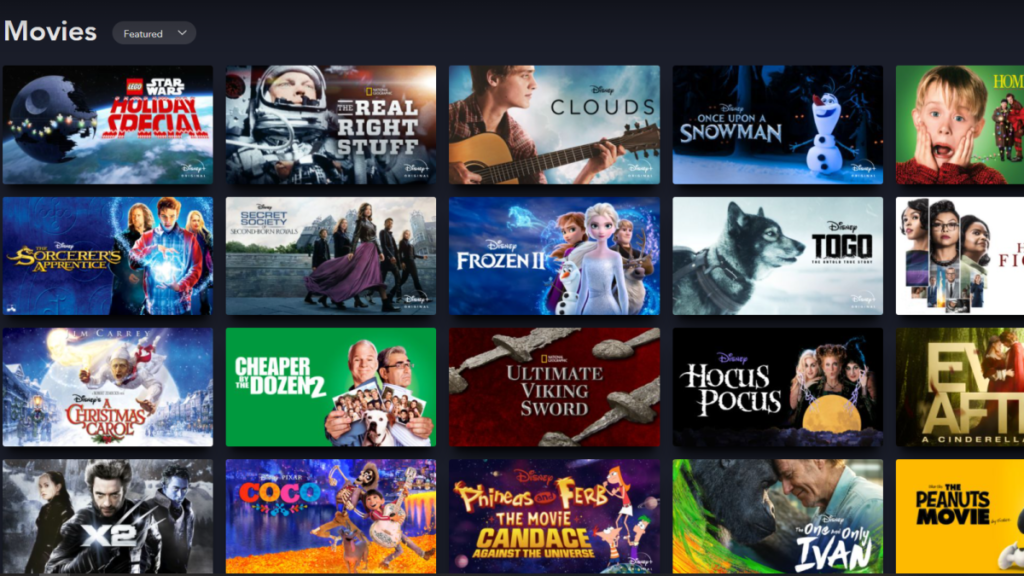 The Disney Plus library is filled with tons of content from quite a few major companies, but they're missing out on blockbusters from other companies. Our score: 9/10
When it comes to content, Disney really has an extensive collection. Estimates indicate over 7,000 TV episodes and over 500 films. They feature content from the Walt Disney Pictures, ABC, Disney Channel, Freeform, National Geographic, Marvel Studios, Lucasfilm (Star Wars), 20th Century Studios, Pixar, Searchlight Pictures, and more.
On top of these, you'll also find a lot of original content. The Mandalorian has been a major hit, but we also have incoming WandaVision, docuseries like Marvel's Hero Project, Inside Pixar, One Day at Disney, and more. Other titles coming soon are The Falcon and the Winter Soldier, Loki, Hawkeye, Ms. Marvel, and She-Hulk.
You'll find films from the early days of the Disney empire, but also new content and even established series from companies Disney has acquired, like The Simpsons. You'll also find lots and lots of Star Wars content.
The platform was also used as a release platform during the COVID-19 pandemic when theater releases have been halted. For instance, Mulan was released directly for Disney Plus, although subscribers did have to pay extra to get it. Hamilton has also been a hit, as we've never before had a recording of the hit Broadway show.
Disney
Disney Plus features a ton of cool content in the Disney category. From Dumbo to Alice in Wonderland, from Fantasia to Tarzan 2, from The Little Mermaid to Frozen, from Hannah Montana to Kim Possible, from Dancy Nancy to vintage films and shorts like In Beaver Valley and The Reluctant Dragon.
Of course, there are also about two tons of Mickey Mouse episodes, shorts, and movies.
Marvel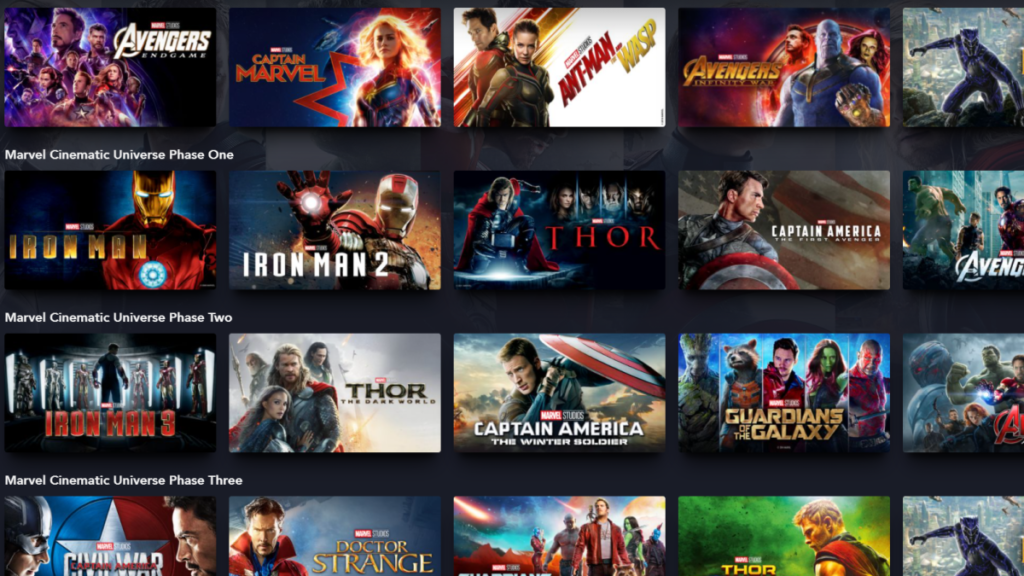 Disney Plus has a ton of Marvel content. In fact, you'll find pretty much everything they have, except Spider-Man movies, of course. Spider-Man rights are split between Marvel and Sony Pictures. Since the superhero was almost left out of the MCU due to opinion differences between the two companies, we're just glad they're still making movies.
The Marvel category on Disney Plus is split into the MCU phases. For instance, in the Marvel Cinematic Universe Phase One features Iron Man, Iron Man 2, Thor, Captain America: The First Avenger, and The Avengers. If you want to learn more ways to watch Marvel films, you can check our list here.
They also offer you the option of watching the Marvel Cinematic Universe in Timeline Order, give you access to Marvel Legacy Movies like X-Men, Fantastic 4, The Wolverine. There are also Marvel Live-Action series and specials available, as well as Marvel Legacy Animations.
Pixar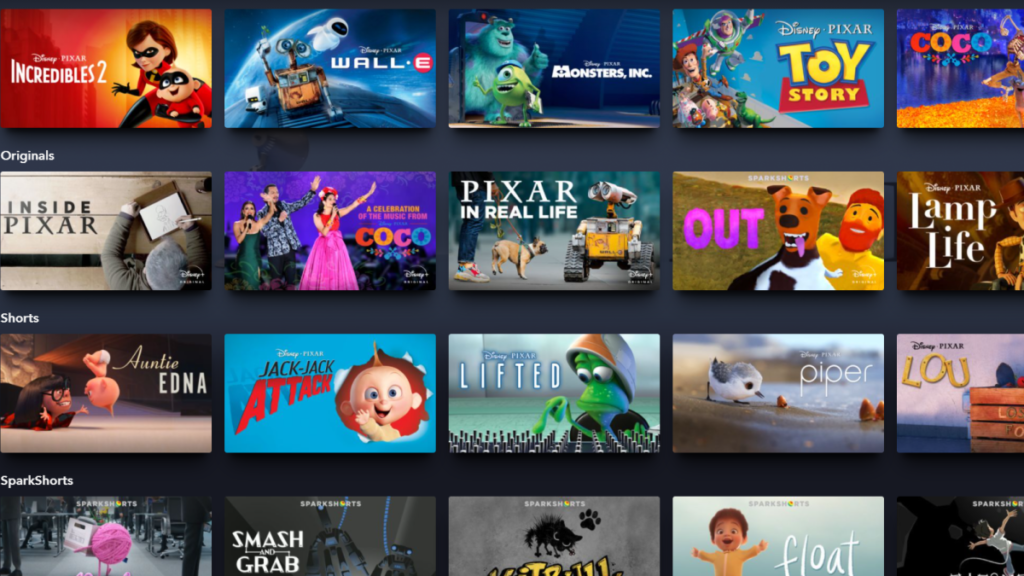 Pixar is also a major studio that needs to be mentioned here because they have so much cool content. Whether we're talking about The Incredibles, Monsters Inc., Wall-E, Toy Story, Ratatouille, Brave, Onward, Coco, Inside Out, The Good Dinosaur, Finding Nemo, and Finding Dory, Cars, Up, and others.
Those amazing Shorts are also there, as well as the brand new Forky Asks a Question series, and SparkShorts, too.
Star Wars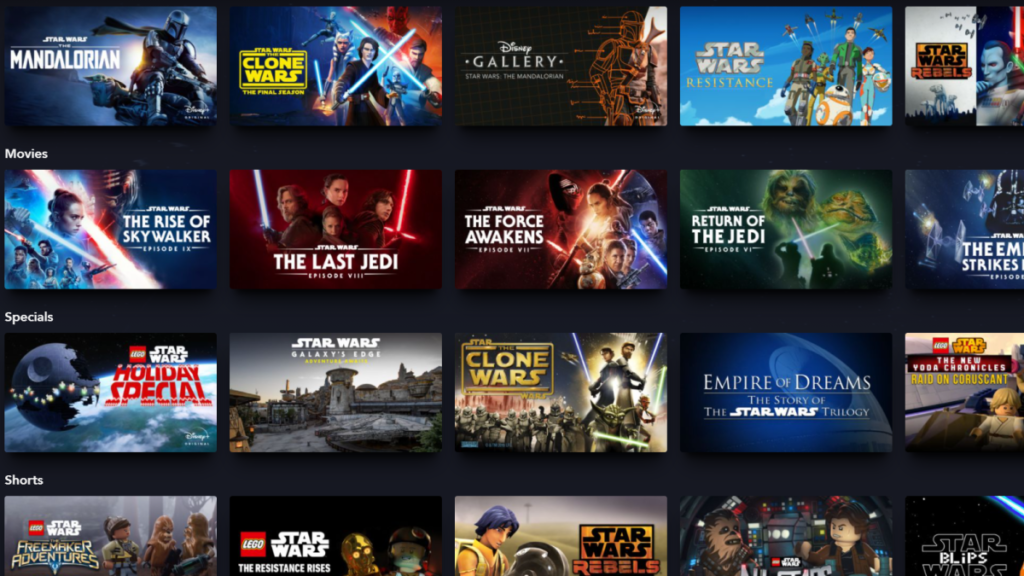 Under the Star Wars category, you'll find series (The Mandalorian, Clone Wars), movies (The Rise of Skywalker, The Last Jedi, The Return of the Jedi, Rogue One), shorts like Lego Star Wars The Resistance Rises, and more.
National Geographic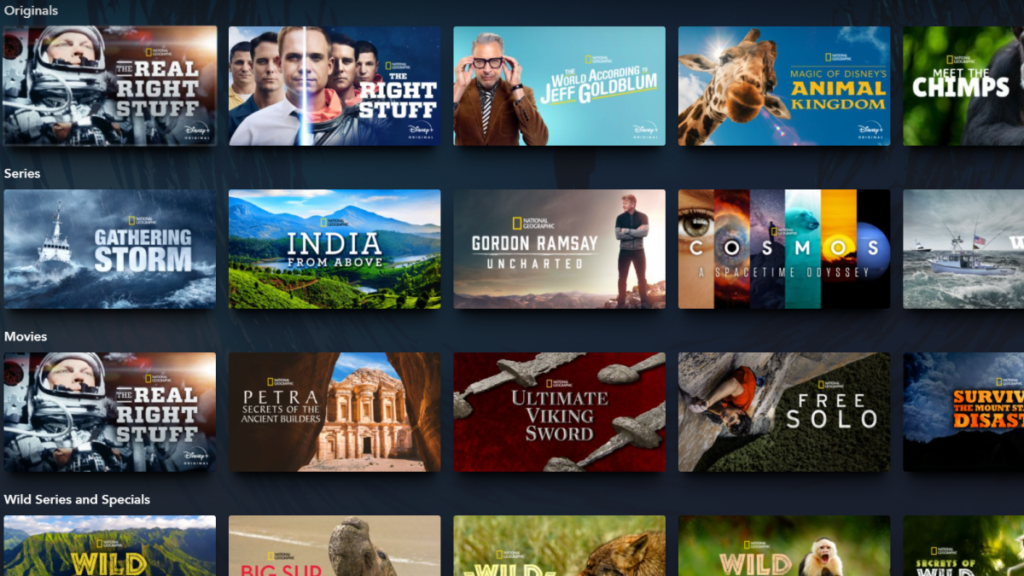 National Geographic is one of those name brands that everyone knows because it gives us access to a lot of really cool documentaries. For instance, on Disney Plus, you can find shows like The World According to Jeff Goldblum, Meet the Chimps, India from Above, Ultimate Viking, Cosmos, Mission to the Sun, Birth of Europe, Petra Secrets of the Ancient Builders, and many others.
User Experience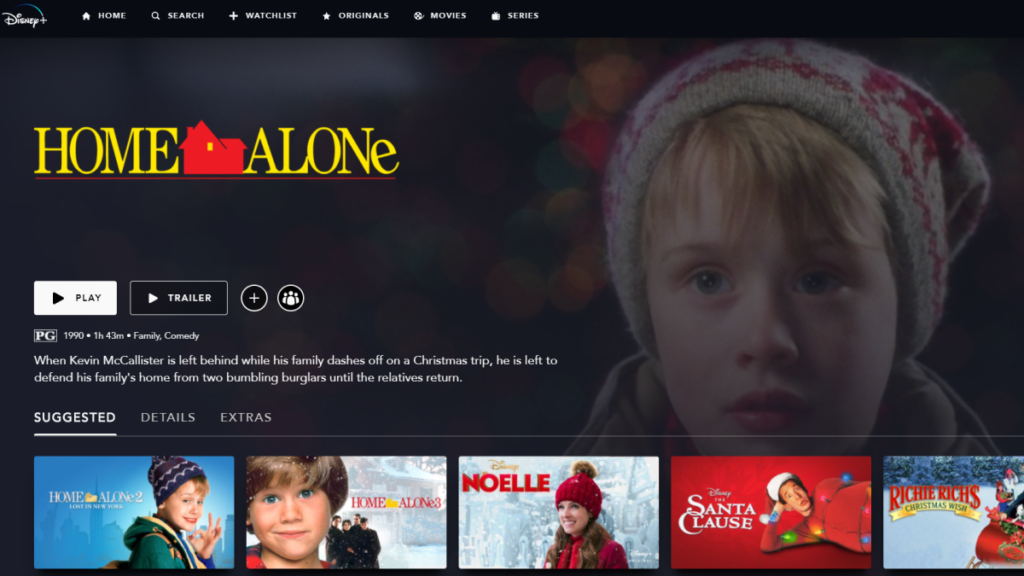 Streaming content on Disney Plus is a streamlined experience that we thoroughly enjoyed. Our Score: 10/10
Disney Plus has a pretty simplified interface that's super easy to navigate. The fact that you can also go straight to the type of content you want to watch - Marvel movies, for instance - makes up for any annoying issues you may find with the service. The UI is simple and clean, so it's user-friendly for everyone.
That being said, we have had no issues when streaming content. We've tested out on multiple platforms, and we had an overall pleasant experience. The movie we started on our browser was seamlessly continued a minute later on Android. The title was also added to the "Continue Watching" category, making it easier to spot.
Kids' Profile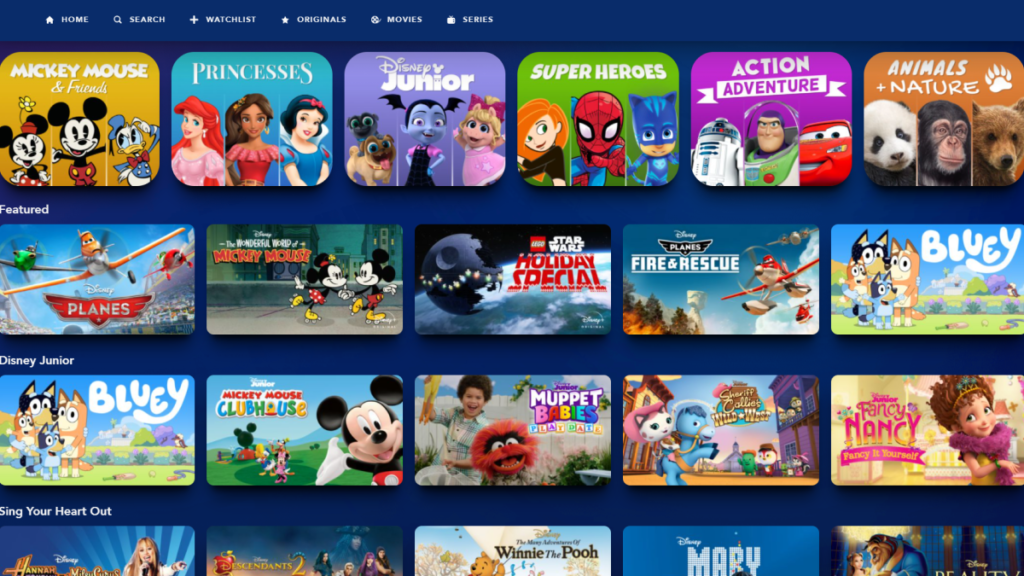 We feel like Disney Plus has missed the mark with the Kids' profile. While it's great that they offer curated content, there's no security layer. Our Score: 7/10
Disney Plus also features some parental controls. We say "some" because they pretty much have a special profile for kids, and that's it. On Netflix, for instance, when you try to switch from the Kids profile to a regular one, you have to input a pin code. On Disney Plus, there is no such thing.
They are probably relying on the fact that most content on Disney Plus is appropriate for all ages, but how hard would it be for a 4-year-old to end up watching The Avengers?
Nonetheless, The Kids profile comes with a simplified interface and curated content. The only difference from the settings area between the Kids and regular profiles is that you cannot enable the Group Watch feature here.
Streaming Quality
Disney Plus requires acceptable Internet speeds for High Definition streaming, with the median Internet speed in the US being well above these limits. Our Score: 10/10
Disney+ offered a streamlined streaming experience. We didn't encounter any buffering, and since the service knows how to adjust to the fluctuating Internet speeds, you should have a good experience overall.
However, you do need to keep in mind that the platform has some minimum requirements if you want a quality experience.
Internet Speed Requirements
| | |
| --- | --- |
| HD Streaming | 5 Mbps |
| 4K Streaming | 25 Mbps |
You can also adjust the quality of the content you're watching to fit your network limitations or the bandwidth. When you're streaming on the laptop, you'll get the App Settings (under the profile pic). You can choose between Automatic (where you'll stream at the highest quality available), Moderate (where you'll use less data and stream up to HD), and Save Data, where you'll use less amount of data and stream at SD quality.
When you go to a mobile device, however, you get a lot more options since you need to consider mobile data costs. On top of deciding whether you want to stream content over WiFi only, allow cell data usage, or set restrictions, you can also make some settings regarding content downloads.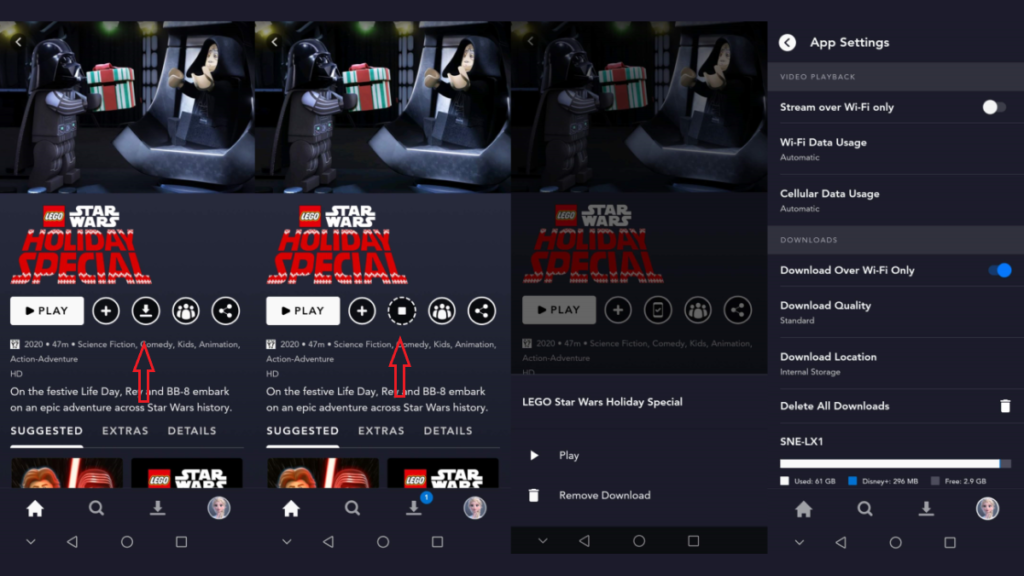 The recommendation is to keep things on Automatic, so they'll detect things on their own. In this way, they'll adjust the content quality however needed.
Does Disney Plus Work With a VPN?
Luckily for anyone who wants to enjoy Disney Plus but the service hasn't yet reached them, the service does work with a VPN. Sure, they say that it's not something you should be doing, but everyone does it.
First up, you should read up on how to watch Disney Plus with a VPN, especially if you're having issues. It would also be useful if you read our guide on how to get Disney Plus even if you live outside the US.
The VPN will route your Internet connection, so you appear to be in this new location that you chose. You may have some lower Internet speeds due to all the routing, but if you have a solid Internet speed to start with, you won't feel it too much.
Customer Support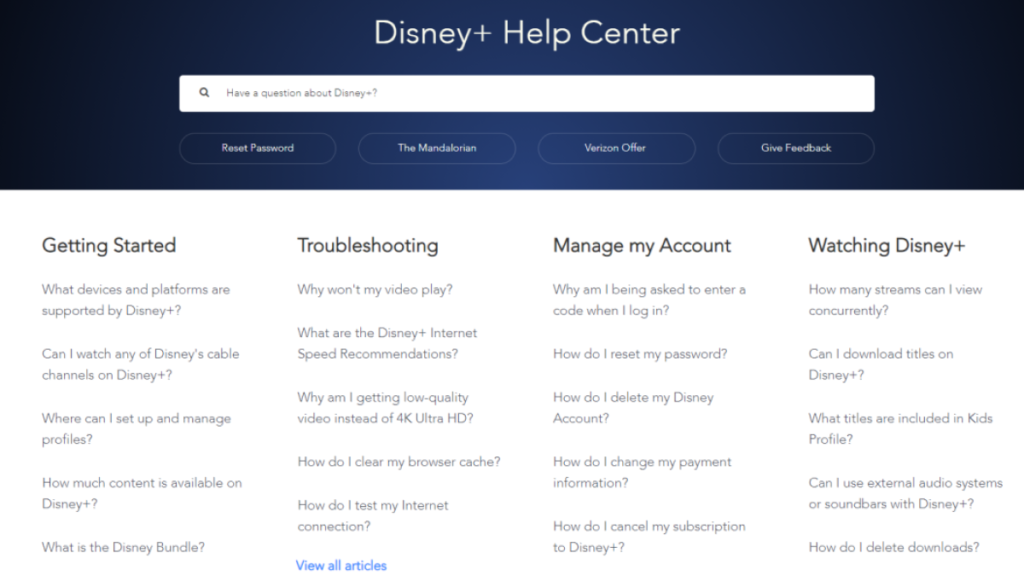 Customer Support is available around the clock, and they're quick to answer. Our Score: 10/10
Disney Plus is known for having various issues and popping up error codes left and right, but overall, these are issues that you can fix rather quickly on your own. However, if you have problems and want to reach out to Disney Plus, you can do that over chat, phone, or social media.
Dedicated Help Center: Disney Plus has an extensive help center where you'll find answers to what feels like a million questions. They will also allow you to find out more about the error codes you're getting, but we do advise you to check out our own articles since they're more detailed.
Phone Number: If you feel like talking to someone on the phone, you can call 888-905-7888 in the United States. However, if you want to make sure you reach someone, regardless of the country you're in, you can go to the Help Center page and tap the "Call" button on the bottom of the screen.
Live Chat: If you want, you can also reach out to Disney Plus over chat. They have a pretty responsive team, and they are eager to help you out. We've tested out the Help Center in this way and had our issues fixed in just a few moments.
Pricing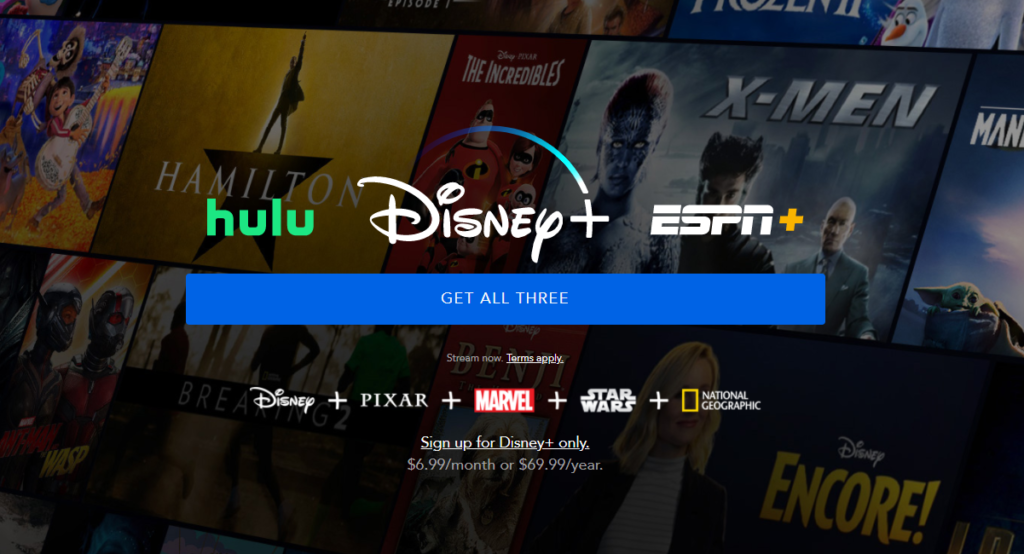 Disney Plus has a perfectly acceptable price, especially for the tons of content they have available. Our Score: 10/10
Right now, Disney Plus is available for $6.99 per month or $69.99 per year. The platform is also a part of a couple of bundles that mix in Hulu (ad-supported) and ESPN+ for $12.99 per month, or with Hulu + Live TV and ESPN+ for $61.99 per month (the price will go up to $71.99 on December 18th).
The price varies with each country the service is available in, but it's generally around the same amount Disney Plus costs in the United States.
Disney Plus is one of the few platforms that offer only one subscription option. CBS All Access has a couple of them, Hulu and Netflix have a few as well, and so on. Most of these offer ad-supported alternatives, which we do not see when it comes to Disney Plus.
In fact, with the way the platform is expanding and growing and the impressive bottom line of the Disney company, an ad version is not something the company would need to offer. Plus, the price is already pretty low when compared to other services.
Should You Subscribe to Disney Plus?
If you're asking us if the Disney Plus platform is worth subscribing to, the answer is "yes." However, ultimately, you'll have to decide how much you love Disney content. Thankfully, they have so much diversity - with Marvel and Star Wars and National Geographic - on top of the rest of the wonderful Disney content. Frankly, they have something for everyone, but if you have kids, getting Disney Plus is that much more a necessity.
WHAT WE LIKED: Disney Plus is an accessible service; There is a ton of content; Loads of original shows, including incoming new titles; Easy-to-use interface; Good streaming experience.
WHAT WE DISLIKED: The Kids' profiles could use a little more security.
OUR SCORE: 9.4 out of 10!
IF you want to subscribe to Disney Plus, you can head over to the service and start your account. Make sure you tell us how you feel about the service in the comments section below.