Disney Plus isn't just one of the best streaming services available today; It's also one of the fastest-growing media streaming platforms, now enjoyed by more than 130 million subscribers. Based on its popularity, it's clear that Disney Plus offers a lot. However, that doesn't mean it's for everyone. With that said, we wish you a warm welcome to TechNadu's Disney Plus review, where we'll be taking a very close look at this streaming platform.
Before we dive deeper into our review, we'll present some quick facts about Disney Plus, helping you compare this streaming service to its competitors. Check out the following table. 
| | |
| --- | --- |
| Availability | 50+ countries/regions. |
| Supported Platforms | Web browsers (Windows, macOS, Linux), Android, iOS, Android TV, Fire OS (tablets and Fire TVs), Apple TV, smart TVs (Samsung, LG, Panasonic & more), and game consoles (Xbox & PlayStation). |
| Simultaneous Streams | Up to 4. |
| Library Size | 1,500+ titles (900+ movies / 450+ TV shows / 200+ shorts)  |
| Original Content | YES |
| HD Video Quality | YES |
| 4K Video Quality | YES |
| Offline Playback | YES (iOS/iPadOS, Android, Fire OS) |
| Free Trial | NO |
| Price/Month | $7.99/month ($79.99/year) |
Don't have the time to read our entire Disney Plus review? Want a quick way to decide on whether to subscribe? The following table will show you what we think after reviewing and testing Disney Plus in-depth.
| | |
| --- | --- |
| Pros | Wide catalog of content; Exclusive Star Wars and Marvel titles; HD and 4K content on offer; IMAX supported; In-depth parental controls; Low monthly price.  |
| Cons | Not available worldwide; Its competitors offer more extensive content libraries; Access to customer support channels doesn't work at all times. |
| Final Verdict | Disney Plus is a unique streaming service that doesn't have the biggest content library – but brings high-quality titles you won't find elsewhere. We strongly recommend subscribing. |
| Our Score |  9.4 out of 10! |
That's about it with the intro. We can now move on to the actual review so you can learn more details about what Disney Plus has to offer. By the time you're done, you'll know whether Disney Plus is worth your money or not.
Disney Plus Review
We're going to dive into various aspects of Disney+, ranging from the list of supported devices, how the service works, how much it costs, and so on. Let's dive right in!
Supported Platforms & Devices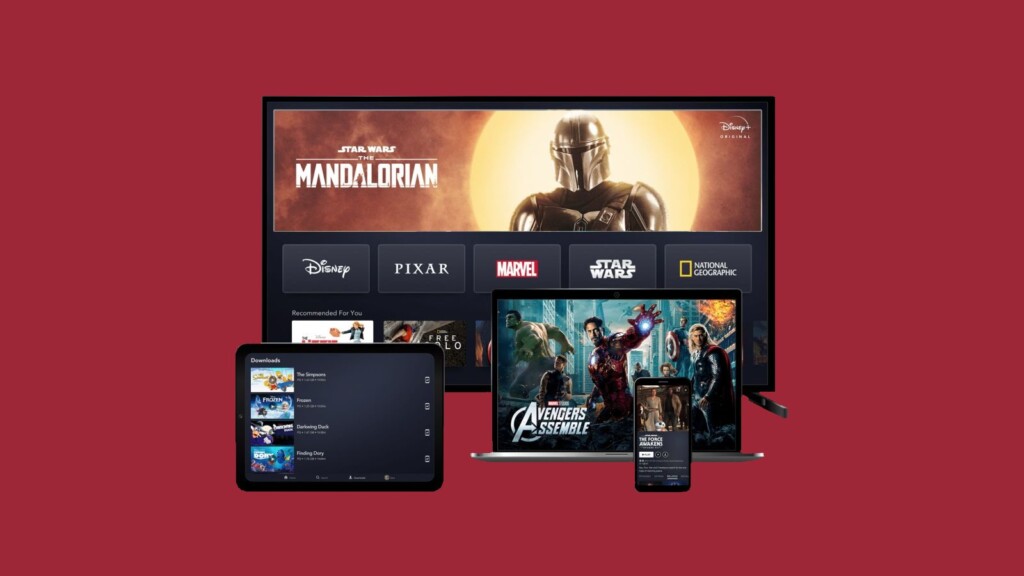 Disney Plus runs on any device you might own. Also, you don't need to have the latest gadget, as Disney Plus works on devices made in 2014, at least. Our Score: 10/10
As expected from a company as big as Disney, this streaming service offers apps for practically any device imaginable. Here's a quick overview of what you'll get. 
| | |
| --- | --- |
| Desktop Platforms (Computers) | Web (Windows, macOS, Linux), Windows app. |
| Mobile Platforms (Phones & Tablets) | Android, iOS/iPadOS, Fire OS tablets. |
| Media Streaming Devices | Fire TV, Android TV, Apple TV, Roku, Xfinity. |
| Smart TVs | Samsung, Sony, LG, Panasonic, Hisense, Vizio. |
| Game Consoles | Xbox, PlayStation. |
Aside from being available on a vast range of platforms, Disney Plus works on even some old(er) devices. Here's more detailed information about the requirements set by this streaming service across all of its supported platforms: 
Web Browsers: Disney Plus works on Chrome (version 75+), Firefox (version 68+), Edge, and Safari (version 11+). If you have a Chromebook, you'll need Chrome 79 or newer.
Desktop Platforms: Owners of Windows-powered machines can use the native Disney Plus app available on the Microsoft Store. The app works on Windows 10/11.
Mobile Devices: Apple-made devices such as iPhones and iPads must run iOS 13.0 or newer. Android devices (including phones and tablets) must run Android 5.0 or newer. And if you have a Fire OS-powered tablet, your device must run Fire OS 5.0 or newer. 
Media Streaming Devices: Disney Plus runs on Android TV-powered streamers such as Nvidia's Shield TV and Xiaomi's Mi Box (note that third-party streamers might have an issue with Disney Plus as it's not officially supported). When it comes to Amazon's Fire TV Stick devices, they need to run Fire OS 5.0 at least. 
Smart TVs: Since it runs on Android TV, Disney Plus works on TVs made by Sony (Bravia), Sharp, and Hisense. Disney Plus also works on Samsung TVs (made in 2016 or later, powered by Tizen), Panasonic TVs (made in 2017 or later, powered by My Home Screen OS), and LG TVs (made in 2016 or later, powered by WebOS 3.0 at least).
Game Consoles: If you have a PlayStation, know that Disney Plus supports PS4 and PS5. In terms of Xbox, all Xbox One and Xbox Series X/S models are supported. 
Installation & Initial Configuration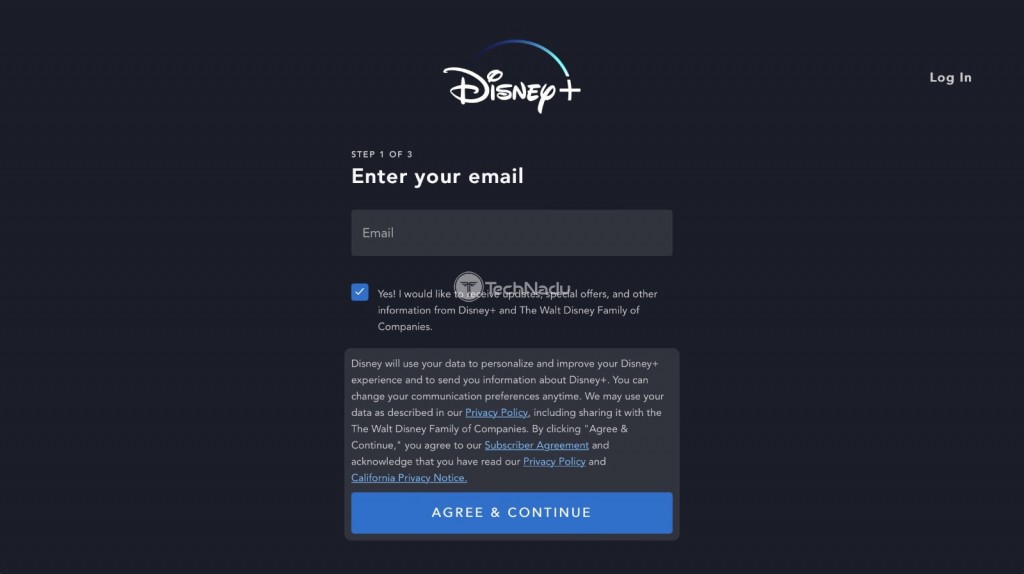 Disney Plus comes with a highly streamlined installation process. It shouldn't take more than a couple of minutes to subscribe, download its apps, and start watching. Our Score: 10/10
Getting started with Disney Plus is quite simple, no matter what platform you use. However, the first step will always be the same – requiring you to get your Disney Plus subscription. After that, you can use your favorite Web browser to access the streaming platform. For the best very experience, know that Disney Plus recommends using its app(s).
In general, getting access to Disney's content will take only a couple of minutes of your time. The streaming service has done plenty to simplify the onboarding procedure, helping you set up individual profiles, fine-tune security options (like setting up a PIN), and similar. 
Since it has practically the same interface on all its supported devices, getting Disney Plus on more of your devices (so you can watch it at home and on the go) is even quicker as you'll only be required to sign in. In other words, your profiles and settings will synchronize across devices and platforms.
Our team has worked diligently on producing short (and very helpful) guides on setting up Disney Plus. So, you'll want to check the following bullet points and the links found there. 
User Profiles & Simultaneous Streams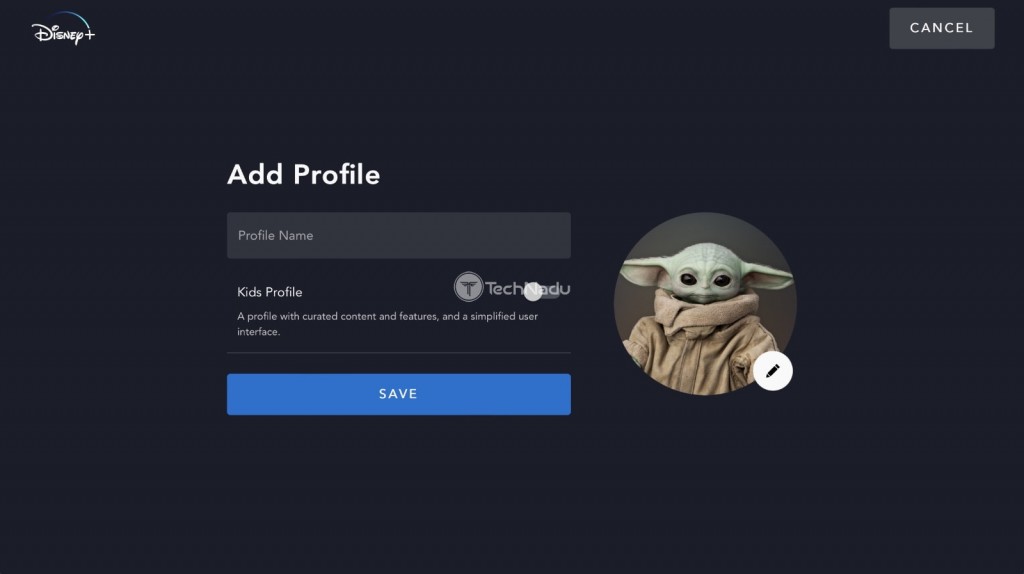 Disney Plus is one of the most generous media streaming services regarding how many profiles and simultaneous streams you get. Our Score: 10/10
In this segment, we'll talk about whether you can create individual profiles on Disney Plus, how you can customize them, on many devices you can stream at the same time, and more. You'll find the essential information below, but keep reading to learn more.
| | |
| --- | --- |
| Max Number of Profiles | Up to 7 |
| Types of Profiles Available | Regular & Kids |
| Max Number of Simultaneous Streams | Up to 4 |
Disney Plus lets you create up to seven individual profiles. These cover regular profiles and those designed for kids (with access to children-friendly content). You can choose a profile icon for every individual and make some personal adjustments. 
First of all, you can give a name to your profile. Then, you can choose whether the auto-play feature is ON or OFF. This will enable you to play the next video in a series automatically. So, if you're binging on a TV show, you'll want this one to be 'ON.'
Then, you can also decide whether you want 'Background Video' to be enabled. That allows for videos to play in the background of landing pages. It's also possible to pick a different language for the app, as well as enable 'GroupWatch,' which allows you to stream the same content with family and friends in different places. 
When it comes to the simultaneous streams allowed on a single account, that number goes up to four. This means up to four people can use various devices to stream Disney Plus simultaneously. 
You should also keep in mind that you can connect up to ten different devices per account. If you want to add any new ones, you'll have to log out on one of the devices already associated with your account.
UI/UX Design & Ease of Use
Aside from minor annoyances, Disney Plus is generally easy to use. Its interface is modern and looks practically the same across all its supported devices. Our Score: 9/10
The Disney Plus interface is clean and easy to navigate. The main menu is located at the top, listing the following items: Home, Search, Watchlist, Originals, Movies, and Series. As such, the main menu is a handy way to explore various Disney Plus content categories – if you're not looking for something specific.  
A carousel of banners of various Disney Plus shows follows, letting you discover what's new and popular. Below the carousel, you'll find buttons that lead you to various brands offered by this streaming service – Disney, Pixar, Marvel, Star Wars, and National Geographic. 
Then, in horizontal lines, you'll find other titles gathered by specific criteria. For instance, you'll find Holiday Movies and Specials, Hit Movies, Originals, Comedies, Throwbacks, Disney Channel Favorites, Disney Junior Series, etc.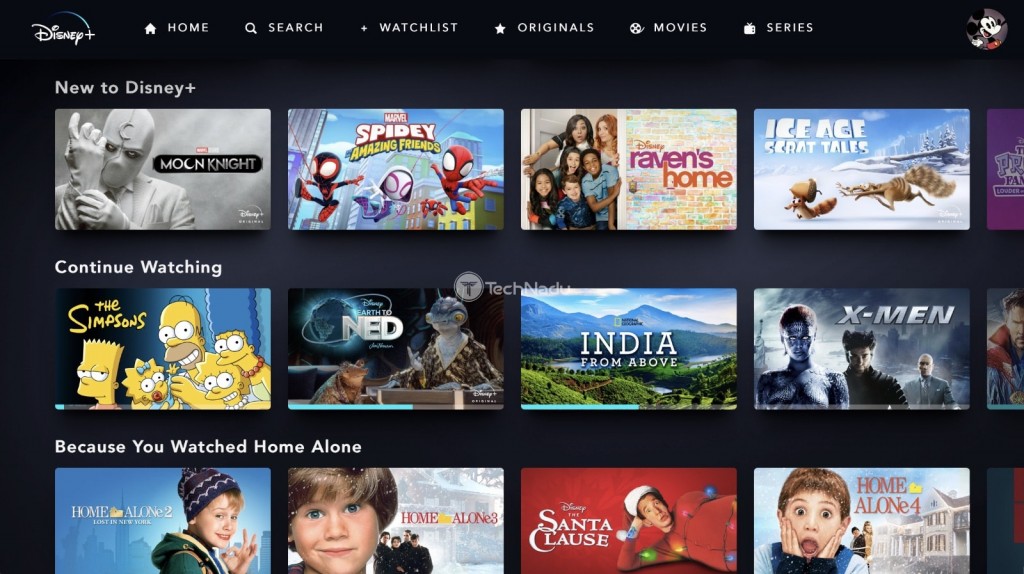 The interface is highly responsive, even when using a smartphone or tablet. When you open a specific title, you'll see a brief description of the content, the age rating, how long the video lasts, and the category the content falls into (Family and Comedy, for instance). 
You can also play a trailer for some of these titles, add them to your watchlist, or add it to 'GroupWatch' (when available).
As soon as you start playing the content, you'll notice the playback interface is neatly designed. The play/pause button is in the middle, and you'll find rewind and fast-forward buttons, allowing you to 'skip' by ten seconds. You'll also be able to mute the content and make it full screen (on smart devices, the content will automatically appear in landscape mode).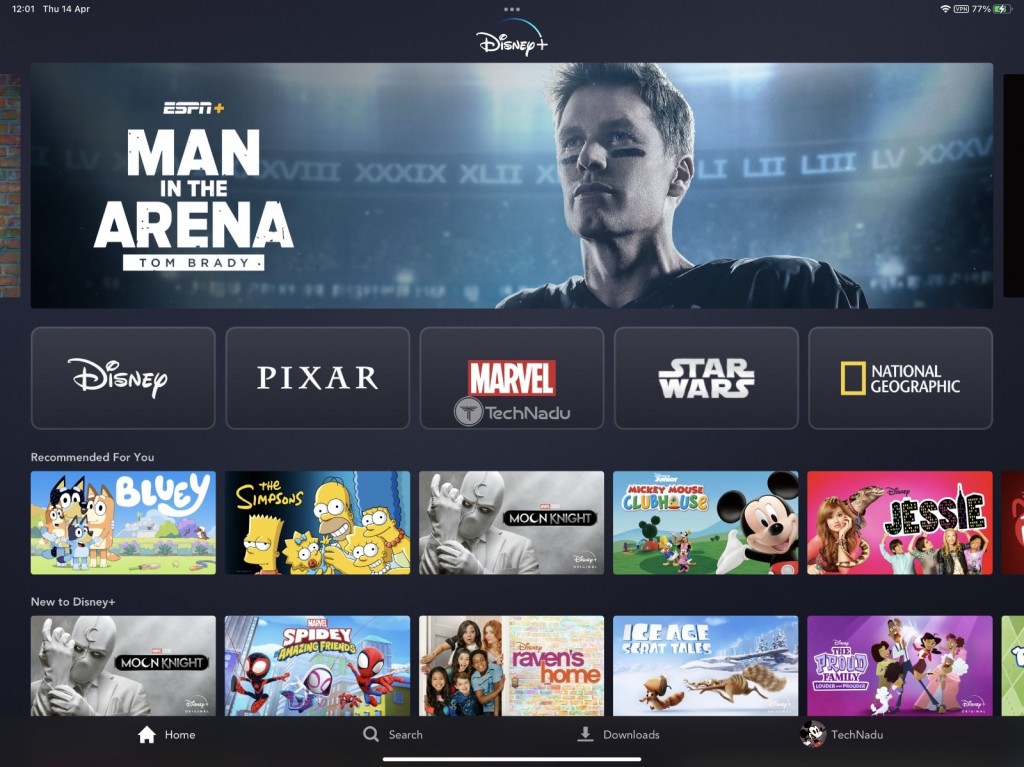 Everything said above applies to the Web interface of Disney Plus. However, since this platform has a uniform design, you can expect a similar interface on practically any other device. For example, platforms such as iOS and iPadOS accommodate specific features like the ability to download videos for offline viewing. Still, the basic principle never changes.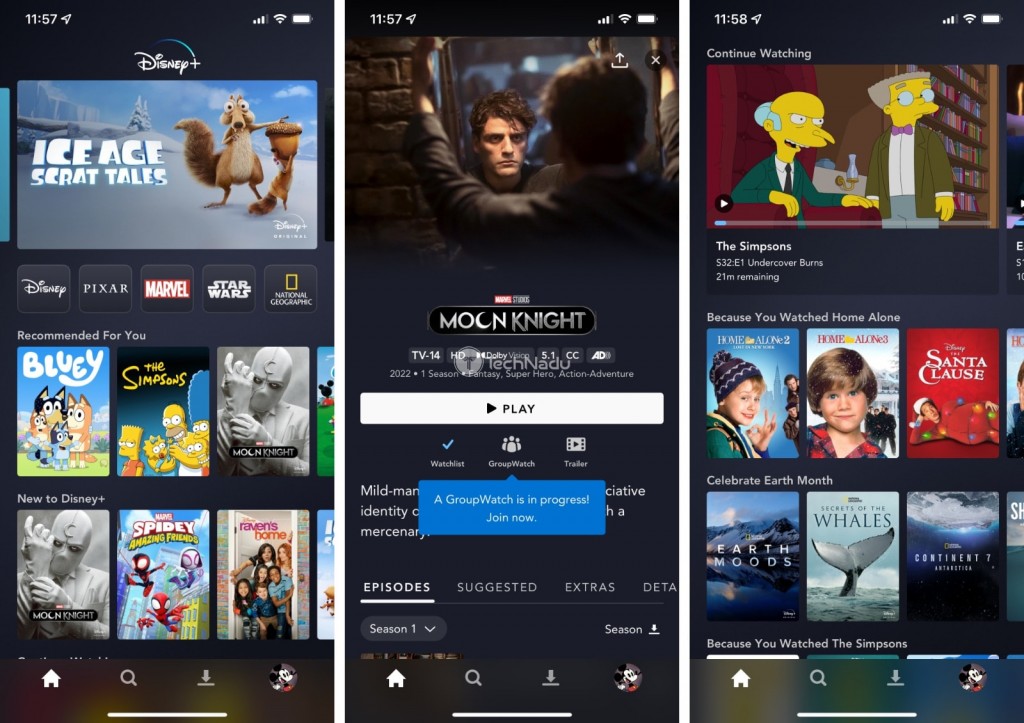 If we were to nitpick, we'd have to mention two things. First, Disney Plus allows you to create a custom watchlist. However, those titles don't appear on the home screen. You'll either need to use the main menu (when accessing Disney Plus via a Web browser) or access your watchlist through your account (so - not quite intuitive). 
Also, Disney Plus allows you to play the next episode automatically. The content you haven't watched to the end will appear in the 'Continue Watching' row (on the home page). However, there's no way to remove those titles, making that feature very limited.
Content Library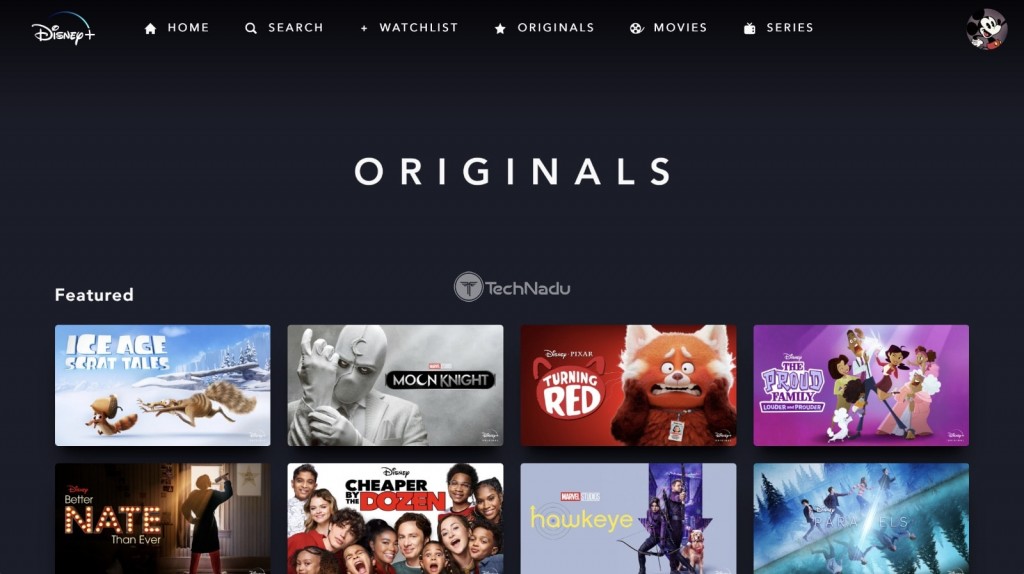 Disney+ doesn't have the most extensive library out there. However, it features an endless list of exclusives that make Disney Plus unique and incredibly versatile. Our Score: 10/10
When it comes to content, Disney Plus has a very extensive collection. Estimates indicate over 900 movies, 450+ TV shows, and 200+ short films. That content comes from the Walt Disney Pictures, ABC, Disney Channel, Freeform, National Geographic, Marvel Studios, Lucasfilm (Star Wars), 20th Century Studios, Pixar, Searchlight Pictures, and more.
To give you an idea of what to expect, we'll go over the main content categories offered on Disney Plus based on their brands. So, read the following content very carefully.
Disney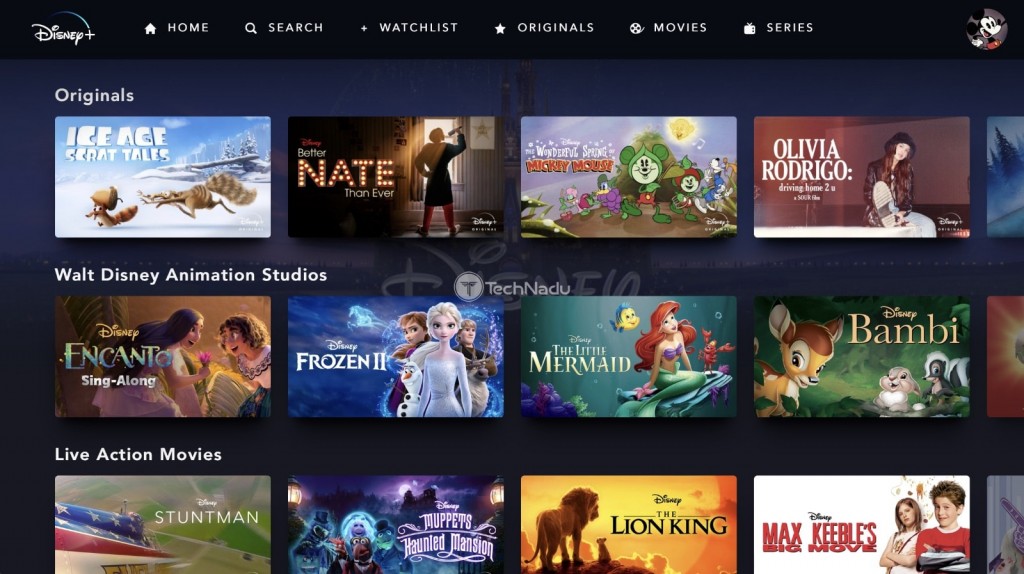 As you can already expect, Disney's classics are on offer, including The Little Mermaid, Bambi, The Lion King, Tarzan, Alice in Wonderland, 101 Dalmatians, and more.
Disney actively develops new content as well, where some of the most popular titles right now are Cheaper by the Dozen, Better Nate Than Never, More Than Robots, Just Beyond, Happier Than Ever, and others. New episodes arrive every single week. 
Even though most of Disney's content is oriented toward children, you'll also find many titles for the entire family. For example, there's a range of 'Disneynature' documentaries featuring titles such as Diving with Dolphins, Polar Bear, Born in China, Monkey Kingdom, and Dolphin Reef. 
Pixar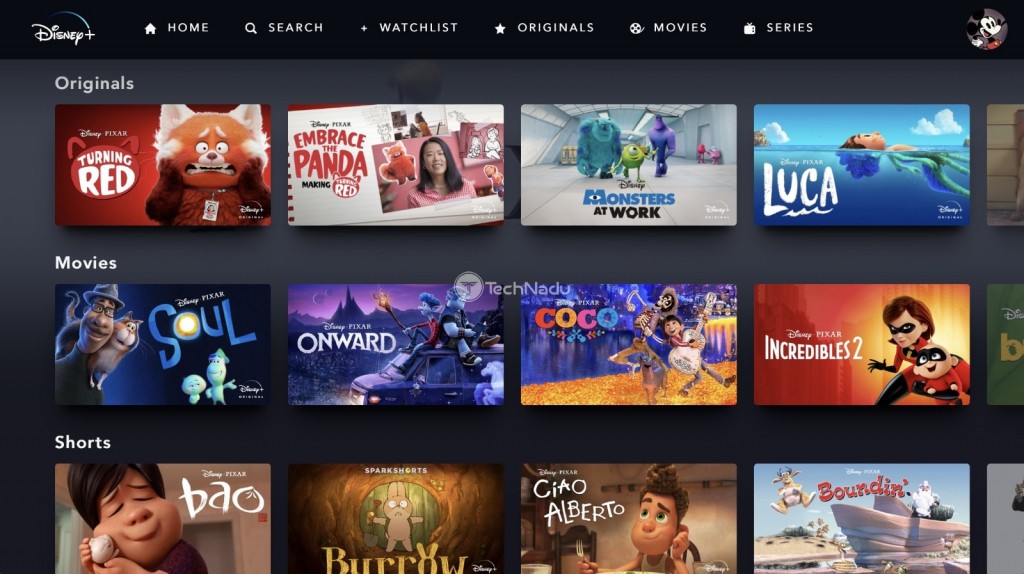 Pixar has a history of creating high-quality animated content for the entire family. That animation studio is behind some of the classics like Finding Nemo, Finding Dory, Up, Wall-E, Inside Out, Brave, and Toy Story. 
Pixar also develops original content for Disney Plus, which means you won't find those titles elsewhere. Some of the most popular movies and TV shows of that kind are Turning Red, Monsters at Work, and Soul.
Aside from that, Pixar helps Disney Plus keep its content fresh by releasing short films from time to time. Despite their length, those are often big stories that dive into exploring complex life situations in a unique way.
Marvel
If you've been wondering how to watch Marvel movies in order, know that all you need is Disney Plus. This media streaming platform hosts practically every Marvel movie released so far, with new titles arriving a month or two after being released in cinemas. 
Of course, plenty more stories of Marvel's cinematic universe are there to be told – and Disney Plus isn't afraid to explore those avenues. With that said, know that a number of Marvel TV shows have been produced by Disney, including Moon Knight, Hawkeye, Loki, Wandavision, The Falcon and the Winter Soldier, and more.  
Just recently, a number of Marvel's TV shows have moved from Netflix to Disney Plus, adding another valuable asset to the streaming platform's library. So, if you want to watch Daredevil, Jessica Jones, Luke Cage, and Iron First – you'll now find them on Disney Plus exclusively. 
Star Wars
Under the Star Wars category, you'll find series (The Mandalorian, The Book of Boba Fett, Clone Wars, etc.), movies (The Rise of Skywalker, The Last Jedi, The Return of the Jedi, Rogue One), as well as shorts like Lego Star Wars: The Resistance Rises.
Like other content categories present on Disney Plus, there's always something new to watch in the 'Star Wars' category. At any moment, while waiting for new movies and TV shows to arrive, you can check various specials that explain the world of Star Wars in depth. 
National Geographic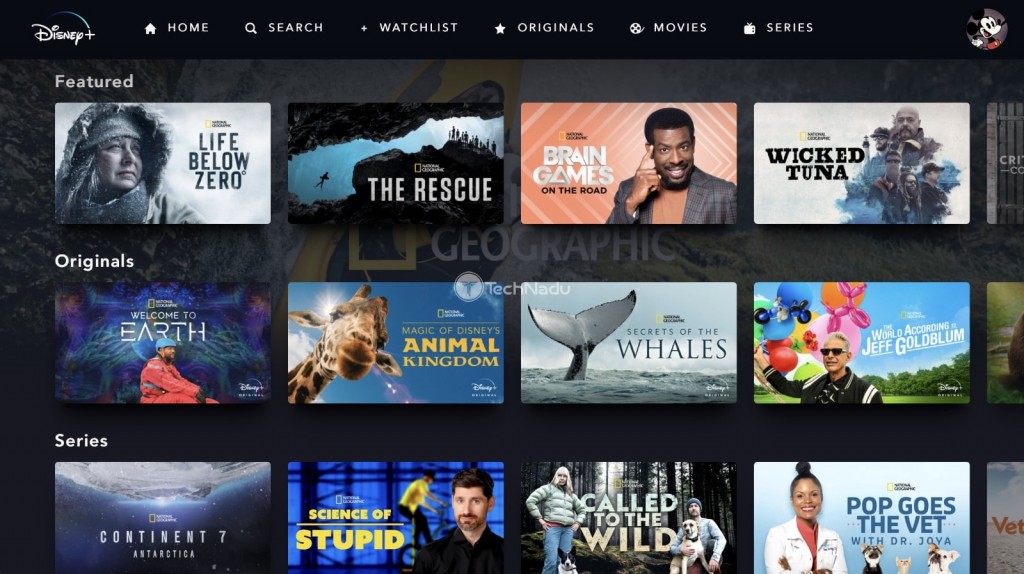 National Geographic is one of those brands that everyone knows because it gives us access to many high-quality documentaries. For instance, on Disney Plus, you can find shows like The World According to Jeff Goldblum, Meet the Chimps, India from Above, Ultimate Viking, Cosmos, Mission to the Sun, Birth of Europe, and many others.
Disney Plus closely follows National Geographic's TV channel (while offering a wide range of exclusives as well). New episodes are added as soon as they air, so you'll have something new to watch every week. 
Features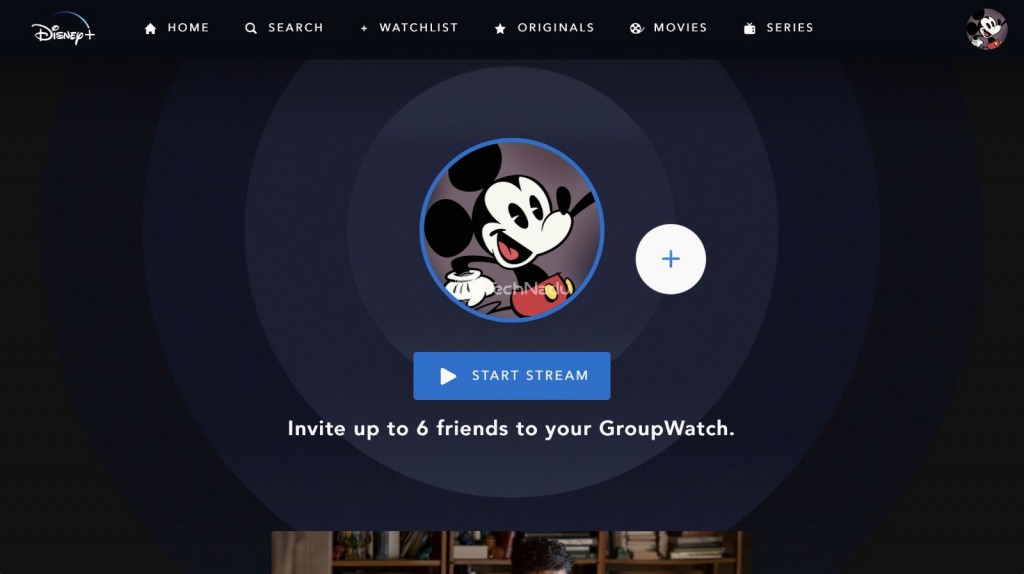 Disney Plus has a nice set of features that make it easier to fine-tune your experience when watching alone or in a group. However, some of those features can be hard to find, especially if you use Disney Plus on multiple devices. Our Score: 8.5/10
This streaming service brings a bit of everything in terms of its features, but access to those features is a bit obstructed. For example, you can fine-tune plenty in terms of accessibility, like adjusting the size and style of subtitles or switching to another language. Finding those options will most likely force you to turn to Google, as they're not centralized. 
To adjust the size and style of subtitles, you'll need to visit your device's settings (which applies to mobile devices and some media streamers). And if you wish to switch to another language, you'll need to access your Disney Plus profile settings – done differently on different platforms. 
When it comes to parental controls, it's no surprise that Disney Plus gives you comprehensive controls regarding what your children are allowed to watch. You can set a custom content rating for each profile, create special kids-friendly profiles, and set up a PIN to prevent others from accessing your profile. 
There's also the ability to download content (both movies and TV shows) for offline viewing. Still, that option is available only on iOS/iPadOS, Android, and Fire OS. It's not available for every title, but most of the content can be downloaded. 
You can also select a preferred video quality, which comes in handy if your device doesn't have a lot of free space available. That's done by going to Profile > App Settings > Video Quality, where you can choose from three video quality levels. 
Lastly, there's also an option to watch Disney Plus with up to 6 other subscribers (your friends and family, for example) in real-time. That option is called 'GroupWatch.' Here's how to set up GroupWatch on Disney Plus. 
Streaming Quality & Viewing Experience
Disney Plus doesn't require you to have an ultra-fast Web connection. On top of that, it supports HD and 4K content and a range of advanced video formats. Our Score: 10/10
Most titles on Disney Plus are available in 'Full HD' (1080p resolution). If you have a relatively slow Web connection, the streaming service will switch to 720p automatically (based on your connection's parameters). However, a range of movies and TV shows is also available in 4K, which especially applies to newer content.
| | |
| --- | --- |
| Video Quality | Required Internet Speed |
| HD Content | 5.0 Mbps |
| 4K Content | 25.0 Mbps |
Just above, you can see the official requirements set by Disney Plus, targeting certain video quality levels. It's worth mentioning that those numbers apply to a single stream. So, if multiple users stream Disney Plus using a single connection (while using different devices, of course), you can double or triple those numbers based on the number of users. 
Aside from HD and 4K content, this streaming service supports a range of advanced formats. There's HDR10, which brings a broader range of colors and brightness. Also, there's Dolby Vision, which is a dynamic version of HDR. And finally, there's 'IMAX Enhanced,' which features an expanded aspect ratio (1.90:1), allowing the picture to cover the full height of the screen. 
Lastly, the streaming platform allows you to fine-tune data usage via its apps. If you go to Profile > App Settings, you'll find a small range of options in the 'Video Playback' section. You can choose whether to stream via Wi-Fi or cellular, and you can also set a preferred video quality for both of those types of connections. 
With that said, Disney Plus offers a streamlined streaming experience overall. We didn't encounter any buffering, and since the service knows how to adjust to the fluctuating Internet speeds, you should have a good experience overall.
Customer Support
Even though Disney Plus comes with reliable customer support, getting to its 'Help Centre' can sometimes be an issue. So, you'll find yourself turning to the Web for a solution. Our Score: 8/10
Disney Plus is known for having various issues and popping up error codes left and right, but overall, you can fix most of those rather quickly on your own. However, if you have problems and want to reach out to Disney Plus, you can do that over chat, phone, or social media. 
Dedicated Help Center: Disney Plus has an extensive help center where you'll find answers to what feels like a million questions. They will also allow you to learn more about the error codes you're getting, but you should check out our own articles as they're more detailed. 
Phone Number: If you feel like talking to someone on the phone, you can call 888-905-7888 in the United States. However, if you want to make sure you reach someone, you can go to the Help Centre page and tap the "Call" button at the bottom of the screen, regardless of the country you're in. 
Live Chat: You can also reach out to Disney Plus over chat. They have a responsive team eager to help you out. We've tested out the Help Centre in this way and had our issues fixed in just a few minutes.
Even though Disney Plus offers multiple customer support channels, getting to its 'Help Centre' can be an issue at times. Trying to click on the 'Help' link found on the home page is tricky because the home page loads indefinitely (showing you more content as you scroll down). So, the best way is to seek help through your Profile section. 
Pricing & Value
Disney Plus is one of the most affordable high-end streaming services, featuring a number of bundles that let you subscribe to Hulu and ESPN+ as well. The only downside is that you'll have to pay from the get-go (there's no trial on offer). Our Score: 9/10
Disney Plus is available for $7.99 per month or $79.99 per year. The price varies with each country the service is available in, but it's around the same amount Disney Plus costs in the United States. 
Endless entertainment from Disney, Pixar, Marvel, Star Wars, and National Geographic. Always ad free. Download and Go. Stream Anywhere, Anytime. Exclusive Originals. Sign Up Now. Classic Favorites.
The streaming platform is also part of a couple of bundles that mix in Hulu (ad-supported) and ESPN+ for $13.99 per month, as well as Hulu (no ads) and ESPN+ for $19.99 per month.
Also, there's a bundle that incorporates Hulu's Live TV service. That means you'll get Hulu + Live TV (with over 75 live channels), Disney+, and ESPN+ for $69.99/month. 
The Disney Bundle includes Disney+, ESPN+ and Hulu's ad-supported plan. Save 25% when you bundle all three.
As you can see, Disney Plus's situation can be pretty confusing – if you want to get multiple streaming services for your entire family. However, if you only want Disney Plus, we think you'll love its affordable price.
For more information, turn to our guide explaining various Disney Plus bundles and plans.
We'll also add that Disney Plus no longer offers a trial. That used to be the case when the service initially launched. However, once high-profile movies and TV shows started coming (in the middle of the COVID-19 pandemic), Disney Plus decided to stop offering its trial – probably as a way to increase its revenue. 
Lastly, we'll also mention that Disney Plus might offer an ad-supported plan later this year. That means you'll get to pay less for Disney Plus if you're willing to sit through advertisements, helping the streaming service reach its goal of attracting 250 million subscribers by 2024. 
So, Is Disney+ Worth Getting?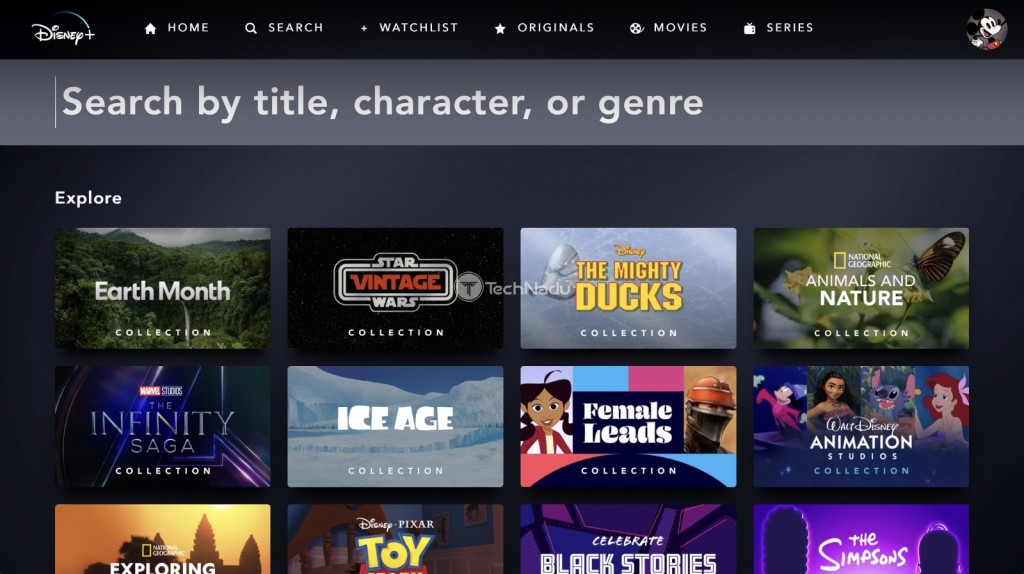 In general – yes, Disney Plus is worth getting. That especially goes for families with children, as well as fans of Star Wars and Marvel. 
We have to add that Disney has been investing in all of its content categories. Thanks to this streaming service, we've received a huge number of Star Wars and Marvel movies that might not have been produced otherwise. The same applies to animated content and documentaries, which means that Disney Plus is a powerful force in the world of streaming services.
Disney Plus Pros
Wide catalog of Disney, Pixar, Marvel, Star Wars, and NatGeo content.
Huge number of exclusives that you won't find elsewhere.
New titles are available every single week.
HD and 4K content available in addition to advanced video formats.
In-depth parent controls and content ratings.
Low monthly price without ads.
Disney Plus Cons
Plenty of variety – but less than what's on offer by its competitors.
Unpredictable wait times for new, high-end content.
Convoluted access to some features and options.
Access to 'Help Centre' doesn't work at all times.
We'll conclude our Disney+ review by saying that if you decide to subscribe – we're sure that you won't regret your decision. This streaming service has so much diversity that you won't run out of interesting content to watch anytime soon.
With that said, feel free to subscribe to Disney Plus and start watching today. And then, make sure to tell us how you feel about the service in the comments section below.
FAQ
Where Is Disney Plus Available?
At the moment, Disney Plus is available in over 50 countries and regions across North and Latin America, Asia-Pacific, and Europe.
This is one of the fastest-expanding streaming services. So, if Disney Plus isn't available in your country yet, it will most likely arrive in 2022 or 2023 at the latest.
Does Disney Plus Work with a VPN?
What's Included with Disney+?
A subscription to Disney Plus gives you unrestricted (and ad-free) access to Disney, Pixar, Star Wars, Marvel, and National Geographic content.
At the moment, Disney Plus offers over 1,500 titles in total. That includes new releases, classics, series, and original (exclusive) content that you won't find elsewhere. 
Does Disney Plus Have a Free Trial?
No, Disney Plus no longer offers a trial. If you decide to become a subscriber, know that you'll be charged upon signing up. 
How Much Does Disney Plus Cost?
Disney Plus costs $7.99 per month or $79.99 per year. Unlike most other streaming services, it offers a single subscription plan only. 
You can also add Disney Plus to existing Hulu or ESPN+ subscriptions. And even if you're not a subscriber, you can combine those three streaming services. In that case, you'll need to pay $13.99 per month, which still seems like an excellent deal.
Is Disney Plus a Monthly Subscription?
Can You Cancel Disney Plus Anytime?
Yes, you can cancel Disney Plus anytime. However, keep in mind that Disney Plus offers no refunds, so be careful about which plan you'll pick. 
If you cancel your subscription, your access to Disney Plus will remain unaffected for the remaining duration of your billing period. So, if you subscribe to the annual plan and cancel after six months, you'll still have six months more before your subscription is canceled.
Disney Plus vs. Netflix – Which One's Better?
Disney Plus is more affordable than Netflix, but Netflix has a much bigger content library overall (with new titles arriving more rapidly).
With that said, if you're into family-friendly content or if you're a fan of Star Wars or Marvel, Disney Plus should be your pick. However, if you want a more diverse range of content, you'll want to consider subscribing to Netflix.