IMAX Enhanced introduces streaming and technology advancements that bring the power of IMAX to Disney+. This mostly means all Disney+ subscribers can stream select movies in an expanded aspect ratio, but we should mention that other IMAX Enhanced features and functionalities are not currently available on the streaming platform.
IMAX Enhanced Movies on Disney Plus
As we mentioned above, only select titles have the IMAX Enhanced version, so here is the list of IMAX Enhanced Movies on Disney Plus.
Shang-Chi and the Legend of the Ten Rings
Black Widow
Avengers: Endgame
Avengers: Infinity War
Captain Marvel
Ant-Man and the Wasp
Black Panther
Thor: Ragnarok
Guardians of the Galaxy
Guardians of the Galaxy Vol. 2
Doctor Strange
Iron Man
Captain America: Civil War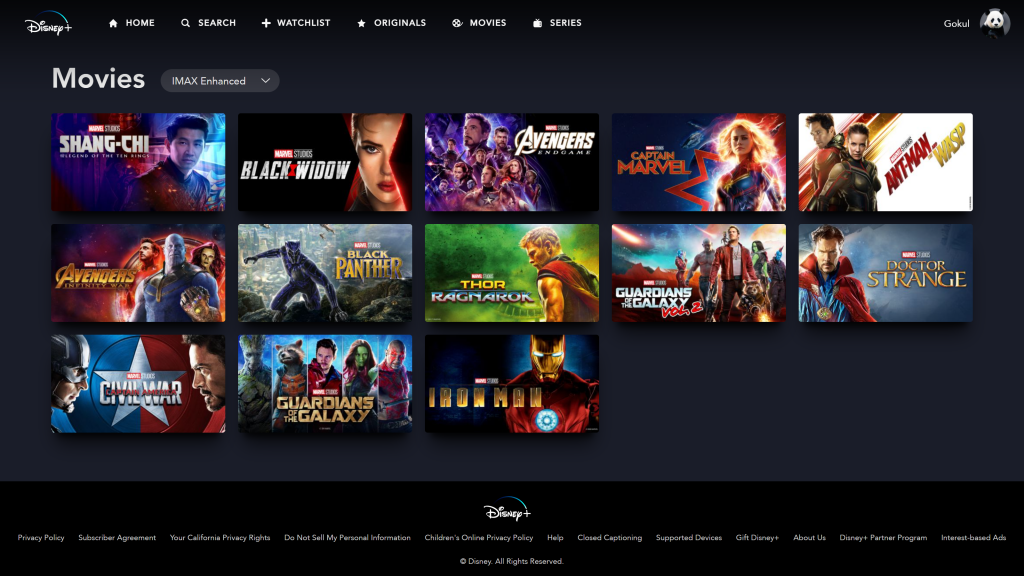 You can watch them by going to the Movies tab and selecting the "IMAX Enhanced" filter from the dropdown - or from here.
How to Stream in IMAX Enhanced on Disney Plus
You do not need special equipment or additional devices to watch content in IMAX Enhanced on Disney Plus since all the Disney+ compatible devices support IMAX's expanded aspect ratio.
This feature applies only to select Marvel Cinematic Universe movies for the moment, as per the streaming platform's website. When a title is available in IMAX Enhanced mode, you will see it mentioned on the movie's page right under the movie's name.
These select movies will automatically play in the IMAX expanded aspect ratio during the full movie if available - otherwise, they will play in this aspect ratio during the sequences that were filmed or formatted for IMAX.
Also, You can choose what version you want to watch from the Versions tab on the movie page, where the standard Widescreen and IMAX Enhanced versions are available.
However, IMAX Enhanced movies are also 4K and have Atmos audio, so if you want to enjoy the full experience, you should stream these films on the 4K-capable Disney Plus compatible devices:
Amazon Fire TV 4K
Android Smart TVs
Apple TV 4K
Google Chromecast
4K LG Smart TVs
PlayStation 4 & 5
Roku
4K Samsung Smart TVs
Xbox One
Xbox Series X | S
What Is the IMAX Expanded Aspect Ratio?
Disney+ subscribers can stream select movies from the Marvel Cinematic Universe in IMAX's expanded aspect ratio of 1.90:1, which allows you to see up to 26% more of the original image and experience the full scale and scope of the picture.
Most movies are widescreen, and this means the picture does not take up the full height of your screen. IMAX Enhanced on Disney Plus expands the picture frame for select sequences filmed in IMAX's expanded aspect ratio.