Depending on the country you're in and the languages you're comfortable with, you can switch the language Disney Plus is displayed in. Whether for your own benefit or the kids in your home, Disney Plus has quite a few options. Let's see how you can change the language on Disney Plus.
Disney Plus is already available in a few dozen countries, and it will continue to expand in the years to come. As it does this, it also makes sure to translate the platform so that everyone can use it regardless if they are English speakers or not.
Thankfully, switching from English to another language can be done easily and for each profile separately. So, if you're comfortable in English but your parents would much rather have the Disney Plus interface in Spanish, this can be done.
Here's what you need to do to change the language on Disney Plus:
Once you're logged into your account, you can go to the profiles area in the corner and tap on The "Edit Profiles" option.
This will take you to a page where you can choose to edit any of your profiles. Pick the right one by tapping the icon.
In the "Playback and Language Settings," you'll find "App Language," the feature you're looking for.
Choose the language you're interested in and then tap "Save" at the bottom of the screen.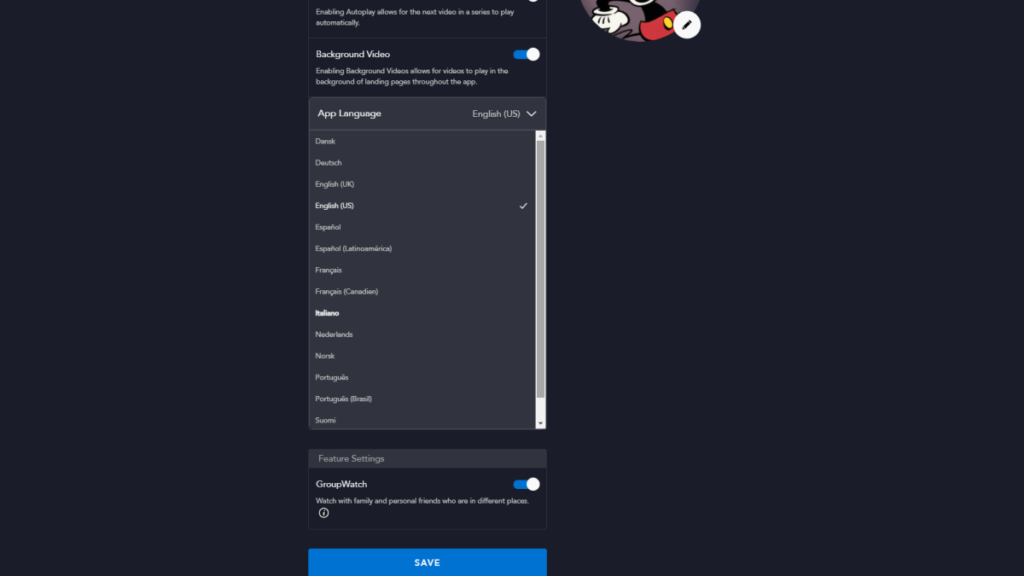 The platform will now take you back to the area where you choose your profile, and Disney Plus will now be displayed in your selected language.
What Languages Does Disney Plus Support?
Right now, Disney Plus supports quite a few languages. Let's go over them to know what options you have.
Danish
German
English US
English UK
Spanish
Spanish (Latin American)
French
French (Canadian)
Italian
Dutch
Norwegian
How to Change Content Language on Disney Plus?
If you want to watch content in a different language, Disney Plus may have a few options for you too. Here, however, it all depends on the movie or show you want to watch, as not all of them have the same options.
Here's one example. Pixar's brand new "Soul" has multiple audio options, as well as plenty of subtitle versions too. You can hear the film in English, German, Danish, French, Italian, Portuguese, and plenty others, and read the subtitles in similar languages. You can check the picture above to see some differences.
Here's how you can do this:
Go to Disney Plus and choose the film or show you want to watch.
Tap the play button and wait for the content to load
When it starts playing, you'll notice a rectangle-shaped button. Tap on it, and you'll open up the Audio and Subtitles menu.
Make the choices you want and tap the arrow to go back to the original screen.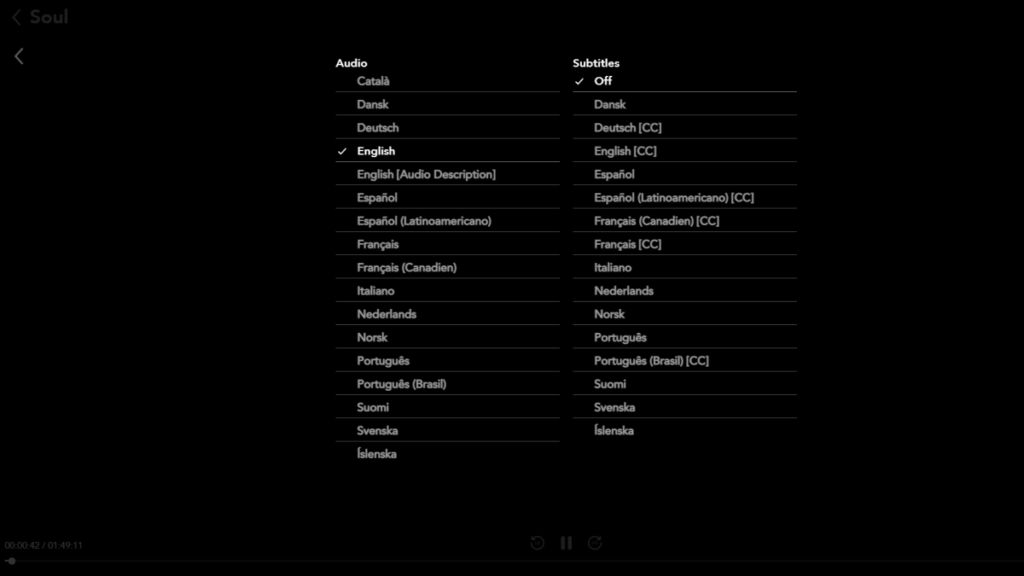 The steps are similar to all Disney Plus apps, so you should be able to manage just fine.
As Disney Plus expands and grows, we're going to see more languages on that list. Whether they're added ahead of time, or they'll be added as they go, it remains to be seen. Older content may already come with a much wider selection if the movie already has the dubs and subtitles ready. However, the most likely scenario is that Disney Plus will only add these ones once they expand in a certain country, even if they do have them all on file.