As you can already expect, you can access and use Disney Plus on a wide range of platforms – including Apple TV as well. And if you're one of the lucky Apple TV owners, the process of signing up and using Disney+ is an incredibly simple one. So, let's talk about how to watch Disney Plus on Apple TV in 2021.
A friendly piece of advice before we get started: primarily, this article will teach you how to watch Disney Plus on your Apple TV. However, we made sure to address a series of pressing questions, as well as offer plenty of tips and tricks. So, you'll want to read this entire article carefully.
Which Apple TVs Are Compatible With Disney Plus?
At the moment, two Apple TV models are compatible with Disney Plus. These are the 4th-gen Apple TV released in 2015, as well as the Apple TV 4K released in 2017.
Apple TV Models - Compatible With Disney+
| | | |
| --- | --- | --- |
| Device Name | Release Year | Model Number |
| Apple TV 4K | 2017 | A1842 |
| Apple TV (4th-Gen) | 2015 | A1625 |
In case you've been looking to upgrade your media streaming experience, now's perhaps the best time. You can buy the 4th-generation Apple TV for $149.00. And then, there's the latest Apple TV 4K, priced at $179.00.
How to Get Disney Plus on an Apple TV in 5 Steps
1. First, make sure to get a Disney+ subscription. Click on the link we've provided, and then make sure to select "Sign up for Disney+ only." If you're a subscriber to Hulu or ESPN+, you can also add Disney Plus to your existing subscription by combining them into a bundle.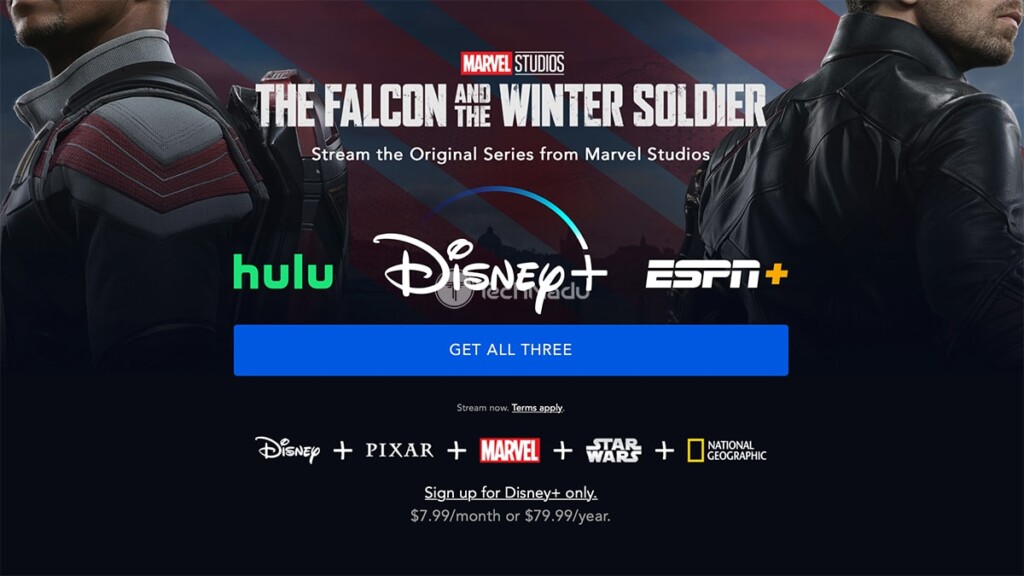 2. Now, make sure that your Apple TV is powered on and fully booted. Then, proceed to open the App Store using your remote and clicking on the app's icon from your Apple TV's home screen (the icon looks the same as on your iPhone or iPad).
3. Right now, the Disney+ app can be found on the front page of the tvOS App Store - among media streaming apps. If you can't see it, activate the Search tab, and then use the virtual keyboard to type in 'Disney Plus.'
4. Once you open the app's overview, click on the 'Get' button. The app will now download and install on your Apple TV. Finally, launch the app. Then, sign in using your credentials, and you will see the platform's media streaming library.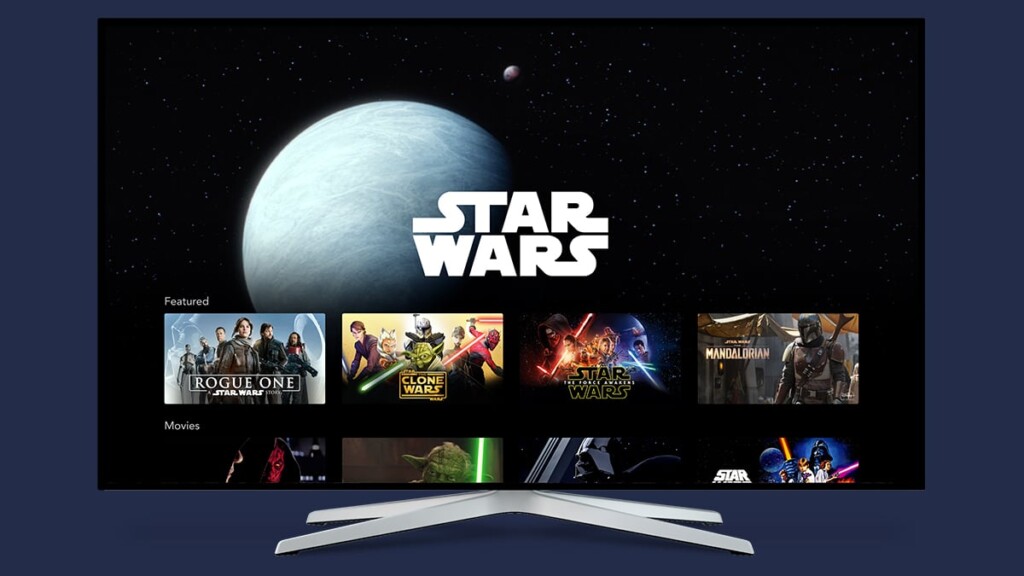 5. Choose any TV show or movie and select 'Play.' If you need some suggestions on what to watch, make sure to check our central article on Disney Plus. That's it!
Which Apple TVs Aren't Compatible With Disney Plus? What Are Your Options If You Have an Older Apple TV?
Apple TV models released in 2012 and earlier aren't compatible with Disney Plus. Here, we are talking about the first three generations of Apple TV, released in 2007, 2010, and 2012.
Apple TV Models - Not Compatible With Disney+
| | | |
| --- | --- | --- |
| Device Name | Release Year | Model Number |
| Apple TV (3rd-Gen) | 2012 | A1427 or A1469 |
| Apple TV (2nd-Gen) | 2010 | A1378 |
| Apple TV (1st-Gen) | 2007 | A1218 |
How to Find the Model Number of Your Apple TV?
Using your Apple TV, go to Settings > General > About.
Alternatively, you can take a look at the bottom side of your Apple TV.
What's important to mention is that even if you have an older Apple TV, all hope is not lost. Models released in 2012 and 2010 still support Apple's AirPlay screen-casting. Therefore, you should be able to install the Disney+ app and then "AirPlay" any content to your Apple TV.
However, if you want the Disney+ app running on your Apple TV, you have no other option than to upgrade your device. This is especially true for those who own 4K TVs, as the latest Apple TV does a magnificent job of streaming 4K content.
Can You Watch Disney Plus in 4K on Apple TV?
Yes, you can watch Disney Plus in 4K on your Apple TV. However, for this to happen, you need to have an active Disney+ subscription, the latest-generation Apple TV 4K, as well as any 4K TV.
Also, we highly recommend you to keep your Apple TV 4K up-to-date at all times. For example, the latest version of tvOS brings an option to set up a home theater audio system. In addition to streaming in 4K, this is the best way to experience everything Disney+ offers.
To update your Apple TV and make sure you're using the latest available features, go to Settings > System > Software Update. Select 'Update Software' and follow the prompts on your TV.
How Much Does Disney Plus Cost on Apple TV?
Even though the Disney+ app is free to download, you'll need a subscription to access it on your Apple TV. More precisely, you'll need to pay $7.99 per month or $79.99 per year.
As mentioned above, you can also subscribe to Disney+, Hulu, and ESPN+ at once. By bundling these three subscriptions, you'll pay only $13.99 per month.
Disney Plus Not Working on Apple TV? Try These Solutions!
If Disney Plus is giving you a hard time on your Apple TV, we've prepared a series of handy tips. With that said, you'll want to try the following solutions.
Check Your Web Connection: To stream in HD, you need a 5 Mbps Web connection. And to stream in 4K, Disney+ requires a 25 Mbps Web connection. To see if you meet these requirements, you can test your Web connection. Alternatively, we also recommend restarting your Wi-Fi router.
Restart the Disney+ App: tvOS works just like iOS in terms of multitasking. Once you exit an app, it doesn't quit automatically. Instead, it remains open in the background. To quit a tvOS app, double-click the 'Display' button on your remote, find Disney+, and then swipe up to quit the app.
Restart Your Apple TV: To restart your Apple TV properly, go to Settings > System > Restart. Then, click on the 'Restart' button and wait a couple of minutes until your Apple TV boots up.
Update Your Apple TV: You can resolve technical issues simply by updating your Apple TV. This is done by navigating to Settings > System > Software Update.
What Other Devices Work With Disney Plus?
Once you install the Disney+ app on your Apple TV, you'll still have three available "slots" for using it on additional devices. So, why not install this app on your phone or tablet as well? We're here to help, so check out these freshly updated guides.
FAQ
Does Apple TV Have Disney Plus?
Yes, Apple TV allows you to install the official Disney+ app from its tvOS App Store. However, keep in mind that the Disney+ app is available on Apple TVs made in 2015 or later.
Is Disney+ Free With Apple TV+?
No, Apple TV+ doesn't include Disney+. Instead, Apple TV+ is a standalone streaming service, offering original programming supplied by Apple itself. To use Disney+, you need to get a subscription, download its app to your Apple TV, and log-in using your credentials.
How Do I Connect the Disney+ App to the TV App?
If you wish to integrate the Disney+ app with Apple's TV app, make sure to open the Disney+ app first. Then, start watching any movie or TV show. A new screen will then appear, asking whether you want to connect Disney+ to the TV app. Select 'Connect.'
How Many Devices Can Use Disney+ at Once?
Disney+ supports up to 4 simultaneous streams. Also, you can watch it with your friends and family (with everyone using their own Disney+ account) via the newly released 'GroupWatch' feature.
Can I Download Disney+ Content for Offline Viewing on Apple TV?
No, there's currently no way to download Disney+ movies and TV shows to your Apple TV. However, you can download content for offline viewing on your iPhone and iPad, and then AirPlay that content to your Apple TV.
Finally, know that our editorial team is always willing to help. In case you have any questions regarding how to install Disney Plus on Apple TV, make sure to post your comment below. You can be sure that you'll receive a timely response.