One thing is sure – Disney Plus has surprised us with numerous native applications for various platforms. You can install Disney+ on Samsung TVs, LG TVs, and Android TV media streamers as well (among many other platforms). All of those are powered by different operating systems, making it evident that the Walt Disney Company has put a lot of effort into building their applications. So, what about Vizio, one of the most popular TV brands in the USA?
Well, even though it took some time for Vizio to bring Disney+ to their TVs, this finally happened a few months ago. With this said, let's talk about how to watch Disney Plus on Vizio TVs in 2020.
Before we proceed, let's go over the official requirements. The Disney+ app for Vizio smart TVs is available only for the SmartCast platform with built-in apps. In other words, Vizio smart TVs made in 2018 or later are compatible with Disney+, and so are 4K UHD TVs released between 2016 and 2017.
We also have another important question for you – how often do you update your Vizio smart TV? If you have a TV made in 2018 or later, but you can't see any apps, it means that you don't have the latest software update. Therefore, make sure to learn how to update your Vizio TV, which is crucial to do before you start watching Disney Plus.
And now, here's how to watch Disney Plus on Vizio smart TVs in 3 simple steps.
Before you do anything else, you need an active Disney+ subscription. It means that you first need to sign-up for Disney Plus using any Web browser. Click on the provided link and then click on "Sign up for Disney+ only" to subscribe. However, keep in mind that you can combine Disney+, Hulu, and ESPN+, which is available as a single bundle at an affordable price.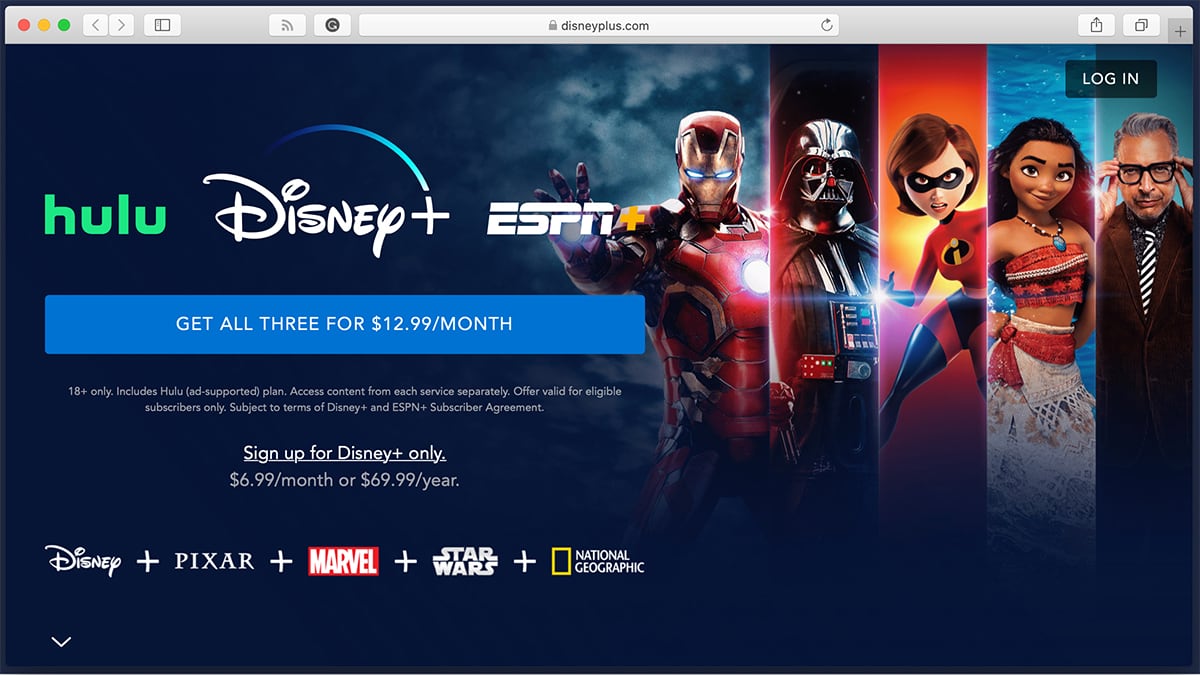 Now, you need to make sure that you have the latest update for your Vizio SmartCast TV. We've provided a link above about how to update your TV. It's essential to keep in mind that the SmartCast platform doesn't have an App Store. Instead, you get apps as you install SmartCast system updates. That's why it's important to keep your TV updated at all times.
Finally, use the "V" button on your remote to check for the available apps on your TV. After a bit of search, you should be able to find Disney+ among the available options. Open this application, log-in using your credentials, and you're good to go.
In case you didn't know, Vizio also offers a handy SmartCast app – available via Apple's App Store and Google's Play Store. You can use this app to search for and launch apps on your TV, watch free content, control your TV, and more. And also, keep in mind that you can always "cast" your content from Disney Plus apps on iOS and Android to your Vizio SmartCast TV (you first need to install the Disney+ app on your iOS or Android device).
Additional Set-Up Guides
Did you know that your Disney Plus subscription allows up to four simultaneous streams? It means that once you install Disney+ on your Vizio TV, you're free to install it on any other device you have at home. So, check out these installation guides.
Finally, we'd like to add that you can count on TechNadu in case you encounter any problems while installing Disney Plus. Just post your comment below, and we'll do our best to respond as soon as possible.