Android TV is a platform that spans across numerous TVs and media streaming devices. With that said, it doesn't come as a surprise to know that Disney Plus has a native app for this widely used platform.
And as you can guess, we're going to dive deep into explaining all there's to know about how to watch Disney Plus on Android TV in 2021.
We understand that the situation surrounding Android TV could be confusing - especially since this platform powers all kinds of different devices. That's why aside from providing you with an up-to-date installation guide, we're here to answer frequently asked questions and more. So, let's talk about how to get started with Disney Plus on Android TV devices.
What Android TV Devices Are Supported by Disney Plus?
Disney Plus doesn't offer a specific list of supported Android TV devices. However, this streaming platform offers a native app via the Google Play Store. Therefore, if your Android TV is powered by Android OS 5.0 (Lollipop) or later, you should have access to Disney Plus.
It's also worth mentioning that the Disney+ app is available on smart TVs powered by Android TV, from brands such as Sony Bravia and Sharp AQUOS. And lastly, this app is supported on set-top boxes that come with Android TV preinstalled, such as NVIDIA Shield TV and Mi Box.
How to Get Disney Plus on Android TV (4 Steps)
1. First, make sure to get your Disney+ subscription. Click on the provided link and then select "Sign up for Disney+ only." Also, you can combine your Disney+ account with your Hulu or ESPN+ accounts into a unified bundle at a low monthly price. If you want to take advantage of this offer, click on "Get all three" on Disney Plus' landing page.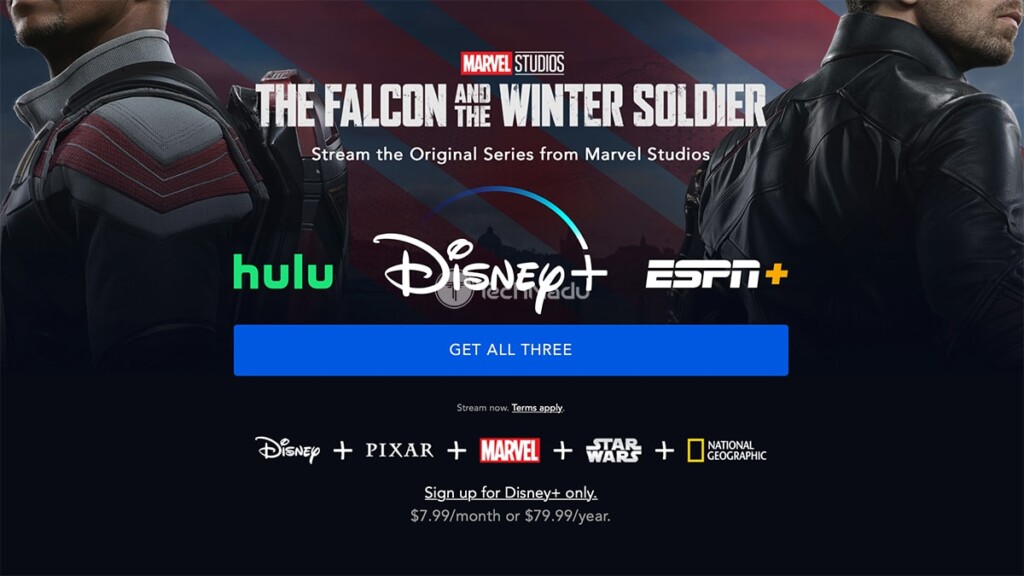 2. Once you have your subscription, go to your Android TV. Locate the Google Play Store and open this app. Then use the search button/bar at the top of the screen to search for 'Disney Plus.'
3. You should now see the Disney+ app among the search results. So, go ahead and open the app's overview. Then, download the Disney+ on your Android TV by using the 'Install' or 'Get' buttons.
4. Finally, return to your Android TV's Home Screen and locate Disney Plus. Then, open the application and use your credentials to log in. Alternatively, you might be asked for an 8-digit code, which you can get by visiting Disney Plus' website. So, make sure to pay attention to what's said on your TV screen and follow those steps to log in. That's it!
Disney Plus offers plenty of interesting content - with movies and TV shows being released on a regular basis. If you'd like to check some of the newly released titles, we recommend On Pointe, Soul, Safety, Godmothered, and Hamilton.
Can You Watch Disney Plus in 4K on Android TV?
Yes, the Disney+ app for Android TV provides access to over 100 titles in 4K. However, to watch those movies and TV shows, you need to have a 4K TV. In addition to that, if you have an Android TV set-top box, make sure that it's capable of outputting a 4K signal by checking its specifications.
Lastly, keep in mind that streaming in 4K requires a lot of Internet bandwidth. This is why Disney Plus recommends having a Web connection of at least 25 Mbps - if you want to stream 4K titles on a single device. You need a faster Internet connection if you're after streaming on multiple devices at the same time.
Disney Plus Not Compatible With an Android TV Box? Is There a Workaround?
The Disney Plus app is available on the Google Play Store, so you should be able to access it from your Android TV. However, this application works only on certified hardware - which includes Android TV-powered TVs and set-top boxes.
Therefore, if you see a message that Disney+ isn't compatible with your device, you're most likely using uncertified hardware. This is a common problem with third-party devices that come with an old version of Android TV (these typically come from unknown brands).
A possible solution to this problem is to factory-reset your device. This is what Disney offers as a solution in its technical specification, and this applies to certified hardware (if you see the Disney+ app in the Play Store but can't download it). To learn how to factory-reset your device, make sure to do a Google search based on the exact model number of your TV or set-top box.
Can't Find Disney Plus on Your Android TV? Here's What You Must Know!
Disney Plus is available on Android TV - but only on certified devices. If you can't find the app on your device's Play Store, you most probably have an Android TV box from an unknown manufacturer.
A possible solution to this problem is to 'sideload' the Disney+ app on your Android TV. This is done by downloading the latest APK file, transferring that file to your Android TV, and then installing the app manually. However, this method won't work for everyone.
Lastly, keep in mind that you need a Google account associated with a country where Disney Plus is currently available. Even if you sideload the app, it won't work properly if you're in an unsupported country.
Disney Plus Stuck on Loading Screen (On Android TV)? Try This Quick Fix!
If Disney Plus is stuck on the loading screen on your Android TV, there are a couple of things to try. First, make sure to press whatever button you use to 'Play/Pause' - on your remote. This means that you need a remote that comes with this functionality.
Then, you can also try resetting everything. First, uninstall the Disney Plus app. Then, shut down your TV and cut the power. Wait a couple of minutes, plug the TV back in, power it up, and re-install the app. That should do the trick.
Where to Find Disney Plus' APK File for Android TV? Can You Install It Manually?
We recommend downloading Disney Plus' APK file from here (a reliable source). Once you download the latest available APK file, you can transfer it to your Android TV and open the file. This will prompt you to install Disney Plus manually.
Keep in mind that installing Disney Plus' APK file will work in many cases - but not all. If you have an uncertified Android TV box, there's a possibility that the app won't work. And also, you need to be in a country where Disney Plus is available.
What Other Devices Are Supported by Disney Plus?
Considering that your Disney Plus subscription supports up to four devices at the same time, why not install it on other devices as well? To help you with this, we've prepared a series of easy-to-follow installation guides, found below.
FAQ
Can I Watch Disney Plus on Android TV?
Yes, Disney Plus is available on Android TV - which covers media streaming devices and smart TVs. However, considering that Android TV is found on a really wide range of different devices, there are no guarantees regarding how the app will perform on each of those devices.
Can I Install Disney Plus on Android Box?
If you have a certified Android box (such as Nvidia's Shield TV and Xiaomi's Mi Box), you can install Disney Plus. Other Android boxes (that come from lesser-known brands) might support Disney Plus as well, but there are no guarantees.
How Do I Connect Disney Plus to My Android TV?
Instead of "connecting" Disney Plus to your Android TV, you need to install and run the app natively. In other words, you need to download the app from Google's Play Store on your TV.
Can I Mirror Disney Plus to My Android TV?
Yes, you should be able to mirror Disney Plus from your smartphone. If your Android TV supports casting (via Chromecast, for example), you should be able to cast your content from any other device (such as your smartphone or tablet). Start playing any title, and you'll see an icon to cast the currently streaming video to your TV.
Can I Access Disney Plus for Free on Android TV?
Yes, you can get a Disney Plus subscription for free. This is done by taking advantage of various promotions supplied by Disney's partners, such as Verizon Wireless, US Mobile, Chromebook, and Xbox Game Pass. There no way to use Disney Plus free-of-charge in any other way.
That would be all on how to watch Disney Plus on Android TV in 2021. And lastly, one more thing. If you come across any problem, know that you can count on us. Leave a comment below, and we'll make sure to respond as soon as possible. Enjoy streaming Disney+!