Disney Plus allows users to have a lot of devices connected to one account, but when you lose track of which ones are using the service, you can log out of all devices at once. Let's see what you have to do.
Disney Plus offers subscribers a few options to watch content, allowing up to seven different profiles and up to ten connected devices to one account, as well as four simultaneous streams. With these many options, it's clear you're going to connect all your devices - smartphones, tablets, laptops, smart TVs, and so on. Furthermore, you may even want to share your account with family and friends.
Under these circumstances, it's always best if you have the option to log out of all devices at once. Whether someone you shared your account with is abusing the privilege or you want to log in to Disney+ on another device and have lost track of which ones are registered and which ones are not, you can take this step.
Here's what you're going to have to do:
First, load Disney Plus in your browser or on your device.
Choose the main profile and go to "Account."
Under Account Details, where you'll find your email address and (hidden) password, you'll find "Log out of all devices."
Once you tap on that button, you'll have to fill in your password once more. Click "Log Out."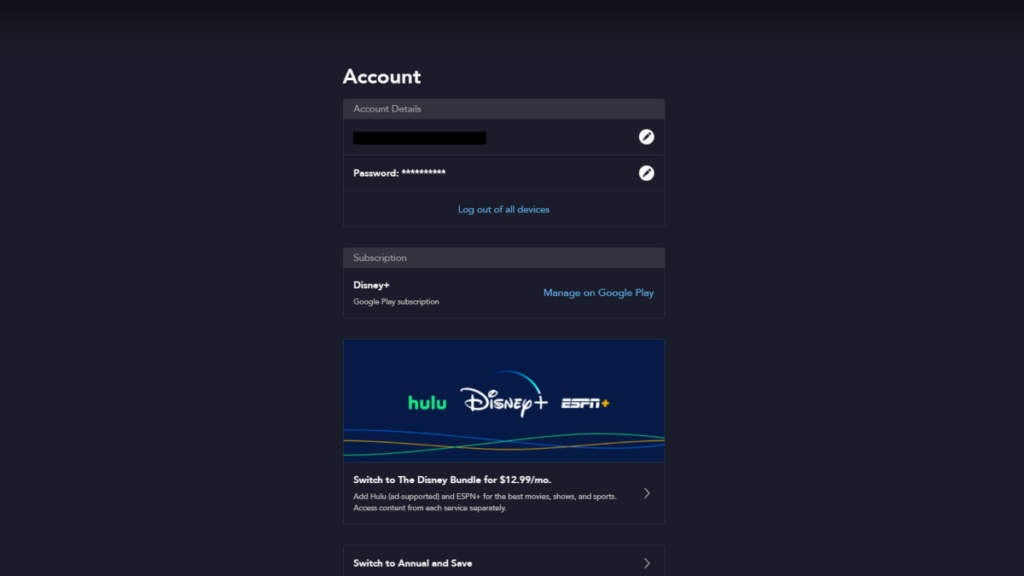 You'll be logged out of your current device immediately, but it can take up to four hours for all other devices to be logged out.
You will also get the option to log out of all devices if you change your password or the email address associated with the account. Regardless if you log out of all devices via browser or a Disney Plus app, you'll follow the same steps as there are no differences in the user interface.
Originally, this wasn't a feature available for Disney Plus when the service launched, but it got added a few months later.
Of course, we do advise that you log out of specific devices one by one if you have them in your home, so you don't have to go through the trouble of logging back in again a ton of times. If you're doing it for security reasons in order to take back some of the devices you are allowed to have attached to your account, then, by all means, go ahead and use this feature.