Disney Plus subscribers now have a new option, enabling a co-viewing experience for up to seven subscribers. Called GroupWatch, this feature comes as yet another solution for our new reality, where social distancing plays a major role.
If you've been looking for a way to watch Disney+ with your friends and family, this newly introduced feature is the answer. Here's how to set up GroupWatch on Disney Plus.
Launch the Disney Plus app. Alternatively, you can access its website.
Tap on any title you'd like to watch.
Click on the GroupWatch icon, and a prompt will appear on your screen.
Now, feel free to invite up to six individuals (they need to be Disney+ subscribers).
Once you invite everyone, they can use the newly generated link to join the session.
That's it! Feel free to stream the chosen title while interacting with others as well.
In What Countries Is the Disney Plus GroupWatch Available?
This new Disney Plus feature is available in select countries only.
GroupWatch was first launched in Canada on September 10th. Then, the feature became available in Australia and New Zealand on September 18th. And starting September 29th, Disney Plus' GroupWatch became available in the USA as well.
Useful to Know: How to Watch Disney Plus Outside the United States
In terms of the future availability, Disney says that GroupWatch will expand to Europe later this fall. Therefore, most probably in October or November.
How Much Does GroupWatch Cost? Does It Come Free-of-Charge?
GroupWatch comes without additional costs - as a native DisneyPlus feature.
However, keep in mind that everyone involved in a GroupWatch session needs to be a Disney+ subscriber. The media streaming platform is available at $6.99 per month or $69.99 per year. Sadly, they no longer offer a free trial.
In case you've been hesitant to sign up, perhaps GroupWatch will be enough to persuade you. This especially goes for those who plan on hanging out with their friends and family online - watching movies and TV shows together.
Endless entertainment from Disney, Pixar, Marvel, Star Wars, and National Geographic. Always ad free. Download and Go. Stream Anywhere, Anytime. Exclusive Originals. Sign Up Now. Classic Favorites.
Is GroupWatch Available Across All Disney+ Apps?
Yes, GroupWatch works across all the Disney Plus apps. This includes the media streaming platform's website as well.
However, there is one important limitation here: invitations for a GroupWatch session must originate from one of the mobile Disney+ apps or its website. However, once you send invitations, others can join in any way - without any restrictions.
In other words, once you send invitations, others can join from their preferred Disney Plus app, which includes mobile apps, gaming console apps, smart TV apps, and plenty more.
Useful to Know: Disney+ Updates iOS App With Data Saves & Security Features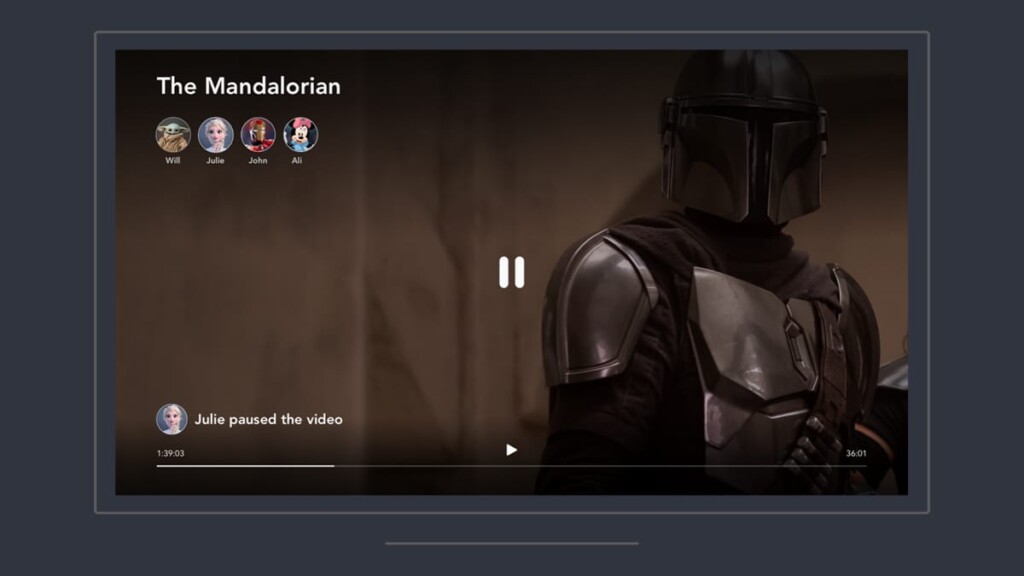 Can You Use GroupWatch With the Entire Disney+ Library?
Yes, GroupWatch is available with any title from the Disney Plus library.
As you probably know, this streaming platform offers plenty of exclusive titles. After all, this is home to Disney, Marvel, Star Wars, and National Geographic titles. In case you need some recommendations, we recommend checking out Marvel's 616, Hamilton, Disney Galley: The Mandalorian, The One and Only Ivan, and more.
Essential Reading: 90+ Best Movies on Disney+, Netflix, Hulu & Amazon Prime!
Can You Interact With Others During a GroupWatch Session?
Yes, GroupWatch comes with an interactive feature, letting you express your emotions and thoughts while watching a movie or TV show.
Viewers will have a range of emojis at their disposal. More precisely, there are six emojis available at the moment: "like", "funny," "sad," "angry," "scared," and "surprised." It takes just one tap on your screen or a few button clicks on your remote to send an emoji.
This also means that GroupWatch doesn't come with a chat-like functionality. However, you can always rely on your smartphone to send messages or talk to someone while using GroupWatch.
Does GroupWatch Work With Kids Profiles on Disney Plus?
As you probably know, Disney Plus "Kids" profiles have certain restrictions. Therefore, it's not surprising to know that GroupWatch doesn't work with those profiles.
In other words, users with "Kids" profiles won't be able to start or join a GroupWatch session using their profile. So, if you plan on watching something with your kids (while social distancing), make sure that everyone has a "standard" Disney+ account.
How Do You Interact With GroupWatch? Can You Pause a Movie?
GroupWatch is built upon a familiar experience. This means that you'll see the same interface as before, with another "layer" dedicated to GroupWatch.
As soon as you start streaming a movie or TV show, you will know who else is watching as well. The video will be synchronized, which means that all participants (viewers) will watch the same thing at the same time.
This also means participants can interact with the video by pausing it, rewinding, or fast-forwarding it. These actions will reflect throughout the group, which means that everyone will be in sync at all times.
Are There Any Alternatives to the Disney Plus GroupWatch?
At the moment, the most popular alternative to GroupWatch is Disney Plus Party.
Even though GroupWatch and Disney Plus Party might sound the same, these are actually very different concepts. With Disney Plus Party, you can chat with other participants in real-time, join private or public rooms, and more. And most importantly, this is a Chrome extension.
Good to Know: Here's How to Watch Netflix With Your Friends Online
Lastly, keep in mind that Disney Plus Party offers four hours of hosting per week, for free. If you plan on watching Disney+ more, you will be asked to "donate" $3.49.
So, that would be all we've prepared on how to set up Disney Plus GroupWatch. If you have any questions for us, make sure to post a comment below. And of course, don't forget to share this article online. Thanks - and enjoy using GroupWatch!