Disney Plus is a pretty awesome platform, and it will allow you to watch a ton of content. Even better, you can even download shows and movies so you can watch offline whenever you want. Let's see how you can download shows and movies on Disney Plus.
The power to download movies and shows to watch later on is possible to do on Disney Plus. Whether you're doing this before you board a plane or ahead of a trip when you know you'll have a sketchy Internet signal, or perhaps you just don't want to consume huge chunks of data as you travel to work every morning - it's all the same.
However, we have to point out that the download feature is only available for mobile users. That means this feature is only available for Disney+ app users on Android smartphones and tablets, iPhone, iPad, and Amazon Fire tablet. So, you won't be able to download content on Smart TVs, laptops and computers, or any other device.
How to Download Shows and Movies on the Disney Plus App?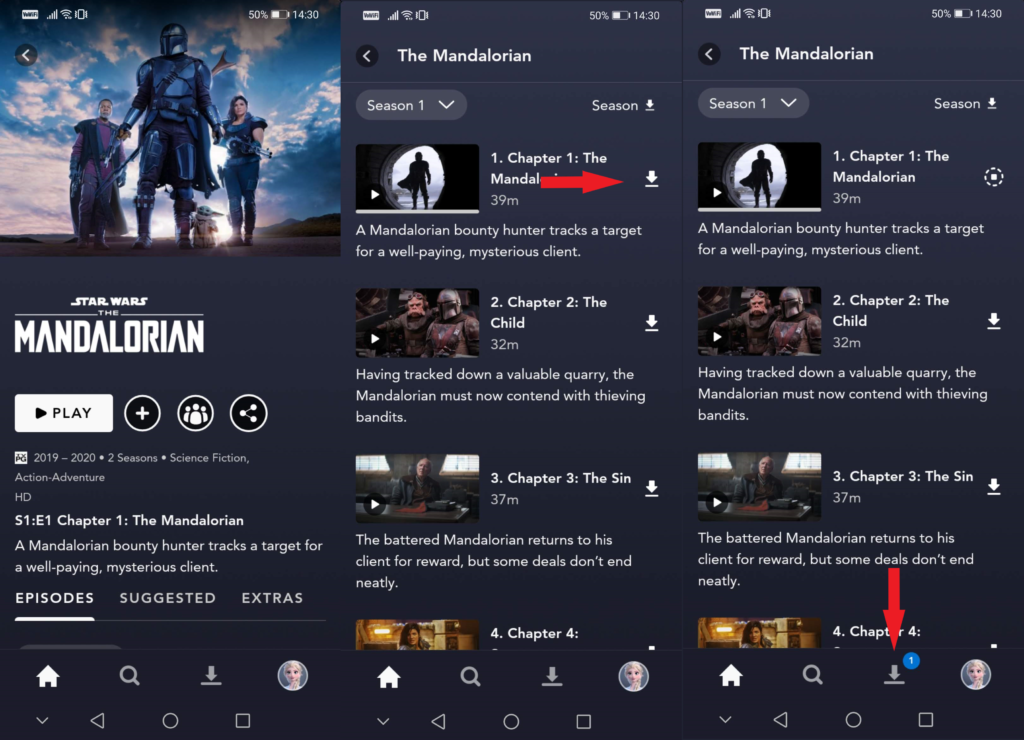 If you're going to download any content, make sure you do this ahead of time and over WiFi. Also, make sure to check you have enough space on your device for the downloads. An episode of The Mandalorian, for instance, will take up over 250 MB, which may be quite a lot for some devices. At the same time, a movie like Mulan will occupy over 750 MB.
So, the first thing you want to do is search for the title you want to download.
Once the page is up, go to the episode you want to download and tap the arrow button to start the process. If it's a movie you want to watch, you'll find the downward-facing arrow in the main bar next to the "play" button.
You'll notice the same icon in the menu bar on your device. Tap on it, and you'll be taken to the Downloads area.
There, you'll find all the items you've downloaded. If you download multiple episodes from the same show, a folder will be created.
If you change your mind or want to pause the download, you can also tap on the file before it's complete. A new menu will appear, allowing you to Pause the download or to remove it altogether.
How to Watch Shows and Movies on the Disney Plus App?
Assuming you're on the road somewhere, there's no WiFi, and you really don't want to pay for all that mobile data, let's watch some of the downloaded things.
Launch the Disney Plus app on your device.
In the menu bar, next to your profile icon, you'll find the Downloads section.
Grouped by title, you'll see all your downloads. Tap on the item you want to watch. Movies are stand-alone, but multiple episodes are grouped in a folder, so you may need to click an item again.
Simply tap on the show or movie you want to watch, and the screen will automatically go to landscape, playing the content.
How to Delete Shows and Movies You've Downloaded on the Disney Plus App?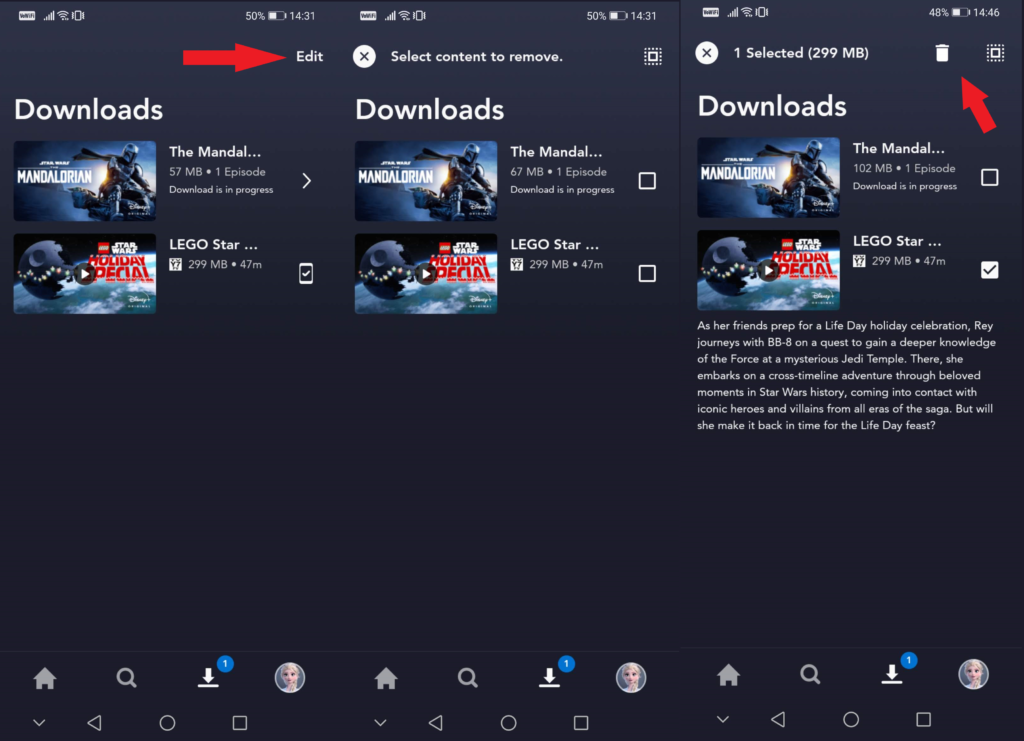 Sometimes, with all the pics and videos we take, all the apps we download, and so on, our devices' storage space may be low. So, once you're done with the content you want to watch from your Disney Plus downloads, make sure you delete them. Let's see how you can do this.
Launch the Disney Plus App and go to the Downloads section.
In the top-right corner, you'll find a button that says "Edit." Tap on it.
Checkboxes will now appear near the content you've downloaded. Check the boxes for the titles you want to delete.
Once you do this, a trashcan icon will appear in the top area. Tap on it to remove the content.
If you're done, tap the "X" or tap the "back" button to exit the area.
You can download an unlimited number of movies and shows to watch offline, as long as you have storage space. The videos get automatically deleted after 30 days, but you may want to clear them out earlier to make room for more.
It's a fairly streamlined experience, and you shouldn't have any issues downloading, watching, and deleting content once you're done on the Disney Plus app. The only thing you need to make sure of is that you're downloading the content over WiFi since the videos are rather large.