The Walt Disney Company surely knows how to approach the creation of a worldwide-scale media streaming service. While many of us want to know what kind of content Disney Plus brings, others would like to know if their hardware works with this platform. Know that Disney+ has done a marvelous job of bringing applications not only for smartphones and computers but also for various types of smart TVs. And the good news is that there's a native application for LG's WebOS – which means you can watch Disney Plus on LG smart TVs. And yes – we're here to tell you how that's done!
Before jumping to our step-by-step guide, there's one important thing to know. The Disney+ app is compatible with WebOS 3.0 and later. We are going to list all of the supported LG smart TVs later on in this article. But as a general rule, TVs made in 2016 and later should be able to run the Disney+ app without any problems.
So, here's how to watch Disney Plus on LG smart TV in 6 easy steps:
We don't have to tell you that having a Disney+ subscription is the main requirement here. First, visit Disney Plus. Make sure to use the provided link, click on "Sign up for Disney+ only" and then following the rest of the sign-up procedure. If you have a Hulu or ESPN+ accounts, you can add your Disney Plus subscription to those accounts at a low monthly price.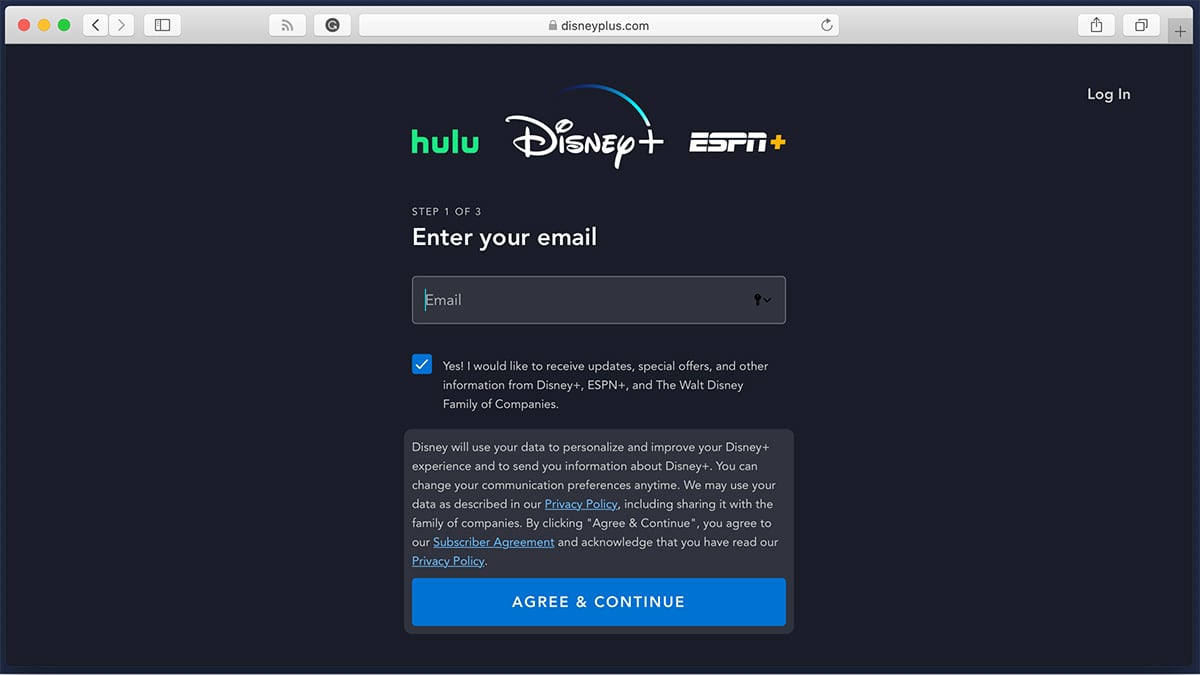 Now, return to your LG TV. In case it's powered off, make sure to power it on – and wait until the TV connects to the Internet.
Now, press the 'Home' button on your remote, and then open the 'LG Content Store' from the main menu. Wait until this application fully loads. Navigate to the search box (in the top-left corner) and type in 'Disney Plus'.
After a few moments, you should see the application you're looking for. So, make sure to select the application, and you'll open its overview. Alternatively, you can scroll to the apps category if you want to narrow down your search.
Now, select 'Install' and wait a few moments until the application is downloaded and installed. Then, select 'Launch' to open Disney Plus.
Finally, log-in using your Disney+ credentials, and that's about it. From this point on, you'll get to stream movies and TV shows without any limitations. And that's how you can watch Disney Plus on LG smart TV models.
As said promised earlier, we owe you the list of supported LG smart TVs. So, once again, keep in mind that you need WebOS 3.0, at least. With this said, here's the full list of LG smart TVs compatible with Disney Plus. And also, make sure to check how to find a model number of your LG TV.
| Year / WebOS Version | Model |
| --- | --- |
| 2016 (WebOS 3.0) | LH550B, LH600B, LH5500, LH6000, UH6550, UH8500, UH9500, OLEDC6, OLEDE6, UH6300, UH6500, UH6550, UH7500, UH5500, UH5530, UH6030, UH6035, UH6090, UH6100, UH6100, UH610A, UH6150, UH615A, UH6330, UH6350, UH7650, UH7700, OLEDB6, OLEDG6. |
| 2017 (WebOS 3.5) | LJ5400, LJ5500, LJ550M, LJ5550, LJ6100, LJ6150, UJ6050, UJ6050, UJ6200, UJ6300, UJ6350, UJ6450, UJ6470, UJ6500, UJ6520, UJ6540, UJ6560, UJ6570, UJ657A, UJ6580, SJ8000, SJ8000, SJ8500, SJ850A, SJ8570, SJ9500, SJ9570, UJ7500, UJ7700, UJ7750, OLEDC7, OLEDE7, OLEDW7, OLEDB7, OLEDG7. |
| 2018 (WebOS 4.0) | OLEDC8, OLEDE8, OLEDW8, OLEDB8, SK8000, SK8050, SK8070, SK8550, SK9000, SK9500, SK9550, 86UK6570, 86UK7570, LK5400, LK540B, LK5700, LK5750, LK610B, UK6090, UK6190, UK6250, UK6300, UK6350, UK6500, UK6550, UK6570, UK7500, UK7700. |
| 2019 (WebOS 4.5) | OLEDC9, OLEDE9, OLEDW9, OLEDZ9, SM9970, LM5700, LM570B, LM620B, LM6300, LM630B, OLEDB9, SM8600, SM8670, SM9000, SM9070, SM9500, UM7570, UM8070, 86UM7570, 82UM7570, SM8000, SM8100, UM6900, UM6950, UM6970, UM7100, UM7170, UM7200, UM7300, UM7310, UM7350, UM7370, UM7400, UM7570, UM7600, UM7650 |
And if you're looking to upgrade your TV watching experience, now is the right time. You can't make a mistake if you go for LG's Nano Series (such as the 65" 4K LG NanoCell TV or 55" 4K NanoCell 8 Series TV). And if you're looking for the premium option, there's the excellent LG C9 Series 4K OLED TV. No matter which one you pick, you'll get the best of what today's LG TVs offer.
Additional Set-Up Guides
Great – you now know how to watch Disney Plus on your LG TV. However, keep in mind that you can also access this streaming platform on other devices as well. With this said, check out the following guides:
In case of any questions or doubts regarding installing the Disney Plus app, know that you can count on TechNadu's team. Feel free to use the comments section below, and you can be sure that we'll respond as soon as possible.