You've probably heard that Verizon is offering an enticing deal that lets you get Disney Plus for free. So, if you're an existing Verizon customer or if you're thinking of switching your account to this carrier / ISP, now might be the best time to do so. We're here to tell you all there's to know about this promo offer, and we'll explain how to watch Disney Plus on Fios.
With that said, we'll walk you through this promo offer in-depth. Aside from taking you through the sign-up procedure one step at a time, we'll also answer frequently asked questions so that you can understand this promo's fine print. So, let's get started!
Who Is Eligible for Verizon's Disney+ Deal?
To be eligible for Verizon's Disney+ promo offer, you need to have at least one 'Unlimited' data plan offered by Verizon. Or, you can sign up for Verizon's 5G Home Internet or Verizon's Fios Home Internet. That means that both existing and new Verizon customers can be eligible.
In case you're already a Disney+ subscriber, we have some more good news. No matter if you've signed up for the platform through Disney or a third-party offer, you're still eligible. No matter the current status of your subscription, it will be put on pause and will resume once Verizon's Disney+ promo ends.
We should also note that this promo offer isn't available for business accounts. The same applies to those who are on a prepaid account.
Here's How to Get Disney Plus on Fios
And how, here are the steps you need to take to get Disney Plus on Verizon's Fios.
First, you need to visit Verizon's 'Disney+ Promo' page using any Web browser.
Scroll to the bottom - until you see the 'From the Network More People Rely On' segment.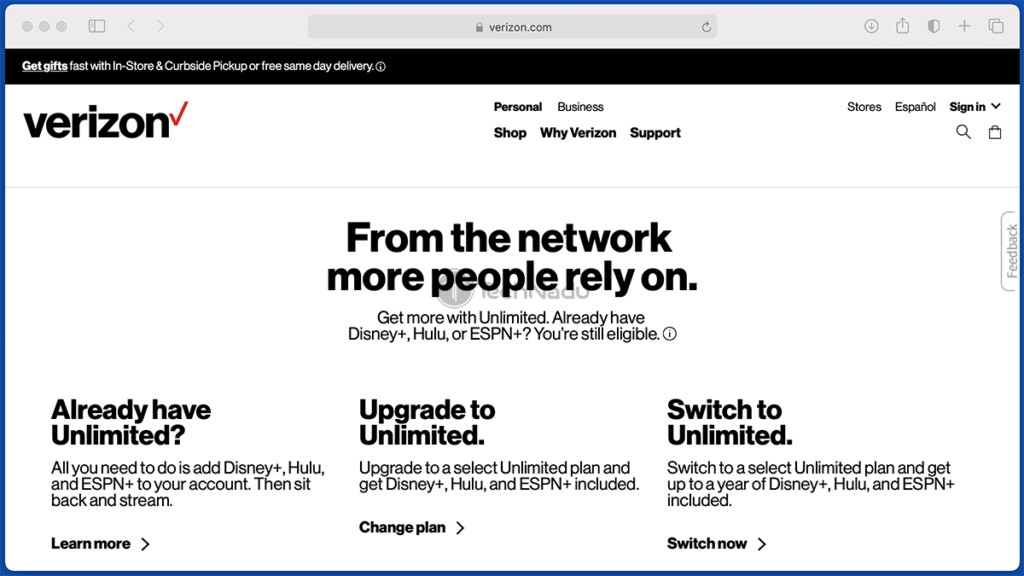 Next, you need to select the option that applies to your specific case.
If you already have a Verizon's Unlimited plan, click on 'Learn More.'
If you're a Verizon customer looking to switch to an 'Unlimited Plan,' click on 'Change Plan.'
You can click on 'Switch Now' if you want to become a Verizon Unlimited subscriber.
If you're a new subscriber, you'll need to input your ZIP code.
If you're already a Verizon user, you'll need to log in.
Then, you'll see the currently available plans - including each plan's streaming perks.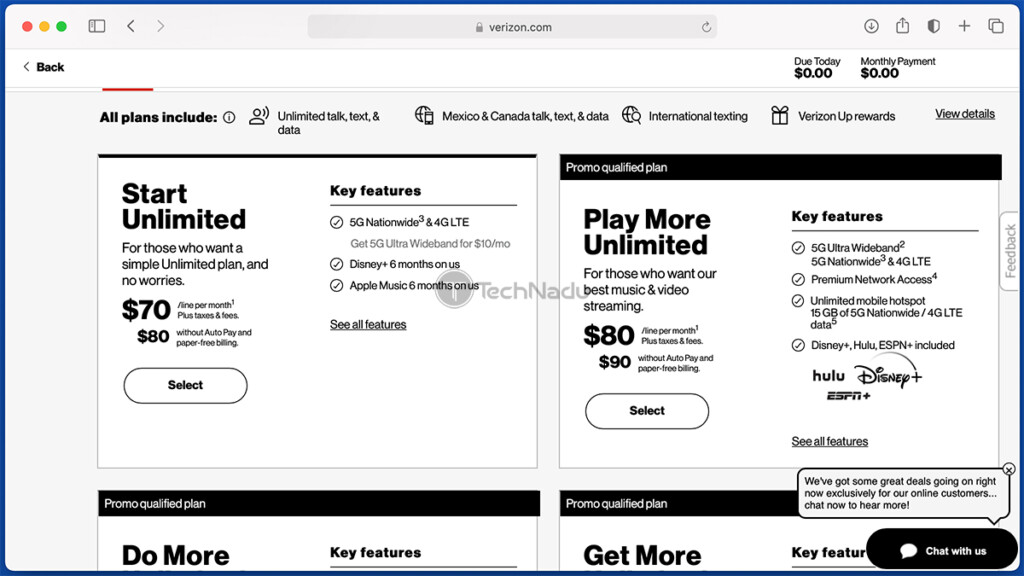 To learn more about each plan, click on 'See plan details' to learn more about its offer.
And once you found the plan that works for you, proceed to sign up.
Once you've signed up, you need to access your Verizon account.
Upon logging in, proceed to the 'Account' tab.
Then, navigate to 'Add-Ons' and select the 'Entertainment' tab.
This is where you'll be able to connect your Disney+ account to your Verizon account.
Once that happens, a promo code will be applied, and you'll activate your Disney+ account.
Proceed to download the Disney+ app (check the final segment of this article).
Once you install the Disney+ app, feel free to open it. Log in - and that's it!
How Long Will Verizon's Disney Plus Deal Last?
If you decide to enroll with Verizon and switch to an Unlimited plan, make sure to do so before May 31, 2021. This applies to Unlimited plans that get you six months of Disney Plus for free.
Also, keep in mind that your subscription will be turned into a regular monthly subscription once your promo period ends (except in New Mexico, where your subscription will terminate).
How Much Do You Need to Pay Once Verizon's Disney Promo Ends?
Once your promo period ends, your subscription will be turned into a regular Disney+ monthly subscription. That means you'll be charged monthly, so here's how much you'll need to pay as per the current pricing structure offered by Disney Plus.
Right now, if you subscribe to Disney+, you'll need to pay $7.99 per month. You can also decide to pay yearly, which will cost you $79.99 per year. And if you decide to get a Disney+, Hulu, and ESPN+ as a bundle, you'll need to pay $13.99 per month (there's also a bundle that has Hulu without ads, priced at $19.99 per month).
On What Devices Can You Watch Disney+?
To help you set up Disney Plus on all your devices, we've already produced a number of set-up guides, as you can see below.
That would be all on how to get Disney Plus on Fios in 2021. In case you have any additional questions, don't hesitate to contact our editorial team. Post your comment below, and we'll do our best to respond as soon as possible.