We're sure that you've installed plenty of Kodi addons – adding a bunch of media libraries to the application. Therefore, we understand the frustration if you're not able to stream videos. However, there's plenty you can do to stop Kodi buffering issues, and we're going to provide the best solutions to this problem.
Before we dive right in, an essential piece of information: many things can cause buffering issues with Kodi. This makes it impossible to give a solution that'll work for everybody. However, based on our rich experience of using Kodi, we'll provide the solutions that have worked in our case.
If you continue reading this article, you will find in-depth explanations on how to stop Kodi buffering issues. Check out the following table of content to see what we're going to discuss.
Solution #1: Clear Kodi's Cache & Junk Files
As you use Kodi, the application generates plenty of cache files – which might corrupt over time. Therefore, a solution to resolving buffering issues with Kodi is to remove those files.
First, make sure to install the Indigo addon for Kodi.
Once you install it, launch Indigo by going to Add-ons > Program Add-ons.
Select 'Maintenance Tools' using Indigo's main menu.
This is where you'll see a series of options. You need to click on the following ones: Clear Cache, Delete Thumbnails, Delete Packages, Delete Crash Logs, Delete Textured13.db.
As you click on the options mentioned above, you'll be asked to confirm your decision each time. So, make sure to click on 'YES.'
Once done, restart Kodi and try streaming a video.
Tip
Indigo's 'Maintenance Tools' come with plenty of interesting stuff. We highly recommend you click on 'Run Auto Maintenance' and 'Enable Auto Maintenance on Startup.' This will instruct Indigo to do a series of tasks each time you open Kodi so that the application runs better.
Solution #2: Tweak (Hack) Kodi's Settings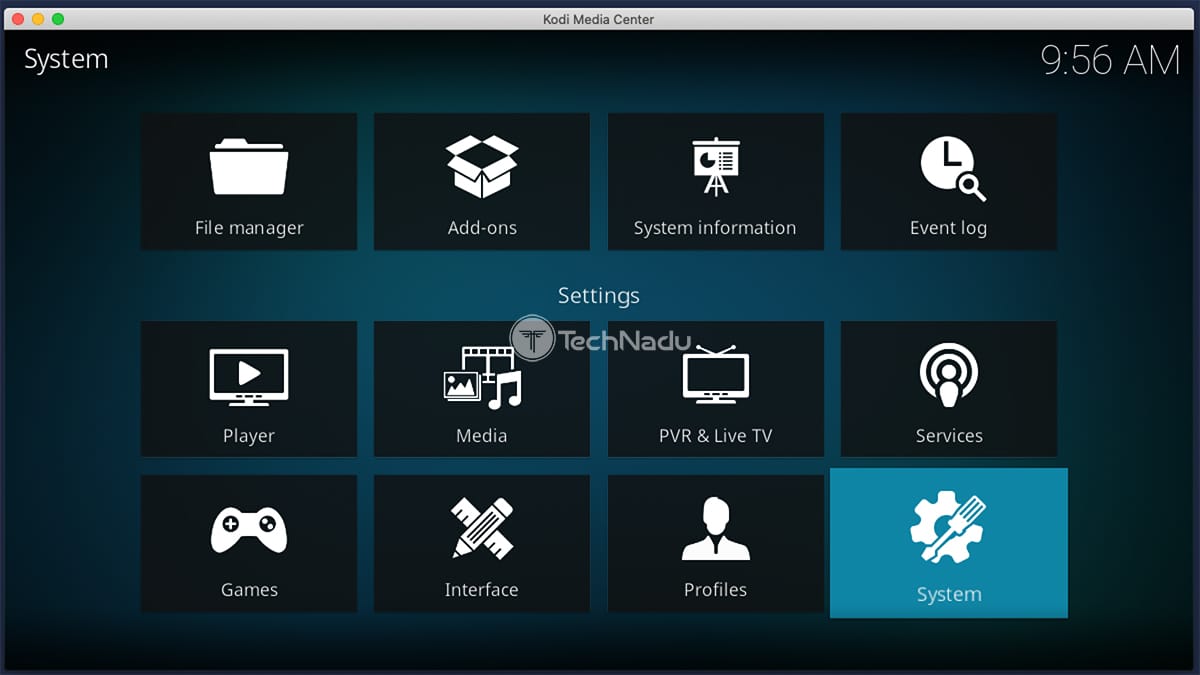 There's a way to optimize how Kodi streams files based on your device's specs and your Internet connection speed. This is done by editing an XML file called 'AdvancedSettings.'
Where Is Kodi's 'AdvancedSettings' File Located?
First, let's show you where this file is located. Please take a look at the following bullet points, where we've covered the file's location on several different platforms.
Windows: Press the Windows key + R and then paste the following navigation path: %APPDATA%roamingkodiuserdata. Press Enter to confirm the path.
MacOS: Navigate to /Users/(yourusername)/Library/Application Support/Kodi/userdata.
Linux: Go to ~/.kodi/userdata/.
Android: Use any File Manager to go to Android/data/org.xmbc.kodi/files/.kodi/userdata.
iOS: Navigate to /private/var/mobile/Library/Preferences/Kodi/userdata/.
In case you don't see the 'advancedsettings.xml' file in the directory you've opened, feel free to create one. That is done by creating a new text file and making sure you're using the XML file format.
How to Edit Kodi's 'AdvancedSettings' File?
For the file to be recognized by Kodi, you need to use a set of codes. With that said, we'll first give you these codes, and then we'll show you how the file should look like.
<memorysize> - This is a numerical value, telling Kodi how much RAM to use. However, make sure to input this value in bytes. For example, if you want to set Kodi to use 2GB of RAM, you'll need to input '2147483648' in this field. For this purpose, you can use an online converter to get a precise number.
<buffermode> - This is also a numerical value, and there are three possible values here (0, 1, 2, and 3). To allow Kodi to buffer all Internet filesystems, you need to input '0.' To buffer all Internet and local file systems, you must go with '1.' Then, '2' is used to buffer only 'true' Internet filesystems (like HTTP). And to prevent all buffering, go with '3.'
<readfactor> - Once again, a numerical value. By default, the value of this field is set to '4.0.' If you have an above mid-range CPU, you can double that number.
How Does the 'AdvancedSettings' File Should Look Like?
Take a look below, and you'll see an image showing the XML file's final appearance. Make sure to take a really good look, and then replicate the file on your device using the same codes as found below.
Finally, we'd like to offer some helpful tips and tricks regarding Kodi's 'advancedsettings' file. So, don't forget to check out the following bullet points.
To be recognized by Kodi, this must be an XML file. So, save the text file as an XML file, or rename it to include the new file extension.
Each command has its opening and closing argument. For example, to allow Kodi to use a specific portion of your RAM, you'll need to begin with <memorysize> and then end this command with </memorysize>.
Make sure the XML file is saved in the appropriate folder, as described above.
Solution #3: Utilize a Kodi-Friendly VPN Service
One of the reasons you're having Kodi buffering issues is your Web connection's quality. In other words, perhaps you have a fast-enough Internet connection – but something is blocking Kodi-related traffic.
Did you know that practically all video streaming services are throttled by all Internet providers in the US? And considering that Kodi is often associated with piracy, it's no wonder why Kodi-related streaming might face numerous obstacles.
This is precisely where VPN applications come into play. This type of software is incredibly useful for Kodi users. It allows you to un-throttle your Internet connection while unblocking new Kodi addons (including accessing geo-restricted ones).
Related Content: 7 Reasons Why You Must a VPN While Streaming via Kodi / Is It Safe to Use a Kodi Without a VPN?
Once you're ready to get started with this type of software, make sure to turn to our guide on installing and configuring a VPN on Kodi.
Tip
In our article on the best Kodi VPNs, you will see that we've featured ExpressVPN. Without any doubt, this is the best VPN you'll find right now, perfectly aligned with the specific needs of Kodi users. You'll get to un-throttle your Web connection, access any addon out there, and make sure your digital privacy is intact.
Solution #4: Stop Using Illegal & Untested Kodi Addons
We understand that "unofficial" Kodi addons might be quite enticing. After all, they promise the latest Hollywood blockbusters without you having to pay anything. However, keep in mind these "unofficial" addons can quickly destabilize your Kodi.
Related Content: Why Are Unofficial Kodi Addons Not Safe to Use? / Official vs. Unofficial Kodi Addons – Which Ones to use?
When talking about "unofficial" addons, we're typically talking about copyright infringement and piracy. Therefore, this is precisely what's illegal about Kodi. Besides, that alone should be a reason enough to stop using illicit types of software.
There's also another thing to keep in mind. With piracy comes malware, as this is especially true for Kodi. The majority of "unofficial" repositories are ridden with malware, causing all kinds of streaming- and buffering-related problems with Kodi.
Related Content: How to Uninstall Kodi Addons / "SafeKodi" Is Here to Save Kodi Users From Risky Addons
Tip
If you're looking for legal and safe-to-use Kodi addons, know that TechNadu offers plenty of helpful resources. With that said, we highly recommend checking our central overview of the 50+ best Kodi addons right now.
Solution #5: Reset Kodi to Its Factory Settings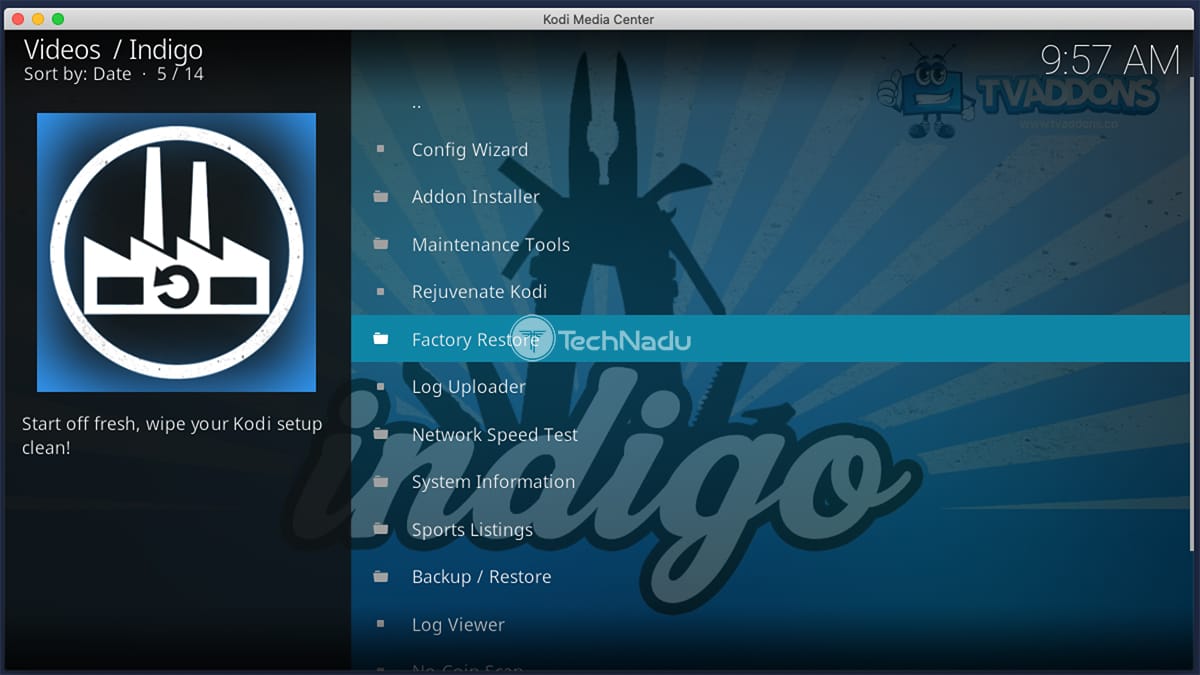 If nothing else helps, it's time to think about resetting Kodi to its factory settings. This will remove all your Kodi-stored content and set Kodi's preferences to their default values. This is the most drastic step you can take.
Tip
Once again, keep in mind that this will erase all your content. Therefore, reset Kodi to its factory settings only as the last measure to resolve Kodi buffering issues. Once done, here's how to create your Kodi library from scratch.
So, here's how to reset Kodi its factory settings. Go through the following steps:
First, you'll need to install the Indigo Kodi addon.
Then, launch the addon by going to Add-ons > Program Add-ons.
Click on the addon's icon to open it. Wait until you see its main menu.
Scroll down and select 'Factory Restore.'
Confirm your decision, and Indigo will wipe all your data and reset everything.
Once done, restart Kodi.
Note
Lastly, we'd like to recommend our Kodi Troubleshooting Guide for additional solutions. You'll find numerous technical issues explained there, with practical solutions included as well.
You've reached the end of our guide on how to stop Kodi buffering issues. If you have any questions for us, don't forget to post a comment below. And of course, don't forget to share this article online. Thanks – and enjoy using Kodi!