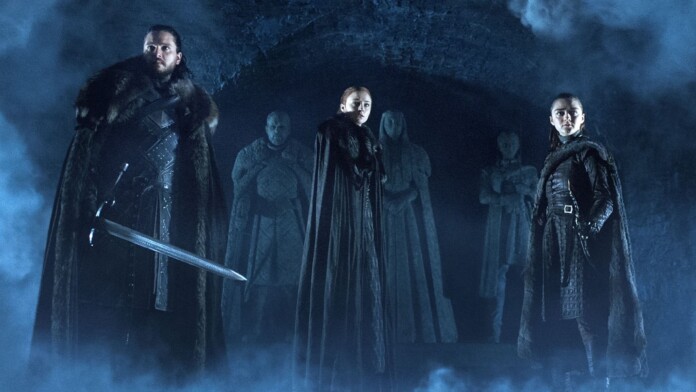 Game of Thrones is arguably one of the most successful TV series ever made. Based on the George R. R. Martin series "A Song of Ice and Fire," the series is closing in on the final season on HBO. That being said, we're super excited to watch Game of Thrones online.
HBO, or Home Box Office, is one of the most successful premium networks in the world, with close to 140 million subscribers worldwide. Founded in 1972, HBO is an important source of original content, whether we're talking about TV shows or movies, as well as the one place where you can find Box Office movies that have just left the cinemas.
Game of Thrones is one of those series that people weren't sure about in the beginning, but where the story has become so compelling that everyone wants to watch it. The series premiered back in April 2011 and will end in May 2019 after eight seasons.
The story carried us through the whole of Westeros and Essos, saw as cheering for our heroes, fearing of getting attached too much of one character or another as they kept getting killed off. The first few seasons had fans who had read the books warring off online with those that had only watched the shows and complaining about missing plots or adjusted storylines. Then, in the latter series, when the book source material had ended, everyone joined in to breathlessly watch the show and hoping that R. R. Martin would eventually publish the damn books too.
The eighth and final season of Game of Thrones will premiere on April 14th, 2019, with only six episodes left to watch. Unlike previous seasons that featured ten episodes, or the seventh season with seven episodes, this one will have only six, but they'll be hour-long. This time, we'll see what happens when Winter is really here.
In fact, according to the announcement, you better prepare to sit on your couch for a long time, so get all the snacks you need, visit the bathroom and settle in because you won't want to miss anything. Here's how long the episodes will run for.
Episode 1 – Sunday, April 14, 9:00 PM (ET/PT) – runtime: 0:54
Episode 2 – Sunday, April 21, 9:00 PM (ET/PT) – runtime: 0:58
Episode 3 – Sunday, April 28, 9:00 PM (ET/PT) – runtime: 1:22
Episode 4 – Sunday, May 5, 9:00 PM (ET/PT) – runtime: 1:18
Episode 5 – Sunday, May 12, 9:00 PM (ET/PT)- runtime:1:20
Episode 6 – Sunday , May 19, 9:00 PM (ET/PT) – runtime: 1:20
How to Watch Game of Thrones Online?
HBO is pretty easy to watch online because there are so many ways to do that. HBO itself has a couple of platforms – HBO Go and HBO Now, while the channel is also easy to watch via streaming services that offer live TV, which is plenty. But, the thing is, if you leave the country for any reason, whether business or vacation, you will no longer be able to access the service. That's because licensing deals even HBO has prevented them from allowing broadcasts to take place outside of the country. Geoblocks are common for this type of services and they take into account a person's IP address when visiting the site. Thankfully, you can use a VPN to change the IP addresses to make it seem as if you're in a different location than the one you're in.
If you don't already have a VPN, we recommend you pick ExpressVPN because it's one of the best tools we've reviewed, and we've done dozens of tests over the years. So go ahead and visit ExpressVPN, download the app and install it on your device.
Then, you have to launch the app and sign into your account.
If you live in the United States and use HBO Now or HBO Go, you're going to need to pick a US-based server and connect to it. If you live elsewhere that has access to HBO Go, you're going to need to pick a server from your native country and connect to it. The app will inform you when the connection has been established. (Users from the European Union will only need a VPN if they leave the EU because EU rules prohibit the platform from using geoblocks within the Community space.)
You can go ahead and select one of the streaming services like Amazon Prime or load HBO Now or HBO Go. Enjoy Game of Thrones!
How to Watch Game of Thrones Without Cable?
We live in a digital era and most of us spend a good chunk of our lives online. We watch puppy videos on YouTube, laugh at memes on Facebook, catch up with our favorite shows on Netflix or Hulu, read the news on websites, chat with our friends on Messenger or WhatsApp. Since we do all these things online, why not also watch TV in the same manner? Thankfully, that's easily done nowadays.
Streaming services such as the ones we're going to discuss give you freedom that traditional cable contracts can't. You can watch whatever you want as long as you have an Internet connection and a compatible device. Your Smart TV in your living room, or your PlayStation 4, or maybe your tablet, your Roku player, your smartphone, your laptop; anything goes.
So, there are quite a few ways to watch HBO online and we're going to go through them all so you can enjoy Game of Thrones.
1. HBO Now and HBO Go
Overview
Plans
$14.99 per month
Multi-screen streaming
Yes, Limited Streams
Device support
Amazon Fire TV, Android TV, Apple TV, Chromecast, Fire TV Stick, Roku, Samsung Smart TV, PS3, PS4, Xbox 360, Xbox One, Android smartphones and tablets, iOS smartphones and tablets, Fire tablets, web
Free trial
Yes, either one week or one month
Visit
HBO Now
Yes, we have to start with the obvious. The TV channel comes with its own online platform. Both HBO Now and HBO Go share the same content, but the login process is different. For HBO Go you're going to need to have credentials from your TV provider to sign in, while for HBO Now you can create your own account and pay HBO directly. Basically, if you're still tied to a traditional cable service you can watch HBO Go as long as you have HBO on your subscription. HBO Now only works in the United States, but HBO Go works in a lot more countries including across Europe, Latin America, and South Asia. It should also be mentioned that HBO Go has turned into an OTT in several European countries, where users can now subscribe directly to HBO Go and pay with their cards rather than log in with a cable provider.
So, watching Game of Thrones will be quite easy if you have one of these two apps. Read our HBO Now review for more details.
2. Amazon Prime Video
Overview
Plans
None, it's part of Amazon Prime - $12.99/month or $119/year
Multi-screen streaming
2 devices
Device support
Amazon Fire TV and Fire Stick, Smart TVs, Blu-Ray Players, Game consoles, Fire tablet, iPhone, iPad, Android phone or tablet, Roku
Free trial
Yes, 1 month
Visit
Amazon Prime Video
Finally, we have Amazon Prime Video. This one is a great service that is offered to Prime subscribers. The Prime subscription brings with it swift delivery on Amazon orders, cool music on Amazon music, ebooks, Amazon Prime Video and more. On top of the Prime subscription, you'd also have to pay for HBO, which costs $14.99 per month.
The platform works on pretty much any device, so you're good to go with whatever platform you like using most. Read our Amazon Prime Video review for more details.
3. Hulu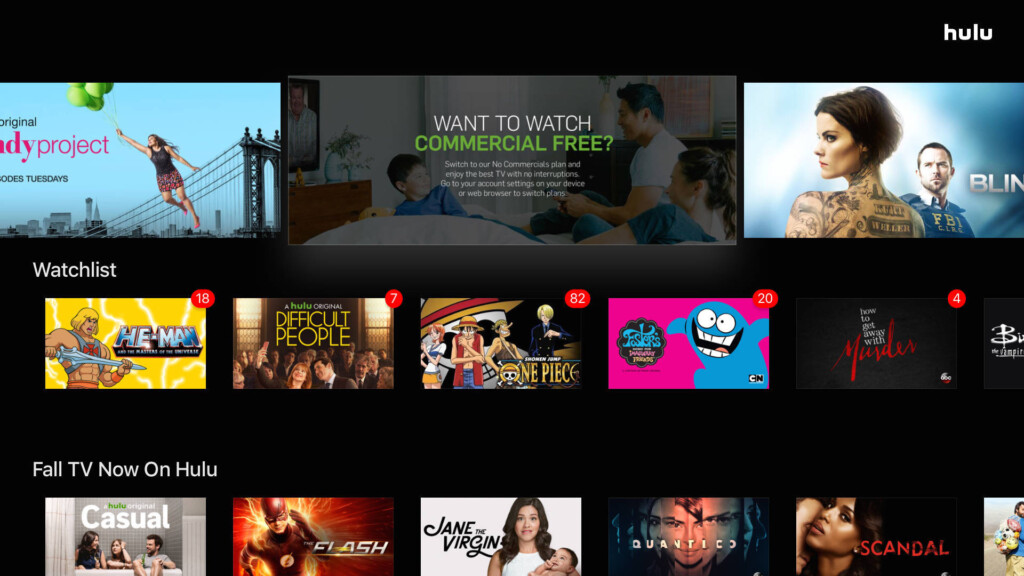 Overview
Bundles
A single bundle - Hulu with Live TV - $44.99 per month
Customization
Premium channels - HBO ($14.99/mo), Showtime ($10.99/mo), Cinemax ($9.99/mo), STARZ ($8.99/mo)
Channel Packs - Entertainment ($7.99/mo), Espanol ($4.99/mo)
Device support
iOS, Android, FireTV, Apple TV, Roku, Xbox, Chromecast, Samsung Smart TVs, browsers
DVR
50 Hours Cloud DVR by default, Enhanced Cloud DVR - 200 Hours ($14.99/mo)
Free trial
Yes, 7 days
Visit
Hulu
Another great option to watch Game of Thrones is to get Hulu, which is a fabulous platform that offers both Video on Demand and live TV. The VOD platform has been around for quite a while, but the live TV service has only been around for a while and includes only a bundle of channels. Another couple of channel packs are available for those who want more to watch. HBO is available for $14.99 both with the VOD platform and the live TV one, so you're set no matter which one you pick.
If you go with the live TV platform you'll be able to enjoy two simultaneous streams, as opposed to a single one that comes with the VOD service. More simultaneous streams are available for those who want to pay $14.99 for the "Unlimited Streams" feature. This one gives people the chance to watch content on as many devices you want as long as they're connected to the Home network, but the number drops to three when you're you're out and about. Also, they can record content to watch at a later time. In fact, users get 50 hours of cloud DVR space for free, but a 200-hour option is available for $14.99 per month. Read our Hulu live TV review and our Hulu VOD review.
4. DirecTV Now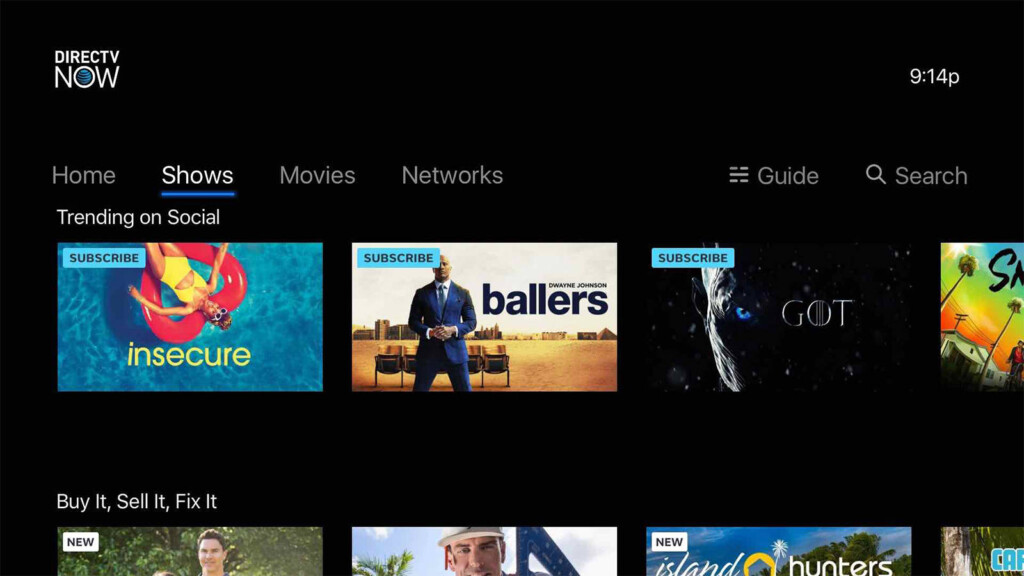 Overview
Bundles
Plus ($50/mo) and Max ($70/mo) Other Packages - Entertainment ($93/mo), Choice ($110/mo), Xtra ($124/mo), Ultimate ($135/mo), and Optimo Mas ($86/mo)
Customization
Channel packs - AT&T TV Now Deportes ($5/mo) and AT&T TV Now Espanol ($15/mo) Premium Networks - HBO (included with Plus and Max), Cinemax ($11/mo or included with Max), Showtime ($11/mo), STARZ ($11/mo) International Bundles - Vietnamese ($20/mo), Brazilian ($30/mo), Korean ($30/mo)
Device support
Apple TV, Chromecast, Fire TV, Roku, Samsung Smart TVs, iOS, Android, browsers
DVR
Up to 20 hours, 30 days limit, no expansions
Free trial
Yes, 7 days
Visit
AT&T TV Now
Another cool platform you can check out is DirecTV Now. The service underwent some changes in mid-March, with two new bundles arriving and the old five ones getting a rebranding and a different price. Either way, you should know that can now find HBO integrated in the two new bundles – Plus ($50/mo) and Max ($70/mo). If you want any of the other five bundles – Entertainment, Choice, Xtra, Ultimate, and Optimo Mas – you'll have to pay $15 per month for HBO.
DirecTV Now allows users to record shows and sports events and anything else that's broadcast on TV to cloud DVR, but it's only 20 hours of space. Plus, there's no option to expand. The platform enables users to watch content on up to two devices at once, with a third being possible to add for $5 per month. Read TechNadu's DirecTV Now review to get the full picture.
5. PlayStation Vue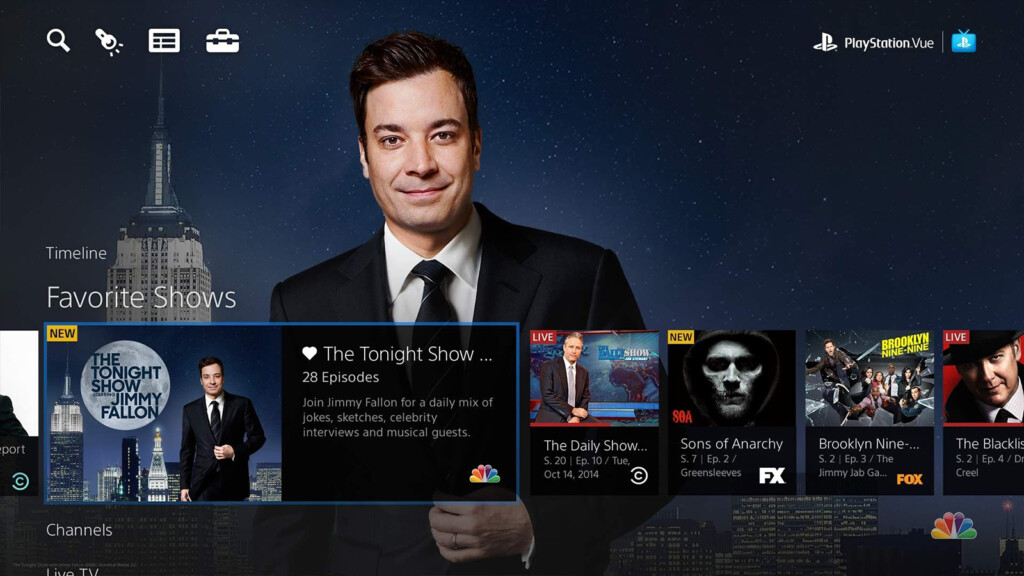 Overview
Bundles
Access ($49.99/mo), Core ($54.99/mo), Elite ($64.99/mo), Ultra ($84.99/mo)
Customization
Channel bundles - Sports Pack ($10/mo), Espanol Pack ($4.99/mo, $3.99/mo with PlayStation Plus) Premium channels - HBO ($15/mo, or included in Ultra), Showtime ($10.99/mo, $8.99/mo with PlayStation Plus, or included in Ultra), FX+ ($5.99/mo), Epix ($3.99/mo, $2.99/mo with PlayStation Plus), Cinemax ($15/mo), Fox Soccer Plus ($14.99/mo or $12.99 with PlayStation Plus), Hi-YAH! ($2.99/mo or $1.99/mo with PlayStation Plus) Bundles - HBO + Cinemax ($21.99/mo or $19.99/mo with PlayStation Plus), Epix Hits + Showtime ($13.99/mo or $11.49/mo with PlayStation Plus)
Device support
Amazon Fire TV, Android TV, Apple TV, Chromecast, iOS, Android, Roku, PS3, PS4, browser
DVR
Up to 500 programs, 28 days limit
Free trial
Yes, 5 days
Visit
PlayStation Vue
Another streaming platform you should take into consideration is PlayStation Vue, and it's a great one, managing to get the highest score while we were reviewing live TV platforms. The service offers four starter bundles and a couple of channel packs, as well as premium networks. You can get HBO in two ways when subscribing to PlayStation Vue. The first is by picking the Ultra bundle, which is the most expensive one, which already features HBO and Showtime for only $20 more compared to the previous bundle. The second is by picking whichever bundle you want from the first three and adding HBO for $15 per month. So go ahead and pick whatever version is best for you when you subscribe to PlayStation Vue.
On PlayStation Vue, there's enough cloud DVR storage space for 500 programs. Furthermore, the service allows five simultaneous streams, for no additional fees. There's also a unique feature we noticed here, namely the fact that you can watch three different programs at once, on the same screen with the Split Screen feature. Check out our PlayStation Vue review for more details.
How Can You Binge on Older Game of Thrones Seasons?
If you're getting ready for the new season of Game of Thrones and are looking for ways to binge on the show, there are quite a few options you can try out. First of all, of course, you can find all seasons up on HBO Go and HBO Now. Before you gain access, you'll have to sign up for one of the above-mentioned platforms – HBO Now/Go Hulu, YouTube TV, DirecTV Now, or PlayStation Vue. The show isn't available via the likes of Hulu or Netflix, so you'll have to settle for these other options.
We know Game of Thrones is one of the best shows out there, so if you're planning on purchasing the seasons to watch whenever you feel like, that's also a solid option. You can try that out on Amazon Prime, Google Play, YouTube, Vudu, iTunes, and Microsoft Store. Make sure to check them all out as the price may differ slightly, especially depending on when you make the purchase and what deals they have to go on.
FAQ
When Will the Final Game of Thrones Episode Air?
The season 8 premiere will take place on April 14th, 2019, while the final episode will air on May 19th, 2019, as there are only six episodes left before we find out who stands on the Throne of Seven Kingdoms. Or if anyone is even left alive.
Where Is Game of Thrones Shot?
Well, the shooting took place in numerous locations including Belfast, Canada, Croatia, Iceland, Malta, Morocco, Scotland, Spain, and the United States.
How Can I Watch Game of Thrones Live Online?
How Much Does HBO Cost?
Generally, HBO costs $14.99 per month, although there are some exceptions. If you subscribe to DirecTV Now, for instance, you can get HBO for a mere $5 per month.
How Many Game of Thrones Series Are There?
Only eight series will be made, which makes the one premiering in April 2019 the last one. There will be a Game of Thrones prequel made soon, however, so fans will be able to indulge some more. The Long Night will feature Naomi Watts in one of the main roles. If you ever need a quick refresh of the 9-year-old series then catch up Game of Thrones from Season 1-7.

Who Dies in Game of Thrones?
Well, no one really knows, but as experience taught us, everyone is fair game in these books and series. HBO has made sure to shoot multiple endings for the series so that the information doesn't leak and no one really knows what happens. Plus, do you really want spoilers?
Is Jon Snow a Targaryen?
He sure is. While Lord Stark took him in and pretended he was his bastard, Jon Snow is actually the son of Rhaegar Targaryen and Lyanne Stark and was born after the two were married. His real name is Aegon Targaryen.
Can I Watch Game of Thrones for free?
Not legally, no. HBO is a premium channel, which means you have to pay to access it. Whether we're talking about adding it to your cable contract or watching online, you need to pay for the service somehow. We're sure there are some sites online where you can stream or download the episodes, but they're all illegal and HBO may very well track these downloads and come after you in court.
Is Game of Thrones Available on Netflix?
No, and neither will it ever be. HBO has its own platform so there's no reason to allow its original shows and movies to stream on other platforms. The platform has over 140 million subscribers worldwide and many of them can watch content online regardless if they have HBO Now or a regular cable contract with HBO that gives them access to HBO Go. The whole point is to attract more people to join HBO Now or add HBO to their cable subscriptions.
How to Watch Game of Thrones in the UK?
If you're going to watch Game of Thrones in the UK, you're going to need a subscription with HBO like everyone else. HBO has a deal with Sky through 2020 that gives them exclusive rights to currently-airing HBO programmes. Some series, including Game of Thrones, is aired live at the same time as in the US if you don't mind staying up in the middle of the night for it.
How to watch Game of Thrones without HBO?
Sorry guys, but there's no way to watch Game of Thrones without HBO. Well, none that are legal. So, go ahead and subscribe to HBO however you see fit, depending on where you live, or try some roundabout way to get it from the United States or another neighboring country. In the European Union, many countries can now subscribe to the service with their credit cards only, bypassing the whole cable contract issue.
We can't wait for the new Game of Thrones series to come, but we hate that it's going to end far too quickly. Either way, it's going to be six great episodes, that much we know. Are you excited about the new and final season of Game of Thrones? Will you watch online? Let us know in the comments section below, and please share the article online so others can enjoy it too. Follow TechNadu on Facebook and Twitter for more details.