It is clear from the jump that TunnelBear isn't the most fully featured VPN service when you look at its spec sheet. It has a few of the advanced and extra functionalities we have come to expect from top providers, but others are lacking. What's more, as this TunnelBear review will show, it may not be the best option if you're an advanced user.
But that alone is not enough to write it off. TunnelBear manages to sneak onto our list of the best VPN services, which is no small feat. After all, there are tons of VPNs out there, and we've tested and reviewed more than 65 of them - from the popular to the niche and obscure.
That said, TunnelBear has its strong points, such as strong encryption and an excellent user interface. It also runs a freemium model, meaning that both free and paid packages are available. 
Before we dive into examining its various aspects, let's look at a rundown showing what you can expect from TunnelBear. The following table has the VPN's specifications.
| | |
| --- | --- |
| Jurisdiction  | Canada |
| Logs | No logging - independently audited |
| Servers | Servers in 47+ countries |
| Simultaneous Connections | Unlimited |
| Supported Devices | Windows, macOS, iOS, and Android |
| Features | Kill switch, split tunneling, obfuscation, and ad blocker |
| Protocols | OpenVPN, IKEv2, and WireGuard |
| Supports | Pluto TV and ITVX |
| Customer Support | Support tickets, installation guides, and more |
| Price | From $4.17/month |
| Live Deal | 58% OFF (2-year plan) |
| Our Score | 6.6/10 |
For this comprehensive TunnelBear VPN review, we'll explore individual aspects, testing and documenting them. You can expect discussions on its background and jurisdiction, server network and infrastructure, design and user-friendliness, customer service, and more. It goes without saying that we'll also look at what it offers regarding security and privacy.
If you're interested in our hands-on approach to testing different providers, check our guide on how we review VPNs.
And now, let's jump to our in-depth TunnelBear review!
Background, Jurisdiction & Reputation
TunnelBear (originally from Canada) is owned by McAfee (the USA). This can be problematic in the long run, but for now - TunnelBear has an audited no-logs policy. Our Score: 8/10
We're going to find out where TunnelBear comes from, what that means for its users, and whether there were any previous data leaks.
Where Does ExpressVPN Come From? Is It Part of the 5/9/14-Eyes Alliance?
TunnelBear comes from Canada, known for its strict laws. You've probably heard about the 5/9/14 Eyes Alliance before, and you should know that Canada is a member of that alliance. It has its own mass surveillance laws, and it exchanges data with the US and other countries. Canadian ISPs can telecom operators are also battling against pirates and 'copyright-infringing' VPNs. This is one of the reasons why TunnelBear doesn't allow P2P traffic.
A few years ago, TunnelBear was acquired by McAfee, a reputable brand in the world of digital security. However, the problem is that McAfee comes from the USA – which is perhaps the worst country in the world for any VPN-related business.
To give you some peace of mind, TunnelBear went through several independent audits during the last couple of years. As it turns out, this VPN doesn't collect any data that could identify what you do online. This company also revealed that it receives occasional requests for user data (which is hardly surprising) – but it never answers those requests.
Did TunnelBear Leak Private Data in the Past?
We're happy to report that TunnelBear comes without any data leaks in the past. There are no reports of this VPN exposing its users via any vulnerabilities, active data leaks, or unauthorized data collection.
The bottom line is that TunnelBear seems like a promising VPN for those seeking online anonymity. Still, we can't hide the fact that it comes from Canada and it's also associated with the US.
Supported Platforms & Devices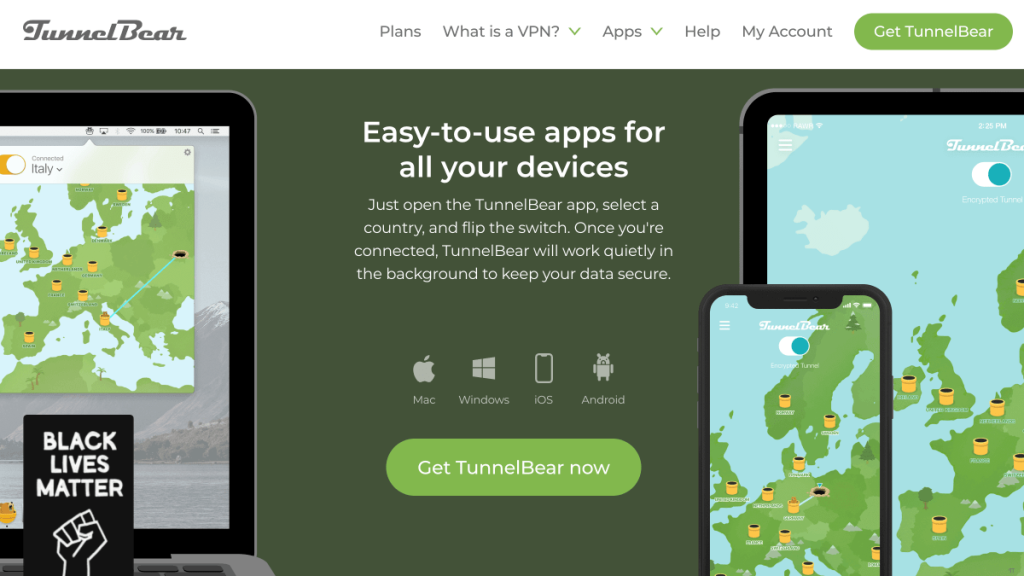 TunnelBear can be installed on a handful of devices. There's no Android TV, Fire OS, or router support, which is unfortunate. Our Score: 5/10
To see which devices and platforms are supported by TunnelBear, take a look at the following table. We'll list only native apps offered by this VPN provider.
| | |
| --- | --- |
| Desktop Platforms | Windows, macOS. |
| Mobile Platforms | Android, iOS, iPadOS. |
| Web Browsers | Chrome and Chromium browsers. |
| Routers | N/A |
| Other Devices | N/A |
In terms of desktop systems, there are native apps for Windows and macOS. TunnelBear also works on some Linux flavors – but it doesn't support this platform natively. Please note that if you're a Linux user, we don't recommend this VPN as it comes with compatibility issues (turn to our guide on the best VPN for Linux to find an alternative).
When it comes to mobile platforms, there are native apps for iOS and Android. And if you care about Web browser extensions, note that Chrome is supported. And that's pretty much it when it comes to the currently supported platforms.
What must be mentioned is that TunnelBear can't be manually configured on routers. Also, devices such as Android TV, Amazon FireOS, or gaming consoles are not supported either.
Installation & Initial Configuration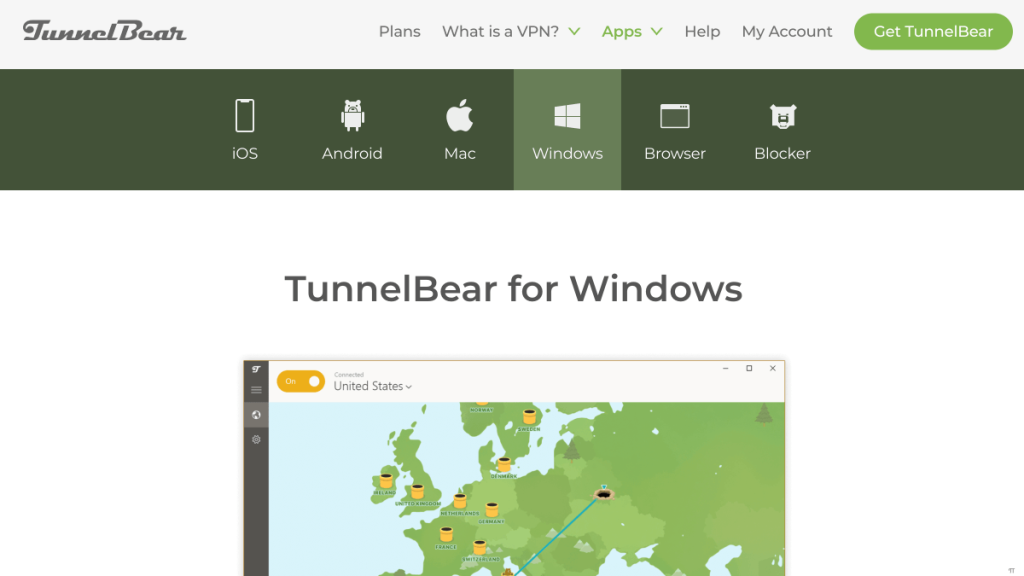 You don't need to be a genius to install TunnelBear. This VPN comes with simple installation methods across all of its supported platforms. Our Score: 10/10
TunnelBear offers both free and paid accounts, but the free plan is limited in terms of bandwidth. To experience everything this VPN has to offer, you need to get a TunnelBear subscription.
You'll first get to select a plan, fill out your personal details, and proceed with the payment. In the end, you'll be redirected to the page that contains this VPN's native applications, allowing you to download the correct version on your device.
In terms of mobile devices, you'll need to visit the Play Store or iOS App Store. Download the app from there, use your credentials to log in - and that's all.
Prominent Features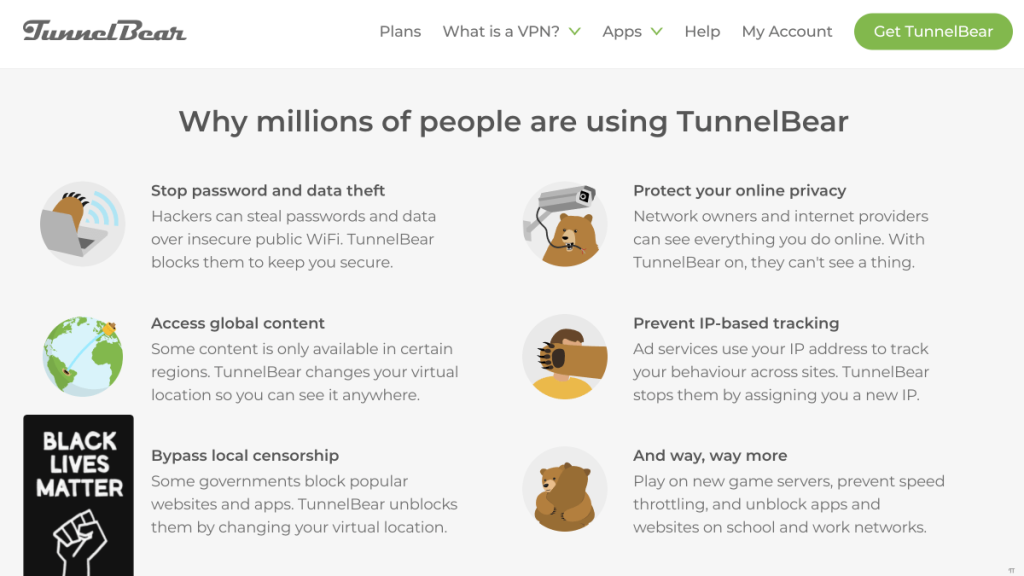 TunnelBear covers the basics, providing the standard VPN features, and manages to include a few advanced ones, like obfuscation and split tunneling. Our Score: 7.5/10
As competition rises in the VPN industry, some functionalities become more commonplace. We've created a checklist of features we have come to expect from the best VPN services. Let's see how TunnelBear's free and premium packages compare.
| | | |
| --- | --- | --- |
| | TunnelBear FREE | TunnelBear PREMIUM |
| DNS Leak Protection | YES | YES |
| IPv6 Leak Protection | YES | YES |
| Kill Switch | YES (Windows, macOS, Android) | YES (Windows, macOS, Android) |
| Split Tunneling | YES (iOS, Android) | YES (iOS, Android) |
| Dedicated/Static IPs | NO | NO |
| Ad-Blocker, Anti-Malware | YES (Chrome) | YES (Chrome) |
| Unlimited Server Switches | YES | YES |
| Unlimited Bandwidth | YES | YES |
| Unlimited Data | NO (500MB/month) | YES |
General Security & Privacy: TunnelBear protects you from DNS and IPv6 leaks. The former can be a critical privacy threat as it allows monitoring entities, such as your ISP, to see the websites you visit. That is, even when actively connected to a VPN.
VigilantBear: VigilantBear is TunnelBear's iteration of the kill switch feature. It disconnects your device from the Internet as soon as the VPN connection drops, preventing whoever is watching from accessing your information. Even a few seconds without protection can compromise your data, so VigilantBear is an essential feature.
GhostBear: GhostBear uses obfuscation to keep your Internet traffic less detectable by governments and ISPs. It keeps you hidden in plain sight, disguising your VPN use. As you can imagine, this can come in handy in countries with strict internet censorship, such as China. GhostBear is available on Windows, macOS, and Android.
Split Bear: Another alternative label for a VPN functionality, Split Bear is TunnelBear's split tunneling feature. It gives you control over what traffic moves through the VPN's encrypted tunnel and what apps or websites you prefer to leave unprotected. It is only available on TunnelBear's mobile apps.
TunnelBear Blocker: This tool helps you keep your browsing private by preventing online trackers from accessing your traffic. It is only a simple Chrome extension, but we found TunnelBear Blocker pretty effective at keeping pop-ups away.
Server Count & Infrastructure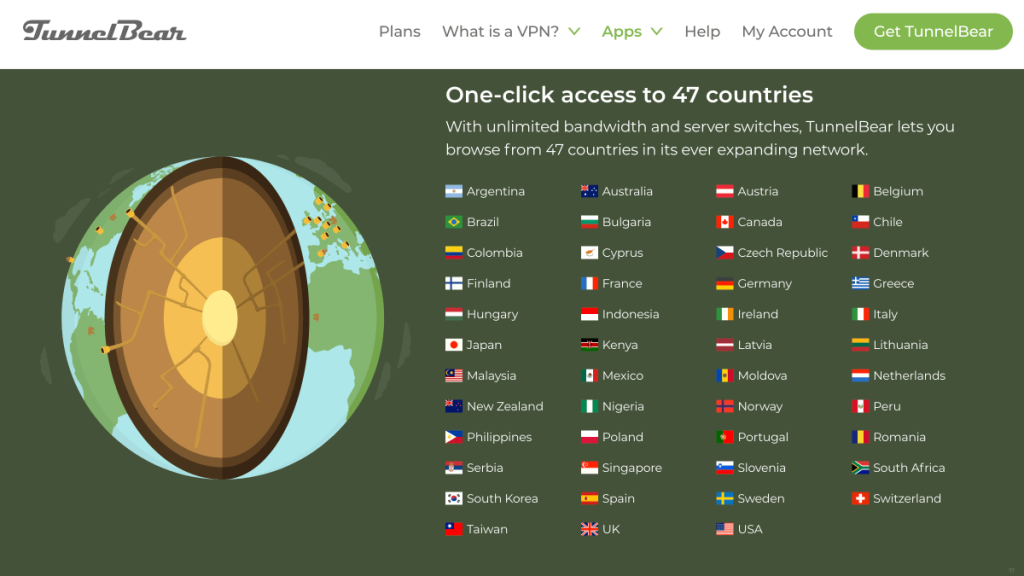 TunnelBear hides how many servers it has, and you can't even connect to specific locations. Still, it comes with servers in 45+ countries. Our Score: 5/10
Many VPNs are quick to point out that their server networks are huge. If you can't find this number on the VPN's website, this usually means that you can expect a rather small server network. That's the case with TunnelBear as well.
| | |
| --- | --- |
| Number of Servers | N/A |
| Number of Locations | 50+ |
| Number of Countries | 45+ |
| Specific Cities Selection | YES (some locations) |
| Unlimited Switching | YES |
We've tested plenty of VPNs so far, as we've been doing this for a while now. We have to say that TunnelBear is the first VPN that hides the number of its servers. Instead, you'll find information that 45+ countries are on offer.
This is true, as you'll be able to connect to servers in those countries, but that's pretty much it. You can't connect to specific locations (cities or regions) in most cases.
TunnelBear is also telling us that their server network isn't made of virtual servers. Instead, it comes with bare-metal servers, owned by this company. In other words, they're saying that they don't have too many servers – but that you shouldn't worry about the safety of your data as they control their entire infrastructure.
UI/UX Design & Ease of Use
TunnelBear is straightforward to use. However, it does feel barebones in some ways, as it doesn't give you too many options to tweak. Our Score: 7.5/10
In this segment of our TunnelBear review, we'll check how the VPN works on Windows, macOS, Android, and iOS. So, here's what you need to know...
TunnelBear on Windows
The home screen of TunnelBear leaves a positive first impression. The biggest portion consists of a large-sized map. You'll see comedic illustrations all over, along with a list of countries that allow you to connect to their servers.
Aside from relying on the map only, you can access the full list of servers. There's a prominent ON/OFF toggle that is set to 'Automatic' by default. This means that TunnelBear can connect you to the nearest server, which should provide the best possible speeds.
To dive a bit deeper into what this application offers, you can click on the "hamburger" button in the top-left corner. This is where you'll see a button that will take you to TunnelBear's settings. Let's see what can be found here.
General: If you would rather have your VPN launch as soon as your computer powers on, this is where you tweak the setting. There are also a couple of notification settings for connections, disruptions, and unsecured networks. You can also set TunnelBear to run in the background when you close the app.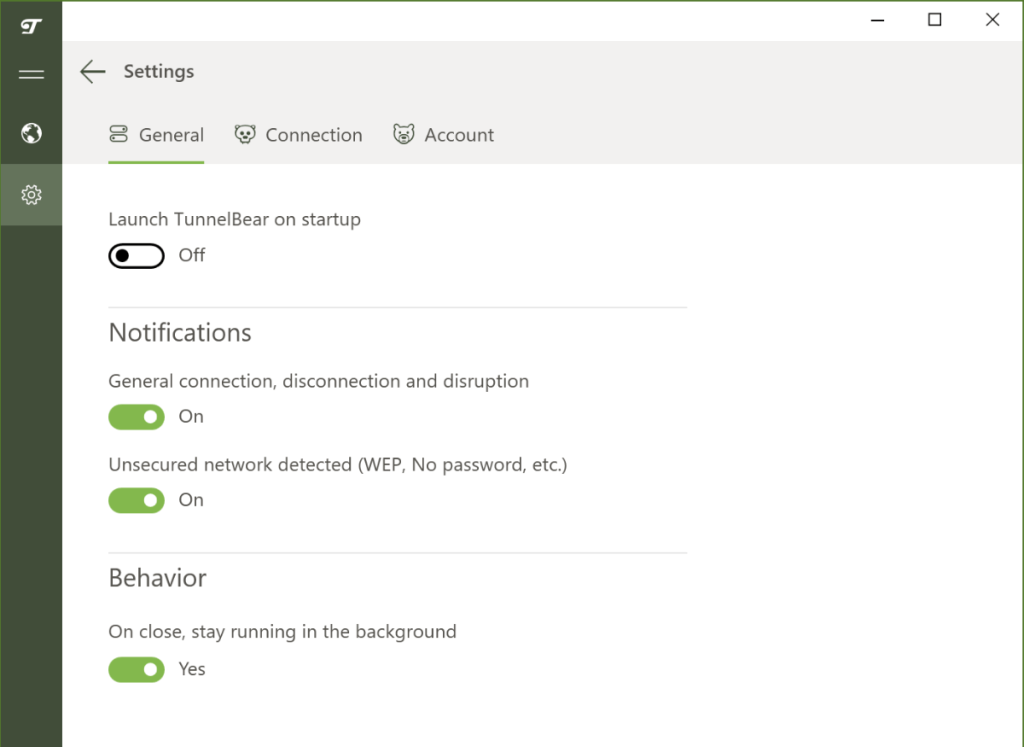 Connection: VigilantBear and GhostBear come disabled by default. Using this tab, you can enable them or turn them off again. It's also where you allow TCP override for more stable connections and switch between VPN protocols. By default, the protocol is set to "Auto," which lets TunnelBear decide what option to use, depending on the network condition.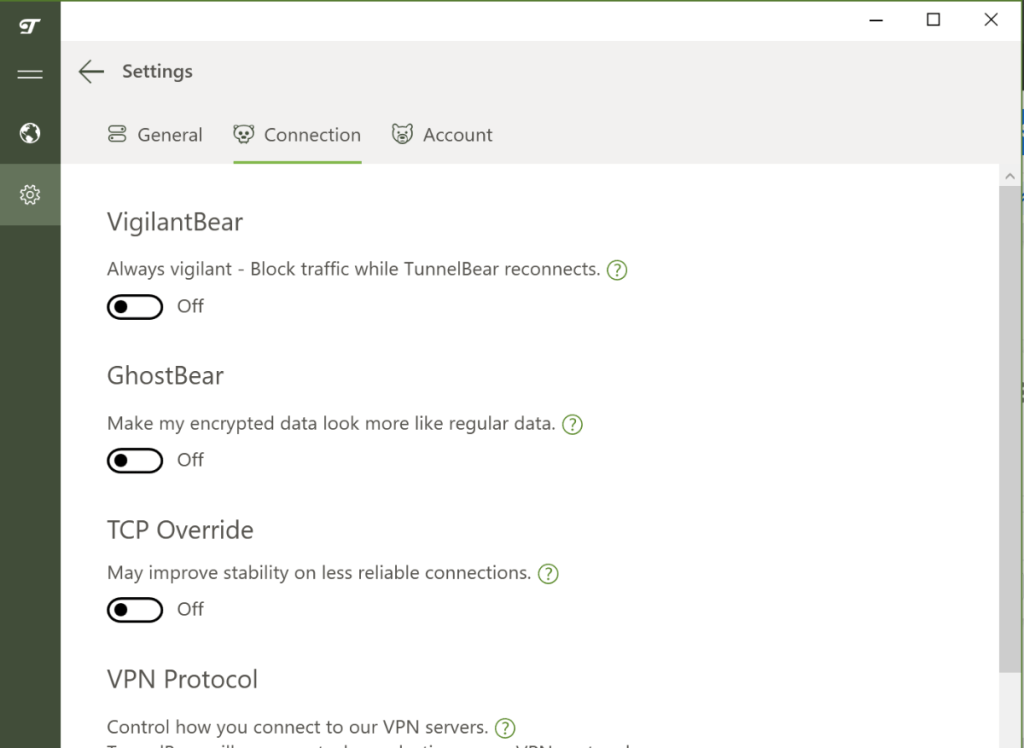 Account: The final tab comes with access to account management settings. However, that's only available on TunnelBear's site, so when you click the button, it redirects you there. If you're on the limited free version, a similar button pushes you to the sales page on the website. Also, you can log out of your account.
TunnelBear on macOS
TunnelBear's Mac client shares a similar user interface with the Windows app. At launch, you get the same home screen featuring a large map and placeholders for server locations. 
Near the top of the screen sits the toggle switch. An arrow beside it drops down to show a list of countries. Like on Windows, you can connect to a server using either of these options.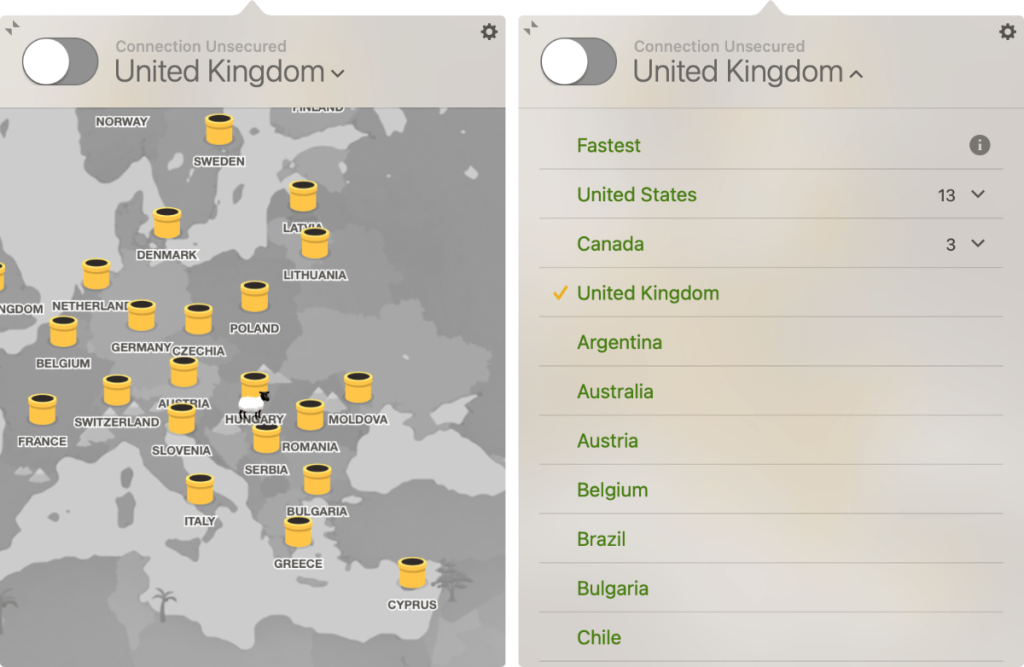 The difference between the platforms shows up when you enter the settings pages. The Windows app got a recent do-over. Before then, it also had four tabs: General, Security, Trusted Networks, and Account. 
General: You can set the TunnelBear icon to display on your Mac's Dock. That aside, you get the same launch and notification settings as on Windows.
Security: This is where you can enable or disable VigilantBear and GhostBear.

Trusted Networks: If you regularly connect to different Wi-Fi networks, you likely trust some more than others. You can add those networks to a list in this tab. Any time you connect to one not on the list, TunnelBear will automatically become active.
Account: This tab has a link to your account page on the TunnelBear site. There's also one for account upgrades for free users.
TunnelBear on Android and iOS
TunnelBear has a native app for mobile devices available for download on the Google Play and iOS stores. Expectedly, the clients share TunnelBear's simple, polished user interface. There's also the large connection map we have become used to.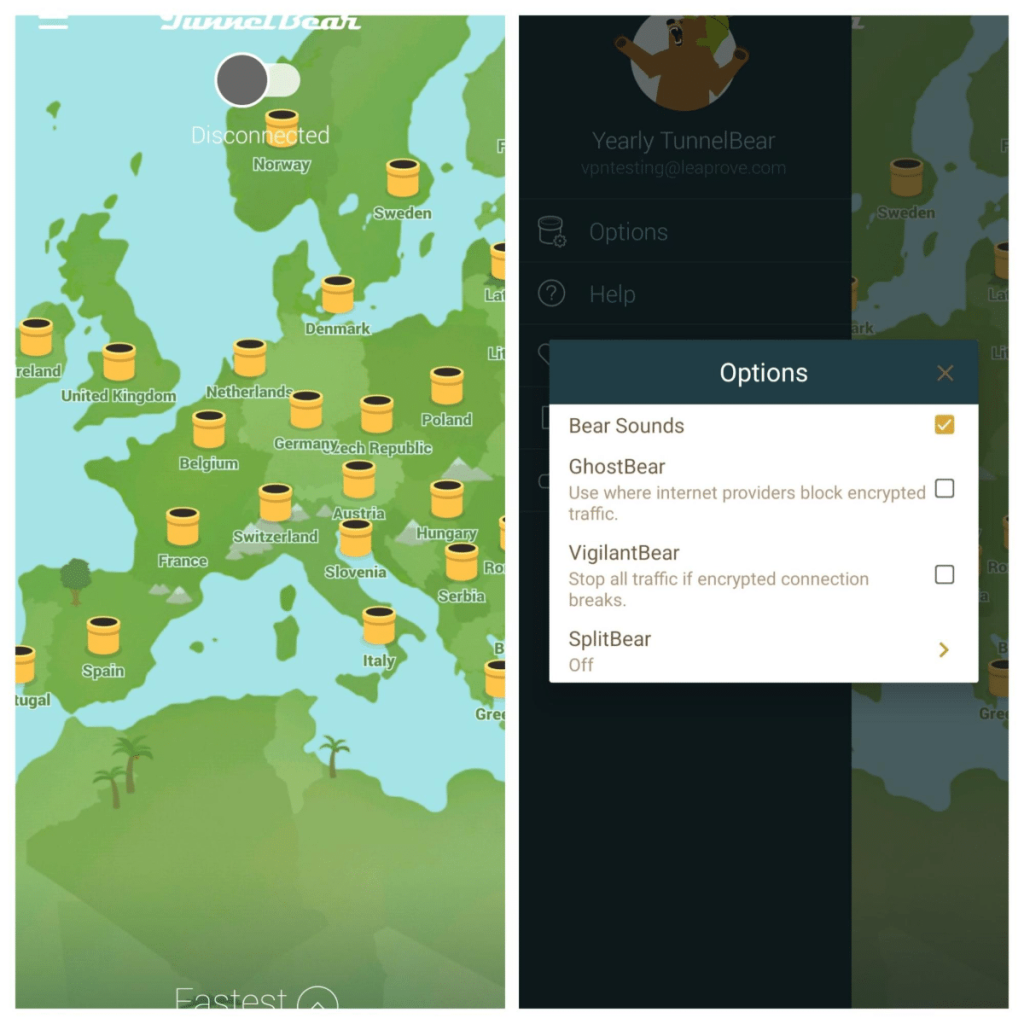 We think the desktop apps are light on configuration, but the mobile apps take that a few steps further. On Android, the options are limited to enabling or disabling GhostBear, VigilantBear, and SplitBear. You can also turn the theme bear sounds ON or OFF.
Media Streaming, Torrenting & Gaming Support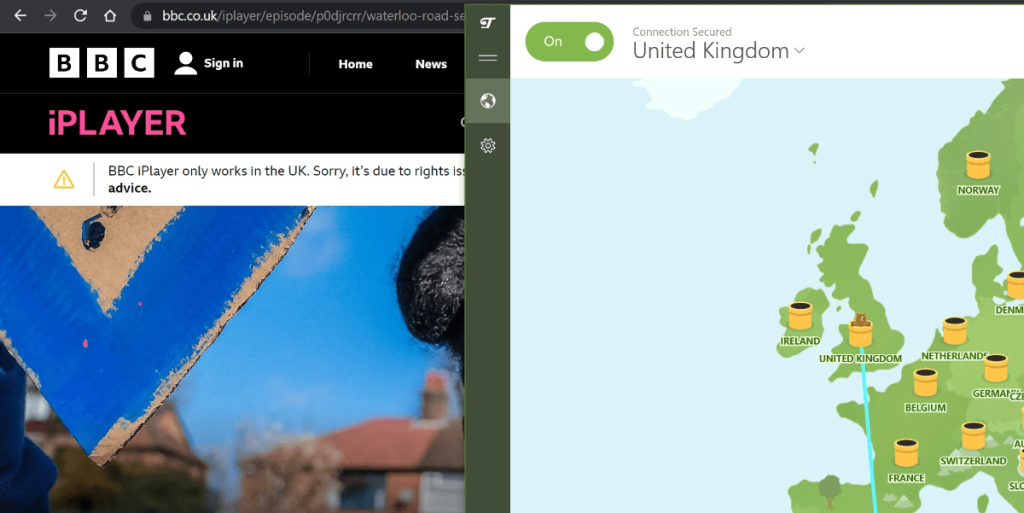 TunnelBear can't unblock any of the currently popular media streaming websites, but it does unblock a few niche ones. In addition, it doesn't allow torrenting either. Our Score: 2/10
We've tested TunnelBear with a range of popular media streaming services. To check this VPN's capabilities, take a look at the following table.
| | | |
| --- | --- | --- |
| | TunnelBear FREE | TunnelBear PREMIUM |
| Netflix US | NO | NO |
| Hulu | NO | NO |
| Disney Plus | NO | NO |
| Discovery Plus | NO | NO |
| BBC iPlayer | NO | NO |
| Amazon Prime Video | NO | NO |
| ITVX | YES | YES |
| Pluto TV | YES | YES |
Streaming: The VPN was unable to unblock Netflix US or the streamer's libraries in other countries. We also tried and found that TunnelBear could not establish reliable connections to Amazon Prime Video and BBC iPlayer to stream media content. However, sites like Pluto TV and ITVX did work. 
Torrenting: TunnelBear offers torrenting-friendly features like AES encryption, a rock-solid privacy policy, a kill switch, and split tunneling. However, its home country (Canada) is known for being tough on torrenting and has tight laws in that regard. There is no mention of torrenting or P2P-sharing on TunnelBear's website - a strong enough sign that it does not promote or encourage the activity. 
Gaming: Latency is the biggest concern for gamers who use VPN services, along with security and privacy. While TunnelBear can handle the latter, connection speeds are hardly blazing-fast. So, we can't recommend this VPN for gaming.
Security & Privacy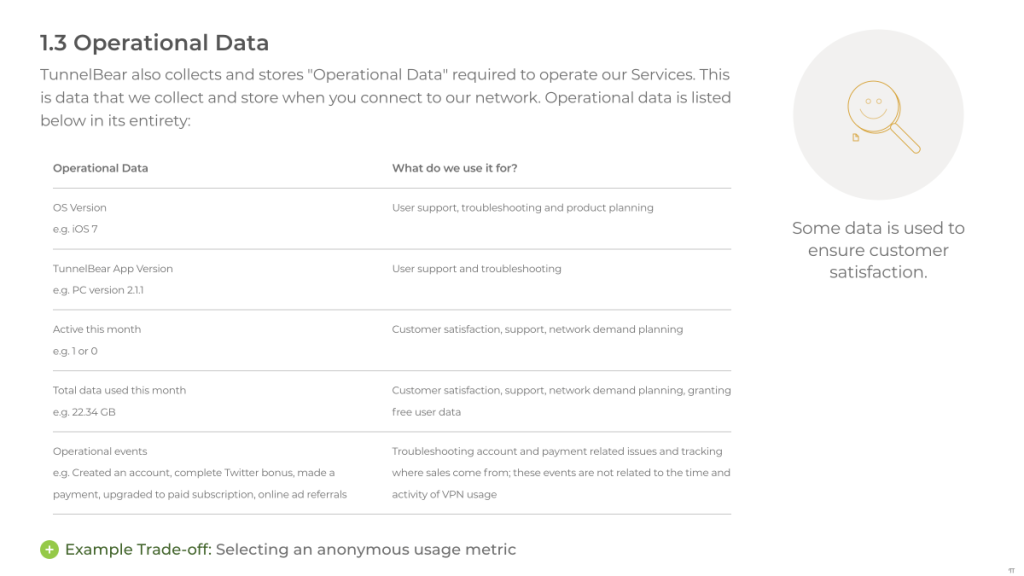 TunnelBear uses the most secure VPN protocols and the best possible encryption. In addition, it truly doesn't store any of your personal data. Our Score: 10/10
Having seen that TunnelBear isn't recommended for media streaming, we can only hope that it's designed for total online anonymity. This is why we'll check its encryption protocols, logging policy, and more.
Supported Encryption Protocols
| | | | |
| --- | --- | --- | --- |
| | OpenVPN | IKEv2 | WireGuard |
| Windows | YES | YES | YES |
| macOS | NO | YES | NO |
| Android | NO | YES | NO |
| iOS | YES | YES | YES |
Depending on your platform of choice, TunnelBear offers a combination of different encryption levels and VPN protocols. On Windows, you get to use OpenVPN/IKEv2 along with AES-256-CBC encryption. On macOS, you'll use OpenVPN with AES-256-GCM.
Then, we also have mobile devices. On Android smartphones, TunnelBear uses OpenVPN along with AES-256-CBC. And there are also iOS users who will get to use IPSec/IKEv2 coupled with AES-256-GCM.
The protocols mentioned above are enabled by default. However, you can also change them manually, as the table displayed above shows. For example, TunnelBear's Windows app lets you pick from OpenVPN, IKEv2, and WireGuard.
Logging Policy
As stated above, TunnelBear claims not to collect any data. Of course, this applies to data that could identify what you do online. These claims were verified through an independent audit, concluding that TunnerBear respects the privacy of its users. However, it's important to be highlighted that some information is being collected, nonetheless.
| | |
| --- | --- |
| No-Logs Policy | YES  |
| Data Logged | Account Data (email, etc.), operational data (OS version, total data used, etc.), credit card transactions. |
| Independent Audit | YES  |
When it comes to the logged types of data, this includes "operational data." We're talking about your OS version, TunnelBear app version, total bandwidth, and similar.
We believe that it's safe to say that TunnelBear is truly a no-logs VPN – which means that it deserves your trust, at least for the moment.
DNS Leak Test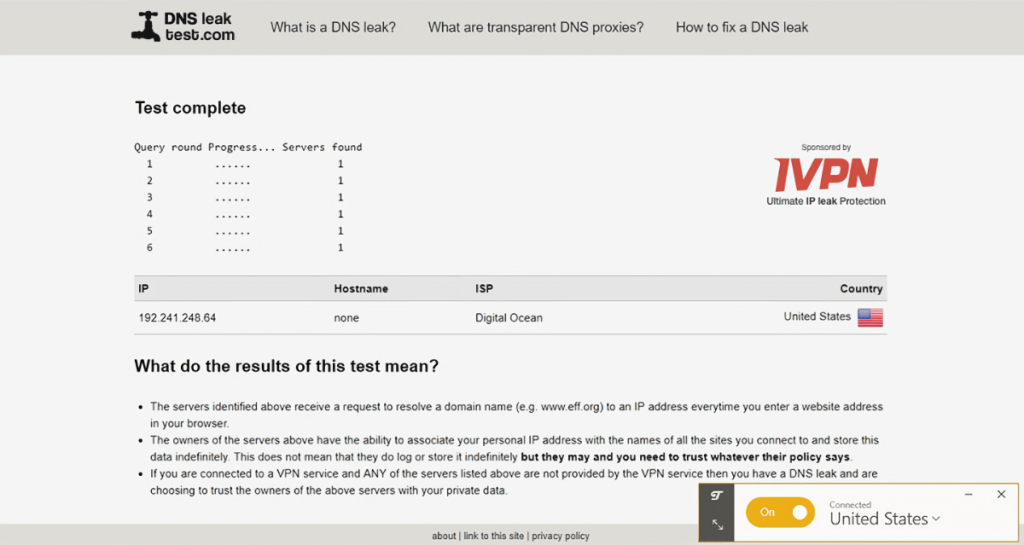 As evident from the screenshot above, this VPN doesn't reveal your data to third parties. Once you connect to a secure server, you'll get a virtual IP address, and hostname, and you'll appear as if you're in a different country. This means that third parties will only see your virtual (fake) information, instead of knowing who you really are.
Speed & Performance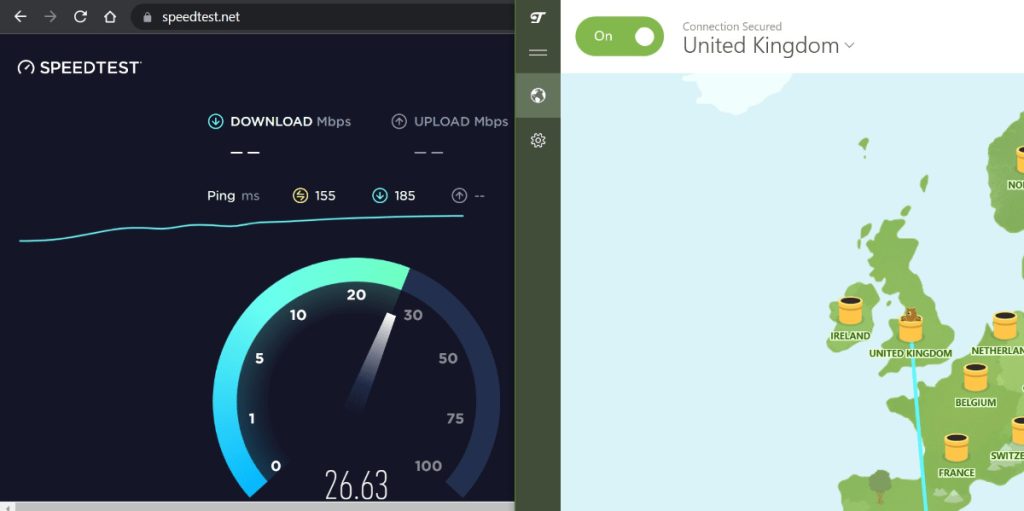 TunnelBear provides acceptable performance overall. We have tested many that were faster, but also many that were slower. Our Score: 6/10
TunnelBear places a 500 MB data cap on its free version, with no limits on bandwidth. Unlike most other providers with free options, it guarantees the same speeds whether or not you pay for a subscription. So, let's check those claims.
TunnelBear Speed Test
First, we checked our connection speed while not using the VPN to establish a baseline. Then, we connected to nearby servers and others further away.

With the VPN disabled, the speed test results returned 68.93 Mbps for downloads and 16.99 Mbps for uploads. We used this as the basis of comparison with the speed test results you will see next.
Local Speed Tests
Italy: The Italy-based server gave a download speed of 55.01 Mbps and an upload speed of 16.50 Mbps. As expected, there was a drop in the download speed, but it was not enough to significantly affect the performance of our internet connection.

United Kingdom: Next, we switched to a TunnelBear server in the United Kingdom, a little further away from our location. We got 47.66 Mbps for downloads and 21.72 Mbps for uploads. As you can see, the former continued its steady decline compared to what we saw above. Surprisingly, the upload speed actually increased by more than 21%.
Long Distance Speed Tests

United States: A US-based server came next, giving us 43.39 Mbps and 18.29 Mbps download and upload speeds, respectively. The US is at a considerable distance from where we are, so we expected an even steeper drop.

Canada: Next, we connected to another popular location, a remote TunnelBear server in Canada. TunnelBear's performance suffered more, dropping to 38.12 Mbps and only 5.68 Mbps for downloads and uploads.

Malaysia: Malaysia is even farther away from our location than the US and Canada, so we checked to see how well TunnelBear would handle that distance. This time, the download speed plunged by over 66% to 22.97 Mbps. The upload speed came in at 3.62 Mbps.
Australia: We had already put a lot of strain on the VPN, but we had to test for speed in one final server location, Australia. It is the farthest TunnelBear server compared to where we are, so we were not surprised with the result - 15.31 Mbps for downloads and 3.94 Mbps for uploads.
So, How Well Does TunnelBear Perform?
We've provided the raw statistics and will now lay them all out so that the strength of TunnelBear's performance is more evident. Check out the following table.
| | | | |
| --- | --- | --- | --- |
| | Download Speed | Upload Speed | Speed Reduction |
| Baseline Speed | 68.93 Mbps | 16.99 Mbps | 0% |
| Italy | 55.09 Mbps | 16.50 Mbps | 20% |
| United Kingdom | 47.66 Mbps | 21.72 Mbps | 30.9% |
| USA | 43.39 Mbps | 18.29 Mbps | 37% |
| Canada | 38.12 Mbps | 5.68 Mbps | 44.6% |
| Malaysia | 22.97 Mbps | 3.62 Mbps | 66.7% |
| Australia | 15.31 Mbps | 3.94 Mbps | 77.7% |
From the chart, we can see a linear downswing in the speed reduction the further away from us we went. While the performance only dropped 20% when we connected to a nearby server in Italy, it sank by a staggering 77.7% when we latched onto the Australian server.
Overall, TunnelBear slowed us down by 46% on average. The speed test puts TunnelBear in the mid-range region for VPNs we have tested. It is not nearly as fast as ExpressVPN or NordVPN but performs better than many others.
Customer Support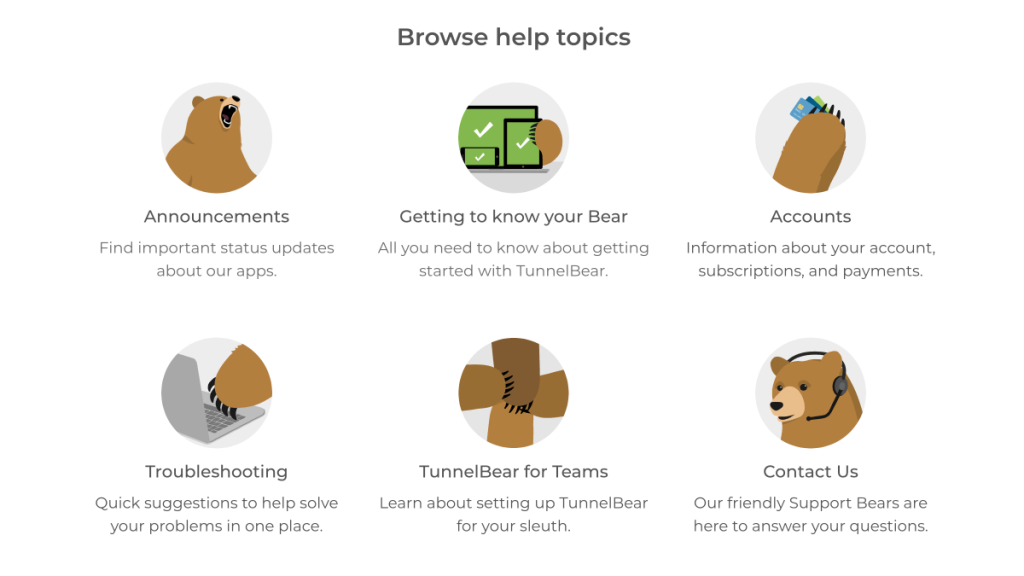 Sadly, live chat isn't available. However, you can count on a nice set of self-help resources, and you can always open a support ticket. Our Score: 7/10
In case you ever need help with this VPN, here are all the ways that TunnelBear will be able to assist you:
Installation Guides & FAQ: There are nicely explained guides for different platforms, along with a comprehensive set of frequently asked questions. These are written in a user-friendly way, without any complicated technical terms. Therefore, you can use these to resolve some problems or simply get to know this software a bit better.
Troubleshooting: This section contains a series of questions and answers. Different types of issues are explained, nicely categorized, and easily accessible.
Support Tickets: Finally, you can send an official support inquiry via a contact form on the official website. Explain the problem you're having, upload a screenshot if necessary and type in an email address that'll be used to receive a reply. It can take up to 48 hours to hear from this company's support team.
As you can see, live chat is missing here. This means there's no way to talk to a real person in real time, and have your issue resolved in a quick way. We would have really liked to see this option, as it would dramatically improve this company's treatment of its subscribers.
Pricing
TunnelBear's cheapest plan is slightly more expensive than the industry average. We are unimpressed with its lack of a money-back guarantee, but you can consider the free version something of a trial plan. Our Score: 5/10
In this segment of our TunnelBear VPN review, we'll explain how much the VPN costs and whether it's worth the money. So, first, check out the following table:
TunnelBear standard monthly price is $9.99. We have to say that its similarly-priced competitors offer plenty more for the same price. However, with the 2-year plan, you get to save the most. It costs $4.17 per month - or $99.99 over 24 months. In comparison to the VPN's standard (monthly) price, you'll save 58%. 
When you pick a subscription plan that suits you, you can move on to pay with your credit card. No other payment methods are on offer, which means there's no way to pay anonymously, which would be a huge benefit.
Also, keep in mind that TunnelBear does not offer a money-back guarantee, unlike many other VPN providers. However, if you are unsatisfied with the service, you can apply for a refund. The service considers refund requests on a case-by-case basis.
Final Thoughts - Do We Recommend TunnelBear VPN?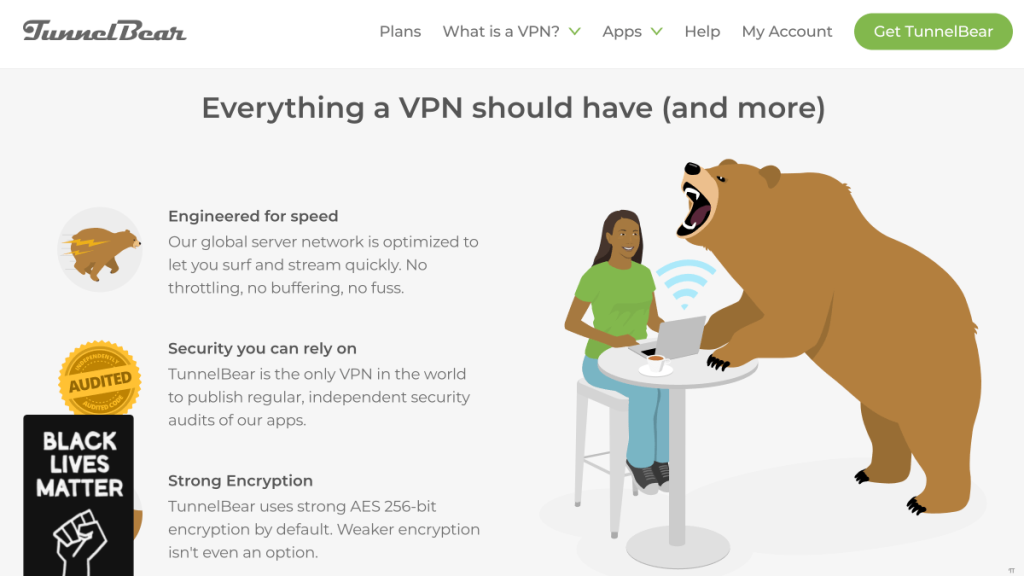 TunnelBear is a solid VPN service. Regarding the aspect that matters the most, security and privacy, it's on par with its competitors, providing bank-level encryption, a strict no-logs policy, secure protocols, security audits, and more. What's more, TunnelBear comes with a free service whose only restriction is its monthly data offer.
That said, there's still a lot of work to do to catch up to the top services. For one, speed and performance can be much better. Also, the best-ranking VPNs have much larger server networks than TunnelBear currently offers. And even though it unblocks a few services, it fails to unblock content on platforms like Netflix, Amazon Prime Video, and BBC iPlayer.
All things considered, we recommend TunnelBear if you don't need a VPN for heavy or specialized use. If you don't need to stream and game at high speeds or torrent, then you can check it out.
| | |
| --- | --- |
| PROS | CONS |
| Military-grade encryption | Mediocre connection speeds |
| Excellent security and privacy features | Small server network |
| User-friendly interface | Not great for streaming or torrenting |
| Solid free plan | Live Chat unavailable |
| Easy to install and set up | No money-back guarantee |
FAQ
What Is TunnelBear?
TunnelBear is a freemium VPN service based in Toronto, Canada. It launched in 2011 and was acquired by McAfee in 2019.
Is TunnelBear Safe?
Yes, TunnelBear is a safe VPN. It has many security and privacy features to keep your information secure, such as solid encryption and a zero-logging policy.
Is TunnelBear a Good VPN?
Yes, TunnelBear is a good VPN overall. It's excellent for beginners, has strong security features, and can unblock some streaming services.
Is TunnelBear Good for Torrenting?
No, TunnelBear is not good for torrenting. We don't recommend it for P2P because of its jurisdiction (Canada). In addition, it does not have fast speeds, which is crucial when downloading large files.
Is TunnelBear Free?
Yes, TunnelBear has a free plan. This plan is limited to 500 MB per month.
How to Use TunnelBear?
To use TunnelBear, download the app from its website to your device. Create an account and log in. Connect to a VPN server, and you're ready.