Amazon Prime Video is one of the most popular streaming services out there, with millions of subscribers. We thought it was high time to take a closer look at the service and wrote up our Amazon Prime Video review, which you're more than welcomed to read.
Amazon Prime Video has been around since 2006, although it had a different name back then. Over the years, the business model of the platform changed some, much like the type of content that was being offered did.
Before we dive into the deep end and start analyzing everything, we thought we'd look at a few of Amazon Prime Video's stats.
Overview
| | |
| --- | --- |
| Product Name | Amazon Prime Video |
| Supported Platforms | Amazon Fire TV and Fire Stick, Smart TVs, Blu-Ray Players, Game consoles, Fire tablet, iPhone, iPad, Android phone or tablet, Roku |
| Availability | Amazon Prime Video is available across the world, except mainland China, Cuba, Iran, North Korea, and Syria. |
| Unique Features | Access to original Amazon Prime Video shows, premium channels, allows users to rent or buy titles that aren't included in the subscription, parental controls |
| Price | 30 days free trial, $12.99/month or $119/year |
| Visit | Amazon Prime Video |
Now let's see the pros and cons we see in this platform, as well as what score it got from us.
| | |
| --- | --- |
| Pros | Intuitive UI; Vast selection of shows and movies, original content, parental controls, allows users to buy or rent titles that aren't included with the subscription |
| Cons | Not a standalone service, busy UI |
| Verdict | Worth a try, especially given all the extra features you enjoy with Prime. |
| Score | 8.71/10 |
Amazon Prime Video Review - Find Out All the Details
First of all, the interesting part about Amazon Prime Video is that it's not a standalone service, which sets it apart from other similar tools. That's because you need to be an Amazon Prime subscriber to get access to Video. Of course, not only that, since as a Prime subscriber you get access to Prime Music, Prime Reading, Twitch Prime, various Prime Rewards, and Prime Delivery, which is the two-day shipping service from Amazon for millions of various items. You can also get access to audible channels, early access to lightning deals and Amazon Photos, which includes unlimited photo storage for you and five others.
Overall, there are quite a few awesome things you get as a Prime customer, but what we're more concerned about is the video streaming service.
Platform Compatibility

Amazon does not mess around and makes sure your services are compatible with all your devices. Our Score: 10/10
Amazon Prime Video works on pretty much any platform under the sun. If you have it, it probably works on it. Let's go over them all.
Google: Android phones and tablets, Android TV
Apple: iOS iPad, iPhone, iPod touch, Apple TV
Amazon: Fire TV, Fire TV Stick, Echo Show, Fire Phone, Fire Tablets
Game consoles: PS3, PS4, Xbox 360, Xbox One, Nintendo Wii
TVs & Blu-Ray Players: Sony (HD, 4K Ultra HD, and Android TV models), Samsung, Panasonic, LG, Vizio, Hisense, Philips
Media Players: Nvidia Shield, Roku, TiVo
Signing Up to Amazon Prime Video

Amazon Prime Video is not a standalone service. Our Score: 8/10
In order to get access to Amazon Prime Video, you need to be a Prime customer, which includes loads of benefits. The thing is that it would have been nice to be able to sign up for this service separately, as well as to any other service. Sure, we get the logic behind the business model - you want to attract people to sign up for Prime and offer them loads of perks, but that doesn't mean we wouldn't have liked to be able to sign up for the service individually.
In order to get Amazon Prime you have to set up an Amazon account with your email address and a password, and then to provide a debit or credit card. Once Prime is active, you can go to Prime Video and then sign up. You need to make sure your billing address is in an area where the service is available.
User Interface
Amazon Prime Video has a pretty busy interface, so it takes a while to figure out where to go without reviewing all items in the menu each time. Our Score: 7/10
Amazon's interface kicks off with a ribbon full of shopping suggestions. It then continues with a search bar and another ad. Then, you get another ribbon which will take you to various Amazon departments, your browsing history, deals, your account, gift cards, and so on. Only then you get to the Prime Video links you actually care about.
From there, you can check out original content from Amazon, TV shows, movies, and kids' content. You can also check out your watch list, video library, settings and so on. It then allows you to filter the content by checking out what's included with Prime, and what you can rent or buy.
You may also check out the various content provided by channels; for some, you'll have to pay a monthly subscription, for others you'll be able to watch for free. Access to HBO via Amazon, for instance, costs $14.99 per month, CBS All Access costs $5.99, while access to Showtime costs $10.99 per month. Boomerang content also costs $5.99 per month, while STARZ costs $8.99 per month. Access to Pantaya, however, is included with Prime, You can also watch other channels such as Sports Illustrated TV, Cheddar, Shudder, Stingray Karaoke, Comedy Central Stand-Up, Gaia, Curiosity Stream, Acorn TV, or Fandor, to name just a few.
Available Content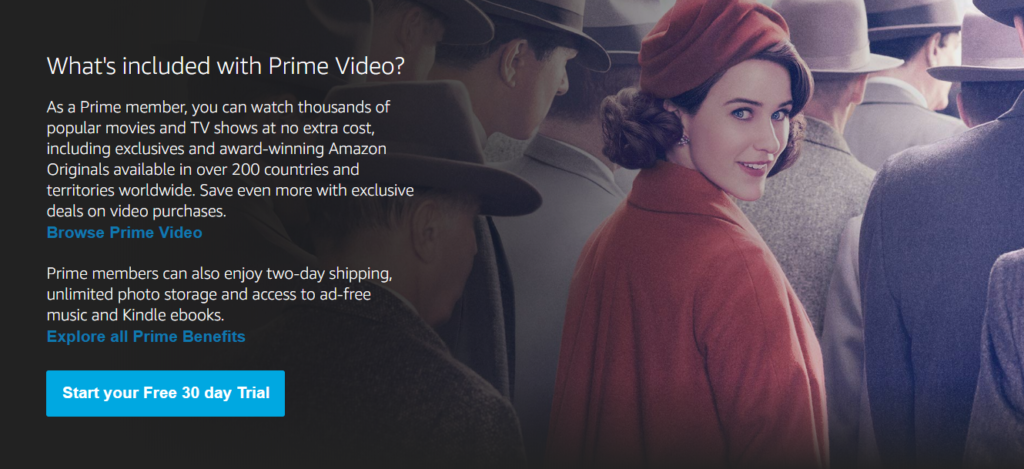 If it isn't on prime, you can still get it, for a price. Our Score: 9/10
The really cool part about Amazon Prime Video is that if they're missing any of the videos you want to watch, you can still probably get it by buying or renting it. For instance, Tom Clancy's Jack Ryan is free with Prime, but you'll have to buy Game of Thrones if you don't have an active HBO subscription active. And it's not cheap either with $3.99 per episode, or $38.99 per season. S.W.A.T., however, is cheaper, with $2.99 per episode, $29.99 per season, or free with CBS All Access subscription.
Some of the really cool popular movies that are included with Prime are Baywatch, Braven, Twilight, Jack Reacher, Star Trek Beyond, or Nun. You can rent or buy, however, loads of other movies, including Avengers Infinity War ($19.99), or Ocean's 8 ($9.99 to buy, $5.99 to rent).
There is also loads of original content to be seen here, such as Emmy Winner The Marvelous Mrs. Maisel, The Lost City of Z, Dressmaker, or Bosch, to name a very few.
Performance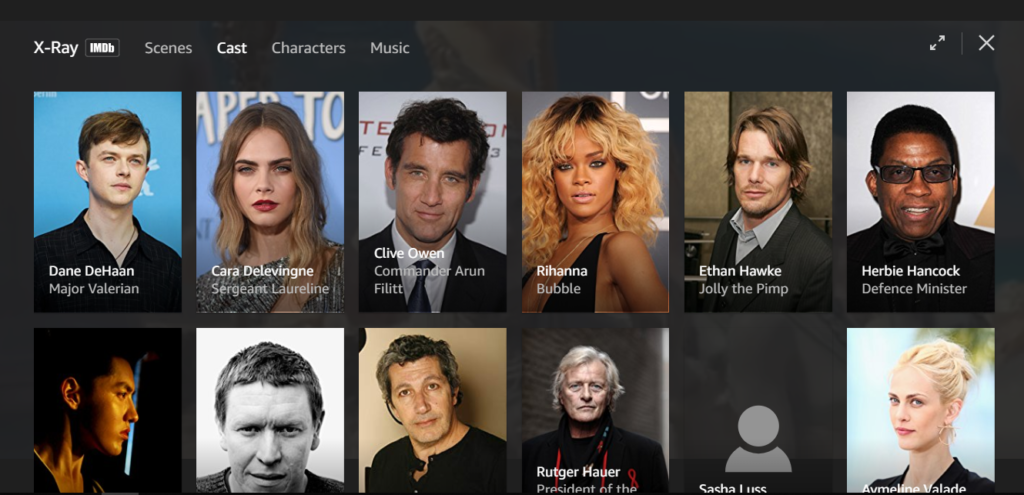 We've had some great experiences with Amazon Prime Video. Our Score: 10/10
When you tap on content to watch, you can choose what video quality you want to watch since each of them will need certain bandwidth, and if you're on a mobile device with an Internet cap, you might want to take this into consideration. You can also do an "X-ray" of the video and get into on various characters in the movie, for instance, which is extra cool.
Amazon Prime provides content in various quality settings - SD, HD, Ultra HD, and High Dynamic Range. In short, if you have a good enough device, you can watch in 4K. There's a whole page you can check out to see if your device supports certain video quality settings. In general, you'll need about 3Mbps and up for steady streaming.
Another cool part that we need to mention here is the fact that parents can get some control over what their kids can watch, including to block access to purchases with the help of a pin number.
Customer Support

Find out everything you need online, or contact Amazon. Our Score: 8/10
Before you even go to call up Amazon, it's obviously best to check the Help Section. Here is where the confusion starts. There are so many categories and so many things you can check out in the Help section that it can get confusing. Since it's not just Prime Video, but also Prime Music, account issues, and so on, it's all a bit of a blurr. Thankfully, they'll all categorized to make things easier, but there's still a lot of data there. As mentioned, however, you can also contact Amazon about the orders you placed, devices, digital content and services, Prime, or any other issues via an online form.
Pricing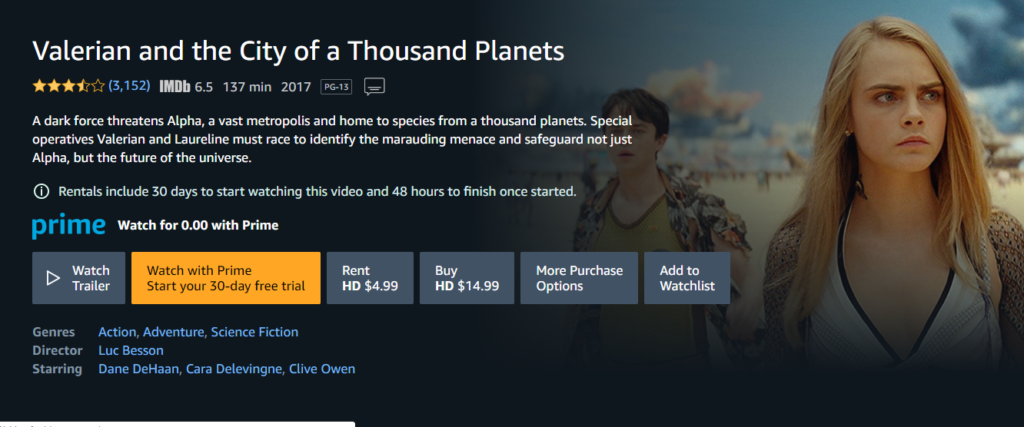 You can't get Prime Video alone, but it's integrated into Amazon Prime. Our Score: 9/10
To be perfectly honest, the price for Amazon Prime is quite acceptable at $12.99 per month and $119 per year, especially since you get access to so much content - movies, TV shows, music, books, other perks, etc. What made us not give it a full score here is the fact that you can't simply get Amazon Prime Video, without the rest of the stuff. Also, unlike other similar services, the free trial lasts for a month on Amazon, so you can enjoy all the perks during this time.
The Verdict
Frankly, we loved this experience. Sure, there were some bumps in the road like the extra busy interface or the fact that you can't just get Amazon Prime Video without bothering with the rest, but overall it was a great experience.
The video X-ray feature is something we haven't encountered before and it was a nice touch for those who are always on their phones googling for whatever actor they just saw and can't remember the name of, or for those who really want to listen again to that cool track they played at one point during the movie.
The fact that you can add premium channels like HBO, Showtime, STARZ, and so on is also a great feature.
Pros: Great content library, loads of original content, awesome device support, premium channels, video X-Ray, parental controls.
Cons: Busy interface, not a standalone service.
Our Score: 8.71/10.
Final Thoughts
We hope that you'll give this service a go, especially since there are so many perks that come with it. Give it a go for a month and see if you fall in love with it by the end of the free trial, which we're sure you will.
Let us know if you have any questions in the comments section below, and please share the article online so others can find it too. Join TechNadu over on social media on Facebook and Twitter.