HBO is by far one of the most popular premium TV channels in the world, with some 134 million subscribers a couple of years ago. Since it's starting to become increasingly popular, we thought it's time to give HBO Now a review.
To kick things off, we should mention that HBO has had the HBO Go service since 2010. HBO Go is an online platform dedicated to the channel's subscribers, which means it requires users to log in with the credentials given to them by the cable provider. Now, HBO Now, which was launched in 2015 features the exact same content, but benefits from one cool thing – you don't need to have a cable subscription to enjoy the service. In February 2018, it was reported that there were some 5 million subscribers of HBO Now in the US alone.
So, let's see a few of HBO Now's stats and details before we go any further.
Overview
| | |
| --- | --- |
| Product Name | HBO Now |
| Supported Platforms | Smart TVs, Gaming consoles, Android, iOS, Fire tablets, browsers |
| Availability | HBO Now is only available in the United States |
| Unique Features | Access to original HBO shows, box office hit movies, documentaries, sports, and cartoons. |
| Price | $14.99 per month after a free trial period |
| Visit | HBO Now |
Before we delve into everything, here's what we thought of the platform – the good and the bad.
| | |
| --- | --- |
| Pros | Intuitive UI; Vast selection of shows and movies, original content |
| Cons | Access restricted outside the United States |
| Verdict | If you're an HBO fan and want to make sure you access all content, getting a Now account makes sense |
| Score | 9/10 |
HBO Now Review – Find Out All You Need to Know
In the past three years, HBO Now has grown quite a bit. It's nowhere near the size of HBO Go since the site is limited to the United States, but it has still managed to get a lot of followers. Add in the subscribers of services like Sling TV or DirecTV Now and you get a much larger following. With shows like Game of Thrones and Westworld becoming easy to binge via HBO Now, it's really no surprise. HBO has and always will be a great content producer.
That being said, we should probably mention that the geo-blockade shouldn't deter you because HBO Now works just fine with an active VPN set to the USA. We tested out several, including ExpressVPN, and they worked without a hitch.
Platform Compatibility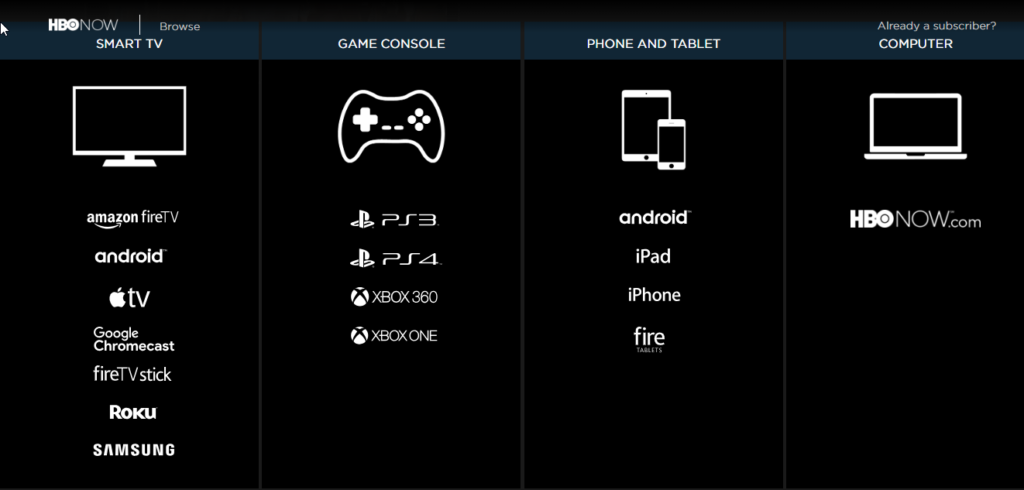 HBO Now doesn't hold back with the device support and allows users to watch content on a lot of different devices. Our Score: 10/10
HBO Now makes sure that it allows users to watch content on many of their devices. In short, chances are pretty low that you won't find at least one device in there that you own. At the very least, you can watch the content on your laptop.
Google: Android, Android TV, Chromecast
Apple: iOS, Apple TV
Amazon: Amazon Fire TV, FireTV stick, Fire tablets
Gaming consoles: PS3, PS4, Xbox 360, Xbox One,
Other devices: Roku, Samsung Smart TVs, Web
Signing Up to HBO Now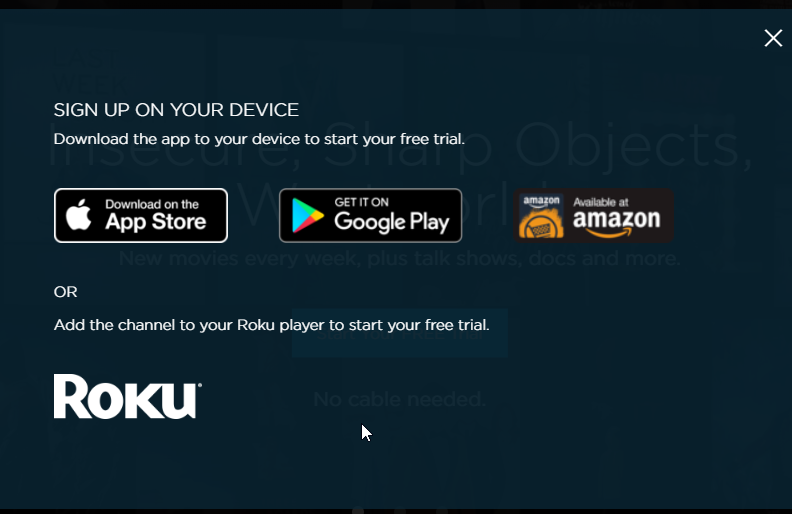 Signing up only takes a few minutes, but it's slightly more complicated than with other similar platforms. Our Score: 8/10
In order to sign up for an account, you only need to take a few steps. There are multiple ways you go about this, in fact.
So, you can go to the Amazon AppStore, Apple iTunes, Google Play, Roku, or Samsung TV, open the HBO Now app and go through the subscription process directly through there.
You can also subscribe with the help of your Internet provider – Consolidated Communications, Frontier, Google Fiber, Liberty, North State, Optimum, Service Electric, or Verizon. The other way to get your subscription is via Amazon Prime Video Channels, Hulu, or PlayStation Vue. You need to set up an account, provide your card details and then you're done. You'll only get billed once the trial period is over.
On the other hand, you can't sign up for the service straight from the site, which is an inconvenience for many users.
User Interface
HBO Now is easy to use on all devices and follows a simple UI design we've seen in numerous similar platforms. Our Score: 10/10
In the top ribbon, you'll find easy access to the main areas of the platform – Series, Movies, Kids, and More. The More section hides access to Comedy, Sports, Documentaries, and Collections.
Overall, the site is very easy to navigate and you don't need to be a computer wiz to figure it all out. When you watch content you can jump from one area to the next quite easily, as well as to other episodes if it's a series. To be fair, at this point, if you've used one streaming platform, you've used them all.
Available Content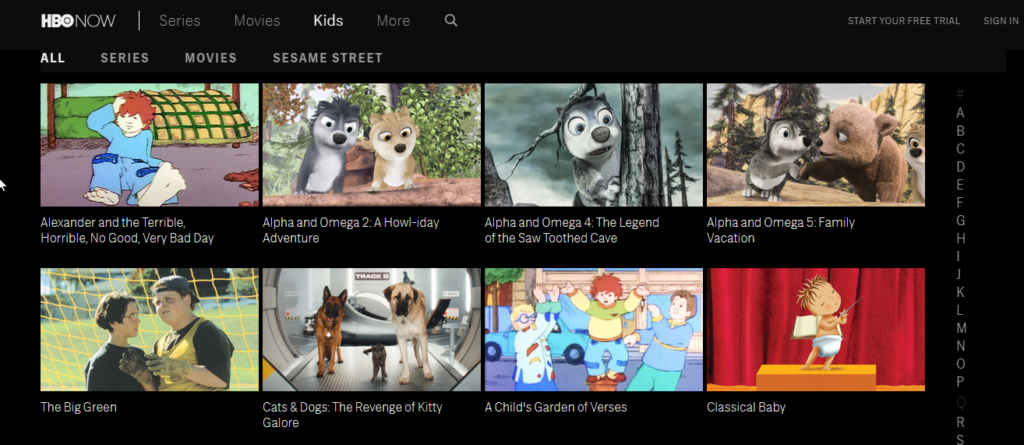 Original shows, movies, documentaries, and cartoons – all in one place. Our Score: 10/10
HBO Now is full of great content, much like HBO Go is. Loads of cool series are available here, like Ballers, Big Little Lies, Big Love, Boardwalk Empire, Deadwood, Game of Thrones, Gunpowder, or The Newsroom, to name just a very few. The movies section includes films like Pitch Perfect 3, The Shape of Water, or The Greatest Showman and IT.
Obviously, there's a lot of quality content you can watch, but HBO has already built a reputation for that.
Performance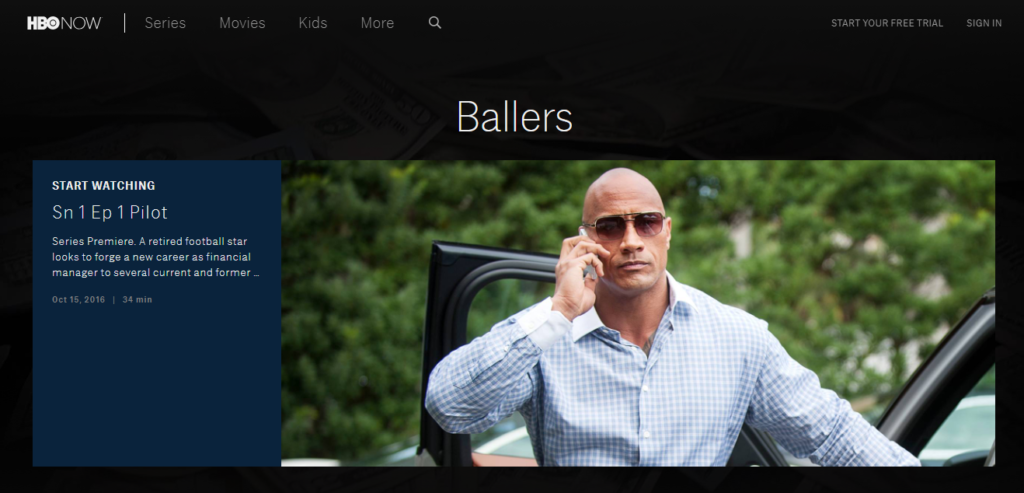 As long as you have a good Internet connection, you're good to go. Our Score: 9/10
HBO isn't specific on what Internet speeds work best with their platform, only mentioning a "high-speed Internet connection," but it's pretty common for such services to require 5Mbps for HD content.
Since that wasn't a problem for us, the content streamed seamlessly, and we didn't see any buffering time. The site overall works fine and it loads fast.
Customer Support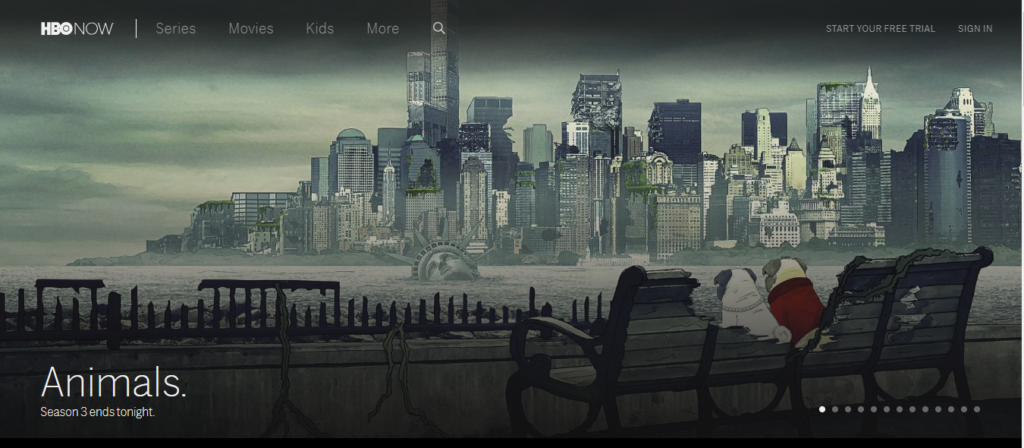 The Help section is pretty thorough in covering everything you may be interested in. Our Score: 9/10
If you have any issues on HBO Now, you should start with the Help section which has an extensive collection of questions, troubleshooting guides, and more. If you somehow can't get the solution from there, you can reach out to them in writing, call, or tweet to the special HBO Now customer support account (@HBONowHelp).
Pricing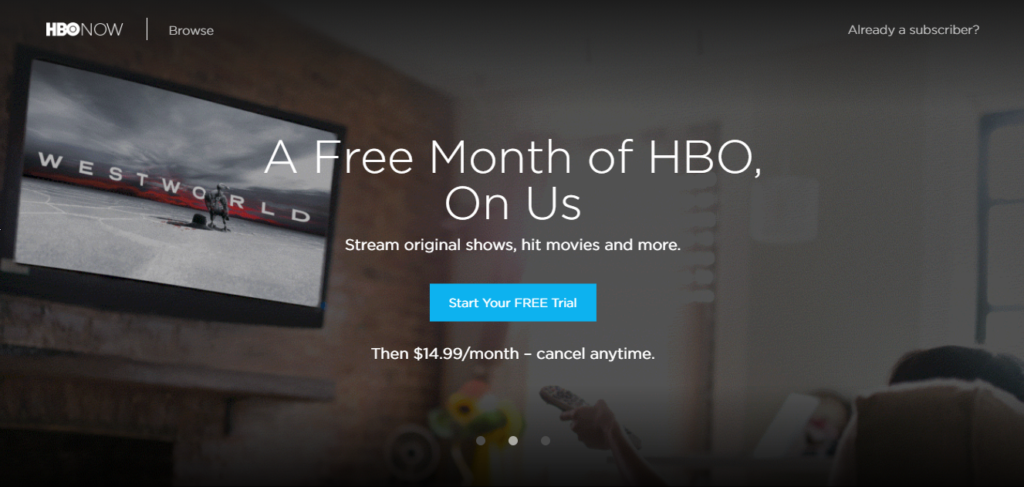 You only have one price on HBO Now. Our Score: 7/10
You don't get multiple plans on HBO Now, which is quite different from what we've seen in other similar platforms. Nonetheless, it's going to cost you $14.99 per month to subscribe to the platform.
The free trial period varies between one week and one month, depending on what deal you get. It's certainly enough to get a feel of the platform and decide if you like it or not.
The reason why the service gets a lower note is the somewhat steep price you have to pay for it. Sure, HBO, as a premium channel, has always been a bit expensive, but it's still a bit much in the Netflix era.
The Verdict
We loved HBO Now and thought it is a great platform overall, from start to finish. The content is great, the interface works perfect, the streaming is seamless and there's great device support. We may not be too big a fans of the price, but it just depends on everyone's wallet size.
Pros: Easy to use AI, great content in the library, awesome device support
Cons: Limited access to the United States, kind of pricey.
Our Score: 9/10
Final Thoughts
If you can't go another day without your Game of Thrones binge or the latest box office hits, then go ahead and sign up for HBO Now – it's totally worth it.
Let us know if you have any questions in the comments section below, and please share the article online so others can find it too. Follow TechNadu's Facebook and Twitter page for instant updates.