Lost Ark has finally been released for Western audiences after its successful launch in Russia and South Korea back in 2019. Up until now, the best (and only) way to play Lost Ark outside those regions was with a capable gaming VPN. Fortunately, players around the world are now free to enjoy the beloved F2P MMO as well.
However, the game is banned in specific countries, and Amazon hasn't published the game in others. As such, players are pretty much forced to use a VPN if they want to play this highly anticipated MMO.
Even if you can play Lost Ark at the moment, a VPN may be useful to solve various connectivity issues with the game. Not to mention you can unblock Lost Ark on campus, at work, and other public locations. More details below.
Why You Need a VPN for Lost Ark
Yes, Lost Ark is now available in the West. That is, unless you live in regions like the Netherlands, Belgium, and other places that have banned the game because of its lootboxes. Moreover, players in South Africa and other countries aren't able to access the game due to Amazon not having publishing rights for it in the region. As such, players in said areas still need a VPN to download and play Lost Ark. You'll also need one to purchase the various Starter Packs from the in-game shop and get a head start on your adventures in Arkesia.
On top of that, using a VPN will let you play Lost Ark with friends from different regions, or challenge players from across the world in PvP. Usually, playing on a server located on a different continent can cause connectivity issues if there are any faulty network nodes along the way.
Thankfully, routing your traffic through a VPN's network may fix such issues entirely. Think of it as getting off the highway to avoid a traffic jam. Your data may take a longer road to reach its destination, but at least it doesn't get stuck along the way.
Finally, VPNs will let you bypass firewall restrictions so you can play Lost Ark on campus Wi-Fi, on a break at work, or other public hotspots that block access to video games for whatever reason. Speaking of which, connecting to Lost Ark with a VPN may resolve issues related to NAT Type. If you weren't aware NAT firewalls typically allow VPN traffic to pass by untouched, letting you connect to the game servers without errors.
Best VPNs for Lost Ark
Based on countless hours of testing out various providers, here are what we believe are the 5 best VPNs for Lost Ark:
1. ExpressVPN - Best All-round VPN for Lost Ark
ExpressVPN constantly lands at #1 on everyone's best VPN lists, whether it's for online gaming, streaming, or other activities. Their lightning-fast servers ensure lag-free raiding and PvP in Lost Ark. And since their network spans a whopping 94 countries around the world (including the Netherlands and Belgium), you'll have no trouble finding a local server to get the most optimal speeds.
Its Lightway encryption protocol provides strong encryption without compromising on speed. Pretty much essential if you don't want your party kicking you out mid-dungeon. Security-wise, ExpressVPN also benefits from top-notch leak protection, as well as a no-nonsense no-logs policy to ensure your data is never exposed or stored anywhere on their network.
A neat addition is their split tunneling feature, which lets you choose which apps route their traffic through the VPN tunnel. Playing Lost Ark while downloading another game on Steam or other large files? You can "whitelist" Steam, your browser, or your torrenting client to get better download speeds without interrupting your Lost Ark VPN session.
The provider features expert 24/7 live chat if you have any issues or questions about the service. You can also check out our in-depth ExpressVPN review for more details of interest.
2. NordVPN - Fastest VPN for Gaming on the Market
Speed is essential when it comes to online games like Lost Ark. Lag can make or break a raid, even more so in Guardian Raids where you're racing against the clock. Fortunately, NordVPN's super-charged RAM-based server network has won them first pace in the AV-test speed tests. Even with a semi-decent connection, you won't notice the VPN is on, making for a smooth experience while playing Lost Ark.
If you still need a speed boost, NordVPN comes equipped with split tunneling. Secure your gaming sessions in Lost Ark while letting your ISP handle the heavy lifting for downloads, game updates, Discord, and other bandwidth-intensive activities.
Naturally, NordVPN offers powerful encryption with more efficient speeds thanks to its proprietary NordLynx protocol. Their no-logs policy has also passed two separate security audits with flying colors. You can rest assured knowing that the provider never stores any of your sensitive data.
Outside Lost Ark, NordVPN has a built-in ad-blocking feature called CyberSec. On top of cleaning up the web of annoying distractions, it also keeps you safe from malware and phishing domains. Considering how many gamers are targeted by phishing attacks nowadays, that's a highly welcome addition.
Read more about the feature and other details in our complete NordVPN review.
3. CyberGhost VPN - Fast and Capable MMO VPN
CyberGhost VPN offers an extensive, high-performance server network, with over 7000 servers spread across 90+ countries. An amazing choice for playing Lost Ark securely no matter where you are in the world. Split tunneling and an ad-blocker are also included in the package for a fast and safe gaming experience.
One interesting addition is the option to get a dedicated IP address for a small extra fee. This lets you play Lost Ark without sharing your IP with other players, which heavily reduces the chances of getting IP-blocked. After all, Amazon has no way of knowing if those hundreds of players using the same VPN server are bots, trying to DDoS their servers, or other malicious behavior.
Finally, we should mention that CyberGhost VPN is the only provider with a generous 45-day money-back guarantee on their longer subscriptions. That should be more than enough time to get a feel for how well the VPN works in Lost Ark, League of Legends, and other online games.
Take a peek at our CyberGhost VPN review if you want to learn more about the provider.
4. Surfshark - Best Gaming VPN with Unlimited Connections
Yes, Surfshark lets you connect an unlimited number of devices to a single account. This makes it an excellent VPN for Lost Ark players that live in a household with a bunch of gadgets lying around. Optimize your Lost Ark sessions on your Windows PC while your family or friends use Surfshark to stream geo-blocked content on Netflix, play PUBG Mobile, and more.
The provider has a high-speed network of over 3200+ servers in 65 countries. Once again, this makes it an excellent option for playing Lost Ark with friends from across the planet - or just connecting to a server nearby for the fastest possible speeds. They've also implemented WireGuard recently, a more efficient protocol than its OpenVPN variant - and perfectly suited for lag-free gaming in Lost Ark.
As always, Surfshark comes equipped with split-tunneling to optimize online gaming speeds. Plus you get a built-in ad-blocker slash malware and phishing domain filter called CleanWeb. It works fairly similarly to NordVPN's CyberSec, removing distractions on the web and keeping your accounts safe and sound.
Learn more about the provider and their features in this in-depth Surfshark review.
5. Ivacy - Best Value VPN for Lost Ark
Don't have a huge budget for a VPN subscription? No worries; Ivacy is one of the cheapest VPNs for Lost Ark out there. Not only are you getting a great deal if you go for a longer sub (up to 90% savings!), but they don't skimp out on features either.
For one, they offer ten simultaneous connections on a single account, which is pretty generous when compared to the competition. Ivacy also features a robust no-logs policy, full leak protection, a kill switch, and even anti-malware filters on certain servers if you need that extra layer of security.
Now, their kill switch and split tunneling features are exclusive to Windows and Android. This shouldn't be a problem considering Lost Ark is a Windows-exclusive MMO. However, we recommend one of the other providers on our list if you want to secure a Mac, iOS, or Linux device in your home as well.
Our Ivacy review includes further details about the app, so make sure to check it out.
How to Use a VPN to Play Lost Ark (Step-by-Step Guide)
If you're new to the whole VPN thing, no worries - using a VPN to play Lost Ark is as easy as it gets. Here's what you need to do.
1. Download and Install a VPN
We prefer ExpressVPN for its ease of use, but feel free to pick any one of the excellent Lost Ark VPN options presented above.
Regardless of your choice, get the Windows app on their main website. You can follow our guide on how to install ExpressVPN on Windows if you need help with the process.
2. Connect to a VPN Server in a Supported Region
If you try to download Lost Ark from Steam in an unsupported or banned region (say, The Netherlands), you'll be met with this message.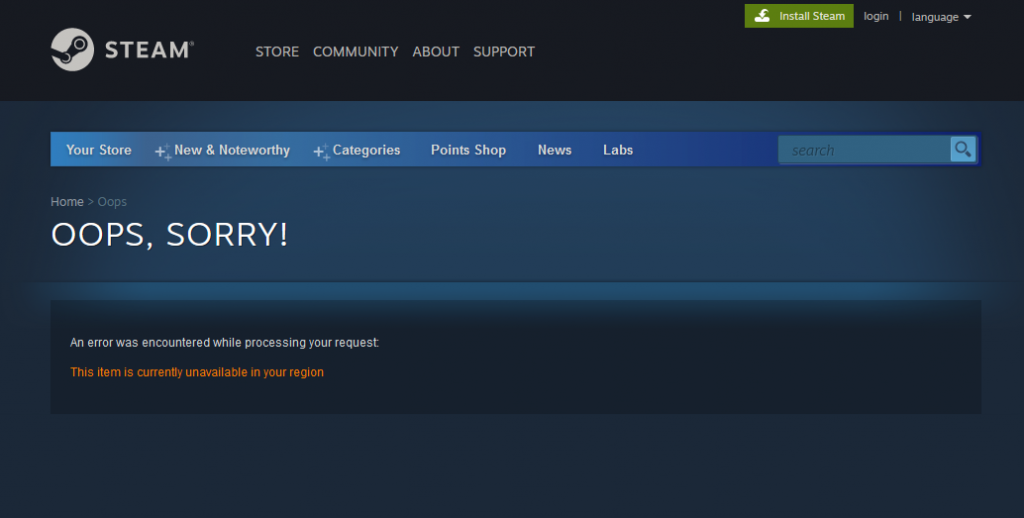 Simply connect to a VPN server in a country that has Lost Ark (check the FAQ below for a list of supported regions). Here's what the Steam page looks like when we connect to a VPN server located in the United Kingdom.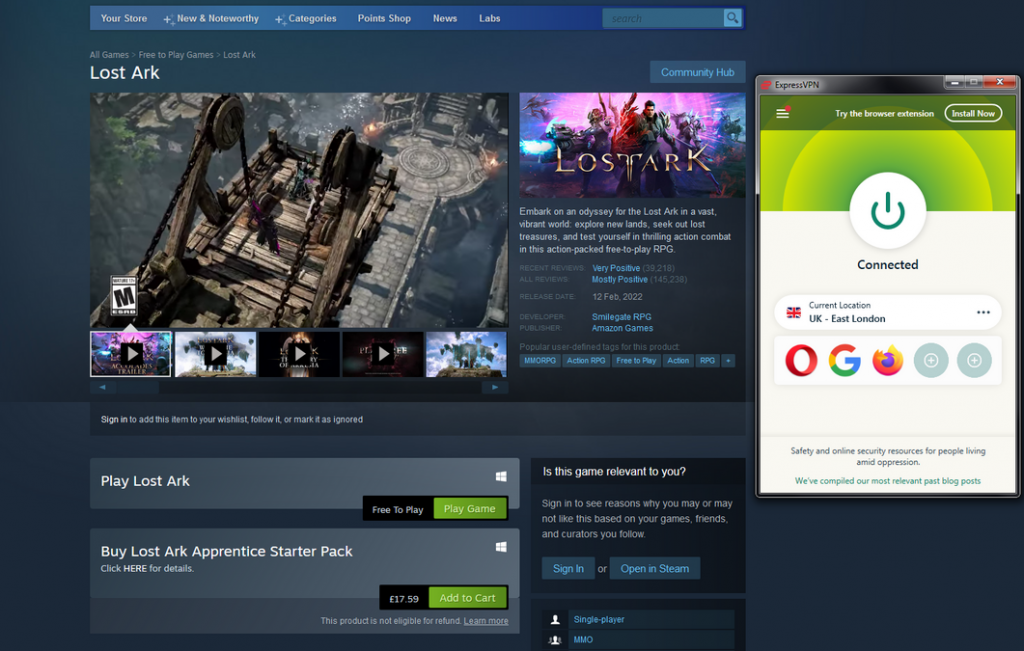 To find a list of available VPN servers, all you need to do is click on the Location button just below the huge "Power" symbol. We recommend connecting to a server that's as close as possible to your real life location, so you get the most optimal speeds while playing Lost Ark.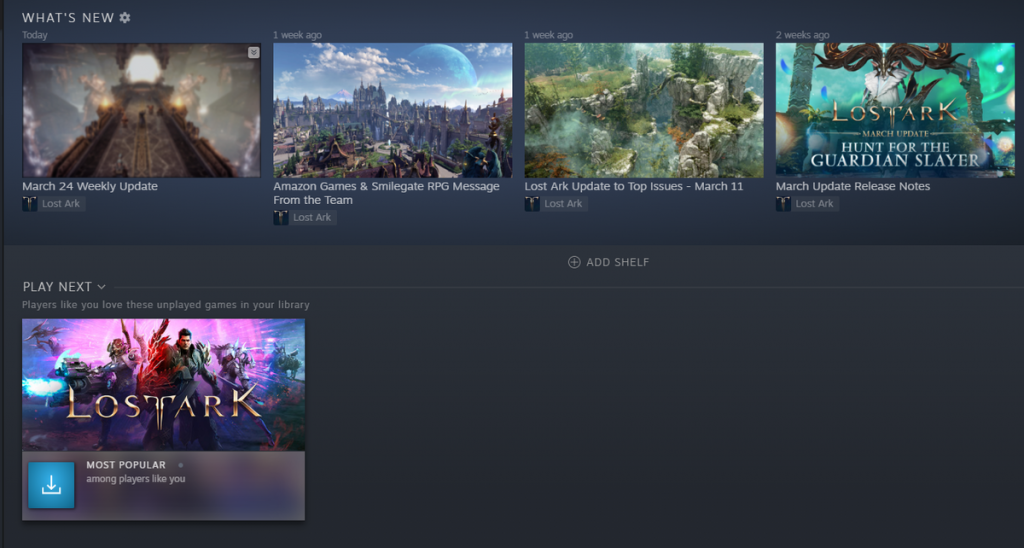 Once you're connected, you can easily add the game to your Steam profile and begin the setup process. Enjoy your quest for the legendary pieces of the Lost Ark!
What's the Best Server for Lost Ark?
As mentioned, choosing the best VPN server for Lost Ark is just a matter of knowing where the game is available. See the FAQ section below for a list of Lost Ark banned countries if you're not sure. Next, you need to connect to a server that's close to your location to minimize lag.
As for which Lost Ark server is the best for PvP, raiding, or just smaller communities you can find friends in, you can check out this Google spreadsheet created by Ayia.