Taking your time to find the best Fortnite VPN is a decision you won't regret. That's because a capable VPN helps you avoid and bypass IP bans, and stabilize your connection to Fortnite's servers, all while providing a pleasurable (lag-free) gaming experience. However, know that you need to be careful about which VPN you use, as not all of them will do the job right.
If you weren't aware, VPNs allow you to change your device's IP address. You can change your online location this way, so a VPN that supports Fortnite will let you unblock the game in countries where it's banned, such as China, Iran, Iraq, Crimea, Cuba, North Korea, and Syria.
Moreover, VPNs encrypt your data (or scramble it so no third parties can read it). So, hackers won't be able to steal your Fortnite account while playing on unprotected public Wi-Fi. Nor can they DDoS you when they're losing, which is always a plus. On top of that, VPN encryption will help you play Fortnite on any network (yes, even your school/university network).
As a side benefit, VPNs can help you reroute your network data (including Fortnite) through a better path. Basically, you'll side-step any potential connection errors caused by faulty network nodes on the way to Epic Games' servers.
However, know that not every VPN will help you bypass IP bans - which can lead to Fortnite's infamous "You were removed from the match due to internet lag, your IP or machine, VPN usage, or for cheating, or being on an untrusted platform. We recommend not utilizing VPN or proxy services while attempting to play Fortnite" message.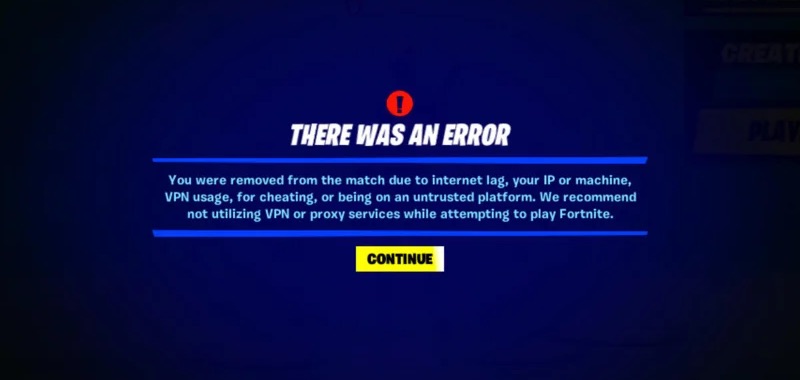 That said, let's waste no more time - and let's start talking about the best Fortnite VPN services you'll find right now (based on our hands-on tests, of course).
How to Bypass Fortnite IP Ban
To bypass and play Fortnite using a VPN, you need to set up your VPN, connect to a server, and initialize your session. Here are the exact steps you need to take:
Subscribe to a Fortnite VPN (we recommend ExpressVPN).
Set up ExpressVPN on the device(s) you'll use to play Fortnite.
Launch the VPN and pick a server based on which country's IP address you want.
Launch and play Fortnite as you would usually do.
The instructions found above will help you bypass Fortnite's IP bans, letting you play the game with no restrictions. However, if you want to optimize your VPN to get a bit more speed, here's how to use a VPN for gaming.
Best Fortnite VPN
As mentioned, not every VPN will do the job right in Fortnite. More precisely, the best Fortnite VPN must have plenty of servers, giving you a range of options to shorten your data travel time. That way, you will keep your ping, lag, and latency under control. Aside from that, you need a VPN optimized for gaming and known for its tough encryption. That's the only way to bypass Fortnite's verification checks, giving you full access to the game.
Ready to elevate your gaming experience? Well, here are the 5 best VPNs for Fortnite that you'll find available right now:
It wasn't by chance that we placed ExpressVPN as the first option on our list of the best Fortnite VPN. It brings just about every tool you need to stay safe online and avoid Web roadblocks, and we think you're going to love it.
First of all, ExpressVPN is compatible with every popular platform. Since you can play Fortnite on mobile devices, computers, and more, it's good to know that you can count on this VPN. Just install the app, log in using your credentials, pick a server, and you're ready to play. And yes, this VPN works on routers as well, so you can use it with your PlayStation or Xbox.
For the very best Fortnite gameplay performance, we recommend using a server near your physical location. This shouldn't be a problem for ExpressVPN since it offers thousands of servers worldwide (more precisely, you'll find over 3,000 servers right now). Those are spread across 90+ countries, giving you a high chance of finding a high-performing server.
ExpressVPN also helps keep your ping and latency under control. You can choose between different protocols (with Lightway being an ultra-fast option). On top of that, you can test servers before connecting. That way, you'll know what kind of performance you'll get even before you connect to any of ExpressVPN's servers.
Also, we'll mention that ExpressVPN offers impeccable customer support. You can chat with its agents live 24/7, and there's a huge library of guides and tutorials. And finally, know that you get 30-day money-back guarantees, which means ExpressVPN comes 100% risk-free.
PROS
Sizable selection of servers.
Keeps your ping and latency in check.
Fast and stable performance.
Bypasses Fortnite's blocks with ease.
Always-available customer support.
CONS
No in-depth customization.
The best VPN for Fortnite should come with an impeccable set of security-first features. All our recommendations meet that requirement, but NordVPN goes a step further. This is a very capable and advanced VPN, taking care of your privacy in the best way possible.
NordVPN offers modern-looking software for any device out there. If you play Fortnite on a game console, you can even install NordVPN on your router. Even if you don't, you still benefit from 6 simultaneous connections, generous enough to help you protect your entire household.
When it comes to its security-first features, NordVPN offers specialized servers. You can use those to double-encrypt your data, obfuscate your data by sending it via smaller packets, and more. Those specialized servers run on OpenVPN, perhaps the most secure commercially available protocol right now.
Due to its increased security levels, NordVPN can be on the slow side unless optimized. That's why we recommend it to more advanced users. Also, NordVPN can be a perfect pick if you have a fast Web connection, which could afford some throttling.
Lastly, this VPN has a 30-day money-back guarantee (applicable to its long-term plans). In case of any questions or issues, you can always chat with NordVPN's agents live (24/7). There's also a comprehensive customer support section on its website, showing you how to handle things on your own.
PROS
Highly polished user interface.
High-end security features.
Specialized servers on offer.
Sizeable server fleet.
24/7-available customer support.
CONS
Remote connections can be slow.
Some optimization required.
Most people use VPN apps to become invisible online and protect their privacy. This is where CyberGhost VPN excels. However, it should also be noted that CyberGhost is the perfect option for gaming, so here's why Fortnite fans should pay attention to this VPN.
You won't only get to re-route your Web traffic through a new server using CyberGhost. You will end up with a more stable connection, crucial for Fortnite. Needless to say, you can easily get a new IP address every time you connect to the Web, avoiding or overcoming the game's IP ban.
This VPN offers 8,500+ servers spread across the entire world. That's one of the biggest server networks you'll find out there. However, some of those servers are specialized for gaming, helping you reduce your latency while playing Fortnite. Still, keep in mind that CyberGhost's gaming servers are only available on Windows.
Even if you play Fortnite on some other platform, CyberGhost remains a solid option. There are several VPN protocols on offer (OpenVPN, IKEv2, WireGuard), so you can find just the right balance between speed and security.
There's also a 45-day money-back guarantee on its long-term plans, showing that CyberGhost has nothing to hide. As you can expect, this VPN also has 24/7-available customer support, letting you chat with its agents live or check out other types of support.
PROS
Specialized servers for gaming.
Keeps ping and latency in check.
Massive network of servers.
45-day money-back policy.
Customer support via live chat.
CONS
Requires some fine-tuning.
Slower than its competitors.
Not every Fortnite gamer wants a VPN with tons of options that can be customized. Some are after relatively simple VPNs that work on their own. With that said, we're happy to recommend Surfshark, as this is a fully-automated VPN service.
In terms of its platform compatibility, this VPN doesn't disappoint. You can use it on any device compatible with Fortnite, including computers, phones, tablets, and game consoles (for which you need to install Surfshark on a router). Also, it's interesting to note that Surfshark gives you an unlimited number of simultaneous connections.
This VPN is also in the process of expanding its server network. It currently offers more than 3,200 servers available in 90+ countries. No matter which of those servers you pick, Surfshark will give you extra-fast speeds. Even its remote servers work smoothly, which isn't something we get to see every day.
We're happy to say that Surfshark can handle your ping and latency even without fine-tuning. You're always free to switch between different protocols to improve its speed. However, we bet you'll be happy with what you'll get "out of the box."
Finally, there's a 30-day money-back guarantee, so you won't be taking any risks with this VPN. You'll also get access to high-end support, available live and on-demand 24/7.
PROS
Suitable for first-time VPN users.
Works "out of the box."
Fast and stable performance.
Unlimited simultaneous connections.
Reliable customer support.
CONS
Can take a while to connect.
Another strong contender for the best VPN for Fortnite is IPVanish. This is a well-known name in the world of VPNs that has millions of users across the planet. As such, this is a reputable VPN provider that's also easy on your wallet.
Being on the global market for a while, IPVanish has managed to develop a reliable network of servers. With over 2,000 servers scattered across 50+ countries, you'll have unlimited options. This also applies to IPVanish's protocols, backed by incredibly tough encryption.
No matter if you want to play Fortnite, download torrents, or stream media (IPVanish supports mainstream platforms only), you'll be covered more than well. On top of that, this VPN comes with an unlimited number of simultaneous connections, and it doesn't log any of your data.
Overall, IPVanish is a solid pick for any gamer who wants to bypass IP bans and optimize their Web connection. And since it's budget-friendly, it's also an excellent example of how a capable VPN doesn't have to cost much.
In case of any questions, you can turn to IPVanish's live chat support (not available 24/7, though). On top of that, it offers 30-day money-back guarantees, letting you test-drive the VPN without any limitations or restrictions.
PROS
Solid platform compatibility.
Fully-automated VPN service.
Real-time stats.
Unmetered connections.
Also good for P2P and streaming.
CONS
Forced AES-256 encryption.
Slow to develop new features.
Why Do I Need a VPN for Playing Fortnite?
You need a VPN for Fortnite to secure your account, prevent your data from being stolen, and bypass temporary IP-based bans. Let's give you more details.
The chances are you've probably encountered Fortnite's IP ban. Your account might have been blocked for whatever reason, or you got kicked out of your session. A solution to all those issues is a reliable and capable VPN that encrypts your data. That's how you'll avoid and bypass IP bans that Fortnite imposes.
Also, know that malicious actors are targeting Fortnite accounts quite often, which are then sold on the Web to the highest bidder. Hackers are even going into accounts to hijack V-bucks, making it crucial to protect your sensitive data while playing Fortnite.
That said, a VPN is your one-stop solution. It will protect your Internet connection, secure your Fortnite sessions against DDoS and man-in-the-middle (MITM) attacks, as well as let you bypass blocks and other restrictions.
Best of all, VPNs will allow you to solve some connectivity issues in the game and play Fortnite lag-free. Find more details about that below.
Can a VPN Reduce Ping in Fortnite?
Yes, VPNs provide an excellent way to reduce ping in Fortnite.
As your data heads towards the Epic Games' servers (and vice-versa), there's a good chance it can become "stuck in traffic" due to a faulty network node on the way. This can cause massive ping and other connectivity issues.
Connecting to a Fortnite VPN server lets your data take a different route entirely. Think of it as getting off the crowded highway and onto a less circulated road. It may be a longer trip (as VPNs inevitably cause some slowdowns), but at least you'll get there reliably.
To learn more, turn to our guide explaining how VPNs affect ping.
In the meantime, we suggest trying out ExpressVPN. Their apps contain a useful speed test tool to find the fastest VPN server for Fortnite that's currently available. Here's how to use ExpressVPN's speed test tool (available on Windows and Mac):
Launch ExpressVPN on your Windows or macOS computer.
Click the hamburger button in the top-left corner (≡).
Select "Speed Test" from the drop-down menu.
Press Run Test and wait for it to finish.
You'll get a list of recommended servers sorted by latency (in ms). If you're playing Fortnite on mobile, you can choose one of those servers in the ExpressVPN app for Android or iOS.
How to Choose the Best Fortnite Server Location
You can't pick a specific Fortnite server location. However, you can change your matchmaking region, done by visiting the game's settings menu. To do that, navigate to Settings > Game tab > Matchmaking Region. Pick a region you would like to use from now on.
As for choosing the best Fortnite VPN server location, we recommend picking a server that's close to your physical location. The closer the server, the faster your speeds, as your data doesn't need to travel as far to reach its destination.
Remember that you can use ExpressVPN's speed test tool (explained just above) to find the best VPN server with the lowest ping - perfect for playing Fortnite lag-free. Check out the steps to use their speed test in the section above.
Can a VPN Remove an IP Ban in Fortnite?
Yes, a VPN is an excellent way to remove an IP ban in Fortnite. Here's how to do it:
Subscribe to a trusty Fortnite VPN (our #1 pick is

 

ExpressVPN).
Download the VPN app to the device(s) you play Fortnite on.

 

Launch the VPN app and log in to your account.
Connect to a VPN server close by for the fastest speeds. 
Launch Fortnite and access your account without restrictions.
Got banned for a different reason? Say, an account ban or hardware ID ban? Then, check out our main guide for getting unbanned from Fortnite for more detailed steps.
Fortnite Not Working with VPN - How to Fix
Even the best Fortnite VPN can encounter issues from time to time, which are mostly very quick and easy to resolve. Here's what to try when Fortnite doesn't work with your VPN:
Switch to a different VPN server.
Update Fortnite and/or your VPN app.
Re-install Fortnite and/or the VPN client.
For Windows 10 users: Disable the WindowBlinds application and restart your PC.
For PC players: Make sure EasyAntiCheat and BattleEye are running.
To check whether Fortnite's anti-cheat systems are working:
Windows: Open the "Task Manager" (Ctrl + Alt + Del) and look for the anti-cheat apps.
macOS: Open the "Activity Monitor" (Utilities folder) and check for the anti-cheat apps.
The game will not run without these anti-cheat systems in place. In fact, Fortnite will attempt to install EasyAntiCheat when you try to launch the game if it doesn't detect it on your system. If those two applications aren't running, you might need to re-install Fortnite completely.
If you wish to try additional solutions, here's our guide that explains why your VPN doesn't work. We also offer a list of the most common VPN error code fixes, so check it out if an error appears when you try connecting to a VPN server.
Final Thoughts
As you can see, there are definite advantages to playing Fortnite with a VPN. Whether it's getting rid of lag, improving ping, or protecting yourself against pesky hackers, the best Fortnite VPN will vastly improve your experience with the game.
If you're looking for a quick recommendation, we believe that the best VPN for Fornite is ExpressVPN. Not only do they have super fast servers in 90+ countries, but their advanced Lightway protocol provides better speeds than its OpenVPN counterpart. Also, their service also masks the fact that you're using a VPN, making it harder for Epic Games to detect you.
Otherwise, feel free to read our list of the best gaming VPN, containing additional amazing VPNs you can check out. And if you need a VPN for more than gaming, you'll definitely want to check our central guide to the best VPN overall.
FAQ
Is a VPN Good for Fortnite?
Yes, a VPN is an excellent choice for Fortnite - no matter if you want to bypass IP bans, protect your sensitive data, or stabilize your Web connection.
If you want to learn more, we offer a couple of useful resources. First, here are the reasons why you need a VPN for gaming. And then, here's how to play games over VPNs.
Can You Get Banned for Using a VPN on Fortnite?
VPNs are never mentioned as a violation in Epic Games' Terms of Service. Therefore, using a VPN won't lead to a possible ban on your Fortnite account.
Of course, it's important not to use a VPN for anything that can get you in trouble. Even if you hide behind a VPN service, harassing other players or using systems for cheating will result in a ban.
What Happens if Fortnite Bans Your IP Address?
If you try to access Fortnite from a blocked IP address, you will be blocked from accessing the game. This is where VPNs come to help.
By using a VPN app, you can connect to a VPN server, change your IP address (which means Fortnite won't be able to identify you), and access the game without any issues.
Fortnite Banned Me Indefinitely - Can a VPN Help?
Can You Play Fortnite on School Wi-Fi?
Many school Wi-Fi networks don't allow you to play Fortnite - but a VPN can help you unblock this game, anywhere and anytime.
Needless to say, we highly recommend you pay attention in school and play Fortnite during your recess time only.
Why Does Fortnite Keep Kicking Me Out?
If Fortnite keeps kicking you out, it could be due to an IP ban, breaking the rules, or poor Internet connectivity. A VPN can help with an IP ban and fix high ping in some cases.
But first, you might want to test your Internet connection in other apps to see if it's part of a larger problem. Also, make sure to keep your VPN updated and switch to a different server if the problem persists. As for breaking the code of conduct, there's nothing much you can do aside from respecting Fortnite's rules.
How Do I Get a Lower Ping in Fortnite?
Aside from troubleshooting your Internet connection for any issues, or switching to a wired connection, you can use a VPN to lower your ping in Fortnite.
Try out ExpressVPN and use their speed test tool to find out the optimal Fortnite VPN server with the lowest ping. This will usually be one that's close to your location and will provide the fastest speeds.
Where Are Fortnite Servers Located?
Fortnite servers are located in the following locations: Ohio, Virginia, California, and Oregon in the US, London in the UK, Ireland, Canada, Australia, Tokyo and Osaka in Japan, South Korea, Mumbai in India, Singapore, Frankfurt in Germany, Paris in France, and San Paulo in Brazil.
Can I Use Free VPN for Fortnite?
No, you shouldn't use a free VPN for Fortnite. We don't usually recommend free VPNs because they either are not safe or bandwidth-capped which is a major deal-breaker for any gamer especially if you are playing Fortnite.
Still, planning to go with free VPNs? Then, take a look at our options for the best free VPN services. However, you can also try ExpressVPN risk-free for 30 days.
That would be all on the best VPNs for Fortnite. If you have any questions, make sure to post your comment below. And lastly, thank you for reading!