Using a VPN for gaming means lowering your ping time, avoiding over-crowded servers, and connecting to a low latency server to enjoy high-speed gameplay. Alongside, gaming over VPNs also ensures complete protection from hackers and unlimited bandwidth to have multiple gaming sessions. But using a VPN can be tricky at times, depending on the type of device you use for gaming. So, without further ado, check our complete guide on how to get started and use a VPN for gaming.
Step #1: Find & Pick the Best VPN for Gaming
The first step will be to choose the best gaming VPN that has servers in multiple locations and offers full-fledged security and multi-device support. ExpressVPN, CyberGhost VPN are some of the widely-used premium VPN services for gaming. No matter which VPN you choose, make sure it renders optimized gaming services and unlimited usage on all their servers. Only then, the VPN will reduce ping and provide the fastest services. 
Step #2: Get Your VPN Subscription
Once you choose a suitable VPN according to your requirements, you need to purchase a subscription plan to get started. Now, many gamers opt for free VPN services, but that eventually doesn't serve the purpose of using a VPN for gaming. So, it's always recommended to use a paid VPN service. Furthermore, advanced VPNs like ExpressVPN, NordVPN, Private Internet Access VPN, etc., allow you to try their services risk-free for 30 days. At the same time, CyberGhost VPN offers a 45-days money-back guarantee.
Here we've shared the process of getting the ExpressVPN subscription as an example. Have a look.
1. First, click here to visit the ExpressVPN website.
2. Next, hit the Get ExpressVPN button.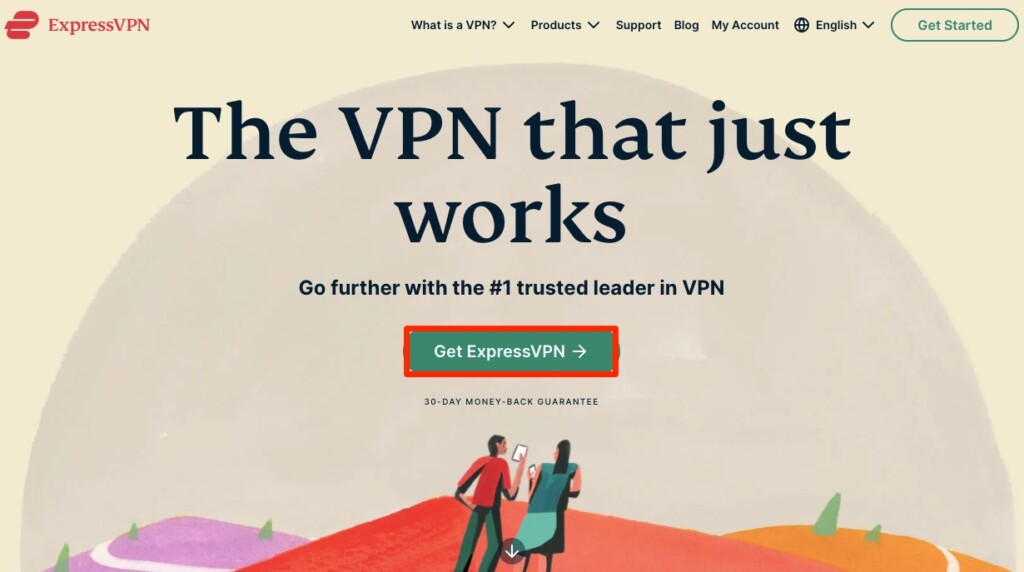 3. Choose your preferred plan on the next page and submit the required details to complete your purchase.
4. Finally, you'll receive a confirmation email containing a login code that you need for further use. 
Step #3: Install & Activate Your Chosen VPN
When you get a VPN subscription, you can install it on different gaming devices, depending on its features. Most of the paid VPN services offer client apps for Windows, macOS, Android, iOS and allow you to set it up on gaming consoles too. Yes, ExpressVPN, CyberGhost VPN, and some other VPN services use Smart DNS technology to help you unblock geo-restricted games on your consoles. So, learn to activate VPN services on your gaming devices.
Set Up a VPN on a Gaming PC
The process of downloading and installing a VPN on Windows or Mac is quite easy. All you have to do is, go to the official website of your VPN provider, log in to your account, and download the suitable client application on your device. Once done, launch the app, and enter your login credentials to avail of the service. 
Check our guide on how to download, install, and use ExpressVPN on Windows/macOS/Linux to have a detailed overview of the process. It will be almost similar to the one you're subscribed to. 
Set Up a VPN on a Console
There is no VPN client app available to download and run on gaming consoles directly. But there are two ways to use a VPN on PlayStation, Xbox, Nintendo Switch, etc. Either you have to use the Smart DNS feature of your VPN, or you can share the VPN connection from your PC/Ethernet cable/VPN router. No matter which method you find easier, you'll get the maximum speed, complete anonymity, and uninterrupted gaming experience on your console. 
Set Up a VPN on a Smartphone
Having a VPN connection on your smartphone is mandatory if you play First Person Shooter games like Apex Legends, Rules of Survival, or PUBG. You can download the VPN client app from Play Store on Android devices. And, if you're using an iOS device, download the native app from the App Store. Once the app gets installed, log in using your existing username and password to connect to a VPN server in a different location. 
Have a look at our guide on how to download, install, and use ExpressVPN on Android, iPhone, and Blackberry to understand the method completely. This installation process will be the same for all other gaming VPNs. 
Step #4: Connect to a Suitable VPN Server
Once you log into your account, connecting to a suitable VPN server will be the next step. So, before you hit the ON/OFF button on the control screen of your VPN app interface, choose your preferred location from the country list. 
While choosing the location, keep a few things in mind to get a fast-paced gaming experience:
Select the nearest VPN server of the game server to connect to. 
Make sure the server you're choosing has a ping lower than 50ms. (VPN services like CyberGhost show the distance and load percentage. Whereas VPNs like PIA show the ping time of each server.)
Try not to connect to the overcrowded servers.
Step #5: Game On!
When you're done with finalizing the location, hit the ON/OFF button on the control screen of your VPN app to set up a connection. If you're using a VPN for the first time on your device, it will generate a confirmation request. Allow the VPN to change your network settings at this stage to finally connect. This step will be the same, whether you're using a smartphone, gaming PC, or sharing a VPN connection to your consoles. 
Game on! Now you're ready to launch your game and play unlimited on any network. Always remember to enable the VPN connection before you play on public Wi-Fi. Thanks for reading! If you have further queries, drop us a comment through the below button.