The situation surrounding VPNs and Kodi can be a highly confusing one. While some say that you don't need a VPN for Kodi, others say that you absolutely must protect your Kodi-related activities with a premium-priced VPN. So, what's the truth here?
If you need a direct response, know that the vast majority of Kodi users would benefit from using a VPN. And of course, there are plenty of use cases where utilizing a VPN service isn't even optional for Kodi users – it's mandatory instead.
With that said, TechNadu's team wanted to produce a guide to answering whether it's safe to use Kodi without a VPN service. We're going to explain everything that VPNs bring (and what they don't deliver), giving you a clear sense of what to expect realistically.
To see the questions we'll cover in this article, take a look at the following table of contents. You can also use it to jump to the segment you're primarily interested in exploring.
What Are VPNs? What's Their Purpose?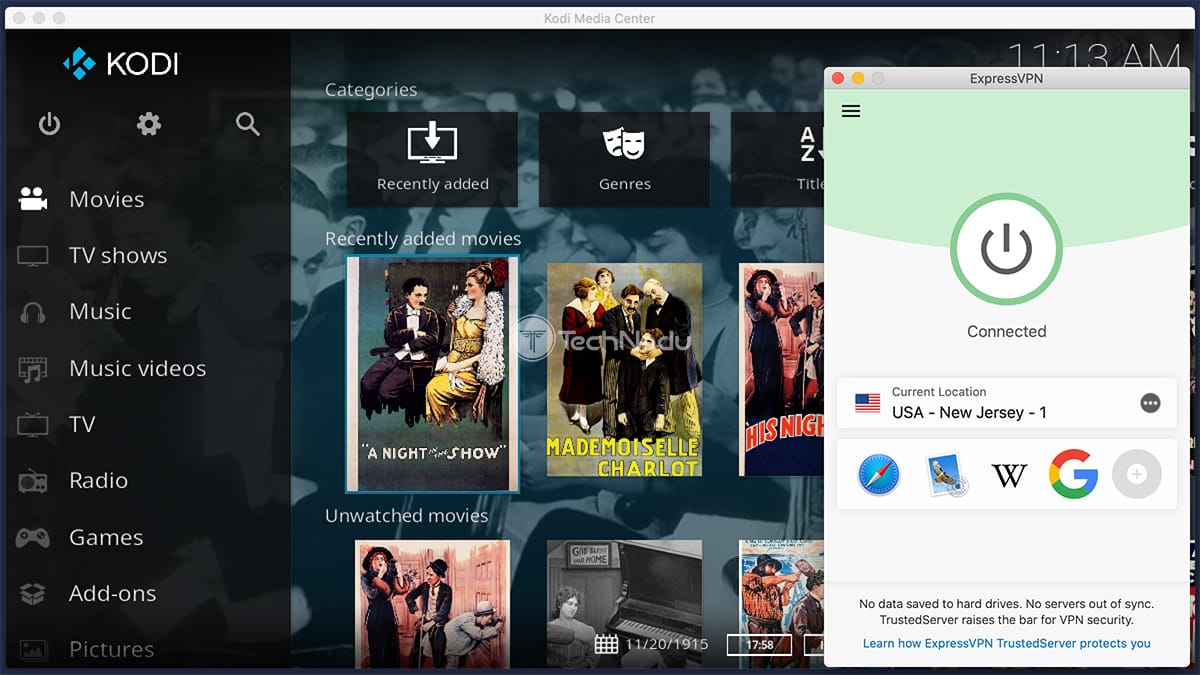 VPNs are applications designed to safeguard your privacy online. However, this definition doesn't explain all of the features these applications bring, especially when it comes to Kodi users. So, let's take a deeper dive.
Related Content: What Are VPNs / How Do VPNs Work
We're going to explain some of the essential benefits of VPN services. Keep in mind that these apply to their general use. Kodi-specific advantages will be described more in-depth later on, so make sure to read this article carefully.
VPNs Encrypt Your Web Connection: These applications create a safe tunnel for your Internet data, scrambling the contents of that tunnel in a highly secure way. This means that even if someone gets to your private data, they don't be able to unscramble it. This leads us to the following benefit.
They Safeguard Your Privacy & Online Security: VPNs aren't the same thing as antivirus applications. However, they keep you protected on the Web by blocking trackers, getting rid of ads, and stopping malicious code. They can even prevent hacking attempts.
VPNs Can Unblock Geo-Restricted Content: This is something that Kodi users are going to love. When you connect to a VPN server, you get a new IP address. So, if you connect to a server in a different country, you get an IP associated with that country. This is how you can visit websites that are usually inaccessible where you live.
They Hide Everything You Do Online: By employing different types of encryption and VPN protocols, this software makes you invisible online. And even though your ISP will see that you're using a VPN, it won't know what you do online. In other words, you'll reach a whole new level of privacy, which is directly related to the following point.
VPNs Can Un-Throttle Your Web Connection: Does your ISP throttle your Internet connection? The chances are that it does, especially when it comes to video streaming. VPNs put an end to this, creating a more pleasurable experience of using Kodi.
As you can see, using a capable and reliable VPN extends well beyond Kodi. This is why we firmly believe that this type of software has become mandatory to use these days.
Related Content: 5 Great VPN Features You Probably Didn't Know About
Does Kodi Really Need a VPN? Is Using Kodi Without a VPN a Big Risk?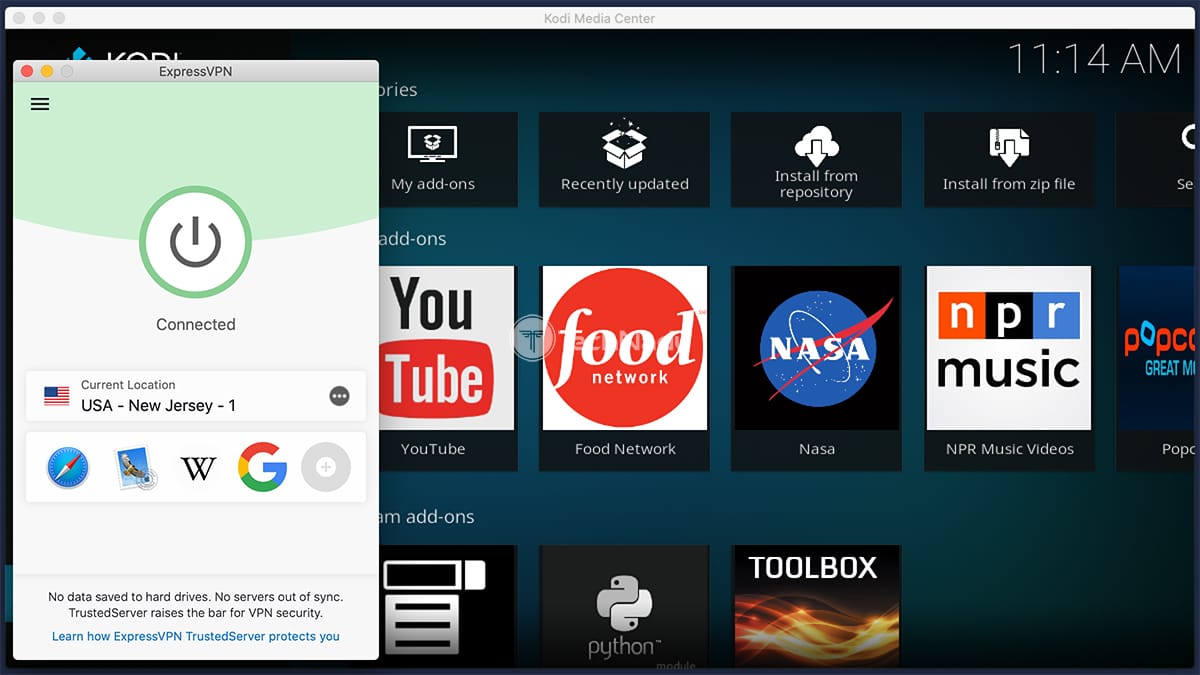 Yes, Kodi needs a VPN if you want to access new types of media content - and depending on whether you access legal or illegal content, you might be at risk without using a VPN.
However, it's important to clarify what types of media content we're talking about here. This is precisely where the story about using Kodi legally diverges into two paths.
In our article on official vs. unofficial Kodi addons, we've talked about the legal side of using Kodi. However, we'd like to give you an overview of what using VPNs with both official and unofficial add-ons means.
Using a VPN With Official Kodi Addons: In this case, there's no risk when using Kodi, as official addons are 100% safe and legal to use. However, using a VPN lets you unlock new types of content. Considering that most official Kodi addons are geo-blocked, you'll be expanding your media library greatly.
Using a VPN With Unofficial Kodi Addons: We hope you're aware that unofficial Kodi addons usually lead to piracy and copyright infringement. That's why many Kodi users rely on VPNs to hide their online whereabouts. Therefore, you'll still be consuming illegal stuff, but by being protected via a VPN. In other words, using Kodi, in this case, is a security and legal risk that is minimized by employing a VPN (but it's still there).
Tip
It's crucial to know what's legal and what's illegal about using Kodi. With that said, we recommend you read our guide on how to use Kodi legally, as this will also help you understand in what cases a VPN is needed.
When Is Using a VPN With Kodi Required?
To simplify this explanation, we've listed all of the possible causes and reasons that require you to use a VPN with Kodi.
If You Want to Protect Your Privacy: Without a VPN, all of your private data gets exposed on the Internet - and exploited by your ISP, individual websites, tech companies, and malicious actors. The same happens with Kodi, with malware that can exploit your personal information. Of course, this goes primarily for unofficial addons, even though official addons are affected on occasion as well.
If You'd Like to Access More Content: The majority of official Kodi users are restricted to the USA only. Therefore, if you're outside the USA, using a VPN with Kodi is an excellent idea to unblock geo-restricted content. Or even if you're in this country, using a VPN will help you reach foreign streaming services.
If You Want to Avoid Video Buffering: The chances are that your ISP is throttling your Web connection when it detects you are streaming a video (which is what using Kodi is all about). By hiding your Internet traffic within a VPN's secure tunnel, you can improve your Web connection's performance.
If You Need a Reliable Way to Beat the Blackouts: Kodi allows you to access all kinds of sports-related content. However, it won't help you avoid blackouts that happen across the USA. What can help you, in this case, is a VPN service. You can learn more about this process in our article on how to bypass blackout restrictions.
Tip
We've mentioned official addons for Kodi several times in this article. If you'd like to explore this topic in-depth and if you like to find the best Kodi addons, use the provided link. We've highlighted over fifty best-working addons available right now.
When Is Using a VPN With Kodi NOT Required?
For the sake of full transparency, know that not all Kodi users need a VPN. In some instances, and based on your usage of Kodi, sometimes there's no need for additional software. With this said, let's take a closer look.
If You're Not Concerned About Your Privacy: We understand that some of you might not be worried about your digital privacy. Maybe you want to stream Netflix via Kodi, and you don't care about whether any personal data would be collected. We have to say that we strongly recommend you reconsider your point of view. However, we do understand that some Kodi users don't care about their data.
If There Are No Addons You'd Like to Unblock: In case you've managed to find Kodi addons that meet your needs, and if you're not interested in expanding your media library with new types of sources (addons), using a VPN won't make a difference.
Which VPN for Kodi Should You Use & Why?
Based on our hands-on tests, the best VPN for Kodi right now is ExpressVPN.
Keep in mind that it's essential to find a VPN that meets all your needs while being within your budget. VPNs come with different sets of features, they perform in different ways, and each of them is capable of unblocking a specific set of streaming services. Therefore, doing in-depth research is critical.
Aside from ExpressVPN, you can find more options in our guide to the best Kodi VPNs. Still, know that ExpressVPN is the only option right now that ticks all the right boxes.
Here's what you'll get if you decide to subscribe to this VPN.
An Abundance of Secure VPN Protocols: In general, ExpressVPN offers OpenVPN, L2TP/IPSec, and PPTP. This gives you plenty of freedom to choose a level of protection that suits your planned online activities. Also, keep in mind that OpenVPN is perhaps the strongest and the best-performing VPN protocol right now.
Compatibility With Numerous Platforms: Kodi is compatible with Windows, macOS, Linux, Android, iOS, media streaming devices, and plenty more. Know that ExpressVPN is compatible with all of those platforms as well, giving you plenty of options in deciding how and when you'd like to use this VPN.
Unblocking Geo-Restricted Kodi Addons: Based on our hands-on tests, ExpressVPN unblocks the majority of Kodi addons – including all the popular ones. Just connect to a specific server, and return to using Kodi. You'll see that the previously blocked add-ons are now accessible.
For additional information, you can turn to our ExpressVPN review. And if you'd like to check this VPN's website to see what else to expect, go ahead and check out ExpressVPN.
Tip
In our guide on how to set-up a VPN on Kodi, you'll find all you need to get started on platforms like Windows, macOS, Amazon's Fire OS, Android, iOS, and more.
FAQ
Can VPNs Unblock Geo-Restricted Kodi Addons?
Yes – absolutely! A capable VPN has the power to unblock just about any Kodi addon. You only need to connect to a server that is based in the country where that addon is available. For example, if you want to access BBC iPlayer outside the UK, connect to a server in the UK.
Can Your Internet Provider See Your VPN?
What's the Safest VPN for Kodi in 2020?
The safest and the most reliable VPN for Kodi is ExpressVPN. After having tested more than sixty VPN services, TechNadu's team strongly believes that ExpressVPN is the only VPN that will meet the needs of most Kodi users in terms of privacy and security.
Will You Get in Trouble for Using Exodus & Similar Addons?
Addons such as Exodus, The Crew, Covenant, Venom, Numbers, Tempest, and similar are illegal because they serve copyrighted content.
Even though a VPN should mask this online activity, using a VPN isn't an excuse to go against your country's laws. Remember that we're talking about piracy here – so stay away from illegal Kodi addons.
Should You Use a VPN for Kodi-Related Piracy Streaming?
You'll find recommendations to use VPNs to mask piracy-related Kodi streaming all over the Internet. However, be aware that even if you use a VPN, you're still committing a crime or an offense based on where you live.
We also recommend using VPNs when watching Kodi, but only for unblocking official Kodi addons, which are legal to use.
Can You Use a Kodi VPN on a Fire Stick & Fire TV?
Yes, you can use a large number of VPNs on Fire Stick and Fire TV devices. We recommend a VPN that's available on Amazon's App Store, such as ExpressVPN. To learn more, here's how to set up a VPN on Firestick and Fire TV.
Also, one more note. The first-generation Fire Stick isn't compatible with VPN services. However, the second-gen Fire Stick and newer models allow you to install VPNs.
Is There a Free VPN for Kodi? Do You Really Need a Premium One?
Yes, you'll find a limited number of free VPNs online. However, none of those work with Kodi. They bring incredibly strict bandwidth limitations, and they can't unblock Kodi addons. Moreover, they can endanger your privacy, as most of the free VPNs are adware.
If you're on a strict budget, check out the best cheap VPN services. You'll also want to check for the latest VPN deals, often helping you save quite a bit.
We hope that we've answered your questions about whether it's safe to use a Kodi without a VPN. If you have any questions for us, know that you can always post a comment below. Also, don't forget to share this article online. Thanks – and enjoy using Kodi!