Want to view porn sites blocked by the government? The best way to go about it is to use one of the following VPNs to change your region and unblock all the porn content out there. VPNs will also encrypt your data, making it impossible for your ISP or the government to see your browsing activity and viewing habits.
Without a VPN, trying to watch porn in restricted countries may yield errors such as "This site can't be reached" (Opera):
You can see a similar error ("Secure Connection Failed") in Firefox: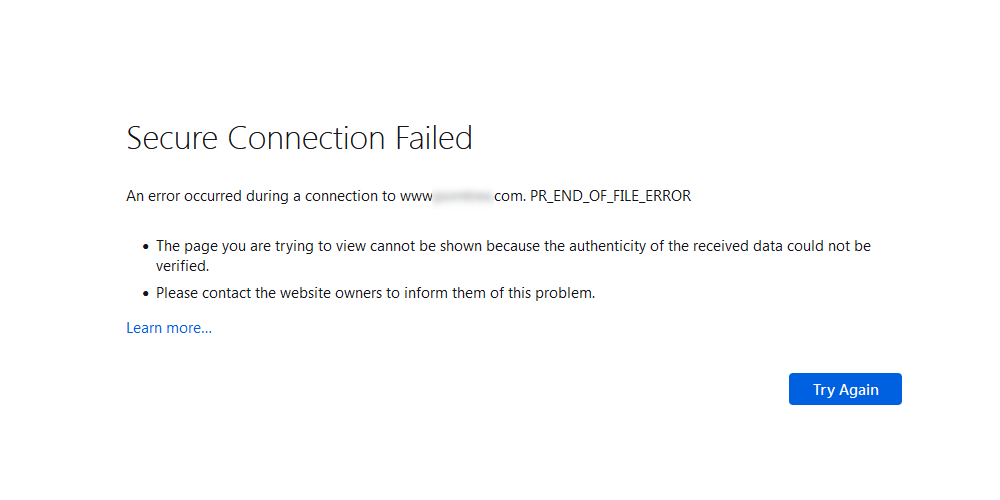 Some countries may redirect you to customized government pages in your local language, but you get the point. Fortunately, connecting to a VPN server in a country with fewer restrictions should do the trick.
Not only that, but VPNs prevent your ISP from throttling your bandwidth. No more pesky buffering wheels when you just want to get the deed done and move on with your day. Once that's over with, you can simply relax with some Netflix, BBC iPlayer, and the myriad other platforms that a VPN can unblock.
How to Unblock Porn Websites With a VPN
Luckily, you don't need to waste time with complicated setups just to unblock porn with a VPN. Here's what you need to do:
Sign up with one of the quality porn VPNs listed below, such as ExpressVPN. Try it out risk-free for 30 days!
Download and install their app on any device(s) you use for porn.
Launch the VPN and log in with your account details.
Click or tap on a VPN server in a country that doesn't ban porn.
Your best bet is using a server in the US or Europe, as the countries there are usually lax on blocking online content (including porn). If one server doesn't unblock the website you want, then switching to a different server will usually solve the issue.
Best VPNs for Porn
The best VPN for porn needs to have compatible apps for all your devices, and be user-friendly. No one wants to fumble around in menus in such situations. Next, the provider needs to have fast servers, as well as a strong no-logs policy so they don't store your online activity.
The cherry on top is being able to unblock various streaming libraries for Netflix, BBC iPlayer, and more. If you need a VPN to unblock porn in your country, you might as well get more value out of your subscription.
With that out of the way, prepare to go truly "incognito" with the 6 best VPNs for porn on the market:
1. ExpressVPN - Best All-Round VPN for Porn
ExpressVPN consistently tops everyone's lists for its easy-to-use, feature-rich apps, as well as its world-class performance and service. Whether you use Windows, macOS, Linux, iOS, Android, or want to stream porn on non-compatible devices (Playstation, Xbox, smart TVs), you can't go wrong with ExpressVPN. Just install ExpressVPN on a compatible router, and your entire household can benefit from the privacy and security of a VPN.
Their app also features split tunneling if you want to exclude certain apps from using the VPN tunnel. By doing so, your ISP's servers will take over the rest of your traffic. Say, downloading a game on Steam, updating software in the background, and other activities that don't necessarily need to use the VPN.
When alone time's over, why not open up Netflix (or your service of choice) and enjoy unfiltered content from around the world? ExpressVPN can reliably unblock any streaming platform out there - BBC iPlayer, Hulu, HBO Max, you name it. And with 24/7 live chat support available, any issues you encounter will be dealt with swiftly.
Make sure to read our full ExpressVPN review, which contains more detailed info about the provider, speed tests, and what other services it can unblock.
PROS
Beginner-friendly.
Unblocks most streaming sites.
Works on basically every device.
Super-fast servers in 94 countries.
Block ads with Threat Manager.
2. NordVPN - Fast Servers, High Security
The last thing you want to deal with is buffering issues, whether you're streaming porn or your favorite shows on Netflix and co. Thankfully, NordVPN has been rated the fastest VPN according to AV-Test, and it hasn't done too shabby in our testing either. Their NordLynx protocol also guarantees top-notch security while also being more lightweight than its OpenVPN counterpart.
Speaking of security, all you privacy nuts out there (no pun intended) will enjoy NordVPN's double VPN feature. It basically encapsulates all your traffic in the second layer of encryption and runs it through a secondary VPN server - enhancing privacy and security all in one. Naturally, that'll have a significant effect on overall speeds, so keep that in mind.
Finally, we should mention their in-app Threat Protection option, which - you guessed it - blocks ads and malicious websites to keep your browsing secure at all times. Plus it scans any files you download for malware and deletes any threats it finds. Pretty useful, considering porn sites aren't exactly known for being safe.
As always, you can see more in-depth details about NordVPN and its features in our full review.
PROS
Lightning-fast servers.
Works with most streaming sites.
Extra privacy and security options.
Obfuscated servers.
Block ads with Threat Protection.
CONS
Best prices only on longer subscriptions.
3. CyberGhost VPN - Optimized for Streaming
Yet another provider with a beginner-friendly but highly customizable app fit for a wide variety of activities - yes, including streaming porn and other content. While it's not marketed as one of the best VPNs for porn specifically, their 7,000+ lightning-fast servers will ensure you face no buffering problems when things get steamy.
On the other hand, CyberGhost does have servers for content like Netflix (US, DE, FR), BBC iPlayer, Crunchyroll, Hulu, and even YouTube. Seeing as their server network extends across 91 countries, you'll have no trouble finding a fast server nearby, no matter the purpose.
One neat feature that'll be useful for browsing porn is their built-in ad-blocking solution. Say goodbye to all those hot single moms in your area, though. It also offers protection against malware domains, so that's a big plus.
Check out our CyberGhost VPN review if you'd like to learn more about their service and features.
PROS
Optimized for streaming sites.
Large server fleet with good coverage.
In-app ad-blocker.
45-day money-back guarantee.
CONS
Best performance on faster connections.
4. Surfshark - Alone Time on Unlimited Devices
Having to switch devices to do your business can quickly get annoying. Fortunately, Surfshark has no device limit, so that's one common problem dealt with. With just one subscription, all your home gadgets can benefit from a VPN-secured connection. Get some friends to chip in and get on one of their long-term subscriptions for the best possible deal.
Naturally, Surfshark also works with all the streaming platforms you're used to by now: Netflix, Hulu, Disney+, BBC iPlayer, or Amazon Prime Video. Their server network isn't as large as the competition, but the quality and performance are still there regardless. You don't need to worry about the dreaded buffering wheel while streaming porn or any other content.
Speaking of which, you'll be happy to know that Surfshark's app also blocks annoying ads. Moreover, their CleanWeb feature also keeps your gadgets safe from malware and phishing domains. Always handy.
If you'd like to know more about one of the best VPNs for porn out there, feel free to browse our Surfshark review.
PROS
Connect unlimited devices.
Good support for streaming.
Double VPN for extra privacy.
Get rid of intrusive ads with CleanWeb.
CONS
Not the best loading times.
5. Ivacy - Best Cheap VPN for Porn
Not exactly thrilled about having to spend money just to watch porn? Then Ivacy's the VPN for you, as its long-term subscriptions net you up to 90% in savings. Don't let its low price fool you, though. Ivacy is still up there in terms of streaming performance while also being able to unblock multiple content sites like Netflix, Hulu, BBC iPlayer, and Amazon Prime Video.
Sadly, the platform exclusivity of some of its features places Ivacy one step below the competition. For example, their kill switch and split tunneling options are only available on Windows and Android. Sorry, Apple and Linux users.
Other than that, however, Ivacy is a solid VPN for home use. If all you're looking for is a cheap way to unblock porn sites and maybe relax with some TV shows from abroad, then we can't think of a better alternative.
Don't forget to take a look at our full Ivacy review if you're interested in what else the provider has to offer.
PROS
Super cheap long-term subs.
Easy to use apps.
Unblocks quite a few streaming sites.
Decent speeds for the price.
CONS
Some features missing on iOS, Mac, and Linux.
6. VyprVPN - Privately Owned "Camouflaged" Servers
Rather than risk relying on rented data centers, VyprVPN chose to operate their very own server network. Not only does this translate to better overall security, but VyprVPN can freely upgrade their own servers, so you get the best speeds possible.
If you live in a country like China, where the Internet is heavily restricted (especially porn), VyprVPN's "Chameleon" cloaking technology will be of great use. It manages to trick even the most advanced VPN detection technologies like deep packet inspection (DPI), so you don't need to worry about the government intruding on your private affairs.
Streaming-wise it's not as great as the competition, as it can only unblock BBC iPlayer and some major Netflix libraries. See more details in our VyprVPN review.
PROS
Great speeds and security.
Chameleon cloaking technology.
Self-owned server network.
Connect up to 30 devices.
CONS
Few servers despite good location coverage.
Only unblocks some streaming sites.
Why Do You Need a VPN to Watch Porn?
It's pretty straightforward - here are a few simple reasons why you need a VPN to watch porn:
You can unblock porn sites in restrictive countries like China and Vietnam.
A VPN will encrypt your online activity, thus hiding what you do online from your ISP, hackers, government spying, and other eavesdroppers.
Many VPNs nowadays include ad-blockers, and anti-tracking, to protect you from phishing and malware sites. Pretty useful, considering some of the sketchy ads these kinds of sites tend to run.
In some countries, it might actually be illegal to watch porn, at least on paper. While that usually isn't enforced (see Australia's Broadcasting Services Act 1992), is it really worth the risk?
Why Is Porn Restricted or Blocked in Some Countries?
The reasons are varied, ranging from religious reasons to considering porn a danger (especially to minors). Germany wants to add age verification for porn websites in an effort to restrict access of underage users to porn. A similar situation arose in South Africa where a law was proposed to block adult content, with severe penalties for any adults that didn't take steps to prevent minors from accessing porn.
Australia's Broadcasting Services Act 1992 simply states that all content that enters the country must be classified (X18+ in the case of porn). Since the rating committee can't exactly sit around and look at porn all day to classify every scene, watching Internet porn is basically illegal in the country. Australia has even considered introducing facial recognition for porn sites.
Point is, that every country has its own reasons for wanting to block porn, with some holding more water than others. Of course, none of their approaches ever seem to take user privacy into consideration - which is why VPNs are a thing.
Is It Safe to Watch Porn Using a VPN?
With the right VPN, watching porn should be a safe experience. Not only will they hide what you watch from your ISP, but some go as far as to block intrusive (and sometimes dangerous) ads, trackers, malware, phishing domains, or even scan downloaded files for viruses and other threats.
That said, you shouldn't fully rely on those features, as they're not the main focus of a VPN. Practice due diligence when watching porn. Stick to non-sketchy sites (well, as non-sketchy as a porn site can be). Next, use good anti-malware, and don't click on any ads or suspicious links. Better yet, use a powerful content blocker like uBlock Origin to get rid of them entirely.
Can I Get in Trouble for Watching Porn in Restricted Countries?
While producers and distributors can face hefty fines and even jail time for creating and publishing porn in restricted countries, information is scarce about whether watching it is illegal or not.
For instance, Chinese state media Sixth Tone reports that a Hunan man was penalized for using VPN to watch porn. However, the report mentions the following:
"The man, surnamed Chen, had purchased unauthorized VPN software [...] The notice said Chen had violated regulations mandating that individuals and organizations only connect to international websites through government-approved channels."
In other words, the man was punished for using a VPN that was not approved by the Chinese government, and not for accessing porn. Delving deeper into the story reveals that the VPN in question was a shady "free" VPN called Shadowrocket. Considering most free VPNs log data, it's not unfair to assume that's how the Chinese government found out about the man's VPN usage.
Stick to audited, no-logs VPNs to prevent such things from happening. Finally, check your local laws before trying to access porn with a VPN, just to make sure it's safe.
Final Thoughts
Judging by all the info above, it may feel like you need a Master's Degree in law just to know if you can watch porn. But as long as you stick with our no-logs VPN recommendations, use obfuscation to hide your VPN activity (where needed), and don't access any illegal content, you should be good.
It's a good idea to keep your VPN on at all times, so you don't forget to activate it when it counts the most. Also, turn on the in-app kill switch, so your data isn't exposed during random disconnects. Other than that, remember to install your provider's app on all your devices for maximum privacy, protection, and unblocking content on the go.
Looking for something different? Then take a look at our mega list of the best VPNs, where we cover 15 amazing providers, fit for any user.
FAQ
What's the Best VPN for Porn?
We recommend using ExpressVPN due to its simple interface, no-nonsense no-logs policy, fast servers available in 94 countries, split tunneling, and the fact that it can unblock most major streaming sites online.
All of these features make for an excellent VPN to watch porn and stream geo-blocked content from all over the world.
Can You Use a Free VPN to Watch Porn?
You can, but at that point, you're better off without a VPN. Not only do free VPNs sell your data, but some providers may also even leak your info online for the world to see. We're not just talking about your porn habits, but other sensitive info like your real name and address, emails, payment info, and more.
Even the safer free VPN alternatives come with disadvantages. Slow speeds, data caps, bandwidth throttling, a small number of (usually overpopulated) servers, and so on. All in all, not the best criteria if you don't want your porn video to turn into a slideshow.
Is It Safe To Watch Porn Using An Incognito Window Without A VPN?
Yes, it's safe if you want to share your porn viewing habits with your ISP and your assigned FBI agent. Jokes aside, the incognito mode doesn't actually hide anything from anyone snooping in on your connection.
At best, it deletes your cookies and browsing history, thus hiding it from anyone you share your device with. Moreover, incognito mode won't let you unblock porn in countries where such content is banned or restricted. All the more reason to use a VPN.
What's the Best VPN Country to Connect to for Porn?
From an anti-censorship perspective, connecting to a VPN server in the United States or Canada might be your best shot. European countries are usually a good alternative, although a few (such as the UK) have considered implementing age checks in the past.
Of course, you also need to take into account how far away the server is from your location. The greater the distance between you and the server, the slower your overall speeds. ExpressVPN has servers in 94 different countries, so you have quite a few options to try out.
Is It Illegal to Watch Porn?
Many countries across the world restrict or completely block access to pornographic content. Examples include China, Belarus, much of the Middle East, Vietnam, and others. You might not believe it, but even Australia has a law that makes watching Internet porn a fineable offense.
Of course, it doesn't exactly appear to be enforced, but a VPN subscription is probably a better investment than hundreds of dollars in fines (or jail time in some countries). In many cases, the laws are against distribution rather than possession of porn. Consult your local laws to get the full picture.
Can I Watch Porn on Android and iOS Devices with a VPN?
Absolutely! All porn VPNs recommended above have dedicated apps for Android and iOS. You can unblock porn sites and hide your online activity from your mobile Internet provider and anyone else trying to snoop in on your private time.
If you have any other questions about watching porn with a VPN, don't hesitate to ask in the comments. We won't tell.