Want to watch porn in Louisiana privately? Well, too bad, as the government now requires proof of identity beforehand. The new "Louisiana porn law" requires all websites that contain over 33.3% adult material to implement age-gating. As of January 2023, local netizens will have to comply or use a VPN to watch porn in Louisiana without submitting an ID.
The new law came into effect to curb the distribution of "material harmful to minors on the Internet." Of course, like many well-intentioned laws, little to no consideration was given to aspects of privacy.
When the geo-restrictions placed on adult sites detect that someone has a Louisiana-based IP address, they will be prompted to submit an ID as proof of their age. Fortunately, using a VPN lets you change your IP (and thus your online location) to one outside Louisiana. This way, you won't have to share your ID or worry that your porn habits may potentially be exposed.
In this article, we'll review the process of using a VPN to watch porn in Louisiana, plus answer any questions you might have on the topic. We'll also recommend the best VPN for the job, but you can browse our guide on the best VPN for porn for some more options.
What Is the Louisiana Porn Law?
Act 440, also known as the Louisiana porn law, was enacted in an attempt to make it harder for minors to access pornographic content online. As a result, any site whose content consists of over 33.3% "harmful material" will need to enable ID-based age verification.
Without a VPN, you may run into age-gating messages such as:
"Louisiana law now requires us to put in place a process for verifying the age of users who connect to our site from Louisiana. The privacy and security of the Pornhub community is our priority, and we thank you for your cooperation."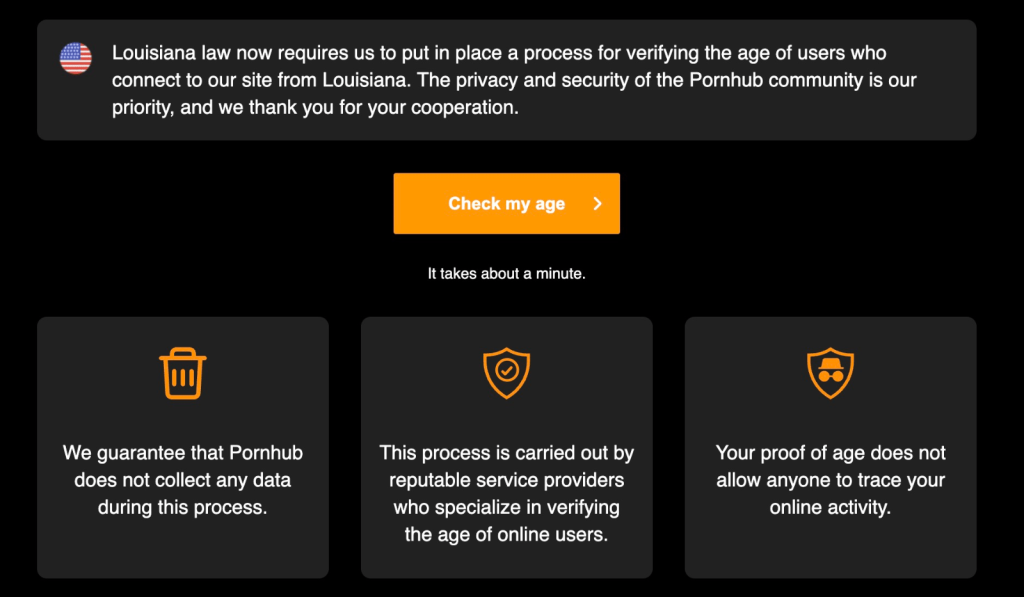 Verification is handled via the LA Wallet app, which provides a digital driver's license. It's better than directly handing your personal data to random adult websites, but experts are still concerned about user privacy.
How to Watch Porn in Louisiana with a VPN
To watch porn in Louisiana without an ID, all you need to do is subscribe to a quality VPN and connect to a server outside the state. Here's a step-by-step process:
Sign up for a VPN that unblocks porn sites (we recommend NordVPN).
Download and install the VPN on your PC, smartphone, or tablet.
Open the VPN and log in with your credentials.
Connect to a VPN server outside Louisiana.
Now, you can watch porn without providing ID to the government.
We recommend connecting to a server close to Louisiana for the best speeds possible. Remember to keep your VPN on at all times, or you might be asked to verify your age again.
Can You Watch Porn in Louisiana without an ID?
Yes, you can watch porn in Louisiana without an ID. All you have to do is use a VPN to connect to a server outside the state, which will mask your IP address. This will allow you to bypass age verification on porn sites. 
In addition to helping you navigate around age-gating, VPNs also hide your data from your ISP and third parties. Thus, with a quality VPN, you'll enjoy privacy, security, and ID-free access to porn sites.
Is Porn Banned in Louisiana?
Act 440 is not a blanket ban on pornography, so no, porn is not banned in Louisiana. 
That said, you won't be able to access it unless you're willing to provide an ID and share your porn viewing habits with the government. This can be problematic for many reasons ranging from privacy concerns to a lack of valid ID.
An estimated 21 million Americans (about 6.3% of the country's population) don't have any form of photo ID. Fortunately, you don't need one - just get a VPN, and you'll be able to watch porn in Louisiana safely and privately.
Final Thoughts
Louisiana's new law regulating access to porn sites is frustrating for many adults who don't want to share their IDs. However, it doesn't take much effort to get around Louisiana's new age-gating requirements. Use a VPN, connect to a server in a different state (or country), and you'll be able to access any type of content without restrictions.
We highly recommend NordVPN if you want to watch porn in Louisiana. The highly rated provider offers 5,800+ ultra-fast servers in 60 countries and can unblock any site out there. Furthermore, NordVPN keeps zero logs, and all their servers employ obfuscation to hide the fact that you're using a VPN, which may come in handy if Pornhub's age verification gets smarter.
That's all for our short guide on how to watch porn in Louisiana. If you have any questions, let us know via the comments section below. Thanks for reading!