There are a lot of different things to look out for when deciding whether a given VPN is for you or not. One of the most important numbers to look at is how many servers their network consists of. Generally, the more servers a given VPN network provider has, the better the overall experience will be. It means there will be enough capacity to handle things even if everyone decides to log in at the same time. High server numbers also usually mean that there's a server close to you if performance is your main priority. Due to all these reasons, we'll be taking a look at VPN providers with the highest number of VPN servers.
VPN Server Count: Does it Matter?
We understand that you're reading this article because you want a VPN with the biggest number of servers. However, you should pick a VPN based on your preferred activity. For example, let's say that you want to access American Netflix. Naturally, you will take a look at how many servers can be found in the USA. Some VPNs might offer a dozen, others might offer two. However, this doesn't necessarily have to mean that a low count means a bad user experience.
Therefore, knowing how many servers you'll have at your disposal can be useful. However, take other aspects into consideration as well. We'll talk about these later on in the article.
Top 5 VPNs With The Biggest VPN Server Count
Let's take a look at 5 VPN providers that bring the largest number of VPN servers. To get to know each of those, make sure to read full reviews.
1. NordVPN (4,400+ VPN Servers)
Overview
Supported Platforms
Windows, MacOS, iOS, Android, Linux, Routers.
Pros
Polished UI; Great for beginners; Double encryption; Reliable performance; Numerous servers available.
Cons
Some throttling is present.
Visit
NordVPN
Ah, the venerable NordVPN. This is one of the biggest names in VPN services, but it is also literally the biggest VPN network that we could find. They boast a staggering 4,400 (and counting) servers in their network.
NordVPN has really been upping the ante with their security measures. They now offer very high levels of encryption, double encryption, and a very effective kill switch. You can also have an unprecedented six devices concurrently connected. In terms of streaming and unblocking there are specific servers that can still get past Netflix blocks. Performance is also solid in my experience, but your mileage will obviously vary depending on where you are and how fast your connection is.
To learn more about this VPN provider, head over to our review of NordVPN.
2. Private Internet Access (3,500+ VPN Servers)
Overview
Supported Platforms
Windows, MacOS, iOS, Android, Linux, Routers.
Pros
Strong performance; Barely noticeable throttling; Strong and encryption; Great value.
Cons
Not the best for streaming.
Visit
Private Internet Access
Private Internet Access is a pretty well-known VPN provider and in our Private Internet Access review, we were very impressed by what it offers. It has an enormous server network with over 3,500 servers. That puts it almost at the top of the industry when it comes to sheer network size.
PIA is one of the easiest VPN services we've ever used. It's priced pretty well too, despite still having just about every technical feature you could want. The performance was spot-on in our tests. Just as their name suggests, the company's main focus is on privacy. They have a fantastic true no-logging policy and to top it all off it can unblock Netflix and Hulu. If you use the right streaming server that is.
Overall PIA is a great choice for people who don't want to fiddle with the technical stuff, but still, want great security and good performance.
3. TorGuard (3,000+ VPN Servers)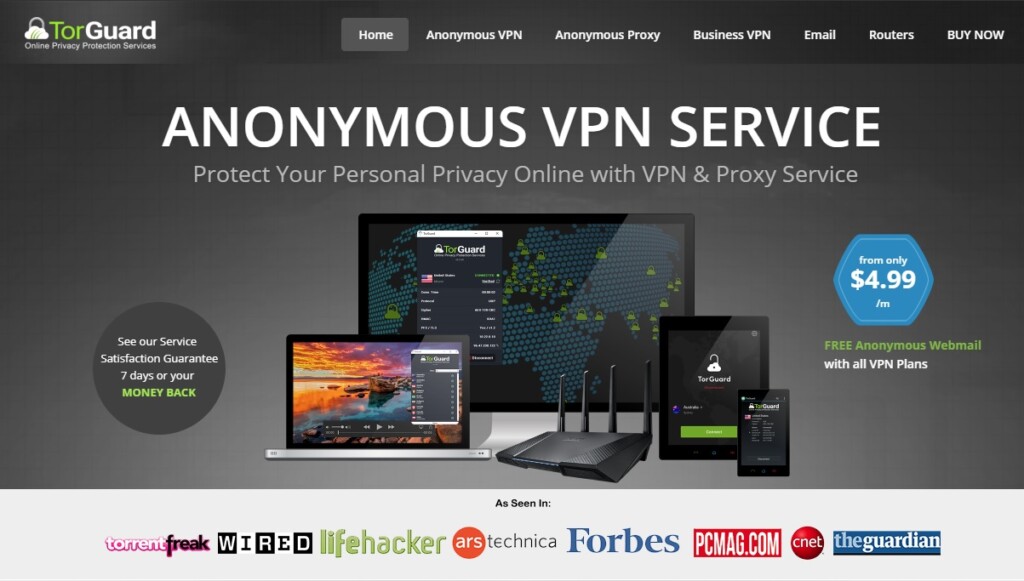 Overview
Supported Platforms
Windows, MacOS, iOS, Android, Linux, Routers.
Pros
Very powerful; Great for VPN enthusiasts; Lots of fine-tuning; Powerful encryption; Great for streaming.
Cons
Not for beginners.
Visit
TorGuard
We have to admit that TorGuard is one of our personal favorites. When we did our TorGuard review, we were blown away by the technical flexibility of the service. If you are willing to pay for the right bolt-on options, you can get exactly the set of features you need.
It also has a true no-logging policy, fantastic customer support will run on a massive number of devices. On the downside, we found that it wasn't all that user-friendly. You really need to be quite technical and of the geeky persuasion to figure everything out. If you do make the effort you'll be rewarded with one of the best VPNs on the market.
4. CyberGhost (2,500+ VPN Servers)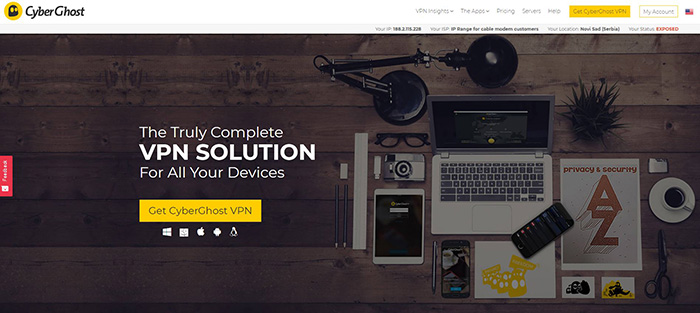 Overview
Supported Platforms
Windows, MacOS, Linux, iOS, Android.
Pros
Transparent privacy policy; Great for streaming; Support P2P; Reliable performance.
Cons
Missing live chat (customer support).
Visit
CyberGhost
Back when we did our original CyberGhost review, our editorial team was mighty impressed with this Romanian VPN offering. Although, at the time they only sported about 800 servers. Since then they've grown by leaps and bounds and continue to do so.
Our main criticism of CyberGhost at the time was that the server spread was really only good for European customers. Since then, they've mostly rectified this and North America, South America, Australia and South Africa (plus a few more) now have local servers. It's still pretty Euro-heavy but if you have servers close to where you are, this is a pretty good choice.
5. ExpressVPN (2,000+ VPN Servers)
Overview
Supported Platforms
Windows, MacOS, iOS, Android, Linux, Browsers, Routers.
Pros
Incredibly polished UI; Great for beginners; Tough encryption; Numerous protocols supported; Helpful support.
Cons
Pricey (but worth it).
Visit
ExpressVPN
While ExpressVPN does not have the highest raw server count, it has it where it counts everywhere else. This is, in fact, our favorite VPN service right now and you can get the full details in our ExpressVPN review.
The main thing we love about ExpressVPN is how versatile it is across platforms. If you want one VPN that can basically run on just about everything you own, you don't need to look any further. If you do, however, look further you'll find a VPN service that's very snappy, dead-easy use and (last time we checked) can still get past Netflix VPN blocks.
It has servers in 90+ countries, which is an admirable spread and supports the best consumer-grade encryption protocols. You can install the VPN on as many devices as you please, but only three of them can connect at the same time. It's a little pricey compared to the competition, but the overall service is well worth the asking price.
VPN Server Count: Additional Considerations
Before we conclude this article, we are going to provide additional information. So, keep on reading to learn more about VPN server counts and how they translate to the user experience.
What Are VPN Servers?
VPNs servers are the core of every VPN provider. While other providers own their entire network of servers, others lease them. In practice, this doesn't affect the performance as you can achieve fast speeds with both of these business models.
You need to care about VPN servers because all your data goes through them. You can't know what happens to your data, so you have to put all your trust into your VPN provider. This is where two important factors come into play. First of all, you need to know which VPNs have the strictest no-logs policies. Then, you need to check their background and make sure you to pick a trustworthy VPN.
Don't Take the Number of VPN Servers for Granted
To see how many servers you'll have at your disposal, you naturally turn to websites of VPN providers. They usually offer lists of servers and countries. Still, it can be close to impossible to really know if a VPN provider has 3,000 or 4,500 servers. That's because you usually don't get to pick a specific server. Instead, you pick a country.
When you select a country from a sizeable list of locations, your VPN will connect you to the fastest performing server at the time. So, in most cases, you will get to pick a location and not the actual server. However, there are different types of user interfaces, of course.
More Servers = Better Performance?
In general, you want to avoid online congestion. If many users are using the same VPN server, the chances are that your connection will be throttled. You can see how important it is to pick a VPN with many servers, especially if you want to stream videos from the Web.
You should know that ExpressVPN, which was placed fifth on this list, brings top-of-the-line performance. So, you might think that having 2,000 servers at your disposal is not much. However, this is more than enough to provide throttle-free performance – even if you stream 4K content from the Web.
Final Thoughts
High server counts are often a good way to roughly judge the quality of a VPN service. After all, to have such large networks you need to be quite successful. The assumption is that you are successful because you provide a great service. In the main, that might be true, but that does not mean the services with the highest counts are right for you. Have a look at our VPN Buyer's Guide and get an introduction to all the factors you should consider in your new VPN service.
Finally, we'd like to ask you to share this article online. Also, don't forget to follow us on Facebook and Twitter. Thanks!